What images spring to mind when you think of the English countryside?
Gentle, rolling hills of patchwork fields?
Or dramatic, rugged mountain peaks with deep gorges and far off glistening lakes?
It turns out, if you want to see some of the most magnificent landscapes on the planet, the UK is the place to go.
The UK's largest gorge is in the county of Somerset in the southwest of England.
We set out to explore the things to do in Cheddar Gorge and its surroundings.
For the best views and a real feel for just how impressive this place is, several Cheddar Gorge walks offer the best vantage points.
In this post, we'll take you through the fabulous cliff top walk, loads of other free walking routes and highlight some of the best things to do in Cheddar Gorge in the English county of Somerset.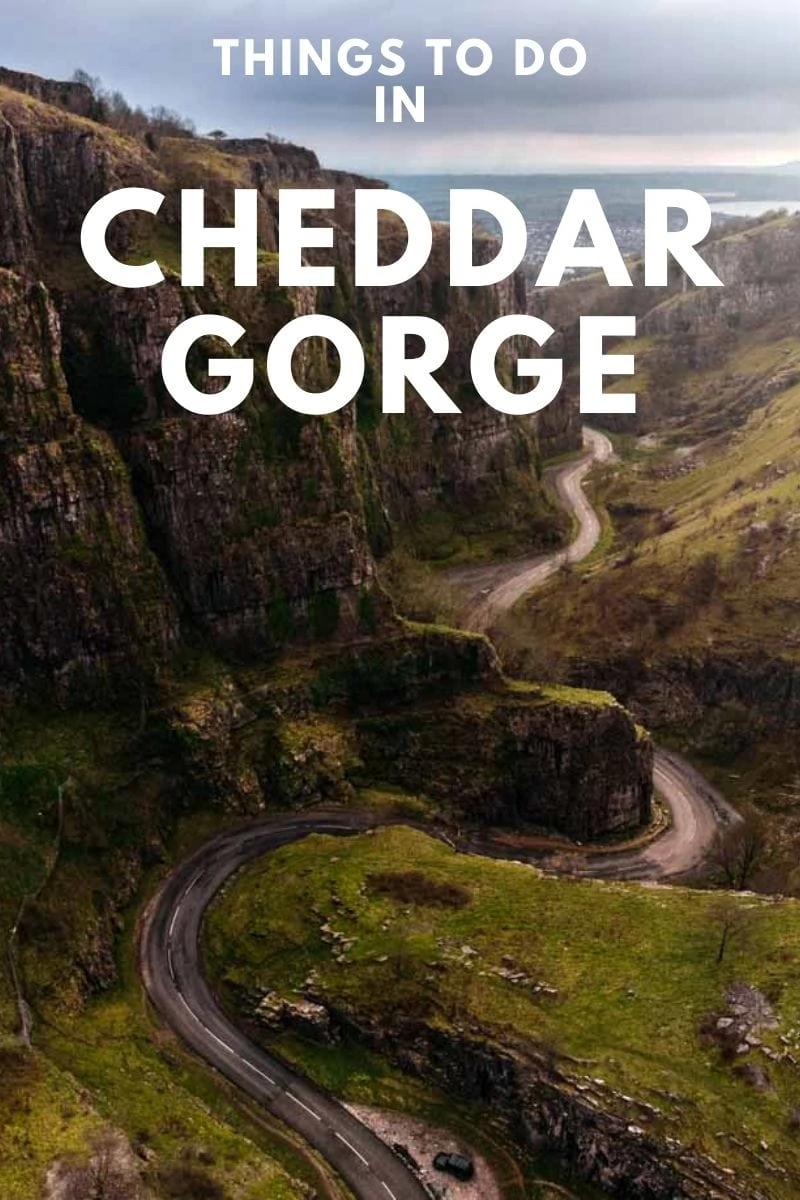 Cheddar Gorge History
Believe it or not, Cheddar Gorge started out 300 million years ago on the equator.
As the planet evolved, tectonic plates shifted around, transporting Cheddar to where it is today.
By the time of the last Ice Age, Cheddar marked the southern limits of the polar ice sheet.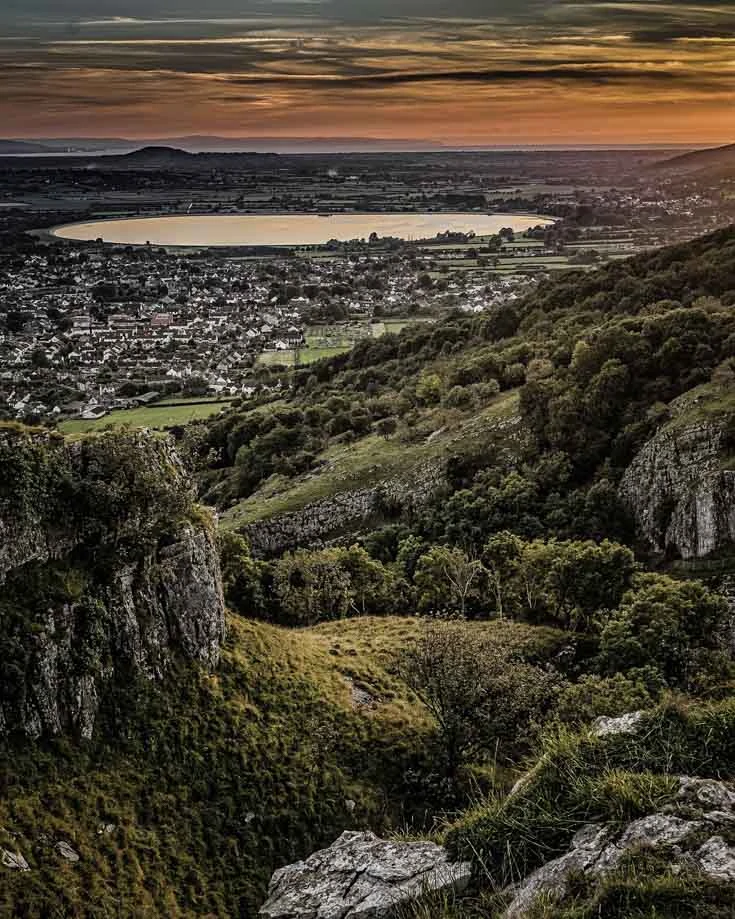 As the ice retreated, meltwater carved out Cheddar Gorge and the UK's biggest gorge.
The water seeped through the limestone rock, creating a complex network of caves with incredible cathedral-like caverns and rock formations decorated with multi-coloured minerals.
These caves were used by our ancestors over 9000 years ago as shelter from the hardship of the Ice Age.
Britain's oldest complete skeleton was found here. The fossilised remains of the Cheddar Man, were found in Gough's Cave when it was excavated in the early 20th century.
Cheddar Gorge Cliff Top Walk
Our exhilarating 3 mile Cheddar Gorge cliff top walk began at the base of Jacob's Ladder.
Aptly named, Jacob's Ladder ascends the gorge and there are a staggering 274 steps to reach the top.
There are a few, much needed, stopping points on the way up. On reaching the top you'll feel delighted to have made it.
If the length of Jacob's Ladder represents Earth's geological timeline, human history is the thickness of a sheet of paper on the top step.
The vastness of time becomes clear when you gaze back at 250 million years disappearing into the Cheddar Woods below.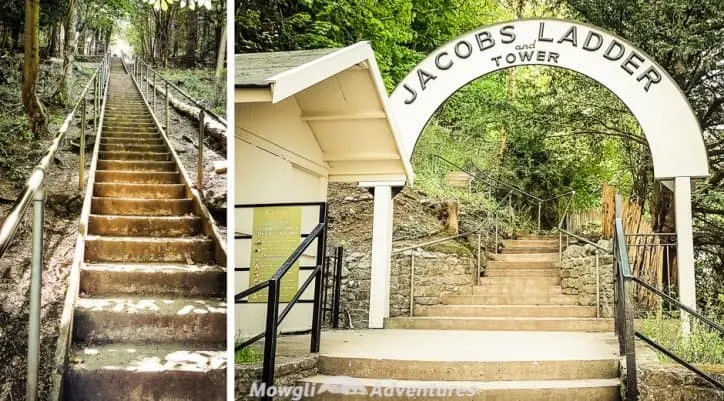 We brought my Dad along for our trip to Cheddar Gorge. Dad's in his 70's, keeps a brisk pace and he'd put me to shame climbing Jacob's Ladder.
I insisted he lead the way to save my embarrassment as he was bound to overtake me! His face tells another story though.
So you think you've reached the top? Think again!
Pavey's Lookout Tower is another 48 steps but if you've made it this far, you must climb it. It's not for the faint-hearted and NOT for those scared of heights.
You're rewarded with stunning views across the Mendip Hills, Exmoor and the Somerset Levels.
Cheddar Gorge Cliff Top Walk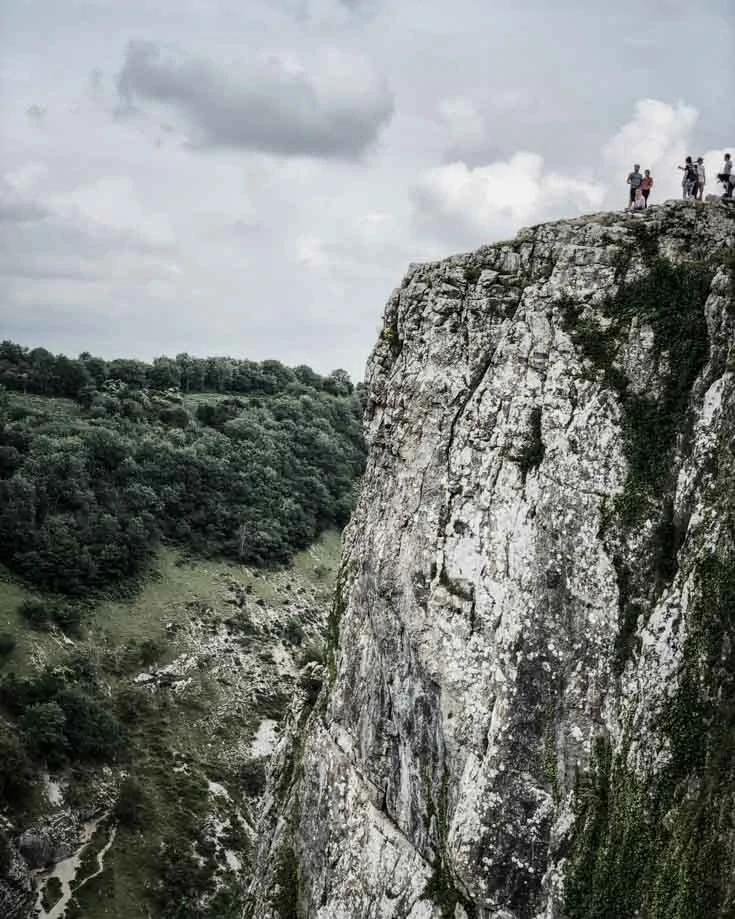 Now I guess, if you're short of time and you have fine, healthy knees you could go back down Jacob's Ladder. That'd be a waste though as the Cheddar Gorge cliff top walk is stunning.
The terrain is quite rough in parts. Most of the first half is uphill. It's rocky underfoot and there are a few low hanging branches and protruding tree roots.
Although we had fine weather, it'll be pretty muddy and slippery after any rain.
We stopped to take loads of photos. The scenery demands it and it's a good excuse to take a break from the uphill climb.
My Dad was still leading the way and there was no stopping him!
There were plenty of people better organised than us who stopped for their picnic lunch on the trail. With these views, who can blame them?
Gorgeous Scenery of the Cheddar Gorge Cliff Top Walk
The expansive views all along the Cheddar Gorge cliff top walk are spectacular.
The path is set well back from the cliff edges and it's hard to resist getting a closer look. Vertigo will kick in, even for those without acrophobia.
There's a 450-foot vertical drop back to the village below!
Most of Cheddar Gorge is home to Cheddar Woods. As you'd expect from British woodland, this is a fine habitat for local fauna and wildlife.
This tree stump was completely covered by some sort of growing mushroom.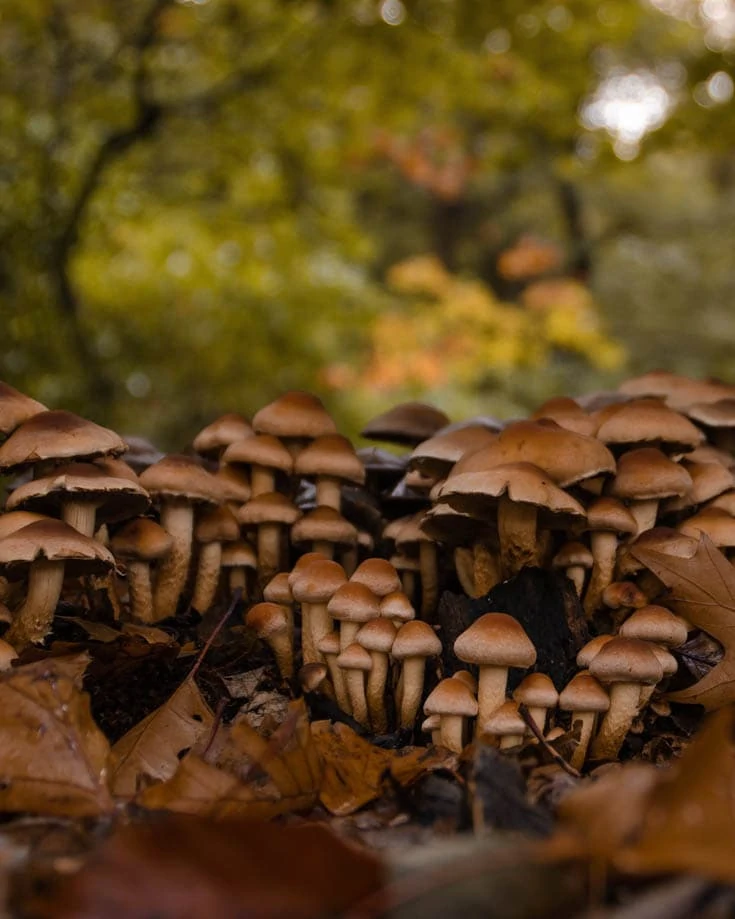 The woodland floor is covered in ferns with their vibrant leaves giving a green misty feel.
We were even treated to the final few days of the bluebell season!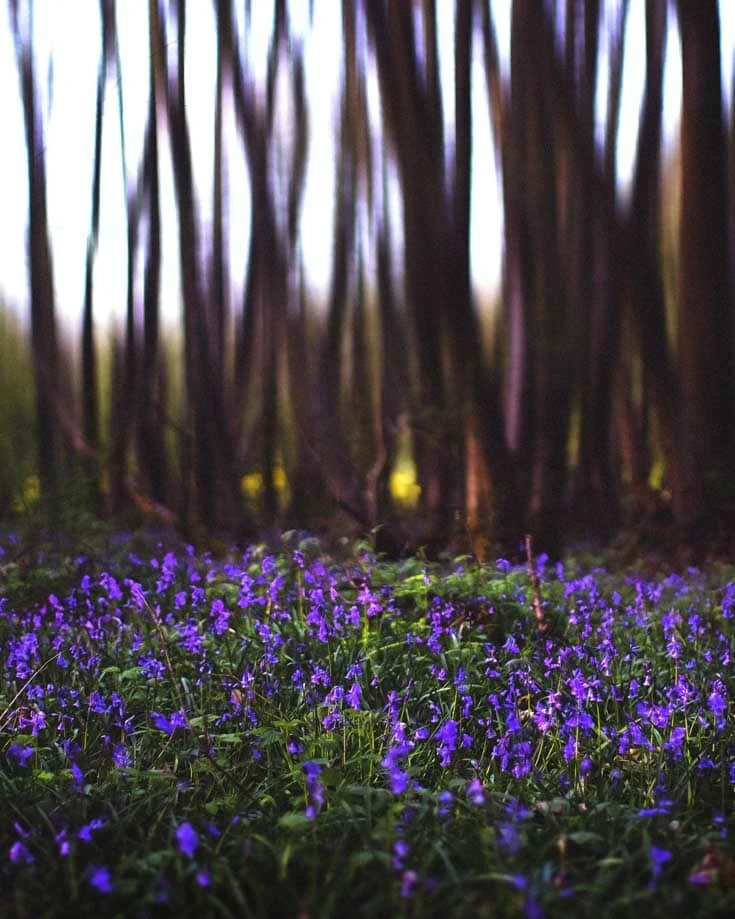 The Cheddar Gorge cliff top walk is a circular 3-mile route. Towards the halfway mark, the route brought us down a steep-sided drop through some woods.
There's bound to be an easier way down, and when Dad was halfway down it, he sure wished he'd taken it. He managed to get down in one piece though. Just!
This is where the route crosses the road that winds its way through Cheddar Gorge. We could have crossed the road, climbed some more and followed the path back down to the village.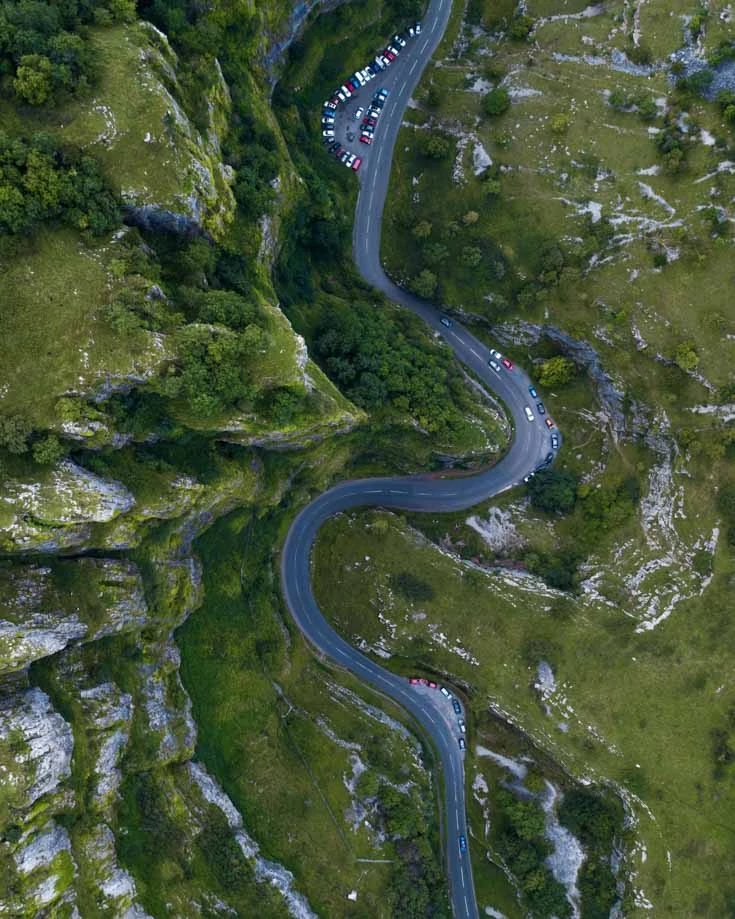 But hey, my Dad's in his 70's so we followed the road back down. That's my excuse anyway, and I'm sticking to it!
To be honest, we're pretty pleased we did take this route. Walking below the cliff edges we'd just climbed put the scale of the gorge into perspective.
It's a downhill walk all the way.
Even the feral Soay sheep that live in the gorge love the views!
The Chocolate Box Village of Cheddar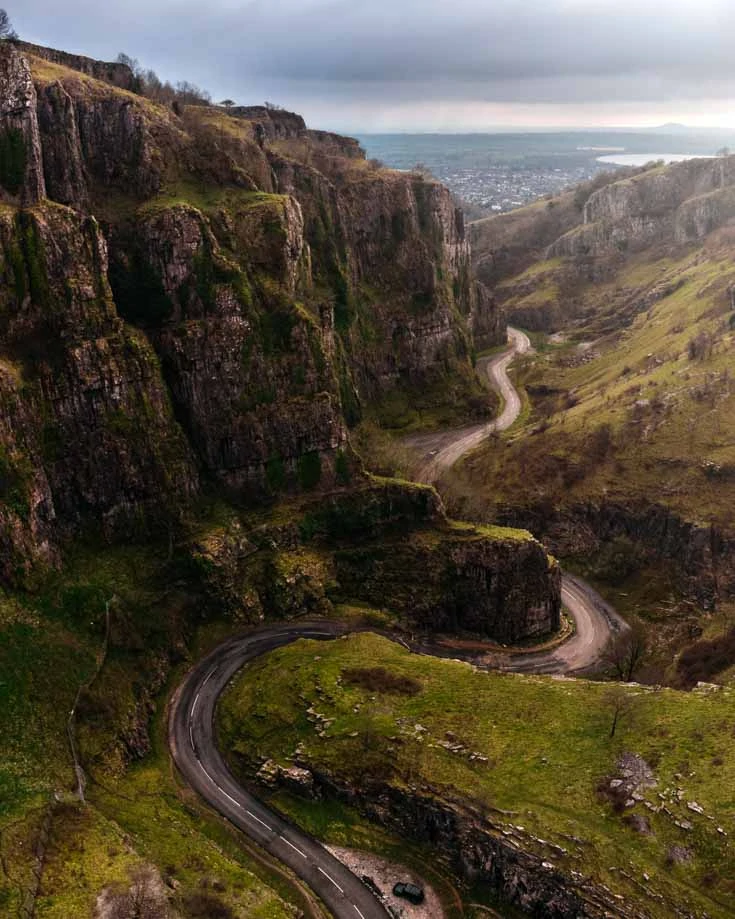 Picturesque and pleasant, Cheddar is a beautiful chocolate box village. If you have any energy left after the Cheddar Gorge cliff top walk, you can spend another few hours here.
Walking around Cheddar village is so relaxing; it's totally charming and exquisitely English.
There was only one way to end our day in Cheddar Gorge on such a fine day. Cream teas all round from the Wishing Well Tea Rooms.
Is there a finer thing than freshly baked scones, with clotted cream and strawberry jam?
Only if they're served with a big pot of English tea. Just perfect!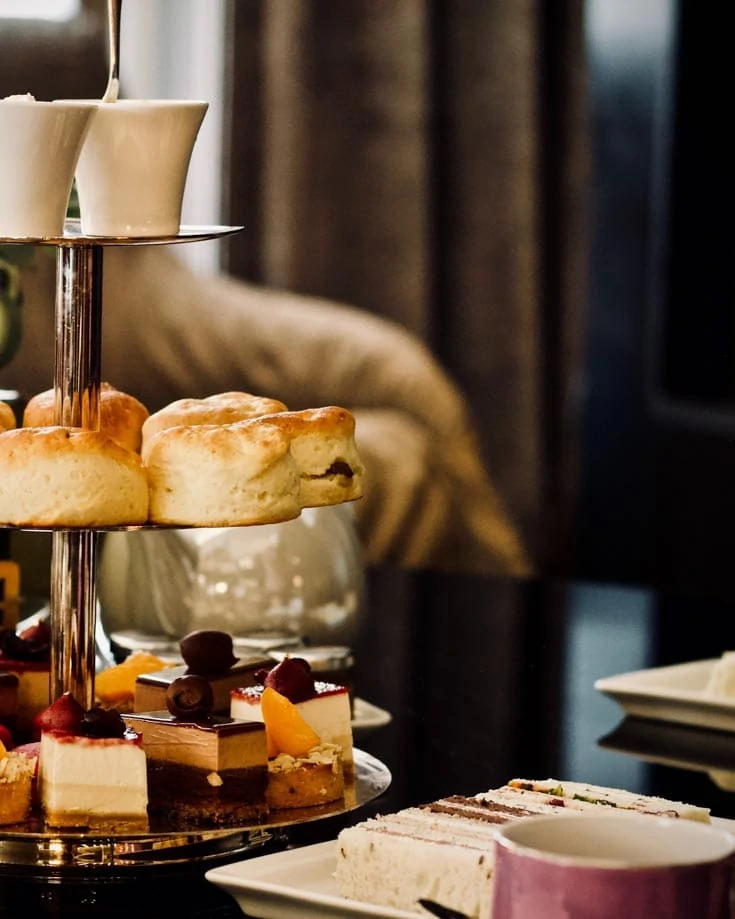 The Cheddar Gorge cliff top walk is an experience you'll not forget in a hurry. When you're on your UK road trip, try something more exhilarating than just driving through the gorge.
Gaze up at the beauty that mother nature created. Don you walking boots and go on the Cheddar Gorge cliff top walk.
Other Cheddar Gorge Walks
Access to the Cheddar Gorge cliff top walk from the bottom of Jacob's Ladder is included in the Cheddar Gorge and Caves Explorer ticket.
This part of Cheddar Gorge is privately owned by Longleat.
The National Trust owns the northern side of the area though and their walking routes are free.
And you can access the Cheddar Gorge cliff top walk from the far end of the trail for free too. So if you're not including a visit to the caves and museum, this is a budget-friendly option.
You can even find free parking at the start of the trail too.
Cheddar Gorge is managed by the National Trust.
You can pick up maps for the Cheddar Gorge walks from their information centre.
Here's a summary of 8 free Cheddar Gorge walks. You can see detailed maps and descriptions of each of these walks and more at Cheddar Walking.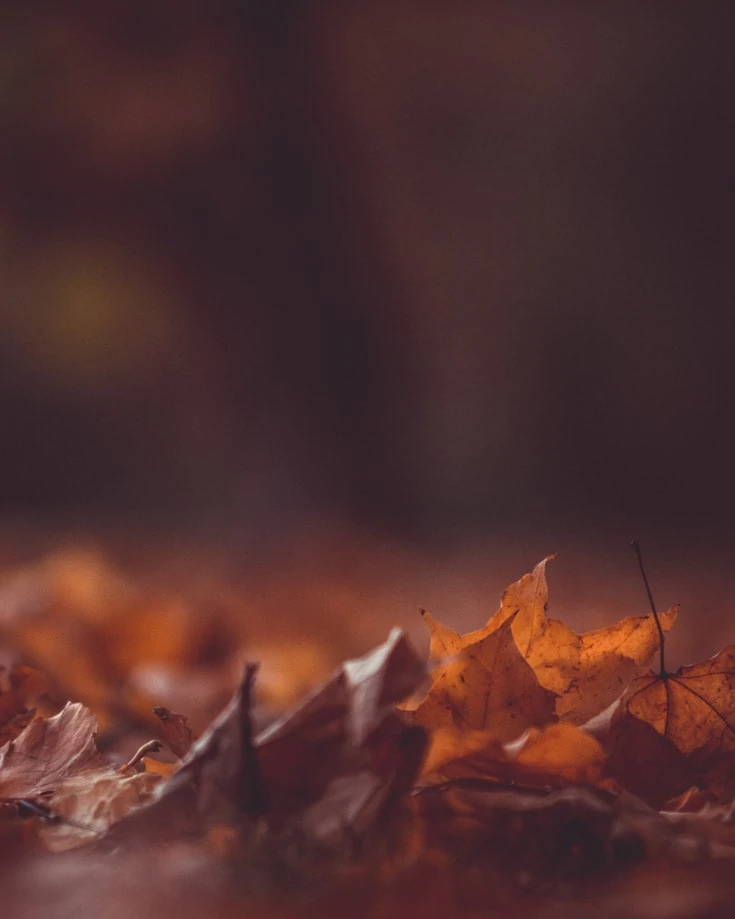 Cheddar Gorge Circular Walk
This is a circular 3 ½-mile route, circumnavigating the whole of Cheddar Gorge. It's a pretty tough climb in parts so come prepared.
Just note that Pavey's Lookout Tower and Jacob's Ladder are only accessible to Cheddar Gorge and Caves Explorer ticket holders.
Historic Cheddar Village Walking Route
An easy 2-mile circular walk around the picturesque Cheddar village. Plenty of opportunities for cream tea breaks!
Cufic Lane Loop Walk
A moderate 1.5-mile walk affords views of the River Yeo, mill ponds and numerous quaint cottages.
Strawberry Line Walk
This is a long but easy walk. The 5½-mile route is only one way so you'll need to either walk 11 miles or catch a bus in one direction.
The route follows the old steam railway line and doubles as a cycle route so bike-friendly.
Middledown
This circular route takes a couple of hours.
Crossing open farmland and nature reserves, this 4-mile walk rewards with spectacular views of Glastonbury Tor and its surrounding features.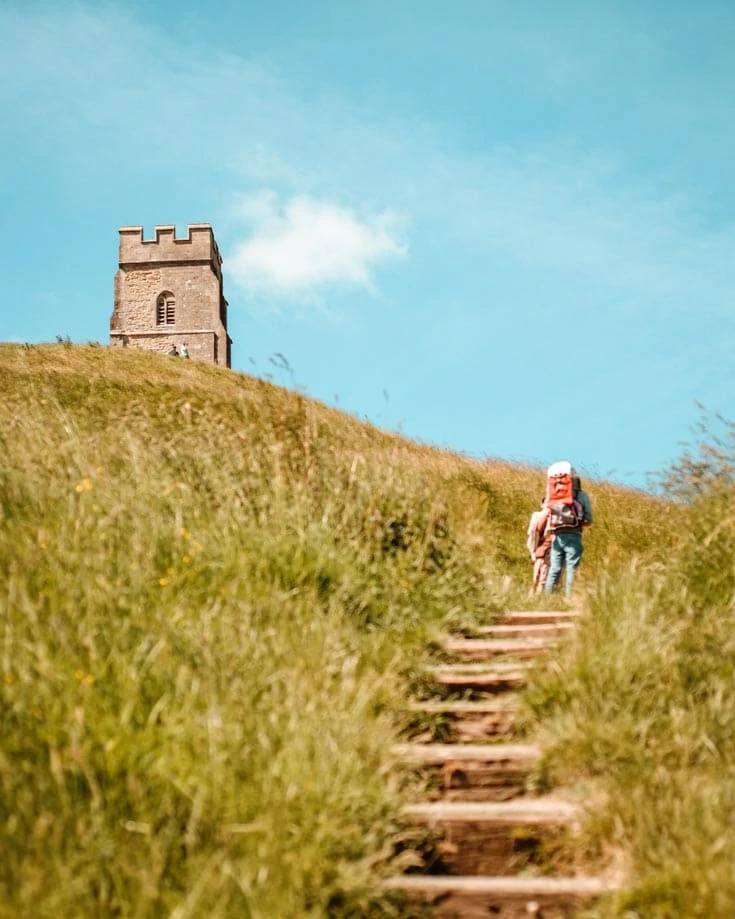 Cheddar Reservoir Walk
Unlike many of the other Cheddar Gorge walks, this one is accessible to wheelchairs and pushchairs.
Don't be tempted to swim in the reservoir though because it's quite unsafe!
Black Rock nature Walk
This figure of 8 walking trail is easy but you need to drive to the start of the trail a couple of miles up the gorge from Cheddar.
West Mendip Way
The entire route is 30 miles from Weston-Super-Mare to Wells. Cheddar is located about 12 miles along the route from Wells.
You can get a bus from Cheddar to Wells so you only have to do this full day walk in one direction.
The route passes the popular village of Wookey Hole before climbing through Ebbor Gorge upto Mendip plateau.
Other Things to Do in Cheddar Gorge
And there are more things to do in Cheddar Gorge than these walks too.
Whether you're an adrenalin junkie, prefer something more sedate and even foodies, Cheddar Gorge has something for you.
Cheddar Gorge Climbing
At 450 feet high, it's little wonder the vertical walls of Cheddar Gorge have some of the best climbing opportunities in the UK.
If you know what you're doing, bring your own gear. Many of the climbs on the north side of the gorge are open year-round.
Others have restricted access at certain times of the year to allow breeding wild birds to do their thing.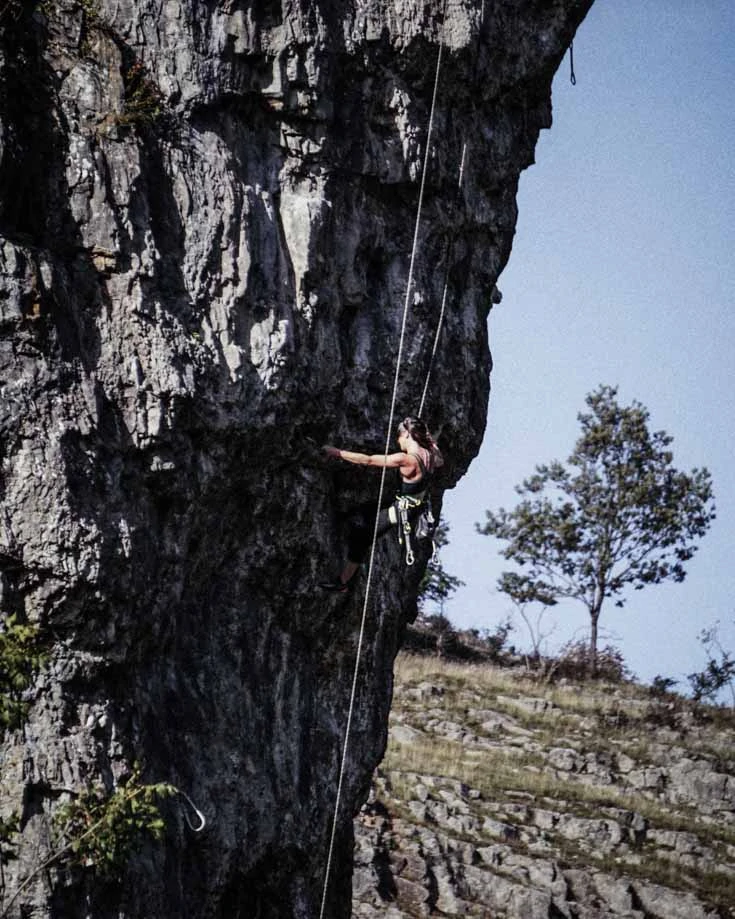 Get the Adrenalin Flowing with Caving and Cave Diving
Sticking with the adrenalin-filled theme, how about descending into the depths of the caves, squeezing through small gaps and crawling through narrow tunnels?
Nope – not for us either – we're way too scared for that!
Caving and cave diving isn't for the faint-hearted or those with claustrophobia!
If you fancy trying your hand at rock climbing, abseiling or caving in Cheddar Gorge, you can buy tickets from Rocksport.
If you want to do more than one activity, or plan to go as a group, ask for a discount.
Cycling in Cheddar Gorge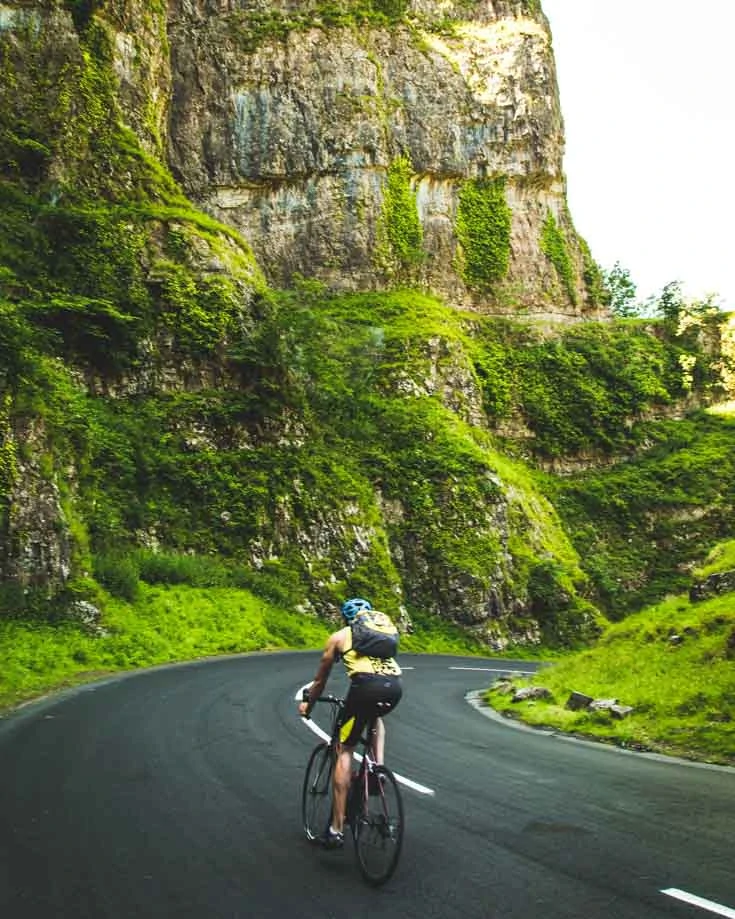 The national cycle network goes through Cheddar so it's an ideal place to hire a bike and explore.
The Strawberry Line walking route follows the cycle path for an easy ride. If you want something a little more challenging, you can cycle to the top of the gorge and back.
Ask in the tourist information office for the nearest bike rental office.
Take the Scenic Gorge Bus Tour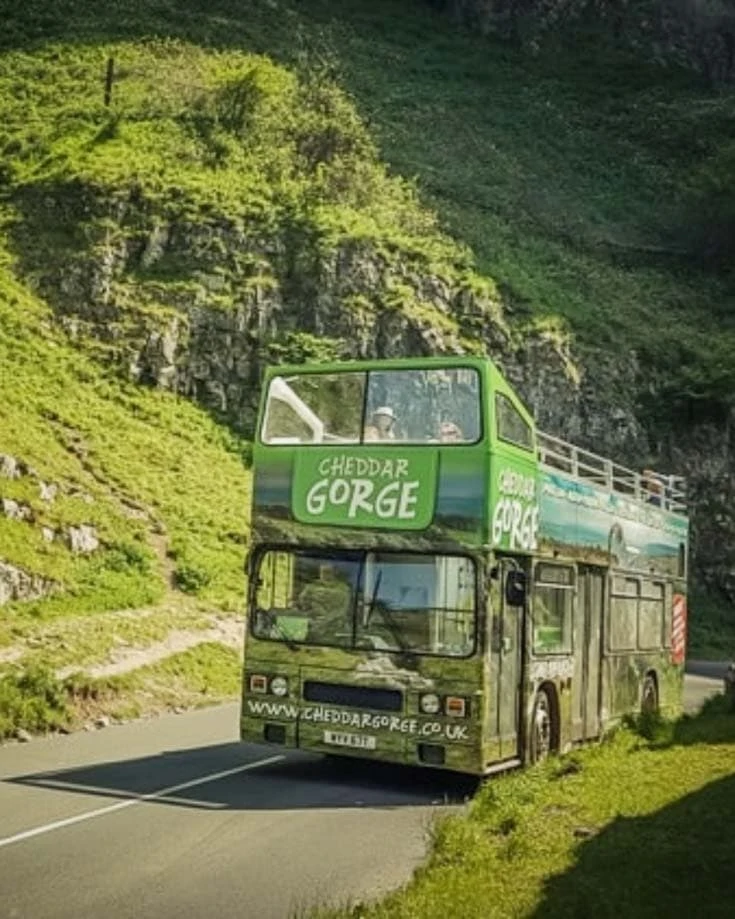 Looking for something more sedentary? The open-top Gorge bus tour has you covered.
It's one of the most popular ways to see Cheddar Gorge. It only takes 20 minutes but drives through the gorge giving amazing views and informative commentary.
You can buy tickets at the visitors centre.
Visit Cheddar Gorge Cheese Company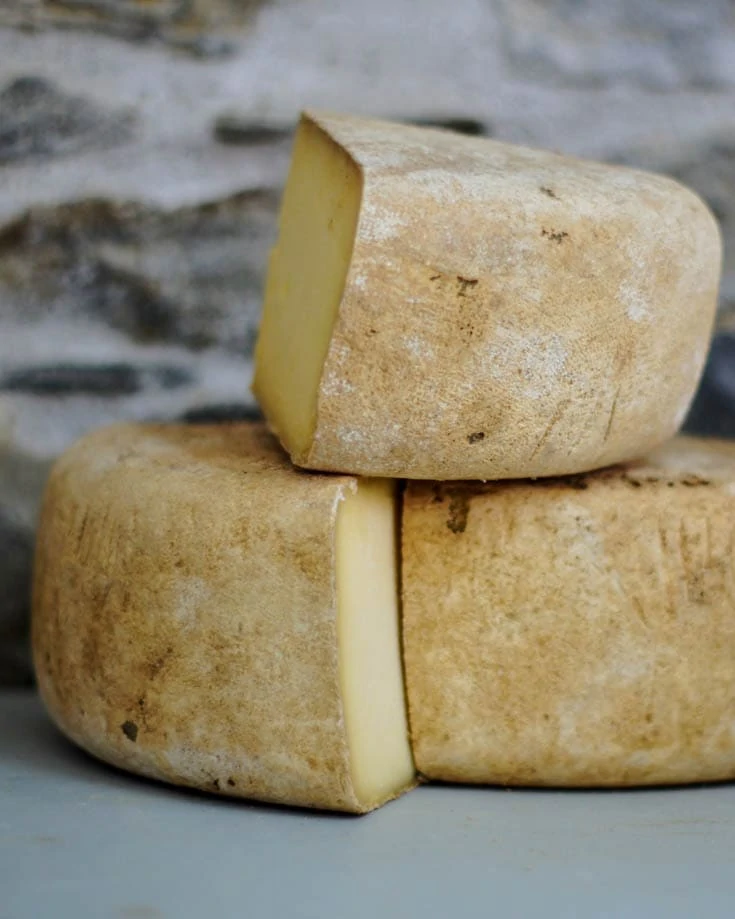 Cheddar cheese is one of the most popular cheeses in the world and it comes from right here in the village of the same name.
The Cheddar Gorge Cheese Company has a visitor centre right in the middle of the village.
The cheese here is still made by hand using traditional methods. You can wander around and observe the entire process.
It's an interesting display and when you're done it's time to sample a fine selection of flavours.
It'll add plenty of pounds to your waistline and it'll take plenty out of your wallet too!
Then head into the delightful gift shop.
Never mind gifts for others though! We left with bags of marmalades, pickles to accompany the bundles of cheese we could resist.
It's not cheap but it's oh so yummy! Try the mature cheddar with a healthy slosh of port! The best!
Money-saving tip: the Cheddar Gorge Cheese Company closes at 3:30 pm. If you arrive at about 3 pm, you might get lucky and be offered a free tour of the cheese-making area.
Explore Gough's Cave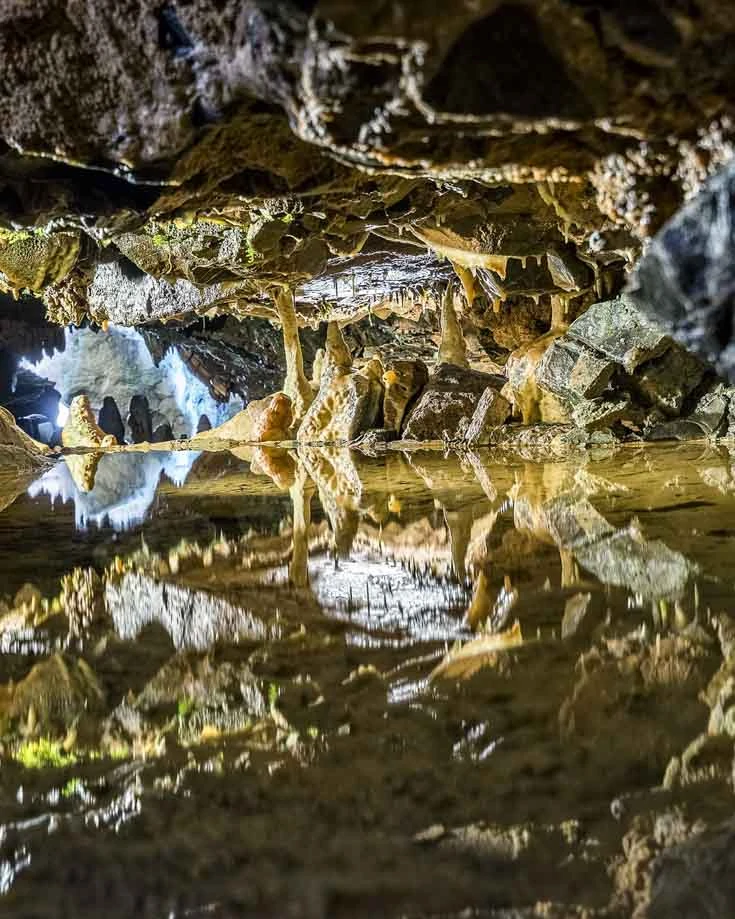 Aside from the Cheddar Gorge walks, Gough's Cave was one of the highlights of our trip.
It's not quite as fabulous as St Michael's Cave in Gibraltar but it's certainly impressive.
The cave began forming over ½ million years ago by water seeping through the limestone rock.
The formation of stalagmites and stalactites has created an incredible environment of rock formations and soaring chambers.
Pop into Cox's Cave while you're here too. It's not as interesting as Gough's Cave but it's worth stopping by.
Delve into the Past at the Museum of Prehistory
With so much history oozing out of the limestone in Cheddar, it's only fitting for an educational museum.
The Museum of Prehistory displays some tools and artefacts left in the caves by our ancestors.
They were found during the excavation of Gough's Cave at the same time as the remains of Cheddar Man were discovered.
Entrance is included with the tickets to the other Cheddar Gorge attractions.
Where is Cheddar Gorge & how to get there
Cheddar Gorge is in Somerset, England. It's about 20 miles from junction 22 of the M5 motorway.
If travelling to Cheddar Gorge from London, it's best to hire a car. It's about 150 miles and much quicker by road than by rail.
There are no direct trains from London to Cheddar. Instead, take a train to Weston-Super-Mare and a bus for the final leg to Cheddar Gorge.
If you'd prefer to visit on a guided tour, this Glastonbury and Cheddar Gorge Day Trip from London fits the bill.
Parking in Cheddar Gorge
Parking can be quite difficult in Cheddar village and it's rather expensive at £5 per day.
If you drive past the village towards the top of the gorge, there are lots of free parking spaces.
What to Wear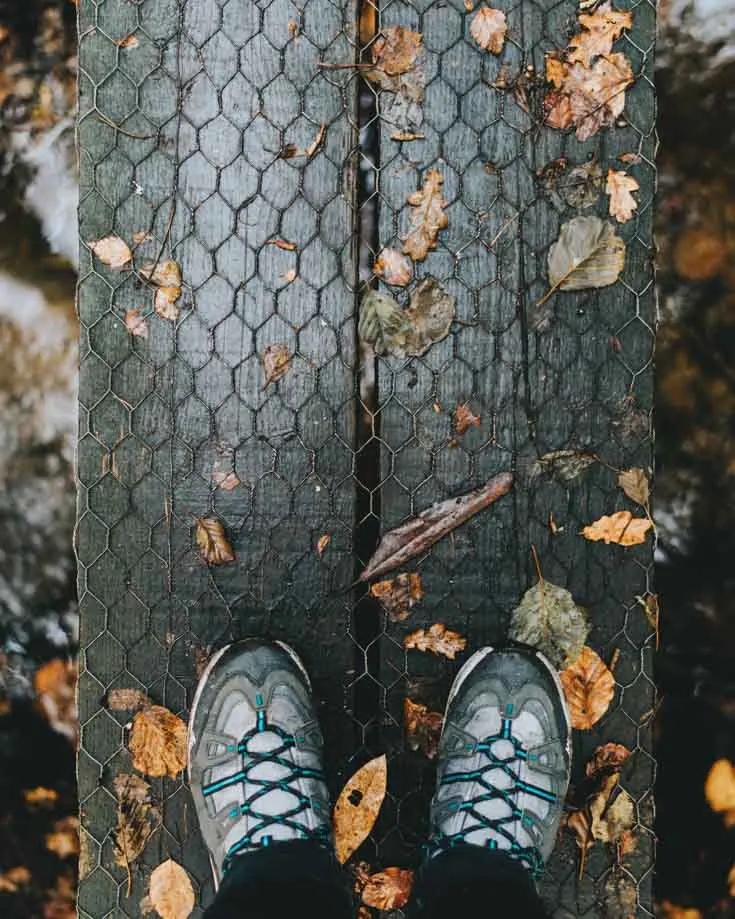 The Cheddar Gorge walks have uneven, rocky terrain in parts and can get muddy.
Regardless of the time of year, it could be slippery underfoot. Expect some windy gusts on the cliff top walking routes.
And this is England so the weather could do just about anything.
When you click on links to various merchants on this site and make a purchase, this can result in this site earning a commission. As Amazon Associates, we earn from qualifying purchases. For more info, please check our disclosure page.
Hiking boots | A decent pair of walking boots will make your walk much more comfortable. A good quality boot provides excellent ankle support and keeps your feet warm and dry.
Backpack | 35 litres is a good size bag for short day hikes. It's big enough to carry our camera gear, lunch, water bottles and other essentials. We even strap our tripods to it. Try to get one with a rain cover and if it doesn't have one, buy one separately.
Waterproof jacket | Honestly, even if the day starts out glorious, prepare for at least a light shower – if not worse. At least check the forecast before you set off.
Tickets for Cheddar Gorge Attractions
You can buy tickets for the Cheddar Gorge attractions online.
You'll receive a 15% discount for buying them online but you must buy them by midnight the day before your visit.
Tickets will give you entrance to Gough's Cave, Cox's Cave, the museum, Jacob's Ladder, Pavey's Lookout Tower and the open-top bus that will take you through the gorge.
If you don't want to visit these attractions, get your map for the free Cheddar Gorge walks from the National Trust centre.
If you go via the Tourist Information office, you will be charged £5.50 to climb Jacob's Ladder.
Where to Eat in Cheddar Gorge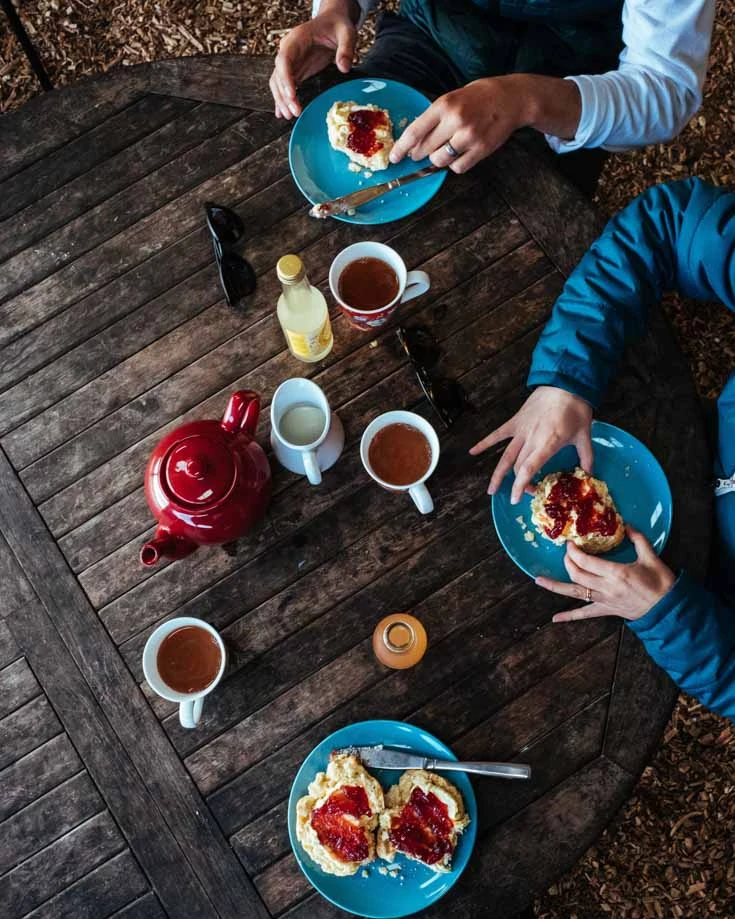 The Bath Arms | For a post-walk treat or evening meal, The Bath Arms in Cheddar village is a fine British pub with a cracking menu to suit everyone!
And they do a roaring trade on Sunday lunches too.
Wishing Well Tea Rooms | This cute little tea room is a must for traditional cream teas.
Expect still warm freshly baked scones, with generous helpings of strawberry jam and lashings of clotted cream.
You'll want a 2nd pot of tea to wash it all down! Delicious!
If the Wishing Well is too busy as it often is, try the Lion Rock Tea Rooms in the blue cottage. It's one of Cheddar's most photographed buildings so you can't miss it!
Cheddar Gorge Accommodation
To enjoy some of the other things to do in Cheddar why not take a few days and stay over?
There's plenty of places to stay in and around Cheddar near many of the major attractions.
We've handpicked Hanam Manor for you. It's a stunning 13th-century manor house in the heart of Cheddar village, on the Cheddar historic walking route.
The rooms are beautifully decorated in a luxurious, airy style. The manor house only offers 2 rooms so you can expect personal and excellent service.
But book early because both rooms get snapped up!
Check availability and prices for Hanam Manor here.
Airbnb
If you'd prefer something more private, there's lots of great value Airbnbs in the area too. Choose from barn conversions to cottages with a gorge view.
If you've not already registered, save a few dollars with this link for your first Airbnb rental.
Camping near Cheddar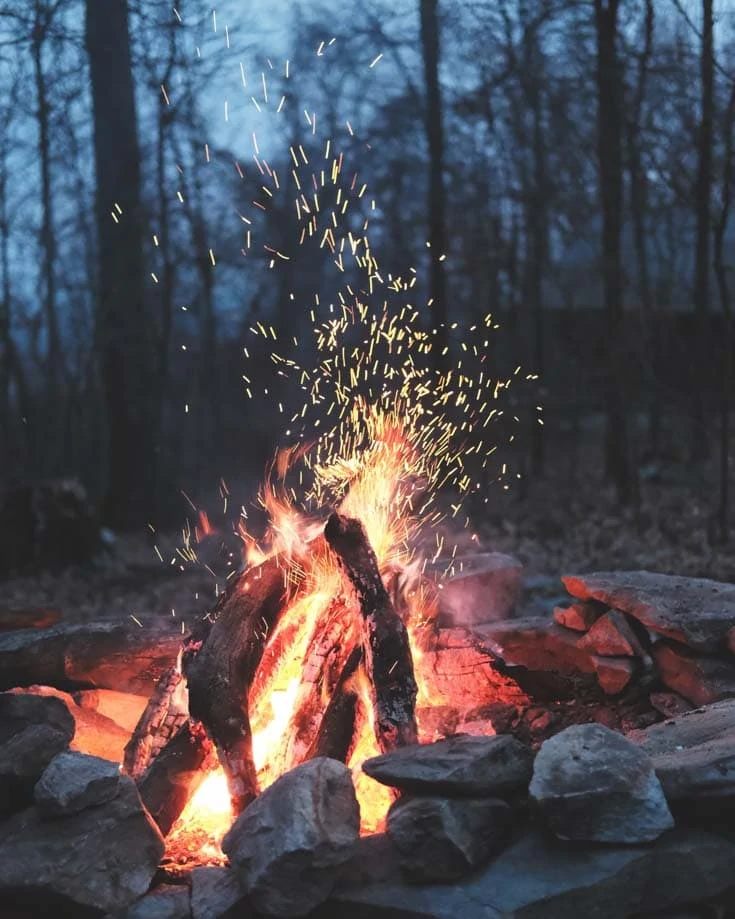 The countryside surrounding Cheddar and the Mendip Hills are home to plenty of campsites.
Most accept campervans and tents. If your motorhome or campervan is longer than 7 metres or if you have a caravan, make sure to check accessibility with the campsite first.
Hip Camp has a good shortlist of campsites in the area.
Like it? Pin it!