Planning a trip to Chiloé Island but not sure what route to take or where to visit? We've got you covered with this one week Chiloé Island itinerary – perfect for a road trip.
---
When we began our Patagonian adventure, we'd never heard of Chiloé Island. But with more than one passing recommendation from fellow travelers, we figured we'd check out what South America's 2nd largest island had to offer.
Having driven from the Atlantic coast and across the Andes mountains, we'd hoped something special would be waiting for us on the Pacific coast, and Chiloé didn't disappoint.
What we found was far beyond what we had imagined: 2 species of penguins, dolphins cavorting feet from the beach, island-hopping, and more wooden churches than we'd seen anywhere, let alone all in one place! There are rolling hills with lush fields bursting with corn and potato harvests, remote, deserted beaches perfect for picnics and birdwatching, and 2 National Parks to satisfy the hiker in you.
Chiloé Island may not have the tropical feel of Chile's other Pacific island, Rapa Nui, but it's equally unique. So when we had a chance to return, of course, we jumped at the chance and explored parts of the island we hadn't seen on our first visit.
Although there's only one main road on Chiloé Island – the end of the infamous Ruta 5 – it serves mainly as a transit route for supply lines and long-distance buses between Puerto Montt and Castro. As a result, most of the best things to do in Chiloé are located a few miles on either side of Ruta 5.
We've curated this Chiloé Island itinerary to bring you to all our favorite things to do on the archipelago. It includes penguin tours, exploring old forts, island hopping, checking out a few UNESCO churches, discovering the palafitos in Castro, and enjoying some of the wild and not-so-wild beaches on both sides of the island.
So, if you're in the planning stage for your own road trip and looking for some ideas, information, and inspiration on where to visit and where to stay on Chiloé Island, then this is the post for you!
In this guide, we've put together a comprehensive itinerary so that you can also explore the Chiloé on your very own road trip!

When you click on links to various merchants on this site and make a purchase, this can result in this site earning a commission. As an Amazon Associate we earn from qualifying purchases. For more info, please check our disclosure page.
Chiloé Island Road Trip Route // Overview
For more detail, click on the image to open it in Google Maps.
Before we provide the day-by-day breakdown of the route, we want to give you a few pointers about the map above and the post in general.
You can open the map within Google Maps to give you a full-scale interactive view, detailed directions, and driving distances.
We use Maps.me as our GPS on all our road trips, and an offline copy of Google Maps works.
This road trip itinerary is aimed primarily at self-drive travelers. You can hire a car in Puerto Montt.
The itinerary assumes you'll begin your road trip in the north, beginning with a short ferry crossing at Chacao, but you can do it in reverse too.
You can comfortably do this Chiloé Island itinerary in 5 days. But it can be adapted too, and we've marked where and how you can adapt the route if you have more or less time.
At the end of our suggested route, we've provided an alternative where you can fly into Castro and use the capital as a base instead of exploring the island from north to south(or vice versa). You can visit almost everything on our itinerary on day trips from Castro. This section also suggests guided tours for some day trips, ideal for those who don't want to hire a car or use public transport.
We encourage you to read our in-depth guide to Chiloé Island before setting off. It provides loads of planning advice, including information about road conditions, ferries, packing tips, and more.
Chiloé Island Road Trip Itinerary // Day by Day
Arrive in Puerto Montt
Puerto Montt is the nearest city to Chiloé, and no matter how you plan to visit Chiloé, your route will at least bypass the city limits.
By Air
Internal flights in Chile are low-cost. For example, direct flights from Santiago to Puerto Montt take less than 2 hours and cost as little as US $50 return, while return flights from Punta Arenas take a little over 2 hours and usually cost around US $150. Search for cheap flights here.
By Road
Many independent travelers, ourselves included, explore Patagonia by road. If you plan to drive to Puerto Montt, you'll either come from Santiago (fast highway), the Chilean lake district (good sealed roads), or the Argentine lake district (also, good sealed roads).
From Santiago // Ruta 5, fast highway, 1000 kilometers, 11 hours driving
From Pucón in Chilean Lakes // Ruta 5, fast highway, 340 kilometers, 4 hours driving
From Bariloche in the Argentine Lakes // Ruta 40, Ruta 215 & Ruta 5, sealed roads, 320 kilometers, 5 hours driving, and 1 border crossing
Puerto Montt is not an unenjoyable city but, as you're here to visit Chiloé, you probably don't want to spend too much time there when you could be enjoying the mystical highlights of the nearby archipelago.
Day 1 // Puerto Montt > Ancud
Distance // 92 kilometers / 57 miles Driving Time // 80 minutes
60 kilometers of Ruta 5 towards the tiny ferry port at Pargua and an inexpensive toll booth kick off day 1 of the route. The start of the journey would be pretty nondescript if it weren't for the rearview mirror.
If you haven't already explored the wonders of the Chilean Lake District, make sure to get a glimpse of the towering volcanoes you're driving away from.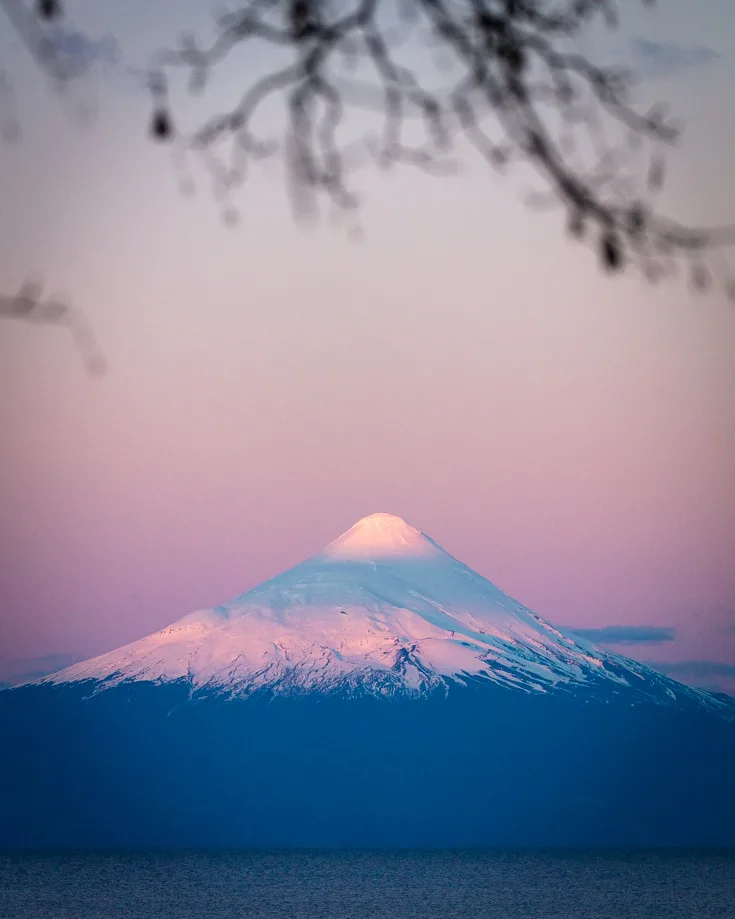 The 20-minute passage to Chacao – your landing port on Chiloé Island – will either be uneventful, or you'll be escorted in by a pod of Commerson's dolphins. So it's worth stepping out of your vehicle and climbing the ladders to the ferry's viewing deck to find out which kind of passage you're having.
As you drive off the ferry, you'll know you've arrived somewhere quite unlike anywhere else. Once brightly colored shingle-clad homes line the road outside the port, crying out for a fresh lick of paint. These houses have probably stood witness to the portside comings and goings for a century or more.
Chacao has history – centuries worth. Although a UNESCO World Heritage Site, there are no significant attractions here, but architecture fans will love to wander the side streets to admire the larch cladding, if only for a few minutes.
Ancud is located 30 km east of Chacao on a good highway – a continuation of Ruta 5. However, as cities go, this one is small.
We found the things we enjoyed most about Ancud were outside of the city center: spectacular views from the cliffs over the Chacao Channel we'd just sailed across; peaceful beaches and coastal walks; wandering around the cannons at Fuerte San Antonio – Spain's last stronghold in South America.
The city center has its own attractions too. The museums are well-worth visiting, and enjoying a coffee break or lunch stop on the plaza in the shadow of the cathedral is a perfect way to relax into the island's vibes.
Things To Do In Ancud
San Carlos Cathedral // The original cathedral in the central plaza was severely damaged in 1960 by the most powerful earthquake ever recorded (magnitude 9.5 in Valdivia). The reconstructed version is modern by Chiloé standards but is also conveniently located near cafés and restaurants, so it serves as a perfect landmark.
Fuerte San Antonio // The site has historical importance because the Spanish empire's presence in South America fell here at the end of the wars of independence. Unfortunately, the ruined remains, a few cannons, and information in Spanish is all that remains, but even if you're not a history buff, you can't knock the views.
Museo de las Inglesias de Chiloé // Free museum with replicas of Chiloé churches. It's free and has loads of information about the buildings. Our route doesn't take in the entire Ruta de las Inglesias, so we highly recommend spending an hour here.
Museo Regional de Ancud // Another free museum and perfect for history buffs or anyone interested in learning more about the island's fascinating history. You'll find blue whale skeletons, local artifacts, and even a ship housed in the blue building adjacent to the cathedral in the plaza.
Playa Arena Gruesa // A delightfully secluded beach with a recently updated promenade and access ramps. The beach is visible from the ramparts Fuerte San Antonio's ramparts if you want to check it out from above first.
Where To Stay In Ancud
Domoschiloe // For something a little special, Domoschiloe offers a secluded getaway only 6 kilometers from Ancud center. Rooms are in private domes, with views over the river and the sea. Each has a wood-burning stove to keep you cozy on cool evenings – right after you step out of the wood-fired hot tub.
13 Lunas Hostel // Budget-friendly option with a central location, so ideal for visiting the local attractions and restaurants. When the weather is good, you can even spend a lazy hour or two hanging out in a hammock in the garden.
Camping Arena Guesa // Reasonably priced campground with fabulous views over the Chacao Channel. Try to secure one of the cliff-top pitches for 180° sea views that take some beating.
Where To Eat In Ancud
Café Blanco // Grab a late breakfast or early lunch at Café Blanco, a real gem of a place! Don't miss the hot chocolate, especially if you arrive on a renowned Chiloé rainy day!
Club Social Baquedano // Set in a refurbished old social club, you can enjoy a beer, lunch, or dinner with a relaxed vibe, friendly staff, and rustic Chilote charm. The menu has a great variety of fresh fish – not to be missed!
Tips
There's a toll booth on Ruta 5 between Puerto Montt and Pargua, so carry a few pesos.
You don't need a reservation to board the ferry between Puerto Montt and Pargua. You may need to wait a little longer in a queue in high season, but the ferry sails a couple of times each hour, so you shouldn't need to wait too long.
When we first used the ferry, they accepted only cash. The second time, technology had arrived onboard, and we paid with our debit cards. We recommend being prepared with enough cash as a backup to your cards.
There are plenty of supermarkets on the island, so there's no need to stock up on supplies in Puerto Montt.
Some of the urban roads in Ancud are pretty steep, and the town planners seem to enjoy positioning intersections with stop signs at the steepest points. Practice your clutch control and hill starts before you arrive!
Day 2 // Ancud > Chepu
Distance // 102 kilometers / 64 miles Driving Time // 2 hours
True to a slower, more meaningful style of travel, today's itinerary is focussed on a corner of Chiloé, usually only visited for one thing – penguins. And while penguins feature, this route will help you explore other hidden gems most visitors never get to see.
Chiloé's northwest corner is home to authentic fishing villages, secluded beaches you'd be forgiven thinking nobody else knows about, a lighthouse, and another fallen Spanish fort.
Fuerte Ahui is a little smaller than Fuerte San Antonio, and thanks to another decent fortress builder, it commands a fine position overlooking the surrounding channel. Although the underground armory and dungeons collapsed during the 1960 earthquake, the ruins remain fairly intact.
You can continue your route from Fuerte Ahui to Faro Punto Corona. There's nothing special about the lighthouse in particular, but there's a small museum with historical information about the lights used in Chile's lighthouses.
Moreover, the landscape around here is quite special, and so it makes it onto our suggested itinerary. Take a few side roads to discover remote beaches; park up and take a walk, regardless of the weather, and watch out for the local fishermen selling their fresh catch – especially the king crab!
The highlight of today's itinerary is less than 40 kilometers south, on Chiloé's Pacific coastline. Puñihuil isn't quite a village, more of a wild beach lined with restaurants and boat tour operators. The rocky outcrops just off the wide sandy beach play home to Humboldt and Magellanic penguins, the only place in the world where the two species nest side-by-side.
The boat trips are fabulous; the skilled sailors bring the boats close to the rocks for the best views, pointing out other interesting birdlife and seals along the way. It's a bumpy ride, especially leaving the beach, so bring a dry bag for your camera gear and a weatherproof jacket for the ride.
Chepu is a remarkable area and relatively young. The 1960 earthquake resulted in the land around the river dropping by a couple of meters. The once freshwater estuary was flooded with seawater from the Pacific, eventually killing the trees. What remains today is often referred to as a ghost forest, and it's best seen from the water.
When we visited, it was possible to hire kayaks and take guided tours of the ghost forest. Unfortunately, the company seems to have been a casualty of 2020 and has closed. If you don't have your own inflatable kayak, you can hire equipment from Senderos De Chepu. Alternatively, you can arrange river tours from Ancud or Castro.
With a wonderful mix of local wildlife – sea lions, river otters, kingfishers, and a multitude of other birds – a river tour will undoubtedly be a highlight of the day.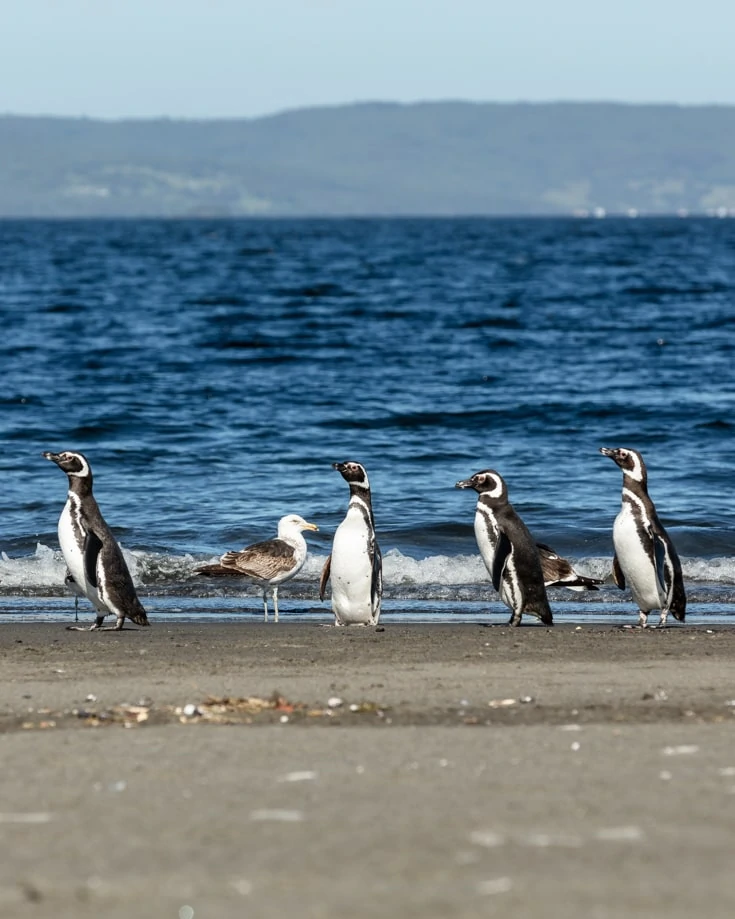 Where To Stay In Chepu & Puñihuil
Chepu is remote, so accommodation options are limited. For those camping in tents or campervans, check the latest information iOverlander for overnight spots.
Other travelers have stayed at Senderos de Chepu (where you can rent kayaks), and their hospitality is highly regarded.
Vertientes de Pumillahue (translates to Slopes of Pumillahue) // For something a little special, these lodges are simple but comfortable. The lodges overlook the gorgeous cove at Pumillahue and its turquoise waters, so ideally located for the penguin tours.
Where To Eat In Chepu & Puñihuil
Balena Azul // Homely cooked food, surrounded by the ocean, and if you're lucky, you'll even glimpse a Blue Whale, after which the restaurant was named. The restaurant is close to the penguin tours, so if you're continuing to Chepu, you best eat here before you leave.
Costa Pacifico // Fresh fish, homemade empanadas, and home-brewed Pisco sours, all served right on the beach after your penguin tour. Do you need any more convincing?
Senderos de Chepu // Enriqueta's homemade dishes get rave reviews from other travelers. So if you end up in Chepu, you're sure to get a great feed here.
Tips
You can book your penguin tour from any of a selection of operators on Puñihuil beach. Depending on the season, each operator runs between 3 and 7 tours daily, and tickets are sold on a first-come, first-serve basis.
If you're driving a camper and prefer to stay near the penguins in Puñihuil, ask San Miguel tour operators if you can park there for the night. Their grassy parking lot is high up off the beach, and we spent a very peaceful night there. But, of course, you'll need to book your boat trip with them first!
The best time of year to see lots of penguins is between November and March. We visited in December (and saw lots) and again in September (and saw 4).
Lots of cars and tour operators drive across the beach at Puñihuil. Our advice – don't. The tide comes in quite high, saltwater loves to eat through the underneath of your car, and getting stuck is best avoided. Just park up before hitting the sand.
For the journey from Puñihuil to Chepu, ignore your sat nav's directions. It will most probably try to navigate you back through Ancud and take Ruta 5. Instead, take the backroad – the W-254 – it's more interesting and only 20 kilometers.
Many stretches of road on this route are single-track, narrow country lanes, and the track down to Fuerte Ahui is pretty bumpy. Take your time.
Day 3 // Chepu > Dalcahue
Distance // 108 kilometers / 83 miles Driving Time // 1 hour 40 minutes
Dozens of islands make up the archipelago, so island hopping is a staple for any worthy Chiloé itinerary. And of course, Chiloé is synonymous with UNESCO churches. So, today's itinerary combines the best of both.
Kick start the day with a hearty breakfast and head across the island to Quemchi, a small fishing village on the east coast. The streets are picturesque and worth a wander, camera in hand.
Like so many towns and villages on Chiloé Island, Quemchi has a museum – Casa Museo Francisco Coloane – dedicated to the Chilean novelist. Even if you're not especially interested in Mr. Coloane, the video demonstrating a Minga house moving festival is fascinating.
You can take the ferry to Isla Caucahué from Quemchi. Other than almost guaranteed seal sightings, there's little to keep you occupied here, so we think the island is best viewed from Quemchi's shores.
A few kilometers south, you can walk to Aucar Island across a fabulous 500m wooden walkway. Watch as the seagulls take shellfish from the beach, fly to a height and drop their catch from a strategic position to smash the shell and reveal a tasty morsel. Visit the colorful cemetery of the sailors' souls and pretty church. Above all, enjoy the tranquility you'll experience here – it is one of the least touristy places on Chiloé.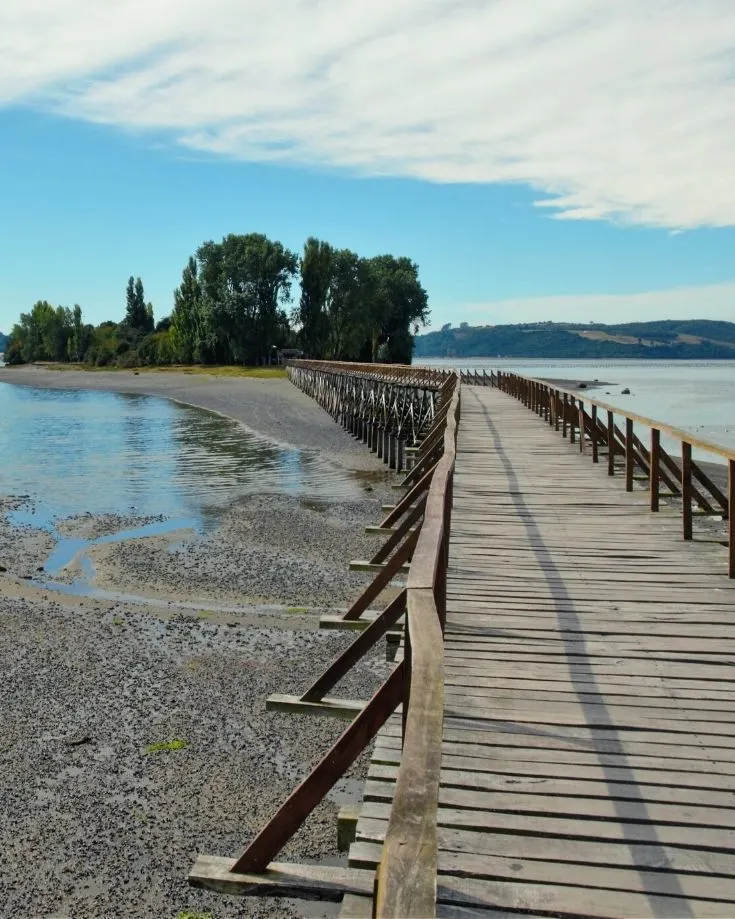 Next, it's time to don your walking boots and discover Cascadas de Tocoihue. An easy navigable 1-kilometer dirt road leads to a small car park. The admission fee is small, and a short, easy hike is rewarded with a fabulous vertical waterfall set in amongst dense forests. Keep your eyes peeled for tiny hummingbirds flitting around.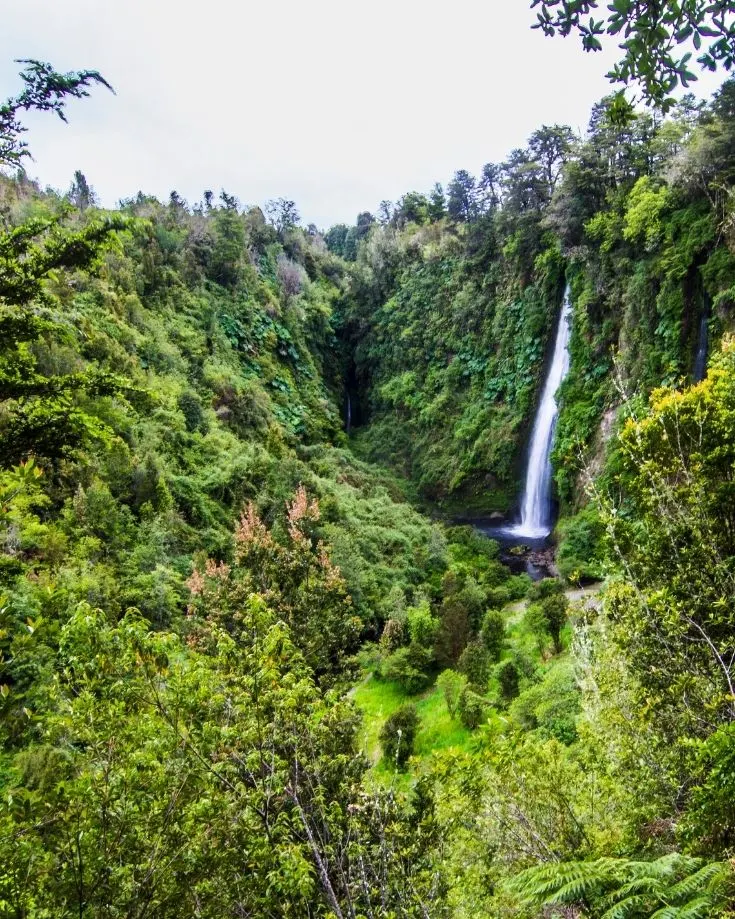 Buying souvenirs at a traditional Chilote craft market is one of the most popular things to do in Chiloé. Most villages on the island seem to have one, but it's worth noting that while they may look traditional but many sell reproduction, made in china versions of local trinkets.
DecoCalen in Dalcahue is one of the most genuine places we found on our visit. Shopping here is the best way to support the local artists and find genuine pieces.
Dalcahue is mainly visited as a launch for visiting​​ nearby Quinchao Island. We recommend ending day 3 of your Chiloé road trip here, souvenir shopping at leisure before enjoying an evening meal in this laid-back village.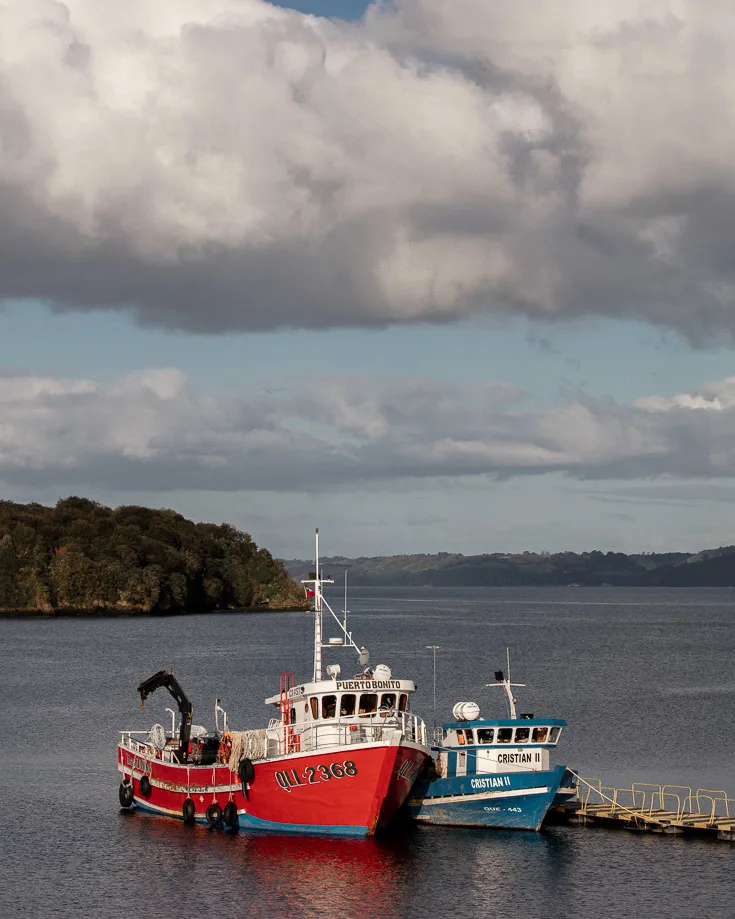 Where To Stay In Dalcahue
Hospedaje and Camping Encanto Patagon // The campsite is in a great location in the center of town, so it's convenient for catching the morning ferry.
Hostal Casa Bosque // All the benefits of a hostel but with private bathrooms and bedrooms, the family-run accommodation is highly rated among travelers. It's a couple of kilometers out of the town center, so it will only take a couple of minutes to drive to the ferry port.
Casa Pascual // Although almost 4 kilometers outside of the center of Dalcahue, the 2 bedroom holiday home has some commanding views. Fully equipped and sleeping up to 4 people, it's ideal for families or small groups.
Where To Eat
If looking for a satisfying meal in Quemchi, try El Chejo. They're not shy with portions of their delicious, homely menu, including shellfish, terrific salmon, and of course, the Chiloé specialty curanto.
Cocineria Dalcahue is a food hall located in a stilted palafito on the coast road and ideal for sharing plates (their portions are huge too). They serve local produce, great quality, and excellent value for money. Note, you'll need to eat early here as they close around 7 pm.
Satisfy a sweet tooth in Cafe Casita de Piedra in Dalcahue – lip-smackingly good cakes and excellent cappuccinos!
Tips
Don't use Google Maps to navigate to Cascadas de Tocoihue, as the track is a challenge without a 4×4 vehicle and decent ground clearance. Instead, use Maps.Me for a more accessible route.
The admission to Cascadas de Tocoihue is small ($2000 in 2021), and you can't pay by card. Bring small denomination cash.
There are several churches on this route, notably 2 UNESCO World Heritage Sites: Iglesia de Colo between Quemchi and Cascada Tocoihue and Iglesia de Nuestra Señora de los Dolores in Dalcahue. Both are worth including on the day's itinerary and barely add any mileage.
Day 4 // Dalcahue > Castro
Distance // 94 kilometers / 59 miles Driving Time // 2 hours 30 minutes
Because it's one of the most accessible islands in the archipelago, Isla Quinchao is also one of the most visited. But unlike other popular areas around the world, that doesn't mean large crowds.
Instead, a 15 minute ferry crossing from Dalcahue takes you to a mini paradise of rolling hills, lush green foliage, and glorious color – especially if you visit in late Spring.
A mini-tour of the island is easily driven in a few hours, including stops for sightseeing and lunch. We highly recommend making your own route here to find hidden gems. The roads are narrow lanes, but they don't suffer from heavy traffic, making them easy to navigate.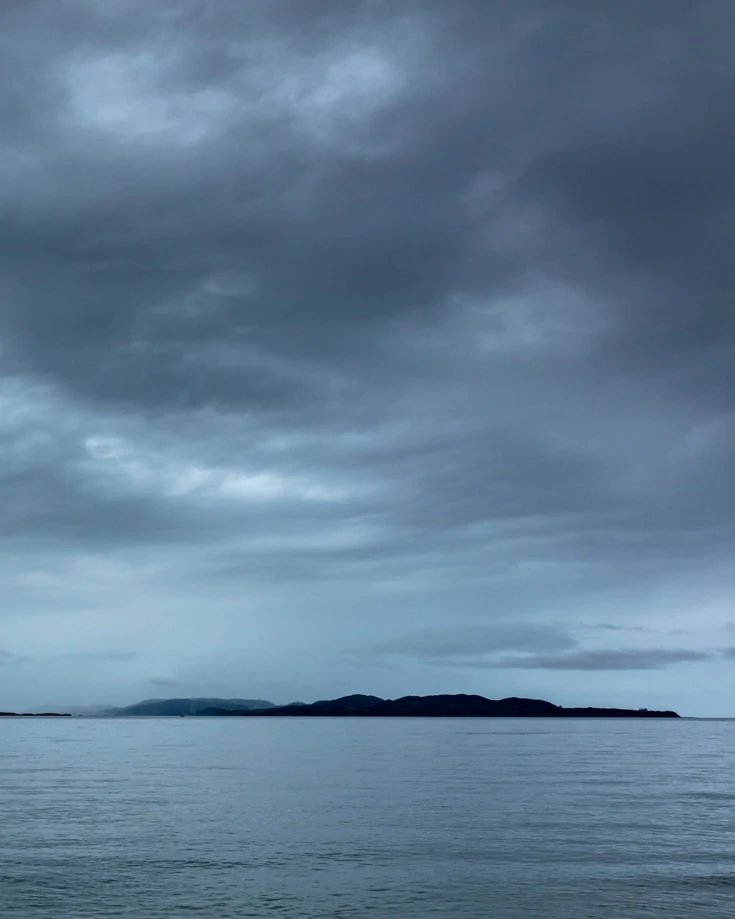 Don't miss:
Curaco de Vélez // Taste local fresh oysters, admire the wooden architecture, and spot flocks of black-necked swans.
Iglesia de Quinchao // The largest of Chiloé's traditional churches.
Mirador Peumayen // A simple lookout point on the road leading to the island's easternmost point. Offering virtually 360° views, don't drive past it!
Iglesia de Santa María de Loreto // Built by the Jesuits in the 18th century, the wooden church is the oldest church on the archipelago. It's located in the island's largest town, Achao, so it's a perfect place to visit before or just after lunch.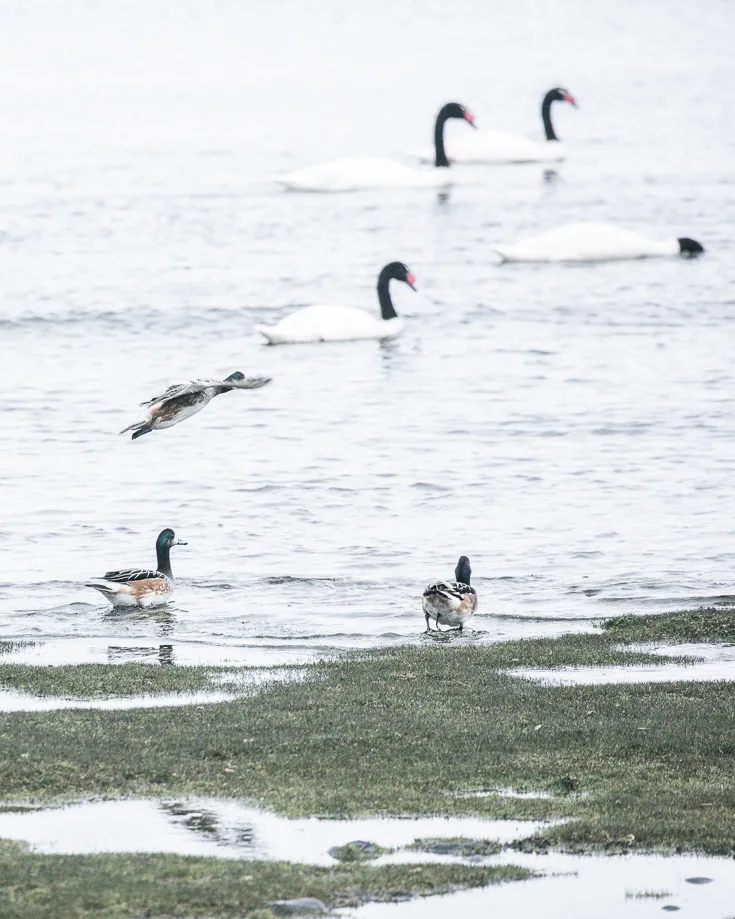 After taking the short return ferry, head southwest towards Castro, Chiloé's capital and the largest town in the archipelago.
There are a few attractions to explore: its spectacular coastline, palafitos, and cafés serving possibly the best hot chocolate in all of Chile provide more than enough to fill an afternoon.
If a night out is in order, Castro is the best place on the archipelago for it. Your nightclubbing options may be limited, but a few bars and pubs provide a great atmosphere to enjoy a meal and a few beers. Try Barra Cervecera for a great selection of local and imported beers or Almud Bar for something a little more bijou.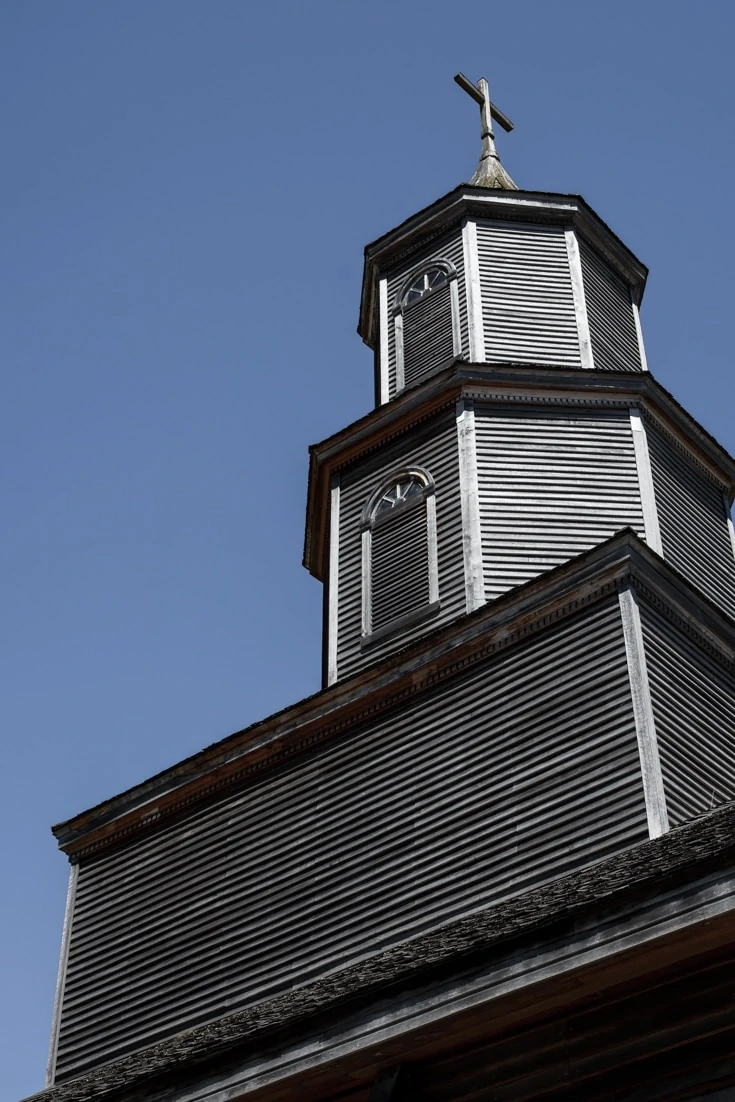 Things To Do In Castro
Visit Castro's Palafitos // No visit to Chiloé is complete without at least one snap of the colorful palafitos – houses built on stilts at the water's edge.
Church San Francisco // Another UNESCO World Heritage Site and it's conveniently positioned right on the town's plaza. It's hard to miss the bright yellow and aubergine church. Don't miss the chance to check out the gorgeous interior.
Iglesia Nuestra Señora de Gracia de Nercón // For another UNESCO church, though a little less colorful, follow the coast road a little further south to Iglesia Nuestra Señora de Gracia de Nercón. Although a little drab-looking, it was our favorite, and it has excellent views from the bell tower.
Craft market // Visitors are drawn to the craft market in Castro, enticed by the desire to buy souvenirs. It's a pleasant place to browse but for the most authentic souvenirs, save your cash for DecoCalen in Dalcahue.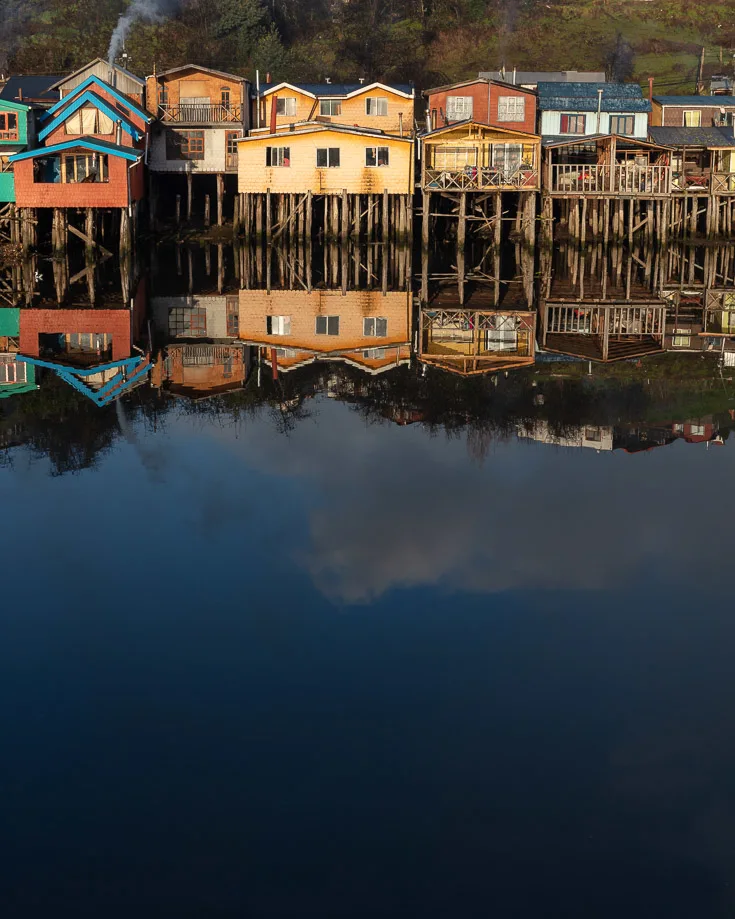 Where To Stay In Castro
Camping options are few and far between in the city. You can find suitable overnight parking spaces, though you'll have to accept a less than tranquil night, given their locations in the city center. If you'd prefer a more formal campground, we recommend using iOverlander to find a suitable site that's open during your visit.
Hotel Boutique El Quinto // Offering a little splash of luxury, this small hotel only has 5 rooms, each with killer views. It's located 6km from Castro, and if you can't bear to drag yourself away from the hot tub, pool, and pampering, you can arrange to have a traditional Chilote dinner without leaving again.
Where To Eat In Castro
El Mercadito // Highly rated, with a cracking menu all made from fresh produce and possibly the best views in town, book ahead to avoid disappointment.
Patio Palafito // A delightful coffee shop serving tasty hot chocolate and good coffee – not always a given around these parts.
Tips
Castro is the best place to stock up if you need to resupply while on Chiloé Island, especially if your onward travel plans involve the Carretera Austral.
For those on long-term journeys, if you need any non-mechanical repairs to your camper, Castro has a massive Sodimac store to cater to every DIY need.
Day 5 // Castro > Chiloé National Park
Distance // 71 kilometers / 45 miles Driving Time // 2 hours
Driving out of Castro southbound on Ruta 5 won't offer much inspiration for the day ahead, so turn left towards the coast as soon as you can. Once again, we encourage you to explore the area, turning wherever the mood or views take you. If you follow the coast as closely as possible, you may find the almost hidden Fort Tauco, complete with cannons pointing over the bay.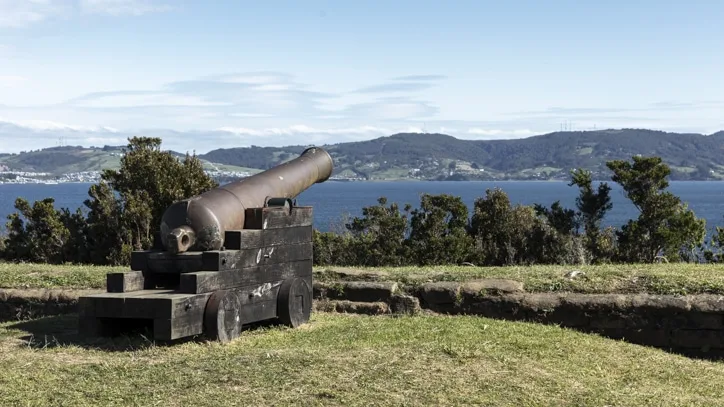 Quinched is another lovely coastal area with fabulous views, excellent birdwatching, and a tranquil beach where you can buy fresh fish from returning fishing boats.
Further south, Chonchi is a larger town, more touristy than the first part of the morning, but worth a visit. You'll be well used to Chilote churches and museums by now, but it also has a well-stocked fish market where you can buy delicious, whole-cooked crab. Visit the panaderia for a freshly baked loaf and find a secluded spot on the beach for a picnic lunch.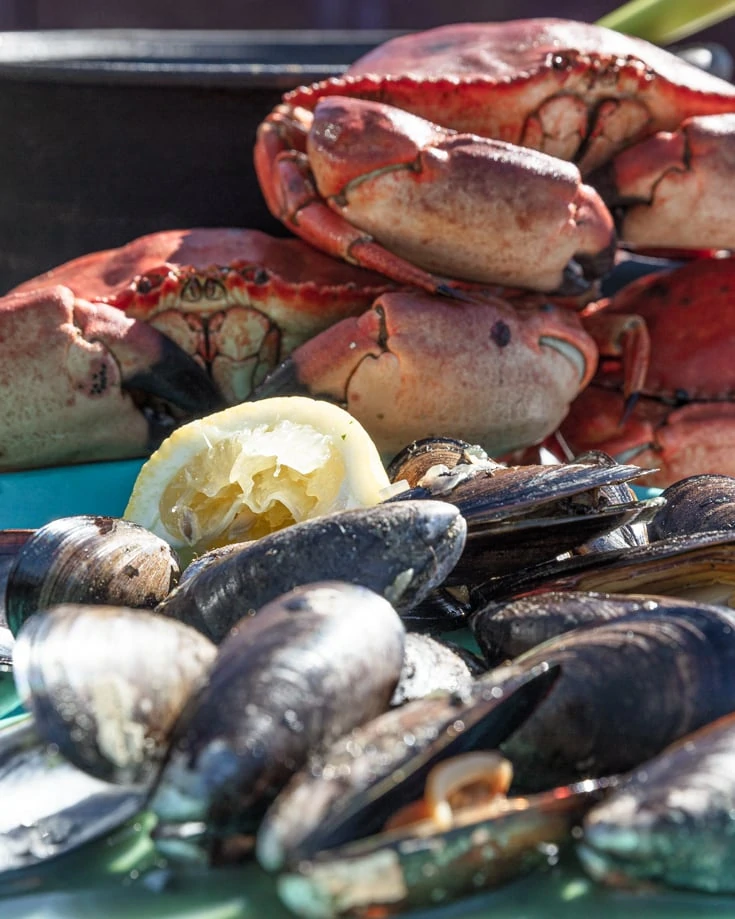 You'll leave the east coast behind for the afternoon's journey across the island. Before reaching the west coast, take a short break in Huillinco cemetery. The strangely quaint cemetery with what looks like little houses is interesting, and the lake is enormous.
The Pacific Ocean batters the west of Chiloé, and the resulting landscape is unlike anywhere else on the island. Dunes line the road north of Cucao, and a walk on the beach, no matter what the weather, will certainly blow any cobwebs away.
Surprisingly for a relatively small island, Chiloé has room for 2 national parks – Chiloé National Park on the west coast and Parque Tantauco in the south. Our recommended itinerary includes visiting Chiloé National Park. See our tips below on visiting Parque Tantauco.
The entrance to Chiloé National Park is just outside Cucao village. There are several walking trails through dense forest – most are pretty easy and suitable for all fitness levels. It's an opportunity to get close to this unique natural environment, and if you're incredibly lucky, you may even spot Darwin's frog!
Muelle de los Almas is an art installation a little way south of Cucao, as the road meets the coast. Now don't get us wrong, the photos of this place look great, but Instagram can be deceiving. The chances are, your visit here will coincide with a tour bus, and everyone will need to form an orderly queue for their photo opp.
Those shots may look like you have the entire west coast of Chiloé to yourself, but the reality is somewhat different. We passed this one by but later found out we could have parked our camper there overnight – and that would have been a great spot to camp!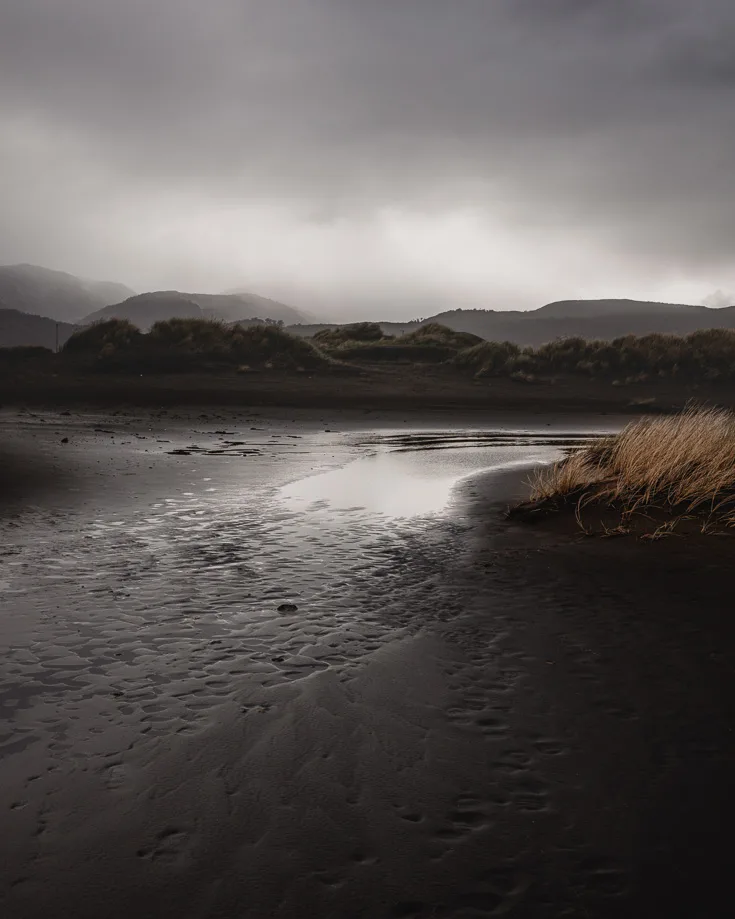 Where To Stay In Cucao
When we arrived on the west coast of Chiloé, we wanted to find a campground with endless hot water, maybe an electrical hookup to top up our batteries in the cloudy conditions and relax for a day or two. Now we're not tight-fisted and happy to pay good money for decent quality, but oh boy! The prices of campgrounds near Cucao were verging on extortionate, especially considering the less than favorable facilities. So we used iOverlander and found a perfect, wild camping spot near the dunes. If you wish to camp, we recommend you do the same or be prepared with deep pockets.
Palafito Cucao // Another luxury stay, this time only a few hundred meters from Chiloé National Park. Right on the shores of Lake Cucao, wonderful views are guaranteed and offer a commanding position for wildlife spotting. Consider spending a couple of nights here because you can arrange kayak trips on the lake, guided trekking, and horseback riding to take full advantage of the beautiful scenery.
Tips
Parque Tantauco is located in the far south of the largest island and because the road conditions are rough, getting there takes an age. We recommend setting aside at least 2 days to visit this area. One day could be enough, but you'll spend most of your time driving corrugated, pot-holed tracks.
Adapting Your Chiloé Island Itinerary
If you have more or less time than the 5 days we recommend here, you can easily adapt this itinerary.
We don't recommend squeezing it all into fewer days, though you could combine days 3 and 4 if you're less than enamored with the idea of spending much time in Castro. Instead, prioritize what you'd most like to see and adapt your itinerary to suit if you're short of time.
If you have more time, consider spending an extra day on the west coast, perhaps taking advantage of the organized excursions at Palafito Cucao. If you have another 2 days spare, exploring Parque Tantauco would complete a comprehensive Chiloé road trip.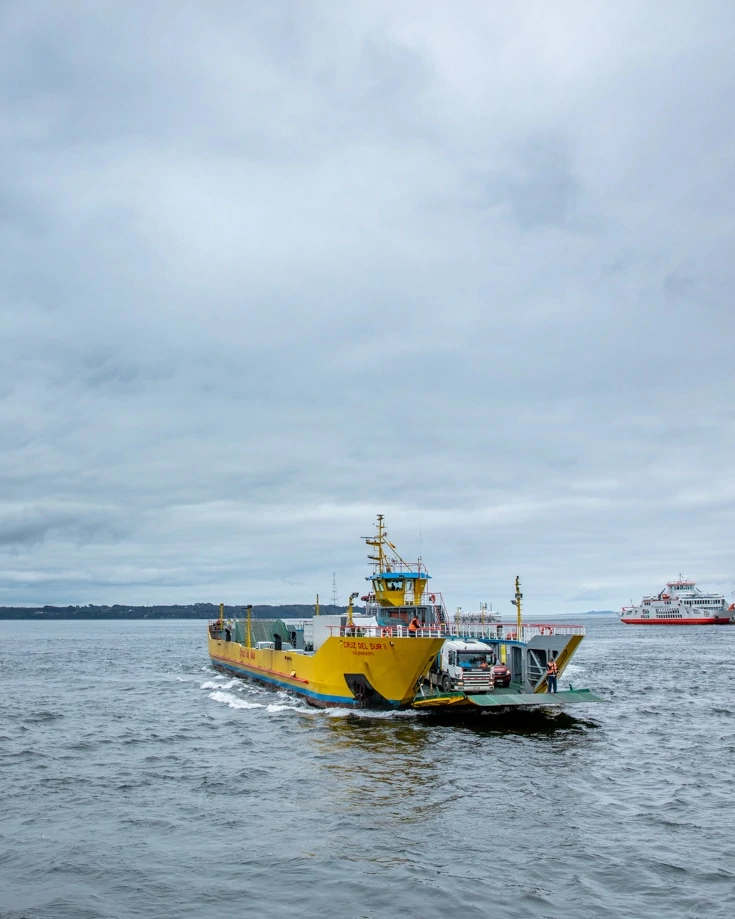 You can visit most of the places on our itinerary directly from Castro. The local Mocopulli airport is only 20 minutes outside the city, so you could fly in and arrange everything from Castro.
If you'd like to tour Chiloé and don't have a car or camper, you could do most of this route on public transport. Of course, it would make the itinerary less flexible, but you could combine local buses with organized tours for the harder-to-reach places.
You can base yourself in Castro – and it does have a broader range of accommodation options if you're not camping – and we recommend a 4 day itinerary:
Day 1 // Castro
Day 2 // Chiloé National Park and Chonchi
Day 3 // Dalcahue and Island Hopping
Day 4 // Penguins and Ancud
Here are some example excursions that start and finish in Castro:
Onward Travel
Most non-Chilean visitors to Chiloé visit the archipelago as part of a broader itinerary.
To help you work that out, here's a list of some of the most popular travel plans:
Join the Carretera Austral by taking the car and passenger ferry from either Castro or Quellón to Chaiten.
The upside of Chiloé Island is that even if you're not planning on joining the Carretera Austral after your visit, you can always return to the ferry port at Chacao without seeing the same things twice.

Return to the mainland and tour the magnificent Chilean Lake District.
Return to the mainland and enjoy the attractions around Puerto Varas before crossing the border into the Argentine Lake District.
Patagonia Travel Planning
How To Get to Patagonia (coming soon)
More Patagonia Itineraries (coming soon)