Chiloé Archipelago is unlike anywhere else in Chile. A land of myths and legends, beaches, penguins, and churches. What a crazy mix! Let's explore this corner of Patagonia.
---
Wild winds off the Pacific Ocean batter the west coast beaches, hemmed in by sand dunes and a rugged landscape home to feral Chilote ponies. Penguins breed on rocky outcrops, waddling around seals basking in the sunshine and only occasionally pestered by fiercely protective lapwings.
On the east coast, fishers leave their palafito homes, their tethered boats raised to the porch on the morning's high tide. Wooden churches stand large, looming and proud in villages seemingly too small to house congregations large enough to fill them. And the myths and legends of the island run rampant throughout the dense fog surrounding the archipelago.
In this guide for travelers, we've shared everything you need to know to prepare for exploring Chiloé. It's packed with advice on when to go, how to get there, money matters, road conditions, what to see & do, and so much more.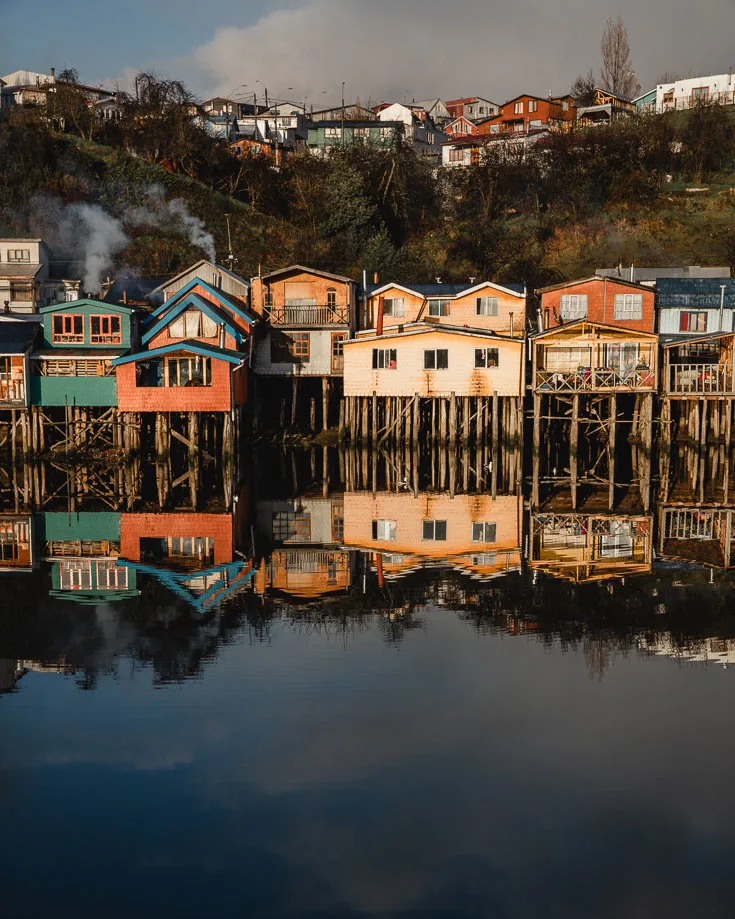 When you click on links to various merchants on this site and make a purchase, this can result in this site earning a commission. As Amazon Associates, we earn from qualifying purchases. For more info, please check our disclosure page.
Information About Chiloé
This first section covers the basics of Chile's Chiloé Island and the archipelago, including things to see and do and place to stay.
Where Is Chiloé Island?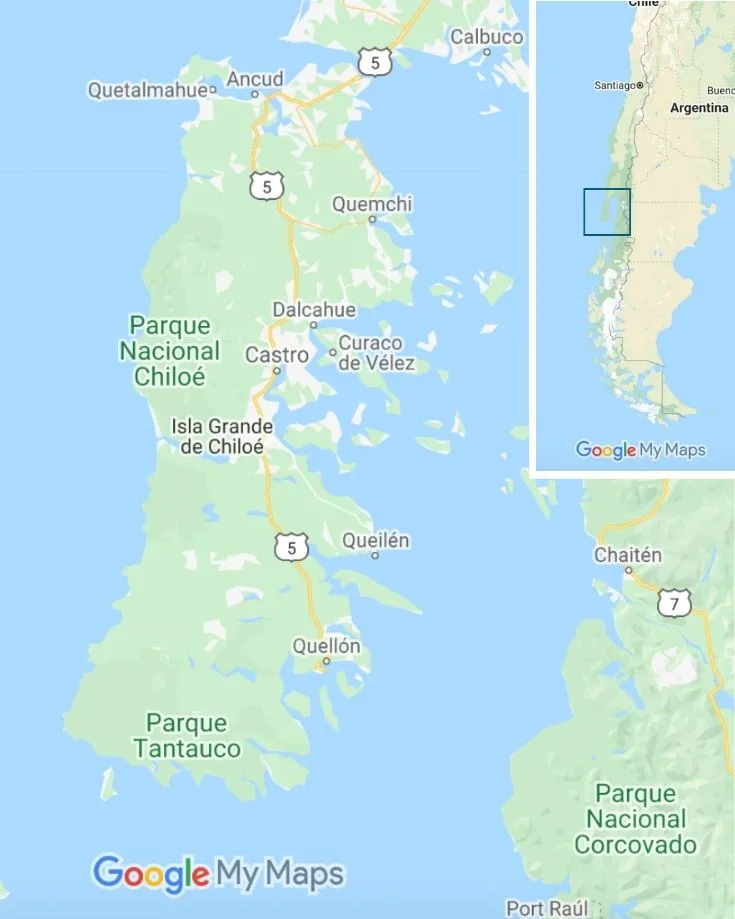 For more detail, open the map in Google Maps.
Chile's 2nd largest island (after Tierra del Fuego in southern Patagonia), Chiloé Island, is a little over halfway down Chile's Pacific coast and at the northern reaches of Chilean Patagonia.
Chiloé's landscape is one of the most surprising aspects of any visit to the archipelago. Where the mainland to the east is mountainous and inhospitable, Chiloé is filled with rolling hills more akin to the Welsh or Irish countryside than Patagonia.
So too, the Chilean Lake District to the north is a world away. The lakes there are surrounded by quaint German-influenced towns, the horizon punctuated by snow-capped volcanoes. Here on Chiloé, there are no such landmarks.
Instead, traditional Chilote stilted homes and wooden shingle buildings serve as a reminder that the people here manage to resist the Chilean ways and retain their own unique identity.
The island's actual name is Isla Grande de Chiloé. Separated from the mainland by the Chacao Strait, the island is the largest of more than 30 making up the Chiloé archipelago.
That makes it prime for a spot of island hopping.
What Can I See & Do In Chiloé?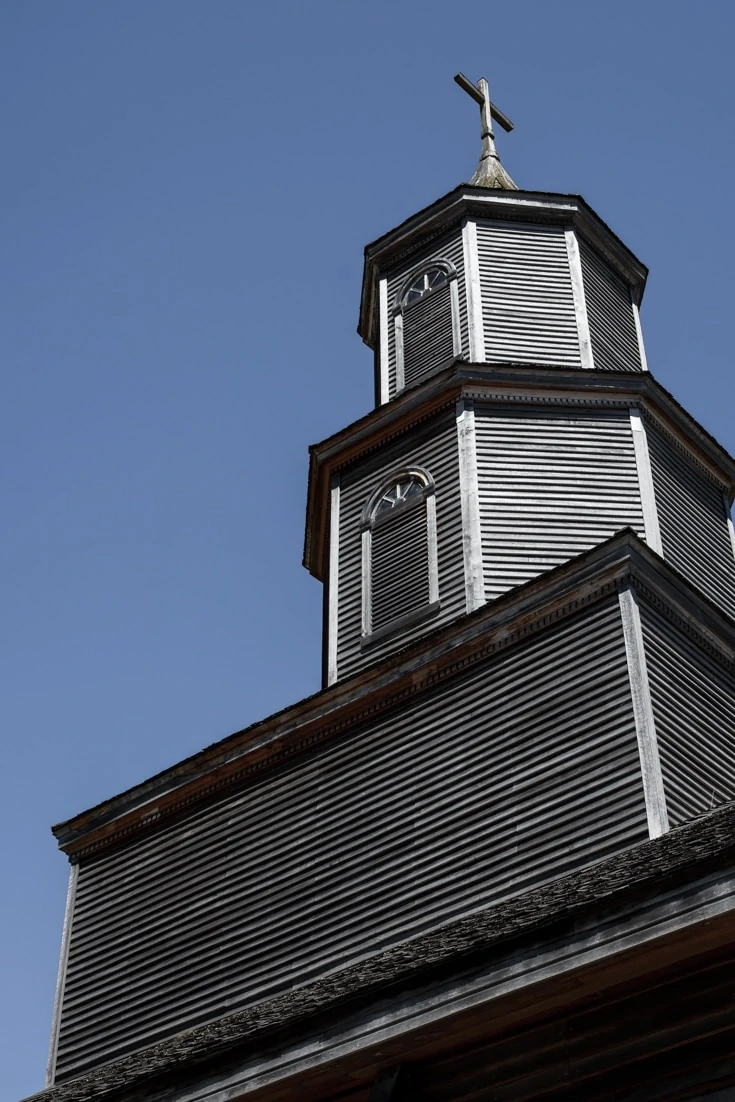 Positioned at the southern reaches of Chile's Lake District and the northern end of the infamous Carretera Austral, Chiloé surprises by being neither a blend or a carbon copy of either.
There are a couple of lakes, but rather than being flanked by snow-capped volcanoes and fed by glacial waters, they're murkier and surrounded by rolling hills. On a clear day, the Andean peaks are visible to the east, but the gritty, raw beauty of the Carretera Austral feels a world away.
There are a few towns on Chiloé, and Castro is as busy as it gets. After spending a few weeks on the Carretera Austral, if you arrive here, expect to see more traffic than you have for a few hundred kilometers. Yet it's a far cry from the bustling cities further north.
Some of the most popular things to see and do on Chiloé Island include:
Explore Castro, the capital of Chiloé Island. Well known for the colorful, stilted wooden houses called palafitos and gaudy-looking yellow and purple San Francisco church.
Visit the UNESCO World Heritage Sites. Chiloé Island once had 150 wooden churches – a huge number when considering how small the island is. While many are long gone, around 60 still stand, and 16 fall under UNESCO protection.
Nature spotting at the only place in the world where Humboldt and Magellanic Penguins hang out together. For many visitors to Chiloé between November and March, the pinguinera (penguin colony) near Ancud is a must-see.
Check out the last stronghold of the Spanish in all of South America at Castillo San Miguel de Ahui. And sleep on your own private beach while you're there.
Explore one (or both) of Chiloé's national parks: Parque Tantauco and Chiloé National Park.
Buy souvenirs at a traditional Chilote craft market. They spring up in virtually every village so you won't need to hunt them out. The artisanal markets in Chonchi and Dalcahue seem particularly popular with tourists and locals alike. Try to hunt out the cooperatives to be sure of supporting the local artists and finding genuine pieces.
Indulge in a hearty bowl of curanto, a stew-like meal of meat, potatoes, and shellfish cooked over hot coals in the heart of the earth, and then covered with large leaves and left to steam. Arrive hungry, and don't expect to have room for dessert when you're done.
Island hopping is almost mandatory, given you're on an archipelago. Even if you're short on time, most ferry crossings take less than half an hour, so if you're on a tight deadline, you could squeeze at least one into your itinerary. Quinchao, La Mechuque, and Isla Lemuy are excellent choices, but there are many others too.
Of course, it is your trip to plan and adapt to suit you. You can make deviations and detours to visit other attractions that fit your interests.
Chiloé Facts & Stats At A Glance
Isla Grande de Chiloé is the largest island in the Archipelago and the second largest Chilean island, after Tierra del Fuego.
The island is 190 km (118 miles) long and about 60 km (37 miles) wide.
Airport // Mocopulli Airport
Ferry Terminals // Castro / Quellón / Chacao
Main Towns // Ancud / Castro / Chonchi / Huillinco / Achao / Dalcahue / Quemchi / Quellón
Gas Stations // In all the main towns
ATMs // In all the main towns
Rent A Car // Puerto Montt / Puerto Varas
When to Go // December to March
Road Conditions // Mostly good tarmac, many single-track lanes, some gravel tracks near the National Park
Chiloé Island Planning Advice
This section answers the most common questions about planning a trip to Chiloé, including the best time to visit, how long you need, how to get around, where to stay, and loads more practical information. It also gives advice for creating your own Chiloé Island itinerary based on your available time.
How Long Do You Need On Chiloé Island?
There are many factors to consider when determining how long is long enough on Chiloé Island.
How slowly will you travel and what mode of transport will you take? How long do you want to stick around in each place?
The road running the entire length of Chiloé Island is only 200 kilometers long. And at 60 kilometers wide, you can discover most of the island in a relatively short amount of time.
At one extreme, you could easily enjoy 2 weeks exploring the highlights of the Chiloé Island and include a bit of island hopping to some of the smaller islands. At the other extreme, a whistle-stop tour from Ancud to Castro with a few key highlights could be rushed in a day or two.
We've visited Chiloé Island twice – the first time for 6 days and the second time for 10 days – but we travel slow. So we've used our experience to create an itinerary, giving you a balance between keeping occupied but without rushing.
Our suggested Chiloé Island itinerary takes in all the highlights of Chiloé Island, including a couple of island visits. Assuming you have your own transport or hire car, we recommend taking 5 days to cover it all.
If you're tight on time, consider skipping parts of the itinerary instead rather than packing it all into a few days. Then you'll be able to enjoy the pace and the delightful atmosphere of Chiloé without rushing.
How To Get To Chiloé Island
Given the island is, well, an island and there's no bridge from mainland Chile across to the archipelago, the only way to get to Chiloé Island is either by air or by sea.
Flying to Castro
Mocopulli Airport is a short 20-minute drive from Castro, so a great location from which to explore the island. LATAM schedule direct flights from Santiago to Castro a few times each week.
The airport is pretty small, so don't expect a terminal catering to your every whim. Instead, your flight is likely to be the only commercial aircraft on the entire island.
By Ferry from Puerto Montt
The ferry terminal is in Pargua, about 60 kilometers south of Puerto Montt – follow Ruta 5 south NOT Ruta 7.
Car ferries run every 15 minutes or so and take about 30 minutes to cross. There's no need to book in advance either. Just turn up. If you're unlucky, you'll queue for a few minutes.
Payment is taken on the ferry in cash only. Ticket prices vary depending on the season, but you can expect to pay up to around 30000 CLP each way for a camper. Car fares are a little cheaper.
If you don't have your own vehicle and haven't rented one in Puerto Montt (which we'd highly recommend), regular buses run from Puerto Montt to Ancud and Castro on the island.
The bus boards the ferry, too, and the cost of the ferry crossing is included in your ticket. Check out the latest schedule and fares on the BusBud website.
By Ferry from Chaitén
If you visit Chiloé from Patagonia, Navier Austral operates ferries from Chaitén to Quellón and Castro.
The 4 to 6-hour crossings cost around 15000 CLP per person one way plus 111000 CLP for a camper van. They sail a couple of times each week in the high season, but only once per week otherwise.
Ferries also operate further south from Puerto Chacabuco to Quellón – useful if you're coming from Coyhaique and want to avoid the northern end of the Carretera Austral.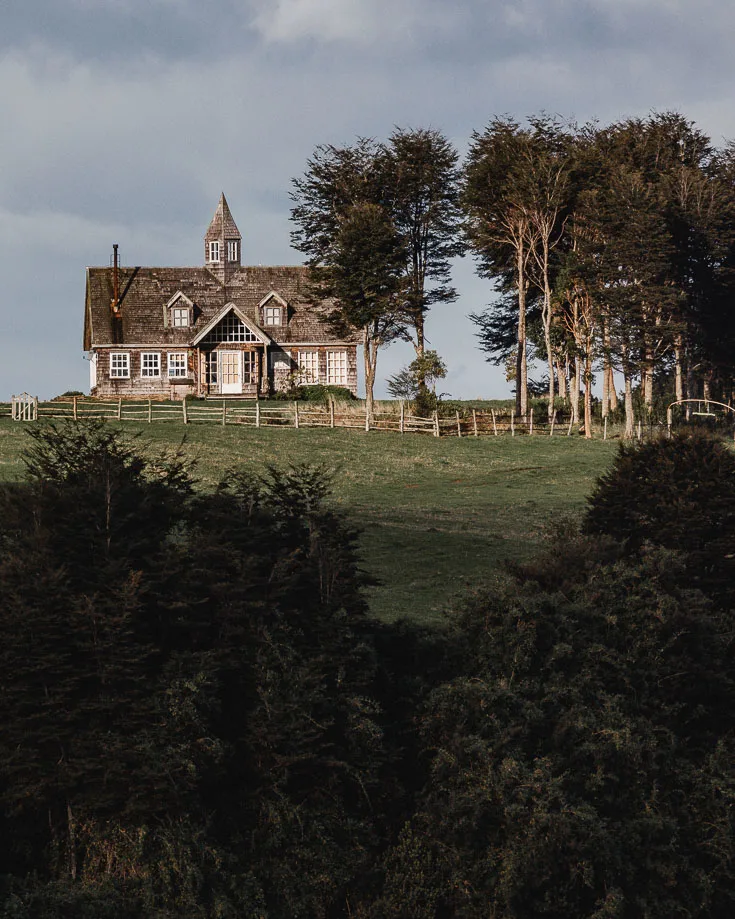 Getting Around Chiloé
Once on the main island of Chiloé, the next challenge is getting around. Chiloé isn't a single destination kind of place. Instead, attractions are spread around the archipelago from north to south and east to west, so the ability to travel around is essential.
Self-Drive
By far the most flexible way to travel around Chiloé is on a self-drive trip. A car or camper is the best way to create a unique itinerary, explore winding lanes, finding fabulous viewpoints, and island hopping to your heart's content.
Unless you happened to have shipped your camper to South America as we did, the chances are you'll need a rental. Rental cars are available in Puerto Montt and Puerto Varas.
We usually use Rental Cars because they cover all the major companies at competitive rates for the best deals. You can get a free, comparative quote from Rental Cars here.
If you'd prefer to hire a camper, you'll need deeper pockets, but it provides greater freedom for boondocking – especially useful if you'll combine Chiloé with a Carretera Austral road trip. Popular campervan rentals firms include:
Wicked Campers, Chile Motorhomes or Holiday Rent RV // Rent a camper in Puerto Varas ( a little further north than Puerto Montt) or Punta Arenas
Soul Vans // Rental offices in Puerto Montt and Punta Arenas
*Update: Chile Motorhome don't seem to be operating any longer. Let us know if you're heard otherwise.
You can get all the information you need in our guide to renting and driving in Patagonia.
Public Transport
Public transport on the largest island in the archipelago is pretty good. Frequent services run between Ancud, Castro, and Quellón. Check out Cruz del Sur's website for the latest schedule and fares.
Local bus services operate in and around villages too. While we've seen them – so confident they exist – we've struggled to find the information about schedules, routes, and fares when researching for this post. It's probably best to ask at your accommodation – or hire a car!
Island-Hopping Ferries
The ferries from the Isla Grande de Chiloé to the most popular islands frequently run during the high season. There's no need to book in advance, although if you're on a tight deadline, you may want to allow a little time for queueing.
If you don't have transport, you'll need to take a bus onto the ferry as most don't allow foot passengers.
Organized Tours
Day trips to Chiloé from the mainland appear on pretty much every itinerary of the Chilean Lake District.
The ferry across the Chacao Channel near Puerto Montt only takes about 20 minutes to get to the island, so it's an easy excursion.
It's cheaper to hire a car and make the itinerary your own, but if you'd prefer someone else to do all the trip planning for you, we think Viator offers the best value and widest variety of Chiloé tours.
Here's a flavor of some of the day tours you can take from Puerto Varas:
Viator offers many other tours of Chiloé, mixing and matching different things to do, so browse their trips before you decide.
How Much Should You Book In Advance?
For the most part, it depends on your style of travel. If you're anything like us, you'll book nothing in advance; simply turn up and see how the land lies. However, other people like to have a detailed itinerary of their day-to-day activities and where they're going to stay.
Chiloé is so small that most unplanned diversions can be accommodated, even in a completely planned itinerary.
If you're traveling in January and February, consider booking anything that is a must-visit for you in advance. Car hire, hotel accommodation, and tours are all in high demand at this time of year.
If you make advanced reservations, where possible, aim to keep extra time within a somewhat flexible itinerary. Advanced bookings can be a blessing when it's busy but a hindrance when you find a place you'd love to spend more time.
Chiloé Island Weather / When Is The Best Time to Visit?
When Charles Darwin visited Chiloé Island, he said, "In winter the climate is detestable, and in summer it is only a little better…"
Hey, this is Patagonia, after all, so you have to expect temperamental conditions. But, in fairness, it's not as bad as Darwin made out.
Winter is wet. Very wet. April to September sees Chiloé's rainy season, and temperatures fall to around 5°c to 9°c. While you can visit Chiloé year round, avoid June if you don't like rain.
Summer conditions feel far more respectable with temperatures in the low 20s°c and with much less rainfall.
Even so, it can rain year-round on the archipelago, so make sure you pack for inclement weather, especially if you plan to go hiking. Waterproofs are a must!
December to March – the Chilote summer – is the perfect time to visit. Because Chiloé is yet to become a major tourist attraction, it doesn't feel overcrowded even at the height of the season.
Check out our definitive guide to the regional seasons to find when to go to Patagonia to do the thing you enjoy most.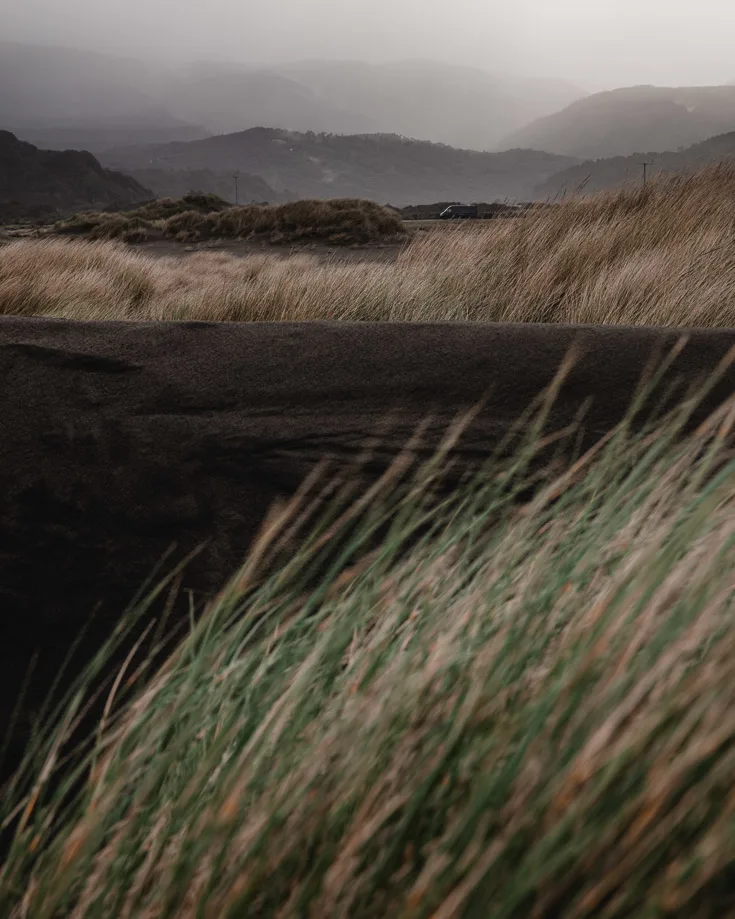 How Much Money To Budget For Chiloé Island?
How much a trip costs on Chiloé really depends on where you're coming from, how long you plan to spend on the route, how you plan to travel, and your travel style.
Most non-Chilean residents don't enter Chile only to visit Chiloé. Instead, it forms part of a longer Chilean itinerary. As such, many expenses you'll know before your visit and probably have budgeted for separately, including any flights, insurance, car rental expenses, and so on.
You'll incur the rest of your costs on the Chiloé trip itself. Budget for things like accommodation, fuel, ferries, food, tours, and souvenirs.
Chile isn't a cheap country to travel in by South American standards. Prices will always change but the list below shows some average prices to give an idea of what to expect:
1 liter diesel // US $0.91 / CLP 717
1 liter gas // US $1.30 / CLP 1023
1 night campsite per person // US $6.50 – 10 / CLP 5000 – 8000
Dorm room in hostel per person // US $19 – 25 / CLP 15000-20000
Mid-range hotel per room // US $190 / CLP 150000
Luxury/unique stays per room // US $380 / CLP 300000
Meal for two people at a mid-range restaurant with a bottle of wine // US $57 / CLP 45000
Store bought food (for a similar meal) including wine // US $19 / CLP 15000
Expect to pay US $30 per day for a small car and closer to US $30 per day for a good-sized car rental. On the other hand, campervan rental is much more expensive, and you could pay a minimum of US $100 per day.
A 4×4 isn't necessary, but good ground clearance is a bonus if you intend to take the vehicle onto the Carretera Austral.
Bus fares will cost around US $4 per person between Ancud and Castro.
For a budget-friendly trip, taking advantage of the camping, self-catering, and avoiding organized activities, we recommend budgeting an average of $30 per day, per person, plus transport costs. That allows for a little in reserve too.
A mid-range journey, with a few organized activities along the way, occasionally eating out or staying at budget-friendly cabañas, a daily budget of around US $60 per day, plus transport costs, is closer to the mark.
If you're into the fancy high-end hotels, eating out, and no holds barred, anything upwards of $100 per day per person will see you right.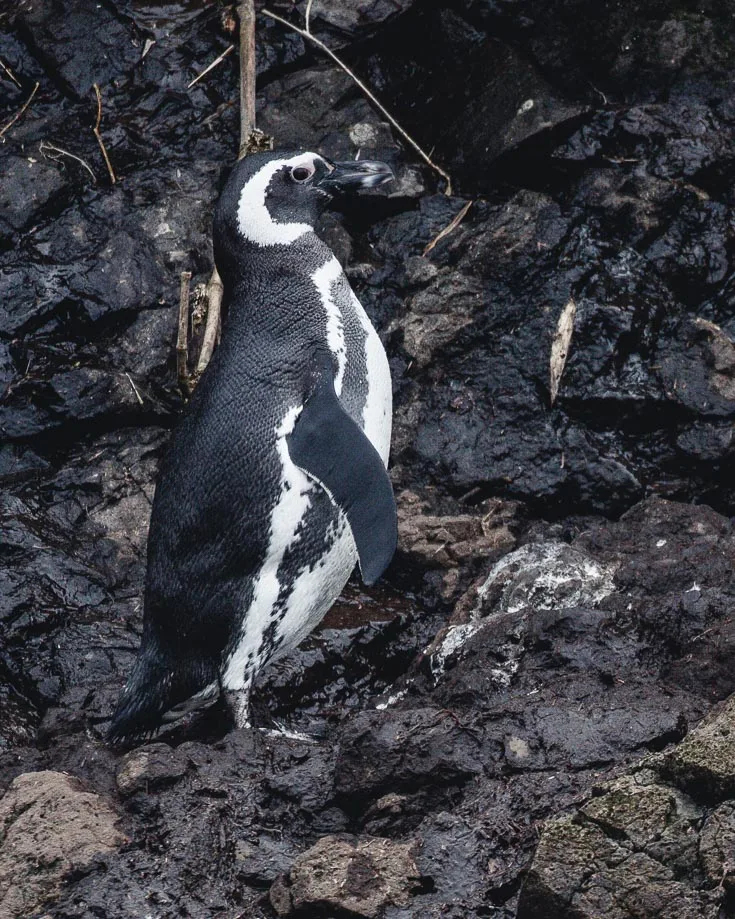 ATMs, Cash & Card Payments
Unlike the route along Chile's Carretera Austral, Chiloé Island has plenty of ATMs. Most of them are in Castro but other towns, including Ancud, have at least one ATM.
Remember, the cost of withdrawing cash is high in Chile. You can expect the local bank to levy a flat rate withdrawal fee of around CLP 5000, so withdrawing as much as you can keep the overall banking fees down. Wherever possible, pay with a credit card or debit card (con tarjecta) rather than with cash (con effectivo).
Most restaurants, shops, and hotels accept card payments in town. You'll need cash in more rural areas if you want to buy anything, though, so keeping a small stash will come in handy.
The island suffers from occasional power outages, and during these, or if wifi signals are lost, cash is the only way to pay.
Where card payments are accepted, often the machines only accept Mastercard or Visa – not both – and rarely Amex. So we carry one of each as a backup.
Languages Spoken
Spanish is spoken all across Chiloé Island, but the locals use a unique dialect, known as Chilote. To our ears, Chilote is even more unique than Chileno Spanish, which in turn differs from European Spanish. After 3 weeks in a Spanish school in Bolivia, we thought we were doing well, but oh boy! Little can prepare novices for the speed of the Chileno tongue!
If you're a beginner too, ask the person you're speaking with to slow down to give you a fighting chance of communicating.
What To Pack For Chiloé Island
The main activities on Chiloé revolve around the beaches, islands, and national parks, but you'll want to come prepared for exploring the towns too.
For the great outdoors, we recommend reading our guide to packing for Patagonia. It includes loads of information to help you pack for Chiloé, especially if the archipelago is part of your Patagonia itinerary.
In summary, though, here are the essential items you need for hiking in the National Parks:
Travel Insurance
Chiloé isn't an especially extreme environment, but it may form part of a grander Patagonian itinerary. Before leaving home, make sure you have an excellent travel insurance policy.
If you haven't heard us mention it before, we'll repeat it: if you can't afford a travel insurance policy, you can't afford to travel.
In a region where an unexpected injury may need medical evacuation, costs can spiral. Can you afford to pay tens, if not hundreds of thousands of dollars for that level of care?
Please, for heaven's sake, buy a travel insurance policy. We recommend True Traveller for European travelers and World Nomads for everyone else.
If you've never bought travel insurance before, read this post to help buy the right policy for you.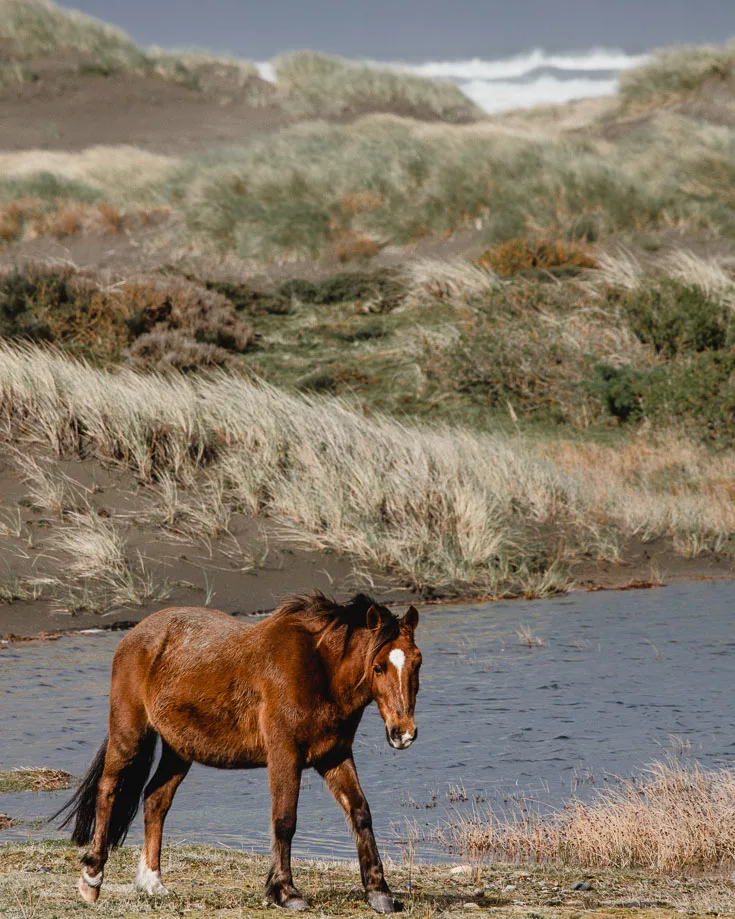 Road Conditions
There's a sprawling road network in Chiloé. The main route – Ruta 5 – from Ancud to Quellón – is in good condition. It's a 2 lane highway with no toll roads.
More minor roads are also pretty good, although you might see more potholes (baches) as you drive further from Ruta 5.
Even more remote villages, especially those on the west coast away from the main attractions, are often gravel tracks. It's best to drive cautiously on these as the puddles are often much deeper than you might think.
iOverlander can provide a good source of information on the latest road conditions, the status of ferries, and other local points of interest. Find out how to download the app and update your device so you can use iOverlander offline.
Wifi & Cell Coverage
If you need to stay connected, getting a local sim card is a great idea. Entel provides the best coverage on Chiloé Island, but there are areas without any coverage, especially away from the larger towns.
If you have a foreign cell phone, you'll need to unlock it to use a local sim card. Chilean law stipulates that all foreign phones must be registered to use them in the country. You usually get a two or three-week grace period, but even a local sim will stop working after that.
You can register your phone in an Entel store – Santiago or Puerto Montt is your best option – or online. Get the latest information about what is required to register your phone here.
Wifi coverage on the island is mostly good, and most villages have a free wifi access point in the plaza. Look out for the ChileGob Wifi Zone signs. It can be a bit hit and miss, though.
Accommodation In Chiloé
There's a surprising variety of accommodation on the Chiloé archipelago, given that most buildings are rustic and shingle-clad. But it caters well to every budget and travel style.
Many independent places to stay on Chiloé don't have an online presence, and if they do, often you can't book online.
If you plan on touring Chiloé with few or no reservations, it's best to arrive at your final destination each day early to give you time to find a bed for the night. If you visit outside of the summer season, allow more time as many campgrounds and hostels remain closed.
Here's an overview of the types of accommodation you can expect to find:
Boondocking & Wild Camping // For travelers with campervans or camping gear, you get to enjoy some of the fabulous boondocking spots, with cracking views out to the Pacific Ocean or over the Reloncaví Sound. iOverlander can help you find places other travelers recommend, but there are idyllic places everywhere. Please follow our guidelines for responsible boondocking and leave no trace.
Campgrounds // Chiloé campgrounds are popular, especially during the Chilean holidays and the summer season. Most are pretty basic, with solar-powered showers and, if you're lucky, unreliable wifi. What most of Chiloé's campgrounds offer that few hotels can compete with are spectacular views, especially along the east coast.
Hostels // Most hostels on Chiloé are found in and around Castro and a few in Ancud. Because the route is popular with backpackers, it will be no surprise that there are loads of hostels in the region. You can find a few to book online – try HostelWorld or Booking.Com.
Hospedajes // Similar to B&B guesthouses, you can find hospedajes pretty much everywhere. For a more rustic stay, cabañas provide self-contained accommodation, often with fabulous views and sometimes with wood-fired hot tubs.
Hotels & Unique Stays // Chiloe isn't overrun with luxury options, but there are a couple of establishments to choose from if you're looking to spoil yourself a little. For instance, check out Hotel Boutique El Quinto or Palafito Cucao – both pretty luxurious, with incredible views!
Take a look at our Chiloe itinerary, where we recommend places to stay for every day of the trip.
Can I Bring My Pets To Chiloé Island?
Traveling with a dog or other pets is possible in Chiloé. However, as with other South American countries, you need to follow pet passports and vaccines rules.
Your pets will probably need to stay in your vehicle or the pet holding area on the ferry crossings.
The greatest challenge of traveling in Chiloé with your pet is that they are not allowed entry to the National Park. So if Chiloé National Park is on your itinerary, you'll need to take pet care into account.
Finding a pet sitter is possible, if necessary – fellow travelers or dog-loving campground owners are often happy to help out.