The Southern Ocean is so remote, a scientific research vessel in Antarctica costs in the region of $60,000 per day. Our expedition ship was full of passengers and an expedition team well versed in marine biology and polar wildlife.
What better way of helping to make a difference than participating in scientific research? Keep reading to learn more about how we got involved with Citizen Science projects in the Antarctica and how you can too.
When you click on links to various merchants on this site and make a purchase, this can result in this site earning a commission. As Amazon Associates, we earn from qualifying purchases. For more info, please check our disclosure page.
What is Citizen Science?
A wide variety of organisations sponsor Citizen Science project so non-scientists like us can meaningfully contribute to scientific research by collecting data and observations.
Tapping into community groups already collating data such as birders, allows the growth of scientific databases without the need for significant additional funding.
You maybe familiar with community bird counts, butterfly censuses or Bioblitz. These are all examples of Citizen Science projects around the world.
Citizen Science projects in the Antarctica
Citizen Science projects in the Antarctica are becoming more popular as tourism to the area expands.
The projects available to us on our Antarctic cruise were open to all passengers. The expedition team led the events and even if passengers didn't turn up (which never happened), the team collected the data anyway.
Read more: a day in the life on an Antarctic cruise
Working with NASA – cloud surveys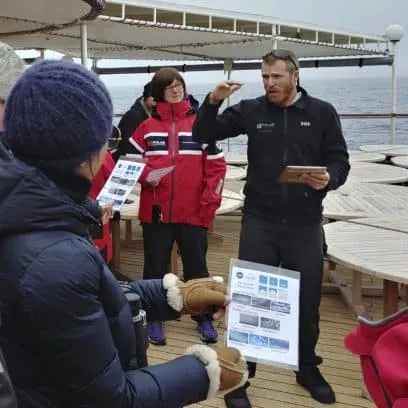 Clouds affect how much sunlight the earth absorbs and how much heat escapes back into space.
By observing and recording cloud cover and type timed to NASA satellite fly-overs, we can help scientists understand how cloud cover affects temperature, and how clouds will respond to a changing climate.
While NASA can successfully survey clouds from above, it's impossible for their satellites to see the cloud from below. So this is where you and I come in.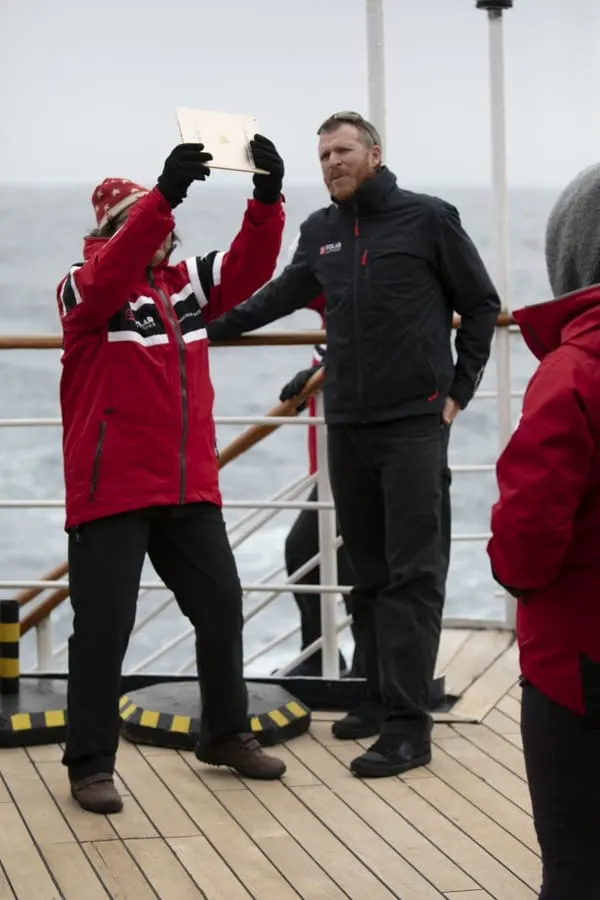 Onboard our Antarctic expedition ship, we used the Globe Observer app, timing our surveys to coincide with a satellite fly-over.
Through a series of basic questions about the percentage cloud cover and types of clouds with helpful photographs to guide us, we completed the survey, working with NASA! Not quite astronauts yet but surely on our way?
Bird surveys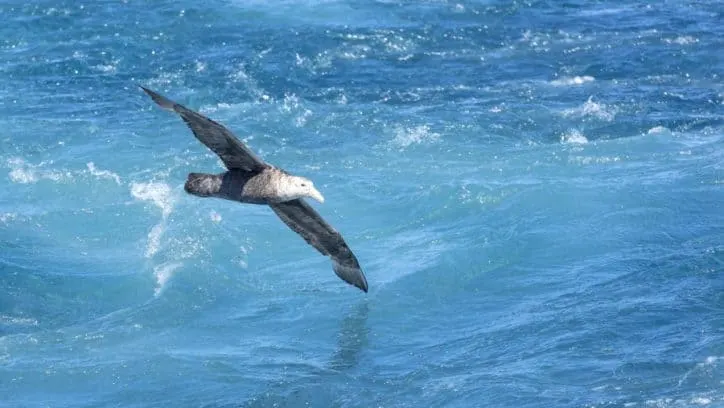 eBird gathers an enormous amount of information on birdlife. Citizen Science projects have contributed over half a billion bird observations so far.
These observations help scientists understand the abundance and distribution of birds and help identify necessary conservation measures.
We got involved in the bird surveys on sea days during our Antarctic expedition.
For 15 mins, with the aid of Hannah our onboard ornithologist, we counted and identified the various birds flying around our ship.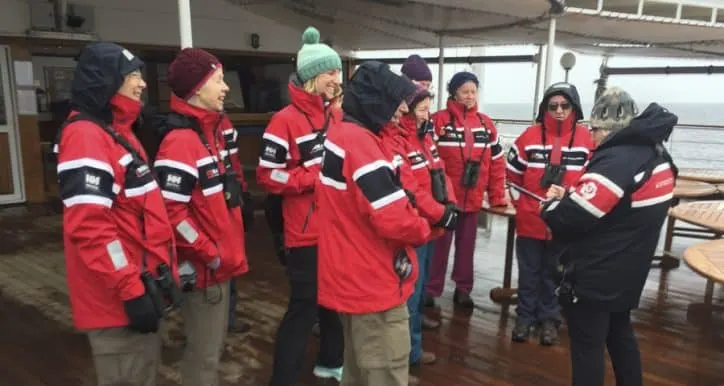 We're no bird experts despite our growing interest. But we were astonished by the variety and number of birds gracing the high seas, many many miles from land. The albatross are a hardy bunch!
Although sadly endangered by deep line fishing. You can read more about their plight and the conservation measures to protect them over at SaveTheAlbatross.net.
Read our booking guide before you book your trip to Antarctica
Phytoplankton studies
Phytoplankton underpins the marine food chain and are the sea's most important inhabitants. More still, it accounts for 50% of all the photosynthesis on earth.
Or in other words, every 2nd lungful of oxygen you inhale was created by phytoplankton. And numbers have reduced by 40% in the last 50 years.
Their distribution, abundance and seasonality are changing as sea temperatures alter. To help understand more a simple Secchi measurement can help.
The depth at which the Secchi disk is not visible helps scientific observers understand the volume of phytoplankton in that region.
Fjords are narrow inlets along the coast with steep sided valleys carved by glaciers. Scientists believe Antarctic fjords along the west Antarctic Peninsula are hotspots for biodiversity, providing refuge for krill and whales.
Citizen Science participants take water samples and send them to Scripps Institute for further analysis.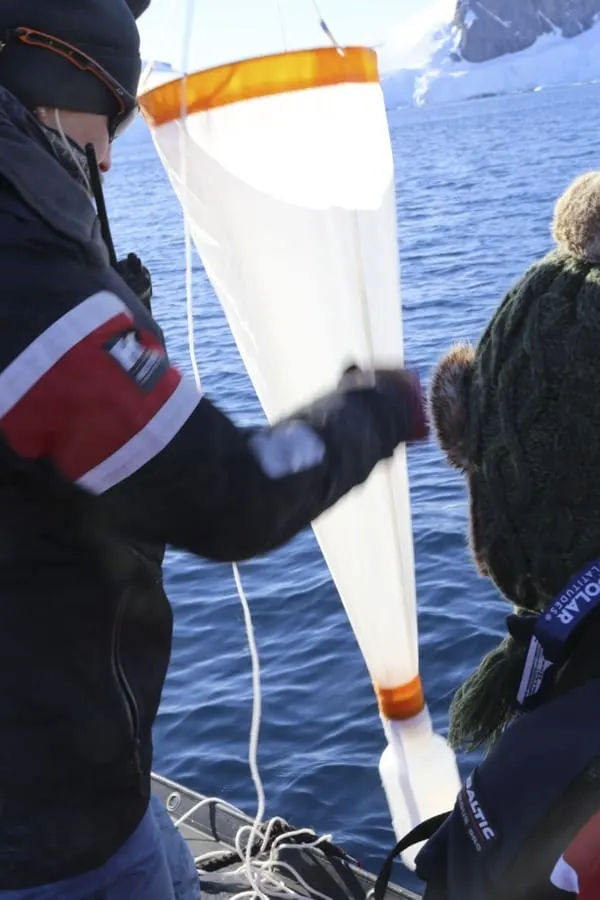 Demand for Annette's marine phytoplankton survey and Secchi measurement was high and with numbers limited to one zodiac boat of passengers, we missed out.
The lucky citizen scientists helped to collect samples of the ocean, record sea temperatures, GPS locations and take a Secchi measurement.
Annette uploaded the measurement data onto the Secchi App and once a network signal is achieved, it'll wing its way to the scientific database.
We're almost like chemists now – or at least by proxy.
Read more: 31 Beautiful Pictures of Antarctica
Photographing whales and seals
Perhaps not surprisingly, the most exciting onboard Citizen Science projects were wildlife orientated.
Every passenger onboard had a camera to capture the incredible landscapes and wildlife encounters. We've all come away with fabulous memories and wonderful photos. But some of those photos are more important than others!
Happy Whale scientists collect sightings of whales and some seals to track and learn more about them. There is still so much to discover about wildlife in the Antarctica that every sighting is important.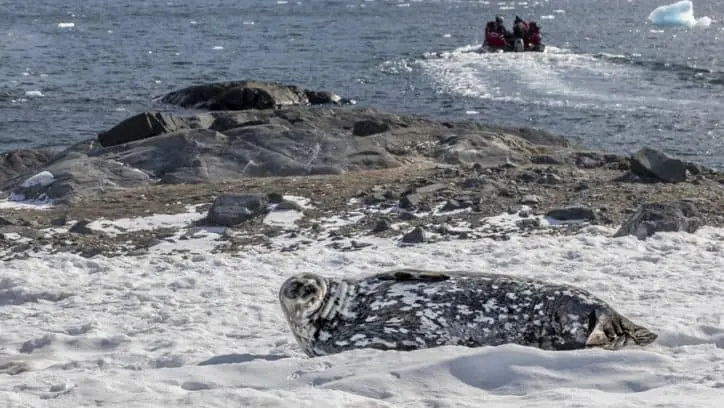 Right at the outset, all passengers set the time on their camera's to the ship's time. Because the exact GPS co-ordinates of the ship are known and recorded, the precise GPS location a photograph was taken could then be established.
Happy Whale want us to upload photographs of the dorsal fins of Orca, Blue, Fin and Sei whales. They want pictures of the calluses on a Southern Right Whale's head and the underside of a Humpback Whale's fluke.
They want photographs of the left side of a Leopard Seals face and the underbelly of a Weddell Seal.
From these specific photographs, individual animals can be identified and recognised, so allowing the scientists at HappyWhale to track each individual animal.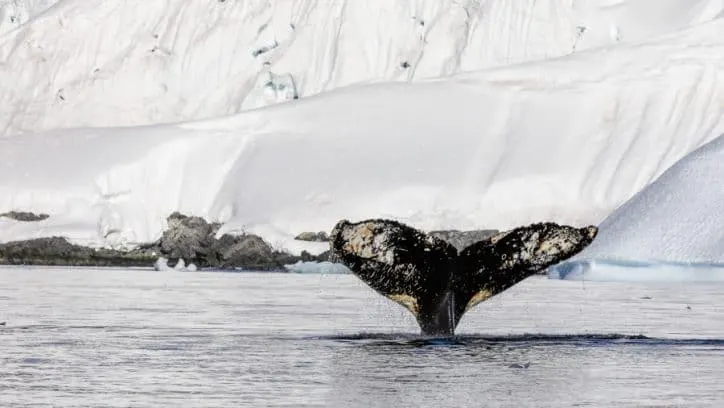 Excitingly, we've uploaded our images to the Happy Whale website and eagerly awaiting the scientists to study them.
We'll receive an email to tell us if the individuals have previously been identified or if this is a new sighting. Obviously we're hoping at least one of our images will be a new sighting – we'll call them Mowgli McWhale.
Going forward, when there are other sightings of the same animal, Happy Whale will let us know. It's like having a pet!
Get inspired with our favourite wildlife encounters from Antarctica
How can you get involved in Citizen Science?
Citizen Science projects aren't specific to the Antarctica.
There are hundreds of projects to get involved in all over the world. From counting penguins (yep – you really can do this from your armchair at home) to discovering insects in a 1 metre square of your own back garden to following Monarch Butterflies on their 2500 mile migration.
The list is a long one and you're sure to find something to suit the time you can dedicate and things that interest you most.
To find a suitable Citizen Science project for you, simply use some of the websites we've linked to in this article or use a search engine to look for Citizen Science projects in your area.
Since we disembarked from our Antarctica cruise, we've downloaded the cloud survey app and ebird app and used them a few times already! And we encourage you to do so too.
Choose something that interests you. Get your children involved, their schools and colleges and any community groups you belong to.
Together, we can all help make a difference, one survey at a time. It's about time we put our smartphones to good use!
Our Exclusive Coupon Code
If you book your Antarctica cruise directly with Polar Latitudes, use our exclusive coupon code for 5% off.

That could save you as much as $2000 per person!

Plus, you can use it on already discounted prices.

Just quote "Mowgli" when booking.
Like it? Pin it!