Cornwall is a terrific county, crying out to be toured by camper. With some incredible views along its 400 mile coastline, great surfing spots and more English heritage than you could wave a Cornish ice cream at, a road trip in Cornwall by camper van is a perfect getaway.
We spent 7 days touring Cornwall by camper van and, in this post, we'll share some valuable lessons, practical tips and essential things to know so you can prepare for your perfect road trip in Cornwall.
Touring Cornwall by camper van
Where to sleep in your camper van in Cornwall
A sad fact, but the UK isn't the most camper van friendly country in Europe. Cornwall doesn't have free or low cost aires with facilities and wild or free camping is effectively banned.
Of course, we wish the UK would catch up with its more accommodating neighbours (take a look here at how you can camp for free through most of Europe) but in the meantime, we're stuck with it.
(Nearly) free camping in your camper van
Cornwall council has a ban on sleeping in your camper van overnight at any of their car parks. At some, they don't even allow you to park overnight.
So aside from pitching up at a campsite, the options for free camping are limited. But not impossible! Here's a few options we found on our road trip of Cornwall.
Tintagel
Across the road from the Old Post Office in Tintagel Village, King Arthur's Car Park is licensed for motorhomes to stay overnight. There's a small fee (£3 per night when we visited) but there are no facilities and the toilet is closed overnight.
Lizard's Point
I know I complain about the price the National Trust charge to park but at Lizard's Point, you can even stay overnight. There's a toilet but no other facilities and you park up next to the lighthouse.
Of course, the location has some wonderful views but you'll have the lighthouse beacon flicking all night. And hope there's no fog in the middle of the night or you'll discover just how loud a foghorn is!
Campsites
Cornwall isn't short of campsites and some are in pretty decent locations. Take a look at the UKCampsite website for up to date information on facilities and opening dates of all the campsites in Cornwall.
Other accommodation in Cornwall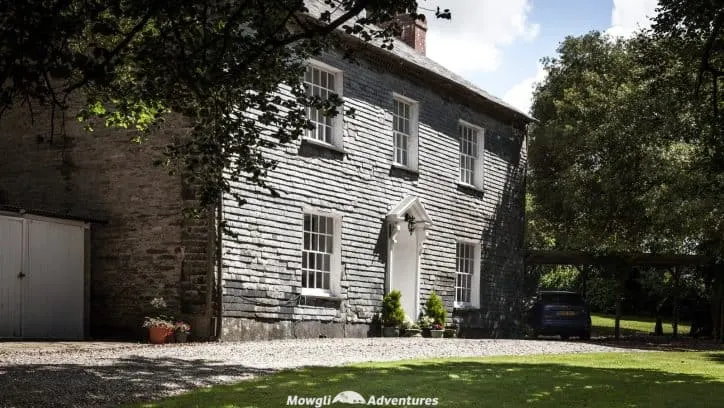 Cornwall is a tourist hotspot, even for Brits yet despite this, there are few large hotels in the county. Because of this low priced budget accommodation is a little scarce.
Guesthouses are a plenty though and offer friendly hospitality and great home cooked breakfasts. With demand for accommodation in Cornwall's tourist spots so high, it's highly recommended to book well in advance.
If you're not travelling in a camper van and need overnight accommodation in Cornwall, we recommend checking out some of the wonderful yet low cost guest houses.
They often include wifi, free parking and fabulous farmhouse breakfasts. Here's just a sample that come highly recommended:
Elmsdale Guest House, Penzance: for around £80 per room per night, the terrific value from Elmsdale is delivered in one of the best rated locations in Penzance.
Here you'll get to know your hosts by name and as with so many guest houses in Cornwall, they will be delighted to help you where a large hotel chain wouldn't. A real home from home.
The Riverside, Boscastle: for less than £100 per room per night, The Riverside is set in the 16th century village of Boscastle. Just a few short minutes from the South West Coast Path and close to Tintagel, the reviews from here are fab!
Number Seven Bed & Breakfast, Falmouth: a modern B&B setting yet ultra friendly and homely, stay here for around £90. They even have large family rooms if you need to share with your kids.
Driving a camper van in Cornwall
Much of Cornwall's attraction is it's rural location and lack of motorways. While this can make it a challenge to commute around, on a road trip the way to go is nice and slow. This means heading off the A roads onto often single track lanes.
And Cornwall's lanes have high hedges. Really high hedges. So, unless your camper van is taller than the hedges, you won't have much chance to anticipate approaching hazards.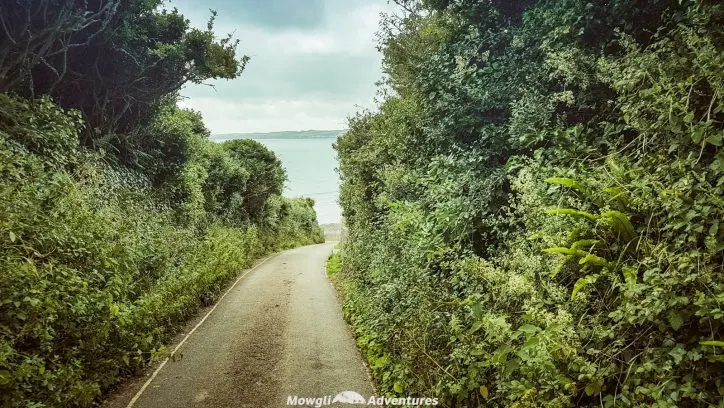 You don't know what danger may lurk around the next corner. There could be an oncoming vehicle as big as yours, or bigger. Or sheep; there are thousands of sheep in Cornwall.
It's not so bad though. Drive at a sensible pace and remember, the speed limit is a limit, not a target. This isn't a race track so don't chose these lanes as the place for you to drive like an idiot.
The lanes have plenty of passing places. You may need to reverse into one to let someone else pass, or someone else may have pulled in to allow you by.
Thank them with a wave and a smile and try to remember, this isn't just a tourist playground. People live here all year round and they use these roads to go about their business too.
Driving in Cornish villages
It's not just the country lanes that are narrow either. Some of the villages are notoriously difficult to manoeuvre your camper van around.
Port Isaac is a good example. Driving down into the village is straightforward but for heaven's sake don't bother trying to drive through it.
You will need to pull in your wing mirrors on both sides and probably meet a delivery van coming in the opposite direction. Good luck with that!
There are usually car parks on the outskirts of the villages so take advantage of these, especially if your camper van is large or lacks power steering. There's no need to make things harder for yourself than need be is there?
Switch off your sat nav and use a paper map
When you click on links to various merchants on this site and make a purchase, this can result in this site earning a commission. As Amazon Associates, we earn from qualifying purchases. For more info, please check our disclosure page.
When you program a destination into your Sat Nav, it'll take you one of 2 ways: the fastest route or the shortest route, depending on your settings. In reality, a road trip in Cornwall is best when you take the scenic route.
And you'll find this by getting off the main roads, and following your nose. Use a paper map and go explore the back roads, narrow lanes and find out what is hiding just beyond the hedge.
This is how you'll stumble across some of Cornwall's hidden gems!
Travel insurance for Cornwall
Not all NHS treatment in England is free of charge. There are, for example, charges for dental treatment and, for non-UK residents, charges for hospital treatments.
Overseas visitors to the UK you may be charged for some treatments and, depending on how urgent it is, may need to pay in advance.
So what about your travel insurance policy? We all want to avoid a situation where we need to make a claim but skimping on a travel insurance policy could be the biggest and most expensive mistake in all your travel plans.
Don't be a fool and buy a decent travel insurance policy.
Preparing for your Cornish road trip
Because there's so much to see and do in Cornwall you need to prioritise and compromise, depending on how much time you have. We don't plan our trips too much – our best-laid plans always go awry.
But we do prepare well. Concentrate on having a list of things to do and see you really don't want to miss. Try not to make the list so long though.
You need plenty of time for spontaneity and flexibility to enjoy the surprises exploring Cornwall will inevitably reward you with.
Preparations: Here's our Cornwall road trip itinerary for inspiration
When to visit Cornwall
The summer months offer the best chance of sunny, warm days. It's high season too so accommodation costs will increase and crowds at attractions along the route is a factor. Spring is off-season, particularly if you avoid Easter and the school's half-term holidays.
It's a great time to see Cornwall starting to burst with new life with spring flowers and newborn lambs. Autumn is a wonderful time of year to visit because it's less crowded and the gorgeous autumn foliage is on display.
If you're lucky, you can witness the dramatic, stormy seas crashing off the rugged rocks along the coastline.
Our recommendation is to avoid the school holidays. Places like Padstow are horrid when they're so busy. And for some reason, tourists lose all their manners when it's busy!
How to get to Cornwall
By road from London and the north
It takes around five hours to get from London to Cornwall. Take the M4 motorway from London, and if you're coming to Cornwall from the north, take the M6.
Then pick up the M5 to Exeter and finally the A30. The A30 is mostly dual carriageway, or you could take the A38 through Plymouth into South East Cornwall.
If you're not on a fixed schedule though, we'd recommend taking the scenic A39 Atlantic Highway route. It is a stunning stretch road on the north Devon coast and leading into Cornwall and on our list of the top 5 scenic drives in Cornwall.
Due to the high volume of traffic on Cornwall's roads during the summer months the main A30 route before Bodmin can become congested especially at weekends. You have been warned so please try to avoid rush hours.
By train
If you're hiring a camper van in Cornwall, you can get a train from London. Plan this well though as it could take as long as 6 hours if you don't get the fastest trains. Take a look at the trainline.com for journey times and ticket prices.
Things to do in Cornwall
Whether you're visiting from afar, or discovering more of your own wonderful country, Cornwall is a terrific county to explore. And touring Cornwall by camper van is ideal for getting to see and do a lot of what's on offer.
Because the county has over 400 miles of coastline, we were spoilt for choice of places to visit in Cornwall.
We had a long journey from the Midlands and with a fixed return date – unusual for us – we found it hard to choose what places to visit in Cornwall.
Here's just a few things to get you thinking.
Discover the legend of King Arthur at Tintagel Castle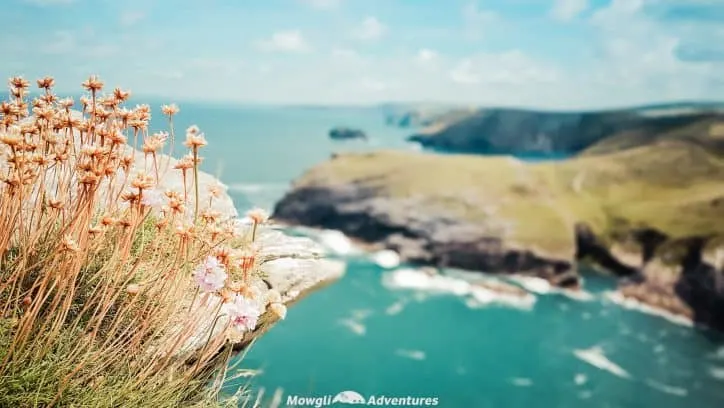 This was the highlight of our trip to Cornwall. If you have little time for anything else, make this the place to visit.
Legend has it that King Arthur was conceived at Tintagel and you can discover more about the story on your visit. More than the history or legend, the whole site is magical.
Once you've climbed to the top of Tintagel, you can easily find a quiet spot to savour the most awesome and dramatic views. Maybe even take a walk on the South West Coast Path.
Check it out: A perfect Cornish day trip in Tintagel
Cadgwith Cove
This tiny cove is the last thing you expect to see in this out-of-the-way village and a real treat. You'll stop in your tracks as you catch the first glimpse behind the fishing harbour.
Cadgwith is a typical English village with thatched cottages and a maze of narrow lanes descending down steep slopes. Cadgwith Cove is growing in popularity so try to visit before it becomes overrun with cafés and ice-cream sellers.
Explore more: Top 7 hidden coves in Cornwall
St Michael's Mount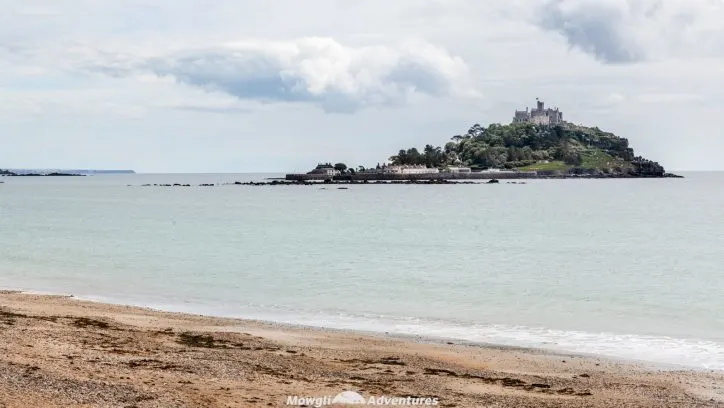 The most photographed and painted spot in the whole of Cornwall, St Michael's Mount is a fascinating place.
You'll walk to the island across the granite causeway at low tide, or if you miss the window for keeping your feet dry, you can take a small boat across to the tiny harbour.
From here, explore the castle and its gardens or just sit back and enjoy the incredible views across to Land's End and the Lizard Peninsula.
Check out our top 10 places to visit in Cornwall
Like it? Pin it!