So you want to go on a road trip in Cornwall? Fantastic idea!
Many consider Cornwall one of the most scenic stretches of coastline in England.
You'll find over 400 miles of amazing coast, sandy beaches, hidden coves and oodles of English heritage.
Its rugged coastline is raw beauty and we found it hard to drag ourselves away from some areas.
For the outdoor enthusiast, there are miles of coastal paths and Cornwall is renowned for having the best surfing spots in England.
There are umpteen scenic drives and of course, there's Land's End. Cornwall has so much to offer it's little wonder we were so worn out after all this.
The Cornish ice cream helped to replete our dwindling energy supplies though!
Because it's one of the few counties in England without a motorway, Cornwall is perfect for a driving holiday.
With a fair-weather forecast and high hopes the Great British summer would hold out for us, we set off to discover the ultimate Cornish road trip.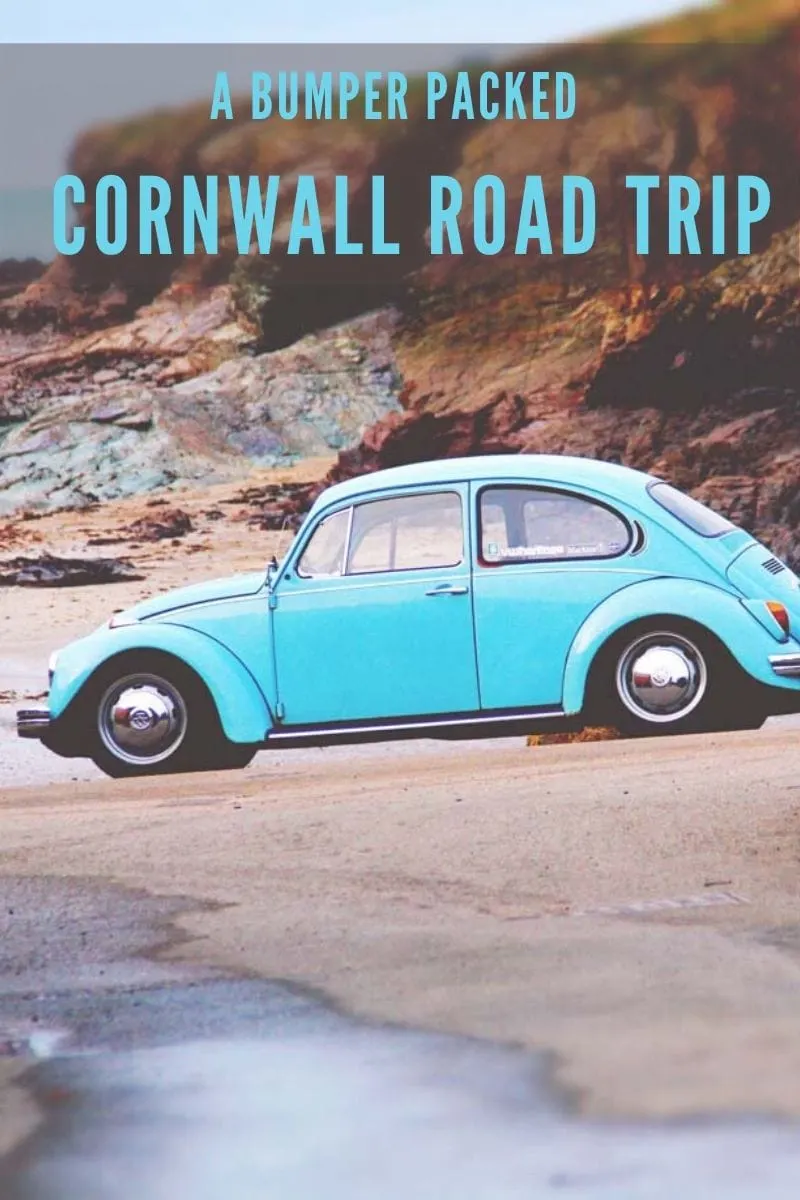 Our route in Cornwall, England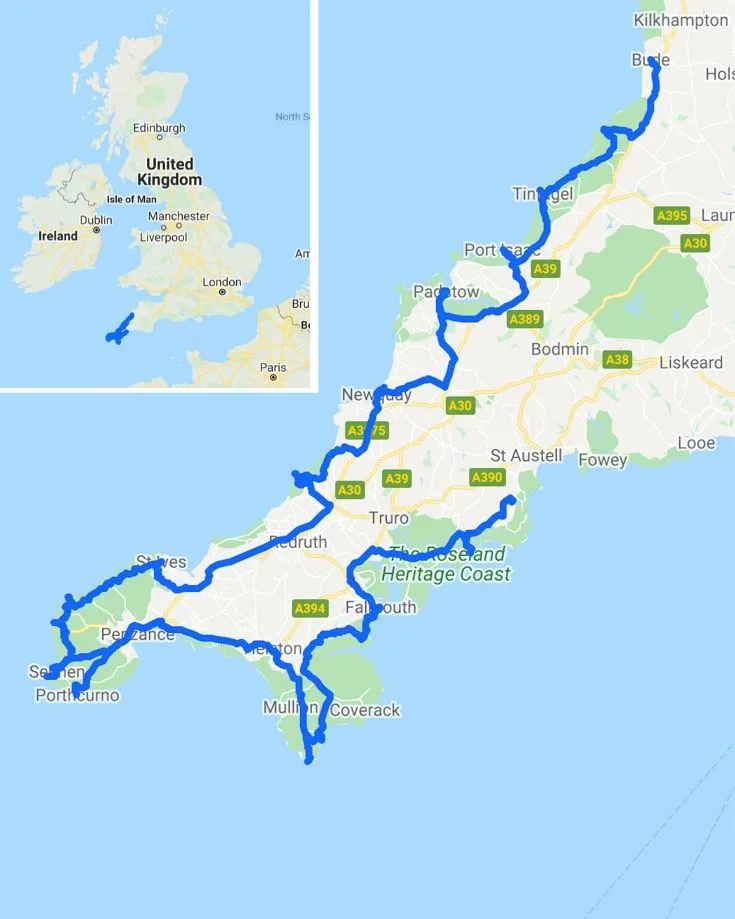 This is the route we took during our 7 day Cornwall road trip.
We drove a total of 233 miles including diversions over the week, about 10 hours all told.
In hindsight, this was a little too fast. Slow travel is always the better option and we should know better!
Before we provide the day by day Cornwall road trip, we want to give you a few pointers about the map above and the post in general.
You can open the map within Google Maps to give you a full scale interactive view and a little more detail on directions and driving distances.
We use maps.me as our GPS on all our road trips, although an offline copy of Google Maps works too.
One of our main tips for any road trip is to have some basic camping gear with you so you can take advantage of some of the many campsites along the route.
This recommended road trip takes in all the main attractions along the way and includes time to enjoy the great outdoors.
That is after all, what road trips are all about.
Cornwall Road Trip Itinerary | An Overview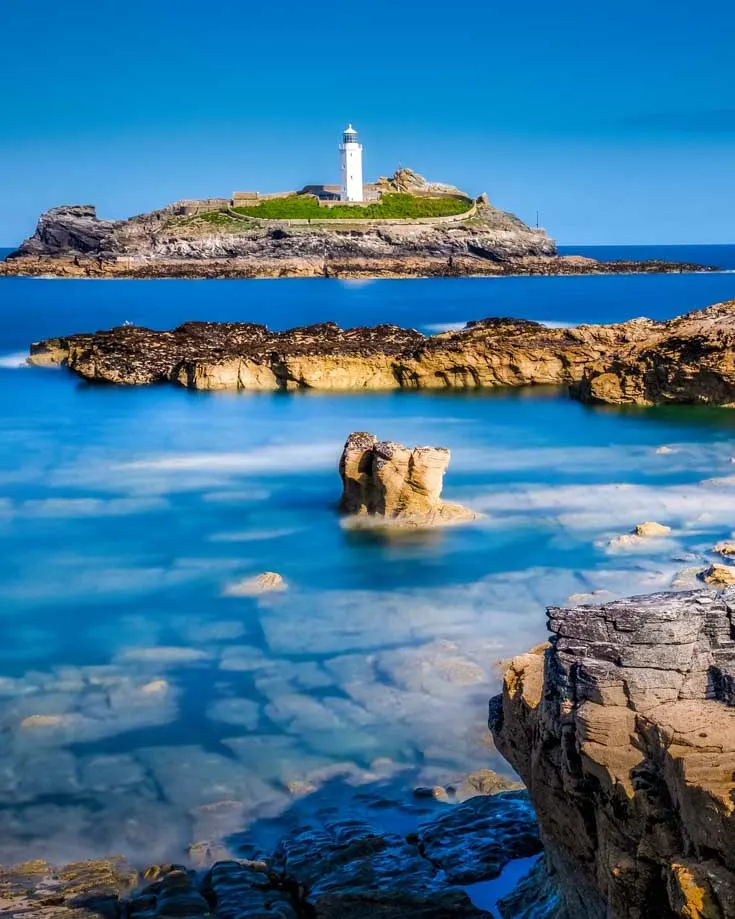 We began our Cornwall road trip in Tregony and followed the coast in a clockwise directions.
You can obviously do it in either direction.
The journey to Cornwall can be quite a long one, even from London so the 7 day itinerary below assumes you've already arrived.
Day 1 | Lost Gardens of Heligan – Portloe – Falmouth
Day 2 | Cadgwith Cove – Lizard's Point – Kynance Cove
Day 3 | St Michael's Mount – Land's End
Day 4 | Sennen Cove – Cape Cornwall – Zennor
Day 5 | St Ives – Padstow via the beaches
Day 6 | Port Isaac – Tintagel
Day 7 | The Atlantic Highway
Cornwall Road Trip Itinerary Day 1
Lost Gardens of Heligan – Portloe – Falmouth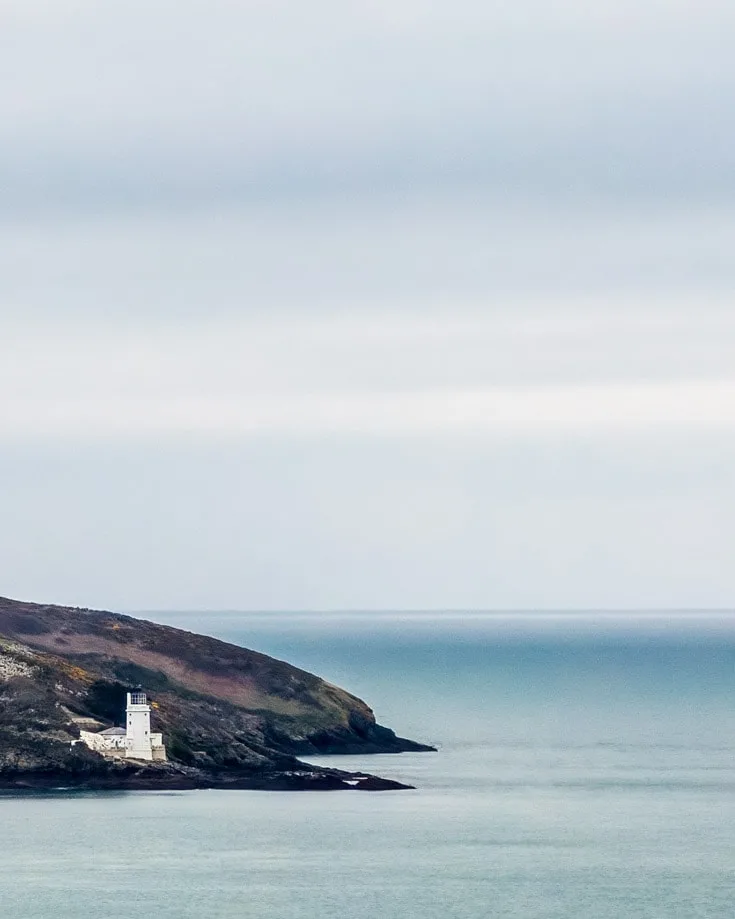 Day 1 of our trip covers 36 miles through Cornwall's Roseland Peninsula.
A designated Area of Outstanding Natural Beauty, Roseland Peninsula is one of the most scenic drives in Cornwall!
This area is best explored by taking detours off the main roads your GPS suggests.
There are loads of narrow lanes through pretty hamlets to navigate.
Emerging from the twisting, hedged lined lanes, the ocean views open up in front of you, guaranteed to make you smile.
Lost Gardens of Heligan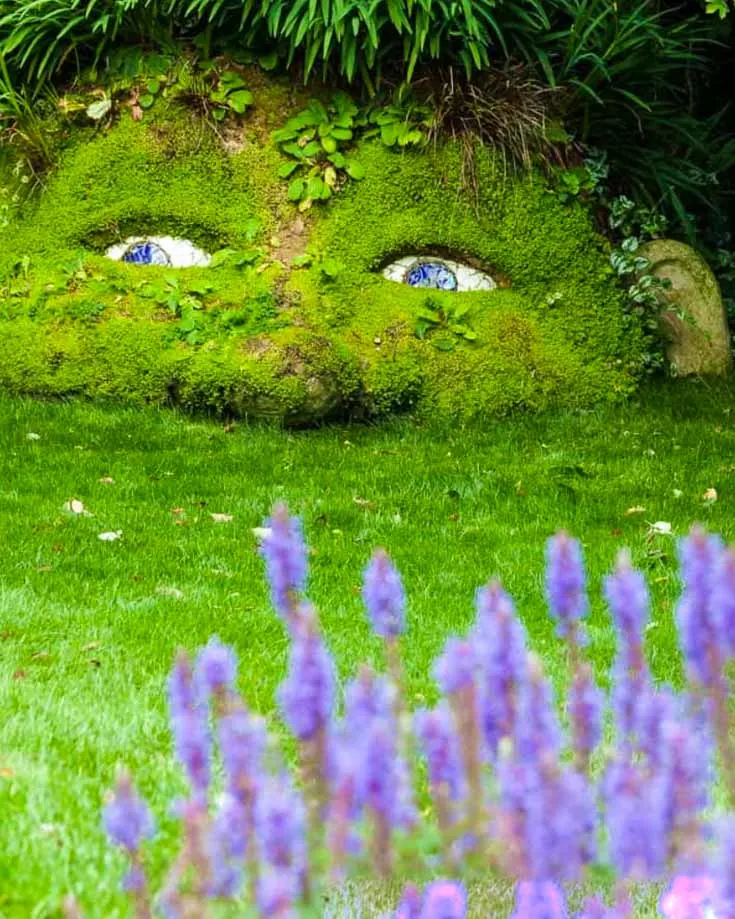 These once derelict gardens near Tregony were rediscovered in the early 1990s. Since then, a massive restoration project has been underway.
It's still ongoing, but it's now open to the public and there is so much to explore!
Secret gardens surrounded by high walls, ornate steps and a jungle complete with its own Burma rope bridge, water features and ferns.
There are wonderful woodland walkways and lush fields filled with wildflowers set to a backdrop of the ocean.
You'll want to plan at least half a day to explore this wonderful place, where you can walk across England's Burma rope bridge in the jungle and play in the giant's adventure playground.
You know the inner child in you wants to!
Address | The Lost Gardens of Heligan, Pentewan, St.Austell, Cornwall, PL26 6EN
Parking is free – a rarity in Cornwall.
Portloe
When you click on links to various merchants on this site and make a purchase, this can result in this site earning a commission. For more info, please check our disclosure page.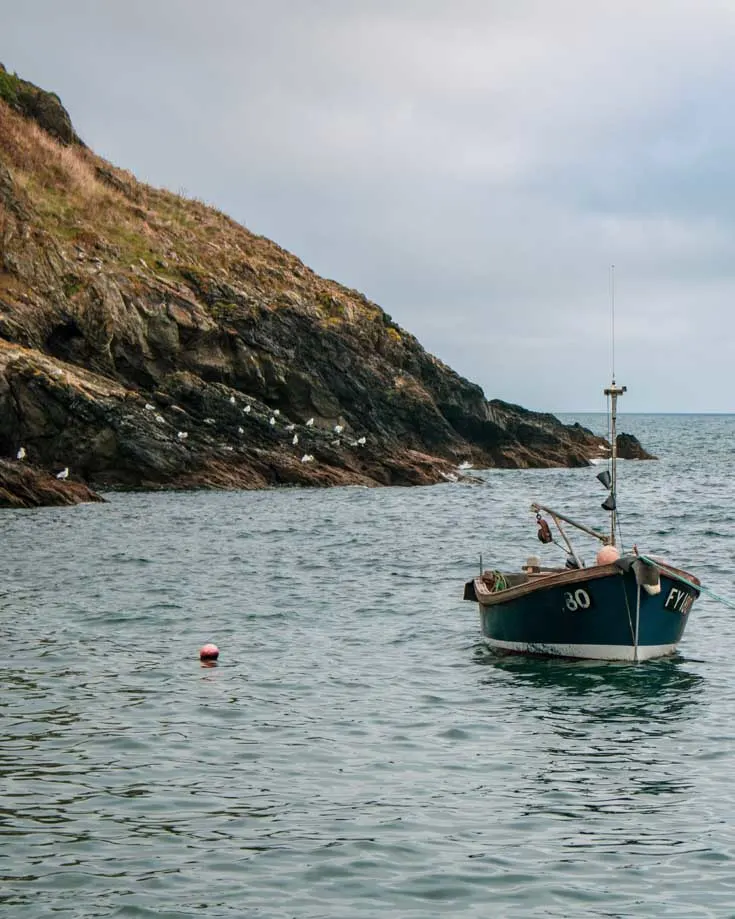 Take a rewarding drive towards the Cornwall's rugged coast and Portloe village.
The drive alone is wonderful but do get off the main road en route to explore hidden coves.
Portloe village is a delight.
Cornish granite cottages hug the steep sided cliffs. The village itself has escaped mass tourism, mainly due to its size and the those precarious looking cliffs.
Take some time here to enjoy a glorious saunter along the coastal path, west towards Portscatho.
The path is long enough to enjoy the rest of the day in Portloe and stay overnight.
The Lugger Hotel is a 17th century inn now transformed to a rather fancy 4* hotel in Portloe. The original innkeeper was sent to the gallows for his enterprising brandy smuggling sideline!
The roads in Portloe are narrow so instead of driving down, park at the top of the village as you arrive.
We kept moving but the route out towards Falmouth is so lovely, make sure you set off early in the afternoon to enjoy the picturesque villages, uncrowded beaches and lovely country pubs along the way.
Taking unplanned detours is the best bit about this route. You never know what hidden gem is around the next bend in the lane.
Falmouth via the King Harry Ferry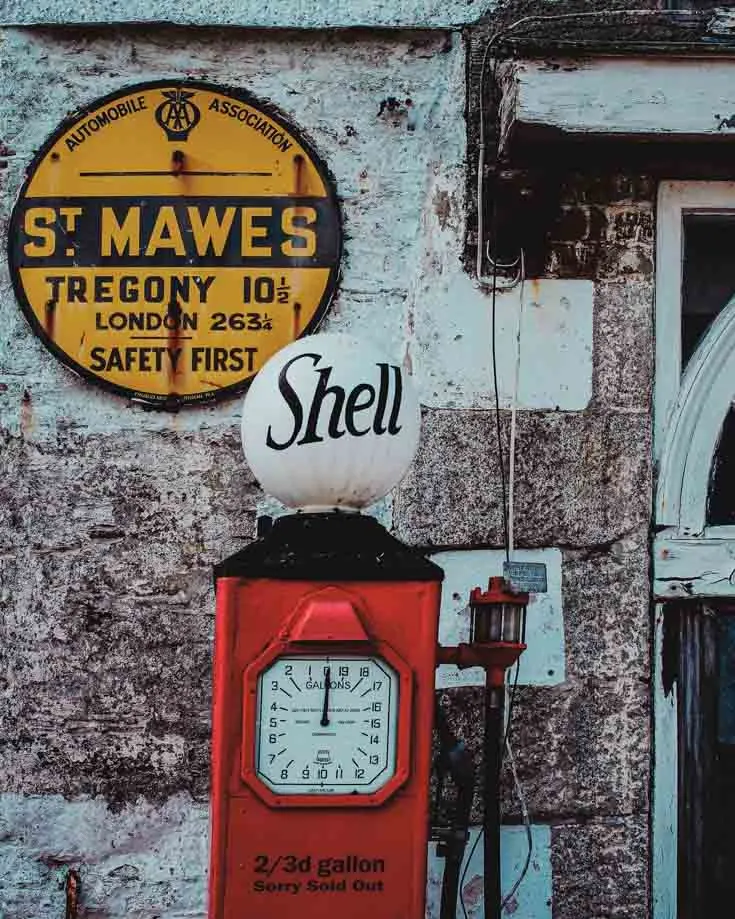 To leave the Roseland Peninsula, cross the River Fal by the iconic King Harry Ferry.
The King Harry Ferry is one of only 5 chain ferries in the UK. The short crossing (it's only 260 metres or so), will save you a long detour and the scenery is just lovely!
The ferry crossing marks the departure from the Roseland Peninsula and you arrive in Falmouth.
This Cornish town is the 3rd largest natural harbour in the world.
If you arrive in Falmouth early enough, visit the National Maritime Museum Cornwall or take time for an evening stroll.
There are many trails to choose from along the coastline, country lanes and bridleways.
We can vouch for the Swanpool to Maenporth coastal path for its ocean views and Great British wildlife.
Where to Stay in Falmouth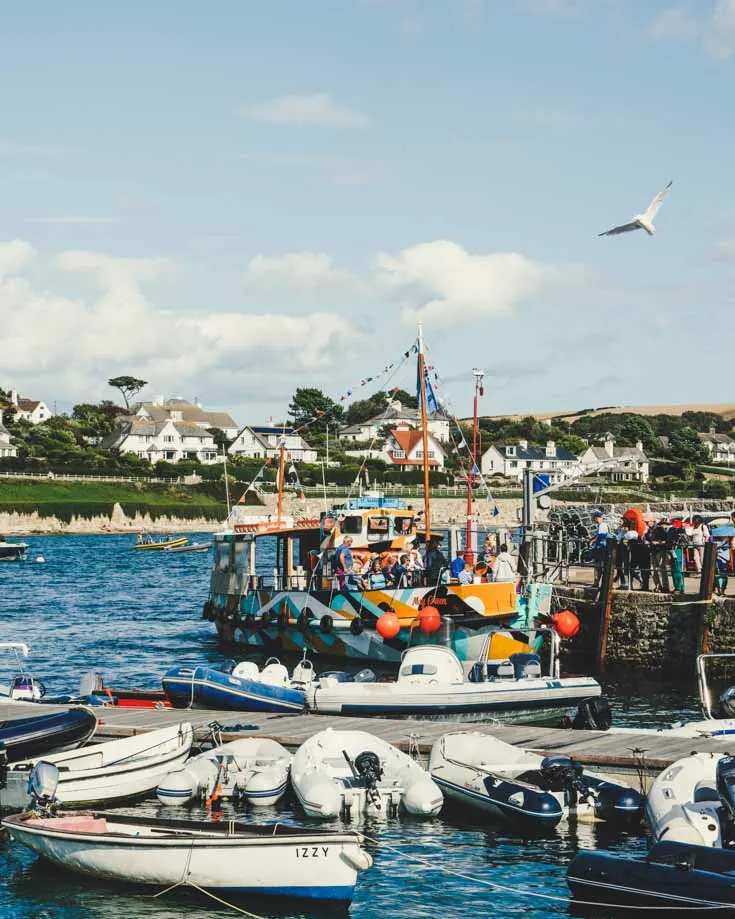 Campsite | Menehay Farm Touring Park is the nearest campsite to Falmouth and surrounded by nearby beaches and walking trails, there's plenty of places to enjoy the sea air.
Budget | Cutty Sark Inn is a dog friendly bed and breakfast close to Falmouth's shops, bars and restaurants. You can expect good service and a cracking breakfast.
Mid Range | Cotswold House offers healthy breakfast options, sea views and a personal touch in an immaculate setting.
Luxury | Greenbank Hotel is the height of Falmouth luxury options. Boasting an impressive seafront location overlooking the harbour, the oldest hotel in Falmouth dates back to the 17th century.
Cornwall Road Trip Itinerary Day 2
Cadgwith Cove – Lizard's Point – Kynance Cove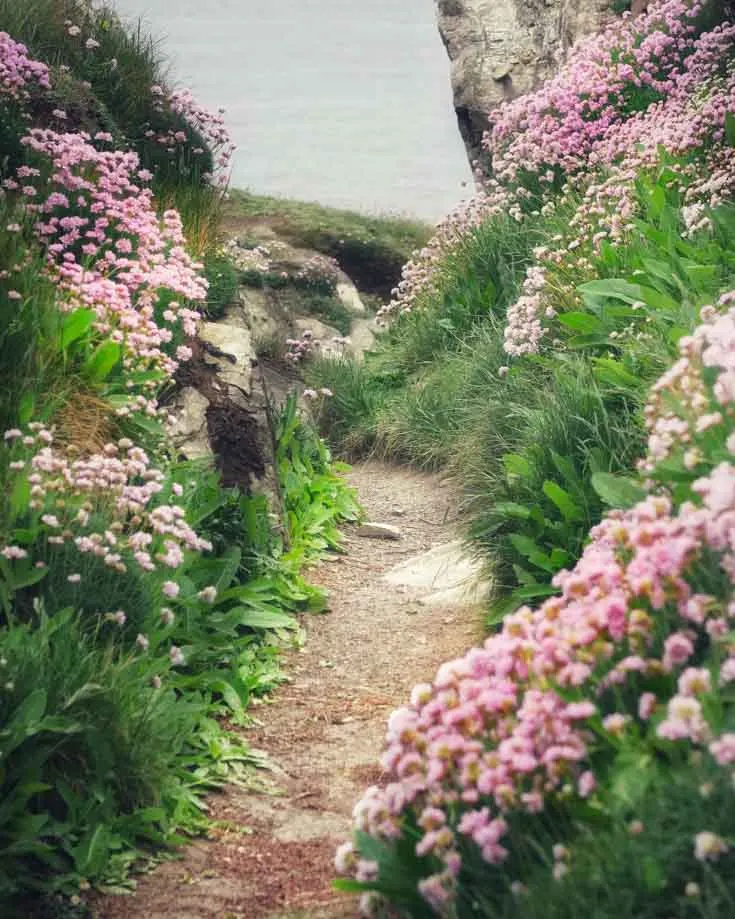 A day to enjoy parts of the Cornish Coastal Path with imposing cliffs and hidden coves.
The first stop is at Cadgwith Cove. We recommend taking an indirect route from Falmouth to explore the countryside and coastal area and find your won hidden gems.
Cadgwith Cove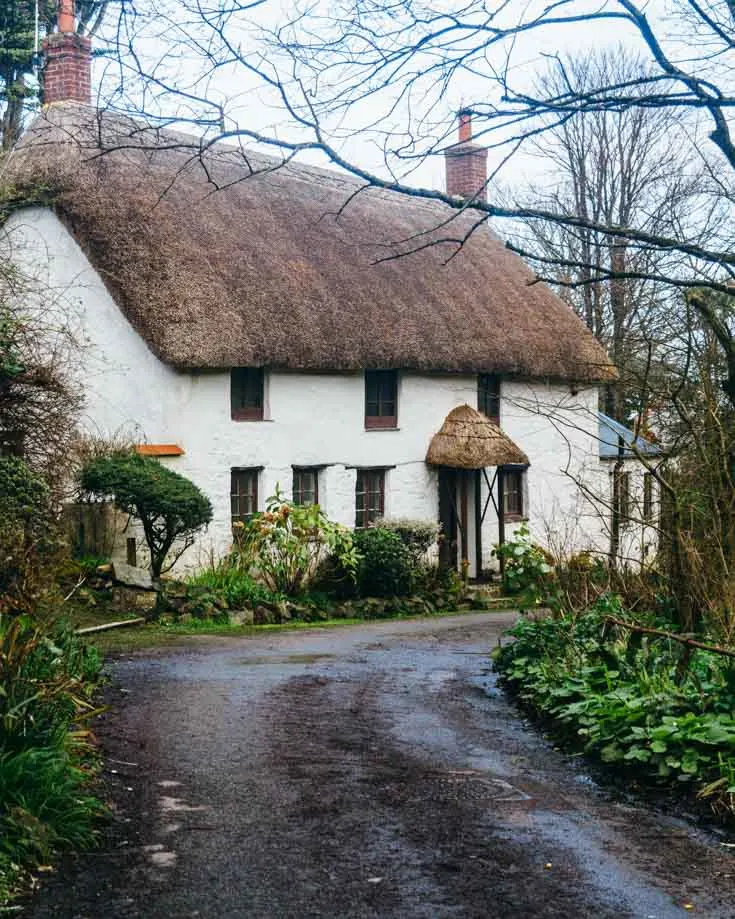 Cadgwith is a sleepy, petite village with narrow steep lanes, chocolate box thatched cottages and blooming English gardens.
A traditional fishing village and a real Cornish gem.
Take time to explore the cove, chat to the fishermen and have a morning cup of tea at one of the cafés in the village.
If self catering in your campervan, camping or have a holiday cottage in the area, don't forget to buy the fresh catch from the returning fishermen.
Lizard's Point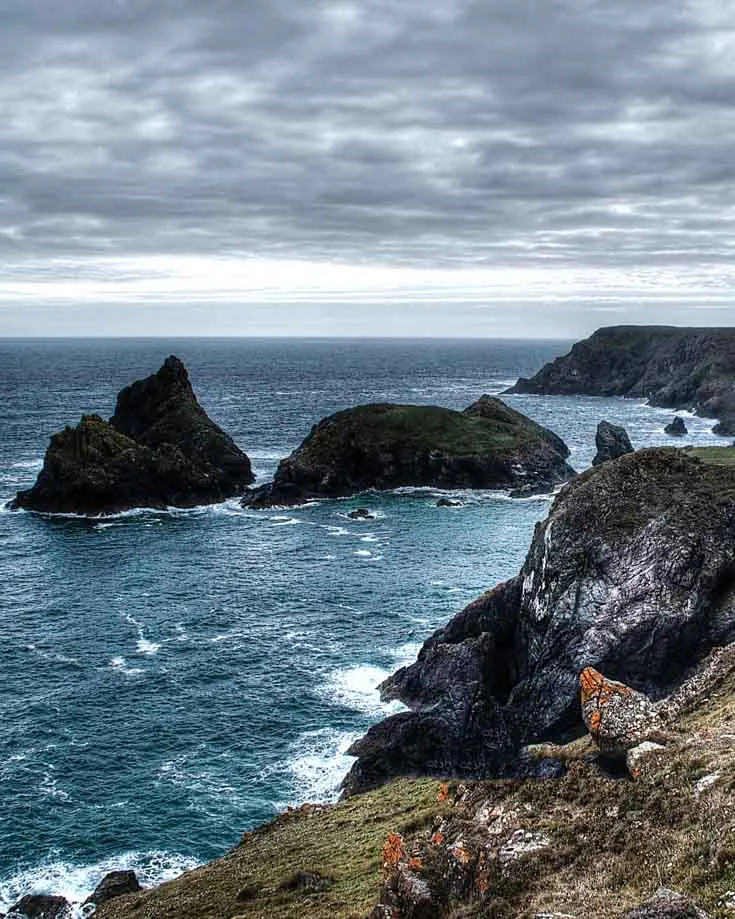 The most southerly tip of UK mainland, the area has dramatic cliffs and ocean views.
From the Lizard's Lighthouse at the top of the cliffs, take the steep path down to Lizard's Point.
Take time to explore the old lifeboat house and enjoy a Cornish cream tea while watching the rare seabirds that breed out on the rocks.
If you're lucky, you might catch a glimpse of a seal too.
Parking at Lizard's Point is quite expensive at GBP £4 for 3 hours. If you're camping at Wild Camping Lizard or staying in Lizard village, park there first.
Lizard's Point is only 10 – 15 minutes away on foot at the start of a 4.5 mile circular coastal walk.
If it's lunchtime, pick up a Cornish pasty in the village!
Kynance Cove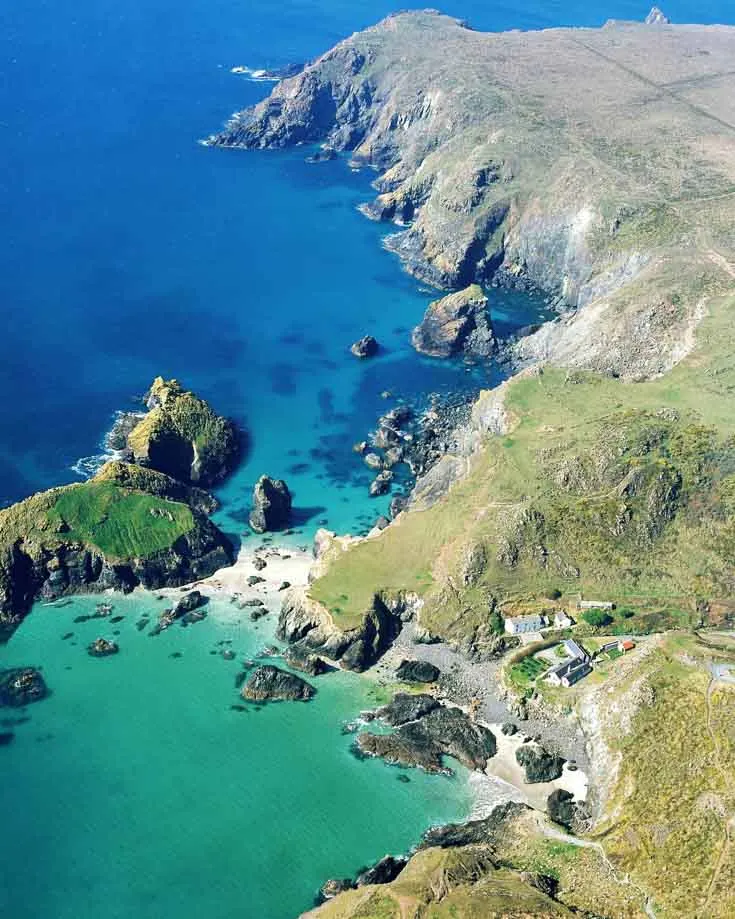 After visiting Lizard's Point, continue along the Serpentine Rock coastal path to reach Kynance Cove.
You can explore the cliffs and if visiting at low tide, caves.
Rock stacks protrude from the water and keep a close eye out for seals and the occasional dolphin.
It's easy to spend a few hours along this route and at Kynance Cove. You won't have this palce to yourself unless you visit out of season though.
Unsurprisingly, it's one of the most popular places on Lizard's Peninsula.
Take care on the cliff-top path, It's steep and slippery compared to the lower approach, but if you can take it, do.
It's well worth it.
Where to stay near Lizard's Point
Camping | Wild Camping Lizard is a simple campsite within walking distance to Kynance Cove. Ideal for visiting Lizard's Point and saving on those expensive parking fees.
Budget | Strathallan Guest House is simple, clean and functional with a delightful English garden. It's a few minutes walk from the historical part of the Helston village.
Mid Range | Housel Bay Hotel is the most southerly hotel in England. Expect incredible views, a friendly team and locally sourced produced served in the restaurant guests love.
Luxury | Mullion Cove Hotel & Spa is about halfway between Lizard's Point and the first stop on our day 3 Cornwall road trip itinerary.
This cliff top hotel is a short drive from idyllic Mullion village but has an award winning restaurant. So if you're exhausted from the day's walking activities, indulge in some of their fine cuisine.
Cornwall Road Trip Itinerary Day 3
St Michael's Mount – Minack Theatre – Land's End
Today we enjoy sea views, tour a Cornish castle, visit a remarkable theatre built into a natural amphitheatre and spend time walking the cliff tops at Land's End.
St Michael's Mount
St Michael's Mount is a tidal island just off the coast from Marazion village. At high tide, access is inly possible by boat.
With the receding tide, a man-made granite causeway is revealed, allowing you to walk across to the island.
A medieval church and castle stand proud atop the island, surrounded by sub-tropical gardens and cloaked in legends of giants.
Access to the island is free via the causeway or for a few pounds by boat at high tide.
There's an entrance fee to visit the castle and enjoy the gardens and views back to the mainland.
The castle is open March to October and the gardens from April to September. Neither open on Saturdays.
You can check the latest prices and opening times at St Michael's Mount website.
Minack Theatre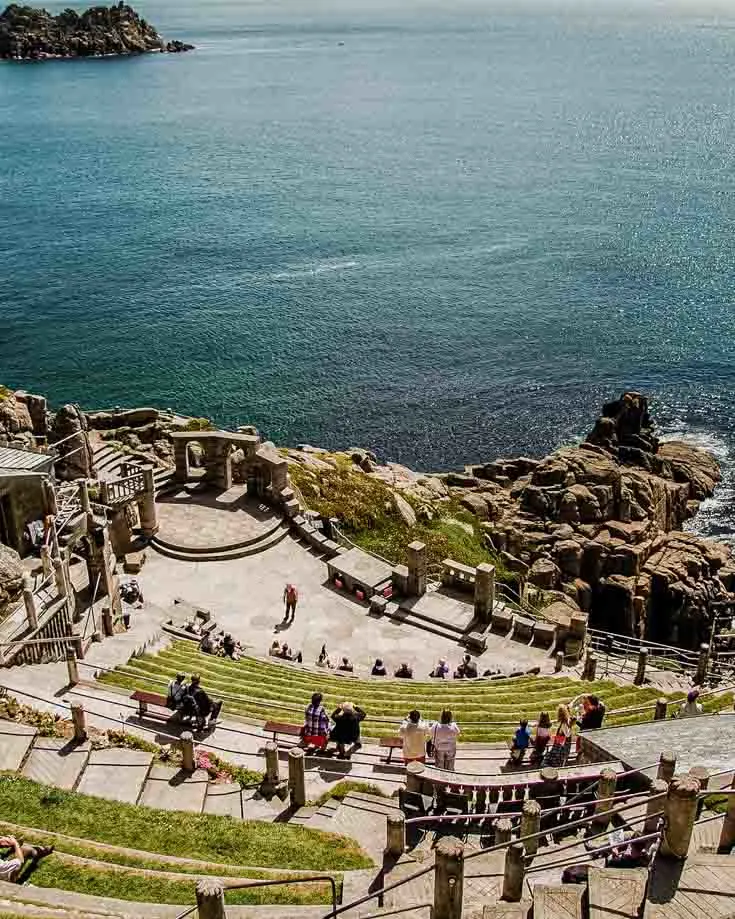 It's not often a visit to a theatre in the middle of the day would make it onto a road trip itinerary but this one is a must see.
The open air theatre is carved out of rock in a natural amphitheatre.
A labour of love built and designed by Rowena Cade and her gardener, the theatre is remarkable.
The grass cushioned terrace overlooks a stage perched hundreds of feet above the sea.
There are often afternoon performances. Plan ahead and book tickets to watch a production in a most unique open air theatre. It's just wonderful!
Access is restricted during performances to those with tickets though you can get a glimpse of the site from a viewing platform.
If you have time, clamber down to Porthcurno beach next door too. It's a tiny corner of paradise right here in West Cornwall.
You can visit the fascinating Porthcurno Telegraph Museum too , telling the story of Cornwall's role in the pioneering days of global communications.
Land's End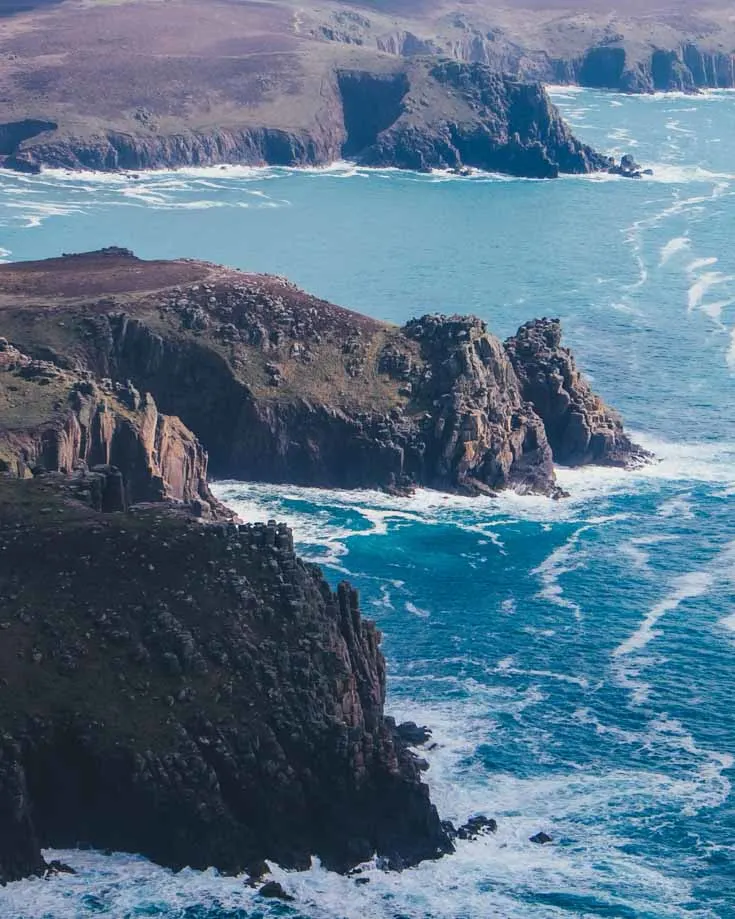 And so on to the end of the world. Well the end of the UK anyway.
Land's End is a popular attraction year round. The views are superb as you might expect.
The visitors centre feels a little more like a theme park than anything else.
But once you've grabbed your obligatory Land's End photo, the best way to explore and get away from the crowds is to walk.
This is a designated Area of Outstanding Natural Beauty. Surrounded on 3 sides by the Atlantic Ocean, the dramatic cliffs are perfect for walkers.
The walking trails here form parts of the 630 mile South West Coast Path.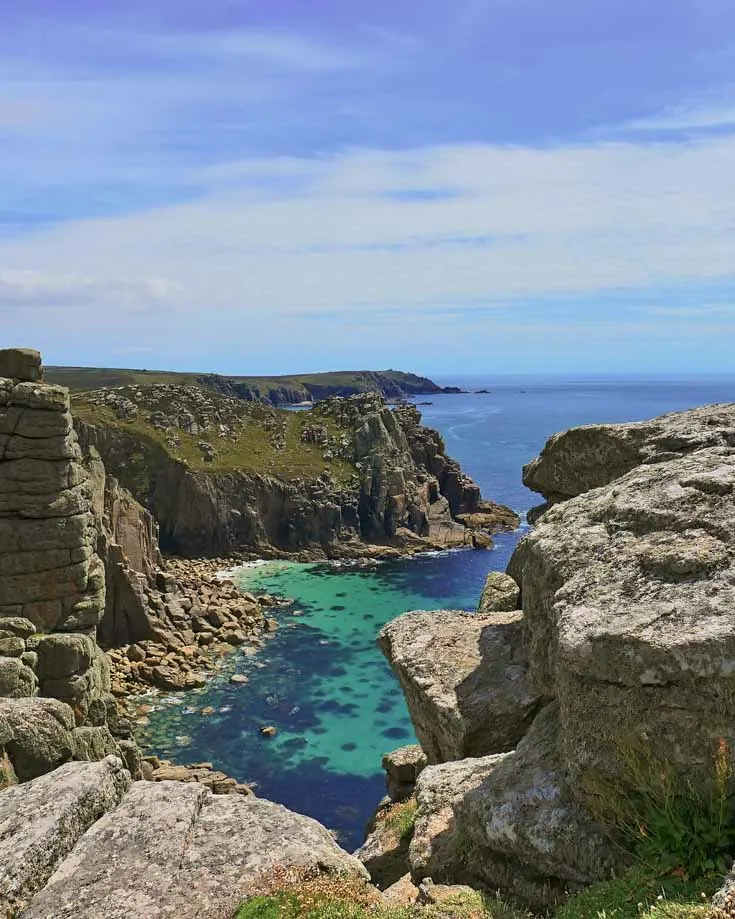 Get away from it all and enjoy the outstanding beauty of the granite cliffs, soaring sea birds and the famous Longship's Lighthouse.
If you're feeling a little thirsty, take a pitstop at the First & Last Inn, a 19th century English pub just a short drive from Land's End.
Where to Stay near Land's End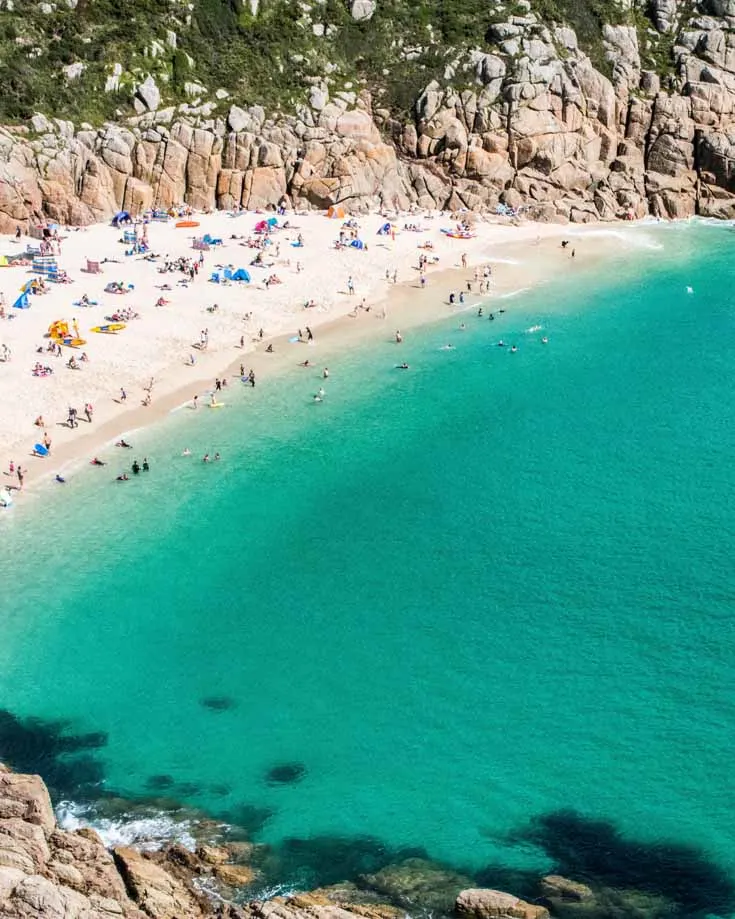 Accommodation in and around Land's End is quite costly. Sennen Cove offers some of the more budget friendly places to stay, a short 2 mile drive from Land's End visitors centre.
Camping | There's no campsites of note near Land's End but if you keep an eye out on the local road signs, you may find a farm or 2 offering space on basic camping fields.
Alternatively, drive the short distance towards Sennen Cove and pitch at Trevedra Farm Caravan and Camping Site.
Mid Range | Sennen Rise is a short stroll away from the beach and set within a thick granite-walled farmhouse. Guests love the homely atmosphere and buffet home cooked evening meals.
Luxury | The Land's End Hotel is situated on the westerly point of Cornwall. Crowning the granite cliffs overlooking the Longships Lighthouse & Atlantic Ocean the setting is quite idyllic.
Cornwall Road Trip Itinerary Day 4
Sennen Cove – Cape Cornwall – Geevor Tin Mine – Zennor
Day 4 on our recommended Cornwall road trip is all about the scenic drive with some little visited gems along the way.
The total distance is only 22 miles though so you won't be sat behind the wheel all day.
Sennen Cove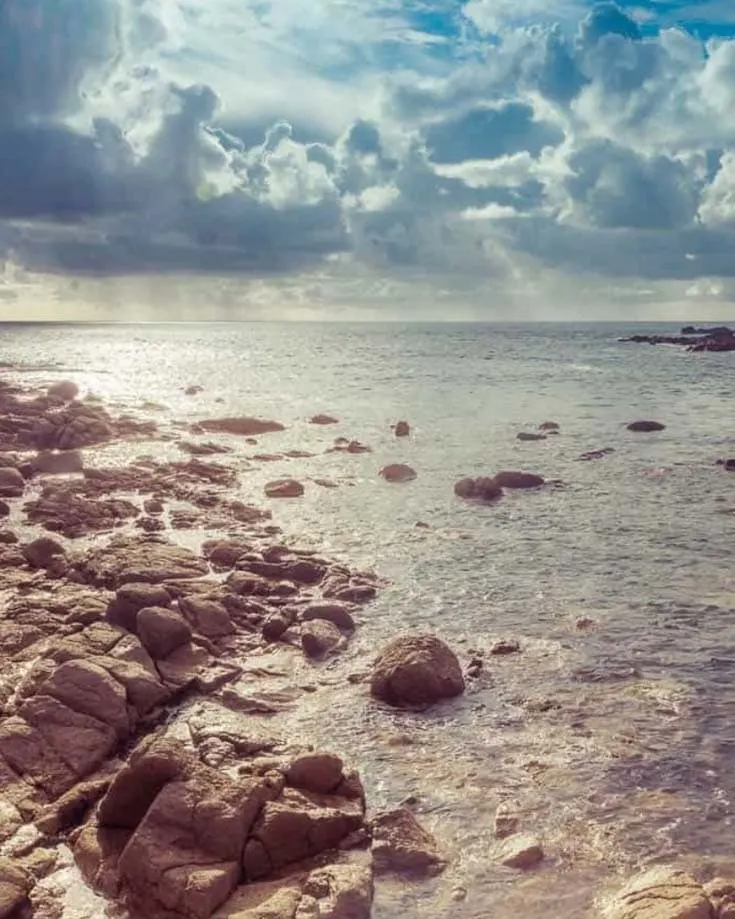 Spend the morning enjoying the beach at Whitesands Bay at Sennen Cove.
White sand and turquoise water attract crowds in the summer months but it's a perfect spot to learn to surf.
England's most westerly lifeboat station was built in 1853 in Sennen Cove.
During the summer months, they often hold open days giving visitors an insight into the workings of the lifeboat and the team of voluntary crew.
And if you didn't get enough of Land's End yesterday, follow the walking trail back. It'll only take about 1/2 hour in each direction.
Just enough to work up a lunchtime appetite. Don't miss the fabulous fish and chips for the Blue Lagoon!
Sennen Cove Parking | There's a car park at each end of Whitesands Bay and costs £1.20 an hour or £5 for an all-day ticket.
Cape Cornwall & the Brisons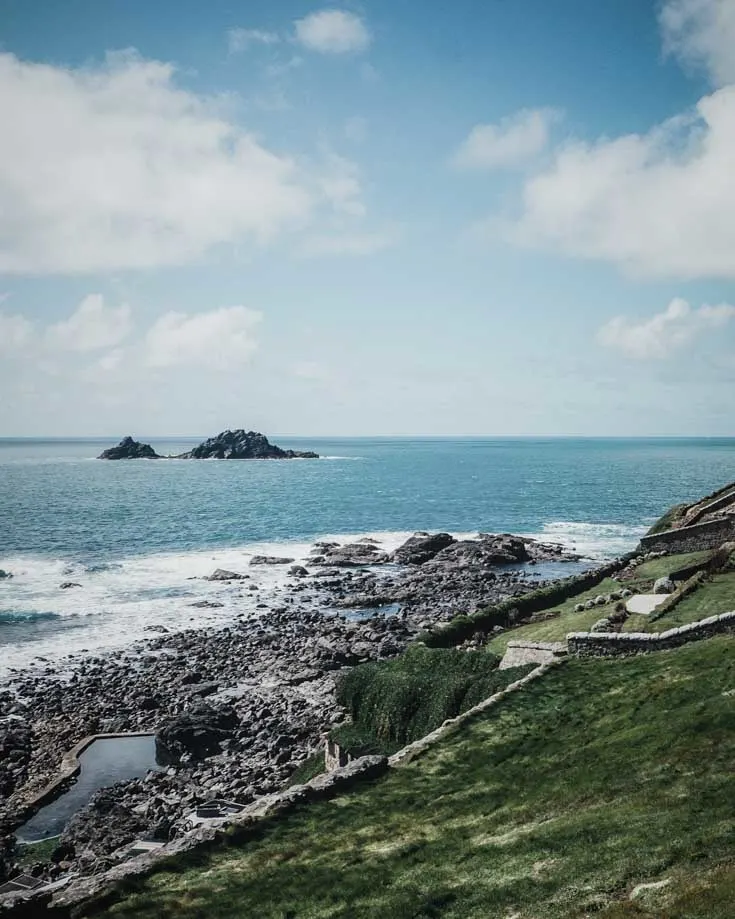 The Atlantic currents change at Cape Cornwall and this makes for yet more dramatic cliffs and unpredictable seas.
While Cornwall can get especially busy during the summer, Cape Cornwall offer a perfect escape.
Enjoy the isolation here and wild winds along the cliff tops with views out to the Brisons Rocks, aka Charles de Gaulle in the bath.
The South West Coastal Path stretch here allows you to walk to Pendeen Watch lighthouse and back. It's a 10 kilometre loop (10 km loop)
Geevor Tin Mine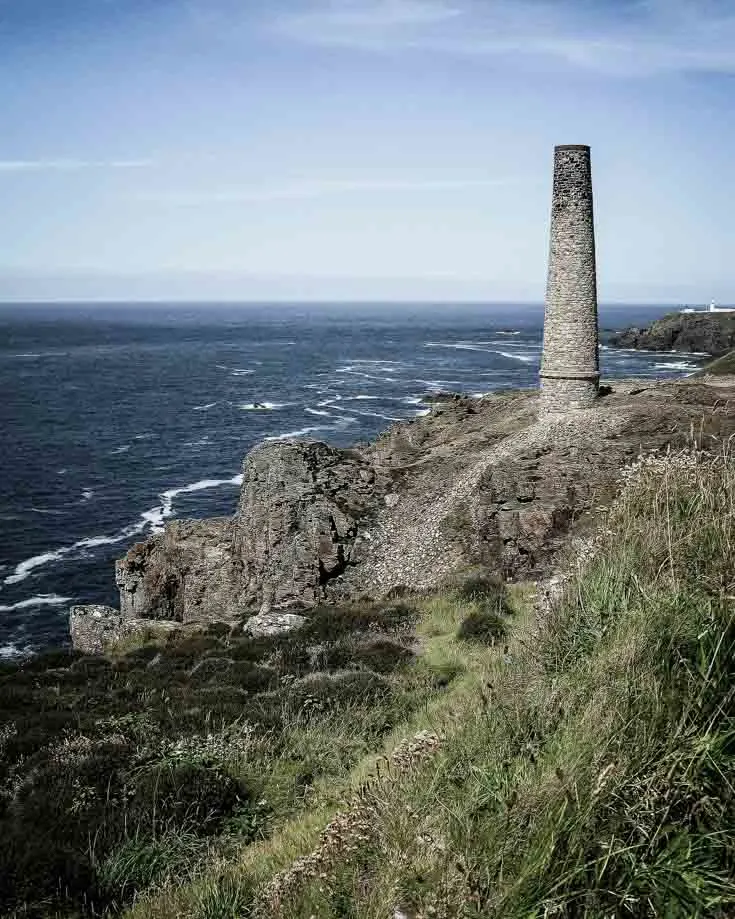 With a rich mining history, Cornwall countryside is dotted with once thriving mines.
While none of them operate today, they do for part of the Cornish Mining World Heritage Site.
Visitors to Geevor are rewarded with a hands on experience.
Don a hard hat and dust coat and get clambering around to check out the machinery, relics, rocks & minerals and the Wheal Mexico Underground Mine,
You can also access part of the South West Coastal Path from here too for more scenic views.
Zennor Village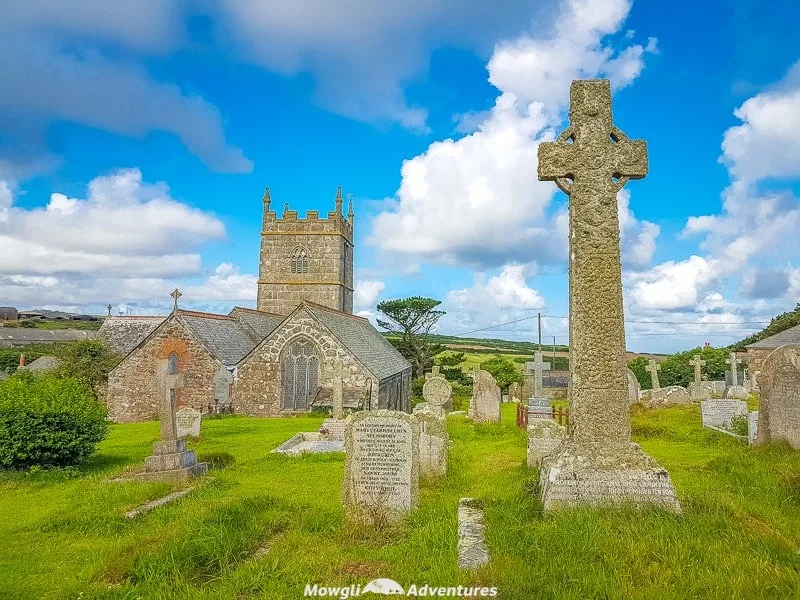 Zennor is a pretty little village. There's a network of walking routes here to soak up the wonderful views.
St Senara's church in Zennor is the base for a popular Cornish folk tale of a mermaid who enticed one of the parishioners to elope with her.
It makes for a perfect stop before ending the day with a drive to your accommodation in St Ives.
Where to Stay in St Ives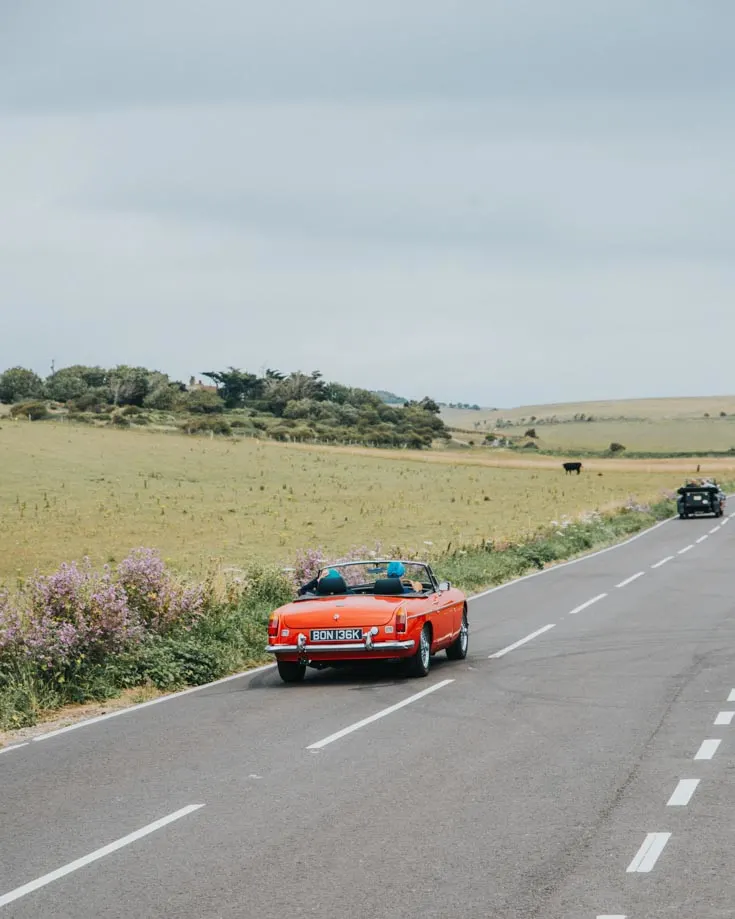 Zennor is quite remote and doesn't have a selection of accommodation options. We suggest driving the short 5 miles or so into St Ives.
Camping | Hellesveor Holidays offers 25 hook up spaces and is highly rated among visitors. If you don't fancy camping, you can rent a cabin or even the holiday cottage.
About 1 mile from town yet surrounded by farmland, this is a lovely rural escape. 1 night may not be enough!
Budget | Little Miss Sunshine, VW Campervan is available for overnight stays! If you don't have your own campervan and would like to know how it feels to sleep in one, give this quirky option a try.
Luxury | Tregenna Castle Resort is set in fabulous grounds with heated indoor swimming pool, an outdoor seasonal heated swimming pool and even an18-hole golf course.
You can even rent an apartment here.
Cornwall Road Trip Itinerary Day 5
St Ives – Padstow via the beaches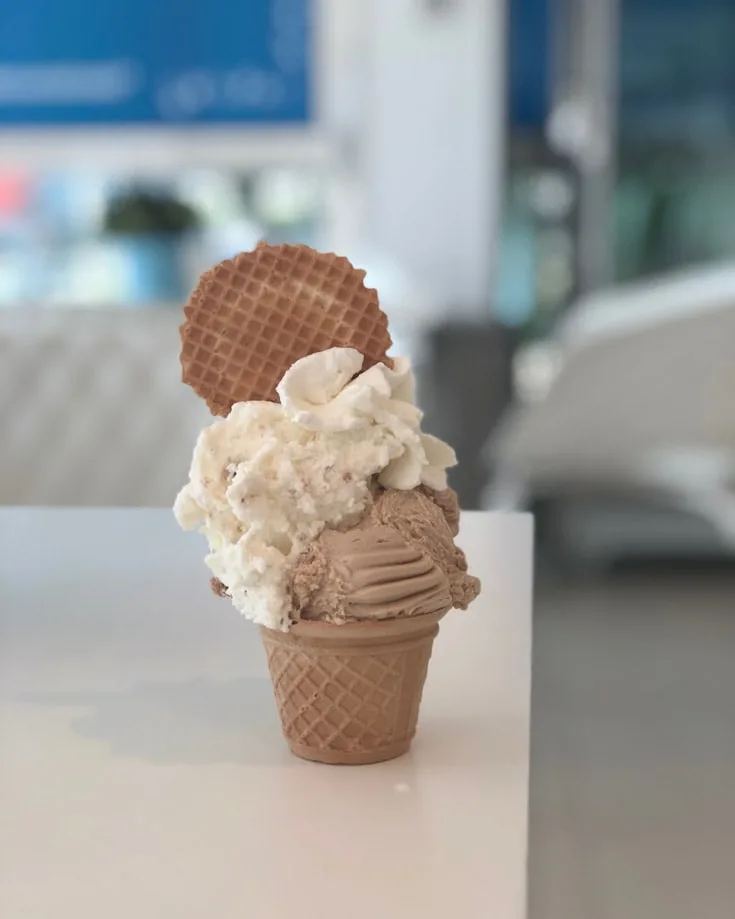 Day 5 of this Cornwall itinerary kicks off in the arty white-washed Cornish town of St Ives before heading north along the coast to Padstow.
Your challenge today is finding your perfect beach – there's so many to choose from!
St Ives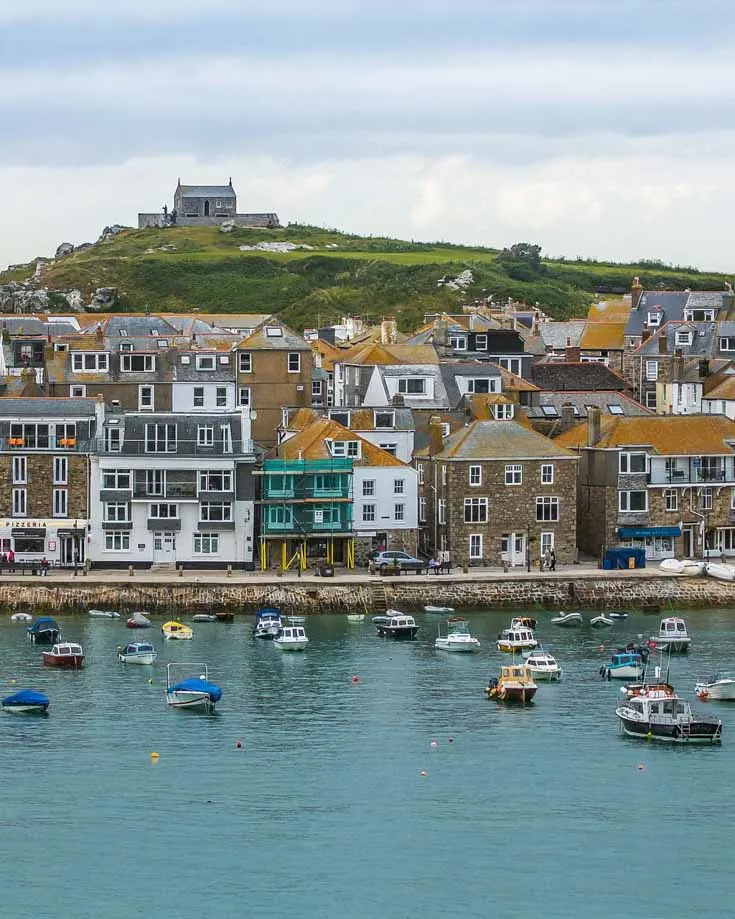 The white washed cottages house resident artist studios, ice-cream shops, traditional bakeries and fudge shops.
Spend an hour or 2 strolling around the cobbled pedestrian streets, dipping in and out of the art studios and indulging in your favourite flavoured Cornish ice-cream.
Art lovers shouldn't miss Tate St Ives on Porthmeor Beach and their Cornish inspired exhibits.
If you'd prefer an early morning walk, follow the coastal trail towards Clodgy Point because you just can't help but love that name! Oh and the views are still terrific!
Cornish Beaches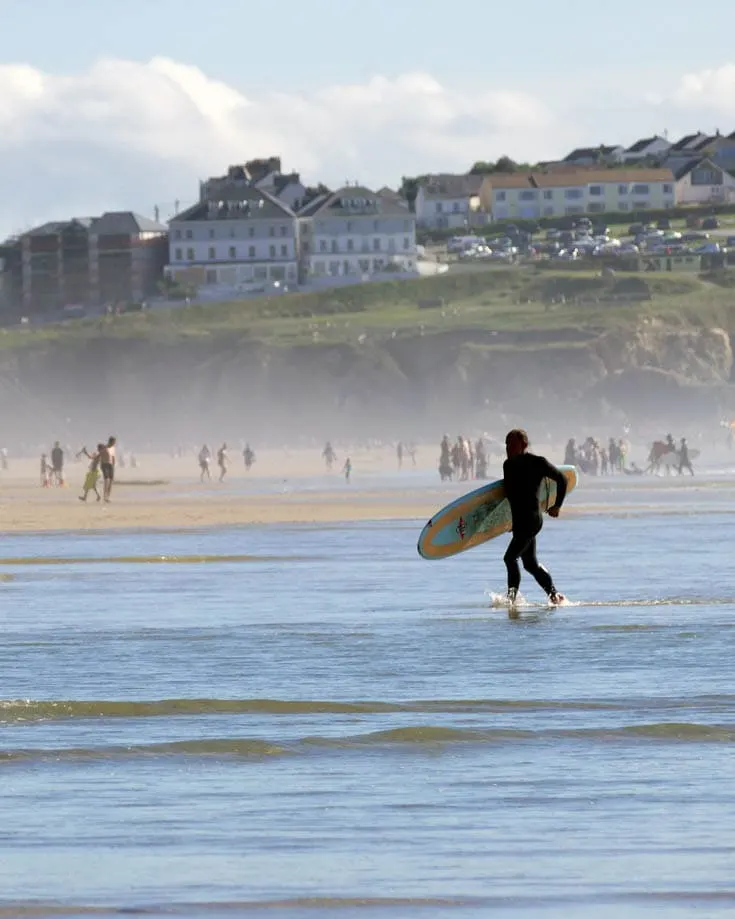 From St Ives, we followed the coast northbound towards Padstow.
The entire stretch is dotted with fabulous beaches. Either take your pick and spend the day at one, or take a road trip to see them all.
If you're looking for the typical British seaside towns adn a spot of surfing, maybe Newquay or Perranporth will suit you.
But the quieter beaches of St Agnes and Porth are wonderful too. We prefered these by a long way.
There's a fabulous stretch of the South West Coast Path between St Agnes and Perranporth too with eye catching sandstone cliffs. Take your time to enjoy the scenery here escaping the beach crowds.
Padstow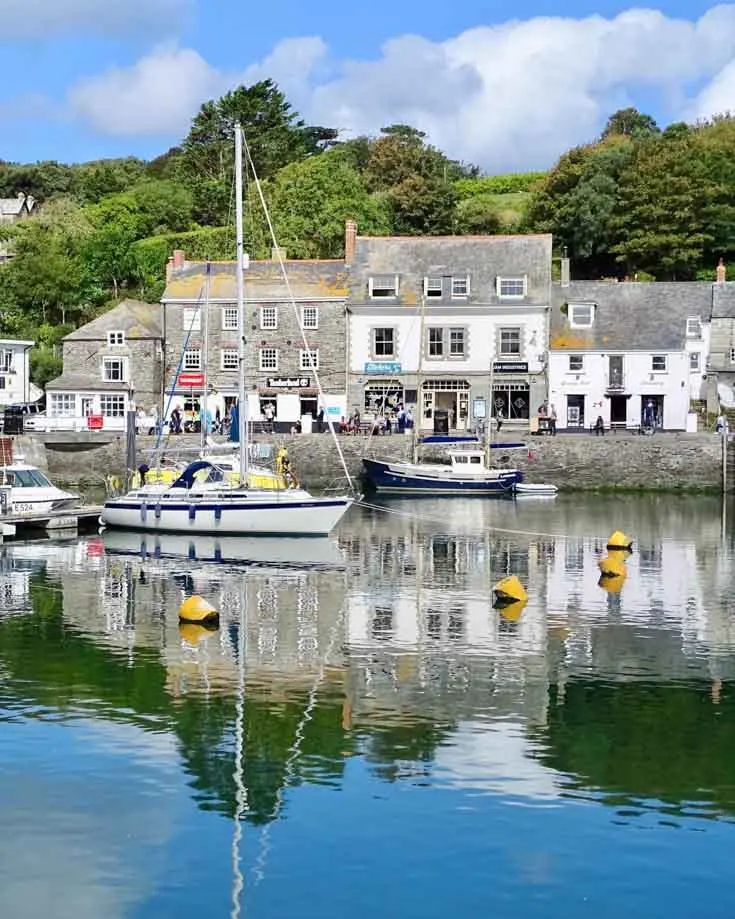 Padstow is one of the prettiest fishing villages in Cornwall.
Brimming with quaint shoips it's a charming places, surrounded with sandy beaches.
If you're feeling energetic, hire a bike and cycle the 18 mile Camel Trail through the wonderful Cornish countryside.
And once back in Padstow, you just must indulge in a fish and chip supper.
If you have the patience to queue, try Rick Stein's fish and chip shop. He's the most popular place in town!
Where to Stay in Padstow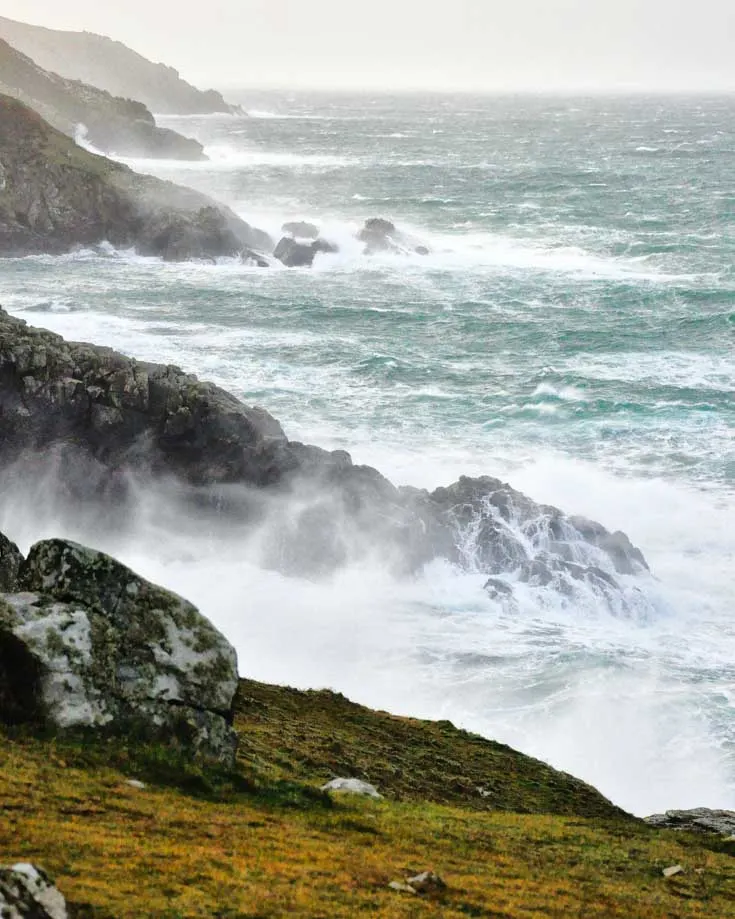 Parking is somewhat lacking at many places to stay in Padstow. For more reasonable prices, try driving out to Wadebridge a little further north.
Camping | Dennis Cove Campsite is a well cared for, family run site close to Padstow and bordering the stunning Camel Estuary. Ask for a pitch in the top field for fab views.
Budget | Apartment Marys is perfect for self catering and close to a public car park.
Mid range | Cyntwell B&B is an 18th Century cottage in the the heart of the Old Town, close enough to the restaurants and bars to be convenient and far enough to be peaceful. The only downside, there's no parking at this hotel.
Luxury | The Old Custom House overlooks Padstow's medieval harbour so in a perfect location for exploring the town. Serving fresh, local fish and seafood the hotel's restaurant is a big hit.
Cornwall Road Trip Itinerary Day 6
Port Isaac – Tintagel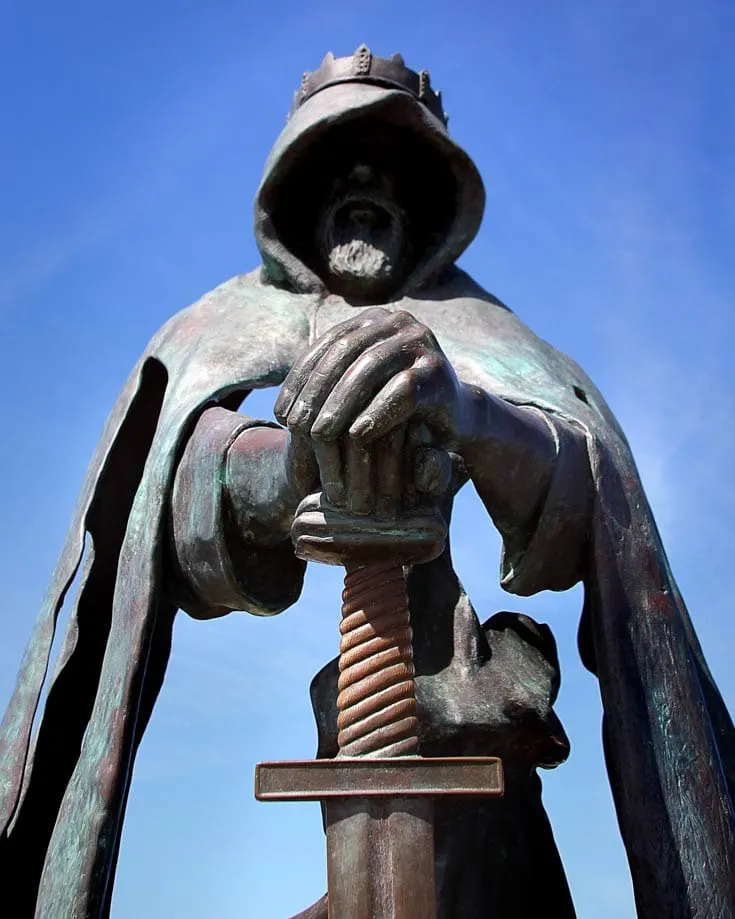 Spend the morning relaxing in a traditional Cornish fishing village before exploring the magical Tintagel castle and the legend of King Arthur.
We think this is one of the best days of the entire Cornwall itinerary.
Port Isaac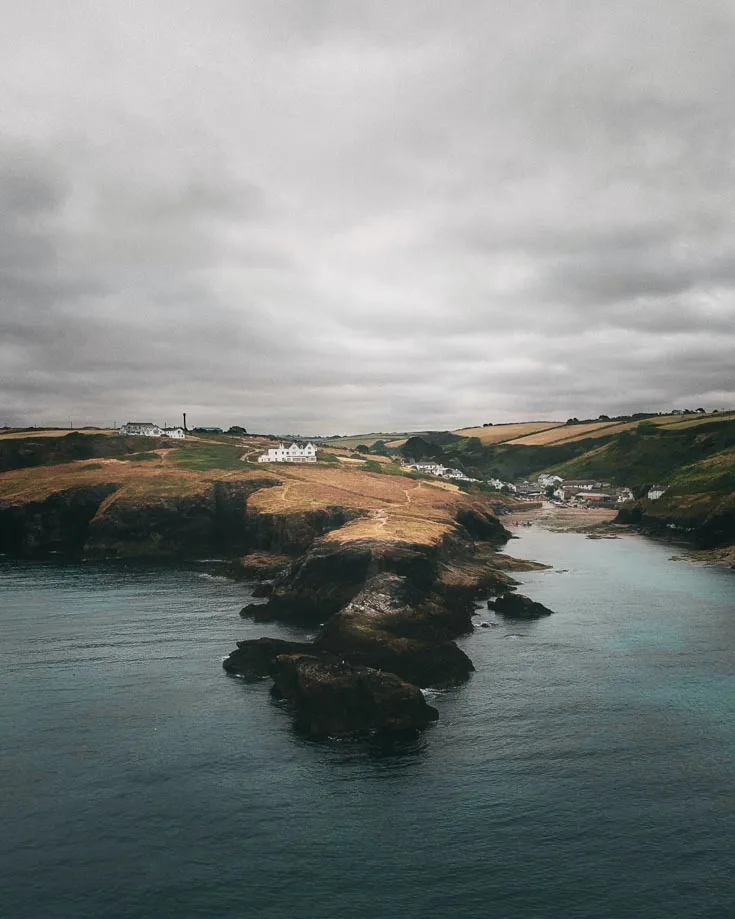 One of our favourite villages in Cornwall, Port Isaac is a little gem – though no longer very hidden.
Made famous by the British TV drama, Doc Martin, you can take a guided tour of the filming locations.
If you're not a fan of the TV drama, the village is well worth a visit anyway. It's a traditional fishing village, set in a natural cove.
It oozes tradition, history and charm. Enjoy a stroll on the beach at low tide or sit on the harbour wall to take in the views before discovering local arts and crafts in the tiny alleys.
The narrow streets lined with whitewashed cottages are steep, so remember you'll have to climb back up them at the end of your visit.
Don't drive down into the village. Instead, park at the main car park at the top of the hill
King Arthur's Tintagel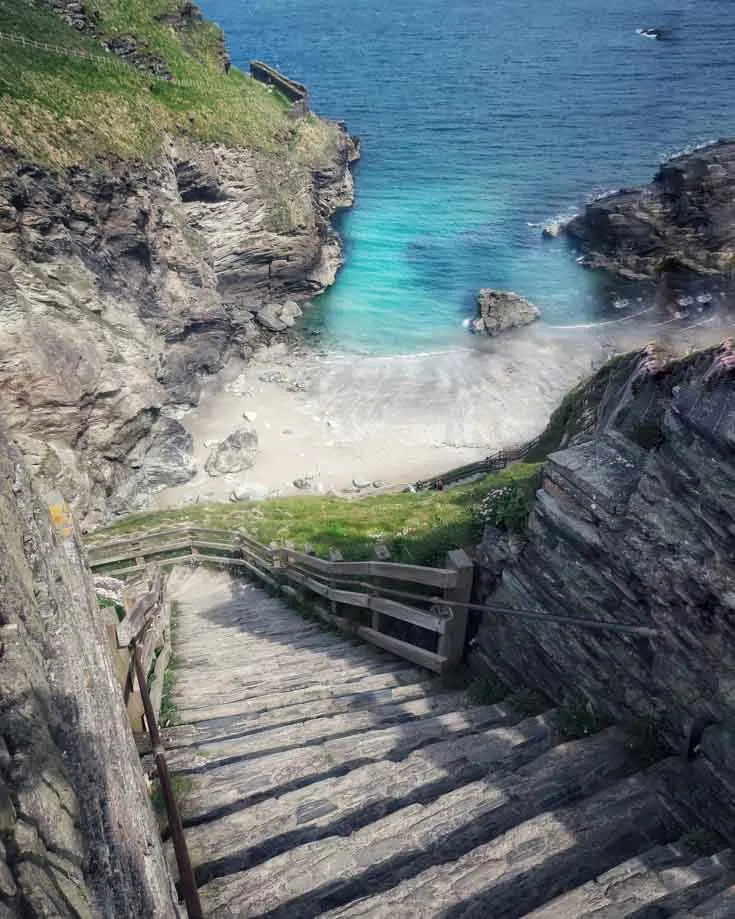 Next on to the highlight of our road trip in Cornwall, Tintagel.
Legend has it, King Arthur was conceived here and you can discover more about the story on your visit.
More than the history or legend, the whole site is magical.
History, myths, legends and beautiful scenery.
If there is only one place you can visit in Cornwall, Tintagel is the place to choose. It has it all and is by far our favourite place in the county.
King Arthur's castle is set high up on a headland and the surrounding dramatic views make it well worth the effort of getting around the site.
Once you've climbed to the top of Tintagel, you can easily find a quiet spot to savour the most awesome and dramatic views.
Don't miss our complete guide to visiting Tintagel and the local area.
Where to Stay in Tintagel
Camping | Across the road from the Old Post Office in Tintagel Village, King Arthur's Car Park is licensed for motorhomes to stay overnight.
There's a small fee (£3 per night when we visited) but no facilities and the toilet is closed overnight.
It's perfect if you're in a self contained campervan or motorhome.
Budget | Gordon House B&B offers cosy, no frills accommodation and terrific breakfasts. How can you go wrong?
Mid range | The Avalon is situated a little further out of the village but in a great spot for the beach and has free parking.
Luxury | Camelot Castle Hotel is a large hotel with plenty of luxury on offer. Perched high up on the cliffs overlooking Merlin's Cave and King Arthur's Castle, it's in a prime spot for your visit to Tintagel.
Cornwall Road Trip Itinerary Day 7
The Atlantic Highway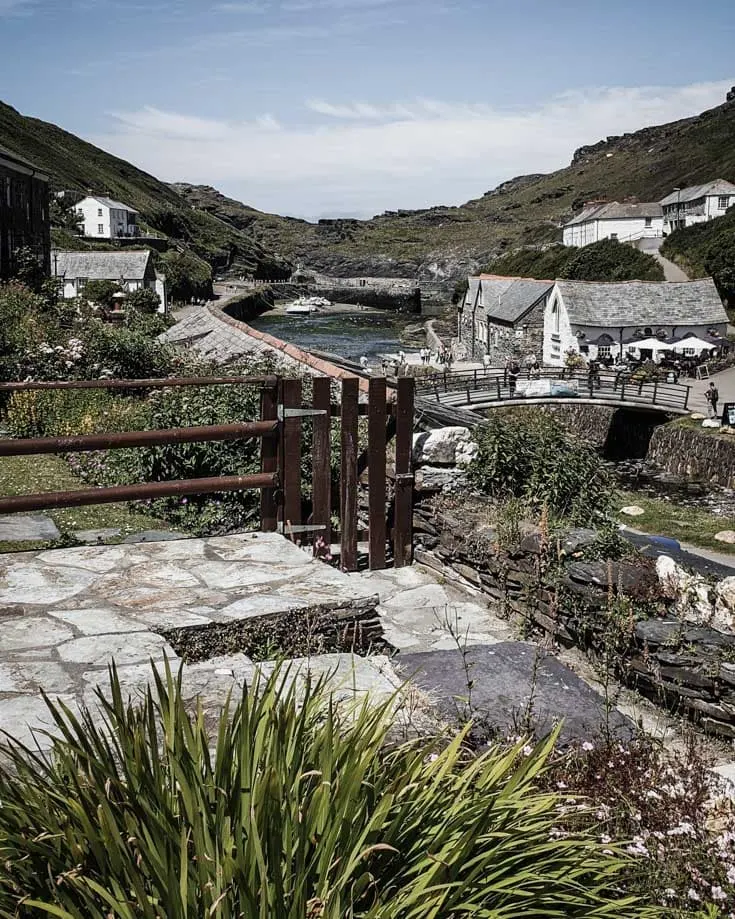 We think Tintagel is a wonderful claim to a week in Cornwall so for day 7 we recommend you absorb it into your week to date.
Maybe you love walking, so spending an extra day in and around Sennen Cove will allow you more time to explore the South West coastal path.
If you'd prefer, follow the Atlantic Highway or A39 north to visit the lovely Boscastle and Crackington Haven fishing harbours before making your way home.
And if you're heading north, make sure you pop into the dramatic Cheddar Gorge in Somerset – in case you still haven't had your fill of the remarkable scenery the United Kingdom has on offer!
Car Hire for Your Cornwall Road Trip
Hiring a car in the UK is easy so long as you have the correct documents.
If you hold a UK licence, you must get a code from the DVLA upto 21 days before your hire period starts. You can get the code here.
Licences issued overseas must be clearly identifiable as a driving licence and be written in English, otherwise an International Driving Licence is needed.
A Passport, ID showing home address and proof of entry into the UK are also needed.
The Best Time to Visit Cornwall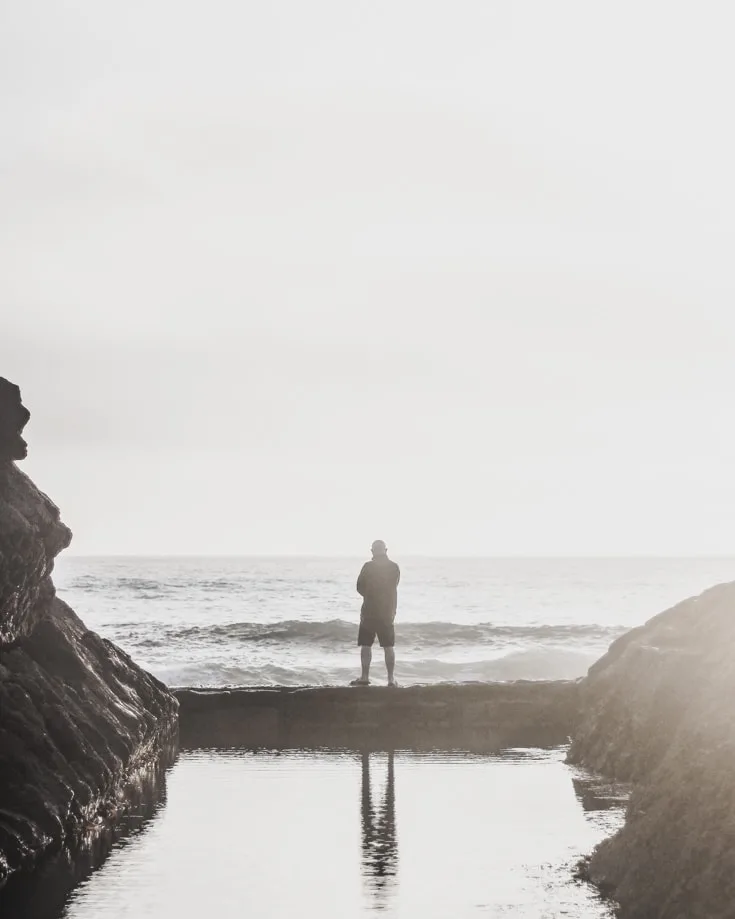 The summer months offer the best chance of sunny, warm days.
It's high season too so accommodation costs increase and crowds at attractions along the route is a factor.
Spring is off-season, particularly if you avoid Easter and the school's half-term holidays.
It's a great time to see Cornwall starting to burst with new life with spring flowers and newborn lambs.
Autumn is a wonderful time of year to visit because it's less crowded and the gorgeous autumn foliage is on display.
If you're lucky, you can witness the dramatic, stormy seas crashing off the rugged rocks along the coastline.
Useful Tips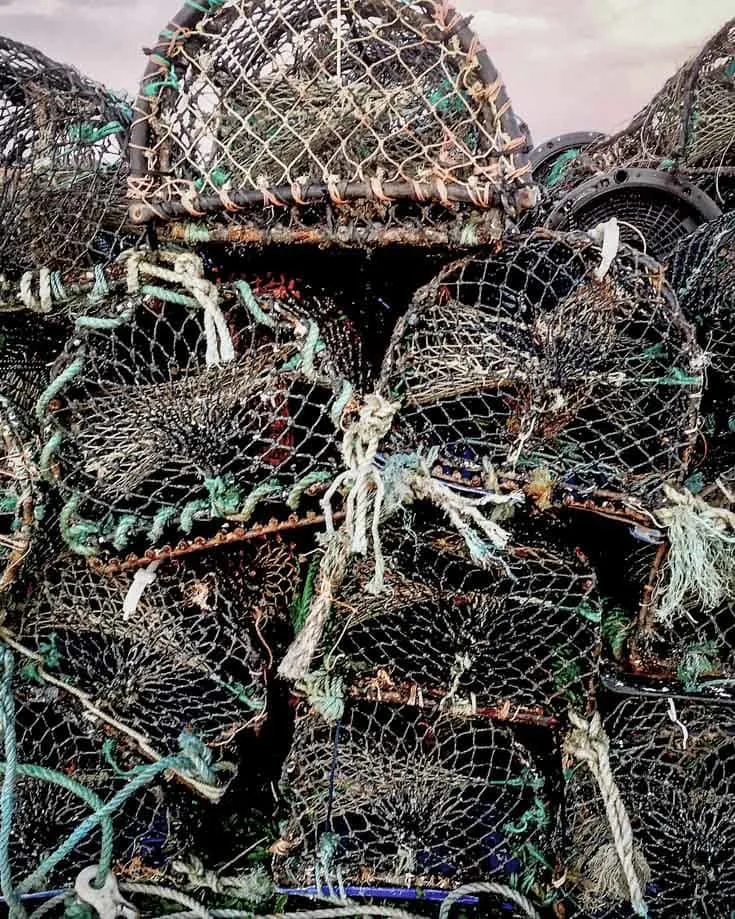 There's a useful free app for iPhone and Android users dedicated to Cornwall. It's so convenient because you can look up local restaurants, attractions and what's on while you're visiting. There's even discounts available for some attractions and that's never a bad thing! You can download it free here.
iOverlander is another useful app for finding points of interest like fuel stations and campsites. Make sure to download it before you set off so you can use it offline.
You'll need your wits about you for driving some of the narrow lanes in Cornwall. Please don't let that put you off. Most vehicles will pass down the lanes and the pay back is huge as you get off the beaten path.
Summers and weekends see massive crowds in Cornwall. If visiting in high season, mid-week and early morning's are alway most quiet.
If you want to avoid the crowds, come later in the day or visit around the shoulder seasons of Spring and Autumn.
You May Also Be Interested In:
Like it? Pin it!