If you'd enjoy a moderately challenging stroll through pastoral farmland and alongside gentle waters, then the Derwent Reservoir Walk is the perfect choice. Snaking through lush green countryside and hewing closely to both the Derwent and Ladybower Reservoirs, this hike certainly doesn't lack tranquillity or beauty.
The walk is fairly long, so you'll need to budget the better part of a morning or afternoon to do it properly. You'll also gain quite a bit of ascent along the way, but it happens so gradually that you shouldn't find it terribly taxing.
Of course, this particular walk is as notable for what you won't see as it is for what you will; namely, the ruins of Derwent and Ashopton Villages, which were both flooded when the Ladybower Reservoir was finished in 1943. On certain days, you may still be able to faintly see some of the ruins under the water, but for the most part, you'll have to use your imagination.
This walk isn't the only attraction in the area. If you have fun on this little excursion, you'll be happy to know that there are several other similar hikes in the area, as well as multiple excellent restaurants and luxurious hotels. So you can spend several days just exploring the Peak District without it ever once getting old.
Most of those attractions are at least a short walk from Derwent Reservoir, as the only thing in the immediate vicinity of the trail is the Fairholmes Visitor Information Centre. The centre has a small cafe and car park, though, so it might serve as the epicentre of your expedition.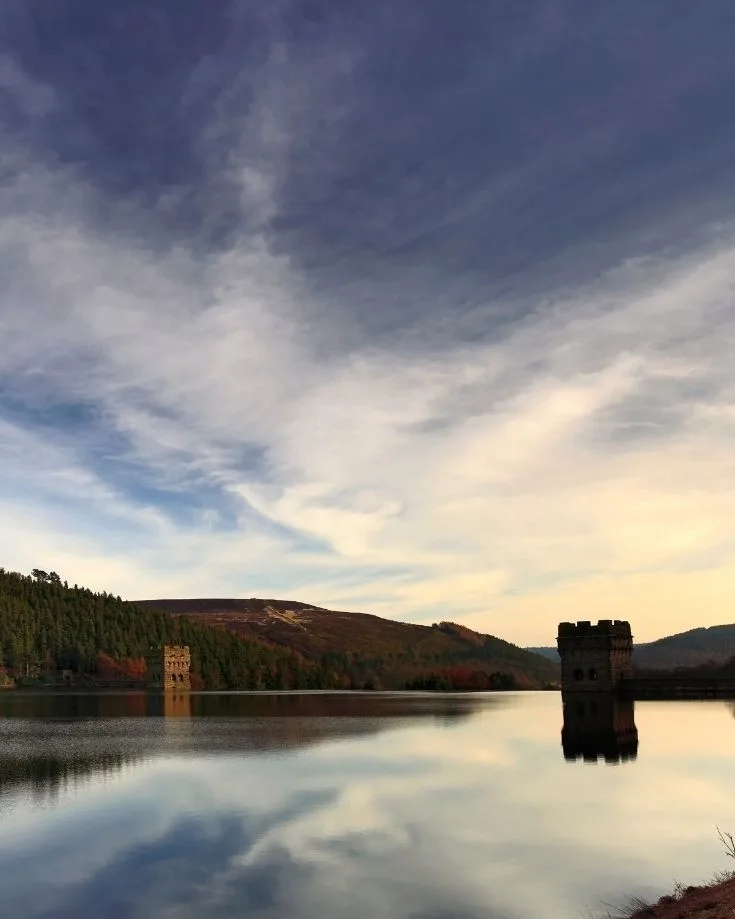 When you click on links to various merchants on this site and make a purchase, this can result in this site earning a commission. As Amazon Associates, we earn from qualifying purchases. For more info, please check our disclosure page.
Derwent Reservoir Walk Stats
Distance: 10.6 miles/17 km
Type of trail: Circular
Parking options: You'll begin and end your walk at the Fairholmes Visitor Information Centre, which has a car park that charges £3 for 2 hours or £5 for all-day use. There are also several free parking options around the reservoir, but they fill up quickly, so arrive early if that's your plan.
Walk points of interest: Derwent Dam, Ashopton Viaduct, Derwent Reservoir, Ladybower Reservoir
How long does Derwent Reservoir Walk take? 3–5 hours
Accessibility: This is a fairly easy walk, and you won't have any stiles or stairs to deal with (at least on the longer route), making it accessible to wheelchairs, prams, and more. There is quite an ascent to the walk, but it's very gradual, so it shouldn't be too foreboding. However, if you take the shorter route, you will encounter a few stiles.
Total ascent for Derwent Reservoir Walk: 2136 ft./651 m
Are there public bathrooms? Public bathrooms can be found at the Fairholmes Visitor Information Center.
Best places to eat nearby: You can find the Yorkshire Bridge Inn and Ladybower Inn in Hope Valley, a few hundred meters from the start of the trail. The Yorkshire Bridge Inn is an award-winning pub, and while the Ladybower Inn is also a pub, it's a bit more casual.
Best places to stay nearby: The Losehill House Hotel & Spa (best for couples), Dakota Manchester (most luxurious option)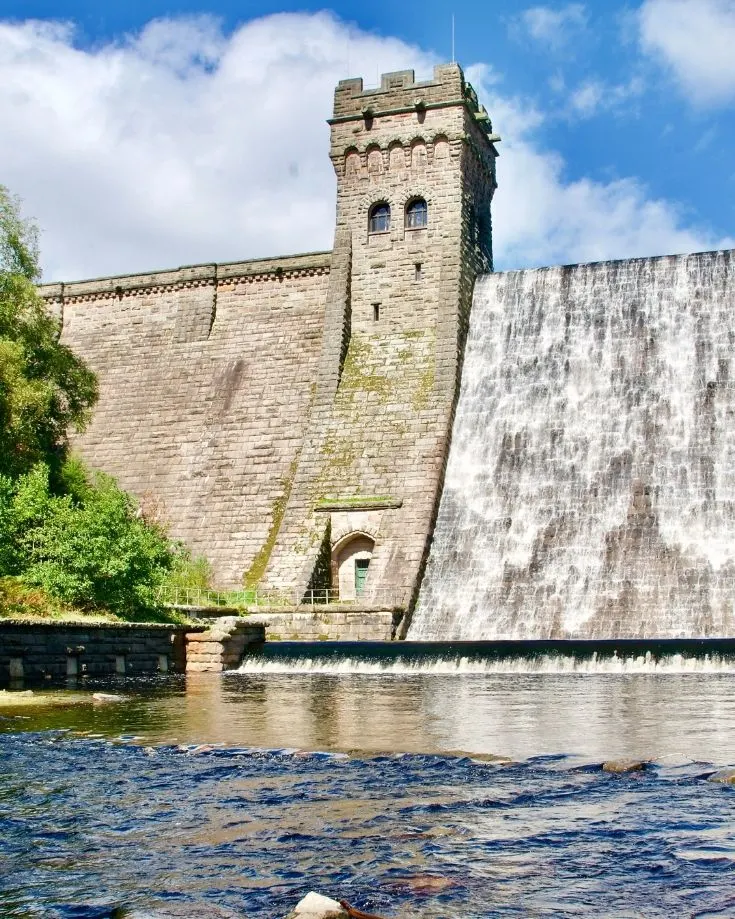 Derwent Reservoir Walk Routes
There are two primary walk routes around the Derwent Reservoir. Both are fairly easy to complete, but the longer one is more popular, as it provides better views of the surrounding area.
To give you the most comprehensive look at your options, though, we'll look at both routes in more detail below.
Longer Route
Starting at the car park near the Fairholmes Visitor Information Centre, head north, keeping Derwent Dam on your right. This will take you along the reservoir, and you'll see spectacular views of the water as you follow the path.
You'll eventually reach the dam at Howden Reservoir; follow the path around the water to the west. This involves crossing the River Westend and River Derwent, at which point you'll start to head south.
The trip back will provide you with much of the same scenery, but the difference in angle will make it all seem brand-new. This trek will also take you over Abby Brook and through Shireowlers Wood and Hancock Wood.
Eventually, you'll reach the East Tower of Derwent Dam. From here, head southwest through the trees, and you'll wind up back at the car park and Fairholmes Visitor Information Centre.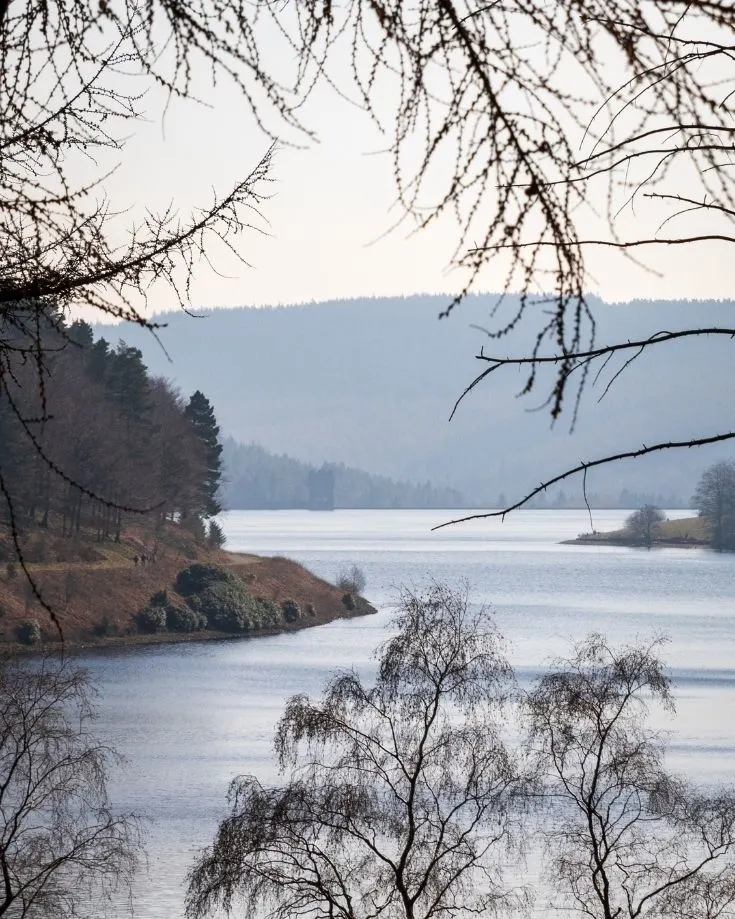 Shorter Route
The shorter route is only 4 miles (6.5 km) long, and it hits many of the same high points as the longer version.
This trail also starts at the Fairholmes Visitor Information Centre car park, taking you uphill past the dam. You'll follow the Ladybower Reservoir towards the Old House Farm near Derwent Village.
Upon reaching Derwent Village, you'll be greeted with lots of information about the village before it was flooded. When you're finished learning about the great flood, take a right at the end of the high wall, head over the stile, and walk past the ruins of the old farm.
You'll soon reach a cottage where the path splits; head uphill to the left, crossing another stile into some moors. You'll go about half a mile (0.8 km) until you reach a wall with Pike Low on your left.
If you follow the path, you'll see Mill Brook below you to the right. As you get closer to the pine woods, you'll reach another fork; take the path on the left side.
Stay here until you reach a fence, then take a right. You'll have to cross another stile, and then you'll pass an old farm at Bamford House, with Derwent Reservoir on your left. Head left and take the path downhill towards the reservoir (be careful, it's steep).
When you hit the reservoir, take another left. You'll soon see Derwent Dam and the car park.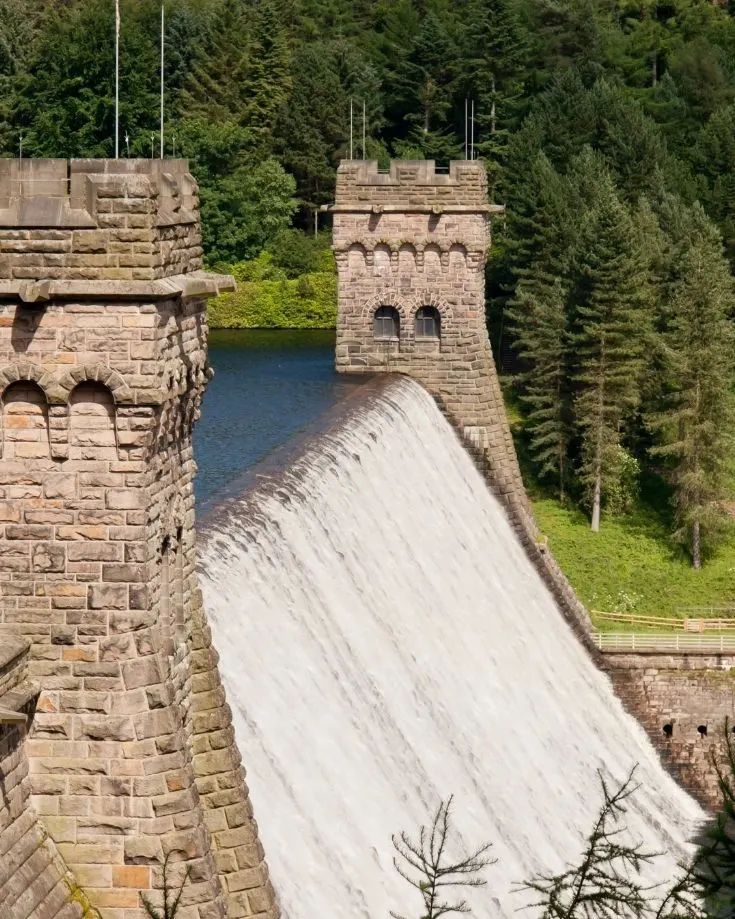 Facilities on Derwent Reservoir Walk
There are public toilets and a small cafe at the Fairholmes Visitors Information Centre. You'll also find a variety of shops and restaurants in Hope Valley.
Best Places to Eat Near Derwent Reservoir Walk
Other than a small cafe at the Fairholmes Visitors Information Centre, you won't find many food options along this route. Fortunately, there are several excellent eateries not too far from the trailhead. These are two of our favourites:
This award-winning pub relies on local produce in making much of their fare, so the food is always fresh and tempting. The burgers and salads are top-notch, and their drink offerings are designed to pair perfectly with the food.
The daily specials might be the main attraction, though. Every day the chefs endeavour to prepare the best meal possible given the local ingredients on hand. Of course, you'll never know what's in store before you arrive, but you can be sure it's unlikely to be disappointing.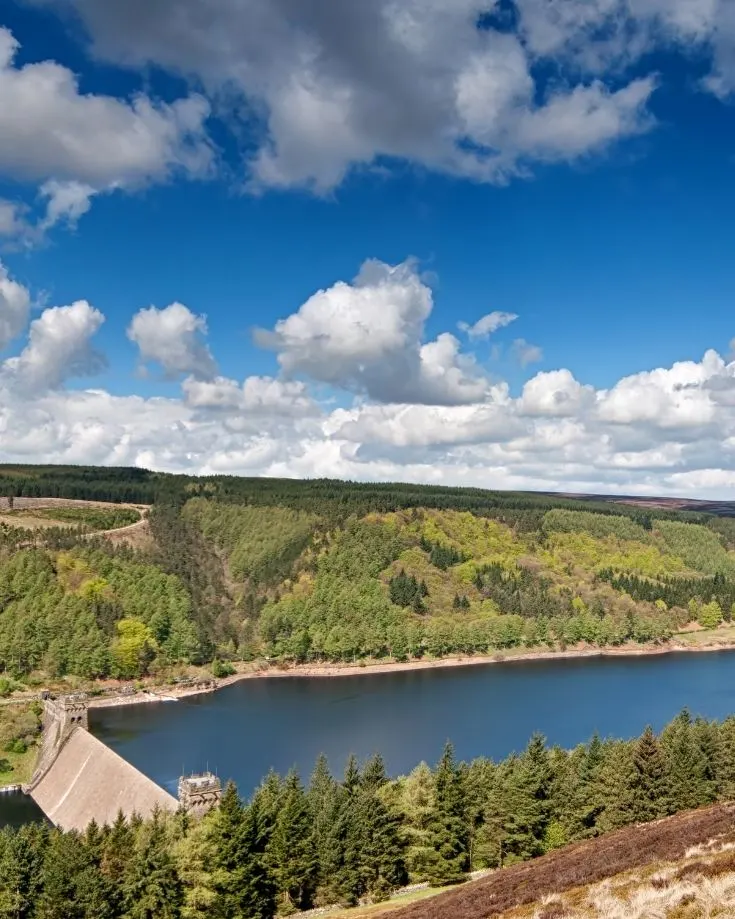 The Ladybower Inn is quite similar to the Yorkshire Bridge Inn in many respects. Both offer traditional pub fare, both lean heavily on local ingredients when preparing their dishes, and both offer absolutely fantastic food.
While the Yorkshire Bridge Inn is far from formal, the Ladybower Inn is still the more casual of the two. There's no need to freshen up after your hike, so walk on in and make yourself at home. Everything is good, but "The Ultimate Burger" truly lives up to its name.
Best Places to Stay Near Derwent Reservoir Walk
While neither of the Derwent Reservoir Walks are particularly challenging, the weather is often uncooperative, so there's nothing like being able to take a hot shower and long nap when you're through. If you want to stay in the area so that your shower and bed are always within reach, we recommend these accommodations:
You know that any place with "spa" in the title is going to be relaxing and luxurious, and Losehill House is certainly that. While here, you can take advantage of their treatment rooms, lounge in the sauna, or simply bask in the hot tub while looking out at all the beautiful scenery on offer.
You'll find less-traditional relaxation methods here as well, like high-definition TVs, DVD players, and free Wi-Fi. If your children get restless, you can throw them in the indoor pool or check out a board game from the front desk.
This hotel's a bit of a drive from the dam, as it sits 20 miles (32 km) away in Manchester. If you're looking to spoil yourself, though, it's well worth the extra effort, as each room boasts a staggering array of amenities. These include Smart TV with full Sky HD package, free high-speed Wi-Fi, and en suite bathrooms with rainfall showers.
You'll be centrally located to some of the finest food, and entertainment Manchester has to offer, which can come in handy, as there's not much to do besides eat and explore in the Peak District. If nothing else, you can enjoy some of the custom cocktails at the bar — who knows, you may not even see the need to make it to Derwent Reservoir after a few of those.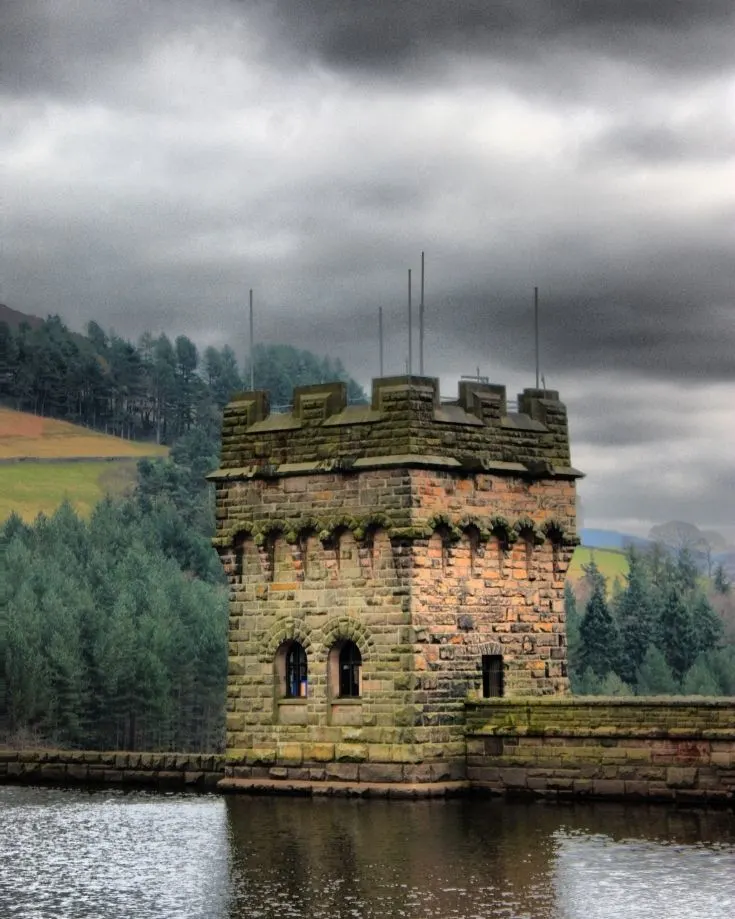 Best Place to Camp Near Derwent Reservoir Walk
Our favourite lodging spots are a little on the upscale side, but if you prefer to live closer to the land while exploring the peak district, this is our favourite place to camp:
This campsite isn't much to look at, but it has everything you need on hand, including hot showers, pitches for both tents and RVs, and an on-site cafe. Everything is reasonably clean, and the staff is friendly and knowledgeable.
The location can't be beat, either. It's a short walk from many of the most popular attractions in the Peak District, including Derwent Reservoir, Mam Tor, and Peveril Castle. Oh, and there are several pubs within walking distance, too, lest we forget what's truly important.
Derwent Reservoir Walk Route Map
A detailed map of Derwent Reservoir Walk is available from Ordnance Survey. Unfortunately, we can't share the map here because the copyright belongs to the Crown, but you can see it in detail on their website.
For anyone planning on exploring many of the beautiful Peak District walks on offer (and there are lots to discover), we recommend you arm yourself with a paper map. Two ordnance survey maps cover the entire Peak District:
OL1 – Dark Peak Area – basically the northern side of the National Park
OL24 – White Peak Area – the southern end
OL1 covers the Derwent Reservoir Walk.
Compare the price of buying the maps at Amazon or direct from Ordnance Survey. You can expect to pay less than £10 for a standard map, but Amazon is often a little cheaper than buying directly from OS. Weatherproof maps are more hardwearing and won't disintegrate in the inevitable rain showers. They generally cost a couple of pounds more.
Compare prices here:
Ordnance Survey also has a highly rated app if you prefer a mobile app for mapping purposes. Keen walkers will get a good deal from their annual subscription. Monthly options are also available and more cost-effective for occasional jaunts.
A budget-friendly option is also available on the app's website where you can select a walking route and print the map to a printer or pdf for free, so you can keep it on your phone for reference.
How To Get To Derwent Dam
The Derwent Reservoir walk is set within the Derwent Valley, about 10 miles (16 km) east of Glossop and 10 miles (16 km) west of Sheffield.
By Car // The easiest way to get to Derwent Valley is by car. Use Fairholmes Visitors Centre's postcode – S33 0AQ – to navigate. If you're visiting the area without your own wheels, consider getting a rental car to get the most out of your visit to the Peak District.
By Bus // The X57 bus service runs between Sheffield Coach Station and Manchester, via Glossop, and stops outside Fairholmes Visitors Centre. The service runs 5 or 6 times each day. You can get the latest timetable and ticket prices here.
By train // The Hope Valley Line is a scenic rail journey between Sheffield and Manchester through the heart of the Peak District. The closest train station to Derwent Dam is at Bamford village but bear in mind that's 9 kilometres from the dam. Check the latest timetable and ticket prices here.
By cycle // The fabulous National Cycle Network, has well marked routes throughout the Peak District, making it an ideal environmentally friendly way of getting here. Check out the detailed National Cycle Network on OS maps.
Other Useful Info About Derwent Reservoir Walk
The terrain on the walk isn't terribly challenging, but things can get slippery if it rains, so wear shoes with excellent traction. They should be comfortable as well, as this isn't a short jaunt by any means. Oh, and things can get dusty and muddy out here, so maybe leave the white trainers at home (unless you'd prefer to have brown trainers).
This is a popular hike, especially on weekends and holidays (or whenever the weather cooperates), so it's always a good idea to get here early. That's especially helpful for finding parking, as the car park at Fairholmes isn't gigantic by any stretch of the imagination.
There's plenty of wildlife to see on this hike, including sheep, large mountain hares, and golden plovers. If you're bringing your dogs with you, make sure you have them on secure leads so that they don't disturb the local residents.
The area is popular with cyclists as well as hikers, so watch yourself on the trails. If you'd prefer to be the one hurtling by slow-walkers rather than a speed bump for them, there's a bicycle rental station near the Fairholmes Visitor Information Centre.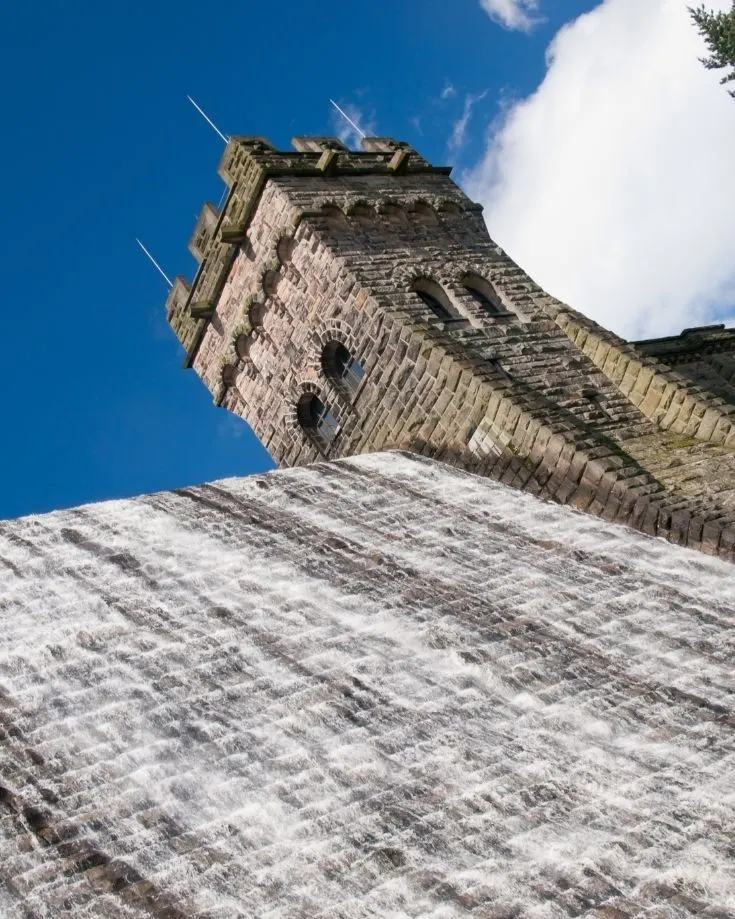 More Peak District Walks