There is nowhere else quite like the square of Jemaa El Fna in Marrakech. Most of the guide books talk of its unique atmosphere but only mention the food stalls in passing.
It's true, no visit to Jemaa El Fna is complete without dining at the makeshift cafés and food stalls.
Without knowing what to expect, it's easy for a first time visitor to miss an authentic experience in Moroccan cuisine.
This guide to dining out in Jemaa El Fna will help you have the experience you're looking for.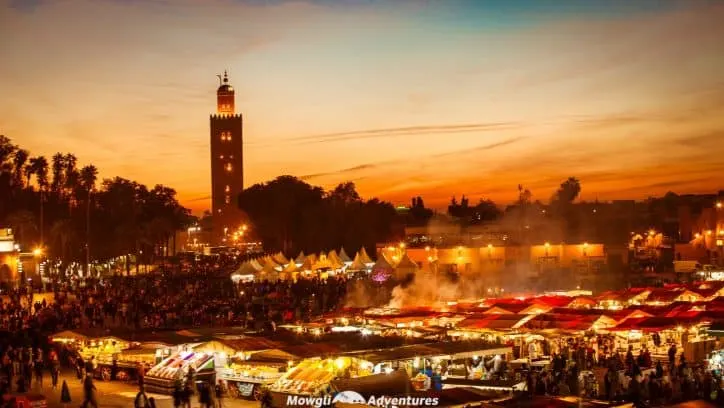 The dining conditions
The dining conditions aren't what you're used to. The food stalls at Jemaa El Fna only appear as dusk begins to fall.
Each evening, the food stalls arrive by mule carts. The stall owners unpack and set up with the ease of any daily routine.
The produce arrives separately and food preparation begins. The chefs fire up the gas bottles and start to cook tagine.
Then the barbecues are lit, filling the air with a haze of smoke. The transformation of the the square is complete and the crowds descend for an evening of dining out in Jemaa El Fna.
Top tip: in readiness for dining out in Jemaa El Fna, find a seat at one of the roof top terraces around the square. They give a great view over the square so you can watch the transformation with an ice cold juice.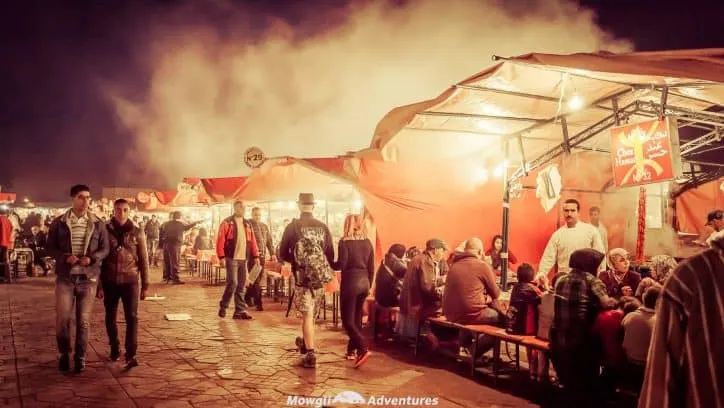 The rickety bench tables and chairs show signs of wear; they're covered in plastic tablecloths and regularly "cleaned" with what looks like a grubby, damp rag.
Food is usually served on plates showing signs of use too. If you get a plate without a crack or chip, you're doing well.
You'll share your table with other customers and elbow room is a privilege. Mood lighting will consist of bare fluorescent light bulbs, dangling by unsafe electrical cords from the tarpaulin roof.
Are you're looking for something a little more European in hygiene standards or a romantic candle lit dining experience?
You should leave Jemaa El Fna, for you will not find what you're looking for here.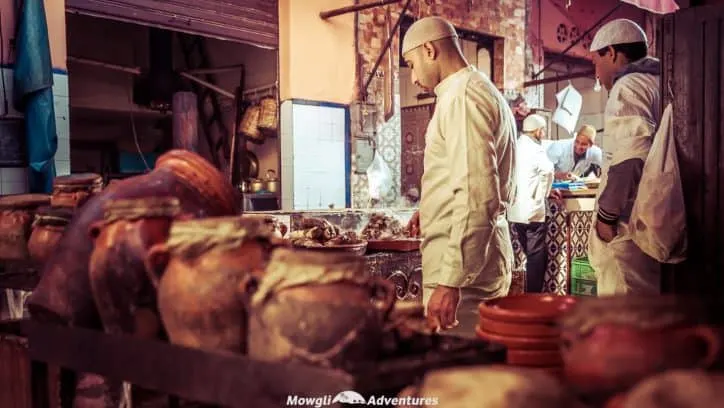 Check out what to hit and what to miss in Marrakech
The tourist trap
You may wish to wander through the aisles at your leisure to see what's on offer before you decide where to eat.
In reality, the sales reps will harangue as soon as you step anywhere near the stalls. A charming man will approach you, even blocking your path.
He'll engage with you; guessing your nationality, speaking to you in your mother tongue and trying to make you laugh with some quip or other.
All this to entice you into his food stall within a few seconds.
His menu will consist of tagine or barbecued meat, salads and maybe even fries. And of course, an extensive soft drink menu of coke, tango, sprite and water.
If he wins you over, he'll show you to your seat alongside fellow tourists, all tucking into their barbecued fare.
This menu favours the tourist's palette. There's nothing unusual about barbecued chicken.
It's a safe bet and if you're looking for a good feed of something you're familiar with, these stalls are as good a place as any to dine.
An authentic dining experience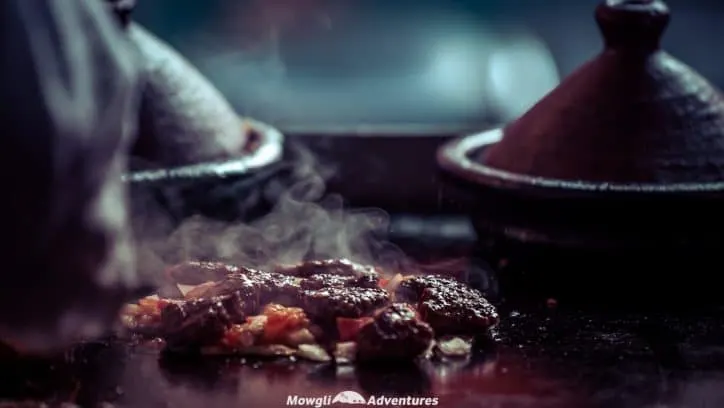 One of the reasons I love to travel is to experience different cuisines in authentic settings.
Don't take me wrong, I love dining at 5* restaurants but they don't offer an insight to authentic, local cuisines.
To have a genuine experience, my rule of thumb is to eat where the locals eat. Jemaa El Fna is no exception.
It's not only home to tourist trap stalls. Far from it.
In fact, if you just take a moment to look at the people around you, you'll find most of them aren't tourists at all, but Moroccans.
They're not harangued by the skewer sellers and they're free to bimble through the aisles to one of their favourite eating places.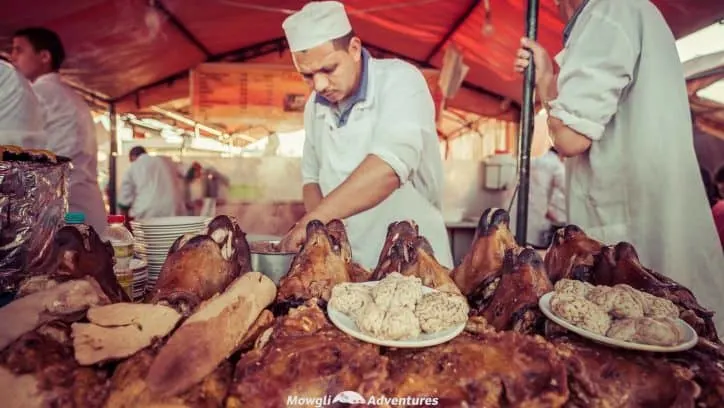 Don your best mood, smile and pass by the tourist stalls. Bimble at you leisure and immerse yourself in the stalls filled with Moroccans.
No one will hassle you or try to bend your arm.
These stalls are popular for the quality of their food and the locals flock to them.
Seating is generally arranged around the chef, who cooks your food in front of you.
Also read: An authentic culinary experience in Essaouira
Not all the menus will suit everyone. Snail soup, camel spleen, broiled offal and sheep's head complete with teeth and eyes are all local specialities.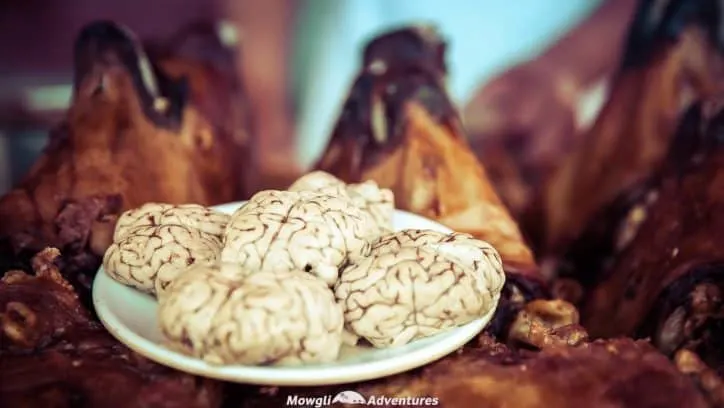 Graham isn't the most adventurous of diners. He likes to stick with his meat and 2 veg wherever possible but I drag him along anyway.
He braves the local cuisine, although only because he doesn't want to appear a wimp in front of me.
In Jemaa El Fna, we ate at one stall where Graham asked what one item on display was. It was definitely meaty looking, although it had a spam-like texture.
The chef explained it was lamb's breast and Graham ordered a plate full, confident it was right up his street.
He was really enjoying it until I explained breast of a lamb isn't quite as meaty as the breast of a chicken.
Then the penny dropped and he realised he was tucking into a plate of lung. He was suddenly full, unable to finish his food.
Don't miss our ultimate travel guide for Morocco
The cost of these plates is so small, it's easily affordable to order small plates to share. If you like it, great; if you don't, a child will quickly offer to have your leftovers as you leave your seat. There's no waste here.
If you're still hungry after sampling the local specialities, you can always head back to the tourist trap stalls.
Have your barbecued chicken and wash it all down with a glass of freshly squeezed orange juice.
Or if you've had enough, head to the local McDonald's, safe in the knowledge you've just had an authentic Moroccan dining experience in Jemaa El Fna.

Like it? Pin it!