DIY campervan conversion kits are the perfect way to customize your vehicle for an epic road trip. With these kits, you can quickly & easily build a camper to fit your needs, from adding accessible storage space to creating an inviting interior.
---
Converting a van into a camper takes a lot of accomplished DIY skills.
You'll need to be a carpenter, metalworker, electrician, and plumber. At times you'll wish you were a magician!
A conversion might be relatively straightforward if you have all these skills in abundance.
Not everyone knows how to build a camper van, though.
If you don't have DIY skills, then buying a pre-loved camper is a great option.
You'll need deep pockets to outsource the entire project to a custom van conversion company.
If you don't have the money for a custom build nor the skills to do it yourself, conversion kits can help save the day.
Instead of building everything from scratch, a kit already includes the major components. All you have to do is install it.
Kits vary in quality, components, and cost.
Some are simple packages of components, not specific to any vehicle model.
Others are complete furniture modules designed for the most common vans like Mercedes Sprinters, Promaster, and Fords.
This post will show you the best DIY campervan conversion kits.
We've included the popular pre-packed furniture modules and kits to install all the amenities like plumbing, electrics, and bathrooms.
What Are Campervan Conversion Kits?
Camper van conversion kits are a great way to customize your campervan for your specific needs. They can include anything from a new kitchenette to a bed or extra storage space.
A conversion kit is a great way to do it if you want to convert a van quickly. They can be expensive, but they can also be an excellent investment.
They can add value to your campervan if you ever decide to sell it, especially if you're not great at DIY. Compared to a bodged DIY job, a conversion kit can make your trips more comfortable and enjoyable.
If you're thinking about buying a conversion kit for your campervan, here are some things to keep in mind:
What kind of conversion kit do you need? There are kits available for all sorts of different needs. If you're unsure what kind of kit you need, it's worth researching to figure out what suits your campervan and your lifestyle best.
How much does it cost? Conversion kits can vary widely in price, depending on the materials' quality and the design's complexity. So it's worth shopping around to find a kit within your budget.
Will the conversion kit be compatible with your van? It's essential to ensure that your conversion kit is compatible with your van. Otherwise, you may need to make significant modifications to your van, which could be costly and time-consuming.
How easy is it to install? Some kits are designed for do-it-yourselfers, while others require professional installation. If you're not confident in your DIY skills, it's worth paying for a kit with installation instructions. Even better, consider a professional installation.
What kind of warranty does it come with? Most kits come with a one-year warranty, but it's worth checking to see what kind of support is available in case of any problems.
Is the company reputable? It's worth researching the company that makes the conversion kit to ensure they're reputable and have a good track record.
What's the quality of the kit? It's important to ensure you're getting a high-quality kit, especially if you're paying a lot for it. If possible, try to find reviews of the kit before you buy it to see what other people's experiences have been.
Keep these factors in mind when shopping for a conversion kit, and you'll be sure to find one that meets your needs and budget.
Camper Van Conversion Kits vs. DIY Van Build
There is no one-size-fits-all answer to whether a camper van conversion kit or DIY van build is better. Both have pros and cons, varying depending on your needs and budget.
Van Conversion Kits
Camper van conversion kits are a great option to save time and money on your conversion project. They are also a good choice if you don't have the necessary experience to build your van.
Conversion kits include all the parts and instructions you need to convert your van into a camper, and some can be installed in just a few hours.
However, kits can be more expensive than doing it yourself. In addition, they may not include features you want, such as a bed or a kitchenette.
And they don't include the electrical system (more on that later).
Also, finding someone who can help you fix your kit can be challenging if something goes wrong.
Pros
Usually faster than doing it yourself
Easier to follow instructions than doing it yourself
Often include all the components you need for the conversion
Cons
May not be as customizable as doing it yourself
May not be as durable as doing it yourself
Can be cheaper expensive than doing it yourself
DIY Van Conversion
DIY van builds are a great option if you want more control over your conversion project and are comfortable with DIY carpentry.
With a DIY build, you can choose the features and layout that best suit your needs and budget. You also have the flexibility to make changes as you go.
However, DIY builds can be more time-consuming and challenging than conversion kits.
In addition, if something goes wrong with your build, you'll also need to be able to fix it yourself. But if you've built it yourself, you'll have learned those skills, which will be invaluable once you hit the road.
Pros
More customizable than using a conversion kit

Can be more durable than using a conversion kit
More affordable than some kits
Easier to find parts and materials for than conversion kits
Cons
Can take longer than using a conversion kit
Maybe more challenging than using a conversion kit
DIY Campervan Conversion Kits vs. Professional Van Conversion Companies
When converting a van into a campervan, there are two main options: DIY kits or professional van conversion companies. Both have their pros and cons, which we will explore in this article.
DIY Campervan Conversion Kits
Pros
DIY kits are cheaper than hiring a professional conversion company.
You have complete control over the finished product.
It's a fun project to do with friends or family.
Cons
There's a lot of work involved in converting a van yourself. This can be time-consuming and frustrating.
If you don't have any experience with DIY projects, you will likely make mistakes that can be costly and time-consuming to fix.
The finished installation may not be as good quality as if it had been done by a professional.
You need access to essential tools and equipment to do the conversion yourself.
If you want to change your mind about the finished product, it can be difficult and expensive to undo any DIY work that has been done.
If something goes wrong with the kit while you are converting the van, you may not be able to get help or support from the manufacturer or supplier.
Professional Van Conversion Companies
Pros
The finished product will be high quality and to your specifications.
You won't have to do the work yourself – the company will take care of everything for you.
The company can advise you on what is possible with your van conversion project.
You may be able to get a warranty or guarantee with a professional conversion company.
The company will access good quality materials and components for your van conversion.
If something goes wrong with the conversion, the company will be liable and be able to rectify the problem for you.
The company may handle any paperwork and regulatory requirements for your van conversion.
Cons
Van conversions done by professional companies can be expensive.
You may have limited control over the process or the finished product.
The company may be unable to accommodate your specific requests or needs.
The company may not be able to complete the project within your desired timeframe.
You may have to compromise on some aspects of the design or finish to stay within your budget.
The Best Campervan Conversion Kits: Easy Fit Furniture Kits
Building beds and furniture into a van conversion demands a level of carpentry skills.
Our Mercedes Sprinter van conversion is built around an aluminum frame, so we relied on our (Graham's) metalworking skills.
But if you don't know a dovetail from a miter or one end of a claw hammer from a spirit level, building a camper interior is a tall ask.
That's where furniture conversion kits providing modular interiors come into their own.
There are several types of kits on the market, and many companies offer products and services.
Researching this post, we found it a pain trying to figure out and compare what each includes (and, more specifically, doesn't include).
We've summarized it here.
Complete Modular Conversion Kits
Some companies provide complete conversion kits, often designed for specific vehicle models.
The high-end companies are virtually offering a custom build but with predesigned layouts to choose from.
Others offer pre-configured modules you can mix 'n' match, similar to Ikea wardrobe systems.
Some companies will post your flat pack interior, while others insist you bring the van to them for installation.
Few, if any, offer a bathroom module and water tanks aren't usually underslung either.
Choices often include optional extras like a fridge, cooker, campervan oven, or roof vent.
If you're considering going down this route with your build, have a list of questions to ask the companies before making the final decision.
We suggest you read our complete guide to converting a camper first.
Even if outsourcing the job, this will help you ask the right questions before handing over any hard-earned cash.
Ask questions like:
If insulation or heating is included, is it enough to keep you warm in the conditions you will travel?
What materials are used in the build? We recommend steering clear of flimsy materials and fittings. A few hundred kilometres on the road, especially tracks will make screws and bolts loosen with ease
Is the electrical system sized to meet your needs? Use our electrical calculators to work out what size setup you need.
Can you speak with previous customers for references?
Check out guarantees and warranties offered.
The following companies are popular for these types of conversion kits:
Location: Portland, OR
Cost: $18,000+
Specialties: Mercedes Sprinter 144 and 170
Kits Include:

Kitchen
Upper cabinetry
Fold out gear drying rack
Bed
Bamboo panels
If you're looking for a luxurious and stylish camper van conversion kit, ZENVANZ is the perfect option.
Their kits are made of high-quality materials, like aluminum and bamboo, and are easy to install using your van's factory holes.
This means there's no additional drilling required, and the kit can be easily removed if you need to use your van for daily driving.
ZENVANZ offers a wide range of conversion kits that can be tailored to your specific needs.
Whether you're looking for a kitchen with solid bamboo cabinets, a bed system, or upper and bedside cabinets, they have you covered. You can also add on the bamboo ceiling, door, and wall panels to complete the look of your van conversion.
Prices start at around $18,000 for a short-wheelbase and $22,000 for a long-wheelbase.
If you're looking for a luxurious and easy-to-install conversion kit, ZENVANZ is the company to check out.
Location: Portland, OR
Cost: $13,000+
Specialties: Mercedes Sprinter 144 and 170; Ford Transit High Roof Long and High Roof Long Extended
Kits Include:

Insulation & sound deadening
Electrical system Ventilation
Trim
Optional extras include a MOAB bed and mule bags
If you're looking for a way to turn your van into a comfortable, fully-functional campervan, you should check out Adventure Wagon. They offer high-quality conversion kits for the Mercedes Sprinter and the Ford Transit that can be installed in just a few days.
Adventure Wagon's conversion kits come with everything you need to turn your van into a cozy camper, including:
a full wiring harness,
insulation,
ceiling fan,
L-track to enable a modular setup,
wall and ceiling panels,
molded trim,
and wall and ceiling bracers.
You can choose from a variety of fabric colors for the wall paneling, or you can go with bare plywood if you want to customize the look of your van yourself.
The best part about Adventure Wagon's conversion kits is that they're modular. So you can easily add additional components, like kitchen units, cabinetry, or a MOAB bed.
And their L-track system lets you mount additional accessories exactly where you want them.
Location: Colorado Springs, CO
Cost: $5,600+
Van Types: RAM Promaster, Ford Transit, RAM Promaster City Cargo + more
Kits Includes:

Floor system
Ceiling, wall and door trim
Kitchen cabinetry
Storage
Wayfarer offers a range of conversion kits for different types of vans. They include flooring, wall and ceiling paneling, insulation, shelving, and more.
Plus, they offer free installation on all of their kits, so you need to drive to Reno or Colorado Springs. Some of the smaller kits can be shipped to you if you'd prefer to install them yourself.
So what do their kits include? The complete conversion kits come with the following:
flooring,
integrated cargo management tracks,
wall and ceiling paneling with 100% natural wool insulation,
perimeter shelving,
a kitchen galley with 5 gallon fresh and grey water tanks, sink and hand pump,
bed platform with cushions,
boot box, and
privacy paneling for the sliding and rear door window areas.
Installation is free with all of Wayfarer's kits, and they also offer a 1-year warranty on all parts and labor.
Location: Los Angeles, CA
Cost: $10,000+
Van Types: Mercedes Sprinter
Happier Camper Conversion Systems is a company that is changing the game when it comes to van conversions.
With their easy-to-install Adaptiv™ floor grid, van owners can quickly and easily change the layout of their van to fit their needs for any adventure.
The modular floor grid provides a foundation for installing seating, tables, beds, storage, appliances, and more.
Whether you need more seating or storage, want a bed for sleeping, or just need a place to cook and eat, their Adaptiv system has you covered.
The modular floor grid installs quickly and easily and is optimized for the easy installation of an electrical system. This makes it easy to customize your van's electrical system to meet your specific needs.
You can also add or remove components as needed, making it easy to adapt your van, whatever the adventure.
Weekend Camping Modules
These pre-configured kits are designed for part time van lifers and shorter camping trips.
Some can turn pretty much any car into a camper. You don't even need a van.
Ideal for weekend camping trips or short term camper holidays, these modules quickly and easily transform a good sized people carrier or small van.
And most can be removed just as quickly when not in use.
Some of the popular modules include:
QuQuQ – starting at ≈ US$ 4000
Freeway Camper kits – starting at ≈ $1000
TrailKitchens – starting at ≈ $2700
Campervan Conversion Kits UK
The UK market isn't left out of furniture modules either.
Some popular kit manufacturers include:
Most of these target the VW Transporter type van.
We highly recommend checking out the quality of the builds before committing.
Utilities Conversion Kits
Of course there's more to a campervan conversion than the furniture.
Onboard amenities lift a van with a bed and some storage to a cosy home on wheels you can live in indefinitely if you want to.
When you click on links to various merchants on this site and make a purchase, this can result in this site earning a commission. As Amazon Associates, we earn from qualifying purchases. For more info, please check our disclosure page.
Campervan Electrical Kit
Installing a well sized, fit for purpose electrical system in a camper is one of the most complex and important elements of the entire build.
We have loads of electrical articles to guide your through the entire process, from sizing calculators to installation guides.
These are the key components you'll need. They're perfectly sized for a couple living in a van full time, off grid and through all seasons.
This kit provides solar electricity and charges the leisure batteries from the camper's engine as you drive too.
170ah lithium ion battery
4 x 100 watt solar panels
150/35 MPPT Controller
Battery Monitor
Fuse Block
300w inverter
Lights
Mains Hook Up Kit
Though a well sized solar system means you can live off grid, it's a luxury to have the opportunity to top up the batteries from mains power.
Adding a hook up kit is low cost and doesn't take up much inside space, so we recommend including this in your conversion.
Cable & connectors
Hook up box
RCB breaker consumer box
Switched sockets
Converter/Battery Charger
Heating & Ventilation Pack
Good ventilation will help stop condensation in a van, critical to keep rust and mould out of the camper. An electric roof vent is best.
A heating system in the camper forms part of the solution to condensation but as importantly, helps keep you comfortable and toasty, even in the coldest of winters.
We recommend a good diesel heater for winter RV living. They come in gasoline versions too if you vehicle doesn't run on diesel.
If you don't need heating year round, a good quality portable heater will serve you will on chilly summer evenings.
Maxx Air Fan
Webasto Heater
Portable Heater
Plumbing & Bathroom Kit
A fully plumbed camper van water system offers the opportunity for hot & cold water, a kitchen sink and a shower.
How much of this you need in your camper is down to how you'll use the van once it's built.
Living in a van full time is much easier and has more freedom with all onboard amenities installed.
But if you only plan to use it for camping weekends a few times a year or maybe a week here and there, depending mostly on campsites, these are luxuries you could easily live without.
We've included below the major components for installing a water system.
Sink & Taps
Composting toilet *
Shower head **
* Read our review of our composting toilet – we swear by it!
** Read our post on campervan showers for more information about the options for getting hot water. They make a difference to the shower components needed.
DIY Camper Kitchen Kit
The heart of many homes and it's no different in a camper.
Whether you have a van big enough to cook inside or a camper to cook beside, a well equipped kitchen makes for a happy camper.
Here's the major components of a DIY camper kitchen we feel make a massive difference to van life.
Cooker
Aeropress
Corelle dinner set
Pressure cooker
Accessories & Interiors Fittings
Kitting out a van so you get everything you want and making the build as straightforward as possible, takes forward planning.
It's easy to overlook some accessories and fittings at the outset. The major components of the furniture, plumbing and electric will likely take most of your attention.
But there's a few other items to consider in the early stages of the build.
If you plan on fitting an awning, do it early so you don't have to rip out the insulation and panelling.
Adding swivel seats maybe a great way to make the most of the space, so impact the optimum floor plan designs.
Before you get too far into the build, here are the components to consider. You don't need them all by any stretch, but it's easy to build into the plans than to retrospectively fit.
Awning
Swivel seats
Collapsible table legs
Safety & Security
After all the effort, time and money spent on the conversion, keeping it secure and the occupants safe is a major consideration.
Try to avoid this being an after thought though. We added extra security bolts to our van before we even started the interior fit out.
And adding a safe and building the furniture around it add another layer of security too.
Carbon monoxide & fire alarm
Fire extinguisher
Safe
First aid kit
Mix 'n' match from the these do it yourself van conversion kits. Swap out specific components if necessary, refining the build as you go.
And most of all, have fun! A van conversion is one of the most rewarding things you can do.
We want to hear about your campervan conversion journey! Share your stories, tips, and tricks with us in the comments below.
Graham Bogie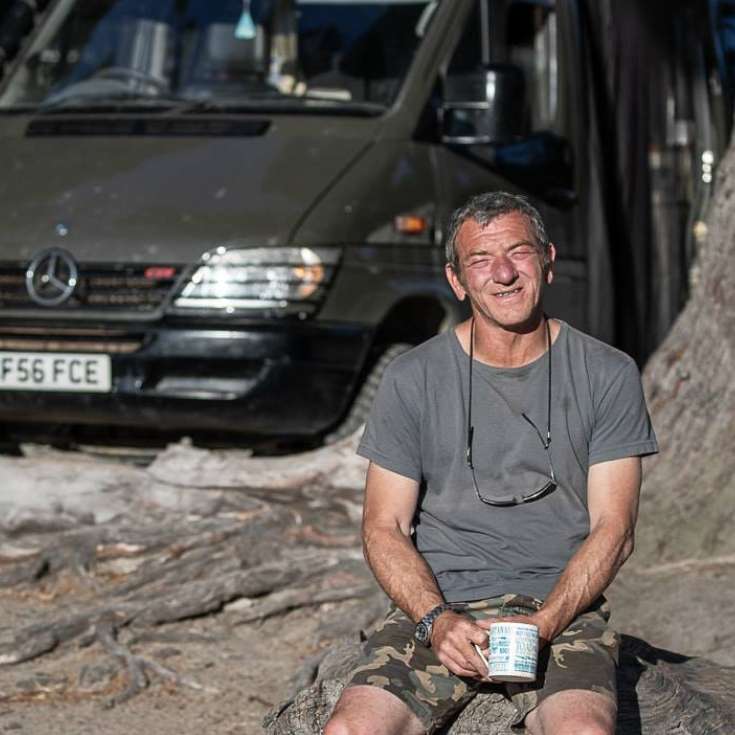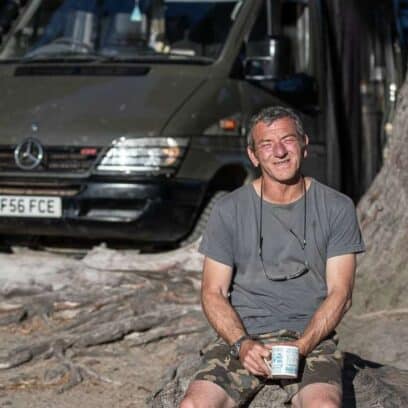 Graham is a seasoned marine electrical engineer with two decades of experience designing customized electrical systems for plant machinery and converting campers and overland vehicles. His expertise has led him to author the reputable Campervan Electrics Handbook and become the chief designer of the RV Wiring Design Tool. As a knowledgeable figure in the field, his YouTube channel, blog, Facebook group, and newsletter, offering electrical advice and product reviews, reach more than a million users each year.