Covering almost 3 million square kilometres, is it any wonder Argentina screams out to road trippers?
Thousands upon thousands of kilometres of roads, tracks and trails sprawl out across the country.
From the altitude sickness inducing Abra del Acay in the high Andes to the end of the world in Tierra del Fuego.
From the wildlife mecca of Valdes Peninsula on the Atlantic coast to San Martin de los Andes in the Lake District in Patagonia.
One of the best ways to travel in Argentina is by road. You'll have the flexibility to take the road less travelled and see sights not on any tour itinerary.
But what is driving in Argentina like? How do you rent a car there? What are the rules of the road and how do you stay safe?
We've driven thousands of miles in Argentina along highways, local roads, ripio and tracks.
Here's everything we've learned on those miles about driving in Argentina so you can plan your road trip with confidence.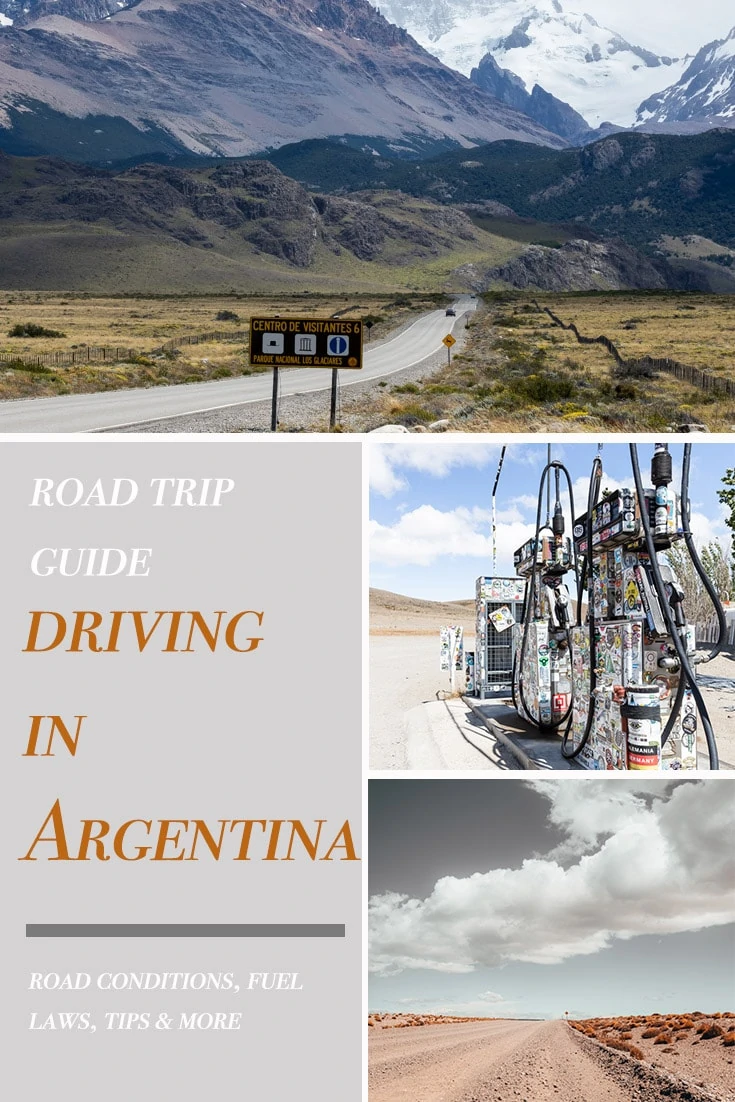 Is it safe to drive in Argentina?
Argentinians are renowned for being some of the world's most aggressive drivers. City drivers can expect the unexpected from fellow motorists.
They'll try to jump a line of queuing traffic and drive on your tail at 110 km/h. They'll squeeze between impossibly small gaps and overtake on blind bends.
Even on the brow of a hill with trucks and a line of traffic, you can expect a crazy Argentinian driver overtaking.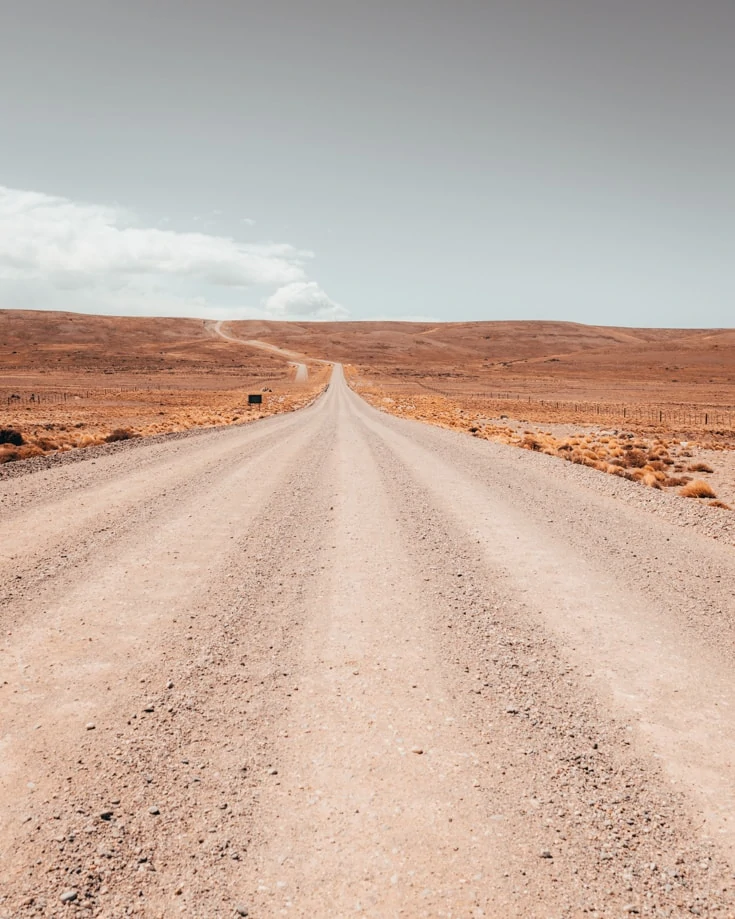 Surprisingly for such madness, we've only seen 1 accident. Ok, it was fatal, but it seems to us that for every crazy manoeuvre, other drivers nonchalantly take avoiding action.
We've rarely seen any reactive road rage. It's just the way people drive here.
Our approach and advice is to slow down. Stay a safe distance from the vehicles in front and let other drivers do their thing.
When you overtake, double check, better still triple check your rear view mirrors that there's no one screaming up behind you.
Once safely out of the city, the chaos reduces somewhat but you have occasional potholes to contend with, gravel tracks, washboard ripio and wildlife.
While this may all sound like doom and gloom, driving in Argentina is safe. Just keep your wits about you and follow our driving tips below.
Official rules of the road in Argentina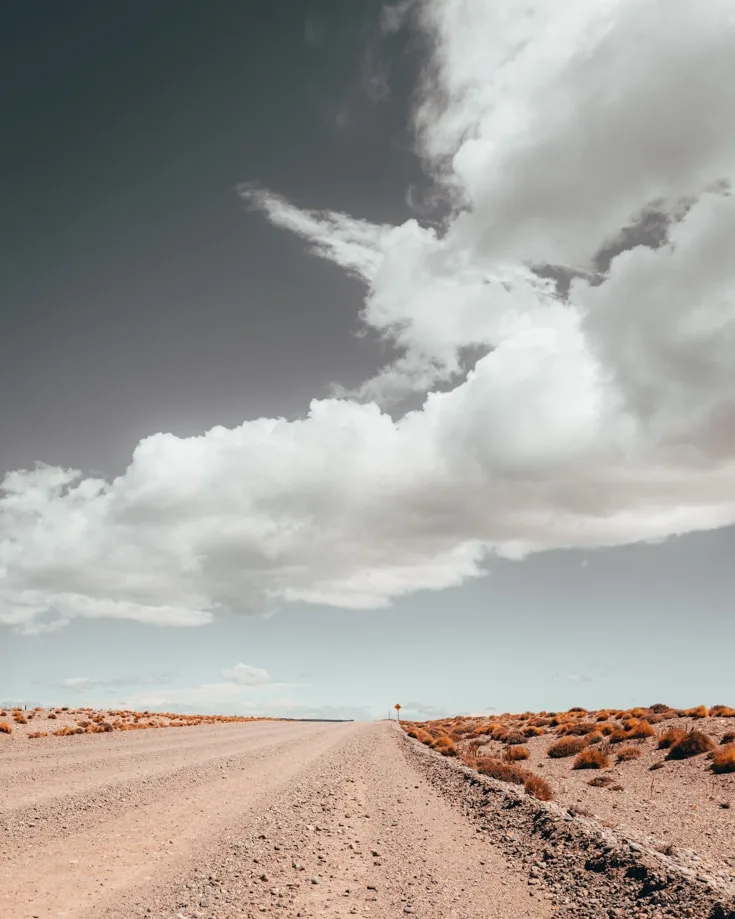 The minimum age to drive is 18 and you should carry your driving licence with you.
European citizens need an International Driving Permit for Argentina (we've never been asked for this). Check before you travel in case this changes.
You must carry your documentation at all times – insurance, TIP, driving licence and passport.
Argentinians drive on the right and give way to traffic from the left.
Argentina has a low drink drive limit – 50mg per 100ml for car drivers and 20mg for motorcyclists. The law is strict so to avoid having your vehicle impounded, fined or killing someone, you're best to abstain.
In most places in Argentina, pedestrians have right of way – except in any Argentinian city.
You can only use the phone with a hands free kit whilst driving.
You must drive with your headlights on at all times, day or night.
Argentinian traffic police can issue tickets for breaking the rules, so drive sensibly. Getting pulled over for any traffic violation is likely to ruin your day.
Speed limits in Argentina
The official speed limits for Argentina are:
25 mph (40km/h) in residential areas
37 mph (60km/h) in urban areas
50 mph (80km/h) on main roads
75 mph (120km/h) on highways
The speed limit on Argentinian roads depend on where you are. Keep an eye out for speed signs.
Fixed speed cameras are dotted around the country, especially on highways. The police are often out in force with speed guns too so watch your speedometer on those long distance drives.
You need to stay alert for the change in speed limits. It's not unusual to have a sudden drop in limit so watch out for the warning signs.
Police checkpoints
If you plan on driving in Argentina, you can expect to encounter at least some police checkpoints.
They're usually (but not always) outside a police station and marked by a handful of florescent cones in the middle of the road.
As you approach, drive slowly through. Chances are, you'll be waved through but you could be asked to pullover for a routine check.
The officers may ask where you're going to or from and to see some or all of your documentation. As a rule of thumb, only give them what they ask for.
We have heard reports of some bribery by corrupt officers in Argentina. In the thousands of kilometres we've driven on Argentinian roads (just look at the map on our Argentina travel guide to see how far we've driven) and dozens of police checkpoints, we've only ever been greeted with kindness and smiling faces.
Learning a little bit of Spanish before you arrive will help immensely.
Do not succumb to any corruption or bribery. You'll only encourage it and ruin it for the next foreign traveller behind you. Or yourself on the return journey.
If the officers accuse you of any wrong-doing – speeding or driving without your lights on for example – you can expect a ticket which you can pay at any police station or bank.
Road conditions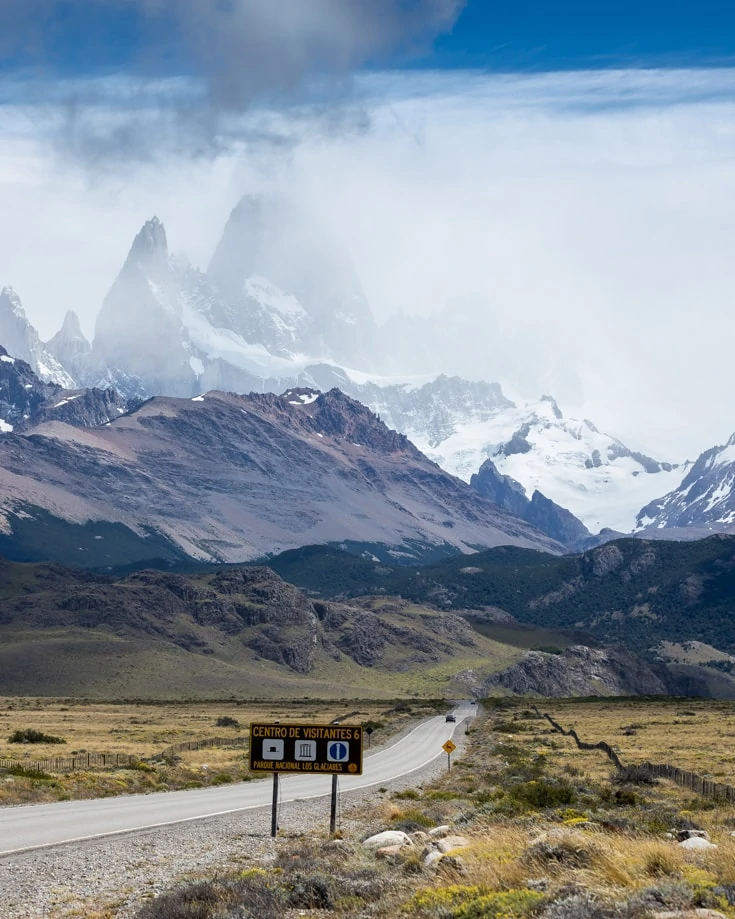 In general, the Argentinian roads are in good condition. Most are asphalted.
Multi-lane highways are few and far between. There's a few around Buenos Aires but otherwise, the major trunk routes are 2 lane main roads.
Most of the major highways are toll roads. They're inexpensive (at least in today's economy for foreign travellers) and it's useful to have some small change to pay.
Some stretches of road would benefit from a bit of maintenance. Although potholes aren't uncommon, for the most part the worst of them are found on a handful of roads.
Do keep a close eye out though. The road may look good, but a big pot hole could give you a nasty surprise.
Many stretches of road on transit routes have deep ruts where heavy lorries have indented the asphalt.
Drop your speed and stay in the ruts – the stretches don't last too long.
Many rural roads are what is known as ripio, stretches of unpaved roads and gravel tracks.
Many tracks are in ok condition but have variable stretches of washboard and corrugated surfaces.
They can rattle your bones for kilometres before suddenly hitting a smooth patch. And of course, flying gravel is a real hazard to your windscreen and paint work.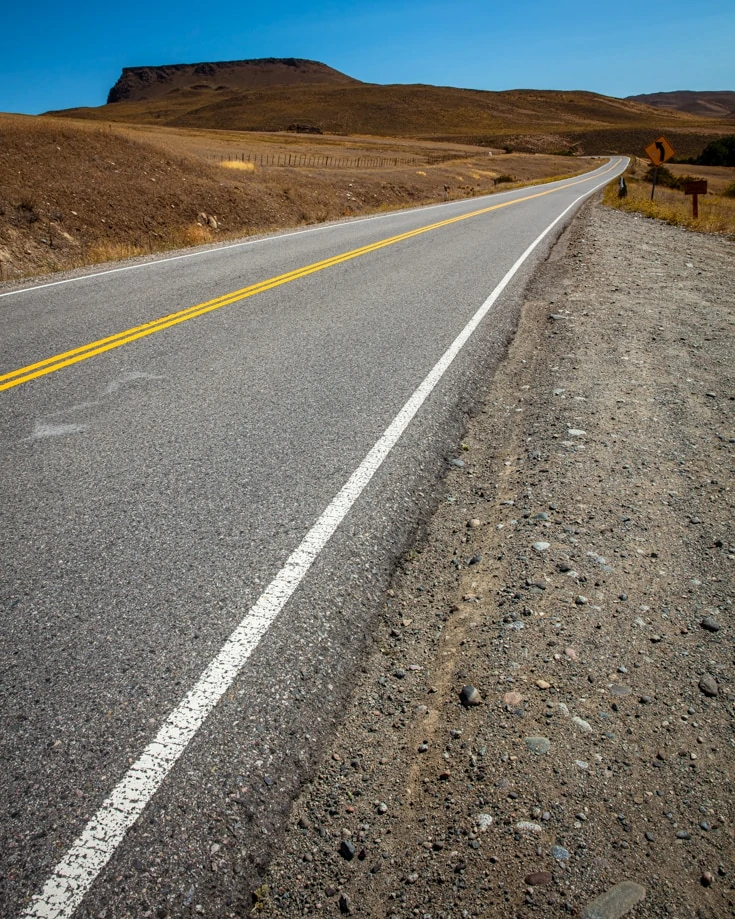 Adjusting your driving speed helps to find the most comfortable ride.
Sometimes driving fast is the key to a smooth ride although just as you think you have it cracked, something changes so a slower pace is needed. There's no rhyme nor reason so use trial and error to find what works best.
These gravel and dirt tracks can get slippery after rain so if you're in a 2 wheel drive vehicle, take it easy.
After heavy rain, any potholes may fill, so you have no idea how deep they are. Take it easy and avoid puddles where possible.
Fuel stations in Argentina
YPF and Shell are the 2 most common fuel stations.
Many of the YPF stations have facilities to allow for overnight parking (if you're in a camper van or motorhome) with bathrooms and showers. Facilities are usually free although hot showers sometimes incur a nominal fee.
In remote areas like Argentinian Patagonia, fuel stations become few and far between. Make sure you top up your tanks whenever you can and note how far to the next station.
We've never needed to carry extra fuel in Argentina despite the huge distances we've driven.
Fuel stations are not self service. An attendant will fill your tank for you and probably clean your windscreen too.
Mechanics & vehicle repairs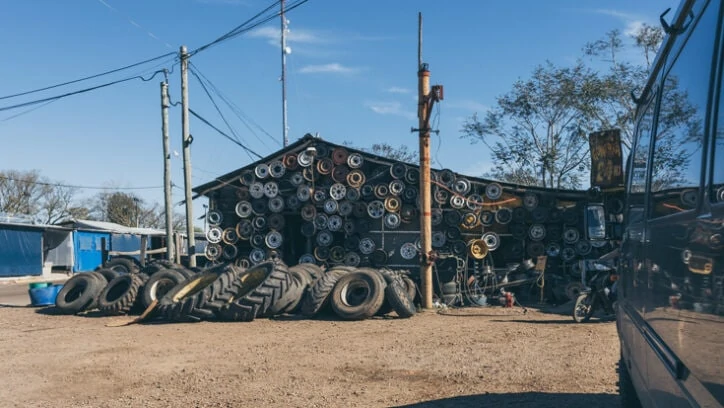 Most small towns have a least 1 garage so if you're driving your own vehicle, getting urgent mechanical assistance is rarely far away.
Most small towns have a Gomeria where you can get new tyres or patch any minor issues.
That said, import tax in Argentina is amongst the highest in the world so any manufacturers' parts will cost much, much more than you might otherwise expect.
Where possible, use standard after market parts to keep costs down.
Labour is fairly low cost in the current economic climate but the skill is sometimes questionable.
Driving in Buenos Aires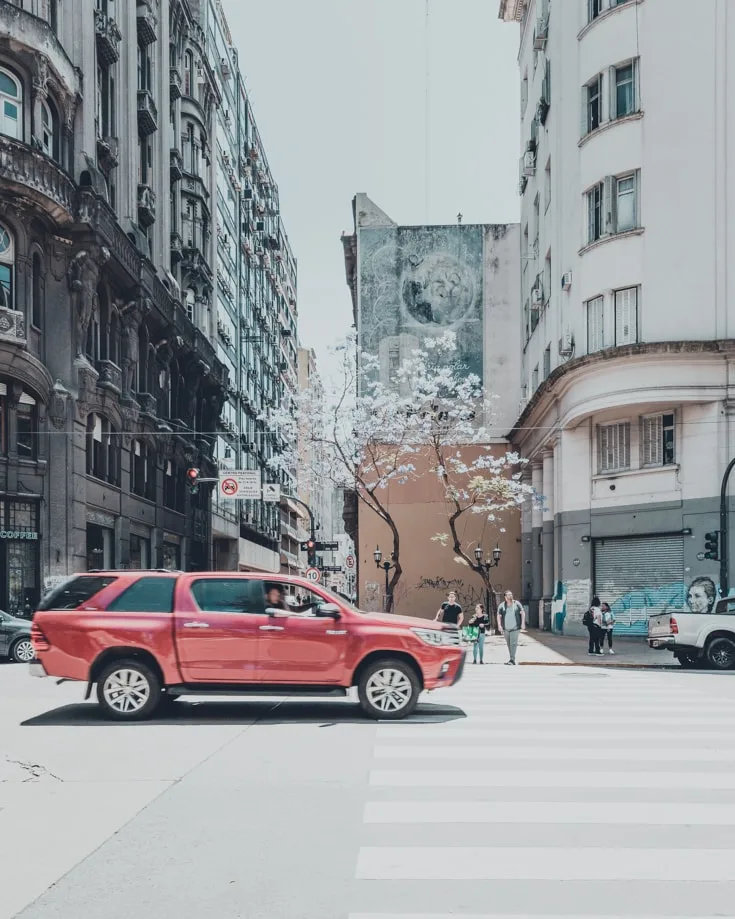 Whoa! So if you plan to drive in Buenos Aires this will be your greatest challenge on the roads in the entire country.
The first time we thought we'd "pop into" the city, we were driving our camper van Baloo. We came in from San Antonio de Areco to the west of the city along the highway.
All was good until the highway ended and we joined the main roads.
Then mayhem! Lane markings are for guidance only. So are traffic lights.
There's enough people honking horns to rival any driving in Morocco experience and that's saying something!
At intersections with no stop signs or traffic lights, the general rule of thumb is if the traffic you're in is moving, keep going. If you're waiting for a break in the flow of traffic, be ready to roll.
If your vehicle is nicer than the one waiting, let them go first.
Red lights at intersections mean stop, unless you're turning right.
Unlike anywhere else in Argentina, pedestrians beware! You do not have right of way.
Parking on the street is virtually impossible – or generally, you wouldn't want to leave your vehicle there. Instead, look for the blue P signs indicating paid and secure parking lots.
Emergency vehicles drive around Buenos Aires with their lights flashing. Always. Emergency or not. An emergency is indicated by a siren only.
Porteños love a good protest. You can safely expect an entire boulevard to come to a standstill as a crowd of sometimes thousands of people, or taxis or other groups, slowly march in protest towards Plaza de Mayo. At rush hour.
We abandoned our first visit to Buenos Aires half way into the city!
Then we got really sensible and spent 3 months in the city without our camper van. Getting in and around Buenos Aires on public transport is easy. This is the way to go!
Driving in Patagonia
Believe it or not, driving in Patagonia is a relative breeze compared to Buenos Aires. Especially on the Argentinian side of Patagonia.
Most of the major routes are paved, with the exception of a few stretches of Ruta 40.
Most vehicles on the road are not 4 wheel drive so if you're hiring a car, don't be fooled into thinking you need to pay a premium for one.
If you plan to drive into the Chilean side of Patagonia, in particular the Carretera Austral, a 4×4 may be a good idea.
There's 2 significant hazards to be mindful of when driving in Patagonia:
The wind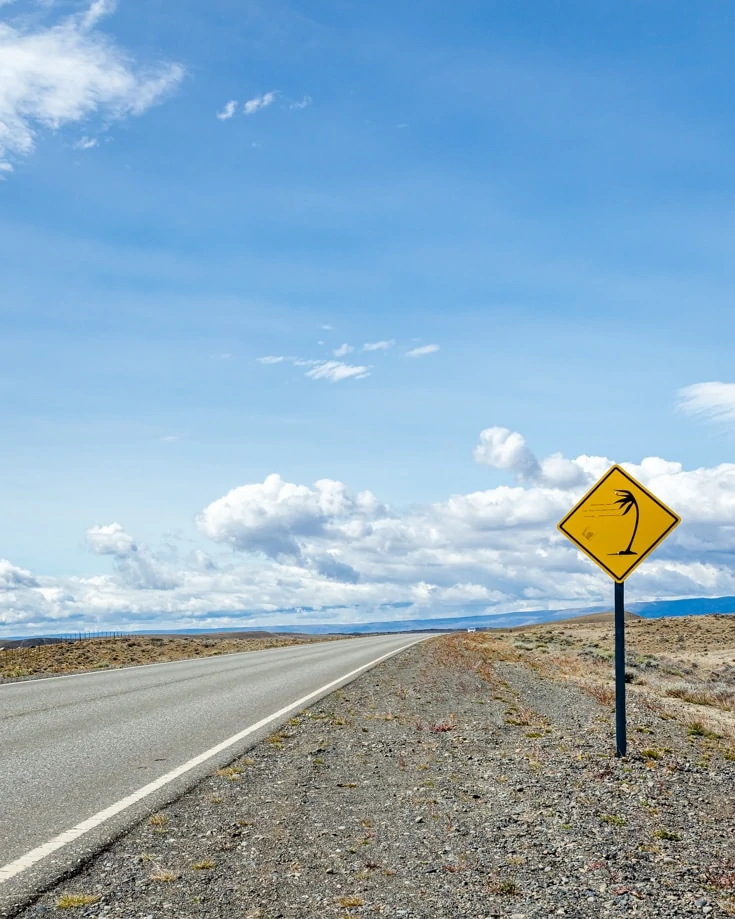 Oh the infamous Patagonian wind!
There's plenty of warning signs along the route but you won't need these to remind you.
We could often feel the wind gently shifting us along from behind before turning a huge bend where it became a full on sidewind and had to hang on tight to maintain control.
We've seen video footage of trucks being blown over too.
Drive carefully, slow down and keep your distance.
Avoid the temptation to drive as the Argentinians do – right up behind a lorry in its slip stream. If the truck has an accident you won't be walking away unscathed.
Wildlife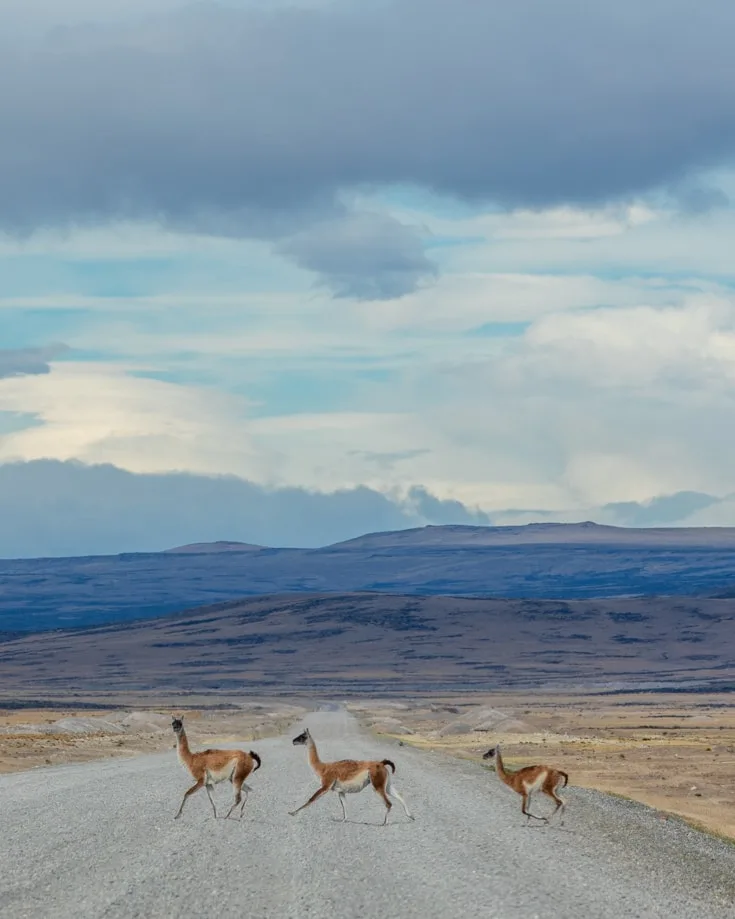 Patagonia is full of wildlife, much of it camouflaged in the golden Patagonian Steppe. Guanaco, armadillo, foxes and even puma can be spotted.
Guanaco are especially skittish. If you see a herd on one side of the road, assume some of them are on the other side too.
When they feel anxious with oncoming traffic, they seem to want to rejoin their families – usually by running across the road without due care!
Argentina border crossings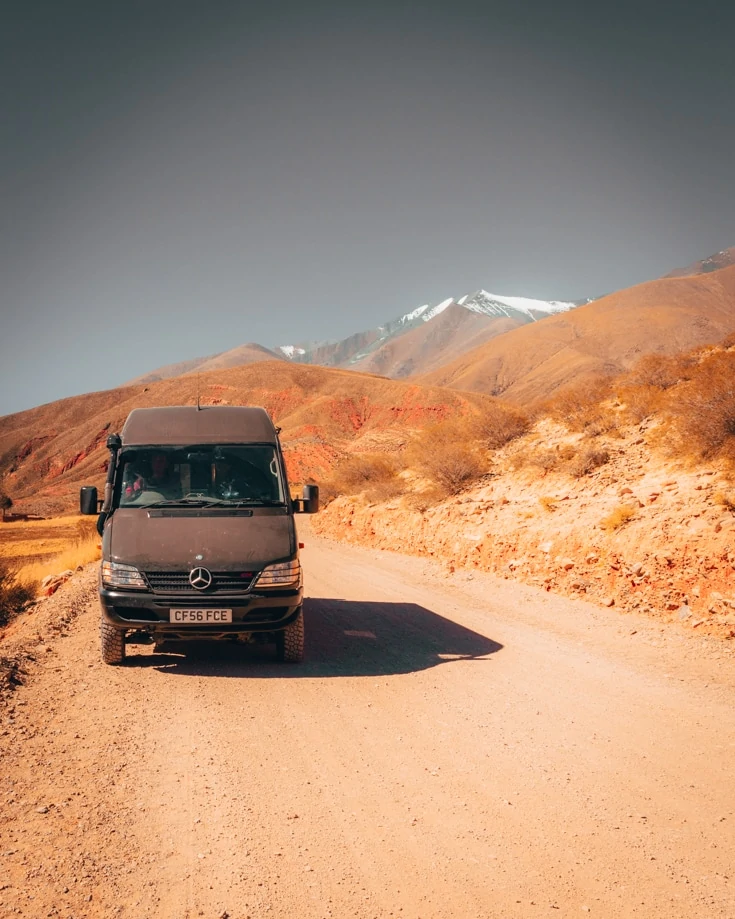 We've crossed into Argentina with our own vehicle multiple times from Chile, Uruguay & Brazil.
The process is simple and straight forward.
Once you've exited the country you're leaving, approach the immigration desk with your passport.
Sometimes, the immigration officer will ask for your vehicle papers. You'll get stamped into Argentina.
Next, take your vehicle documentation and passport to the Aduana (customs officials). They'll check your paperwork is all in order and give you a Temporary Import Permit (TIP).
Officially, you should get a 90 day TIP. However, every time we've entered Argentina, we've been given an 8 month TIP.
As you leave, the customs officials may ask to see inside your vehicle. Make sure you are aware of prohibited items including extra fuel in jerry cans and fresh meat, vegetables and other non processed foods.
Some borders have a military checkpoint when entering and exiting the border area. On entry, you'll be given a slip of paper.
If so, you'll need to get this stamped 4 times in the border area – once at both customs posts and once at each of the immigration posts. Hand it to the military personnel as you leave the border area. They'll check you have all the stamps so you've completed the whole process.
At other borders, the immigration may be integrated so you'll only receive an entry stamp into your passport for the country you're arriving in, but not be stamped out. Just check with the immigration official before you leave.
When leaving Argentina with your own vehicle, the process is done in reverse.
Cancel your TIP first with the Aduana before stamping out with immigration. A simple a painless process if you haven't just pulled up behind a tour bus.
Renting a car in Argentina
Renting a car in Argentina is easy although it can be quite expensive.
If you want to rent a car any time between December and March, make sure to book well in advance. There's never enough hire cars during the summer season to meet the demand.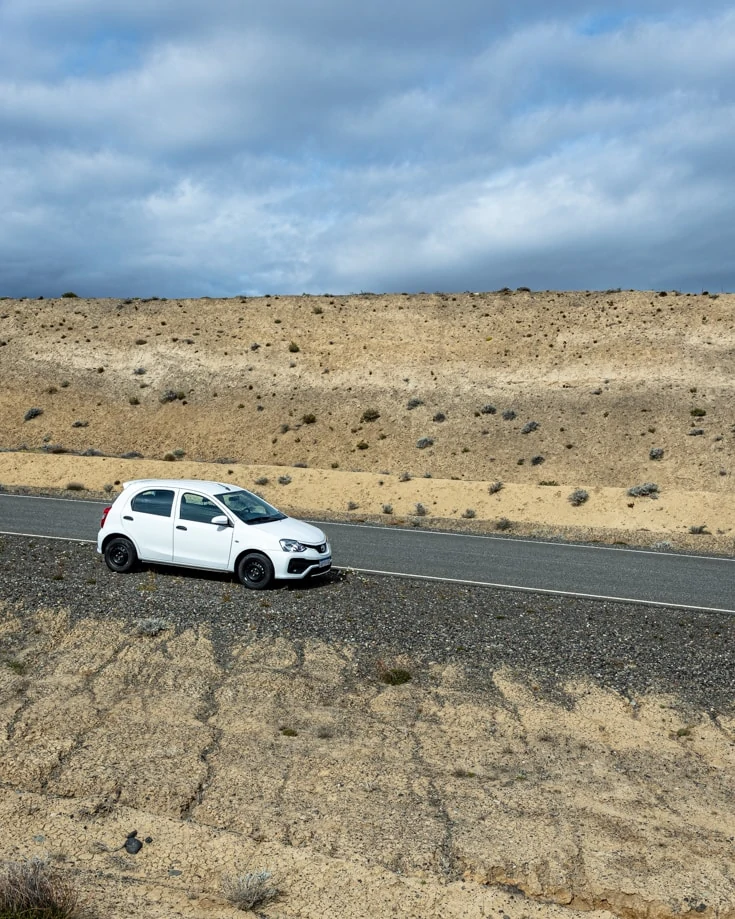 To rent a car in Argentina you need:
to be over 21
have a full driving licence from your home country
have a valid credit card in your name (they'll probably take an authorisation deposit)
If you want to cross into Chile with your rental car make sure you tell the hire company before you collect the car. You will need their permission and the necessary documentation to ensure your border crossing goes smoothly.
Expect to pay a premium for the permission too.
Most rental cars in Argentina have a manual or shift gears – automatic transmission are very difficult to come by and in huge demand.
We rented a car in El Calafate when we took Angela's Dad to Patagonia for 5 days. The process was easy but we did book rather late so had to manage without for 1 day. It wasn't a hardship because of the itinerary we had planned but we should have booked sooner.
You can get a free comparative quote with our affiliate, Auto Europe.
Car essentials for driving in Argentina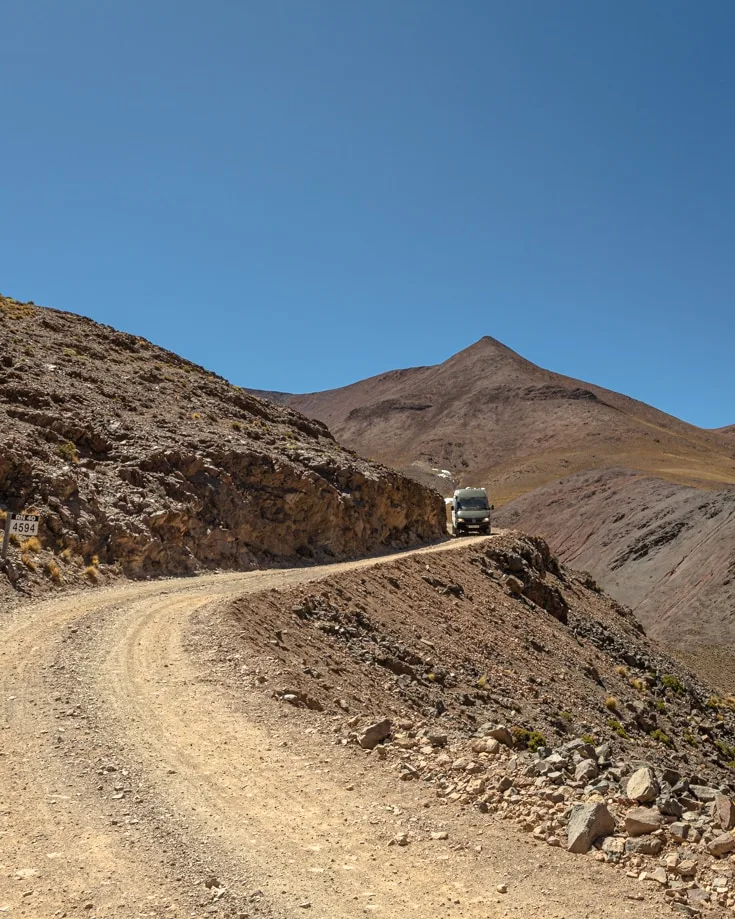 For 3rd party insurance, Argentina is covered by the Mercosur arrangement so make sure you have a policy valid from at least the date of entry.
GPS app – we've been travelling with Maps.Me as our primary source of GPS mapping for several years now. It serves us well and we've had no need for any other mapping software. Best of all, it's free and works offline on mobile devices!
We also use iOverlander app offline. It provides loads of useful points of interest, including fuel stations and mechanics.
Travel insurance – if you can't afford a travel insurance policy, you can't afford to travel. Don't leave home without a policy! We recommend:
Like it? Pin it!