Road tripping Patagonia is the ultimate way to experience one of the world's most remote regions.
With your own wheels, you can create a unique itinerary, adapt it whenever the mood takes you, and share some of the most glorious panoramic views with no one but your passengers.
The good news for anyone worried about driving in Patagonia is it's not nearly as challenging as you may think.
That isn't to say the roads are all paved, with well-maintained road markings, safety barriers, and conveniently located service stations every few miles. But driving in Patagonia on your own adventure should not be something to fear or avoid.
So, after spending almost two years exploring Patagonia in our camper, we are well placed to give you some valuable insights into your self-drive adventure. We've shared practical tips in this post, things to avoid and look out for on the road, plus a few Patagonian road trip itineraries to inspire your journey.
Road Trip Itineraries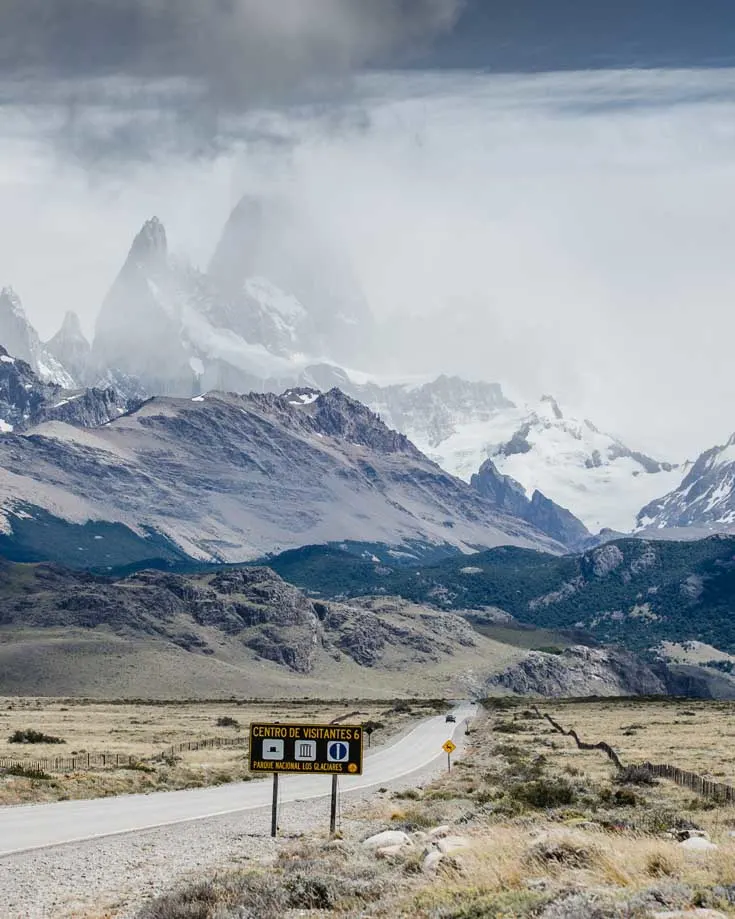 Chile's Carretera Austral // 770 miles of volcanoes, glaciers, rugged wilderness, turquoise lakes and rivers, waterfalls, and phenomenal National Parks. If you only have time for one road trip in Patagonia, this is the most epic.
Argentina's Ruta 40 // The entire route runs from the southernmost tip of Argentina's mainland to the far north, right through the Patagonian Steppe. It's a long route for those with limited time. However, these are the most scenic stretches of the route and make good one or two-week itineraries.

Argentinian Lake District (7 Lakes Route) // On the northern edge of Patagonia, the 7 lakes route (Ruta de los Siete Lagos in Spanish) winds through the gorgeous scenery of snow-capped mountains, deep, cold lakes, lush native forest, and gushing waterfalls. Tour buses complete this route in 1 day, but with your own transport, you can enjoy the area for at least a week, if not more.
El Chalten to El Calafate // This stretch of Ruta 40, or at least diversions off it, provide a road trip with two of Patagonia's most famous landmarks – Mount Fitz Roy in El Chalten and Perito Moreno Glacier in El Calafate. Unmissable!

Tierra del Fuego // One of the least visited parts of Patagonia, Tierra del Fuego is the end of the line. This road trip itinerary includes driving on the world's southernmost paved road, the only King Penguin colony outside of Antarctica, and a popular launchpad for Antarctica cruises.
Southern Chilean Patagonia (Punta Arenas to Puerto Natales) // Fancy a multi-day trekking adventure in Torres del Paine? Puerto Natales is the destination for you.
The Official Rules of the Road(s)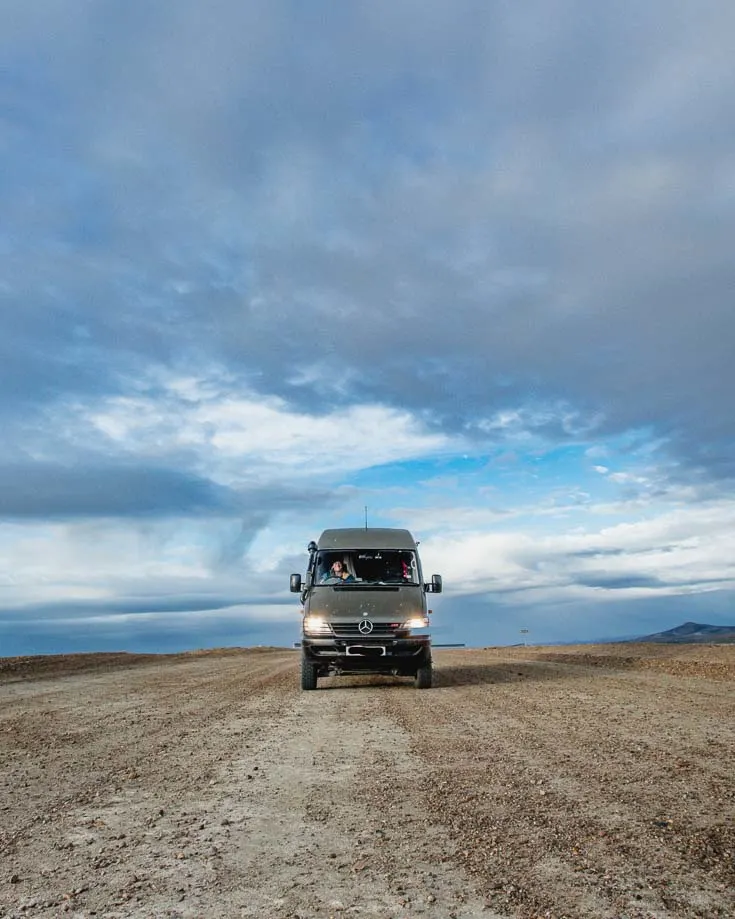 Patagonia spans Argentina and Chile, and the driving regulations don't differ much between the two countries.
The minimum age to drive in both Chile and Argentina is 18.
Car hire companies usually have a minimum age restriction of at least 21 for all drivers, and some apply a young driver premium to the day rate.
In theory, all international visitors need an International Driving Permit for Argentina and Chile. Still, authorities have only asked us for our standard license when hiring a car and at checkpoints. So check before you travel in case this changes.
You must carry your documentation at all times – insurance, driving license, passport, and vehicle papers.
Argentines and Chileans drive on the right and give way to traffic from the left.
The drink-drive limits are much lower than in many places around the world. However, the laws are strict, so to avoid having your vehicle impounded, fined, or killing someone, you're best to abstain.
In most places in Argentina, pedestrians have the right of way – except in any Argentinian city, or whenever I am crossing the road! In Chilean Patagonia, pedestrians have the right of way, and drivers stop to let them cross.
Using a mobile phone without a hands-free kit, smoking while driving, and listening to music with headphones, are illegal.
You must drive with your headlights on at all times, day or night, in Argentina by law. The daytime law doesn't apply in Chile, but it's a good habit to get into and makes you more visible.
Argentinian and Chilean speed limits aren't the same. The official speed limits are (unless there is a sign indicating something different) are:

Argentina

25 mph (40km/h) in residential areas
37 mph (60km/h) in urban areas
50 mph (80km/h) on main roads
75 mph (120km/h) on highways

Chile:

31-38 mph (50-60km/h) within city limits
62mph (100km/h) on rural roads
75mph (120km/h) on highways outside of city limits

In reality, most of the roads in Patagonia demand a slower pace because the conditions need extra care or the views are too spectacular to drive past so fast.
Argentinian laws demand specific kit is on or in the vehicle. The vehicle must have two warning triangles, a fire extinguisher, a rigid tow bar, a first aid kit, and a red reflective sticker on its bumper. Hire cars usually include these but make sure you check before you set off, especially if you hire the car in Chile and intend to cross the border.
Many Patagonian road trip itineraries criss-cross the Chile-Argentina border back and forth. By applying the strictest rules to both countries, you'll only need to remember one set of rules. If you keep your headlights on when driving and your speed below 60km/h, you should be fine.
Car Rental in Patagonia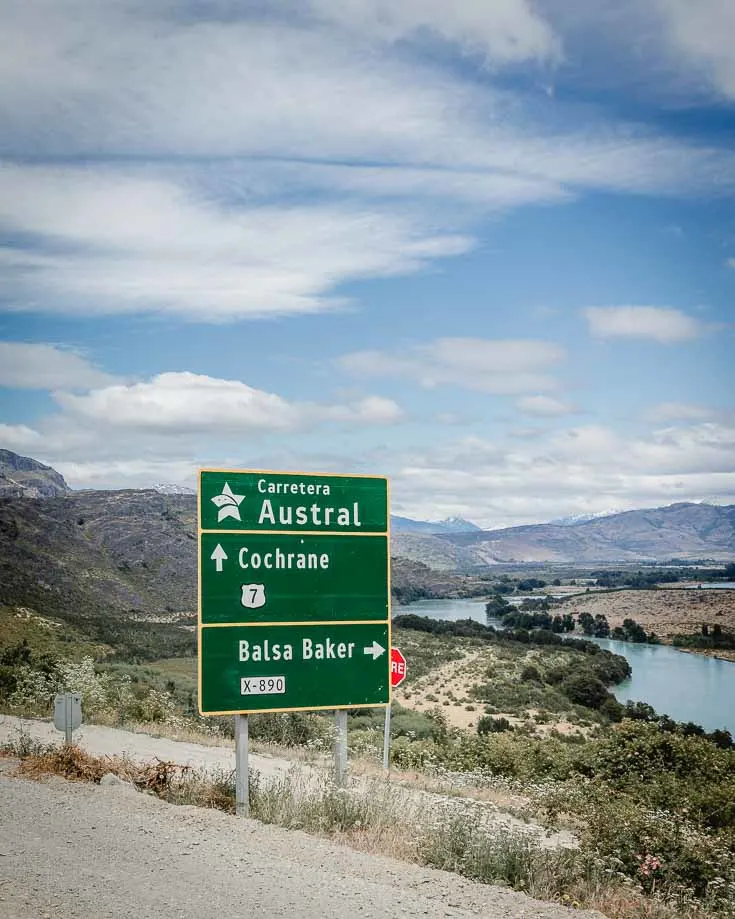 When you click on links to various merchants on this site and make a purchase, this can result in this site earning a commission. As Amazon Associates, we earn from qualifying purchases. For more info, please check our disclosure page.
To rent a car in Argentina or Chile, you need:
to be over 21
have a full driving license from your home country
have a valid credit card in your name (they'll probably take an authorization deposit)
If you want to rent a car any time between December and March, make sure to book well in advance. There are never enough cars during the summer season to meet the demand, and prices skyrocket the closer to your travel date that you book.
Car rental is often cheaper in Chile than in Argentina, but check the rates in US$ before you book to account for the latest exchange rates.
If you want to cross the border between Chile and Argentina, tell the rental company as soon as you've booked. You will need their permission and the necessary documentation to ensure your border crossing goes smoothly. Expect to pay a premium for the permission.
Most rental cars in Patagonia have manual or shift gears – automatic transmissions are tough to come by and in huge demand.
We rented a car in El Calafate when we took Angela's Dad to Patagonia from Buenos Aires. The process was easy, but we did book relatively late, so we had to manage without one day. It wasn't a hardship because of the itinerary we had planned, but we should have booked sooner.
It is possible to arrange a one-way hire so you can drop the car off at a different location but expect to pay a hefty one-way fee.
You must pick up and drop off your hire car in the same country, so you can't pick up in Puerto Montt, Chile, and leave it in El Calafate, Argentina.
It's worth bearing in mind that there are a lot of low-cost internal flights in Patagonia. So, for example, if you wanted to drive the 7 Lakes Route and El Chalten to El Calafate, you could hire a car in Bariloche for the first trip, then fly from Bariloche to El Calafate and hire another car down there. It will save you time and probably some money too.
Check the rental agreement includes roadside assistance – recovery is expensive in Patagonia, and not all firms include the service.
When you pick up the car, check the paperwork includes:
Vehicle registration (it's called permiso de circulación)
A roadworthiness certificate (it's called revision tecnica) and
And the insurance certificate (it's called seguro de vehiculos automotores)
You can use a rental car search engine to find the best deals between the hire companies. We usually use Rental Cars because they cover all the major companies at competitive rates. You can get a free, comparative quote from Rental Cars here.
If you'd prefer to hire a camper, try Wicked Campers or Soul Vans in Chile.
Nighttime Driving in Patagonia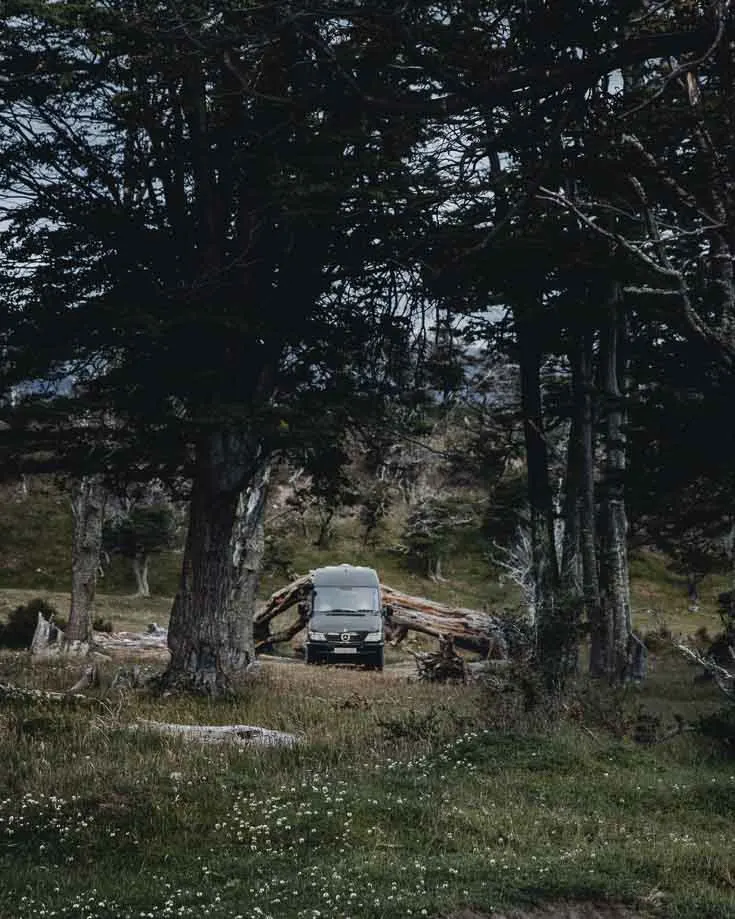 We have little experience of this because our number 1 road trip rule is we don't drive at night.
Patagonian roads get even more deserted at night, and there's no street lighting outside of the villages and towns.
Conditions that present hazards during daylight hours are even more dangerous when you can't see them. Wildlife will still run out in front of you, and the edges of the roads are still loose and often soft.
And let's be honest, the best thing about driving in Patagonia is the views. So why would you want to miss those?
Road Conditions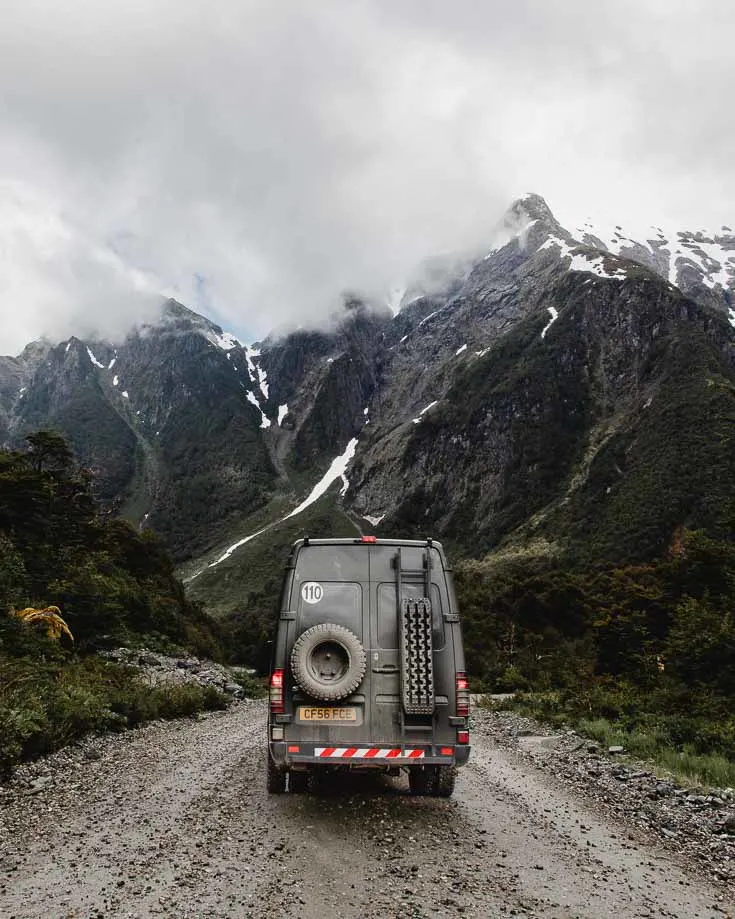 In general, Patagonian roads are in reasonable condition. However, because self-drive tours are increasing in popularity, both governments are keen to seal the entire road network to improve accessibility.
Still, there are stretches on the main routes unpaved. Most notable are stretches of Chile's Carretera Austral, south of Coyhaique, and parts of Argentina's Ruta 40 north of El Chalten.
Locals refer to unsealed road surfaces as ripio, the Spanish word for gravel. These dirt and gravel tracks vary in quality and comfort levels. At worst, they're corrugated, and the washboard surfaces make for a bone-rattling ride.
Some stretches, on Ruta 40 in particular, the gravel surface can be quite soft so take care not to get stuck. But, again, maintaining steady, controlled forward momentum is vital without going too fast.
When the road is dry, the dust kicked up by vehicles is terrible. Leaving a sensible amount of space between you and the car in front will help improve visibility and avoid stone chips too.
After any amount of rain, direct tracks will become slippery, so if you're in a 2 wheel drive vehicle, be careful. You need to use caution even in a 4wd.
After heavy rain, potholes often fill with water, and there's no way to know how deep they are. So take it easy and avoid puddles where possible.
Some stretches of roads in Patagonia are steep and winding, demanding your concentration to handle the switchbacks and hairpins.
They're usually wide enough on the main routes for 2-way traffic, but adverse cambers and the lack of barriers means most road users take the centerline.
Expect oncoming traffic on blind bends and be ready to slow or move over to allow safe passing.
Many bridges span rivers and valleys throughout Patagonia. Unfortunately, some bridges, even those on major transit routes, aren't in the best condition.
We take extra precautions at bridges and never follow behind a heavy lorry. Instead, wait for heavy traffic to reach the other side and, if the bridge hasn't collapsed (which it never has), then cross too. Better safe than sorry!
If (and when) the Chile and Argentina asphalt all Patagonian roads, these epic road trips will feel a little more accessible, but, in our opinion, they'll lose some of the sense of adventure too.
The saying that it's all about the journey and not the destination is never more true than when traveling in Patagonia.
Resources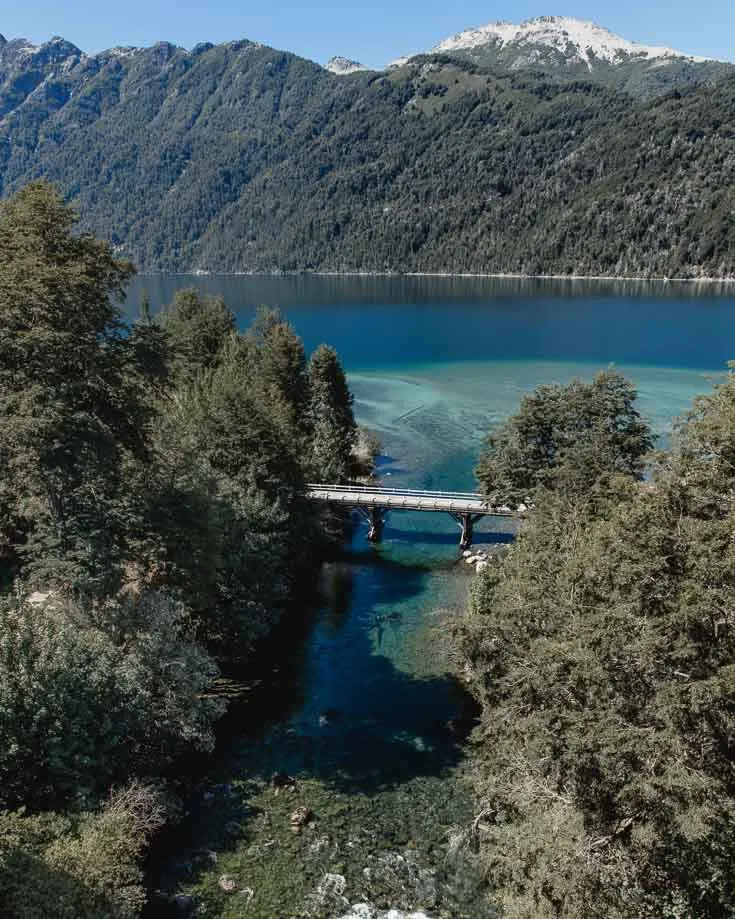 For up-to-date information on road conditions on the Carretera Austral, check this website.
A rolling program of roadworks closes stretches of the Carretera Austral. For the latest information on road works on the Carretera Austral, check this website.
iOverlander (more on that below) can provide a good source of information on the latest conditions.
To ask other travelers who've driven specific stretches recently, we recommend joining the Pan-Am Travelers Facebook Group.
Other Road Users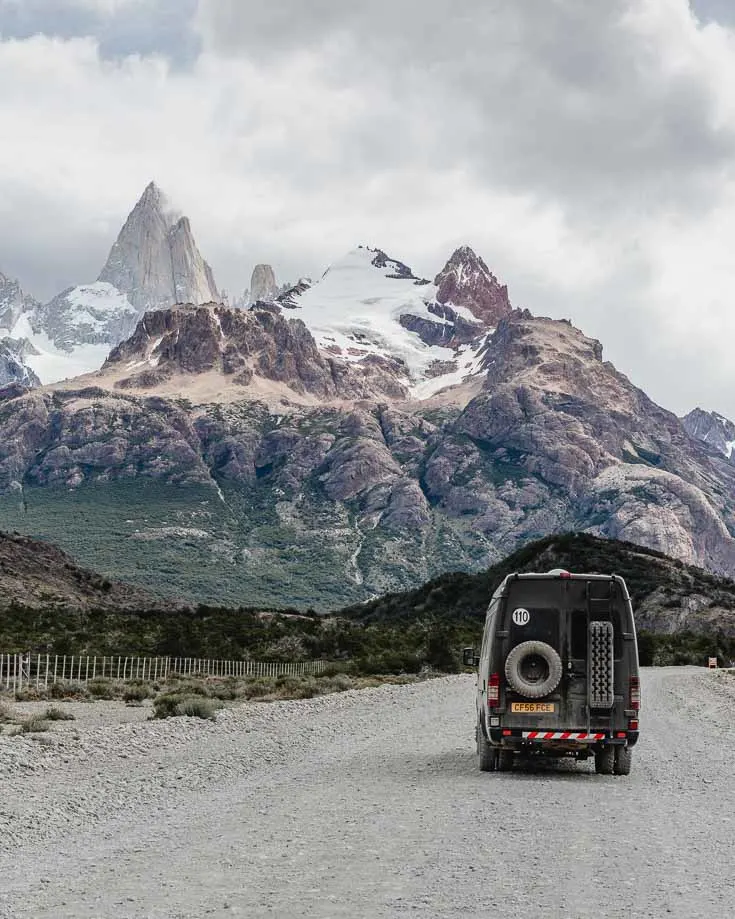 It seems not all road users in Patagonia have read this post, and some don't drive with the caution we encourage. Passing cars traveling at speed on ripio roads can kick up gravel, leading to chips in your paintwork or windscreen.
You can't do much to prevent it, but keeping your speed down will help prevent stone chips.
Some vehicles aren't well maintained in rural areas, so their indicators and brake lights may not work. Assume the worst and keep a safe distance.
On long stretches of road, if you catch up with another vehicle, you may see them indicate left. Often the driver is signaling to you that it's safe to overtake.
In our experience, their judgment isn't always as conservative as our own. So make sure you have a clear line of sight ahead and any roadside hazards before you commit.
Wildlife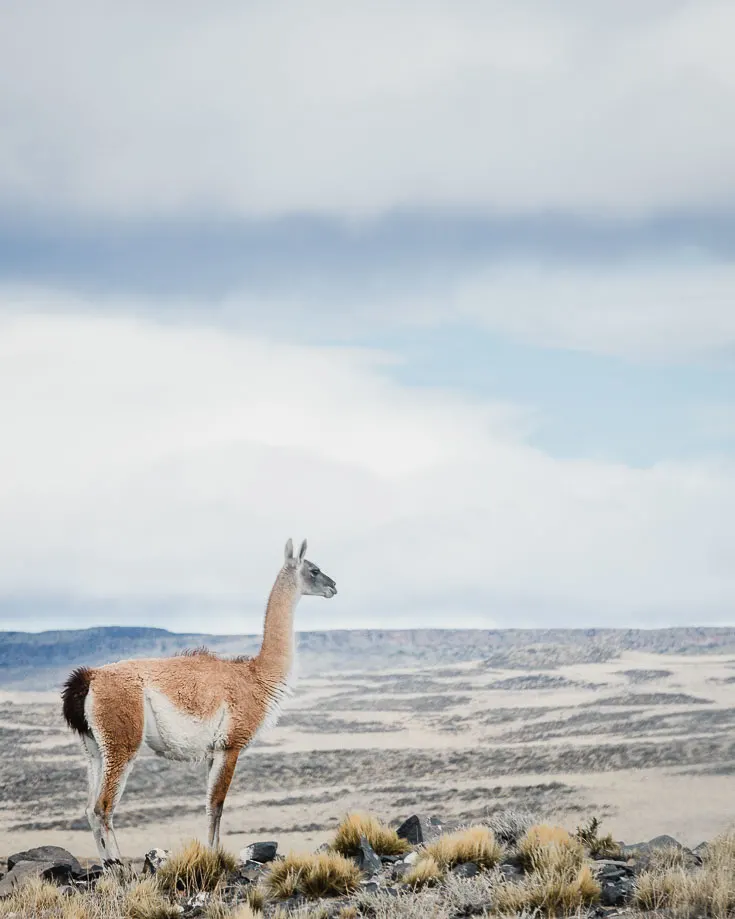 Spotting Patagonian wildlife is a special part of a self-drive trip in the southern tip of South America. But it also presents a hazard to drivers.
Most animals are well camouflaged, especially out of the Patagonian Steppe in Argentina.
Guanacos are large mammals, a wild relative of the llama, and they're skittish. So if you see a herd on one side of the road, assume some of them are on the other side too. You can see by their behavior that traffic makes them anxious.
They appear to want to escape but seem unsure where to run. So, more often than not, they'll take the escape route that runs directly in front of your vehicle.
Rhea – the South American ostrich – is a large, flightless bird. Although smaller than their African cousins, they can run fast and, when they feel threatened, dart around in all directions.
Huemels are endangered Andean deer, weighing in at around 70kg. They often hide in the undergrowth, especially along the Carretera Austral.
Hitting any large animal will do a lot of damage – to them and your vehicle. Drop your speed to pass, allowing them to cross when necessary.
There are lots of smaller animals around, including armadillos, skunks, and foxes. If you see wildlife on the road, don't overreact or carry out any erratic maneuvers. Brake to avoid hitting the animal. Don't swerve into oncoming traffic or brake hard if there's fast-moving traffic behind you.
If you hit an animal, pull over and put on your hazard lights. For your safety, don't approach the animal. If the animal is hurt and still alive, flag down the next passing motorist and ask for their help contacting a local vet.
If you're sure the animal is dead and its position presents a hazard to other road users, get help in removing it from the road.
Brutal Patagonian Wind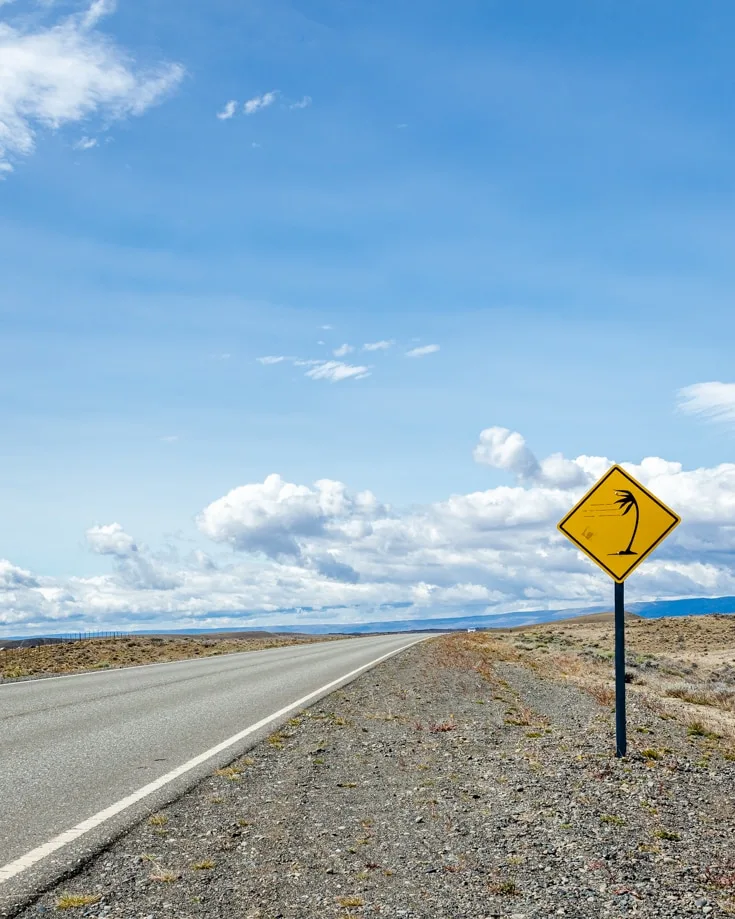 You may have heard of the strong Patagonian winds, but nothing prepares you for driving in them.
There's plenty of warning signs throughout the Patagonian Steppe, but you don't need these to remind you. For example, we could often feel the wind gently shifting us along from behind. But when road bends, it became a full-on sidewind, and we had to hang on tight to maintain control.
We've seen video footage of trucks blown over too. Some drivers we met with larger vans and overland trucks refused to drive on the worst windy days as it was just too difficult and dangerous. So drive carefully, slow down and keep your distance.
Avoid the temptation to drive as some Argentinians do – driving right up behind a lorry in its slipstream. If the truck has an accident, you won't be walking away unscathed.
Essential Ferries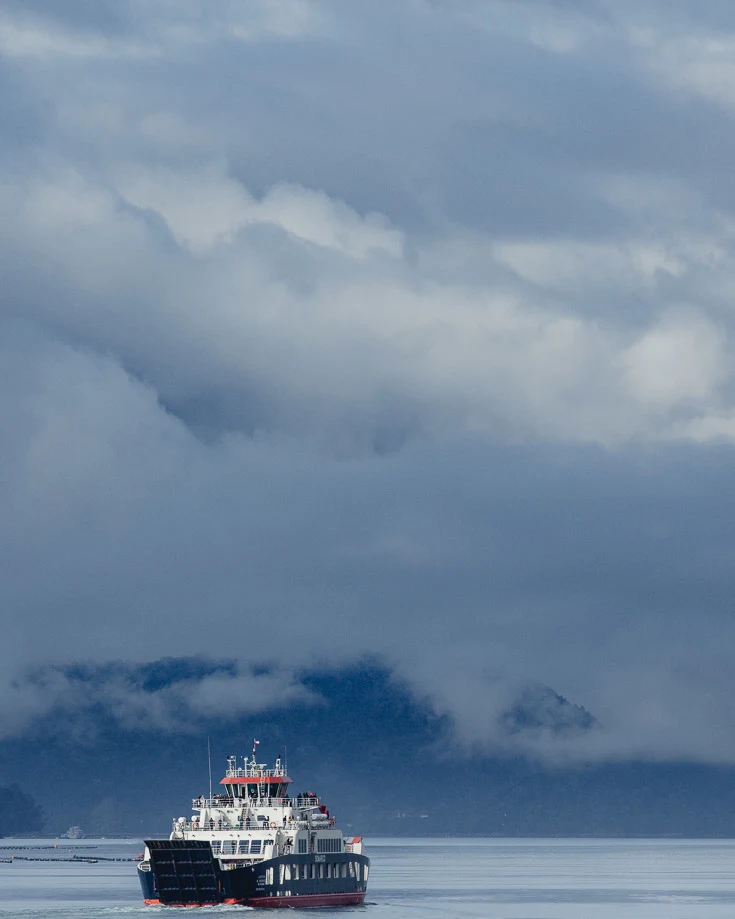 Without ferries, parts of Patagonia are inaccessible.
Access to the northern section of the Carretera Austral and Chiloe Island involves ferries across Reloncaví Sound.
At the southern tip of South America, Tierra del Fuego is an island, and the only way to reach it is by ferry across the Strait of Magellan.
We'll provide more details about specific ferry routes in our posts about those road trips and destinations. Here's a summary of the general points to be aware of when it comes to ferry crossings in Patagonia.
Remember you're in South America. There's a lackadaisical approach to timetables. Use them as a guide and prepare for uncommunicated delays. Enjoy it. More often than not, you'll queue with other travelers and locals and with terrific views. Treat it as an inevitable part of your Patagonian adventure.
Some ferry ramps are narrow, and the turns onto them quite tight. The ramp at Caleta Leptepu, Chile, is the usual culprit.
This isn't a problem for cars and even medium-sized campers, but we have seen large trucks misjudge the turn and land in the ocean. We're not kidding.
Some ferries don't have many facilities, even on the longer 4 or 5 hours crossings, so bring refreshments.
Passengers must pay the fares in cash, often onboard.
Marine life is prolific, so use the crossing as an opportunity to spot dolphins, whales, and even the occasional penguin and seal.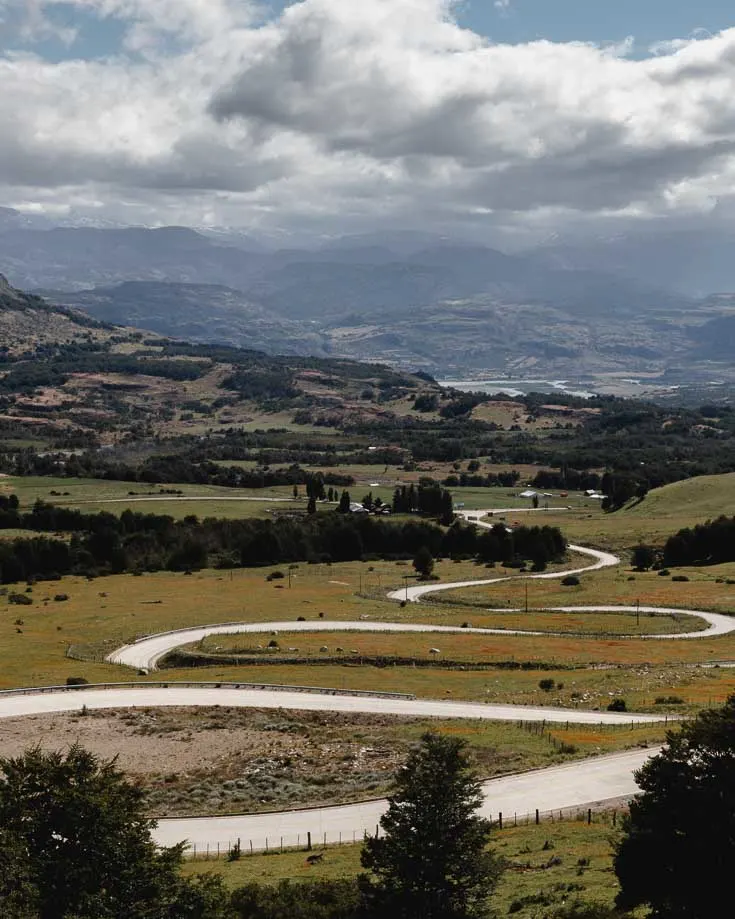 Navigating the main routes in Patagonia is simple. After all, the signage is good, and there are very few main roads.
In reality, you won't stick to the main routes. There are some incredible sights to see by taking diversions off the main routes. Places like Futaleufu in Chile and the Cueva de las Manos in Argentina are highly recommended destinations.
It's a good idea to familiarise yourself with the region beforehand. We love using paper maps for that. Unlike electronic alternatives, they provide a better perspective of distances and terrain.
You can pick up a local map in most fuel stations and tourist information offices. They're a great fallback in the event your electronic devices fail.
Most car rental firms offer a GPS, either fitted or for rent. We don't recommend paying a premium to rent a device, though. Instead, plan ahead and install Maps.Me on your mobile device and download all the relevant maps of the region.
Maps.Me is entirely free, and in our opinion, better for navigating Patagonia than Google Maps.
iOverlander is another invaluable, free app for driving in Patagonia. iOverlander is an app created by overland travelers for overlanders.
Users can enter details of points of interest, update information on existing places and get information and other users' opinions. It contains every kind of place you could hope for, from fuel stations to ferry terminals, border crossings, campsites, viewpoints, hotels, mechanics, and much more.
It is invaluable because you can get the latest information on things like road conditions and border crossings from recent travelers. And best of all, you can use it offline and overlay it onto your mapping app, like Maps.Me or Google Maps.
More // For detailed instructions on using these apps together, check our post: How to Use iOverlander Offline.
Police Checkpoints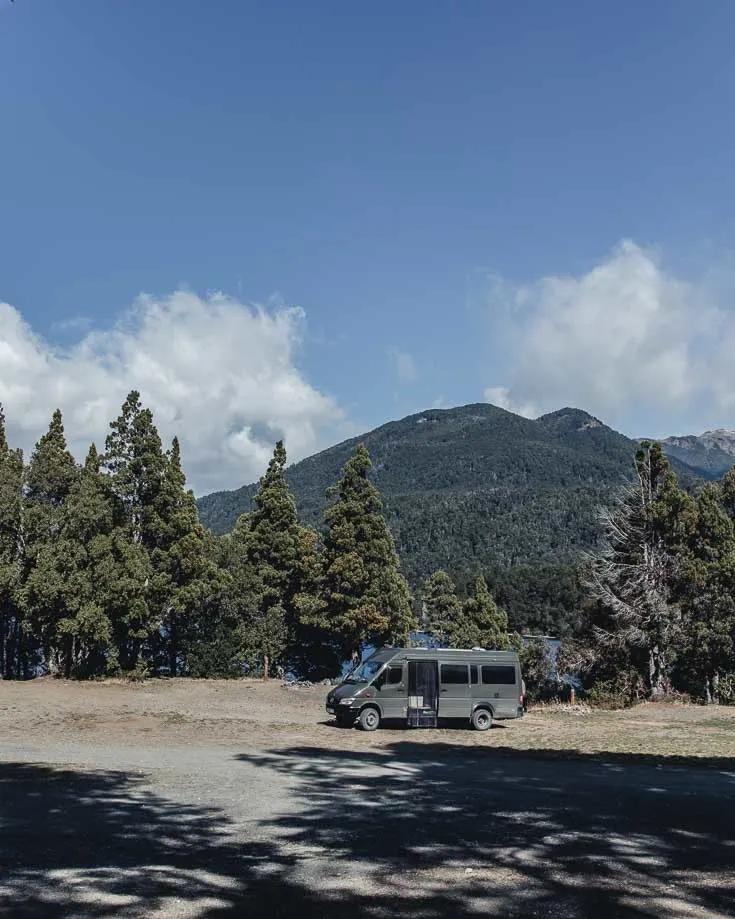 Patagonian roads have few police checkpoints, and most are near towns and villages. If you come across a checkpoint, drive slowly through. They will flag you down if they want you to stop.
They may ask where you're going or to see your paperwork. They may even ask to see inside the vehicle. It's all perfectly normal. However, you'll find the checkpoints easier to navigate if you learn a few Spanish phrases.
If the police have caught you doing something naughty, like speeding, they may issue you with a fixed penalty notice. The ticket has the details of how to pay printed on it. It usually means going to a police station or bank at your destination to pay.
Police should never ask for cash when they stop you. Both countries banned on-the-spot fines years ago.
Fuel Stations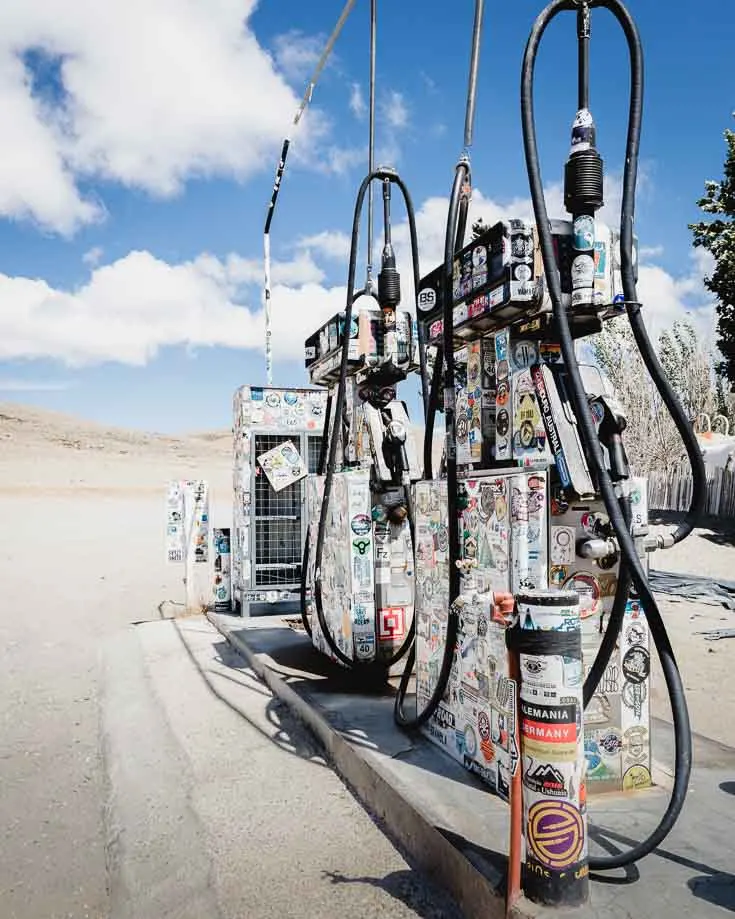 YPF and Shell are the most common fuel stations in Argentina and Copec in Chile.
Towns and villages in Patagonia are few and far between, so it follows that fuel stations are too.
We recommend never driving past an opportunity to top up your tanks, no matter how full they may be.
Most fuel stations throughout Patagonia are not self-service. Instead, an attendant will fill your tank and probably clean the windscreen at the same time.
Sometimes you pay the attendant at the pump, though more often, you pay inside a kiosk. It's courteous to give the pump attendants a few pesos for their trouble.
Most fuel stations accept major credit cards – Visa and Mastercard. However, fuel station machines have often rejected one or another of our cards. So carry one of each as a backup and enough cash to pay because some stations don't accept card payments.
It's also worth noting that ATMs are few and far between, too, and occasionally have no money. Again, having a cash reserve will help avoid problems.
Some of the YPF and Copec stations have facilities to allow for overnight parking (if you're in a camper van) with bathrooms and showers. Facilities are usually free, although hot showers sometimes incur a nominal fee.
Chile has some of the most expensive fuel in South America. Current prices are around US$1.30 per liter of gasoline compared to US$1 in Argentina. So fill up your tanks in Argentina before you cross the borders.
A few handy phrases to know for fuel station visits:
Diesel (pronounced dee-ess-el) = Diesel
Gasoil (pronounced gass-oyl) = Diesel
Benzina (pronounced ben-tz-eena) = Petrol
Nafta ( pronounced Na-f-ta) = Petrol
Border Formalities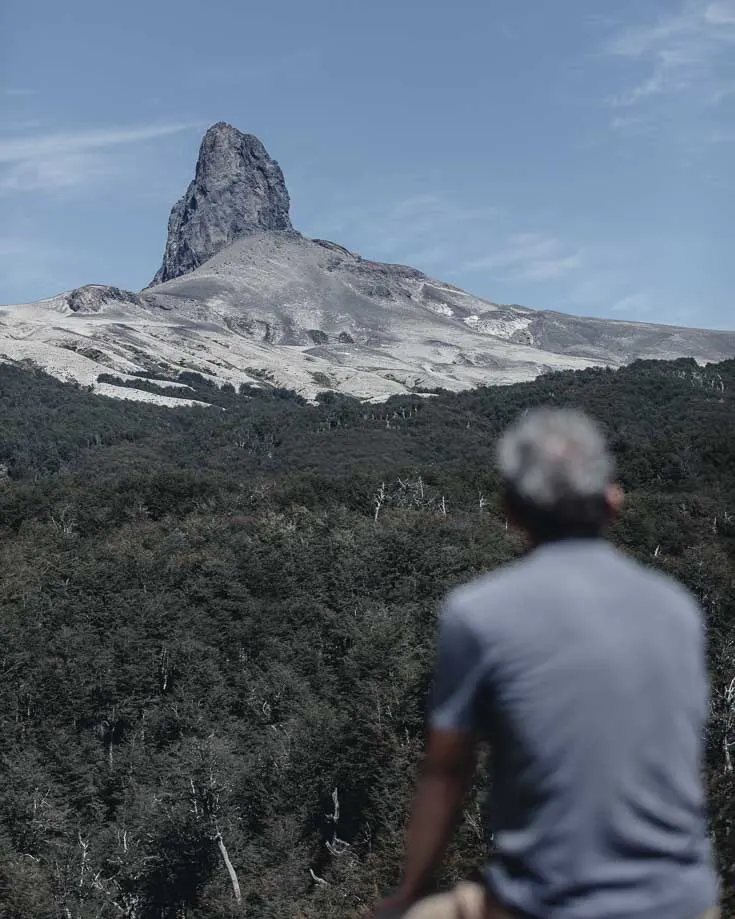 Many road trip itineraries in Patagonia involve at least two border crossings. The process is straightforward, but it's best to allow plenty of time.
In the summer season, the borders can get busy. If you pull in behind a tour bus, it's best to take a coffee break before going into the office to allow the queue to get processed.
You cannot carry any fresh fruit, vegetables, dairy, meat, or spare fuel between Chile and Argentina. Customs officials are pretty strict about these rules and can issue fines if you're caught breaking them.
Chilean and Argentinian officials share the same office building at some border crossings. At others, you may need to drive a few kilometers between offices.
Here's the process at the border:
Go to the Aduana's (customs officials) desk to deal with your vehicle's paperwork.

If driving your own vehicle, hand in your Temporary Import Permit.
If driving a rental car, show them the permit and insurance from the rental company.

Next, go to the immigration desk and get your exit stamp.
You've now officially left the country.
Take your passport to the immigration officials and get your entry stamps. When entering Chile, the immigration official will give you a PDI ticket. Do NOT lose this – you will need it when leaving Chile at any border, including airports.
Next, take your vehicle documentation and passport to the Aduana (customs official). They'll check your paperwork is all in order and give you a Temporary Import Permit.
Officially, you should get a 90-day TIP. Yet, every time we've entered Argentina, the customs officials have given us eight months.
Double-check you've received all the exit and entry stamps in your passport, and you're good to go.
There's usually a barrier to drive through, where the customs officials may ask to see inside your vehicle. Once through this, you're done.
The actual process doesn't take long, but a border crossing can still take more time than you think. Some offices close for lunch, you might be unlucky to encounter a new customs recruit, determined to find a rogue tomato, or you arrive behind a convoy of tour buses.
When your day includes a border crossing, plan to arrive there early, expect it to take a while, and try to avoid rigid plans for onward travel.
More // The Fronteras Argentina app helps check the opening times and status of borders throughout Patagonia.
What To Do In A Breakdown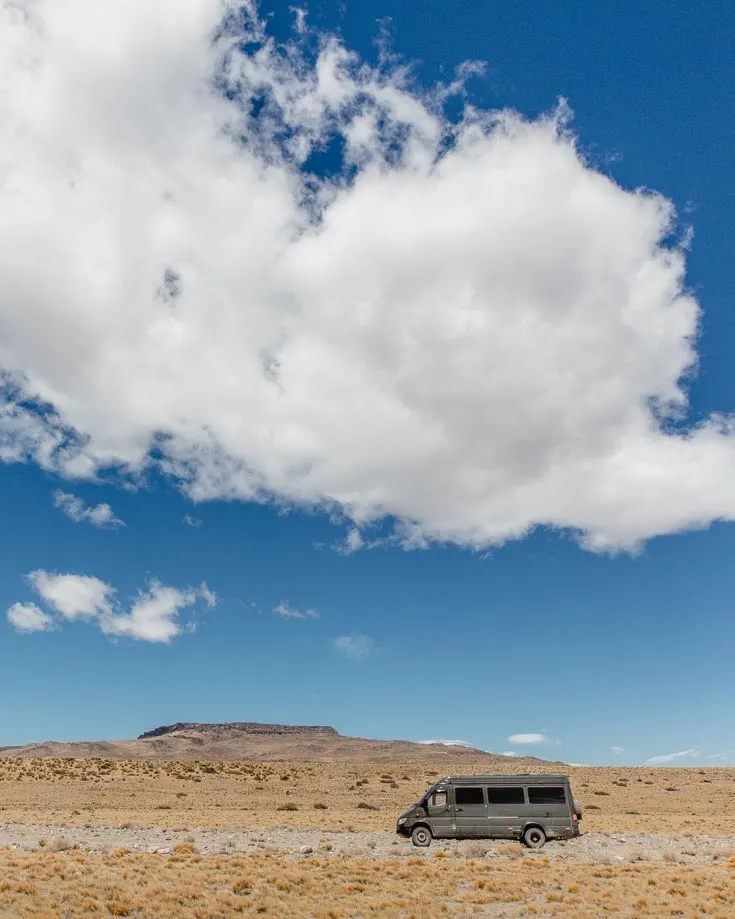 There's no getting away from it – breakdowns happen.
Because vast swathes of Patagonia are remote, and it's so sparsely populated, the law of sod dictates that all breakdowns will happen a million miles away from a mechanic's shop.
If driving your own vehicle, then hopefully, you're carrying a well-equipped toolkit and have the necessary skills to use it. You'll be able to resolve minor problems like punctures and even fuel leaks.
Breakdown recovery services are expensive in these remote areas, so it's helpful to have a little mechanical know-how.
Most villages and towns in Patagonia have a mechanic. In some of the larger towns, you may even find a dealership. There's a Mercedes service center in Punta Arenas, for example.
If you have a rental car, the hire firm will provide you with emergency contact details. Keep the paperwork handy, and a local sim card means you can make the necessary call.
The emergency services numbers are:
131 for an ambulance
132 for the fire department and
133 for the police. 911 redirects to the police.
Tips for Driving in Patagonia & Road Trip Essentials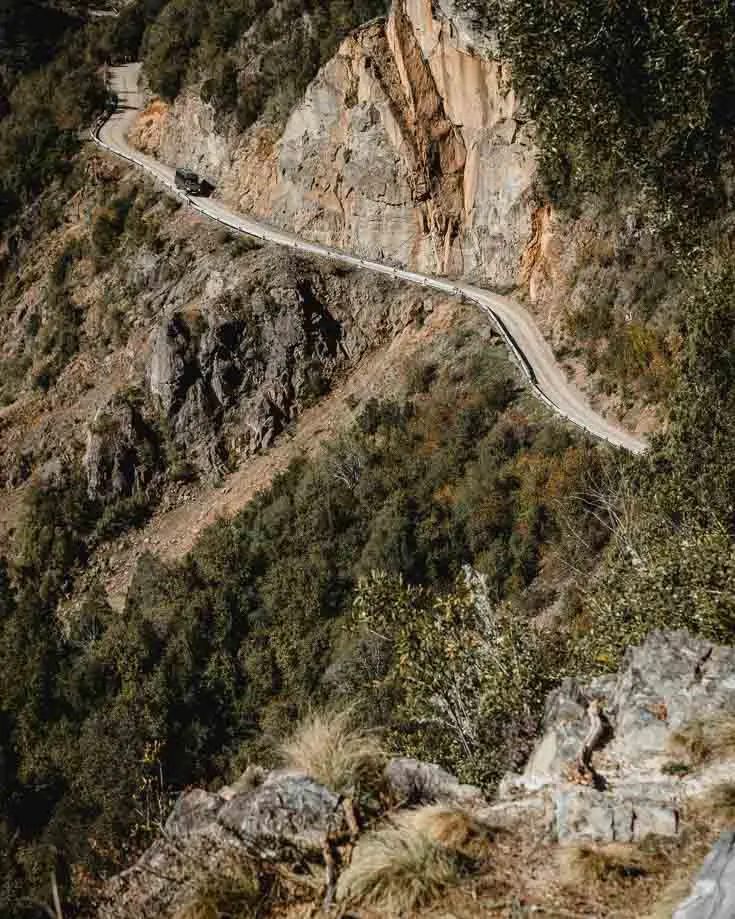 With so many places to see along the way, photos to take, unpredictable weather, roadworks, ferry delays, a flexible schedule, and a laid-back approach to the journey are essential.
Every journey takes longer than you think. If you have a set amount of time, allow extra time for every leg of your route.
Learn a few Spanish phrases to help you ask for directions, deal with police checkpoints, complete border formalities and pay for fuel. We always found a phrasebook helpful, but Google Translate has taken over now. Download the Spanish language, so you can use it offline.
Download iOverlander and Maps.Me before you set off.
A 4wd vehicle is not essential. High clearance is more important and definitely a bonus, but even that's not essential. Hundreds of 2wd vehicles complete Patagonian road trips every year without much drama.
Keep your speed down on gravel tracks to help avoid windscreen chips.
Always check your rental car for an inflated spare tire and the emergency breakdown details.
Refuel everywhere you can – never drive past a fuel station.
Get local sim card – Entel for Chile and Claro for Argentina
Include these essentials on your packing list:

A pair of binoculars for wildlife and bird spotting
A paper map (and a colored pen to mark your route)
An in-car charger for your mobile devices
Polarised sunglasses for him & for her // The summer has long daylight hours, and when the sun is low in the sky, it can be blinding.
Pack for changeable weather and have suitable outdoor footwear at hand – you'll get out of the car a lot!
Patagonia Travel Planning
How To Get to Patagonia (coming soon)
Patagonia Itineraries (coming soon)