Driving in Uruguay is easy. Simple as that. Drivers are calm, patient and so well mannered.
I don't think we ever heard a car horn and certainly no road rage of any description. Driving in Uruguay is a relaxed and orderly affair so there should be nothing to put you off a road trip here.
If you're planning your first visit to Uruguay and want to explore places off the beaten track, driving is the perfect way to get around. This post gives you everything you need to know about driving in Uruguay so you can decide for yourself.
Inspiration: Off the beaten track in Uruguay – a driving itinerary
Driving in Uruguay's cities and towns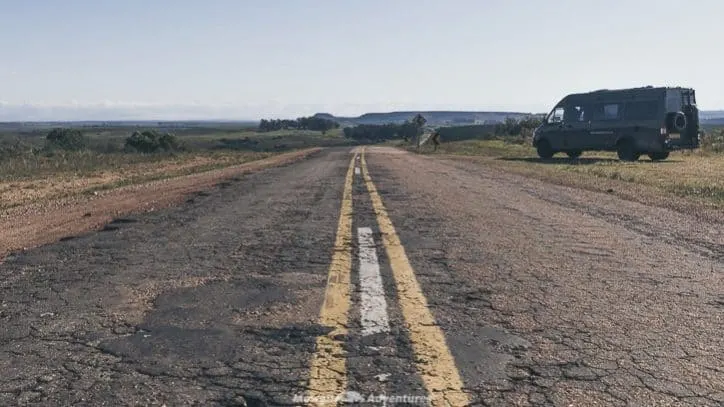 As in most Latin American countries, city streets are laid out in a grid fashion. Most roads allow traffic to travel one-way with the direction alternating on each parallel road.
It makes for pretty easy navigation although if you miss a turn, you'll need to drive 2 blocks coming back on yourself.
The intersections tend to fall into one of three types. Some have traffic lights and self explanatory although you shouldn't try to beat the lights – just sit and wait them out.
Other intersections have stop signs (pare) and self explanatory too. Then there's the rest. It took us a few days to realise the rules but we think the strict rule is to give priority to the right.
But then at some that rule didn't apply. So we adopted 1 rule: at an intersection, stop, yield, pare. Call it what you will.
No traffic has priority or right of way and the safest and most sensible thing to do is stop and check. Uruguayan drivers are so polite and well mannered, they'll probably let you go ahead of them anyway.
Check out our Montevideo travel guide here
Parking in Montevideo
Most of the time, it wasn't hard to find parking for Baloo in Uruguay and she's 6 metres long. The towns aren't too busy and avoiding weekends, parking is no trouble. Montevideo is a different kettle of fish though.
We tried to park in Montevideo once and that was enough to avoid every wanting to do it again. It's possible to free park on the street but as you might expect in a capital city, the spaces get snapped up quickly.
Any parking spots conveniently vacated, were inevitably too small for our camper van. Add the one way streets to the mix and we went around in circles for ages before we eventually found a parking space.
Then there's the parking attendants. In reality, they're unofficial guardians of your vehicle who expect a few dib dobs in return for keeping an eye on you car or camper.
We met several willing to guide us into illegal parking spots or a space where we'd have completely blocked the road. Use common sense and only park where it's legal and sensible, regardless of the high vis clad attendants.
And keep a little spare change handy too as you won't get any change from a UY$20 note.
Discover the gringo trail along Uruguay's Atlantic coast
Driving on the highways in Uruguay
Uruguay has good highways linking major towns, cities and tourist destinations.The tarmac road surfaces are in good condition and often dual carriageways.
With long stretches of straight road and wide bends, you could easily end up speeding if you're not careful.
And you should take care as although some stretches are straight, they follow the rise and fall of the surrounding landscape so many have blind summits.
Some of the busiest routes have toll booths, especially the main road into and out of Montevideo. At the time of writing, these cost UY$95 | GBP£2.40 at each booth. If your vehicle has twin axles, this would increase to UY$160 | GBP£4.
In Uruguay speeding is frowned upon. Drivers tend to stick to the speed limits, although some overtake where they shouldn't.
The speed limit on a highway is 110kph but this reduces to as low as 45km for villages, rural schools and narrow bridges. And anyway, the scenery is beautiful so why would you want to rush past it?
Uruguayan local roads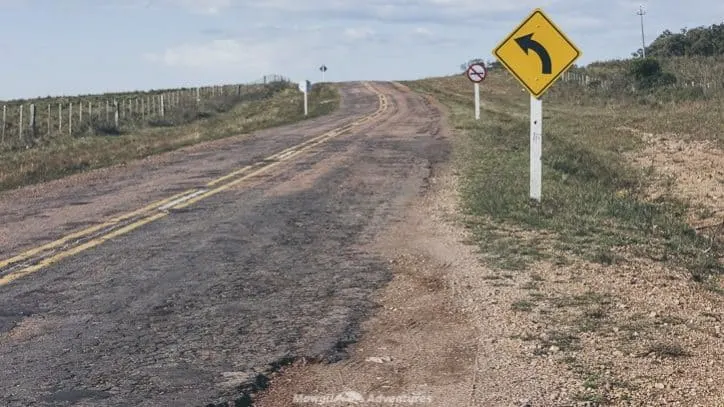 The condition of Uruguay's local roads tends to be more unpredictable. In and around towns, they are generally well surfaced, often with hard wearing concrete block sections.
Other than that, it's somewhat hit and miss. Roads once surfaced with tarmac disintegrate to the point of being potentially damaging to your vehicle. Potholes can be quite deep so try not to hit them too fast.
The edges of the roads can also be in such bad condition the road is rendered a single track lane in parts. The sides and banks are gravel so in the rains they can become slippery so take your time.
You don't want to end up on your side because it's bad for the police paperwork and worse for your rig's good looks. If you have a choice, choose a gravel track or highway for a more comfortable ride.
Read more: visiting the unusual UNESCO World Heritage Site – Fray Bentos!
Uruguay's gravel tracks
It's easy to head off the main roads to find some hidden gems in Uruguay. Once off the main road, most rural roads are gravel and dirt tracks.
Often corrugated, they can rattle your bones and then sometimes you'll hit completely smooth patches. Adjusting your driving speed, helps to find the most comfortable ride.
Sometimes driving fast is the key to a smooth ride although just as you think you have it cracked, something changes so a slower pace is needed. Theres no rhyme nor reason so use trial and error to find what works best.
These gravel and dirt tracks can get slippery after rain so if you're in a 2 wheel drive vehicle, take it easy. Ift has been heavy rain, the pot holes fill and so you no idea how deep they will be.
Perhaps in those times, you might be wishing for a 4 wheel drive vehicle?
Plan you trip with our Uruguay travel guide
Fords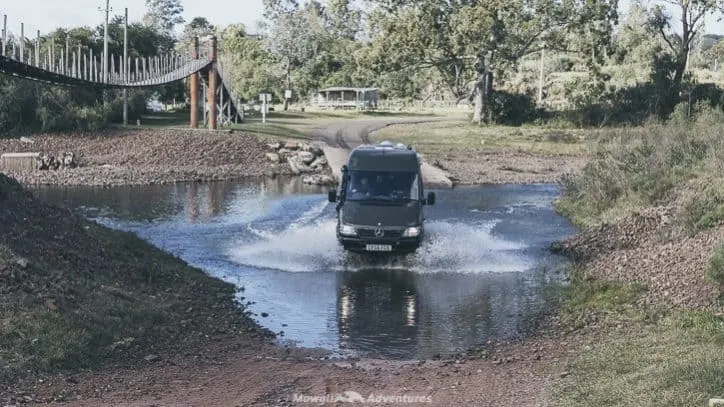 There are a few ford crossing in Uruguay and when you come across them, you need to take care. If in any doubt, don't cross. Walk it first to check if you can cross safely or watch the locals route through and follow them. If you're still not sure, turn around.
Dangers to watch out for when driving in Uruguay
Flood drains
In towns and built up areas the gutters at the side of the roads have huge flood drains. They're painted to highlight them but they don't always stand out so well. Be careful! Drop your wheel into one of these bad boys and you'll have a bad day.
Kamikaze dogs
The mad local dogs love barking and chasing cars. Often they seem to have run out in front of your vehicle. Don't swerve, keep going and hold your nerve.
There are many old looking dogs here, so we reckon so Darwin rules apply: the fittest and most road savvy dogs survive. If the pick up truck in front of you has a dog in the back, packs of barking dogs race out after it.
Again, keep driving and they'll move out of you way. Hopefully.
Gauchos and their cattle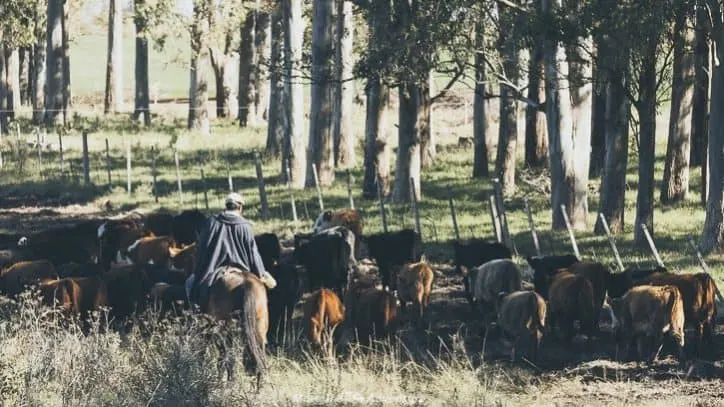 In northern Uruguay especially, you'll meet gauchos riding their horses, often herding their cattle up the road. Give these guys plenty of room, or better still, stop and let them go about their business.
They seem to let cow herds wander freely and roughly in the direction they're meant to be going. Gauchos never ride fast unless there's an emergency – and there aren't any of those in Uruguay – so every now and then a random bull will wander into the road.
We usually just pulled up to watch the shenanigans – these chaps are the real deal.
Read more: beautiful places to visit in Uruguay
Narrow bridges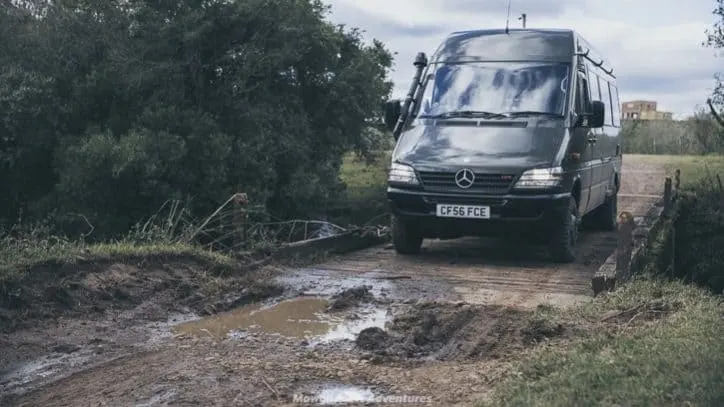 There are many narrow bridges in Uruguay and the speed limit often drops to 45km on approach. Generally, the vehicle that reaches the bridge first has priority, but this is Uruguay, so it's not a race.
If you're not sure who will get there first, slow down and allow the oncoming traffic to pass first. The driver is sure to show his or her appreciation with a smile and a wave.
Motorbikes & mopeds
There's quite a lot of motorbikes and mopeds in Uruguay's towns and cities. Most riders carry helmets, rarely on their heads, often on the arms like some sort of charm.
While they tend to keep to the right to allow faster traffic to pass, at traffic lights they all seem to bunch up anywhere they like. Don't be alarmed.
This is just the way in Uruguay. It sorts itself out once the lights change but best keep an eye on all your mirrors for any hazards before pulling away. These funky moped riders don't mind which side they pass you on.
A couple of key points before you drive in Uruguay
Aside from sticking to the speed limits and common rules of the road, drivers in Uruguay must keep their dipped headlights on, day and night.
This is mandatory and although not all locals adhere to this, you could be fined if caught driving without them.
For 3rd party insurance, Uruguay is covered by the mercosur arrangement so make sure you have a policy valid from at least the date of entry.
Tyre repair garages will patch your tyres if you ask them to and for a reasonable rate too. We had a flat tyre and because the wheel nuts were over torques, we couldn't remove it.
A local garage changed the tyre, loosened all the over torqued nuts and patched the tyre for a princely sum of UY$400 – not quite £10.
Car rental in Uruguay
While we drive our own vehicle, we appreciate that many people will fly into Argentina and hire a car. You can hire a car from Posadas, Buenos Aires or Cordoba and always use a reputable firm because you need assurance the car is well maintained and your insurance is valid.
When we hire cars, we're not loyal to one rental firm, and simply go with the one that offers the best value – and that means using a comparison website.
For us, Rentalcars is by far the best, and our first choice, every time. They even do camper van rentals!
Paying for fuel
Fuel is quite expensive in Uruguay compared to other South American countries. At the time of writing, we paid UY$40.50 for a litre of diesel – that's a little over £1.
Always pay for your fuel with a foreign registered credit card or debit card because you will be refunded the tax you paid. Not a saving to be sniffed at! For more info on how we access our cash overseas, check out this article.
Like it? Pin it!