Paperwork! Not the most exciting subject but it's important to understand applicable regulations governing your camper van conversion so you don't breach any laws.
This article is specific to DVLA campervan conversion reclassifications in the UK.
If your camper is registered in another country, check with your driving licence & vehicle authority before starting your conversion so you can adhere to any laws and regulations.
It'd be horrible to find you've missed a critical design feature when you've finished!
Our van was registered as a minibus when we bought her. With plans to travel globally in her, we were keen to register her as a motorhome body with the DVLA.
Although some things are easier, there's no real privileges for a registered motorhome body type in the UK. Around the world this may be different.
For example, in Mexico, we could get a 10 year Temporary Import Permit instead of 6 months if the V5C states she's a motorhome.
The number of campervans on the British roads has ballooned in recent years and the DVLA must be seeing more and more reclassification applications.
Maybe there's a growing trend for living in a van in the UK or DIY campervan conversions is the new hobby of the moment.
Whatever the reason, as of 2019, the rules have been tightened up a little – or the DVLA would argue – clarified.
As a result, many applications are being rejected as conversions fall short of the new requirements.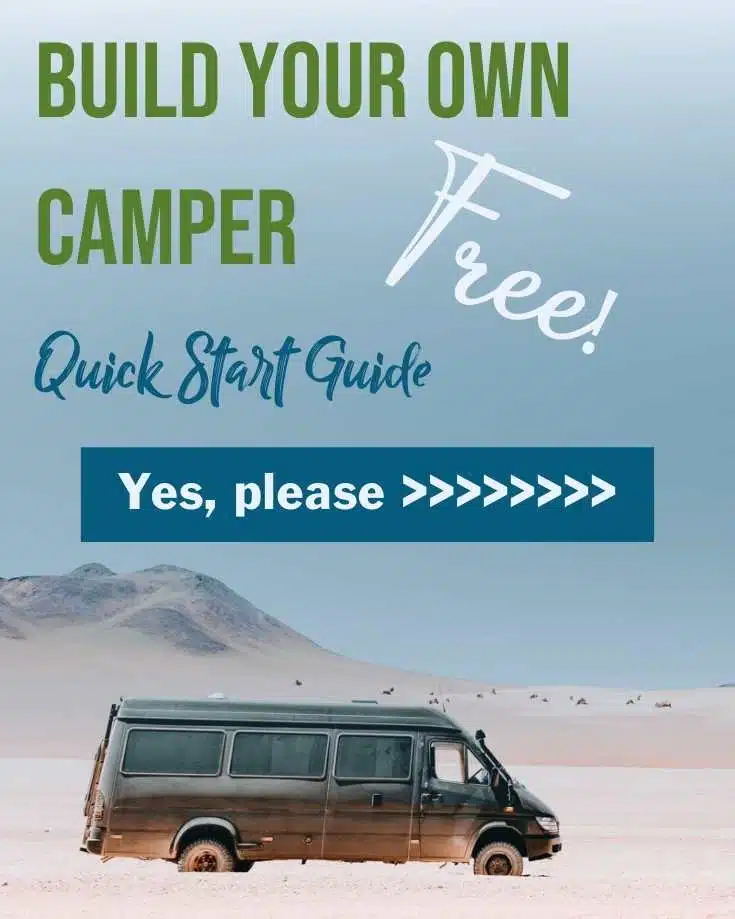 Is reclassification of a camper van conversion essential?
Well basically yes! It's a legal requirement.
"It is a legal requirement that all UK registered vehicles are classified correctly on the V5C log book.
All campervans, motor caravans and motorhomes fall into the DVLA category of 'motor caravan'. If you've converted a van into a motor caravan then you must return the V5C to DVLA for body type amendment.
DVLA is required to record vehicle details for road safety and law enforcement. The body type information held on the vehicle record must describe what a vehicle looks like in traffic. This description, as well as other distinguishing features, allows the police and other enforcement agencies to easily identify vehicles."
As quoted from the DVLA website.
In summary, the DVLA want the general public to recognise the vehicle as a campervan from a quick glance.
Benefits from DVLA campervan conversion reclassification
The DVLA imply it makes no difference if your van is registered as a motor caravan or not. We think it's a little less clear cut than that though.
The registered body type of a vehicles doesn't actually affect its insurance category. Even so, if your camper isn't registered as a "Motor Caravan" with the DVLA, insurance companies may ask for photographic evidence it's a camper.
In general, campervan insurance is cheaper than for a panel van. This is because they're not (usually) used for commercial use, have fewer claims and often don't drive as many miles.
Camper van insurance also has the benefit of some contents insurance for your personal belongings. Make sure to check your policy wording to see how much cover you have.
And faster speed limits apply too, though the DVLA website is quite confusing on this front.
"The body type does not …. have any effect on speed limits or other legislative requirements. It is only used for establishing vehicle appearance and identification."
As quoted from the DVLA website.
But in a goods vehicle you can travel at:
50mph on single carriageways where the national speed limit applies
60mph on dual carriageways
70mph on motorways
With your converted campervan registered as a "motor caravan" with the DVLA you can travel at:
60mph on single carriageways where the national speed limit applies
70mph on dual carriageways
70mph on motorways
While the DVLA advice is vague at best, downright contradictory at worst, we recommend erring on the side of caution.
Stick to the speed limits for your registered body type as set out in law.
Vehicles registered as a "motor caravan" come under the Class IV MOT rules. Mowgli, at 7.5 tonne and Baloo at 4.5 tonne are Class IV for MOT purposes.
Even before your van is registered, the MOT tester ought to see it's a campervan and test it as a Class IV. Check with your MOT tester if in doubt.
The upshot is, we wouldn't be put off from buying a campervan that isn't already registered as a motor caravan with the DVLA.
What are DVLA campervan conversion requirements?
To successfully get your van reregistered, you need to meet 3 requirements:
The body type shown on the V5C is one specified by the DVLA
Demonstrate the external features of a Motor Caravan are met and
Demonstrate the internal features of a Motor Caravan are met.
We'll look at each of these in turn below.
Body type on existing V5C
The DVLA will only consider changing the body type to Motor Caravan if the body type shown on your V5C is currently one of the following:
ambulance
box van
goods
insulated van
light goods
light van
livestock carrier
Luton van
minibus
MPV (multi-purpose vehicle)
panel van
specially fitted van
special mobile unit
van with side windows
The state clearly to not even both sending in an application to re-classify your van to a Motor Caravan is you can't meet this. It will be declined.
If you haven't yet bought a vehicle for your build yet, consider this list when choosing the best van for your camper conversion.
External features
The DVLA are pretty vague when it comes to what a motorhome should look like. They provide this list of features commonly seen on a motorhome.
2 or more windows on at least one side of the main body (this does not include windows on the driver or passenger doors) to provide a reasonable amount of daylight into the living accommodation
a separate door which provides access to the living accommodation of the vehicle (this excludes the driver and passenger doors); a window on this door counts as a separate window on the main body
motor caravan-style graphics on both sides of the vehicle
an awning bar attached to either side of the vehicle
a high-top roof (this does not include a pop-top elevating roof)
It's not intended to be definitive list but guidance.
Of course the problem with this is it's subjective not just to those of us converting vans into campers but even for the inspectors at the DVLA.
What on earth do motor-caravan style graphics look like?
The upshot is, if your van doesn't look like their idea of a motorhome, they won't reclassify it.
DVLA will need photographic evidence of the completed conversion.
Internal features
In order for a converted vehicle to qualify as a motor caravan it must have certain features. The DVLA summarise the minimum camper van features as follows:
seats and a table
sleeping accommodation which may be converted from the seats
cooking facilities
storage facilities
This equipment must be rigidly fixed to the living compartment; however, the table may be designed to be easily removable.
The DVLA go on to refer to storage, cooking facilities, the dining area and even the sleeping accommodation.
I know it all sounds mega tedious. When we set out to register our converted camper van with the DVLA, we made sure to prove we'd met each of these requirements.
Seats and a table
they shall be an integral part of the vehicle living accommodation area, mounted independently of other items
a table mounting arrangement shall be secured as a permanent feature, although the table top may be detachable
permanently secured seating must be fixed to the floor or sidewall and available for use at the table
Sleeping accommodation
shall be an integral part of the vehicle living accommodation area
can be either beds, or beds converted from seats
must be secured as a permanent feature, either with the base structure of the vehicle floor or to the side wall, unless the sleeping accommodation is provided over the driver's cab compartment
Cooking facilities
Your conversion must have a minimum of a single ring cooking facility or microwave, which shall be secured directly to the vehicle floor or side wall as a permanent feature.
If the cooking facility is fuelled by an on-board gas supply, the fuel reservoir must be secured in a storage cupboard or the reservoir secured to the vehicle structure.
If the cooking facility is fuelled by gas having a remote fuel supply, the fuel supply pipe must be permanently secured to the vehicle structure.
Storage facilities
can be a cupboard or locker
form an integral part of the vehicle living accommodation, mounted independently of other items, unless incorporated below the seat, sleeping accommodation or cooker
must be secured permanently to the vehicle floor or side wall except when the storage facility is over the driver's cab compartment
When to start the re-classification process
The DVLA site states the camper van conversion should be complete before you re-classify but we all know, we never stop tinkering. Many of us think a conversion is never complete!
Our advice is to make sure you meet all requirements and cosmetically, it looks complete.
Finishing touches aren't important though – we didn't even have the covers on the fronts of our cupboards when we registered Baloo as a camper van conversion.
How to apply for DVLA campervan conversion reclassification
The DVLA want photos of your completed conversion showing the changes made with a description of the work carried out.
If they're not happy with the evidence you provide they may wish to inspect the vehicle before approving a change to the V5C.
Our mission was to avoid this at all costs! You just know it'll be a pain in the neck.
Here's the process we followed, including the belt and braces we did to try to ensure we were successful first time round. Bear in mind this was in late 2017 before the new requirements for an awning and graphics was introduced.
You must include the following evidence to support your application:
a completed motor caravan conversion checklist
a V5C showing one of the applicable body types
interior photos of each required features with the bed and table in the use position; the photos must show that there are 2 or more windows providing daylight into the main living accommodation on at least one side of the main body
exterior photos from the front, both sides and rear with the registration plates clearly visible
a photo showing the vehicle identification number (VIN) or the chassis number stamped on the plate attached to the original chassis or vehicle bodyshell
On the back of each photo, write a description of what the photo shows, the date and the vehicle registration number.
If you have a new style V5C with multi-coloured numbered blocks on the front cover, fill in section 1. The older style V5C, fill in section 7.
If you need to change the tax classification, print a V70 form and complete it
Download this covering letter and update it with your details before printing; don't forget to sign it
Send the photos, checklist, V5C, V70 and covering letter to DVLA , Swansea ,SA99 1BA .
The DVLA could can take up to 6 weeks to process the change and during that time, they're unable to confirm receipt of the application if they've not yet started the process.
For peace of mind, we sent our application by special delivery so we knew it had been delivered.
Here are all the photos we sent to the DVLA with our application. Nothing fancy as you can see and you can see just how far off the finished article she looks.
Changing your tax classification
Depending on your vehicle, you may need to change the tax classification you have completed your conversion. For example, Baloo was a 16 seater minibus and we converted her to a 2 seater camper van her tax classification changed too.
We didn't realise this at the time we asked the DVLA to re-register her as a motor caravan. Instead, they called us to let us know they needed to change her tax registration too.
Because both the old tax classification and the new attract the same fees, they said they'd deal with it all for us without the need for us to fill in anymore forms.
I suspect this was thanks to the nice guy at the DVLA dealing with our case rather than the standard process.
Our advice is to play it safe. Call the DVLA and check if you need to change the tax classification and send off the V70 form at the same time. Explain the situation on your covering letter.
Insuring your camper van
Once the DVLA registers your converted van as a "motor caravan" and you receive your V5C, you can insure it as a camper van. You can get a quote here.
Useful resources