Easter Island. Rapa Nui. Isla de Pascua. All names by which this tiny isolated island goes by. Yet one thing is for sure, Easter Island is a mysterious, tropical destination unlike any other.
Our Easter Island travel guide gives you everything you need to know before you visit, including things to see and do, places to eat and sleep and even a 1 week itinerary to get your travel plans off to a flying start.
Everything you need to know before going to Easter Island
Easter Island history – in brief
With no written history, not much is known with great certainty about Easter Island's history.
For decades academics, archaeologists and historians have tried to piece the past together. While they've had some success, Rapa Nui still holds onto some of its secrets.
The first king of Rapa Nui, Hoto Matu'a arrived at Anakena beach somewhere around 3-400 AD although some say nobody arrived until a few hundred years later.
Somewhere between 900 and 1600, the Rapa Nui carved the infamous Moai (pronounced Mo-eye) statues. Were they carved to represent ancestors? How were they transported to their Ahu (platforms)?
Were they placed to watch over the villages they represented? Or to mark natural freshwater sources? So much mystery surrounds the Moai.
Then came the almost abrupt end to the Rapa Nui culture. Again, any assurance of the reason for their downfall comes with some disclosure of the lack of certainty.
That said, those in the 'know' reckon the Rapa Nui suffered from a lack of food brought on by the erosion of the land after they felled most of the forests.
Starvation led to civil war during which time, clans insulted each other by toppling their Moai. By the time the first Europeans pitched up in the 18th century, the Moai were all toppled.
Chile annexed Easter Island in the late 19th century, leasing much of the land for sheep raising. They appointed a civilian governor in 1965 and the island's residents became full Chilean citizens.
Today the Rapa Nui make up around half Easter Island's population of 6000 and they're not all pleased to be Chilean!
So what's the name of this place? Easter Island or Rapa Nui?
The island got its name when some white European bloke pitched up in Easter Sunday on 1722 and decided he'd name it Easter Island.
As with many things introduced around the world by non-indigenous people, the name stuck and most people still refer to it as Easter Island today.
However, the island's true name is Rapa Nui. In fact, Rapa Nui is more of a description than a name and refers to its location at the edge of Polynesia.
The indigenous people of Rapa Nui are fiercely protective of their culture and heritage so if you're speaking to the locals, refer to it by its correct name – Rapa Nui.
Where is Easter Island?
Easter Island is at the southeastern most point of the Polynesian triangle, in the Pacific Ocean. Pitcairn Island is its closest neighbour, some 1770 km to the Northwest while mainland Chile is 3700 km to the East.
Easter Island is the most remote inhabited island in the world so getting there is a bit of a mission. Unless you're already in Chile, South America.
Take a look at the map below, and you really start to get a feel of just how isolated this place is. And measuring 15 miles by 7 miles it makes you wonder how the first Polynesian settlers even found it.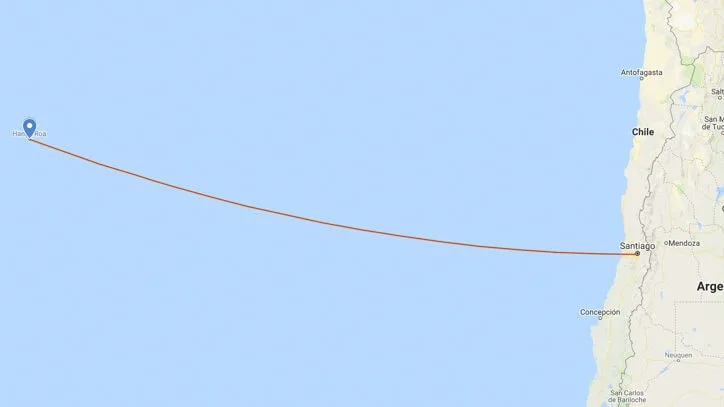 How to travel to Easter Island
Despite being a long way from anywhere, it's not as hard to get to Easter Island as you might think. And with some forward planning, you can save money on expensive flights too.
LATAM is currently the only airline to fly to Easter Island. They fly 2 or 3 plane loads of visitors in each day direct from Santiago depending on the season and the flight time is around 5 hours. They also have 1 flight per week from Tahiti.
Flights to Easter Island aren't cheap and can cost US $1000 or more each. We booked several months in advance though and visited in the shoulder season so reduced the cost significantly to US $350 each.
You can check prices with Expedia or Skyscanner but you're more likely to get the cheapest tickets direct from LATAM.
When to visit
High season on Rapa Nui is from January to March – the Southern Hemisphere summer.
The first 2 weeks of February are particularly popular for the annual Tapati Rapa Nui festival.
While the festival presents a fantastic opportunity to learn more about the traditional Rapa Nui culture, it also brings higher prices, more visitors and some local restaurants and businesses close to join in the festivities.
The winter months of July and August can get a little chilly but only down to around 15ºc — so the weather is rather pleasant year round.
We visited Easter Island at the beginning of April, so just at the start of the shoulder season. Its part of the reason our flights were so cheap.
The island didn't feel busy at all, bars and restaurants weren't packed and we even had some of the main attractions all to ourselves. Temperatures were perfect both during the day and at night although it did get a little humid on occasions.
April typically sees the highest rainfall on the island but with a tropical shower lasting little more than 10 minutes or so, it never interfered with our plans.
How long do you need to visit Easter Island?
Easter Island is tiny. Measuring a total of 163 square kilometres, driving from one end of the island to the other takes about an hour.
Most of the archaeological attractions and Moai are located within the Rapa Nui National Park (more on that in a moment) and there's loads to see.
Most of the advice we've read suggests a 3 or 4 day visit. While you can visit all the key attractions in a few days, we don't think it's enough time to really justify the 5 hour flight or get a feel for the laid back tropical island life.
We visited Easter Island for a week and recommend you do the same.
We chose the days we wanted to hire a car based on the weather forecasts when we arrived, had an entire day of lounging on the beach, saw all the attractions and never once felt rushed. By the end of our 7 days we were completely chilled out – almost fully fledged Rapa Nui.
Rapa Nui National Park fees
Almost 50% of the entire island is covered by Rapa Nui National Park and is a UNESCO World Heritage Site. The park is managed jointly by the Rapa Nui authorities and CONAF, Chile's forestry commission.
The National Park fees collected at Easter Island airport go directly to preserving the area, maintaining trails for visitors and providing tourist information.
The ticket grants you access to all the archaeological sites on the island. You can only visit Orongo village and Rano Raraku quarry once and all other sites as many times as you like.
Make sure to keep your ticket with you whenever you're out exploring because the rangers will ask for it at many of the entrances.
How to get around Easter Island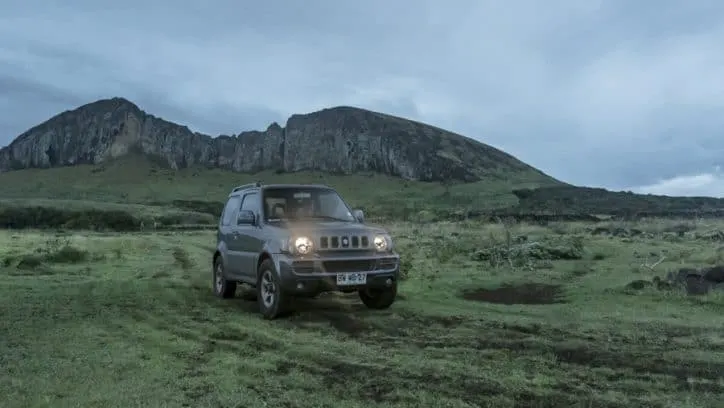 On foot
Although Rapa Nui is small, most of the island is uninhabited. Hanga Roa is the only town and has no public transport. There's a few things to do in and around Hanga Roa so walking and hiking are good options.
By bike
You can also arrange bicycle hire from your hotel or from town. If you're planning on hiring a bike check your route first with your hotel staff. Not all the hiking tracks are manageable on a bike because of the terrain and some access roads are rather steep.
Easter Island tours
To see the archaeological sites around the island you have a couple of options. There's plenty of organised Easter Island tours you can book.
While you may not be able to spend the time you'd like at each site, the tours do come with a knowledgeable local guide. We didn't take any tours but we could see they're rather popular. Take a look at the options for tours here.
If you want the benefit of the local knowledge, you could always take a full day tour before hiring a car and exploring at your leisure.
Car Rental
We think the best way to explore Easter Island is with a rental car. There's loads of car rental companies to choose from in Hanga Roa but check with your hotel too and compare prices.
We were quoted 80000 CLP per day in Hanga Roa but our hotel owner let us have the same type of vehicle for 30000 CLP. And he let us have it for a 4th day free of charge!
Bear in mind, most cars in Easter Island have manual or shift gears. If you want an automatic you're going to pay a premium.
There's 2 fuel stations near the airport in Hanga Roa and fuel prices are the same as on mainland Chile. You'll be hard pushed to need a full tank even for 3 days rental.
Remember too, there's no car insurance in Easter Island so you pay for any damage you cause.
Looking for an epic adventure in Chile? Is the Atacama Desert epic enough for you?
Easter Island travel costs – what can you expect to pay?
Easter Island isn't cheap, especially compared to mainland Chile (which also isn't cheap). Located in the middle of the Pacific Ocean far from land this shouldn't be a surprise.
You can save money by booking flights well in advance and looking for good deals on accommodation outside of the high season.
For us, food was the greatest portion of our spend after flights and accommodation. We'd read that restaurants are really expensive but our experience was that the drinks took the lion's share of the bill.
One beer is around 4000 CLP, a glass of wine upto 7000 CLP. So with both of us having a couple with dinner, the bill soon added up. Our budget certainly didn't stretch to a night out on the town in Hanga Roa.
We stayed at a simple guesthouse, Hotel Tekarera. It wasn't the cheapest nor the most expensive accommodation on the island. More to follow below on accommodation in Easter Island.
Our travel expenses in Easter Island
Here's the breakdown of how much a week in Easter Island for 2 people cost us, including our return flights from Santiago. Prices are in US Dollars.
Flights: $700
Accommodation: $800
4 days car hire: $134
National Park fees: $160
Restaurants and bars: $450
Food shopping for picnics: $40
Fuel: $25
Souvenirs: $0
Total: $2309 for 2
We paid an additional 49000 CLP or US $72 for secure parking for Baloo near Santiago airport.
We don't buy souvenirs because we simply have nowhere to store everything we could possibly buy on a long term trip. But if you're on a short vacation, budget at least US $50 for souvenirs.
We already have an annual travel insurance policy so we've not accounted for that here. Make sure to book your travel insurance in advance too.
Things to see and do in Easter Island
From sunsets at mysterious stone statues to lounging on tropical beaches, here's our top things to see and do in Easter Island.
Start your day with sunrise at Ahu Tahai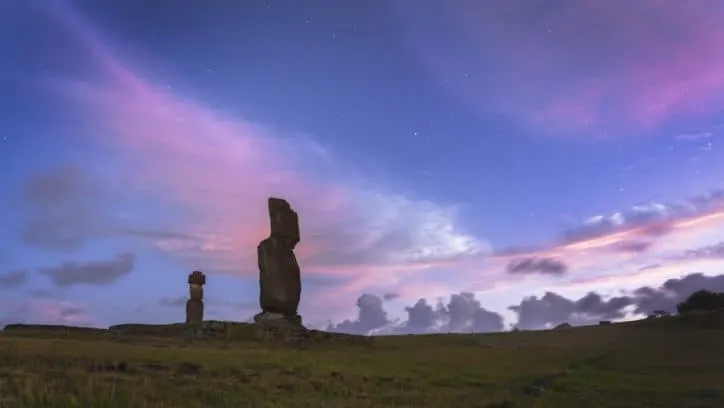 Ahu Tahai is within a short 5 or 10 minute walk from Hanga Roa along the coastal path. Not just a ceremonial site, Ahu Tahai is one of the oldest settlements on the island dating back almost 1500 years.
The remains of boat-houses or hare paenga used by the families living here can still be seen.
The 3 Ahu sit on a small rocky cliff above the ocean. Five Moai statues stand on Ahu Vai Uri.
Next to them stand a rather weathered Ahu Tahai and perhaps the finest looking Moai is Ahu Ko Te Riku, wearing a pukao upon his head, glaring through his reconstructed eyes.
Whilst the site is popular at sunset, sunrise is just lovely. The first sun rays of the day cast their light upon the Moai and you'll have the place pretty much to yourself.
Sunset at Ahu Tahai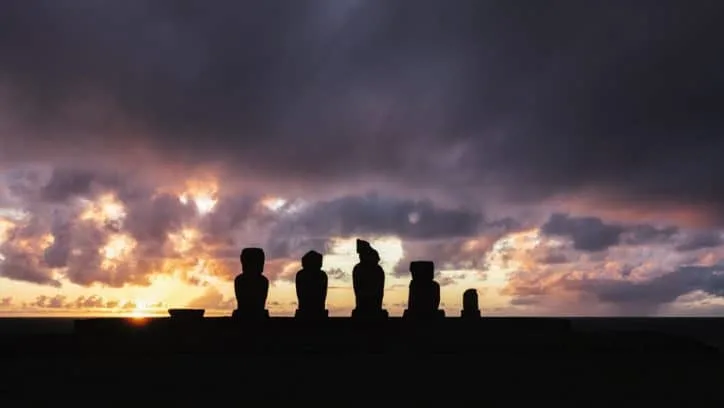 With the sun setting over the Pacific Ocean, the silhouettes of the Moai against the evening sky is phenomenal. Because of its proximity to town, sunset at Ahu Tahai is quite popular and a lovely way to see out the day.
Visit Ana Te Pahu aka Banana Cave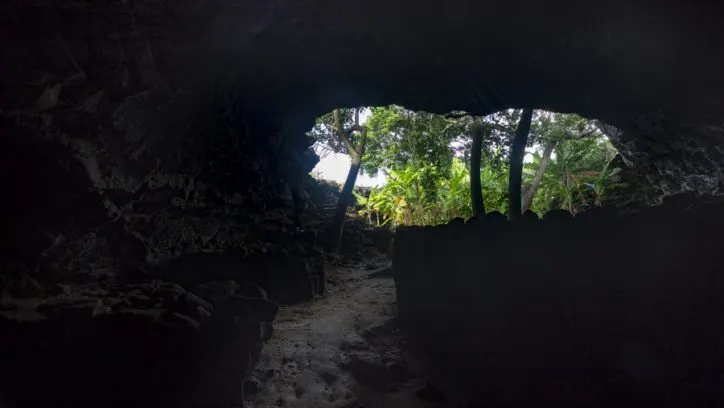 Because Rapa Nui is a volcanic island, there's loads of lava tube caves all over the island. The largest lava channel is Ana Te Pahu, stretching for 7 kilometres around Rapa Nui. It's also known as Banana Cave because banana trees guard the entrance to the cave.
From the parking area, it is about a 1 mile hike along a dirt road to the cave entrance. The cave winds deeper underground leading to a small reservoir, historically important for the Rapa Nui people.
Bring water for the hike and a torch for inside the caves – it's pretty dark down there. Access is a little steep and slippery and the lava tube can be pretty muddy so wear sturdy footwear.
Explore Ahu Akivi – the island's only sea facing Moai statues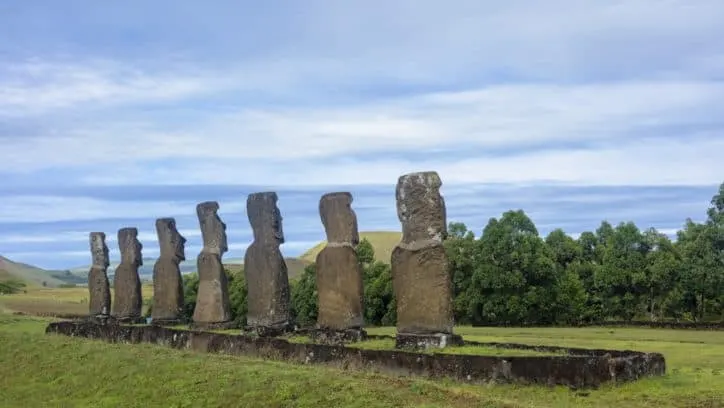 The Moai statues of Easter Island don't face out to sea, but rather look inland so facing the villages they represented.
The only exception to this is Ahu Akivi, which does face the ocean and is also situated a little inland. Despite numerous theories about the reason for this, in all likelihood it's because the village was built on the edge of the sea, so there was no room for the Ahu.
Regardless of the reasons the 7 Moai statues are believed to symbolise the seven explorers that were sent out to find the island. It's a wonderful site and you get to walk all around the statues.
If you've hired a car, make sure you wait for any tour buses to leave before you enter. You'll have the place to yourself.
Check out Puna Pau – the top knot quarry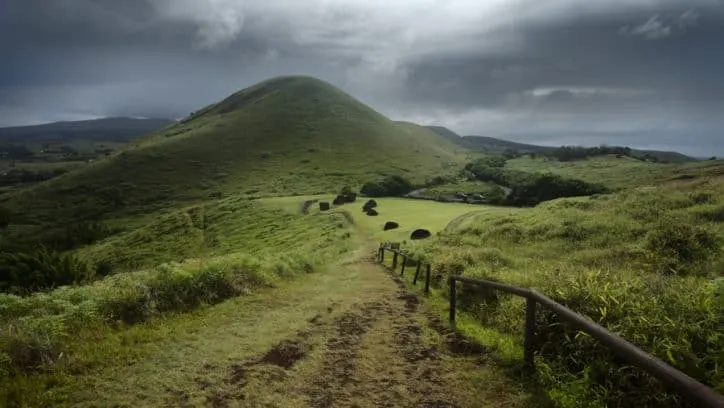 Some of the Moai you'll see around Easter Island have what looks like a hat on top of their heads. These are known as Pukao and actually represent a hairstyle rather than a hat.
The stone from which they're made is red and different to the rest of the Moai statue.
Puna Pau is the quarry from which the red scoria Pukao were carved. You'll see a few ready to be transported too that never made it to their Moai's head.
Lounge on the tropical beach a Anakena Beach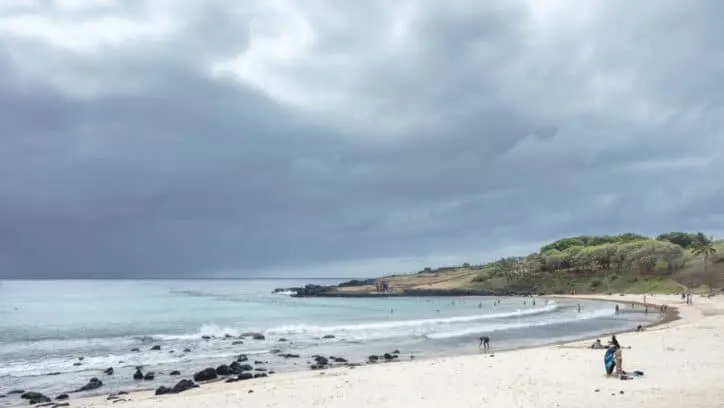 Surely no trip to a tropical island would be complete without a fine sandy beach. And Easter Island doesn't disappoint. Although much of the island's coastline is rather rocky, Anakena beach is an absolute gem.
And overlooked by the 7 moai of Ahu Nau Nau and hemmed in by tall palms, this is the perfect place to while away an afternoon.
Stare into the naval of the world at Te Pito Kura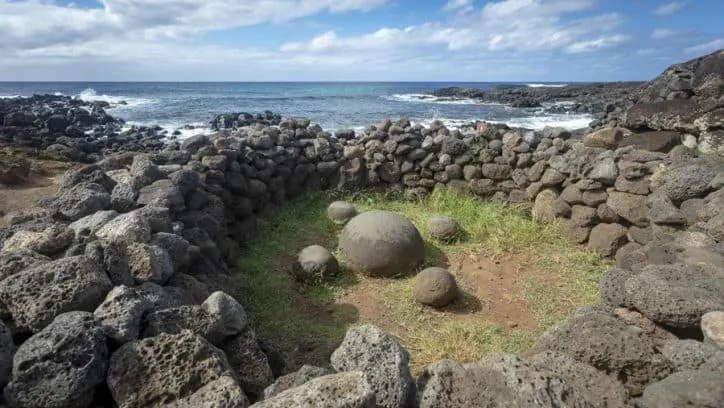 At Te Pito Kura, you can visit what is known locally as the naval of the world. The large stone seen in the photo is said to hold magical properties.
Legend has it Easter Island's first King, Hotu Matu'a brought it from his native land, it's magnetic and possesses a special energy.
Now whether it does or not, someone must have thought there was something pretty special about it to have shipped it here many centuries ago.
The largest Moai ever transported is also just around the corner although sadly broken up. It would have stood over 30 feet tall and weighed over 80 tons. That's an impressive size statue!
Hunt down some of the island's petroglyphs at Papa Vaka
Easter Island has hundreds of petroglyphs all over the place so keep your eyes peeled as you explore the island. A
t Papa Vaka you can see many petroglyphs connected to the sea. You can clearly distinguish fish, canoes, octopus and fishing hooks.
It's fascinating to think how the Rapa Nui people were able to make these carvings so long ago and they've lasted for us to still enjoy them now!
Start a day with sunrise at Ahu Tongariki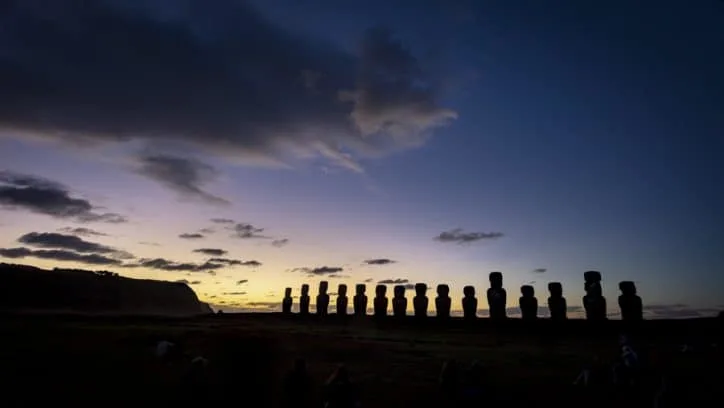 Ahu Tongariki is home to the most famous 15 Moai statues on Easter Island. This is the view you've seen on all those documentaries and probably the inspiration for you considering to travel to Easter Island at all.
It's an amazing place and particularly popular at sunrise. Not all sunrises are the same, so try to make it there as often as you can while you have your rental car. The gates open around 7am, depending on the time of sunrise. Get there early as it can get busy.
Miss the crowds and visit Tongariki in the afternoon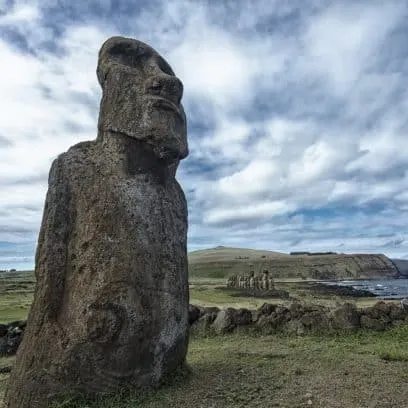 If you want to explore this fabulous site more peacefully, visit Tongariki in the afternoon. The sun will shine on the statues faces and you'll only have to share the place with a handful of other visitors instead of the throngs of sunrise chasers.
Explore the coastline and bring a picnic too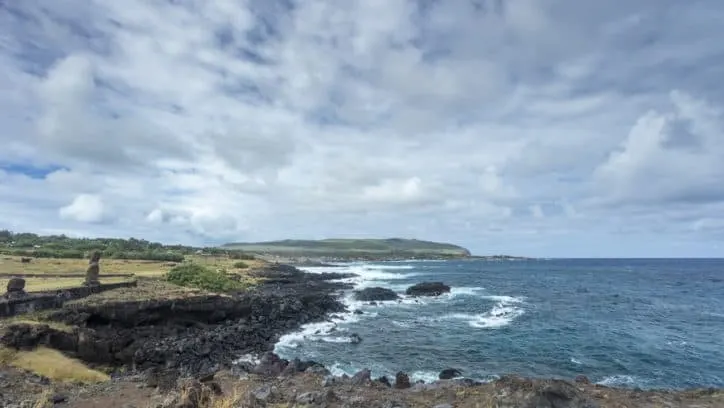 Most of Easter Island's coastline is wild and rugged. It's not possible to drive all around the coast but there's walking paths around most of it. Pack a picnic in your back pack and head away from the tourist attractions to explore on your own.
Visit the spectacular Rano Raraku quarry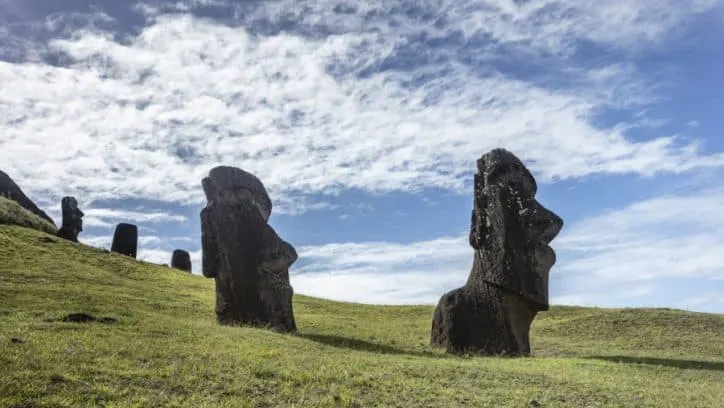 Rano Raraku is the most extraordinary archaeological site on Easter Island. This is the birthplace of each and every Moai statue. The enormous Moai were carved from the rock, right here on the Rano Raraku volcano.
You can see almost 400 Moai here. Some are complete, waiting to be transported to their Ahu's. Others are damaged, seemingly knocked over while being transported.
Yet more are in varying degrees of completion. It's simply fantastic. You just have to go and see this for yourself.
You can only visit Rano Raraku quarry once with your Rapa Nui National Park ticket so make sure you visit in the morning. We saw tour buses dropping off their passengers and giving them 35 minutes to look around.
We spent 4 hours here! It's that incredible!
Learn more about the Rapa Nui Moai statues at Easter Island's only museum
Rapa Nui only has one museum and while it may not be a match to some of the world's incredible national museums, we thoroughly enjoyed Museo Antropologico Padre Sebastian Englert at the north end of Hanga Roa village.
There's loads of information about the archaeological sites around the island and theories as to how the statues were constructed and moved into position.
A must see early into your visit to Easter Island to help put some context around the things you're about to see. It's only a small museum and will take little more than half an hour or so to read all the displays.
Visit Orongo village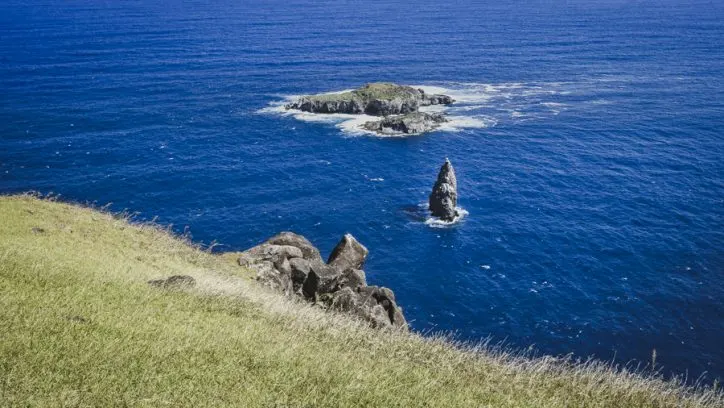 Located beside the Rano Kau crater, Orongo village is a special place in Easter Island. Balanced on a tiny strip of land on the edge of the crater, the stone houses date back to the 15th century.
Towards the end of the 17th century, the Rapa Nui culture established an interesting way to determine who should rule the island for the following year.
As spring approached, clans elected a representative – a hopu manu. All elected hopu manus would descend the 300 metre vertical cliff and, if they survived the descent, swim to Motu Nui, one of the islands off shore.
Here they'd wait for the seasonal arrival of a bird, the sooty tern, who came to the island to breed.
The winner of the birdman competition was the first hopu manu who retuned to Orongo village with a sooty tern egg, intact. The head of his clan was declared the leader of Rapa Nui until the following spring.
Visitors to Orongo village today can expect plenty of information about the Birdman competition in the visitors centre and terrific views out towards Motu Nui Island. Take time to spot the petroglyphs here too.
Hike the crater rim at Rano Kau crater

Rano Kao crater is an impressive sight on the way upto Orongo village. Now extinct, it was one of the 3 main volcanoes to form Easter Island. A unique ecosystem thrives within the huge caldera.
Rainwater collects in the lagoon below and reeds flourish here. The same reeds can be found in Peru, supporting those theories claiming the Rapa Nui were taught building skills by the Peruvian Inca.
A footpath leads around most of the crater, perfect for hiking. It'll take about 2 hours from Orongo village return and well worth the effort for the peaceful views.
Spot green turtles at Hanga Roa harbour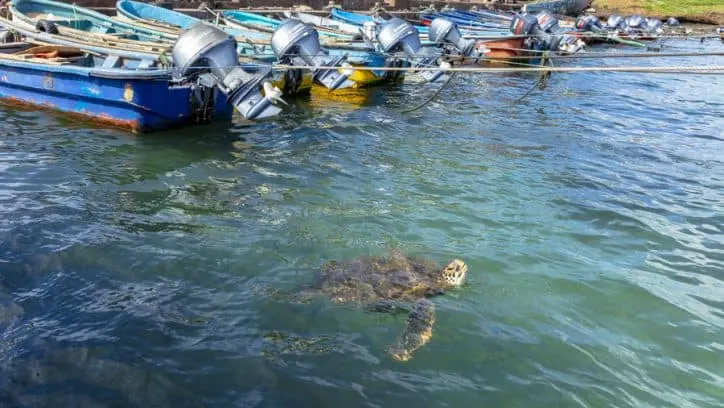 Green turtles are endangered and even if they weren't, life for a baby turtle is tough. As they adapt to a life at sea, they soon find themselves on the menu for pretty much everything below the surface and a few things above it too!
So when a young turtle happens upon a tropical island such as Rapa Nui, it serves as the perfect safe haven. The natural harbours around the coast offer shelter and at Hanga Roa, even a few scraps of food from the returning fishing boats.
These green turtles spend months, in some cases years, in the relative safety of Easter Island as they grow up. You don't even have to go snorkelling to spot them.
Sit down beside the fishing and diving boats at the harbour and watch. It won't take long before a green turtle pops up for air.
Indulge in the freshest fish supper
Surrounded by the Pacific Ocean, it's no surprise fish dominates the restaurant menus. You only have to ask in a few restaurants what their fish of the day is to know what the fishermen brought in the same morning.
Tuna, barracuda and mahi mahi or dorado all feature heavily and the Easter Island lobster is incredible.
By far our favourite was the ceviche, amazing especially washed down with a glass of Austral beer. We had the best ceviche on the island at Café Oheho Surf whilst watching surfers riding the waves at sunset.
Get your passport stamped
Coming from mainland Chile you don't get a stamp in your passport on arrival at Easter Island because you're still technically in Chile.
But for fun, you can head on down to the Tourist Information office who will gladly give you a Rapa Nui stamp in your passport.
They were even good enough to use an old page for us so they didn't use up any valuable space. This is the most touristy thing I think we've ever done!
Self-guided tour of Easter Island – A one week itinerary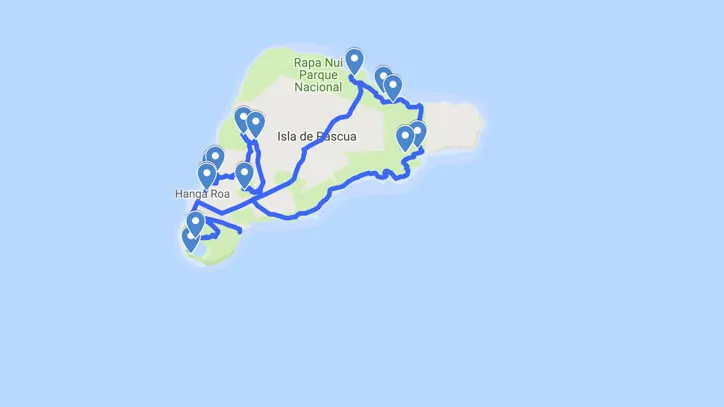 Day 1 – Arrival and Hanga Roa
5 hour flight to Easter Island and collect your Rapa Nui National Park ticket.
Settle into your accommodation.
Stroll around Hanga Roa and check out the green turtles in the harbour.
Sunset at Ahu Tahai.
Return to Hanga Roa for dinner.
Day 2 – Sunrise, museums and hiking
Enjoy your first Easter Island sunrise back at Ahu Tahai.
Return to your accommodation for breakfast.
Pick up some fruit, fresh bread and maybe even a bottle of wine for an afternoon picnic.
Visit to Museo Antropologico Padre Sebastian Englert.
Take a hike (or stroll) along the coast line (make it as long or as short as you like).
Stop along the coast for a picnic overlooking the Pacific Ocean.
Return to Hanga Roa for dinner.
Day 3 – Car hire, Ana Te Pahu and Puna Pau
Collect your hire car this morning.
Visit Ana Te Pahu aka Banana Cave.
Explore Ahu Akivi.
Check out Puna Pau.
Return to Hanga Roa for dinner.
Day 4 – Sunrise at Ahu Tongariki, Rano Raraku quarry
An early start for sunrise at Ahu Tongariki – bring breakfast with you because you won't return to town until after lunch.
Spend the rest of the morning at Rano Raraku quarry.
Have lunch at the restaurant at the entrance to Rano Raraku.
You will be whacked after the morning activities so spend the afternoon relaxing before dinner in hangs Roa.
Day 5 – Spend the day at Anakena beach
Spend the day at Anakena beach at the far end of the island. There's food outlets and restaurants here too so you won't go hungry!
Visit Ahu Tongariki in the afternoon en route back into Hanga Roa.
Visit Te Pito Kura and the petroglyphs at Papa Vaka too – these places don't take long to visit.
Day 6 – Hike to Orongo village and Rano Kau crater
If you've already given the car back, this is a great day out. You'll work up an appetite on the hike up the hill so make sure to pack come lunch.
Day 7 – Island life
Spend your last full day on Easter Island immersing yourself in island life.
Get your passport stamped in town.
Spend some time in the splash pools in Hanga Roa, surfing or maybe even a spot of snorkelling.
Relax, kick back and enjoy this magical tropical island, miles from anywhere.
Day 8 – return flight to Santiago
Where to stay in Easter Island
All accommodation on Easter Island is centred in and around Hanga Roa. While the island is small, the choice of accommodation is wide with something to suit every budget.
Yet it does get booked up well in advance and often you can secure the best prices by booking early.
Where we stayed
We stayed at a simple guesthouse, Hotel Tekarera. The rates included breakfast, a good wifi connection (yep – even in the middle of the Pacific Ocean) and a wonderful host.
The location was is a stroll from downtown Hanga Roa and completely perfect for sunrises and sunsets at Ahu Tahai.
Camp sites
There's a few campsites in Hanga Roa and by far the most popular is Camping Mihinoa. Located in Hanga Roa across the road from the beach you can set up your tents facing the Pacific Ocean.
For around US$42 per night, Camping Mihinoa comes with shared kitchen and bathroom facilities, the site can also arrange hire of camping equipment to save you carrying your own.
Best of the rest
Complete luxury: Explora Rapa Nui is a 5 star hotel offering an all inclusive package. This is far from a cheap option but everything is included from all meals, drinks, excursions around the island and even snorkelling.
Great value: Hostal Pumakari is right in town and is highly favoured by travellers who have stayed here. With a garden, shared kitchen and outdoor barbecue, it's perfect for a bit of self catering to help the budget too.
If you'd prefer more budget accommodation, make sure to check out Hostelworld for their latest rates and availability.
Where to eat in Easter Island
Dining in Easter Island is all about seafood. What else? Surrounded by hundreds of miles of Pacific Ocean, you'd expect nothing less. Carnivores can still get steak or chicken dishes too.
Eating out isn't cheap, especially when you're travelling on a budget as we do, but it won't break the bank either. Both imported drinks and meals are expensive compared to the mainland but that's to be expected when you consider how far they've had to travel to reach your plate.
We ate at a different restaurant every night we spent on Easter Island and these were our highlights.
Cafe Oheho Surf
Cafe Oheho Surf is more of a café than a restaurant we had the finest ceviche served on the whole of Easter Island. Beautifully presented and perfect with a cold beer – just another perfect end to a day in the Pacific Ocean.
Pea Restaurant
Pea Restaurant is the oldest restaurant in Rapa Nui boasts one of the best positions on the coast. The cooked fish served here was by far the best I think I'd ever tasted – anywhere. With fresh produce, delightful seafood sauces and specialities unique to Pea this is a must visit at least once on your trip. It's perfect for carnivores like Graham too!
Te Moana
Sadly we didn't at Te Moana but enjoyed evening cocktails after we'd enjoyed a late lunch elsewhere on our final day. It was the most atmospheric restaurant we'd been in and perfect for enjoying the Pacific sunset, inches from the lapping water. The food looked incredible too with far bigger portions than we'd seen all week.
Like it? Pin it!