El Chalten is one of the best places for hiking in Patagonia.
Located inside Los Glaciares National Park in Argentina's Santa Cruz province, the town lies in the shadow of one of the most famous views in all Patagonia.
While Mount Fitz Roy is the most well known landmark, there's a lot more to discover in the area too.
When you get to the town, you'll see many people taking on epic day hikes and multi-day treks.
As the trekking capital of Patagonia, there's no shortage of hiking opportunities to suit every level of fitness.
You can do easy day hikes and some of the multi-day hikes, with well marked trails, as self guided tours.
In the high season, there's plenty of people around and with safety in numbers, guided tours aren't essential.
But they're great to explore further afield or if you don't want to take on some of the trails alone. You can join one of the many guided tours right from the centre of town.
We've rounded up the best El Chalten tours and activities here so you can pick those that suit you best.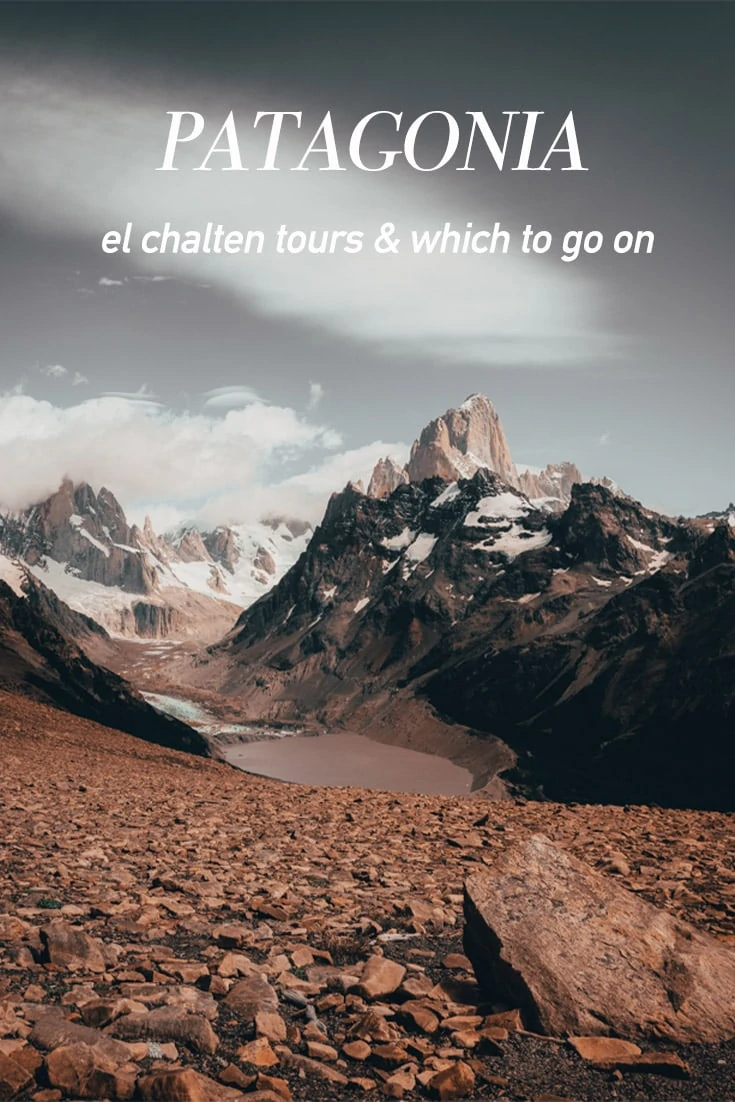 When you click on links to various merchants on this site and make a purchase, this can result in this site earning a commission. As an Amazon Associate we earn from qualifying purchases. For more info, please check our disclosure page.
About El Chalten
So you've decided you want to visit El Chalten in Argentinian Patagonia! Great idea!
You may already have done your research about hiking in El Chalten and the Mount Fitz Roy trails and now want to put your itinerary together.
Even if you're not an experienced hiker, or prefer the company of other like minded travellers, there's a massive range of things to do in El Chalten.

It's no surprise the trekking capital of Argentinian Patagonia has a few multi-day hikes. So if you fancy a challenge in some of the most breathtaking scenery in the world, you're in the right place.
Try sailing across lakes to get up close to glaciers. The more adventurous can go rock climbing, ice trekking, even snorkelling!
For something more sedate, there's plenty of short, easy walks to take in the enormity of this beautiful place.
Laguna de los Tres Full-Day Trek
Oh you're in for a treat with this day trip!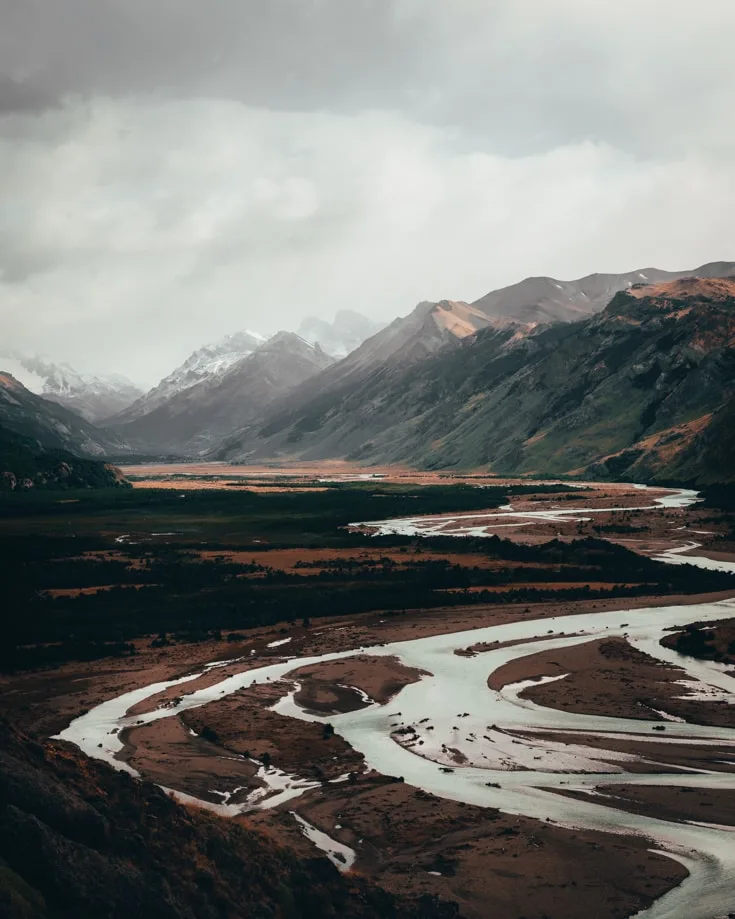 All those images of glaciers, turquoise lagoons and cloud covered granite mountain peaks that probably attracted you to Patagonia in the first place become your reality.
It's a long day, but worth every step. You'll pass some of the most fabulous panoramas throughout the hike, including Capri Laguna, Laguna Sucia, and Piedras Blancas Glacier, to name just a few.
The final 400 metres is tough and takes about an hour. It took us a little longer with a bit of scrambling and climbing over hefty boulders.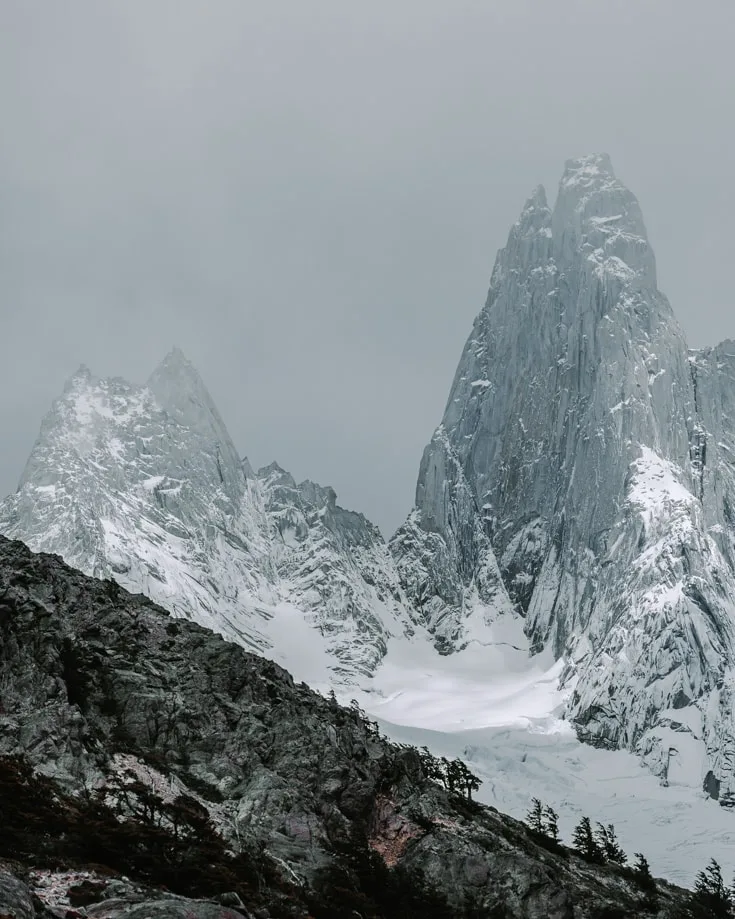 But so long as you're reasonably fit, it won't pose much of a problem.
Knowing the iconic view of the Mount Fitz Roy and Laguna de los Tres is waiting at the top should be enough to spur you on.
This is one hell of a wow moment.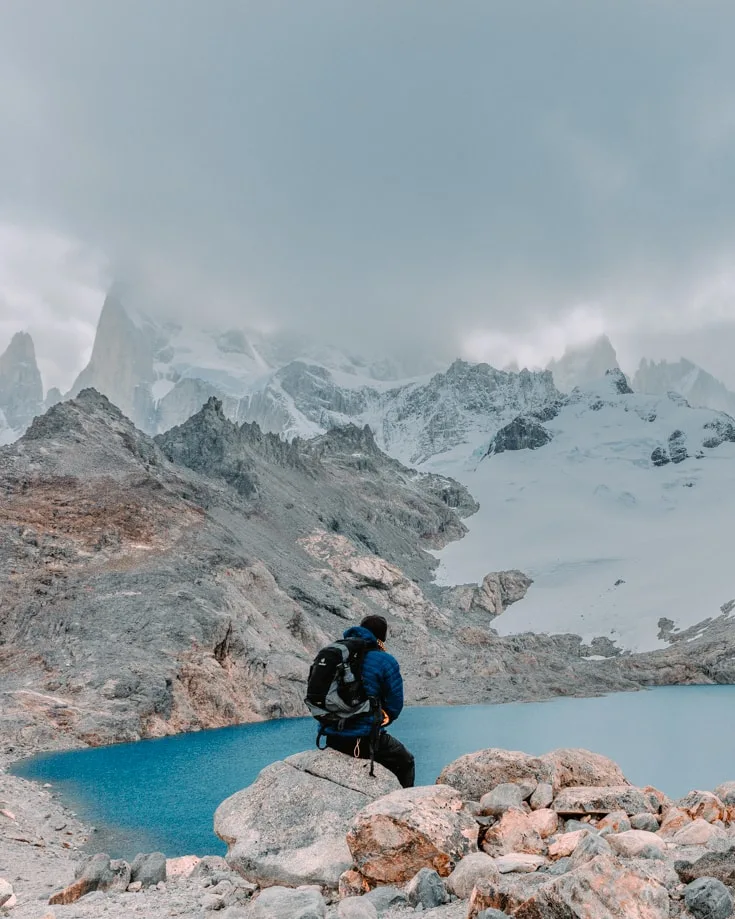 The trail is well signposted for those who'd prefer to do this as a self guide hike. For everyone else, you'll be in the capable hands of a certified guide who will give you lots of information about the area throughout the day!
Book your Laguna de los Tres Full-Day Trek now.
Cerro Torre Mirador guided tour
There's no doubt the small town of El Chalten has incredible scenery.
This is another one of the popular El Chalten hiking tours to yet another magical viewpoint at Cerro Torre Mirador lookout.
You can see the Cerro Solo, the Adela range and the 10,000-foot, near-vertical Cerro Torre. Then there's an alternative perspective of the unmistakeable Mount Fitz Roy, with icebergs floating in Laguna Torre below.
This is a 17 kilometre round trip hike from El Chalten. The final ascent up to the lake is over a steep moraine.
The loose glacial debris can make for slippery conditions but keep an eye out for dainty slipper orchids among the shale like terrain.
Book your Cerro Torre Mirador guided tour now.
Multi-day El Chalten trekking tours
Feeling especially adventurous? How about limbering up for a multi-day trek in the Southern Patagonia Ice Field or the lesser visited Huemul Circuit?
These are both adventurous treks taking in some of the least seen vistas in the region.
The Huemel Circuit takes 4 days and you'll need to be fit for the intense trekking and camping this tour involves.
There's a couple of rivers you need to rappel across and the difficulty tends to keep most people away.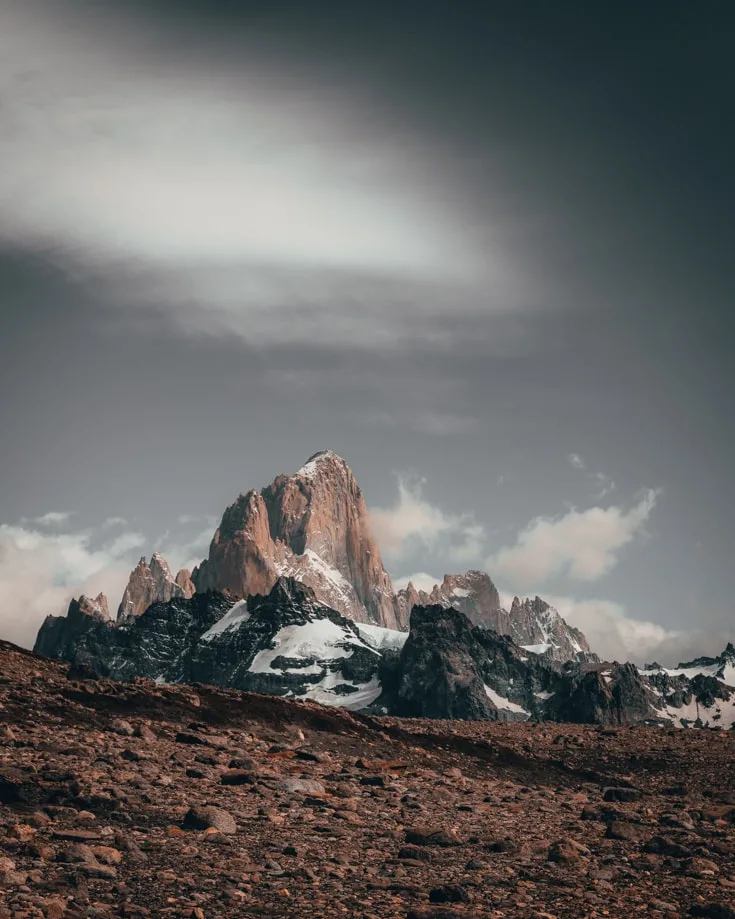 The upside is you get views of huge icebergs floating in shimmering lakes, sunrises over glacial lagoons and uninterrupted panoramas of the Southern Patagonian Ice Field all to yourself.
Any specialist gear is provided so you don't need to worry about tents, cooking gear and safety equipment.
Book your Huemul Circuit trek now.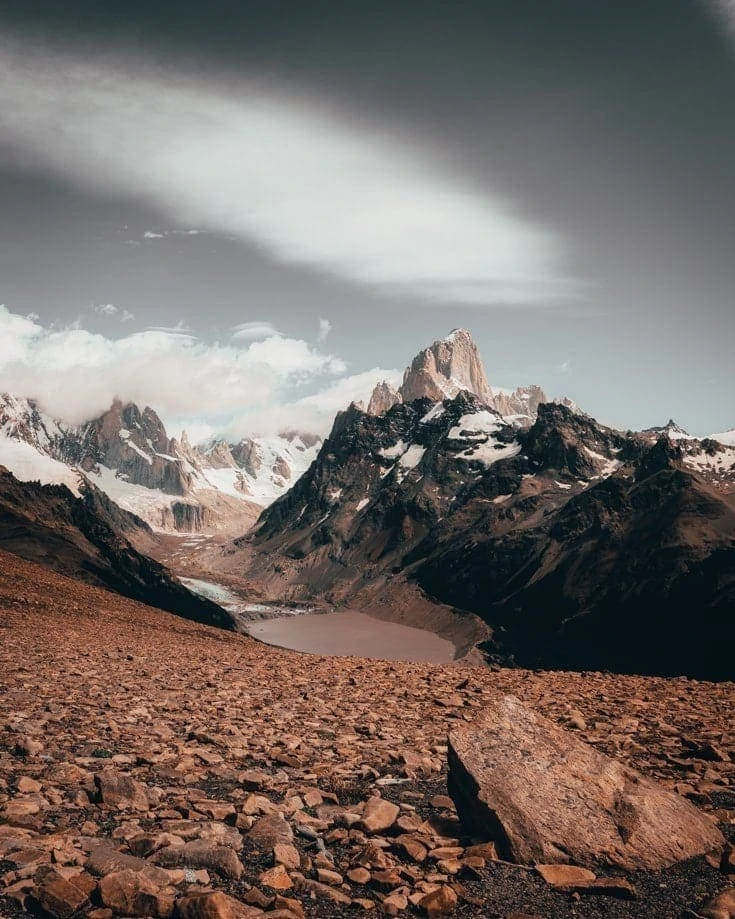 For the ultimate adventure, how about an 8 day guided expedition through the vast Southern Patagonia Ice Field? It's a 90 kilometre hard core trek so not for the faint-hearted.
While you don't need any technical experience, this trip from El Chalten is tough.
Expect long hiking days, steep climbs with heavy backpacks and in places, you'll need to don snowshoes or crampons!
It all adds to the adventure of this once-in-a-lifetime experience. And the rewards? Dazzling views of the Fitz Roy and Cerro Torre mountains, the Paso del Viento glacier tunnel, Circo de los Altares and Laguna Ferrari and so much more!
Book your trek in the Southern Patagonia Ice Field now.
Glacier trekking day trips from El Chalten
With El Chalten located inside Los Glaciares National Park, boat trips and glacier hiking tours are on offer too.
For a sedate, full day tour from El Chalten, take a journey through the woodlands and back roads hugging Rio de las Vueltas to Lago del Desierto and the end of the road.
Sailing across the lake, you'll pass the amazing views of Huemul and Creston glaciers until you arrive at the tiny northern port.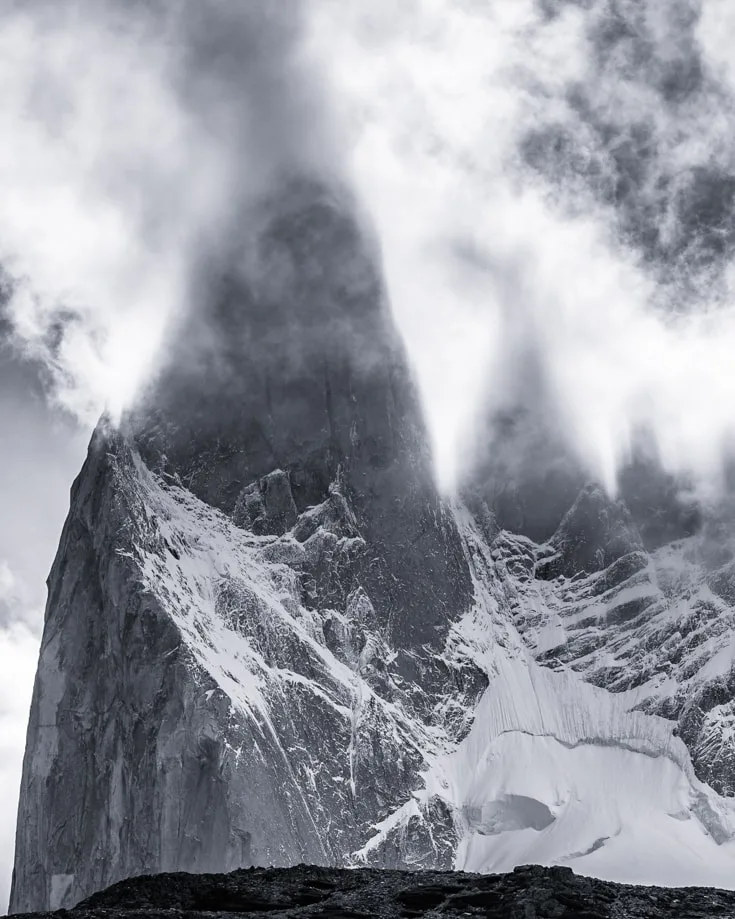 From here you can hike one of the trails in Vespignani Glacier Reserve.
A little under an hour, on pretty uneven ground, will reward you with unique views of the northern face of Mount Fitz Roy and a panoramic viewpoint overlooking the glacier.
If the clamber is too much, choose the easier flat trail through the forest and along the coastline before your return trip to El Chalten.
Book your glacier trek from El Chalten now.
For something more strenuous, Cagliero Glacier ice trekking is a popular tour option.
Your professional guide will help you with the use of crampons and safety equipment for what promising to be an exciting hike, ending with walking on an actual glacier.
More adventure activities and tours from in El Chalten
While you're in this spectacular Patagonian landscape, why not try your hand at some adventurous outdoor pursuits.
From El Chalten, you can go rock climbing (looks terrifying to us), rafting and even snorkelling!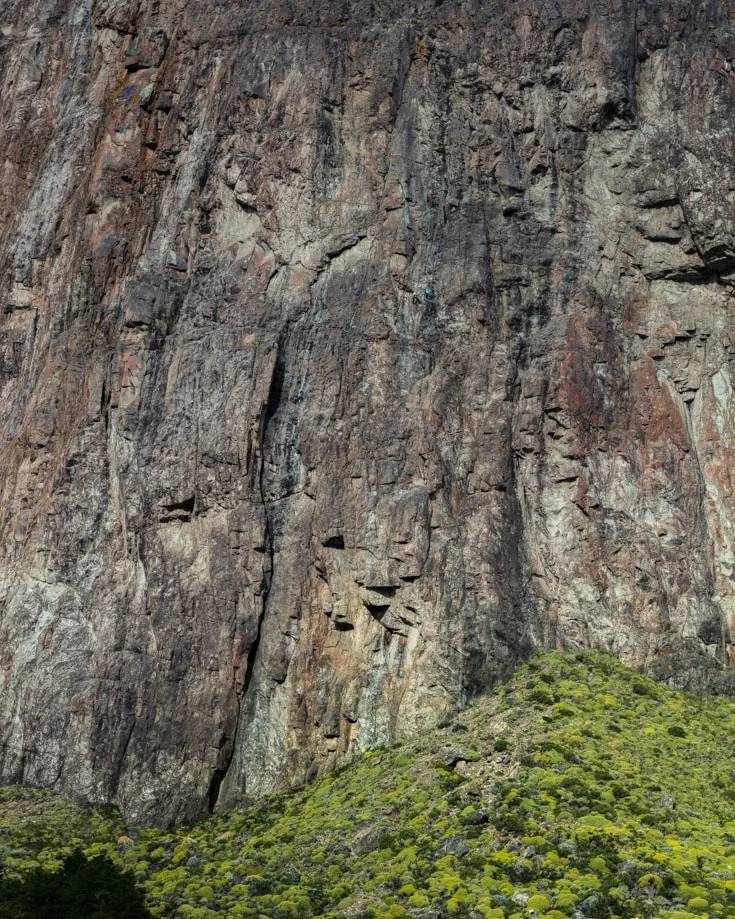 Looking for a more sedate adventure? Try horseback riding through lenga forests or a guided tour on mountain bikes to see glaciers, lagoons and waterfalls.
Day trip to El Chalten from El Calafate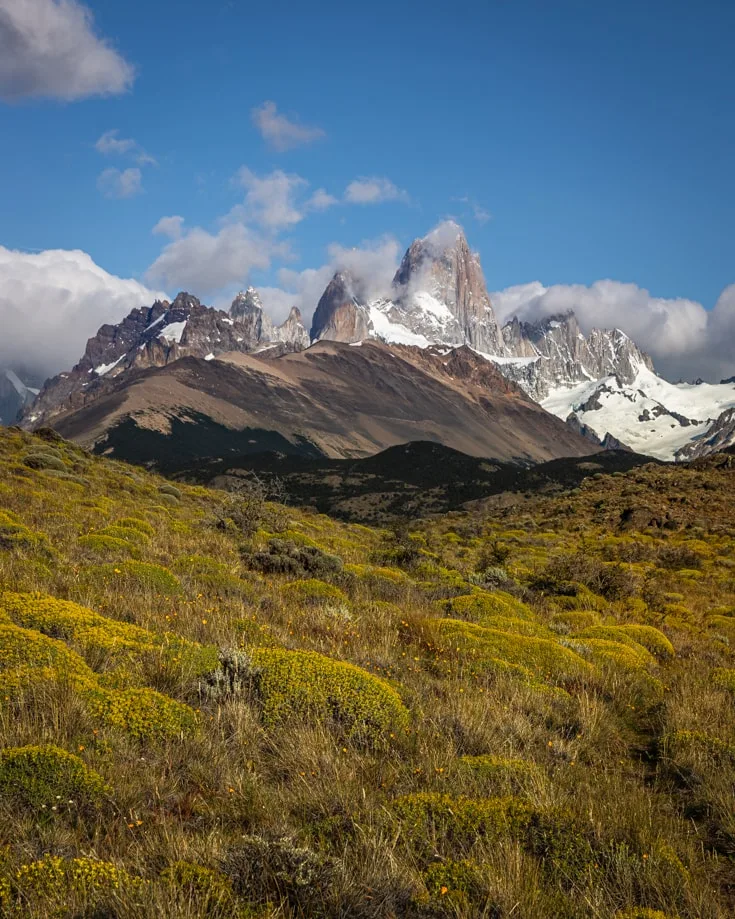 Most people arrive in El Calafate and visit the spectacular Perito Moreno Glacier.
If you have limited time and unable to fit a few days in El Chalten into your Patagonia itinerary, a day trip from El Calafate will ensure you don't miss the phenomenal sight of the Fitz Roy Massif looming over the town below.
Start your day following the shore of the aquamarine Lake Argentino, before hitting the golden Patagonian Steppe and the legendary Ruta 40.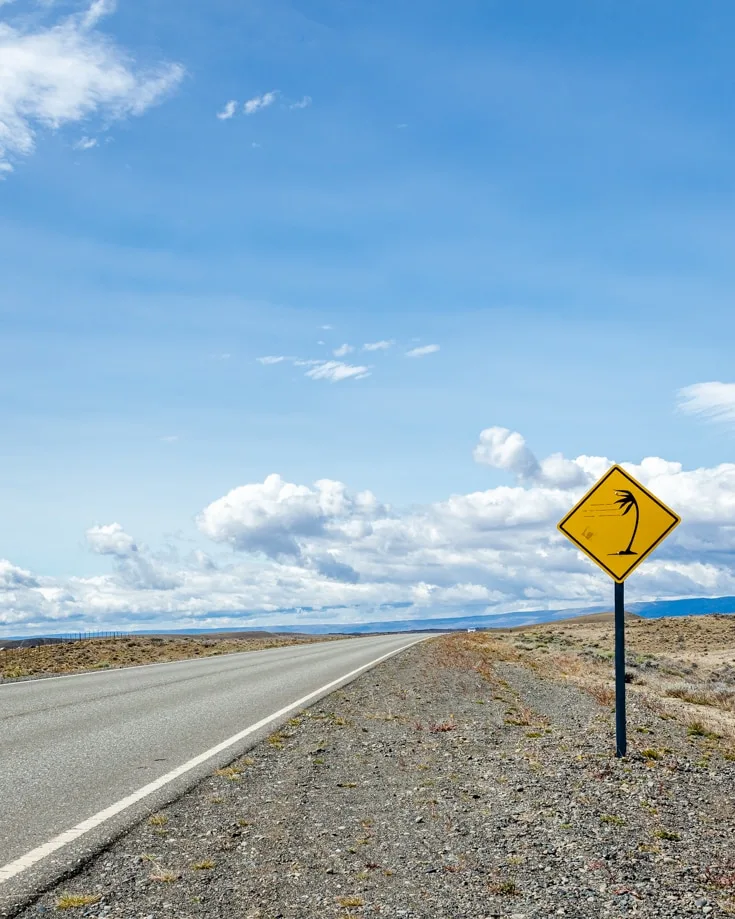 As you approach the half way point between El Calafate and El Chalten, stop for an incredible slice of lemon pie and coffee at La Leona roadhouse.
The same roadhouse Butch Cassidy and his accomplices laid over on the run after their (alleged) robbery in Rio Gallegos.
Turning off Ruta 40, the road skirts Viedma Lake as you drive towards the Fitz Roy Massif. Watch out for condors and guanaco as you go and full on panoramic views of Viedma Glacier!
With the fully guided tour, you'll visit the ranger's station on the outskirts of the town to learn about the flora and fauna of the region.
Next up, an easy, short guided hike to Chorillo del Salto.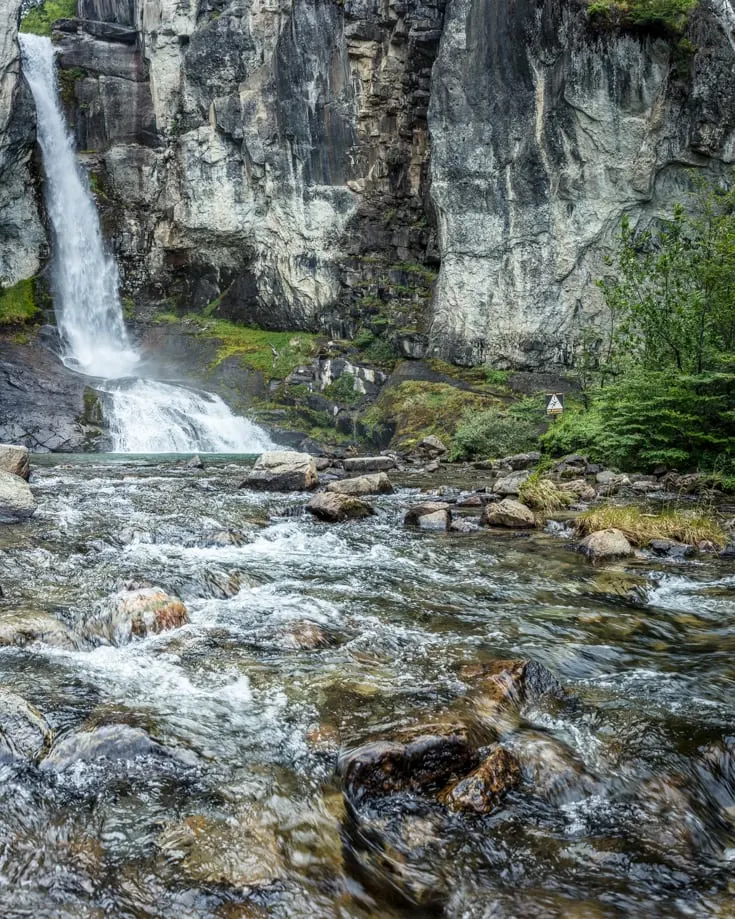 As you reach the impressive waterfall, you can clamber across rocks in the fast flowing water and feel the cascading mist on your face.
After a leisurely lunch, it's time for something a little more strenuous as your guide accompanies you on a hike to Mirador de los Cóndores and an eagle lookout. Condors, eagles and unique views of Mount Fitz Roy and Viedma Lake await!
Book your day tour to El Chalten from El Calafate now.
More El Chalten tours
El Chalten is an outdoor lovers town and you can see from these guided tours and day trips, it's not just for the mega fit.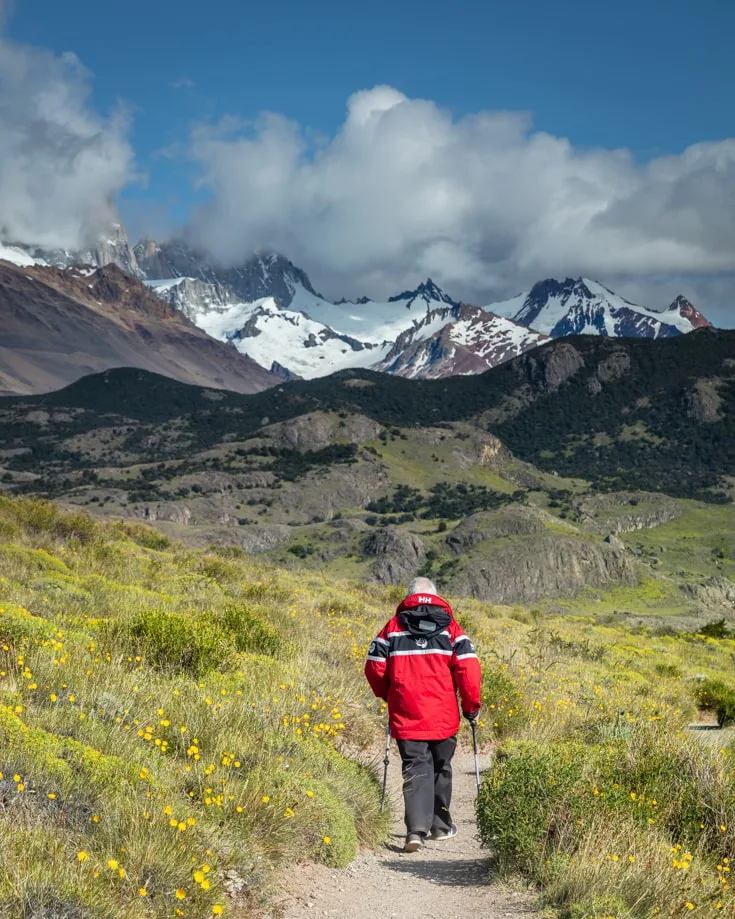 These are what we would consider the best El Chalten tours, but there are even more on offer from Get Your Guide and Viator, our preferred tour operators.
You can find great prices, unbiased reviews, and opinions, and all manner of activities from private tours, adventure activities and much more.
Check out more El Chalten tours from Get Your Guide and Viator.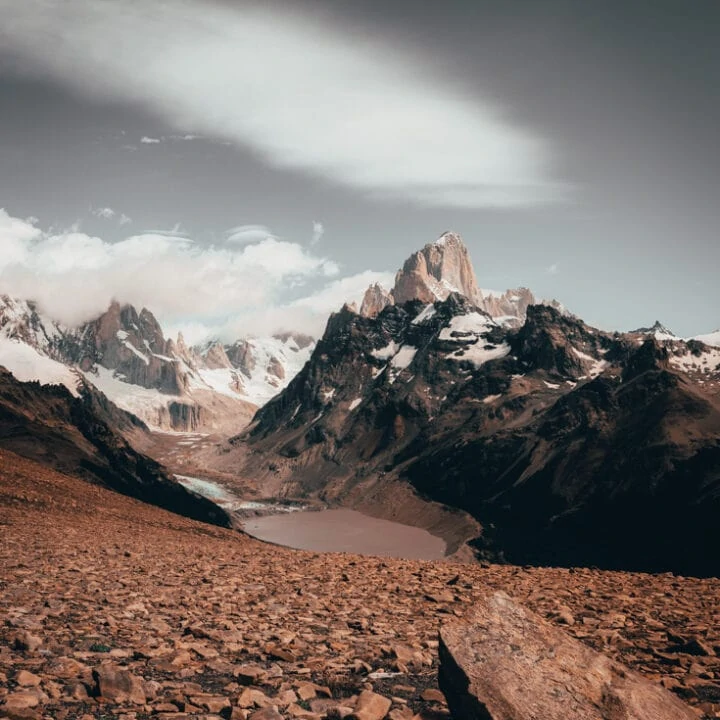 Patagonia Travel Tips
Important tips and resources for planning an incredible trip to Patagonia, based on our extensive experience travelling through the entire region.
Tools
Instructions
Find the best time to go to Patagonia for the things you enjoy.
Book a cheap flight to Patagonia with Skyscanner. Better still, if you're planning a long-term trip, ship your camper van to South America as we did!
Plan a rough itinerary with an idea of how long you'll stay in each place. But be flexible - Patagonia will get under your skin and you'll wish you had more time. Get a copy of the Moon Patagonia travel guide to help you plan your itinerary.
If you want to explore Patagonia in a rental car, make sure to book in advance. Especially if you travel between December and February. Get free comparison quotes with rentalcars.com.
Check out our extensive and still growing guides to Patagonia for more information on both Chilean and Argentinian Patagonia with places to go, things to do and see & loads more.
Book your accommodation in advance, at least for the first destination. For hotels, use booking.com. For apartments use Airbnb and get a discount on your first booking. For free camping, use the iOverlander app offline.
Try to learn Spanish or at the very least have some basic phrases. English is widely spoken in the major tourist towns in the south, like El Calafate, El Chalten and Puerto Natales. Everywhere else, you'll need some basic language skills to get the most out of your trip.
Reserve your tours and activities in advance with Viator and Get Your Guide.
Get your rucksack ready with our definitive Patagonia packing list.
Go have the adventure of a lifetime!
Notes
We hope this helps you plan your travels in Patagonia. It's an enormous region and one we completely adore. Yet we found it difficult to plan our first trip, so we've written extensively about it to help you out!
If you have any questions about Patagonia, travelling in a vehicle or even building a campervan, contact us by email at [email protected].
Like it? Pin it!