Escadaria Selaron or the Selaron Steps, is one of the top attractions & a must-do activity while in Rio de Janeiro, Brazil. Our travel guide covers everything you need to know before visiting one of the world's most colourful and popular staircases.
Jorge Selarón – the artist behind Escadaria Selaron
Jorge Selarón was a Chilean world traveller and artist. After many years of travelling over 50 countries, he arrived in Rio de Janeiro.
Like many before him and undoubtedly since, Jorge fell in love with the Marvellous City. Having found his perfect home in the world, he decided to lay his hat here.
He lived in a house on a staircase linking the neighbourhood of Lapa with Santa Teresa, selling his paintings to fund his modest lifestyle.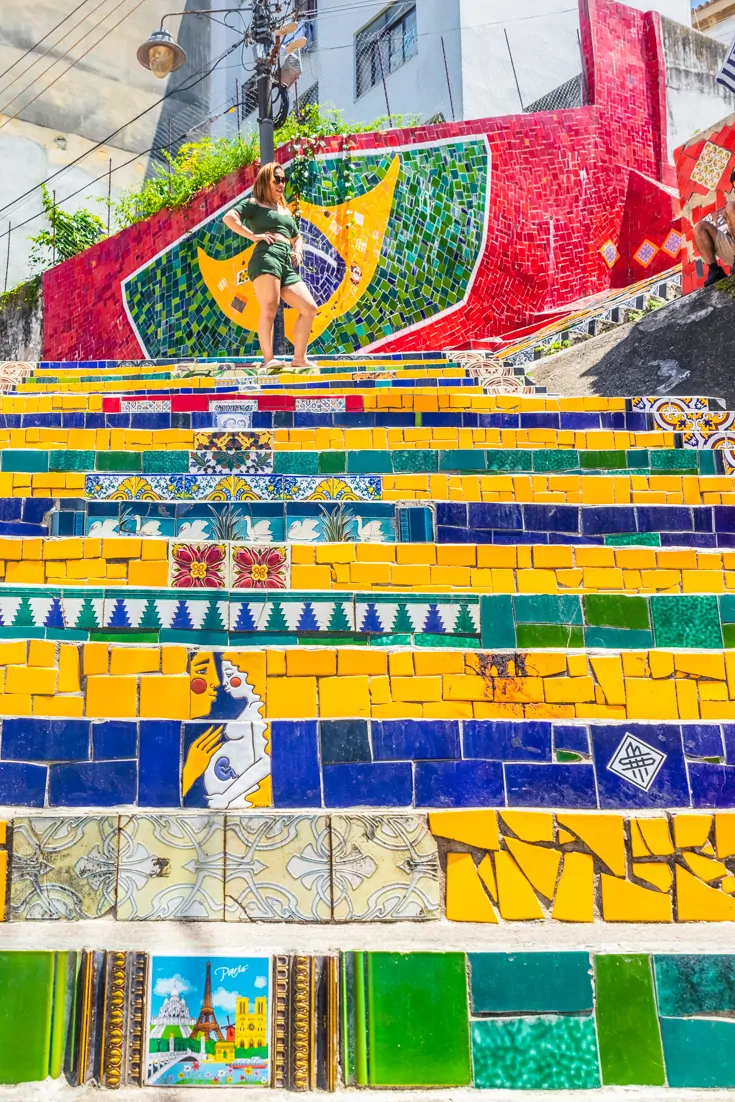 Escadaria Selaron – the project
Back in the 1990s, the stairs were grey, drab concrete so to inject some colour, Jorge began tiling the steps in front of his house.
In honour of the Brazilian flag, Jorge used primarily yellow, green and blue tiles with a few hand painted tiles and mirrors for good, artistic measure.
What started as little more than a bit of fun, got under his skin and Jorge got somewhat carried away with the project.
He bought more tiles, laying them on the front of the steps above and below his own home. He'd run out of cash for more tiles and sell an extra painting or two, to replenish supplies.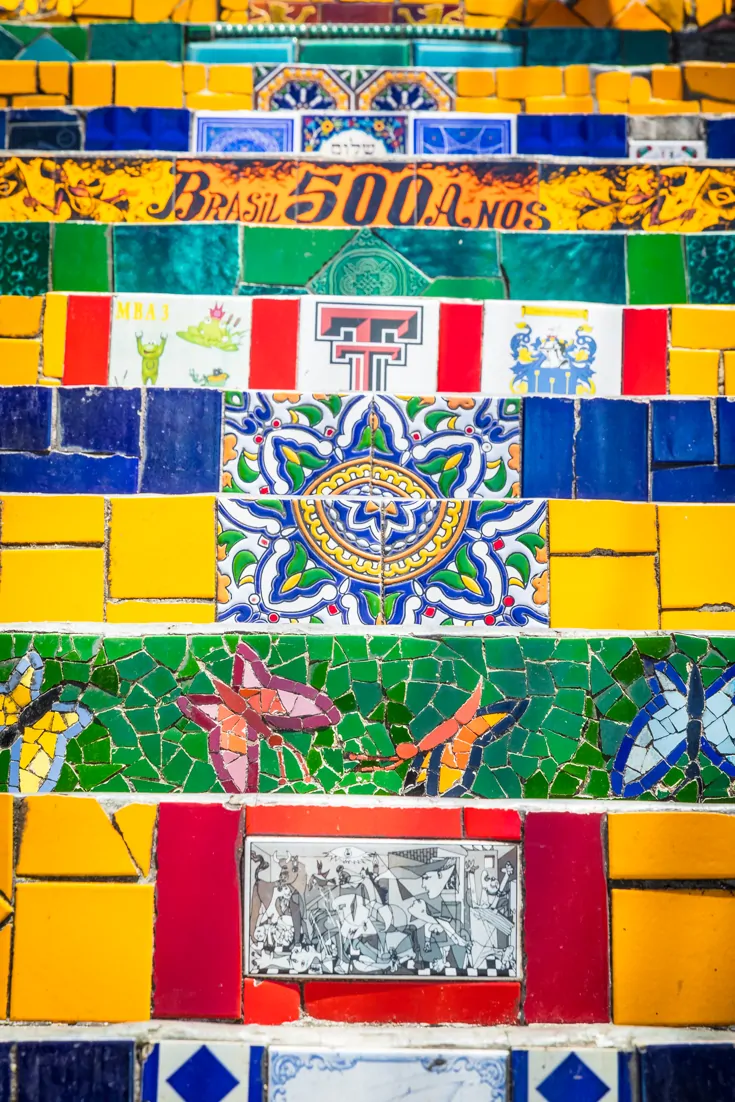 Jorge Selarón finished tiling the steps in 2000 and rather than sit back and admire his colourful handiwork, he decided to continue.
It was time to move onto the side walls of the staircase.
This time, Jorge chose red as the primary colour – probably as a nod to the Chilean flag.
As time passed, the project became more widely known and travellers to Rio would visit Escadaria Selaron.
They even began bringing ceramic tiles from their home countries, asking Jorge to include them in his ever growing artwork. Given Jorge's financial woes, this was a win-win situation.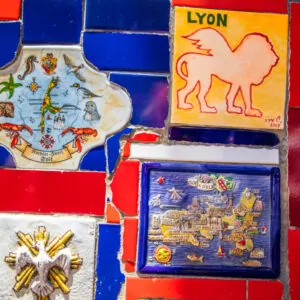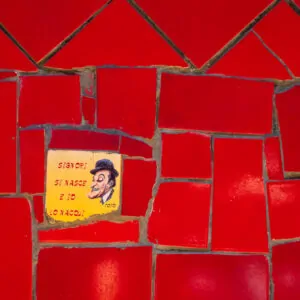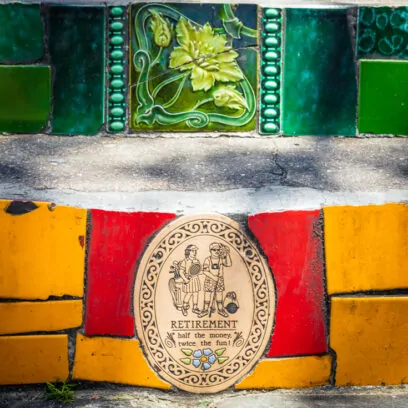 The tragedy on Escadaria Selaron
And then it all came to an abrupt end.
In the early hours of 10th January 2013, on the stairs of which he once said, "This crazy & unique dream will only end on the day of my death", Jorge Selarón was found dead.
Still today his death is surrounded in mystery. It's unclear if Jorge killed himself or was in fact murdered. Either way, it was a sad and tragic end of the man responsible for one of Rio's most visited attractions.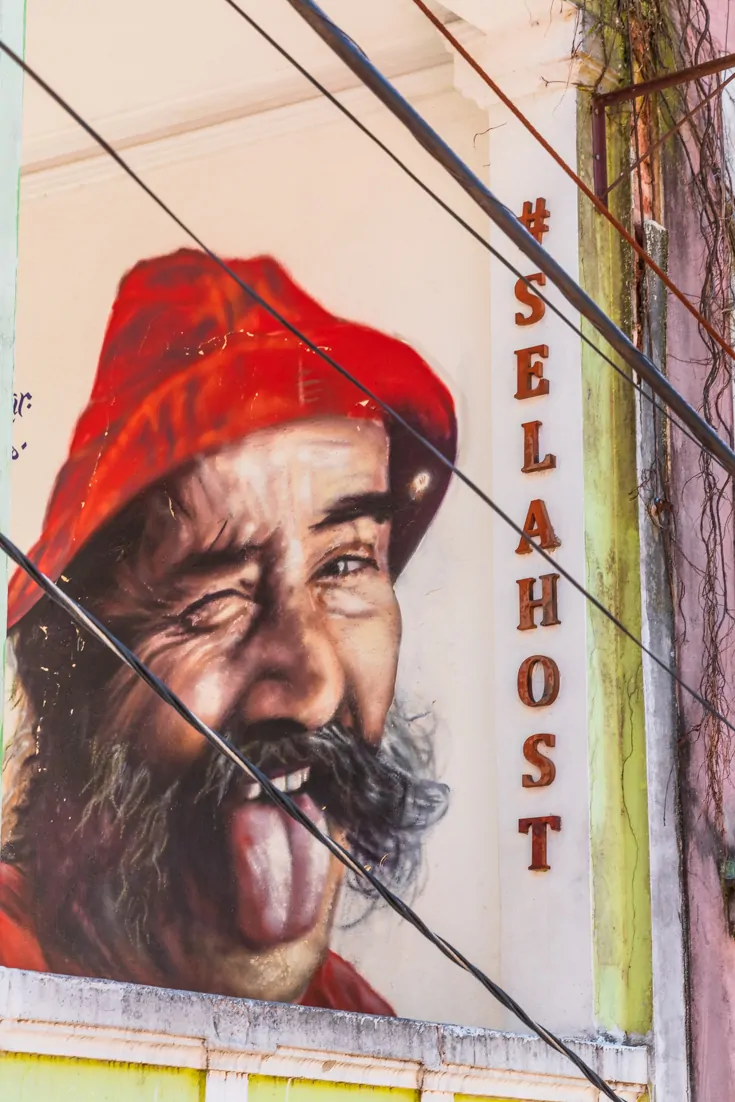 Escadaria Selaron today
With over 2000 tiles from around 60 countries, adorning over 200 steps, the popularity of the Escadaria Selaron hasn't waned. Even music videos feature this incredible piece of art.
Tourists flock to the staircase every day of the year, you'll need to wait in line for a postcard worthy photograph.
Do you need to book in advance to visit Escadaria Selaron?
Remember the staircase is a public access route to people's homes and to other streets so there's no admission gates or entrance fee.
Self guided visits to Escadaria Selaron are free so there's no need to book in advance.
If you'd prefer to visit the steps as part of an organised tour, especially during busy periods, you may need to book in advance to secure your place.
Is it worth visiting on a guided tour?
It is not hard, nor dangerous to visit Escadaria Selaron on your own, but if you feel that taking a tour would be less stressful and less time-consuming, you can find some options here.
Christ the Redeemer, Selaron Stairs & Sugar Loaf Sunset Tour – spend an amazing afternoon visiting the best of Rio: Christ The Redeemer, Metropolitan Cathedral, Selaron Steps, and finish by watching the sunset at the Sugarloaf Mountain. Includes roundtrip transportation.
Half-Day Tour Santa Teresa, Lapa & Escadaria Selaron – venture outside the centre of Rio de Janeiro to visit the beautiful Santa Teresa neighbourhood. The unique Santa Teresa district is located in the outskirts of Rio, and enchants locals and visitors with its street art and eclectic architecture.
4-Hour Urban Arts Walking Tour – enjoy a unique experience on the streets of Rio de Janeiro on tour that takes to you see the best of its urban art. A knowledgeable local guide will show you works from colourful tiles to a 15-meter-tall mural known as Las Etnias, or The Ethnicities.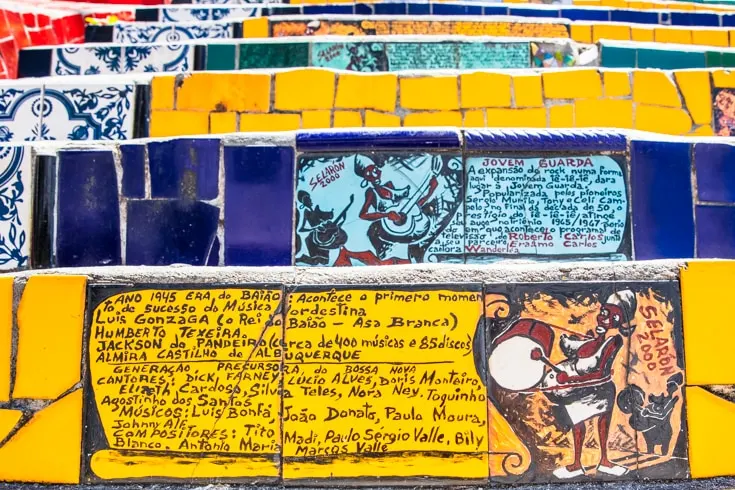 How to get to Escadaria Selaron
The Selaron Steps are right on the border between Santa Teresa and Lapa neighbourhoods.
Gloria or Cinelandia metro stations are close by. Just walk to Rua Teotonio Regadas and from there, it's a 100m straight walk to Escadaria Selaron.
Get any bus going to Lapa or Lapa Arches and walk the last few hundred metres.
Or of course you can use a taxi or Uber.
We stayed near Praia do Flamengo and chose to walk to Escadaria Selaron from there.
Other attractions nearby
Whilst you're visiting Escadaria Selaron don't miss the other nearby attractions including:
What to pack when visiting Escadaria Selaron
Comfortable shoes for him & for her | Save the flip flops for the beach and wear a comfy shoes when exploring Rio de Janeiro.
Backpack | Take a comfortable backpack to carry your camera, sun cream and your water bottle.
Sunscreen | The tropical sun is brutal so we used SPF 30+ every day in Brazil.
Camera | The staircase is incredibly photogenic and offers some great street photography opportunities, so bring your camera.
You can also check out our Rio de Janeiro packing list, before arriving in this magnificent city.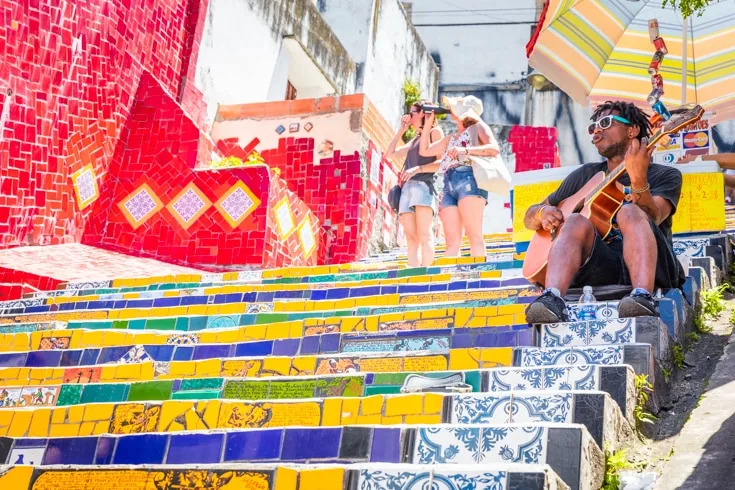 Safety advice
Rio de Janeiro has a pretty bad reputation when it comes to safety.
Always keep your wits about you and follow your instincts.
We've written an article on keeping safe in Rio de Janeiro which you might find useful.
Overall, visiting Escadaria Selaron is quite safe during the day. There's usually lots of other tourists around and often tourist police too.
The steps are located at the end of a narrow street on the border area between Santa Teresa and the Lapa district, party central in Rio. We wouldn't suggest you visit the steps alone after dark.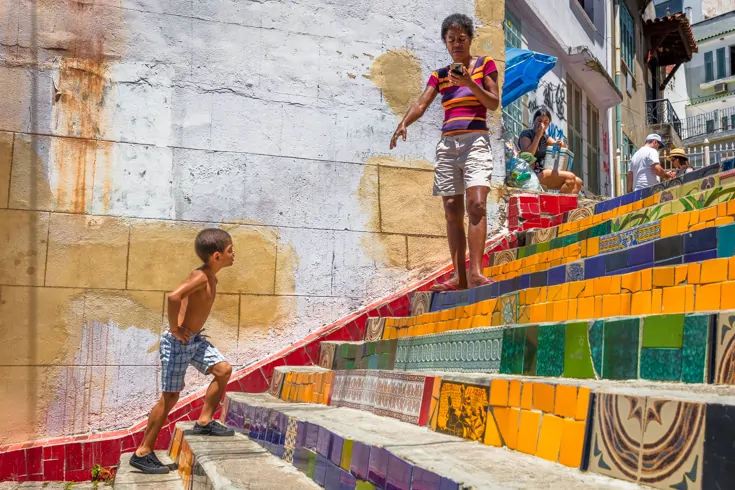 What hotels are near Escadaria Selaron?
There's no shortage of accommodation options in Rio. Demand soars at weekends, Carnival and Brazilian holidays so you might want to book in advance if you plan to visit during these busy periods.
When looking for accommodation in Rio de Janeiro, check the general reputation of the area first. Not every suburb in the city is desirable.
Here's a flavour of accommodation near Escadaria Selaron.
Vila Santa Teresa – a little further away from the Selaron Steps but complete luxury. With a sun terrace with enviable views over the city, Vila Santa Teresa is set is a peaceful location. Just what you need after a hectic day sightseeing.
Selina Lapa Rio de Janeiro – just around the corner from the steps and a good mid-range hotel. Just watch the budget as the breakfast isn't included with the price.
Alternatively, search for accommodation on iOverlander, Airbnb or Booking.com.
Travel insurance
SafetyWing – travel medical insurance offer great value and allow you to take out a flexible policy. Rather than pay upfront each year, you can pay each month. It can work like a subscription, you can choose your start date and cancel any time.
World Nomads – these guys have been around for a long time and cover all the essentials long term and global travel. With World Nomads policies, you can even take out the policy after you've left home. They offer pretty good extreme sports cover in their most expensive package.
True Traveller – the best long term travel insurance provider for UK and EU citizens we could find. We use True Traveller and they offer good value on long term policies and allow us to extend for another year with a 10% discount.
Like it? Pin it!