So long as you have your travel and vehicle documents and access to cash, you can pretty much sort any situation you find yourself in.
So let's make sure you have these basics covered. When your road trip is taking you out of your home country, it's even more important to have the correct documents with you and have a back up plan, in the event things go wrong.
Here's our list of the essential travel documents you need on any road trip or overland journey.
Passport
When you click on links to various merchants on this site and make a purchase, this can result in this site earning a commission. As Amazon Associates, we earn from qualifying purchases. For more info, please check our disclosure page.
It might sound obvious but what if you lose it? You're going to need to arrange an emergency passport. To apply, you need to give all the details from the passport you've lost.
Make sure you have a photocopy of the identification page stored somewhere safe. A printed copy is great but having a digital copy too will allow you to email it to your passport office if necessary.
When you're applying for visas on the road, quite often an embassy will ask for anywhere between 1 and 3 photocopies of your passport for a single visa.
We had to give the Senegal Embassy in Mauritania 3 copies of pages 1 – 3 of our passports. It was a total pain trying to find somewhere in Nouakchott to take a photocopy. Do yourself a favour, and carry a few copies with you.
Do you know that you can't enter some countries if your passport contains evidence you've visited some other countries?
For example, you'll find it impossible to enter Sudan if you have an Israeli stamp in your passport. Many passport offices will issue you with a 2nd passport before you travel under certain circumstances. Arrange this well in advance if you need it.
It's also worth investing in a protective cover for your passport. Some borders have been known to refuse entry of a passport holder because of damage. It's worth protecting!
Passport photos
Overland travel often means it's not practical to arrange all your visas in advance. You might not have fixed entry and exit dates.
You might not even be sure which countries you'll visit. Your entry date maybe so far in advance, any visa would have expired by the time you reach the border.
All this means arranging visas on the road. Most visa applications need at least 1, often 2 or 3 passport photos.
Rather than running around trying to find a photo booth and paying through the nose for the privilege, print off a couple of sheets before you leave home.
Keep them safe with all your essential travel documents. UK passport photo sizes need to be 45mm x 35mm. Other countries need a different size.
But we've always stuck with the UK size and not had any problems applying for visas on the road.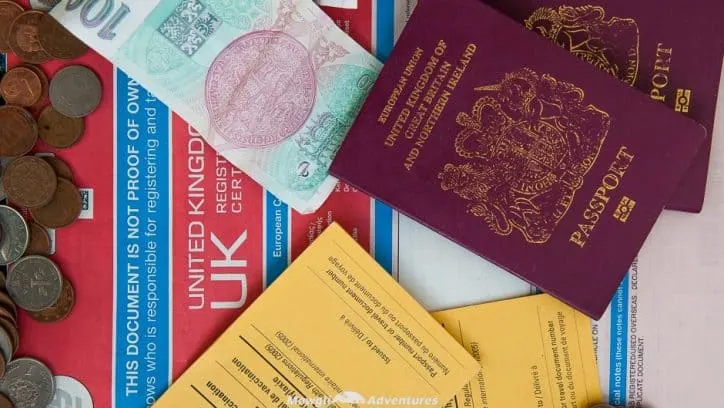 Vehicle documents
You'll need your vehicle documents at border crossings, checkpoints and in the event of an accident. Some border crossings and checkpoints, especially in Africa, are corrupt.
The officials aren't always switched on though when it comes to recognising original documents. When a border guard won't return your vehicle registration papers without you paying a bribe, what choice do you have?
Our advice is to carry a few colour photocopies of your vehicle documents. Keep the originals in a safe place and have the copies at hand.
When asked for your documents, hand over the colour photocopies only. If some dodgy border official holds them to ransom, you can simply walk away and tell them to keep them. Touché!
Also, keep an eye on when your vehicle insurance is due to expire. We got caught short once.
After a lot of faffing and a rubbish internet connection, we managed to get Mowgli's insurance renewed with about 2 hours to spare. Not a great feeling and wholly avoidable.
Driving licence
Ok so again this is obvious and again, think about what happens in the event you lose it.
Make sure you have a copy of your licence and maybe ask the issuing authority for a 2nd copy. I'm not sure they're too happy to do this but we did meet a Spanish couple who had 2 licences.
Turns out it was quite useful in Western Sahara when a police checkpoint confiscated one of their licences until they paid a hefty fine for not stopping at a stop sign.
In some countries, you'll need an International Driving Permit. There are 2 different types of IDP and the Overlanding Association has a great page to show where you'll need one. Check it out here.
Just for fun: How to deal with Gambian police checkpoints
Fiche
In some countries there are many checkpoints along the main roads. There's loads in southern Morocco, Western Sahara and Mauritania, to name just a few.
The officials just want to keep a note of the movement of visitors to their country as best they can. Now your experience at each of these is going to go one of 2 ways.
You can fill out a form as you arrive at each of them. This is going to be time consuming and will result in sharing of tea and pleasantries. Sounds great, yeah?
Well after the 30th checkpoint in 2 days, you're going to get pretty tired of it. We passed 37 checkpoints in Mauritania in 3 days so I'm not exaggerating.
The alternative is to print a bunch of fiches already filled in with your details.
You can print these before you travel. These are essential travel documents most other travellers wouldn't need.
When you enter a country where you know you're going to need them, you'll need to complete the entry stamp details by hand, so carry a pen!
Just because we're nice people, here's a copy of a blank fiche for you to download. There's 2 on one page, so if you're a solo traveller, just tear the paper in half.
If you're a couple, fill each one in with both of your details. You might still want to tear them in half though because you'll find yourself explaining at each checkpoint that both of your details are on one piece of paper.
Download a fiche here – pdf version or .docx version
Access to cash
We're great believers in not paying extortionate fees to access our cash overseas. But even carrying low or no cost debit cards doesn't help when you're entering a country with a closed currency.
You're ultra excited and relieved to have passed through a border after many hours of formalities and queuing in the sweltering desert heat. You just think your road trip can get going again and fire up the engine.
Then a chap arrives at the gate and herds you into a makeshift office to buy mandatory vehicle insurance. Don't think for a second they're going to have a chip & pin reader here and even if they did, do you trust its security?
You don't have any local currency because it'd be illegal to take a closed currency out of the country and therefore back in again. And the nearest ATM isn't anywhere near. So now what are you going to do?
Don't let these closed currencies ruin your travel plans
Alway, always carry extra currency. US Dollars or Euros are perfect the world over. You can either negotiate a price for the insurance in Dollars or Euros or check out if you'll get a better exchange rate with the dodgy money changers at the border – there'll be plenty to choose from!
Do note though, if you get a price for your insurance and don't buy it straight away, you'll probably get a different price when you go back having changed your currency.
Bank statements
The visa application process for some countries, requires you to prove you have sufficient funds to travel for the length of time you intend to stay.
Some countries like Angola, need proof of a huge bank balance, although this is exceptional. It's worth carrying a copy of a bank statement that shows you have enough money to travel though.
Travel insurance
I know travel insurance, especially for long term travel, can take a huge chunk of your travel budget. But do you really want to travel without the protection it gives you?
Maybe you'll have some of your belongings robbed. Can you afford to replace them while you're on the road? Maybe you'll be unlucky and have a minor accident that needs medical attention.
Are you going to pay for that out of your own pocket? Worse still, what if it's serious and you need to get to a country offering the medical attention you need. What if you need to be evacuated for political reasons?
The type of policy you need, depends on where and how you plan to travel but please, make sure you have the appropriate cover.
And don't forget to keep the policy number and emergency claim overseas telephone number at hand. This is one of the most essential travel documents for overlanding or any other type of travel. No point in having travel insurance if you can't claim when you need to.
Travel vaccination certificates
You don't want to play roulette with your health so you'll have your travel vaccines before you leave. Won't you? Some countries demand proof of some vaccinations as part of the entry requirements.
Yellow fever is a well known one but there are others too. The World Health Organisation has a list of vaccines necessary to travel to countries across the world so make sure to check before you travel.
And well in advice too because you need weeks or months for some courses of travel vaccines, such as the rabies jabs.
Whatever you need, make sure to bring the documents proving you're up-to-date.
This is one of the essential travel documents for overlanding, depending on where you're travelling to and as important as your passport. The yellow fever certificate is valid for 10 years so you'll want to keep it with your passport.
Follow our advice and you'll reduce the chances of having problems while overlanding. Before travelling to any country in the world, check their official tourist board website because international regulations can and do change.
Either way, these essential travel documents still apply. Unless the world opens its borders and stops all this border control nonsense! And I can't see that happening anytime soon.
Like it? Pin it!