The world's 2nd largest wetlands seeps across 13000 square kilometres of northeastern Argentina. Not so much on the tourist trail and not too easy to get to, Esteros del Ibera wetlands is a mecca for wildlife enthusiasts. We couldn't resist a visit on our northbound journey.
Swamped in Argentina's Ibera wetlands
There's a rustle in the reeds ahead of us, stopping us in our tracks. More rustling. A large square snout appears, sniffing out the greenest shoots. We pause, holding our breathe.
Out lumbers a dog sized, rabbit like animal, revealing course brown fur, black leathery feet and a massive head. Another follows, and another. Soon, there's a family of five dining on the thick grass in the clearing in front of us.
These cartoon like creatures are capybara, the world's largest rodent. The local Guarani people know them as carpinchos. They look like overgrown rabbits, crossed with a beaver and a rat like some sort of genetic experiment.
Hanging out in family groups, capybara spend their time paddling in the soggy swamp. Munching on grass, lounging or otherwise doing nothing. Graham thinks it's their way to a longer life in their snake and alligator infested home.
We're in Argentina's swamp at Esteros del Ibera wetlands . Floating islands of aquatic plants and grasses dominate the landscape.
The foliage is thick. Stable enough for huge maguari storks to perch on while they fish for their next meal. Alligators bask their cold blooded bodies in the midday sun.
Ibera wetlands is teeming with wildlife. The reeds provide hideouts for pampas deer, peccaries, foxes, capybara and the occasional yellow anaconda.
Getting to Esteros del Ibera wetlands
Our arrival a day earlier allowed for a roadside introduction to Ibera. From Mercedes, 120 kilometres to the south, we drove up Ruta 40 towards Colonia Carlos Pellegrini, the village where the Ibera wetlands are most accessible.
The final 80 kilometres of the unpaved road is rough, corrugated track and relentless.
Frequent pitstops to watch wildlife emerging from the watery swamps at the roadside broke up the bone rattling journey.
We spotted an armadillo scurrying away into the undergrowth, a broad-snouted caiman and many species of birds. The last 50 kilometres took us almost 3 hours with all the stopping, bird spotting and coffees we made along the way.
The track isn't busy so pulling up alongside alligator infested swamps wasn't a problem.
The company of strangers in Ibera
We settle into our camp and meet Juan, cooking asado in the parrilla next to us. Juan is visiting Ibera wetlands with his extended family from his home 200 kilometres away in Empedrado.
It's their first visit to the area and they've come to enjoy the wildlife and watery landscape too.
Invited to join their lunchtime feast, we spend the rest of the afternoon in the company of Juan's family.
With broken Spanish, a little sign language, a few glasses of wine and copious amounts of beef we spend our first afternoon in Ibera wetlands sharing family photos with an Argentinian family who a few hours earlier were strangers to us.
Exploring Ibera wetlands on foot
The next day we explore the swamp area around the lagoon along some well marked trails. Strolling through the thick forest, we wander if there are any eyes watching us from the cover of the jungle. Howler monkeys
We know there are snakes here and with Graham's unhealthy phobia of them, it makes for a brisk walk.
We followed a 500 metre wooden boardwalk, raised a couple of feet above the water on stilts. In places, the vegetation grows up through the boards or the reeds tower above the side rails.
Only a minute into the trail, we spot 2 alligators, basking on a small floating island of bright green vegetation just a couple of feet from us.
British overlanders aren't on alligator menus but even so, their teeth look sharp enough to do some damage.
Many species in Esteros del Ibera wetlands were once hunted to the brink of extinction. Over the past 10 years or so, conservation efforts have begun to restore Ibera wetlands to its former glory.
They've had some success reintroducing giant anteaters and pig-like peccaries and there's even a project to reintroduce jaguars to Ibera wetlands.
The rewilding Iberá National Park projects are progressing at quite a pace.
After watching the alligators watching us for a while, we continue along the boardwalk. A little further on, high up in the reed bed, something has flattened leaves and stems into what looks like a nest.
And there, lounging in the sunshine, is a 3 metre long yellow anaconda – although this one is brown. This is a small guy; yellow anacondas can grow up to 7 metres or more.
A quick photo and it's time to leave before this chappie gets moving.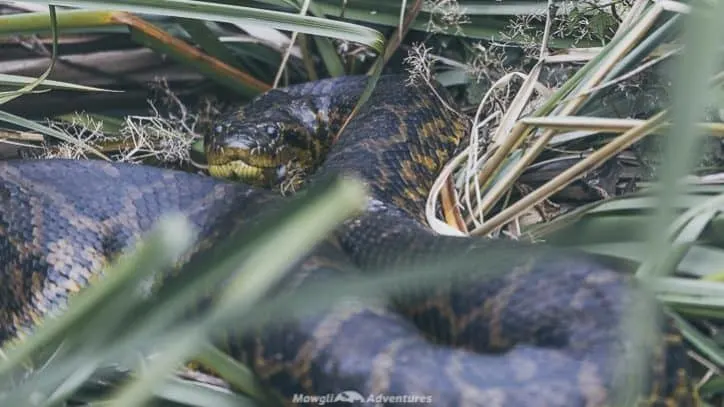 Exploring Ibera wetlands by boat
The following day we relax around the campground, enjoying the water's edge as a ringed kingfisher hunts from a tree above a sleeping capybara.
Late afternoon, we board Carlos' small motorised boat, a little bigger than a dingy, with 4 other passengers. Maria, Paulo, Roanda and Sebastian are visiting Ibera wetlands for a few days but delayed by a gasoline strike protesting at recent hikes in fuel prices.
We're invited to join their mate circle as our guide pushes back from the wooden pier, into the watery channel leading into the lagoon.
Sailing beneath the century old temporary causeway bridge, we sip the bitter, warm tea with our fellow passengers, speaking of our homelands and how excited we are to see the wildlife surrounding us.
Engine off, Carlos manoeuvres us towards a hut near the visitor's centre, where we're counted into the swamp by a clipboard armed ranger.
The visitor's centre is a base for the Ibera wetlands guides. Knowledgeable about the flora and fauna of the swamp, they're keen to impart some of their enthusiasm onto visitors.
Punting through the reeds of the swamp, we silently move toward a small floating island, a lilo for 3 basking alligators. There are two types of alligators in Ibera: the black yacare and the less common broad-snouted caiman.
These grinning specimens are black yacare and aside from an occasional blink, they barely move. A little too close for comfort, we back away, Carlos restarts the engine and we move on, keeping close to the edge of the lagoon.
We float through swampland channels for a couple of hours, brushing passed bright green foliage covered islands and swaying reed beds. Carlos skilfully directs the boat for the best views of the wildlife we spot.
Rare marsh deer unphased by our presence, alligators barely noticeable on the surface of the lagoon and capybara nesting down at the water's edge or dashing between floating islands. And birds. So many birds.
Sunset over Ibera
As the sun begins to set on the Ibera wetlands, the temperature drops and it's time to head back. With the maté cup refilled with warm water and passed around again, we bid farewell to the creatures of the swamp and at full throttle, hurtle back to the pier.
Back at camp, under a star filled sky, we dine on succulent barbecued meat, swilled down with a fine bottle of malbec as we discuss our travel plans for the coming days.
A family of capybara appear from the water and beside us, feast on campsite lawn. We like it here too so decide our travel plans can wait a while. We'll stay in the Ibera wetlands a few more days yet.
Things to know before you go to Ibera wetlands
Since late 2018, Ibera wetlands now form part of the new Iberá National Park, so helping to protect this South American wildlife wonderland for long into the future.
Esteros del Ibera wetlands is most accessible from Colonia Carlos Pellegrini, a small village on the banks of the Ibera Lagoon.
When to visit Esteros del Ibera wetlands
You can visit Esteros del Iberá wetlands all year round, although the track to Carlos Pellegrini may be more challenging during the rainy season.
The summer months will be stupid hot too. We visited Ibera wetlands at the end of June, early July and the sunny days were delightful, the rainy days damp. There's wildlife to see in all weathers though so don't let the seasons put you off.
How to get to Esteros del Ibera wetlands
We went to Ibera from Mercedes in the south along Ruta 40. It's a dirt track and although it was dry when we drove it, in the rains this would be a slippery challenge.
Even the town roads were slippery after one night of rain so do take care. We followed Ruta 40 north out of Ibera and the track is much the same.
It had rained heavily the evening before we left so we needed to get Baloo washed once we were back in a town.
While we drive our own vehicle, we appreciate that many people will fly into Argentina and hire a car.
You can hire a car from Posadas, Buenos Aires or Cordoba and always use a reputable firm because you need assurance the car is well maintained and your insurance is valid.
When we hire cars, we're not loyal to one rental firm, and simply go with the one that offers the best value – and that means using a comparison website.
For us, Rentalcars is by far the best, and our first choice, every time. They even do camper van rentals!
Where to stay in Colonia Carlos Pellegrini
Colonia Carlos Pellegrini is a sleepy town and most homes here offer accommodation to visitors.
We've seen tour operators offering excursions to the Ibera wetlands from as far away as 150km, and many suggest pre-booking accommodation because it gets so full.
In our experience, and from what we've heard from others too, this isn't necessary. There's more accommodation than visitors, even in the height of the season.
Most visitors we met were on overnight trips and staying in one of the posadas in town. If you want to book ahead, you can do so here at booking.com here.
There's 2 campsites in Colonia Carlos Pellegrini: Estadia and Camba Cua. Estadia has a waterfront location and each campervan parking spot shares a covered asado and picnic area with the next.
Potable water and electricity is available at each pitch and a small washing line, hidden behind the parrilla. The bathrooms are clean and hot showers are available in the evenings.
Camba Cua is a much larger campsite and has loads of space. Although it doesn't have a waterside location, there are trails through to the water's edge.
When we stayed here, sitting with a cup of tea at the tiny pier was our favourite place to spend an hour or 2. And the showers have hot water all day too!
Excursions in Ibera wetlands
On the town side of the bridge over the lagoon is a tour operator's hut. You can arrange all your excursions here or to save a few pounds, book directly with the guides. You can arrange horse riding here too.
Boat trips arranged from Colonia Carlos Pellegrini leave from the small wooden pier at Estadia campsite at a cost of ARG$250 per person, so it's worth arranging it directly.
You can even arrange night time boat trips and the guide shines a powerful torch into the swamp so you can spot the reflection of eyes in the water and see Ibera's nocturnal animals.
Money
Colonia Carlos Pellegrini doesn't have a bank or convenient ATM so getting cash here is impossible. As none of the few places to spend any money accept credit or debit cards, make sure you bring any money you need with you.
If you run out of local currency, but have a few US dollars, it's possible to exchange some currency if you know where to look.
We changed some currency by asking the friendly butcher who also runs the Posada Ranch Ibera. He gave us a good rate too.
Check out our full guide to all travel money in Argentina before you go.
Grocery shopping
You won't find a high street in Carlos Pellegrini. The town has a bakery, a grocery store and a butchers but you really need to keep your eyes peeled for them.
They aren't too obvious and look more like a doorway to a home than a shop. The town also has a couple of small restaurants.
Despite first appearances, if you have enough cash with you, you'll want for nothing in the town. All the basics are available so you can stay as long as your cash lasts.
Free wifi is available from the town square although its a little hit and miss.
Like it? Pin it!