Every penny we save, is another penny towards another day on the road. So it goes without saying, saving money is a high priority for us.
We're not tight, but rather spend our money on good value experiences, ones to create lasting memories, tick off something on the bucket list or to do something the grandchildren will be awed by one day.
Living and travelling in a self contained camper van means we can sleep anywhere we're allowed. So it's no surprise paying for campsites is rarely on our budget plan.
Free camping in the Netherlands
We spent a week touring the Netherlands and during our time among the canals, tulip fields and windmills, we didn't spend any money on accommodation or camping. Here's how we did it and if you follow our approach, you can go free camping in the Netherlands too.
Are you on a budget? Check out how much we spent in Holland here
How to find a place to free camp in the Netherlands
When you click on links to various merchants on this site and make a purchase, this can result in this site earning a commission. As Amazon Associates, we earn from qualifying purchases. For more info, please check our disclosure page.
We'd usually use our Camperstop Europe Guide Book and we swear by it for European travel. As we only planned to spend a week or so in Europe en route to South America, we decided we need the space more.
That said, if you're travelling in Europe, it's a fantastic buy and will more than pay for itself in the camping fees you save. You can buy your copy here.
We also use the iOverlander app offline but it's a little light on locations for free camping in the Netherlands. We've recently added our camping spots to the app so hopefully it's a little less light now.
Our tool of choice on our Dutch road trip was the popular app, Park4Night. Again, because we're quite frugal we didn't pay for the pro version so the locations aren't available offline. Each day, we'd have an idea of the area we'd want to stay at by around midday.
Over a coffee and free wifi picked up along the route, we'd browse the possible parking spots and mark the GPS points into our mapping software. All this only takes a couple of minutes each day.
7 nights in campsites in the Netherlands could easily have cost €140 – €175. Not a saving to be sniffed at!
Looking for a guide to driving in the Netherlands? Look no further….
Challenges of free camping in the Netherlands
Drinking water supplies
This was our first visit to the Netherlands. Because we'd used aires and free overnight parking spots throughout France, Spain and Portugal in the past, we figured the Netherlands would offer similar facilities.
However, our experience was more like trying to find free camping in the UK.
We didn't see any official aires for motorhomes or camper vans. Lucky for Graham, we have our trusty campervan composting toilet so he didn't have the nasty job of emptying the portapotti to do.
We did need to replenish our drinking water though and fuel stations didn't have anywhere obvious to top up. Although Netherlands has umpteen canals, I'm not sure we wanted to test our water filter this early into the trip!
Eventually, when we were almost empty, we asked at a service station where the water tap was to fill up the car. In hindsight, I don't think the attendant would have allowed me to use it if she realised I wanted 160 litres instead of a little to top up a car radiator.
I didn't intentionally try to mislead her though. It was only after another attendant asked Graham if we'd been given permission to use the tap, did we realise.
If it wasn't for getting water at this service station, we think the only other option would have been to go into a campsite and that would have been irritating.
So, can anyone tell us where we can officially get drinking water to fill up a motorhome or camper van in the Netherlands, without going into a campsite?
Laundry facilities
The only other challenge we had was with our laundry. We found a self service laundry near Haamstede with 2 loads to wash, we got the machine running.
After the first and biggest load finished washing, we moved it to the tumble dryer and fed the machine the €6 fee for a dry we considered adequate.
Only the dryer wouldn't start. Yet it counted down the minutes anyway, with no refund button or number to call we were pretty annoyed.
Not only had we lost €6 but worse, we had 2 large loads of wet laundry and no socially acceptable way to dry them.
Off to the secluded beach car park we went and became socially unacceptable for a while. And took showers out the back of the campervan while we were at it too. The joys of van life.
Our free camping spots in the Netherlands
We found all of these sites on Park4Night. None of the locations have any facilities; there's no water supply, no internet or electricity points.
If you need facilities, take a look in the Camper Stop book or at the locations on Park4Night that aren't free.
We don't have any experience using the book for the Netherlands so if anyone out there has, it'd be great if you could leave us a comment to share information about any free sites with facilities. Especially where to find potable water.
To give you an idea of the locations where we camped in the Netherlands, we've marked them on the map below.
Of course, these aren't necessarily the best places for free camping in the Netherlands but we're sharing for travellers who would like our tips on camping spots we enjoyed based on our experiences.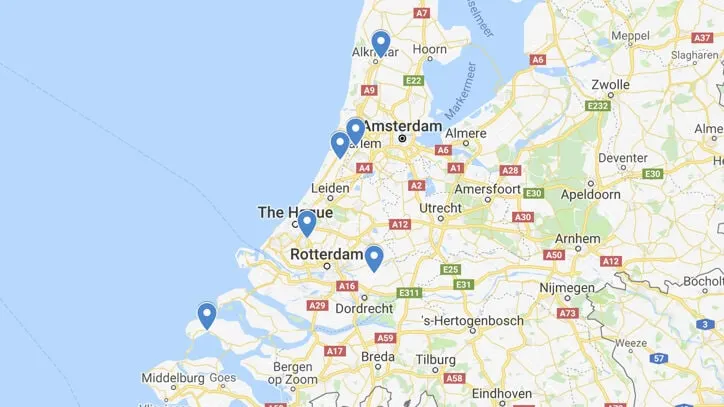 You can also check on Park4Night, iOverlander and in the Camper stop book for more places other travellers have camped.
Near Haarlem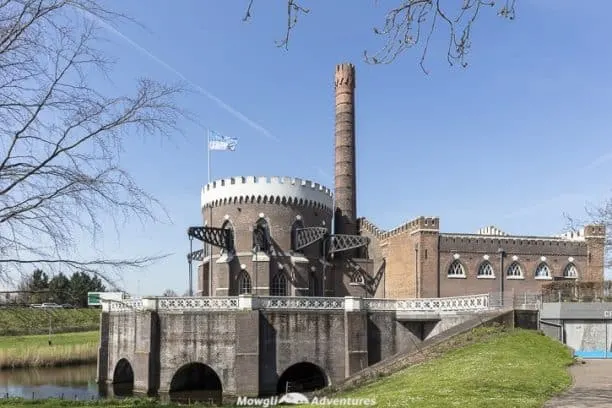 We spent a night in the car park at Museum de Cruquius a few kilometers out of town. There's no parking restrictions here and with no barriers, a large rig would have no problem parking. There's a main road nearby but we had almost no noise to mention overnight.
From here, it's easy to either drive into Haarlem town or catch a bus. But best of all, the canal path to the right offers a delightful stroll towards a nearby windmill.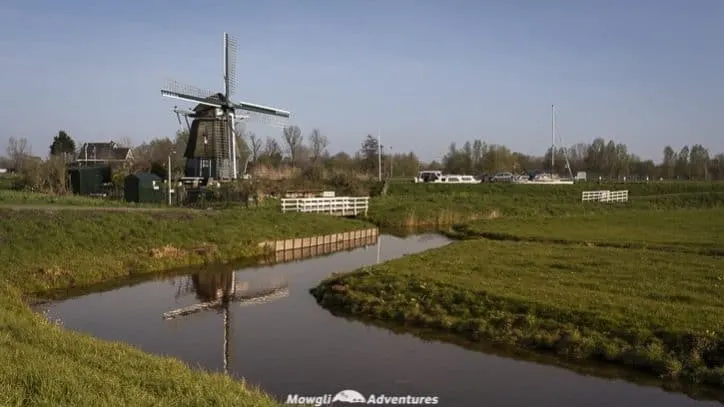 Free camping in Alkmaar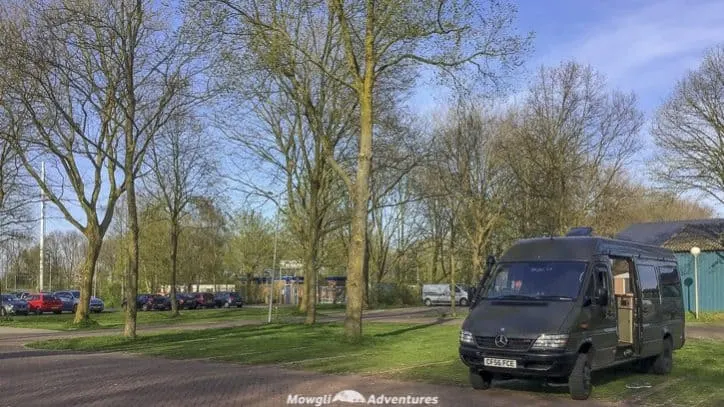 Alkmaar is popular on Friday's for its world famous cheese market and in readiness, we arrived on a Thursday evening, parking here at a large car park beside a rowing club.
A couple of other camper vans and motorhomes joined us later in the evening too.
It's a quiet spot, well back from the road. Although it may not look as though there's much to do or see here from the car park, there's a terrific walk on the other side of the bridge past 4 windmills.
It's popular with the locals out cycling or walking their dogs. If you're in Alkmaar for an evening, don't miss this.
Free camping among the tulips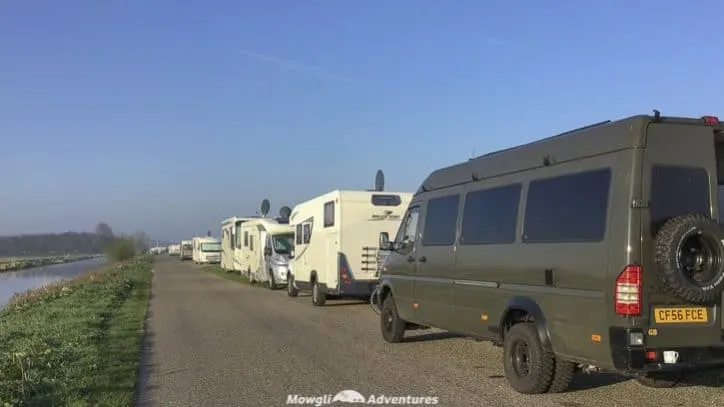 Whether you plan to visit the popular tourist attraction at Keukenhof or do as we did and see the tulip fields on a budget, this spot is perfect. Ok it's not secluded.
Far from it as you'll share the tolerated space with around 200 other motorhomes in the height of tulip season. Despite being surrounded by so many others, it was so quiet, we barely knew it.
And with a prime location like this and with campsites in the area either full or very expensive, this is a perfect camping location for seeing the tulip fields in full bloom.
Read more: Things to do & see in the Netherlands
Free camping in Delft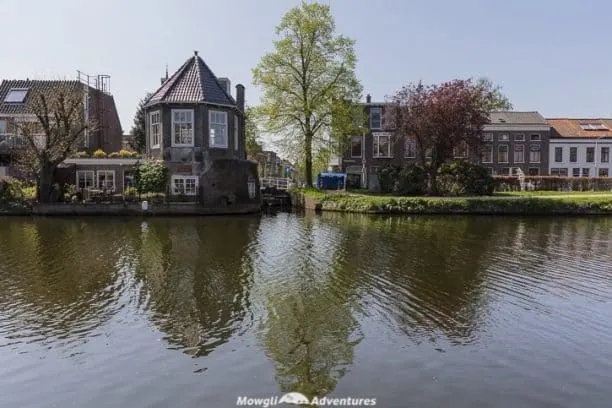 We had an idyllic stay here. Located in a residential area and alongside a canal, this spot was quite unassuming. But it's only 1km walk into Delft and better still, right on the boundary of a fabulous park and lake.
Here, the locals were bringing their deck chairs, camping tables and BBQs and spending time together in the unusually hot springtime sunshine. A wonderful way to spend a Sunday afternoon.
Because it's a residential area, you don't need us to tell you to be respectful so make sure you follow the tips in our guide to wild camping in your camper van.
Camping for free near Kinderdijk UNESCO World Heritage Site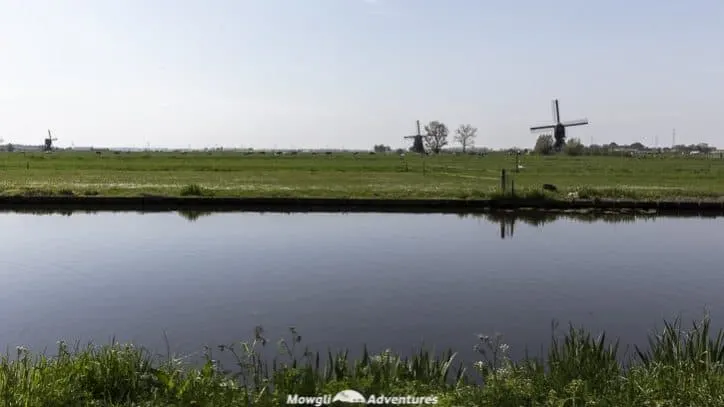 Kinderdijk is pretty busy. There's a huge car park nearby, perfect for an overnight stay if it wasn't for the security guard.
He wanders around the car park handing out laminated cards stating that overnight parking is strictly prohibited and giving less than helpful directions to 2 campsites, both around 7km away.
We found this free camping spot about 5km away. It's a small car park beside a couple of tennis courts and right on the bank of a canal.
With unobstructed views over the fields and a couple of windmills, it was another top spot for a lazy afternoon and a secluded shower.
Free camping near Zeelandbrug (and laundry drying service)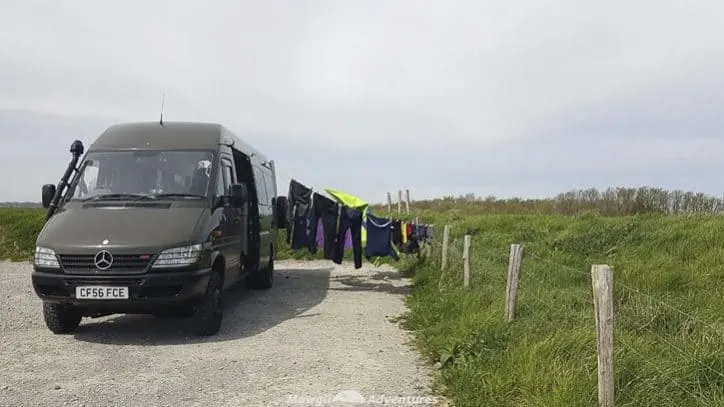 We needed a laundry day and with the intentions of visiting the really long bridge, Zeelandbrug, we stopped by this beach camping spot.
It's another car park and other than regular visitors walking their dogs during the day, it's totally secluded.
We had a run in with the local tumble dryer in the nearby town (it ate our money without drying our laundry), so we had little choice but to hang the washing line.
I know we shouldn't but it was a better option that having stinking damp clothes in the van.
Like it? Pin it!