If you love RVing, motorhomes and campervan travel, or just getting started with van life, having the best kit can make all the difference to your comfort levels.
We're not talking about plastic sporks and a funky carry case for your wet wipes either.
We're not that kind of van lifers.
We enjoy our home comforts, glass wine glasses, metal cutlery, and porcelain mugs.
This list is for those serious about van life gadgets and accessories that make a marked improvement to van life.
Our van life essentials packing list provides a definitive list, but this is the best of the best.
These are the best campervan gadgets we wouldn't want to travel without. And neither should you.
So without further ado, let's take a look at our top 10 gadgets for campervans to get your van life off to a rip-roaring start.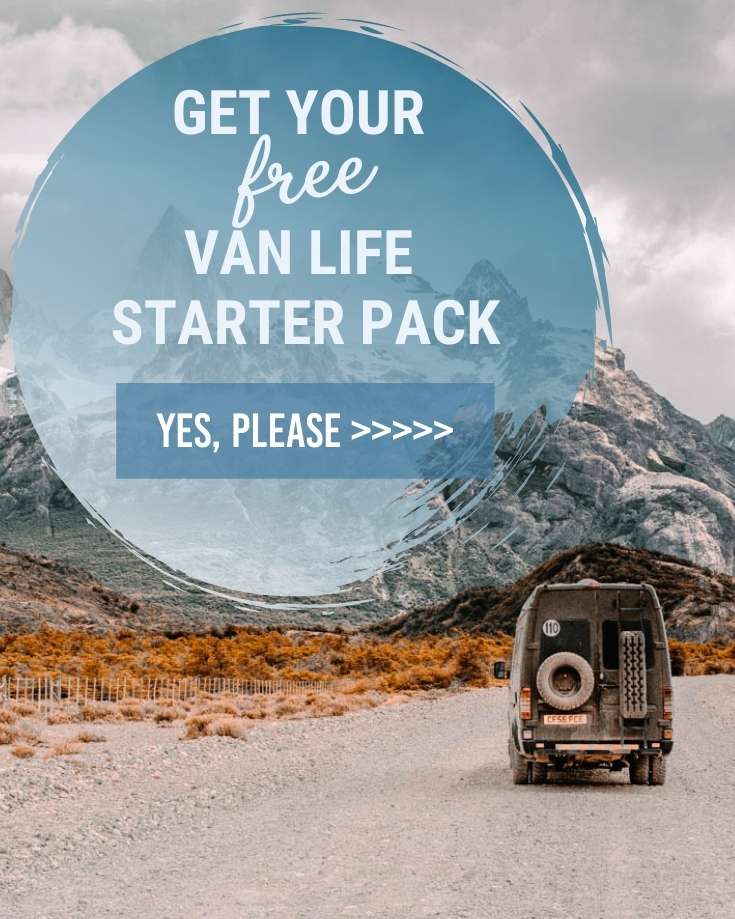 When you click on links to various merchants on this site and make a purchase, this can result in this site earning a commission. As an Amazon Associate we earn from qualifying purchases. For more info, please check our disclosure page.
The Best Campervan Kitchen Gadget
A well-equipped campervan kitchen makes a massive difference to life on the road.
The right kitchen accessories and appliances give you the freedom to cater to all your culinary needs.
From the simple things like making the first steaming coffee of the day to a complete 3-course meal.
It's all possible, even in your tiny home on wheels.
It was a close call between our portable Aeropress coffee maker and the pressure cooker, and we swithered a lot when trying to decide.
But in the end, of all the van life kitchen essentials we have in our van, our top pick is a pressure cooker.
Why you Need a Pressure Cooker in your Campervan
Time-saving | Cooking with a pressure cooker reduces cook time by up to two thirds so you can whip up a meal after a long driving day in quick time.
Energy-efficient | Anyone living in a van knows how precious our energy supply is, whether gas, diesel, or electric.
No matter how you cook in your camper, a pressure cooker uses way less energy than conventional cooking methods.
Healthy eating | Pressure cooking retains more nutrients than boiling because it prevents their escape through the steam.
No steam or smells | When pressure is released naturally, most steam stays within the pot – a perfect aid in stopping condensation and adding unwanted odours that linger in your camper van.
Convenience | A pressure cooker is ideal for knocking up one-pot meals. Put all the ingredients into the pot, close the lid, and let it do its thing. It saves on faffing around, washing up, time, energy, and smells.
What's not to love?
Our Favourite Pressure Cooker
There are loads of pressure cookers for RV living, van life, and camping in general.
If you have a massive electrical system and campervan batteries or can rely on campsite hookup facilities, the popular Instant Pot is a good choice.
Most recipes are designed for electric pressure cookers, so they save you from adjusting the timing or adding a little more liquid.
We have a good campervan electrical set up, including a solar system. But we live off-grid more than we use campsites, so don't rely on the hookup.
As good as the electrical set up is, we don't have enough battery storage to handle an electric pressure cooker.
We have a simple yet classy looking stovetop Futura Hawkins pressure cooker.
Our is a 3 litres pot, an ideal size for a one-pot meal for 2 with second helpings or leftovers.
The handle is shorter than typical saucepan handles, making storage easy.
They're also available in 5 litre and 7 litre sizes for larger families and those with more storage than we have.
# 1 Lighting Gadget for Campervans
Lighting for camper vans, RVs, and motorhomes is about more than a few fairy lights hanging from the ceiling.
You can transform your camper van conversion with a well thought out lighting set up.
Functional areas like the kitchen benefit from bright, cool light, while lounging spaces feel comfortable and cosy with dim, warm tones.
In a small home like a campervan, we need to get creative as areas within the vehicle serve multiple purposes.
Our lounging area is also our working area, dining room, and becomes our bedroom at night.
With multi-purpose spaces comes the need for multi-purpose lighting, so fitting dimmer switches and well-placed lamps help make a cosy, functional home.
When it comes to camper gadgets, there's plenty to choose from too. Head torches, awning lights, and LED roof bars all have a place in many campervans.
If we could only pick one light gadget to have in our van, it would be this compact BioLite Base Lantern.
The BioLite Base Lantern & Power Bank
This compact and portable lantern is a gem amongst motorhome gadgets.
The BioLite pushes out a whopping 500 lumens at its highest setting and can be dimmed for more atmospheric lighting.
You can change the LED colour or rotate through the spectrum.
Both sides of the lantern illuminate, but you can switch one side off for more directional light.
It can stand on its legs or use them to hang it from an awning or branch.
The legs fold up around the lamp so it can stand on its base too.
It even doubles as a small power bank. With a couple of integrated USBs, you can charge small devices like your phone.
The lantern has an app, so you can even operate it from your phone.
We think this gadget is handy for outdoor living in the summer months.
Sitting beside the van after sunset with this little lantern makes for a comfortable and atmospheric evening.
Rechargeable via a USB, something most campers have fitted during their conversion, the BioLite Base Lantern is our favourite lighting gadget for campervans.
The Best Mobile App for Van Living
Online stores are brimming with apps for mobile devices.
If you're anything like us, you'll download something that promises the world and quickly find what a load of rubbish it is.
When you're on top of your device admin, you'll delete it.
If not, it'll sit there for months until one day you come across it, unable to remember what it's for or why you ever thought you needed it.
But not all apps are made equal, and some are invaluable.
iOverlander is one such app.
As the name suggests, this app is designed for overland travellers, and users update it.
We use it for loads of stuff.
From finding free overnight city parking spots to idyllic wild camping locations with pristine views, fuel stations, mechanics, off the beaten path tourist attractions, and so much more.
With a few minutes of pre-trip planning, you can download the app and overlay all its points of interest onto your mapping app for the region you're travelling to.
Then you don't even need a wifi connection or mobile data to use it.
Use the link below to download the app and read our post on how to use iOverlander offline. You're welcome!
Our Favourite Electronic Gadgets for Van Life
Electronic gadgets help make van living more comfortable.
Many of the items on this list are electronics from lighting to fridges and few things in between.
With a good camper solar panel set up, you can still use your small electronic device when living off-grid.
Much like living in a house or apartment, there are loads of gadgets you can incorporate into your van life.
If we had to choose only 1 electronic gadget to have in our camper, a tablet would win hands down.
We have an iPad and use it every day. Without the iPad, we'd need multiple devices to do what we can do with just this one device.
We do all our mapping and GPS navigation on the iPad. We use iOverlander app on it with Maps.Me mapping software.
We film occasional video from the iPad and take quick snaps, especially while we're on the move and the cameras aren't handy.
Just like a notebook, we scribble down draft articles, notes, and journal entries on the iPad too. Then we email them to ourselves when we need to finalise posts from the laptop.
The iPad is our primary entertainment device too. With the Netflix app, we can download movies and entire series' and watch them offline. Connecting it to our surround Bluetooth speakers, it's verging on a cinematic experience complete with homemade popcorn!
If you don't need a laptop, the iPad makes a perfect small and lightweight alternative.
The Most Useful Motorhome Security Device
Whether you've bought a pre-loved campervan or built your own DIY campervan conversion, chances are you've invested a lot of time, money, and effort into your new home.
Not only do you want to protect that investment, but if someone steals the van or breaks in, your whole world could feel like it's falling in.
Without going into the exact detail of our motorhome security system, there are lots of things you can do as part of your build to keep the would-be thief away.
But no security system is foolproof, and if, despite your efforts, a thief manages to get into your van, your worldly belongings are good for the taking.
Some things are easy to replace. Some are too big for an opportunistic thief to escape with quickly.
And some things would cause you no end of drama should they be lost or stolen.
Getting replacement passports, paperwork for your van, and credit cards would all be a complete pain in the neck.
If you're travelling outside your home country, losing your paperwork could cause all sorts of issues.
Devices like cameras, laptops, and iPads all cost a pretty penny, and we could all do without the replacement costs.
We think a safe is an essential gadget for campervans, motorhomes, and RVs.
Tips on Fitting a Safe in your Motorhome
Try to put yourself in the shoes of the thief.
In all likelihood, they're opportunistic and don't want to get caught, so their speed is of the essence.
They'll want to grab what they can and escape quickly. Have you ever heard tales of thieves burgling motorhomes and getting away with the safe?
We have! Plenty of times.
If a thief spots the safe, chances are they'll think there's something valuable inside. With no time to crack it open, they just pick it up and take it with them.
When you install your safe in your campervan, first fit it somewhere discreet and out of the way.
And secondly, bolt it to the floor from inside the safe. There's no way a thief will get away with the entire thing then.
This safe is fireproof, water-resistant, big enough for a couple of laptops, an iPad, two big camera bodies, and a folder full of paperwork.
While we'd be gutted if someone broke into our home, we're relatively confident they won't get away in a hurry with our most expensive and important belongings.
The Most Comfy Bedding Accessory for RV Living
Whether you live in a van full time or just on weekend camping trips, having a good night's sleep is critical.
Your bed may be in a van, but there's no reason it shouldn't be just a comfortable as any bed in a house.
Choosing the right mattress is vital for a good sleeping posture.
Some van dwellers opt for sleeping bags. Others, including us, choose regular bedding, adding a bit of luxury and comfort to our van life.
In a house, when the climate changes between winter and summer, you can change the quilt and remove a blanket.
You can do this in a van, too, but you need to think about storage and where the big chunky quilt can live for the summer months.
So there are a few things to think about when choosing your campervan bedding.
But of all the bedding items we have, the one thing we'll never travel without again is our merino wool mattress topper.
Not only does it protect the mattress, so helping to extend its life, it also makes for a more comfortable sleep.
It helps keeps us warm in the winter months and cool in the summer.
Since leaving the UK in 2018, we've used it every day through winter in Patagonia and the Brazilian summer's humid heat.
Whether you choose the sleeping bag option or a properly made bed, a merino wool mattress topper will only add to your van life comfort year-round.
The Best Portable Camping Toilet
When building or buying a campervan, deciding on how to handle the toilet situation will be high up on your list of challenges.
Deciding whether you even need a toilet in your campervan is the first question.
Not every campervan has an onboard bathroom, and their owners manage well enough.
There are many campervan toilet solutions. We've had a chemical porta-potti in the past.
Emptying it wasn't fun, the chemicals not kind to the environment, and finding places to empty it pretty tough in some places around the world.
In our 4×4 Sprinter van conversion, we have what we think is THE best portable camping toilet – a Nature's Head composting toilet.
A composting toilet works through the process of evaporation and decomposition.
Human waste is mostly water, and it's the water that makes everything so nasty and smelly.
By keeping the solids and liquids separate, half the job is already done.
The solid waste is deposited into a container with a natural fertilising substance like coco coir, and with the help of a fan and vent, any remaining liquids evaporate.
We've used the composting toilet since 2018 and would never go back to a chemical toilet.
A word of warning though, these toilets aren't cheap to buy, but they are kind to the environment, and you'll spend significantly less on coco coir than you would on chemicals.
A Campervan Shower for Endless Hot Water! Really!
Personal hygiene is important at the best of times and for successful van life, having a way to keep clean is high up on the list of priorities.
Some van lifers use gyms and service station facilities. Some have an onboard shower and bathroom.
Showers for campervans come in all sorts of guides. From simple solar showers in a bag to fully installed hot water showers and indoor luxury bathrooms.
While a fitted shower may sound luxurious, there's a couple of challenges to overcome for it to be effective.
Install a sound campervan water system so you can carry enough water for drinking and showering while you live off-grid.
Nobody likes a cold shower. Well, not in temperate climates, at least, so you need a way to get hot water in your campervan too.
You can overcome these challenges, but you still won't have an abundance of onboard water. It's just too heavy to carry too much of.
So even in luxury campers, those wild camping and boondocking will have quick showers to save on water.
But what if you could have endless hot water shower without ever using your own precious drinking water supply?
It sounds too good to be true but check out the Bushranger shower from Australia.
Fit the Bushranger's heat exchanger to a space in your engine bay. Plumb it into the engine's coolant systems, and you're good to go.
When you pull up beside a river or lake with a hot engine, drop one end of a hose into the water source, and plug the other end into the Bushranger.
Your hot water shower will last as long as the lake or your fuel does.
They seem pretty tricky to track down, though. We bought ours from Devon 4×4 in the UK. If you're outside the UK, check on the Bushranger website for stockists near you.
Top Van Life Laundry Gadget for Campervans
Van life laundry can be a chore, especially when there are no facilities or local laundromat nearby.
Not only that, but laundromats can get expensive.
We try to keep on top of our laundry by hand washing a few things at a time.
Light clothes and things that aren't heavily soiled are easy to hand wash and rinse out. But we don't want wet gear or laundry inside the van.
Even with adequate ventilation, all that water vapour is asking for damp, mould, and condensation issues. Ever van dwellers worst nightmare.
Instead, we use a simple washing line. Cheap and compact, it's ideal when there are a couple of trees to tie it to.
But what about when there are no trees?
This folding umbrella clothesline is just the job.
It's compact enough not to take up a tremendous amount of storage space, comes with a carry bag, pegs, and some handy ground pegs to prevent it from blowing over in the wind.
There are loads of times we wished we'd had one of these onboard!
The Most Useful Self-Recovery Gadget for RVs
A self-recovery kit isn't just for 4×4 off-road jeeps and Land Rovers.
Oh no!
When deciding whether you want or need a 2wd or 4wd campervan, you may think a 4×4 is only for those who want to drive off-road.
It isn't really the case, though.
We have a 4×4 camper but spend more time avoiding situations where we'd need its capability than actually using it.
There are times a 2wd could struggle getting off a wet grassy field.
And if your camper travels take you off the beaten path, expect to drive on some gravel tracks and bumpy corrugated trails.
Now a 4×4 isn't necessary for such road trips.
With a decent self-recovery kit, you can easily compensate for the lack of 4 wheel drive in most situations.
The single most useful piece of recovery gear is an air compressor.
The right tyre pressure makes all the difference between getting stuck in soft sand and having a comfortable ride.
If you're already stuck, rather than spinning your wheels in the hope something will bite, and you'll miraculously drive out, stop. You're only digging in deeper.
Let the tyre pressure down and try again.
Chances are you'll drive out straight away.
But then you need to pump them back up again. Driving on sharp gravel or even tarmac on soft tyres isn't a good idea.
An air compressor will have your tyres inflated in no time.
If you're on a long road trip, expect to drive on anything other than tarmac roads and have no self-recovery gear, at the absolute minimum, get an air compressor.