Home to almost 3 million people and with as many tourists visiting each year, Buenos Aires is busy 24/7.
The most popular attractions and neighbourhoods span out across the city. Getting to grips with the transport system helps tackle the vast city, save money and time too.
Fortunately, getting around Buenos Aires is surprisingly easy, especially with a little forward planning before you arrive.
During our extended stay in the city, we learnt a lot about the Buenos Aires public transportation system. From how to use the subway to free bicycle hire, airport transfers, using colectivos and the mitre train.
Here's everything you need to know about getting around Buenos Aires before you go.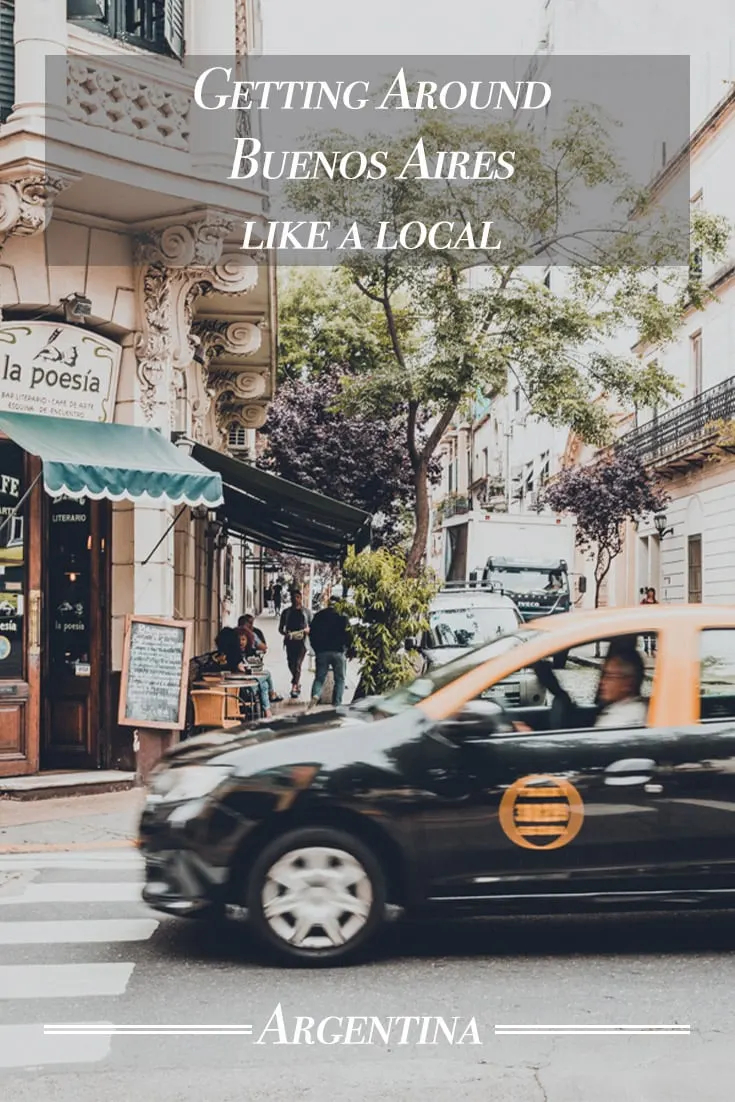 Buenos Aires airport transfers
Before arriving in Buenos Aires by air, make sure you know which airport you're arriving at.
The domestic airport, Aeroparque Jorge Newbery, is only 10 kilometres from downtown, easy and cheap to get to.
Ministro Pistarini International Airport, more often referred to as Ezeiza, is over 30 kilometres away in the opposite direction.
Check here for the cheapest flights to Buenos Aires.
How to get to and from Buenos Aires from Ezeiza airport
No matter how you get there, the journey between Ezeiza airport from Buenos Aires takes between 45 minutes and 2 hours, depending on traffic. Allow enough time to avoid missing flights.
Check out our full guide to all travel money in Argentina before you go.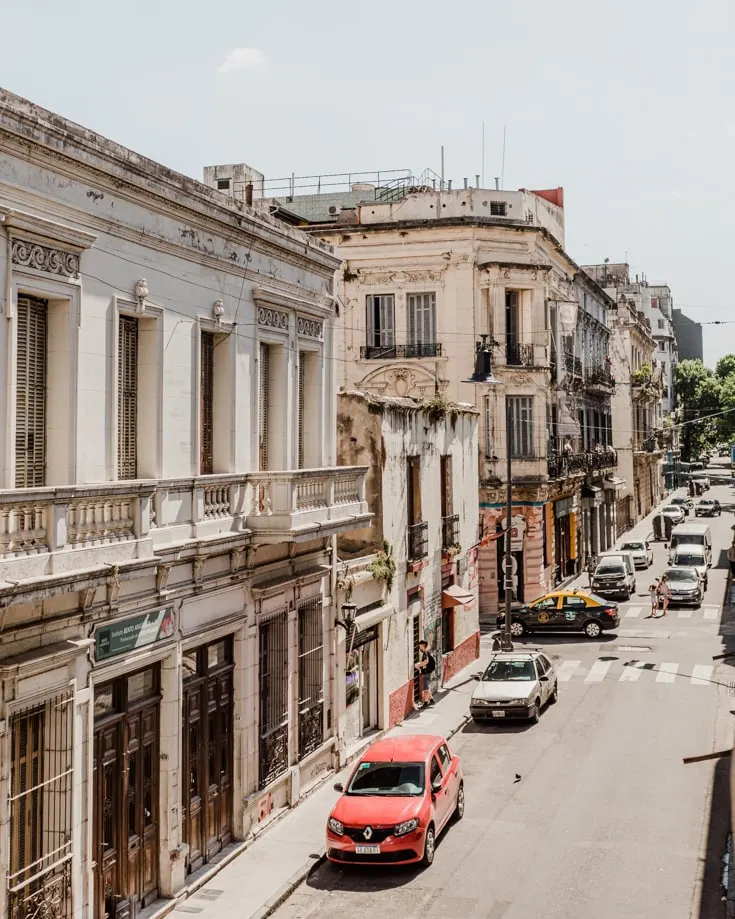 Public transport
This is the cheapest way to get to and from Aeropuerto Ezeiza but takes about 2 hours, with no seat guaranteed.
The number 8 bus goes from the city to the airport and costs about ARG $20. Be sure to take the bus that specifies that it stops at Aeropuerto Ezeiza on its front.
The number 51 bus also heads into Buenos Aires but it drops you in an unsavoury barrio, Constitución so we recommend avoiding this one.
To catch a bus from the airport, follow the signs outside departures.
Keep reading for information on how to check routes and bus stops on an interactive map.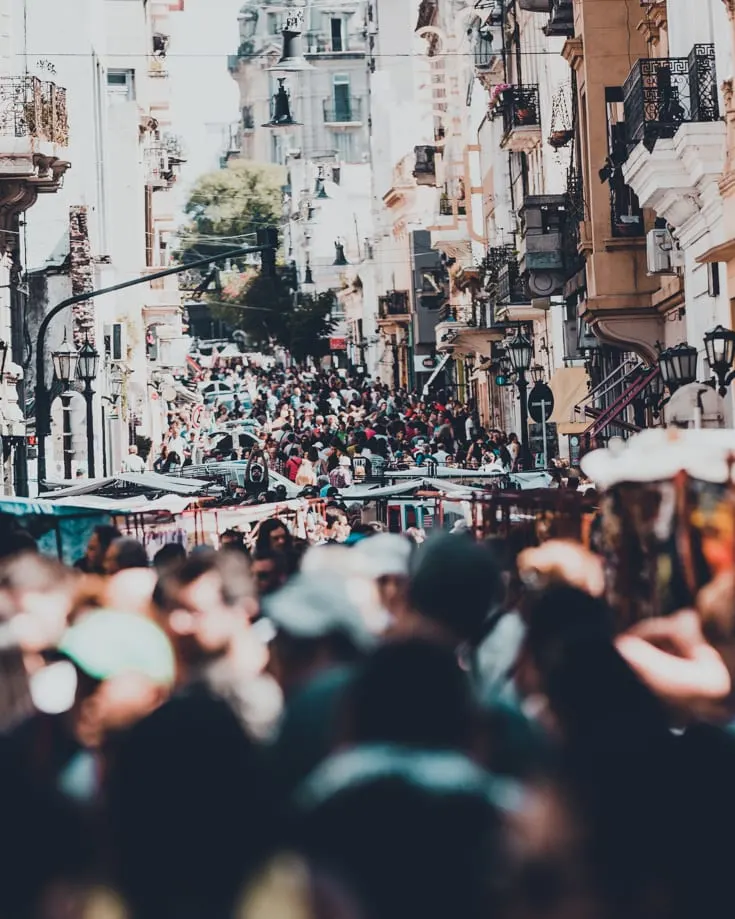 Airport shuttle bus
A quick way to and from the airport, the shuttle bus picks up and drops off at specific stops in the city. They don't drop you at your doorstep so not ideal if you have a lot of luggage.
Depending on the amount of baggage you have, the shuttle costs between ARG $170 and ARG $350 and runs every half hour, but only Monday to Friday from 8am to 6pm.
For the nearest pick up and drop off locations, try Minibis Ezeiza.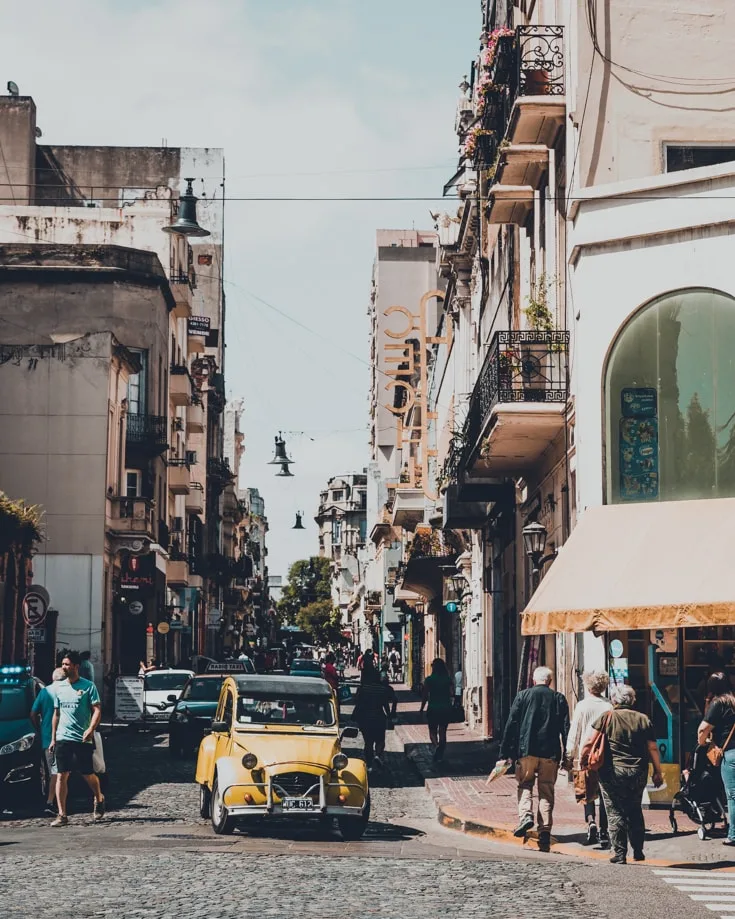 Taxi
As you'd expect, a taxi is the easiest way to travel between the airport and the city. The journey can take between half an hour to an hour and a half, depending on traffic.
Expect to pay between ARG $800 and ARG $1000 each way.
Tolls can cost up to ARG $300 extra, depending on the route taken. Taxi drivers understand you may not have any local currency so add the fee to the fare.
When you arrive at the airport, flag down a taxi and ask them to put the meter on. Or you can use the ticket machines to get a fixed price cab. Flagging one down is the cheaper option.
Private transfer
The most expensive but comfortable way to get to and from Ezeiza airport is by private transfer.
We arranged one to go to meet Angela's father off a flight from Europe. The driver waited for us too and the fare included the toll roads.
The cheapest way is to join the Buenos Aires Expat Hub facebook group and check out the latest recommendations for transfers on this thread.
Expect to pay around ARG $4000 for a round trip or around $2500 one-way.
Alternatively, you can book your airport transfers online here. They're a bit more expensive but more simple to organise.
Check out our Argentina travel guide for more info.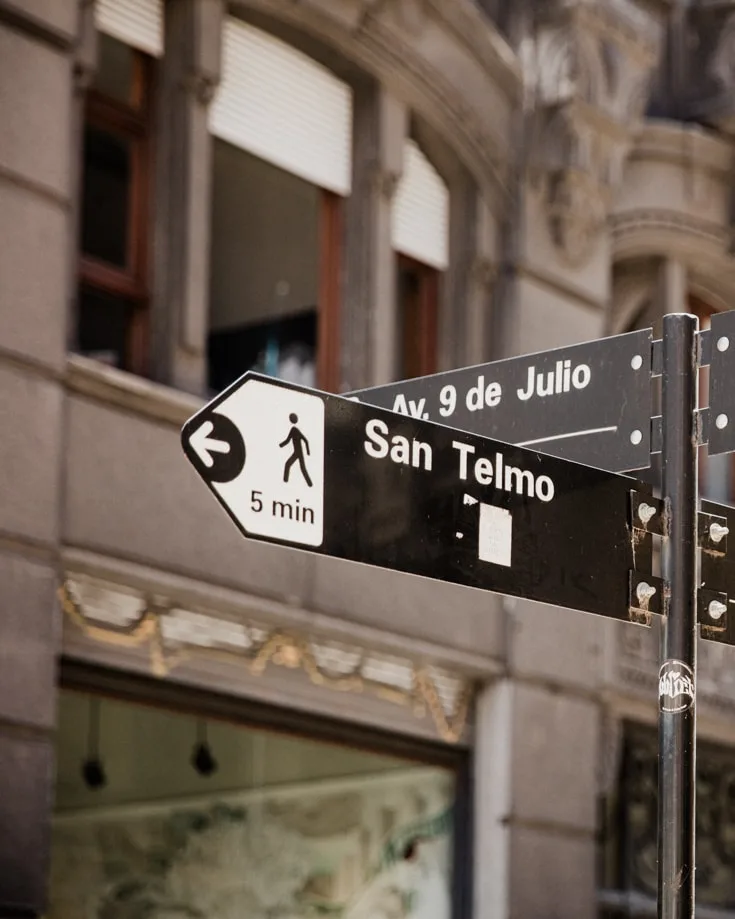 How to get to and from Buenos Aires from Aeroparque Jorge Newbery
Aeroparque Jorge Newbery airport is close to the city, and only takes about 15 minutes in a taxi from San Telmo.
Public transport
This is the cheapest way to get to and from Aeroparque Jorge Newbery. With your Sube card (see below), the colectivo (bus) fare costs ARG $20.
There's a few lines travelling to Aeroparque Jorge Newbery so check on the interactive map below for the best one to catch to or from your address.
Taxi
A taxi to Aeroparque Jorge Newbery from San Telmo costs ARG $300 (so about GBP £3 or US $5 at the time of writing).
With a couple of items of luggage, this is the best option to balance cost and convenience.
When arriving at Aeroparque Jorge Newbery, avoid accepting offers of a taxi from people at the exit doors in departures. They'll charge you 2 or 3 times the meter rate.
Instead, either hail a cab or use the machines for a fixed price fare. The fixed price fare is usually a bit more expensive than hailing a cab but more convenient when you arrive.
Make sure you have the address of your accommodation handy.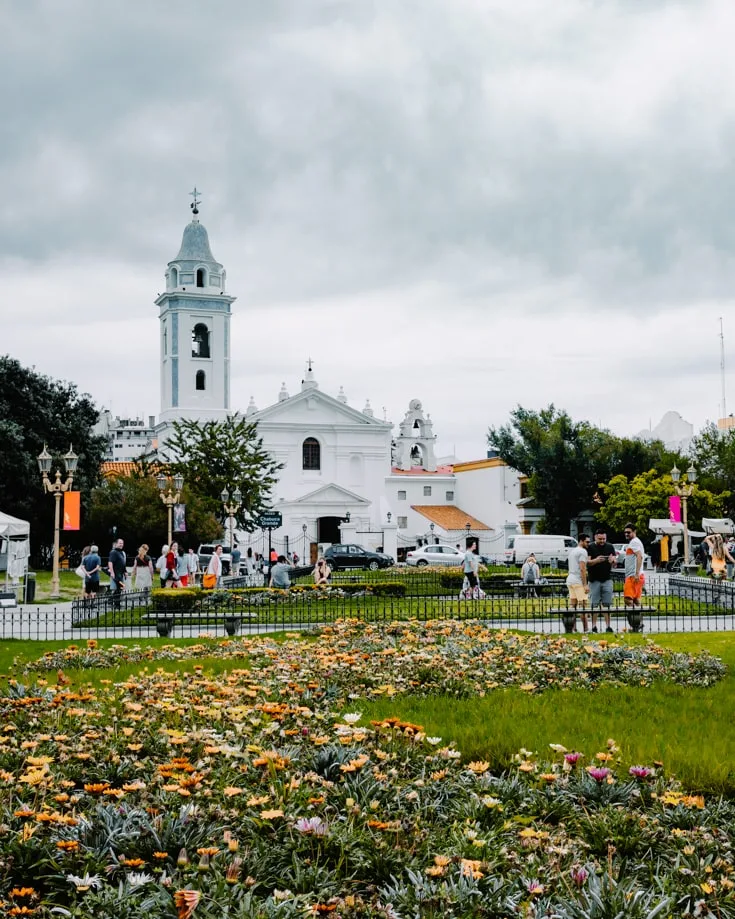 Buenos Aires public transport system
Getting around Buenos Aires is easy and quite cheap using the city's terrific public transport system.
Payment is made as you board using a prepaid Sube card. Here's everything you need to know about using the buses, trains and subway in BA.
Sube card
Buenos Aires used to have a terrible shortage of coins, making travelling by public transport a nightmare.
Thankfully things have changed and now BA public transport uses a cashless system.
You can pick up a SUBE card at any Subte (subway) stations or one of the hundreds of kioskos (corner shops) displaying the Sube sign around the city.
When you first buy the card, there's a one off fee of ARG $250 – that's about GBP £2.50 or US $4.
Prepay any amount you want to charge to the card. It's then ready to use on colectivos, the subte network and mitre trains.
Fares are cheap. A fare costs no more than ARG $22 and if you catch a 2nd bus or train within the same hour, the next fare is halved. So don't put too much money on the card.
You can check your balance each time you swipe it on a bus or subway and top up at a kiosko if you need to.
Interactive map for getting around BA
BA Cómo llego is an interactive map you can use online or as an app on your phone to plan your journeys around the city.
Simply enter your starting position and your destination and it'll provide you with all the options for getting there with a useful map.
It'll show you what underground and bus lines to take and where necessary, walking routes.
Even after 2 months in the city, we still use the app every time we use the public transport system.
You can use the map online here or download the app for iPhone or android.
Colectivos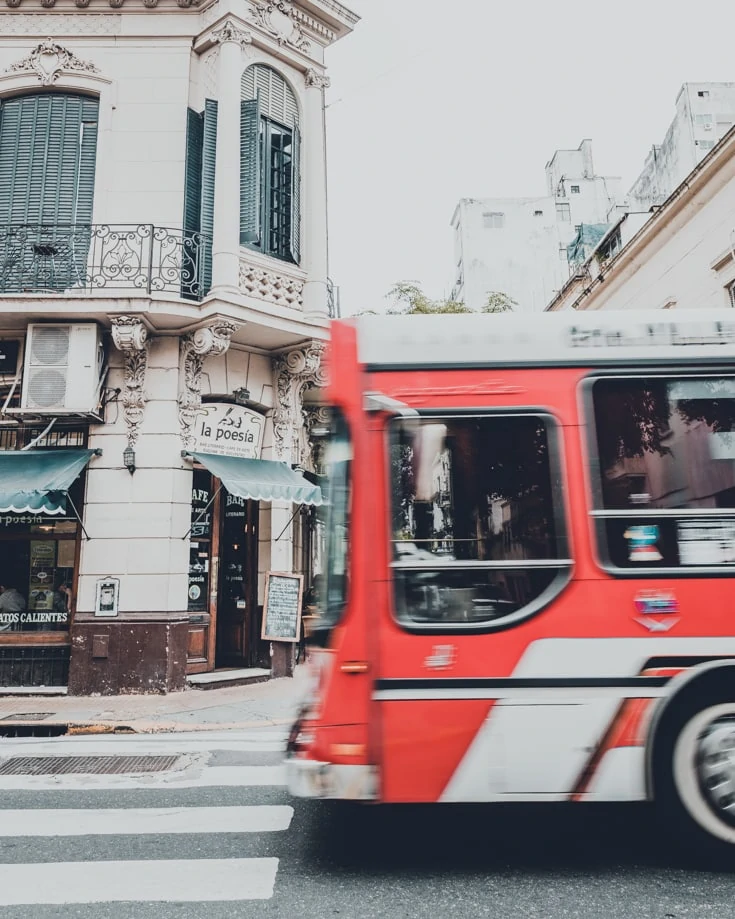 Known in Buenos Aires as colectivos, getting around Buenos Aires on the bus system is quick and easy. Although, sometimes, getting a seat can be quite a challenge.
Board the bus at the front doors and tell the driver where you're going so they can select the correct fare. Then swipe your Sube card on the fare machine. It'll beep to indicate the fare was deducted.
When you're approaching your stop, ring the bell to let the driver know you want to get off. We use Maps.Me to trace our route when we're in an unfamiliar part of town. Google Maps will works just as well.
Disembark from the doors in the middle of the bus.
Buenos Aires subway
The Subte in Buenos Aires was the first subway system in South America with the first line opening in 1913.
Today' it has 6 lines – A, B, C, D, E and H – and it's the quickest way of getting around Buenos Aires.
Station entrances tend to be located on street corners. You usually need to choose the correct entrance, depending on your direction of travel.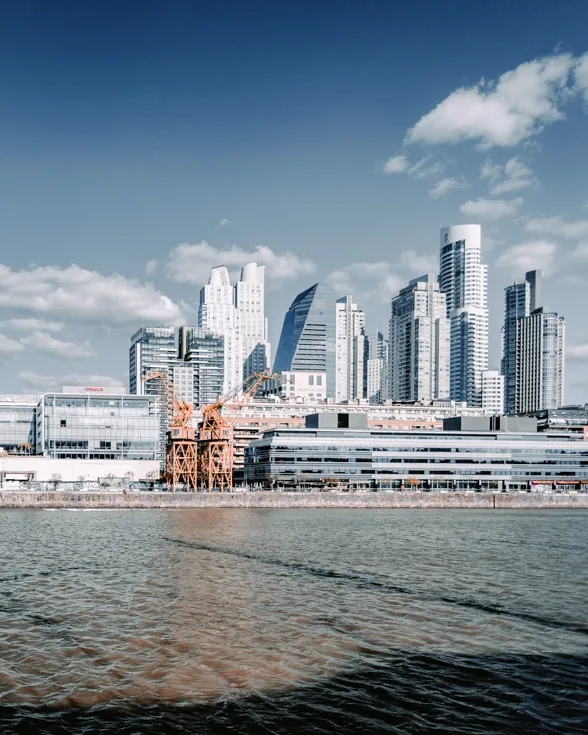 To work out which entrance you need, find the name of the station at the end of the line in the direction you want to travel on the interactive map.
You need the entrance that states trains to that station name, "trenes a".
You'll need to swipe your Sube card at the turnstile to gain access to the platform. It's the same system as on the buses.
You'll hear the beep to indicate the fare is taken and you can walk through the turnstile.
During rush hour, you can expect to stand unless you get lucky with finding an available seat.
You can also expect vendors and musicians all trying to make a few pesos.
Vendors often leave their wares with you, walking up the train before returning to collect their goods before the next stop.
If you want to buy, pay them when they return or hand them back if you don't want them.
Click here for the Buenos Aires Subte map.
Trains in Buenos Aires
To travel further out of the city, the train offers a good, cheaper alternative to hire cars.
Again you can pay using your Sube card but you can also buy tickets at the train station.
To get to Tigre, take the Mitre train from Retiro station. Use the interactive map to plan other journeys.
Walking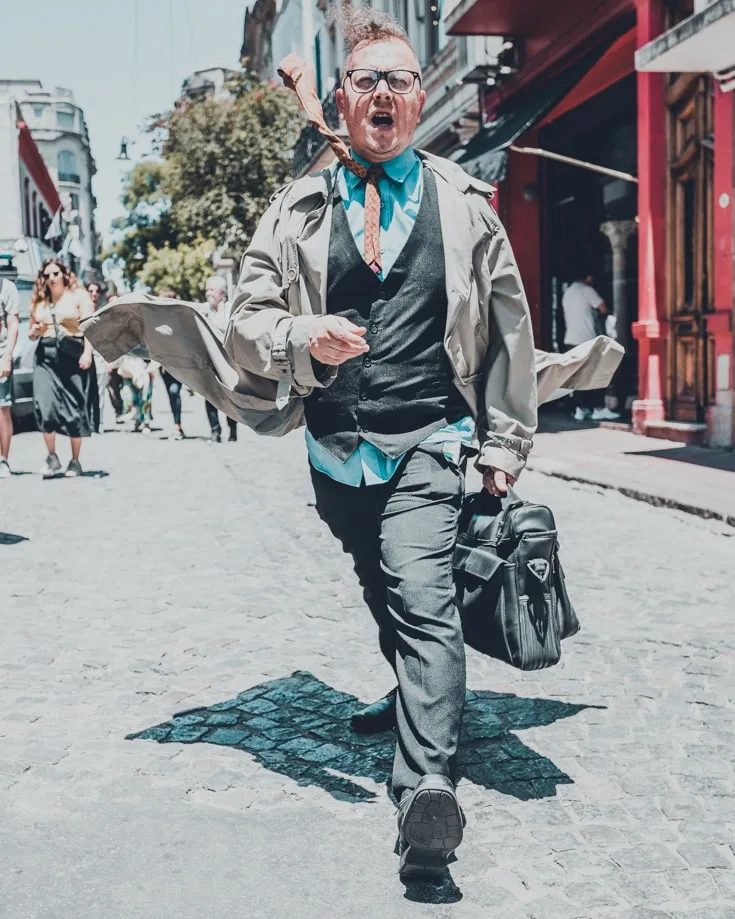 Most neighbourhoods in Buenos Aires are perfect for walking around and exploring on foot.
You can use public transport to reach the barrio (neighbourhood) if you're not already staying there, then explore on your own or on one of the many guided walking tours available in the city.
Here's just a few examples of guided walking tours in Buenos Aires:
Taxis in BA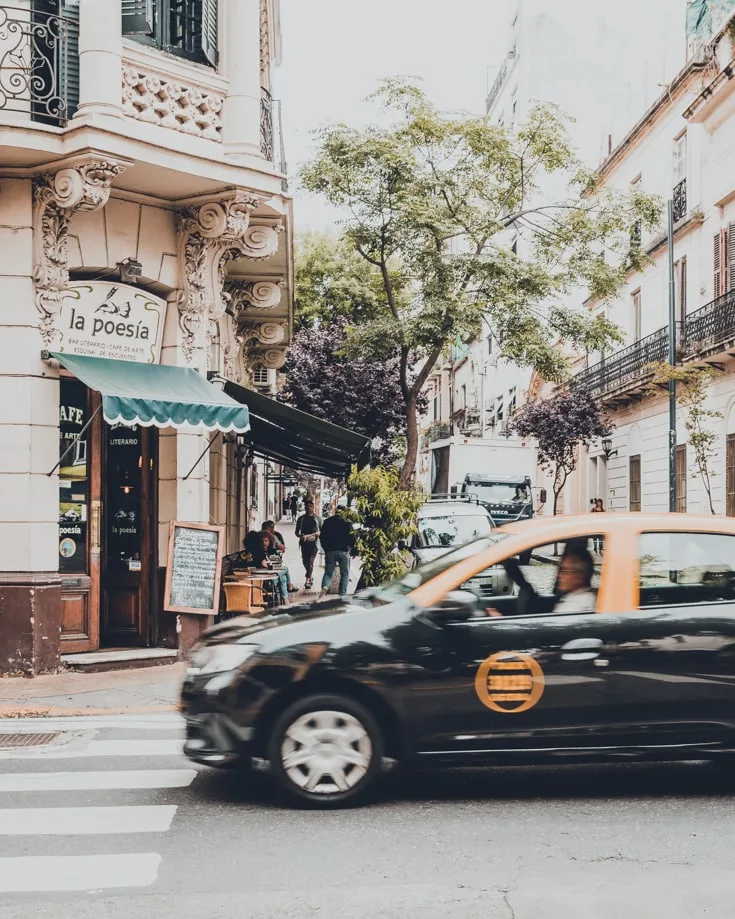 The black and yellow taxis are everywhere in Buenos Aires and fares are reasonable. If a taxi is free, the "libre" sign will be lit up in the windscreen.
Make sure the driver puts the meter on and avoid anyone suggesting a fixed fare.
Some unscrupulous drivers may take the "scenic route" in an attempt to hike the fare. Try to trace your route on an app like Maps.Me and mention any unusual diversion to the driver so they know you're keeping an eye on them.
Most drivers are honest though so don't go losing sleep over this.
Free bike hire
Buenos Aires has a fabulous system of free bicycle rental throughout the city. And with over 130 kilometres of cycle lanes, it's perfectly geared up for cyclists.
There's over 200 Ecobici docking stations for the bikes.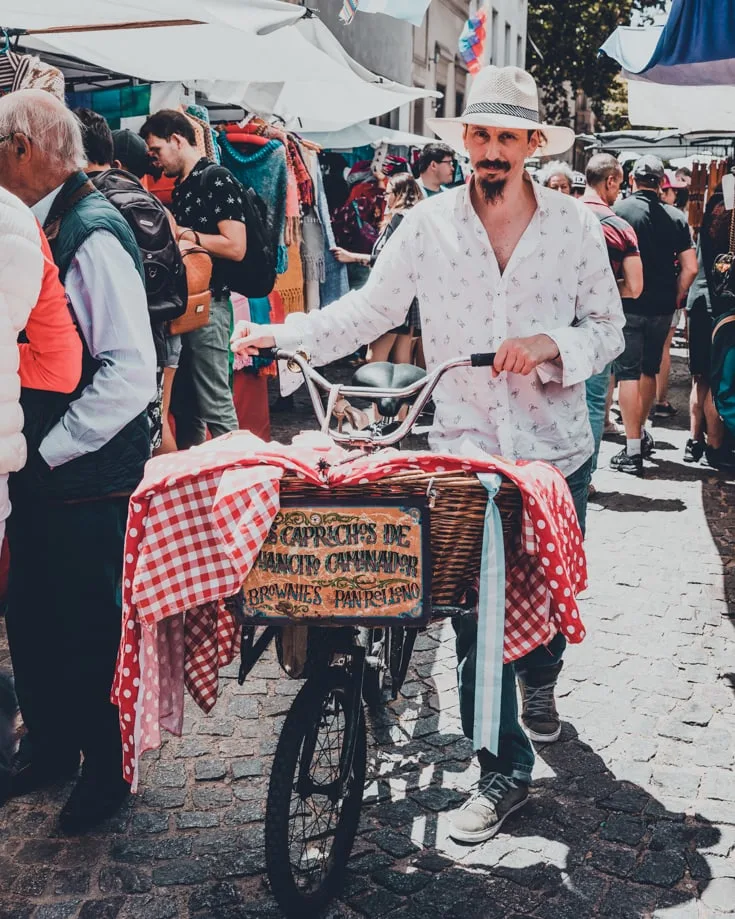 You can unlock one with an app and use the bike for an hour Monday to Friday or 2 hours at the weekend.
When you're finished, return it to any of the docking stations.
If you need it for longer than the time allowed, simply dock it for 5 minutes before using your app to get another unlocking pin.
You can download the app for iPhone and android. You'll need a local SIM card to register and make sure to get a small amount of data so you can get your unlocking code.
Make sure to register with a credit card so you don't have any issues with the app.
But don't worry, there's no fee. The EcoBici orange bikes are completely free.
Buenos Aires hop on hop off bus
If you have limited time and want to tick off all the main sights, the Buenos Aires hop on hop off bus is a perfect way to get around.
The open top, bright yellow bus offers audio guides in 10 languages so you can learn more about Buenos Aires' history as you travel between stops.
With 33 stops in total, you can cover the city in 1 day and choose where to get on and off as you go.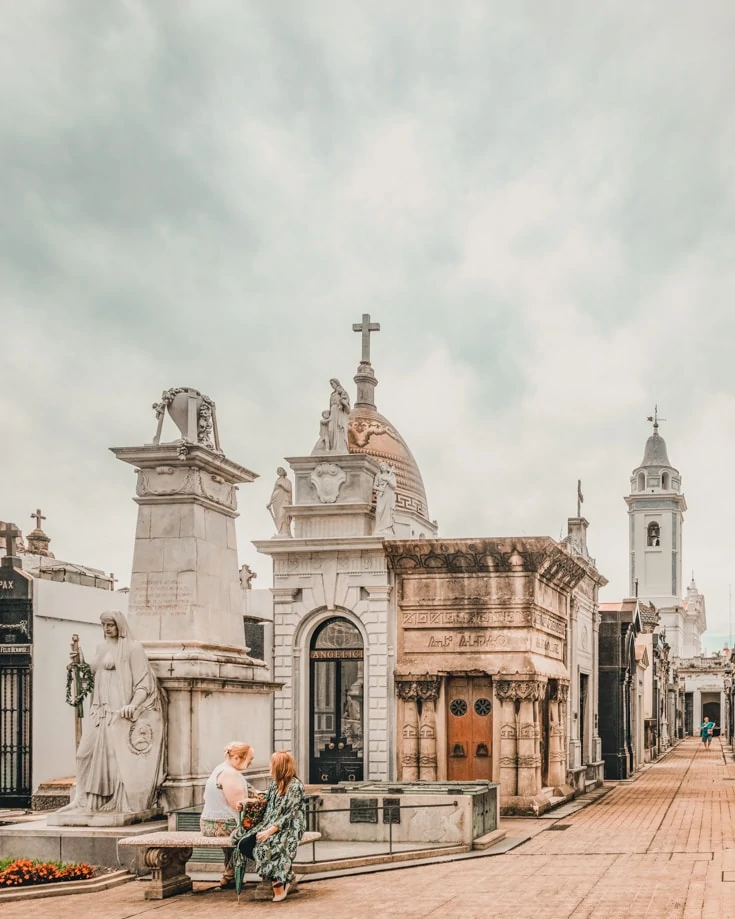 The tour is split into 3 routes:
Blue route covers La Boca, San Telmo and Puerto Madero
Red route includes Recoleta & Palermo
Green route more of Palermo and Belgrano
You can do the blue and red routes in one go, without having to get off the bus. The journey takes about 3 and half hours all told.
3 stops are shared with the green route for ease of switching buses. The green route take another hour and half, if you don't hop off at all.
You can buy tickets for 24 or 48 hours. The latter is more cost effective and gives you time for more exploring.
You can buy tickets on the bus or in advance here.
Car hire in Buenos Aires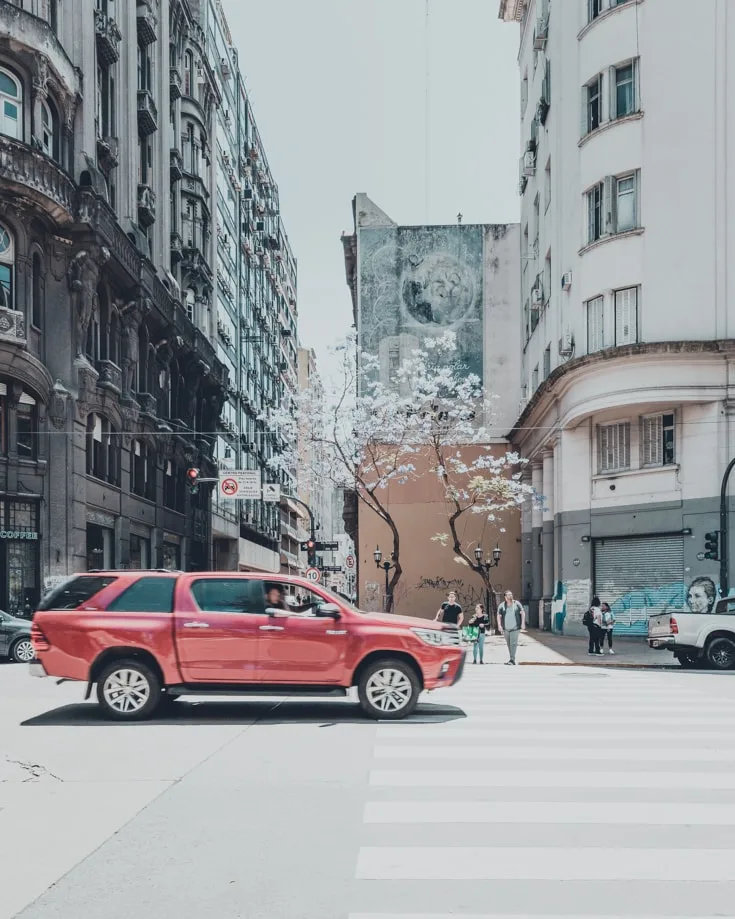 If you plan to spend all your time in and around the city, you don't need to hire a car. Traffic in Buenos Aires can be hectic, some drivers are crazy and parking in high demand.
And anyway, the public transport system is so good and cheap it's the easiest way to get around Buenos Aires.
You don't even need a hire car for most of the day trips from Buenos Aires.
Despite this, if you want to hire a car from Buenos Aires, check the latest rates and availability here.
To hire a car in Buenos Aires you need to be over 2, held a driving license for at least 2 years and have a credit card.
Bear in mind, cars sell out fast during the holiday seasons – especially December and January – so book well in advance to avoid disappointment.
Make sure to check out our guide to driving in Argentina for lots of tips and advice.
Travel insurance
Travel insurance – if you can't afford a travel insurance policy, you can't afford to travel. Don't go to Buenos Aires without a policy! We recommend:
Like it? Pin it!