In recent years, the world has become quite small. Modern transport and a growing trend in adventure tourism renders once off the beaten path destinations increasingly accessible.
So where do intrepid travellers go to for their kicks now? Perhaps the ultimate destination for adventure seekers is the remote, mystical and endangered continent of the Antarctica.
The Antarctica holds almost 90% of the planet's fresh water. It's our largest desert and the windiest, driest and coldest place on earth.
The elusive 7th continent is one of the most remote places in the world. With jaw-dropping, pristine landscapes and diverse wildlife how could it fail to wow?
It's a destination still mostly untouched by humans yet never more threatened by rising global temperatures.
We're currently in Ushuaia, little more than a stone's throw away from the Antarctica. So while it still exists, we're going on the most exciting trip of our lives!
We're utterly, stupidly, giddily excited to say we're going to the Antarctica! Oh, and we'll be popping in to the Falklands and South Georgia en route too.
We're going to the Antarctica!
We arranged a last minute deal from Ushuaia and booked a 20 day Falklands, South Georgia and Antarctica cruise.
We'll sail from Ushuaia, Argentina's southernmost city and make our way to the Antarctica via the Falklands and South Georgia as guests on board the Island Sky.
The Island Sky is a small expedition ship carrying upto 106 passengers.
We've got a bit of a fancy suite although we probably won't spend much time in there other than to raid our own mini-bar and maybe sleep if the excitement doesn't keep us awake for 3 whole weeks.
We even dare to say it'll be pretty difficult to leave and return to Baloo once we return to dry land.
The Island Sky's expedition team has a wealth of experience and knowledge about the Antarctica.
We'll be guided by an experienced team including an ornithologist, an environmentalist, a specialist in marine mammals, a photography coach and adventure guide.
We even have an onboard historian. Only Falcon Scott, the one and only grandson of the infamous Scott of the Antarctica! Can it get any better than that? He better know his stuff!
How to save $000's on an Antarctica cruise
Our Antarctica route map
This is roughly what our Antarctica travel itinerary looks like. We'll update this to accurately reflect the route taken once we're back on dry land.
Update 22nd March 2019: this is now updated to reflect our exact route. Each blue marker represents an area we visited either by a shore landing, zodiac cruise or ship's cruise.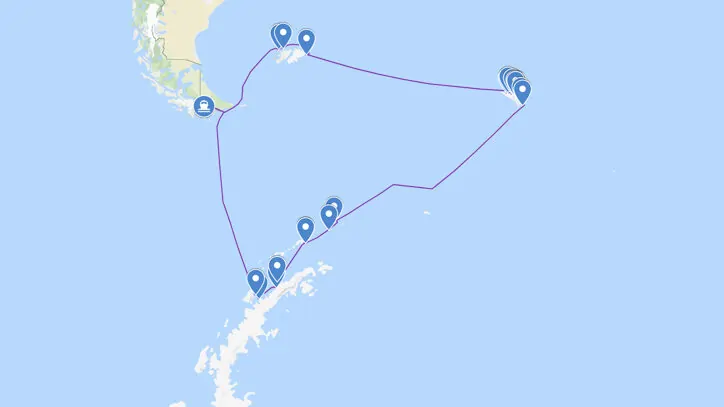 Antarctica expedition adventures
We'll visit the western and eastern Falkland Islands and hopefully replenish our mint sauce and British tea-bag supply in Port Stanley. Having left home 10 months ago, it's hard to put into words just how excited we are about those teabags!
Zodiacs will ship us to and from the Island Sky onto South Georgia. Here we'll immerse ourselves in incredible wildlife encounters with penguins, elephant seals and fur seals.
We'll visit historic Grytviken whaling station, the active British Antarctic Survey station and the final resting place of the Antarctic explorer, Sir Ernest Shackleton.
As we sail across the Scotia sea, iceberg sightings should become more frequent, whales more plentiful and the excitement even greater as we head towards the Antarctic Peninsula and the South Shetland Islands.
Depending on the weather and sea ice, we'll explore the area by Zodiac to marvel at penguin rookeries, seal wallows, bird colonies and whale feeding areas. And for good measure, there's few sites of historic and scientific interest.
In between all this, onboard lectures and whale watching and taking part in some Citizen Science projects will keep us fully occupied. Our only concern is finding time to take advantage of our complimentary mini-bar!
Follow our Antarctic Adventure
As we leave the shores of South America on our trip of a lifetime, we'll document our polar adventure. We'll capture photos, prepare new articles and post updates on Facebook and Instagram.
Whether you want to plan your own polar expedition or just want to find out what Antarctica travel is all about, follow along and see what we get up to.
And now we're back!
What an adventure! Read all about it here.
Like it? Pin it!