Chile's Hanging Glacier, also known as Ventisquero Colgante, is a phenomenal natural wonder on Patagonia's Carretera Austral. Plan your visit to Queulat National Park to marvel at it with your own eyes with our complete guide.
---
Queulat National Park is perhaps best known and most visited for the infamous Hanging Glacier – Ventisquero Colgante.
Some 1800 meters above sea level, the blue-hued Ventisquero Colgante clings to a granite precipice, its meltwater an ever-present reminder of its eventual demise. The cascade gushes into the milky Lagoon Témpano far below, occasionally accompanied by crashing icy boulders as the glacier sheds a little more of itself.
Since Ventisquero Colgante was first discovered almost 150 years ago, it has receded over 5 miles!
As is often the case in Queulat National Park, the glacier was shrouded by dense fog when we arrived at the viewing deck. But with patience, it dissipated with the heat from the morning sun to awe us with a sensational sight.
This part of Patagonia's Carretera Austral is perhaps where nature is at its most raw. The road clings to the coastline, with deep fjords to the west and drenched evergreen forests climbing the Andean mountains to the east.
In this guide for travelers, we've shared our tips on visiting the magnificent Hanging Glacier, plus tips on other hikes in Queulat National Park, how to get there, where to stay, and a few essentials to know before you visit.
This is our guide to visiting Chile's Hanging Glacier, plus all you need to know to plan your visit.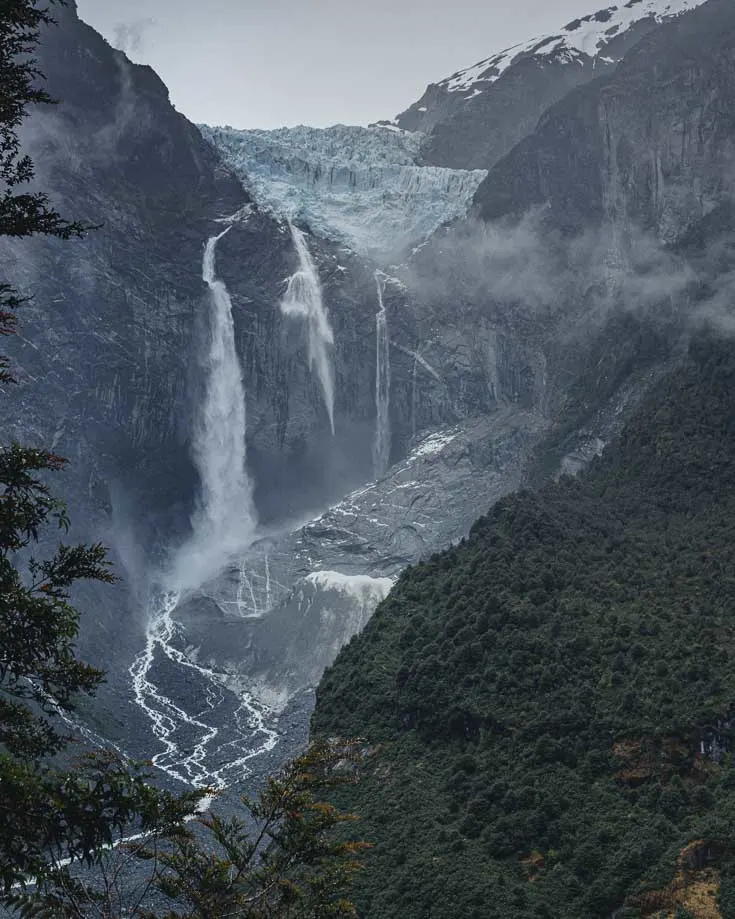 When you click on links to various merchants on this site and make a purchase, this can result in this site earning a commission. As Amazon Associates, we earn from qualifying purchases. For more info, please check our disclosure page.
How to Get to Queulat National Park & Chile's Hanging Glacier
Perfectly positioned on Ruta 7, the Hanging Glacier is within Queulat National Park and one of the most accessible glaciers in Chile. The park entrance is about 12 miles south of the tiny village of Puyuhuapi (Google Maps).
We recommend exploring the Carretera Austral at your own pace as a self-drive road trip.
Rental cars are available from Puerto Montt & Coyhaique in the north and Punta Arenas in the south. Bear in mind, you'll pay extra if you drop it off at a different destination.
Better still, rent a campervan. Wicked Campers and Soul Vans are popular rental providers and can provide the necessary permit to allow you to drive it across the border into Argentina.
More // You can read more about driving in Patagonia here.
There are alternative ways to get to the Hanging Glacier if you don't want to drive:
By Bus // Fortunately, you can get a direct bus to Puyuhuapi. The village is about halfway along the Coyhaique to Chaiten route, but the bus doesn't run every day. In summer, they usually run from Tuesday to Saturday, and it takes about 5 hours.
Hitchhiking // It's common to see backpackers hitchhiking in Patagonia, and it's unlikely you'll wait long for a lift from Puyuhuapi. That said, because there are no bus routes from Puyuhaupi to Queulat National Park entrance, thumbing it is a popular option – so popular that we've seen queues of hitchhikers in these parts so consider an early start.
Guided tours // If you prefer to have all the travel plans made for you, organized day tours run from Coyhaique. They usually include lunch in Puyuhuapi, and you get to stop off at some of the roadside sights en route too, so it doesn't feel like you're missing out on one of the best parts of the adventure. Check out this Hanging Glacier tour from Coyhaique.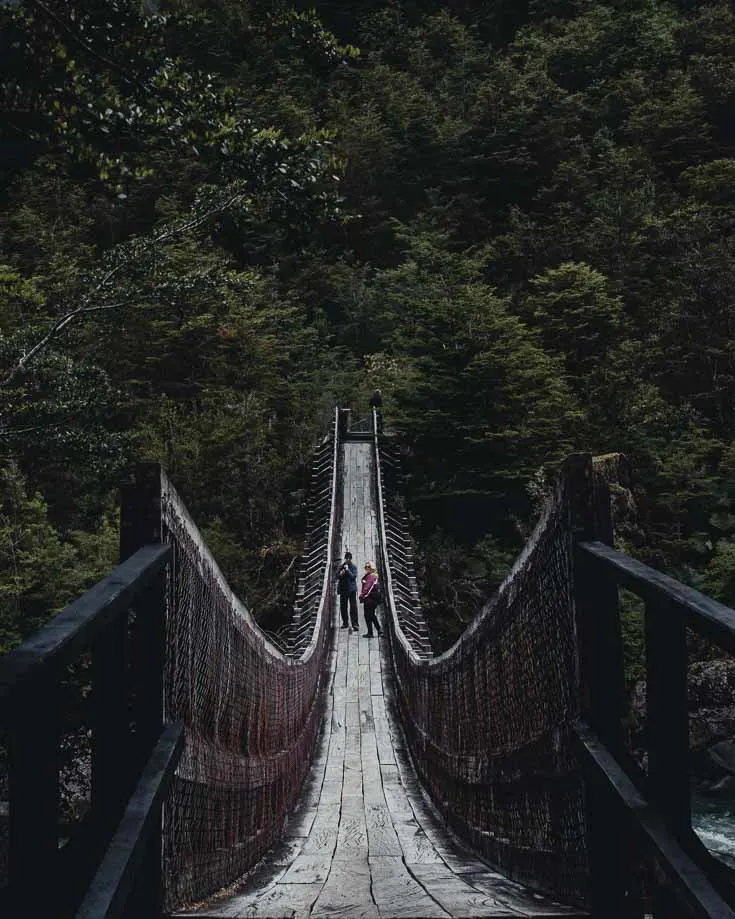 A Little Bit About Puyuhuapi
Despite being settled by Germans in the 1930s and a delightful location at the head of Ventisquero Sound, Puyuhuapi village isn't a major attraction in its own right. However, it has a couple of stores for essential supplies and reasonable cell coverage, given the remote location. If you're lucky (or interested), the hand-weaving carpet hut might open.
The small but expensive stores are convenient for resupplying – if you don't mind the limited choice and usual lack of fresh vegetables. A rural mechanic can help with basic repairs, so long as you have your own parts.
And remember, there's no ATM in Puyuhuapi, so make sure you have enough cash to get you to Coyhaique in the south or Chaiten to the north.
For fabulous views down the fjord and over the whole town, take the short Mirador Sendero El Canelo trail from the village. It climbs through private land (so there's a small admission fee), and you'll be rewarded with terrific views of the mountains and down the length of the fjord.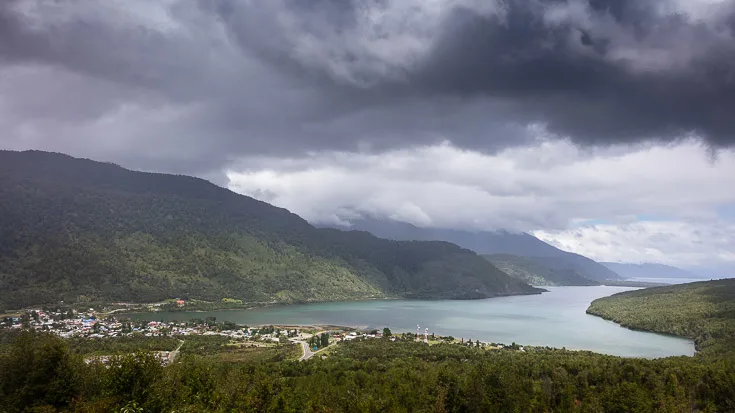 Hanging Glacier Hiking Trails
The main attraction of Queulat National Park is the Hanging Glacier. There are a few hiking trails to suit most fitness levels, all starting and ending in the car park and each with a unique viewpoint of the glacier.
Sendero Ventisquero Colgante
Laguna Témpanos Trail
The Aluvión Trail
Mirador Panorámica Trail
Sendero Ventisquero Colgante
The vast majority of visitors take the longest trail for the most well-known views of the Hanging Glacier – Sendero Ventisquero Colgante. Once you've crossed the footbridge over the glacial waters of River Ventisqueros, the signposted trail leads into the dense forest.
The start of the trail up to the viewing deck is pretty steep but almost levels out about halfway. There are a couple of rest stops along the trail, offering a limited view of the surroundings, but it's not until you reach the top that the glacier is visible.
As with all hikes, the trail is best enjoyed when it's not busy. But in January and February, you're unlikely to enjoy any solitude on the path. So getting here early will improve your chances.
With fewer people on the trail, you're more likely to spot the native wildlife too. Keep your eyes peeled for the black woodpecker and South America's smallest cat, the güiña.
Distance // 4 ½ miles / 7.24 kilometers
Type of trail // Round trip, muddy
Walk Points of Interest // Views of Ventisquero Colgante
How long does Sendero Ventisquero Colgante take? // There are a couple of stopping points to catch your breath and take in some pretty cool views. The hike takes around 3 or 4 hours, depending on your fitness level.
Accessibility // Many parts of the trail are muddy, especially after rain. The conditions become worse when large numbers of hikers churn up the ground. The early part of the hike is quite steep. Park rangers have tried to improve conditions with wooden steps, but a pair of trekking poles will be a big help. Overall, the trail is rated by CONAF as medium difficulty.
Total ascent for Sendero Ventisquero Colgante // 928 feet / 283 meters
Laguna Témpanos Trail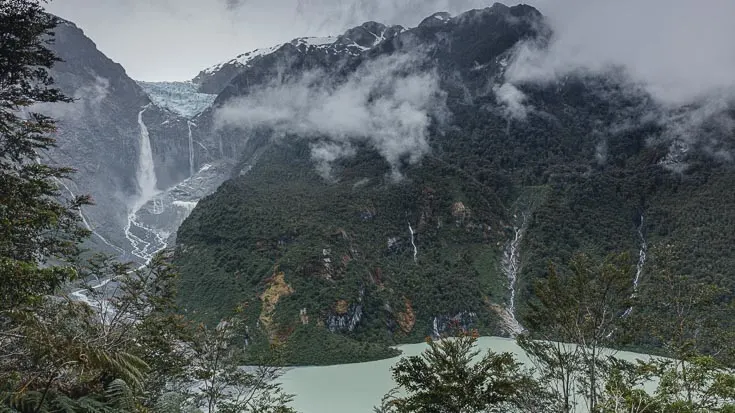 Laguna Témpanos Trail is more of a short walk than a hike and is the only trail in the park to see the glacier from the lakeside.
After crossing the footbridge from the car park, take the signposted path to the right – the left path is Sendero Ventisquero Colgante. The trail leads to the lake, where you can pay for a boat trip or kayak trip to get a unique perspective of the glacier and the surrounding waterfalls.
The boat trips last around ½ hour and only leave once enough people are on board, so you won't have this tour to yourself. Our friend took the boat trip instead of climbing to the mirador because she had a dog. The guards allowed the dog to enter the park on the proviso it didn't leave the car. As such, she didn't want to leave him for too long, so the boat trip suited her best.
Kirsi thought the $6000 CLP fare was a little steep for those who had already climbed to the mirador but an acceptable price if it's the only way you can see it.
The kayaking tours last much longer, and you'll be out on the water for a couple of hours. Kayak groups are small, between 3 and 6 kayakers including all the safety equipment and Spanish-speaking guide (who may have some ropey English). Expect to pay around $16000 CLP each.
Even if you don't want to take a trip on the lake, the short path is worth walking for the viewpoint, especially if it isn't too busy.
Distance // 0.8 miles / 1.3 kilometers
Type of trail // Round trip, flat, muddy in parts
Walk Points of Interest // Lakeside views of the Hanging Glacier
How long does Laguna Témpanos Trail take? // ½ hour, round trip
Accessibility // The path is relatively flat, making it an easy walk. As with every trail in Queulat National Park, it can be a muddy mess in part after rain and heavy foot traffic, so wear appropriate footwear.
Total ascent for Sendero Ventisquero Colgante // 92 feet / 28 meters
The Aluvión Trail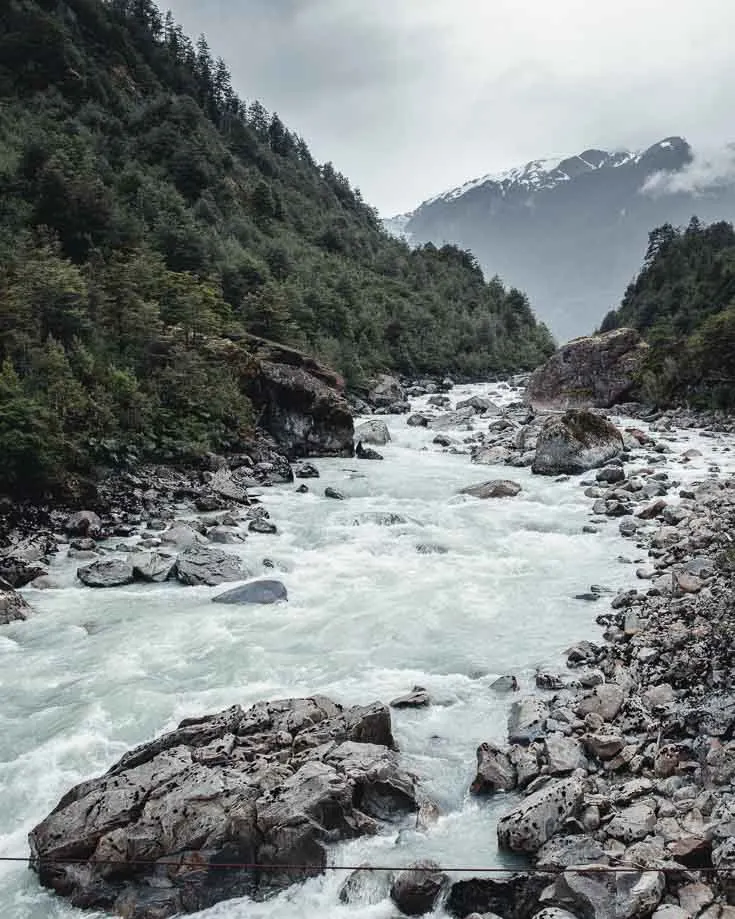 A short path few visitors to the park bother to walk, the Aluvión Trail circles around a small section of native forest near the river. Although only 350 meters long, it took us ages because there was so much nature to watch. If birds are your thing, this is a fabulous trail, though don't expect a view of the glacier from here.
Distance // ¼ mile / 0.4 kilometers
Type of trail // Round trip, flat,
Walk Points of Interest // Flora, fauna & information boards about the geography of the region.
How long does the Aluvión Trail take? // ½ hour
Accessibility // As a flat trail that gets little foot traffic, this is the driest and easiest walk in the park.
Total ascent for the Aluvión Trail // 42 feet / 13 meters
Mirador Panorámica Trail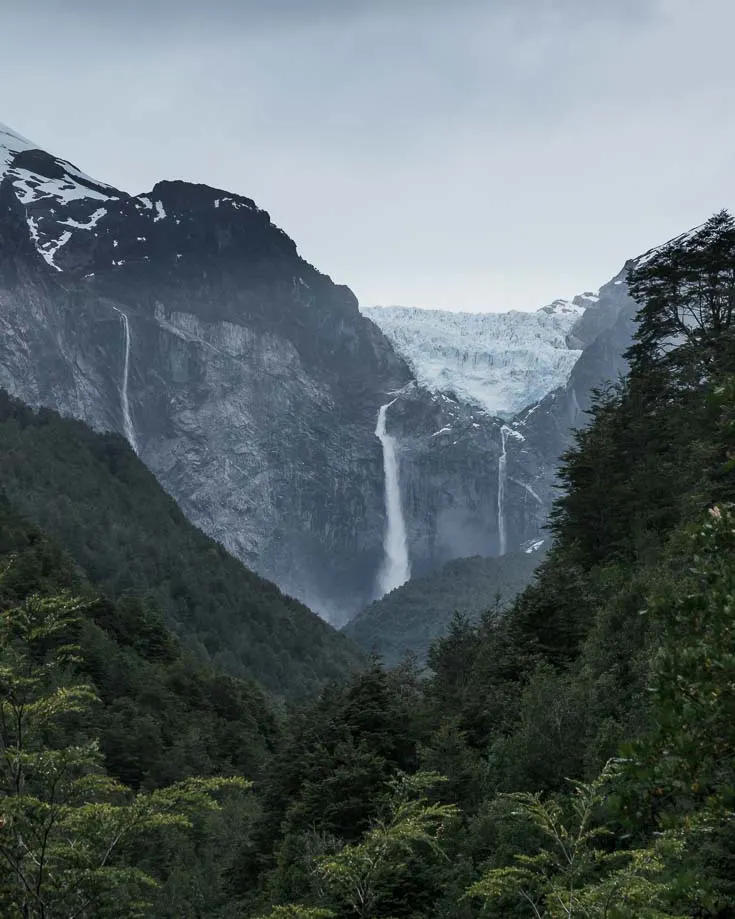 The Mirador Panorámica Trail is a short walk to another lookout point. To be honest, the view of the glacier from here is pretty far off. However, the trail is easy enough and not very long, so it's worth taking, if only for a different perspective. You won't miss much if you pass on it.
Distance // ¼ mile / 400 meters
Type of trail // Round trip, flat
Walk Points of Interest // Hanging Glacier viewpoint across the lakes
How long does Mirador Panorámica Trail take? // ¼ hour round trip
Accessibility // Another relatively flat trail, and not too muddy
Total ascent for Mirador Panorámica Trail // 52 feet / 16 meters
Other Queulat National Park Hiking Trails & Attractions
While the Hanging Glacier is undoubtedly the main attraction in Queulat National Park, there are other sights, most of them hidden gems.
You won't find guided tours, bus stops, or, in some cases, obvious signposts. Therefore, independent travelers are best placed to get the most out of these sights. Most are accessible from the Carretera Austral so if you're on a road trip along Ruta 7, consider marking some of these locations on your map.
The Enchanted Forest // El Bosque Encantado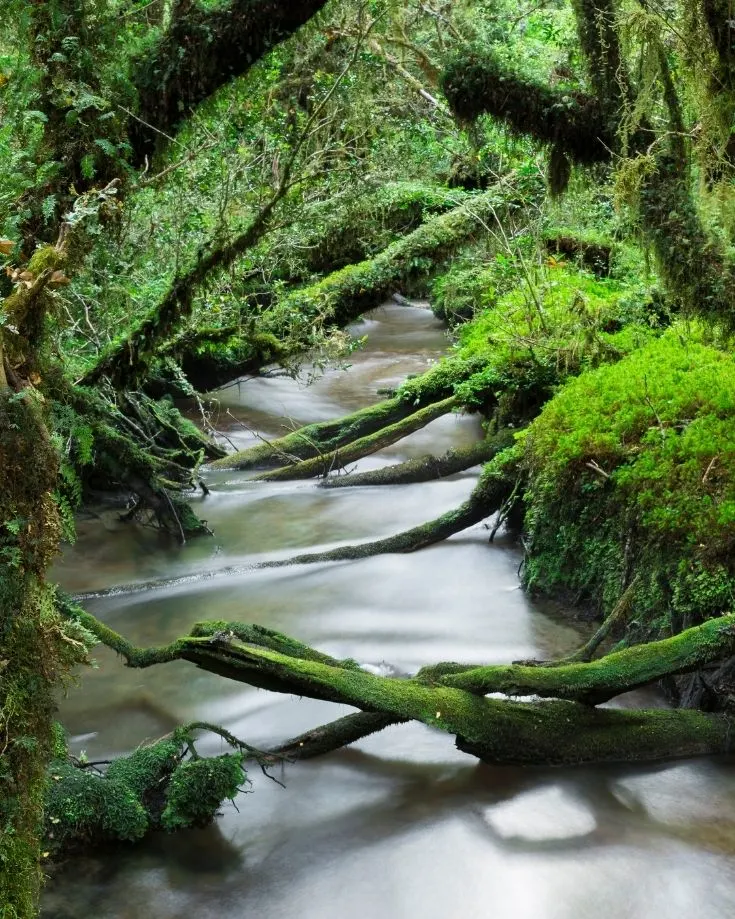 19 miles south of the Hanging Glacier is one of the highlights of Queulat National Park, the Enchanted Forest, locally known as El Bosque Encantado.
The easy 1-mile trail leads through a magical forest with twisted tree trunks engulfed in thick mosses, trickling brooks flanked by flowering fuchsias, and sunbathing frogs. And at the end of the trail? Laguna El Duende (which, of course, translates to Elf Lagoon) is littered with enormous icebergs!
El Bosque Encantado is often closed, thanks to frequent landslides. Even now, it remains closed, mainly due to travel restrictions, though we believe it will reopen to visitors in 2022.
Risopatron Lake & Laguna Los Pumas Trail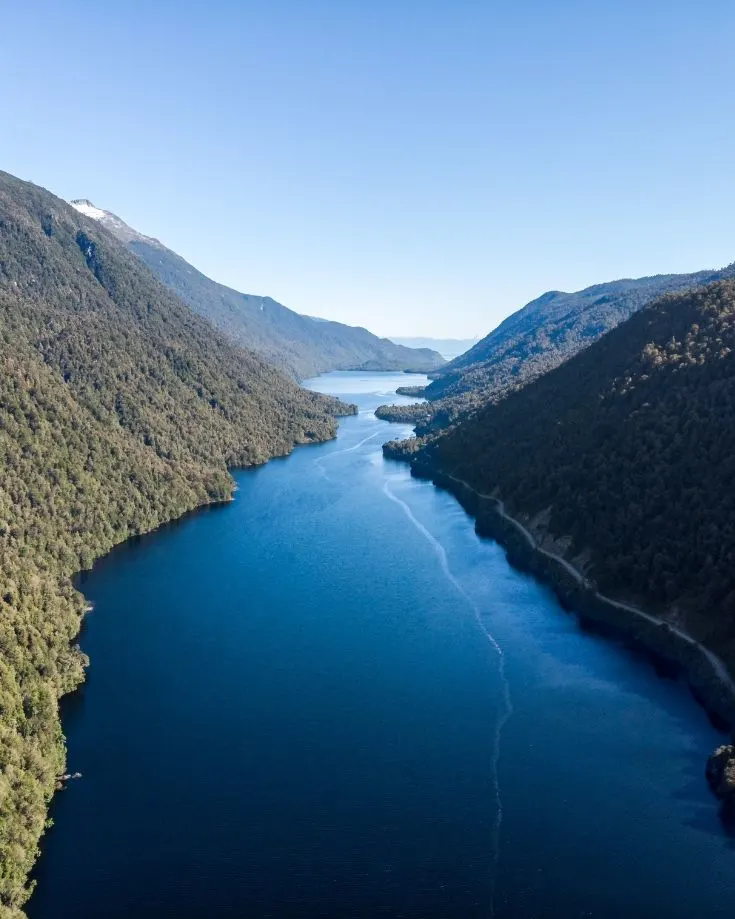 Are you serious about hiking? Sendero Laguna Los Pumas is a little-visited trail north of Puyuhuapi. It is signposted but keep a lookout because it's easy to miss. The trail ascends through dense forest and has some of the best views of Risopatron Lake in the area.
Towards the end of the 5-kilometer trail, the fitties amongst you will be rewarded with a secluded lagoon and probably have it to yourself any time of the year.
Top tip // Keep any noise to a minimum, and you might be lucky enough to spot the skittish and adorable Pudu deer.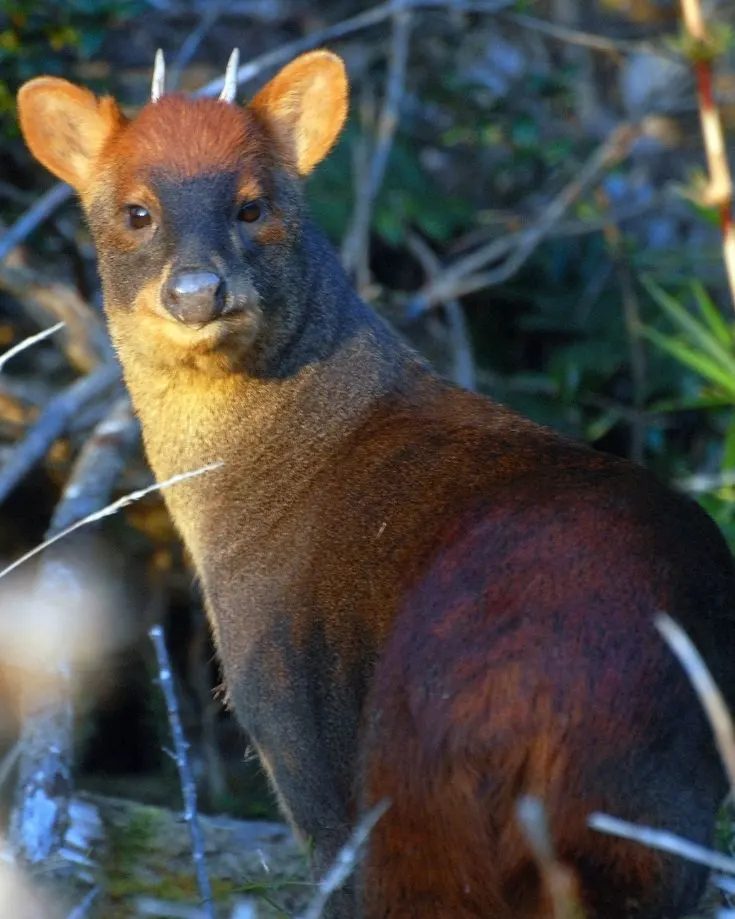 Distance // 6 ¼ miles / 10 kilometers
Type of trail // Round trip
How long does Laguna Los Pumas Trail take? // 4 ½ hrs
Total ascent for Laguna Los Pumas Trail // 2780 feet / 847 meters
Unmissable Waterfalls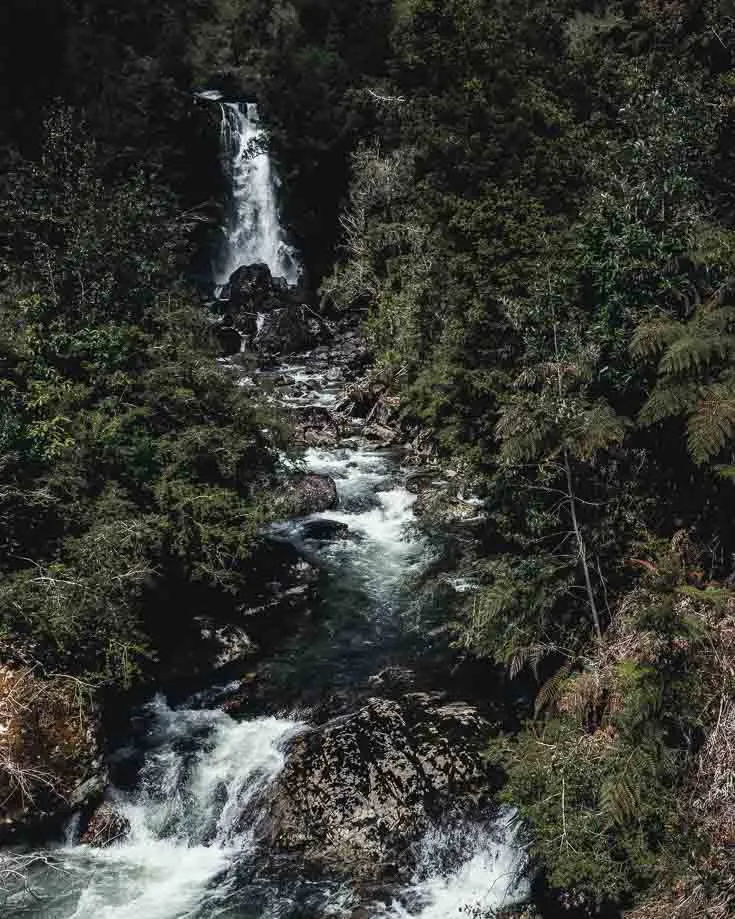 Given Queulat National Park protects so many Andean mountains exceeding 2000 meters and the regional climate, it's perhaps little wonder there are so many waterfalls here. Many are visible from the roadside, and because we think waterfalls have a feel-good factor, take every chance to stop, even if only for a rest stop on your road trip. Two of the most impressive waterfalls in Queulat National Park are:
Salto Padre García // Completely hidden from the road, a short trail leads down to a viewpoint of this 100-foot waterfall.
Salto El Condor // Watch out for the signposts a little way past the entrance to the Enchanted Forest. You can park in a layby can accommodate a few vehicles, and it's a popular stop on guided tours to the Hanging Glacier. If there's a bus parked up when you arrive, wait for it to leave before you walk a couple of hundred meters to the falls so you can enjoy it without any crowds.
Queulat National Park Weather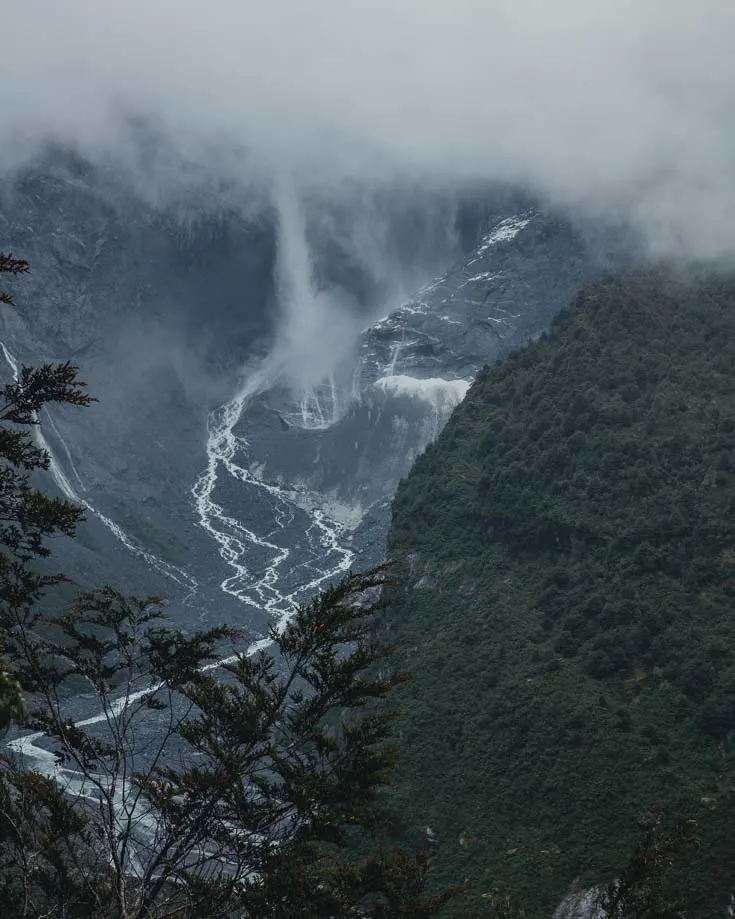 Patagonian weather is predictably unpredictable, and it really can experience all four seasons in one day. The weather in Queulat National Park is equally unpredictable, but it's important to understand how it may affect your Hanging Glacier visit.
Low hanging clouds cover the mountains, and the glacier may not be visible. When we arrived, it was shrouded in mist, but at least it was relatively thin. Given some time and patience at the covered viewing platform, the cloud eventually burned off and revealed the glacier.
But many visitors have not been so lucky. We recommend checking the weather forecast when you arrive in Puyuhuapi before you visit. Even when you arrive at the park entrance, ask the rangers about the visibility. They'll know the chances of seeing the glacier so you can decide if you want to pay the entrance fee or visit another day.
Best Places to Stay Near the Hanging Glacier
Luxury // Puyuhaupi Lodge & Spa
Accessed from the water, you'll park your jalopy at the dock before taking the complimentary boat to the lodge and be welcomed with a glass of bubbly. A luxurious and tranquil space, with 360° views of nature, the fjord, and even an occasional passing dolphin or seal, the real highlight of any stay here is the thermal spa.
Open round the clock, this is your chance to lounge back in volcanically heated water, a glass of wine in hand, and gaze up at a million stars.
The lodge is halfway between Puyuhuapi village and the entrance to the Hanging Glacier, so it makes a perfect base for visiting the Queulat National Park. Check the latest prices and availability here.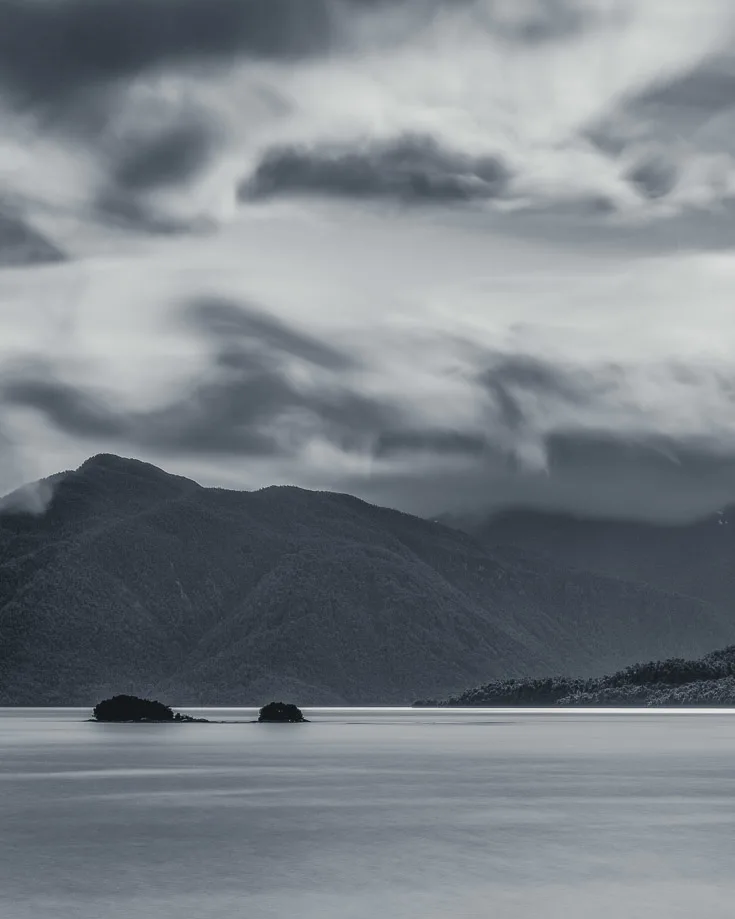 Camping //
La Sirena Camping // There are a few small, basic campgrounds in Puyuhuapi. They're mainly geared towards tent campers. We stayed at La Sirena, right on the shore of the fjord, and just managed to get our van in, though it was a tight squeeze. There's a sheltered area to pitch tents beneath for tent campers, perfect protection for rain and wind. The indoor cooking area has a wood-burning stove, too, ideal for drying out any wet gear overnight.
Camping in Queulat National Park // There is a campsite within the park, so if you wish to stay there, ask for a pitch and pay your fees on entry. The campground has about a dozen pitches; each has a covered cooking area, picnic tables, water, and bins. Each pitch accommodates up to 1 vehicle, 3 tents, and 8 people and costs $6000 CLP per person. Although that seems like a high price, it's a tranquil camp in a natural setting when it's not busy. You can enjoy the trails after the park has closed and day visitors have left too. We suggest you avoid staying here during January and February because it's not so pleasant or quiet when the pitches are full.
Boondocking // There are a few boondocking opportunities nearby, some with fantastic views over the fjord where whales, dolphins, and seals are frequent passers-by. Take your pick but please, always camp responsibly.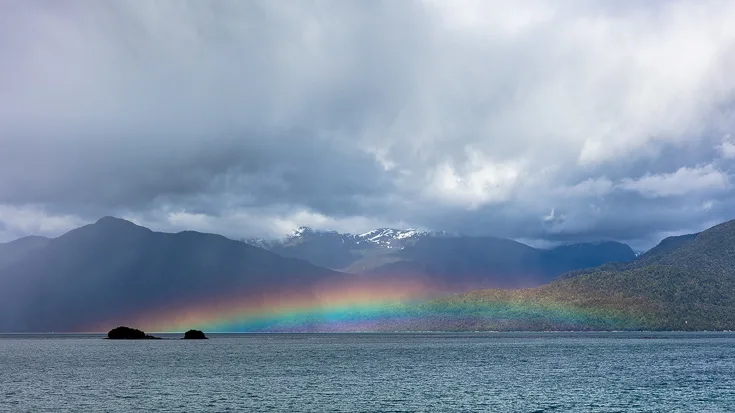 Other Useful Info About Queulat National Park
Entrance Fee // Entry to the Hanging Glacier in Queulat National Park costs $8200 CLP for non-Chileans, and you need to show your passport on arrival. For the most up-to-date information on admission fees, opening times, and any travel restrictions, check the CONAF website. If you camp inside the park, you only need to pay the entry fee for 1 day.
Drinking Water, Bathrooms & Showers // There is a supply of drinking water in the car park where you can refill your water bottle. However, the bathrooms (with cold showers) are basic, and given the entrance fee, the park rangers would do well to maintain them a couple of times each day during January and February!
Pets // Strictly speaking, pets are not allowed in Chile's protected areas, including Queulat National Park. If traveling with your pet, though, it's worth asking at the entrance for permission to visit if your pet stays in your vehicle. Permission isn't guaranteed; in fact, we think you'd be lucky to get in, so consider leaving your pet at your accommodation.
Big Rigs // The road leading from the entrance to the car park is narrow and has low-hanging trees overhead. Our van is 3 meters tall, and we wouldn't have wanted to be much taller to get through without scraping the roof. Ask at the entrance if there are any height restrictions as once you're on the road, there's no turning around.
Packing // We've published a complete Patagonia packing list covering everything you need when planning your trip to Patagonia.
The most important things from that list essential for visiting the Hanging Glacier are:
Travel Insurance // We encourage you to leave home with a suitable travel insurance policy designed to help cover your expenses if something goes wrong on your trip. We recommend True Traveller for European travelers and World Nomads for everyone else.
Where to Next?