I'd take nature over the city any day of the week! While based in Prague for a week, I couldn't miss the opportunity to take a short road trip. Where better to head than the far north of the country?
I was going hiking in Bohemian Switzerland National Park. And let me tell you, it's by far the best thing to do in Czech Republic.
I'm still not super fit. Despite having already climbed Mount Everest in the English Lake District this year. I'm glad I didn't let that hold me back!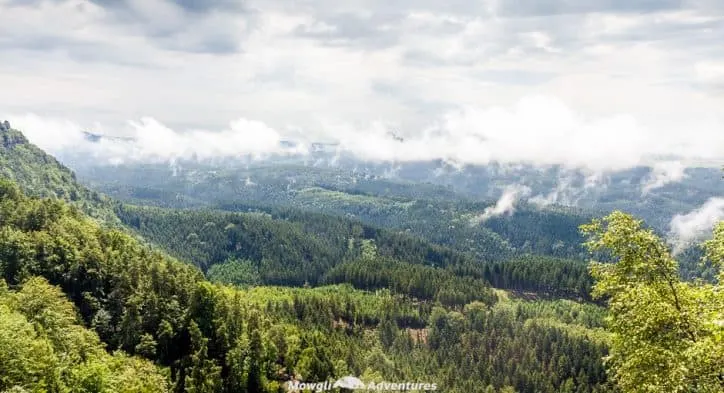 Hiking in Bohemian Switzerland National Park
The Bohemian Switzerland National Park covers a huge area of about 80 km2. It's been under protection since 1972. Located in the north of Czech Republic on the border with Germany, it's nowhere near Switzerland! Confusing, I know!
The park contains the Elbe Sandstone Mountain range, dense forests and deep gorges.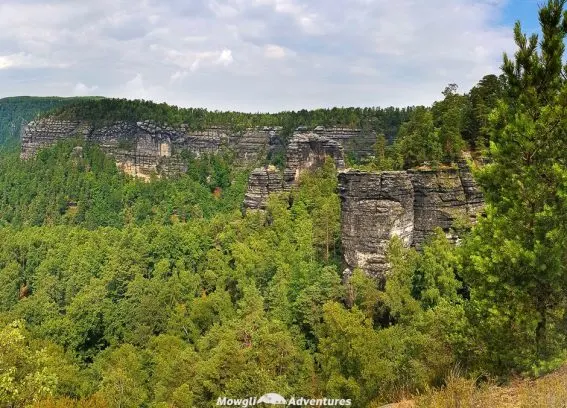 Hiking in Bohemian Switzerland National Park is growing in popularity. Visitors want to escape the nearby German and Czech cities. And with such wonderful scenery and well maintained trails, it's easy to see why!

Discover more: Learn about the legend of the Astronomical Clock in Prague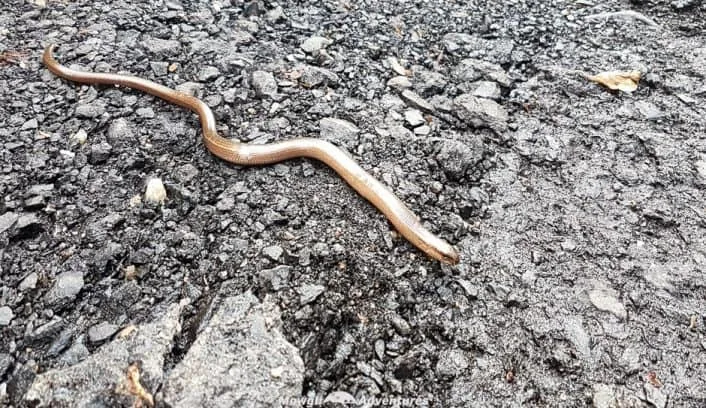 The road trip from Prague to Bohemian Switzerland only takes about 2 hours. There's a great motorway that leads you out of the city and only the final half hour is on small, narrower roads.
I parked near the start of one of the park's trails, eager to get going and explore the fairytale countryside.
The trail begins about 1 km up the tarmac road. Taking care not to squish the slow worm crossing the road, I followed a group of walkers who looked more assured of their route than I felt!

Hiking in Bohemian Switzerland National Park
The trail begins quite gently. Although not so steep, it relentlessly keeps climbing. The group I was stalking were clearly in a rush (or maybe just fit) and they soon got away from me.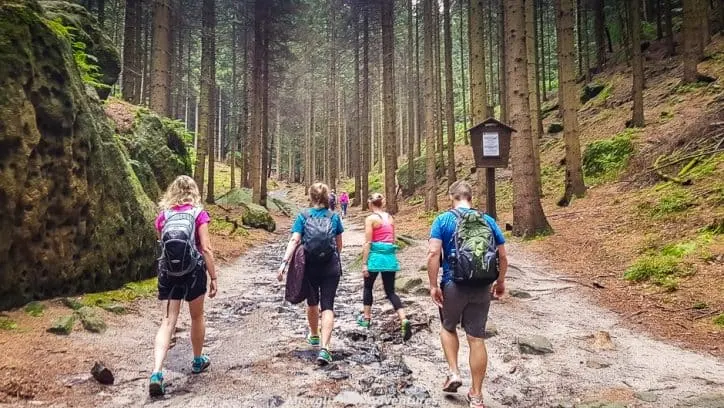 Surrounded by dense pine forest that was quickly becoming enclosed by cloud, I slowly but surely progressed up the trail. To be honest, I was grateful that it wasn't a sunny day. I'd have been little more than a puddle of melted Angela in no time.
Finding Narnia

About an hour into my hike, I reached the bottom of a staircase. Above me was a huge chateau dominating the deep gorge from above. Once a hotel, it's now used as a restaurant, although apparently not a good one. What a shame with such a perfect location!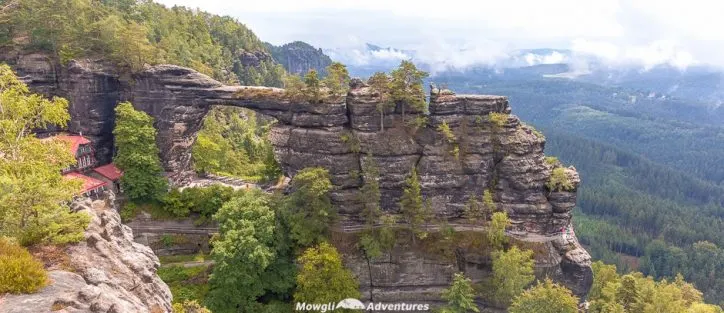 A steady climb of the staircase lead me to Pravčická brána, the largest natural sandstone arch in Europe. Do you think it looks just a little familiar?
What about if you imagine it covered in snow? Pravčická brána was one of the many Czech Republic filming locations in Chronicles of Narnia. I'd love to see it in wintertime!
After spending a little time under the arch for light refreshments (a gallon of water in my case!) I climbed a little further to the amazing viewpoints. Incredible views that were hard to drag myself away from.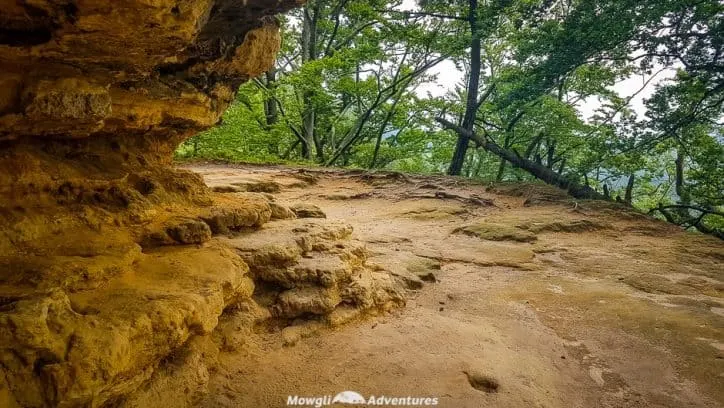 I knew from here, much of the hard work was over. Although I still had another 10 km to walk to return to the car, I was about to set off along the 6 km Gabriella's path towards Mezní Louka, where I'd planned to stop for lunch.
The path is superb, pretty level and as close to nature as is possible.
If you take this hike, take your time to listen to the birdsong, pick a few wild blueberries along the way and check out the enormous sheer sandstone cliffs you're following. It's a little piece of heaven and I hardly met another soul.
Eventually I arrived at the restaurant at Mezní Louka and after a hearty feast of delicious Czech cuisine, I headed off on the final stage of my hike – a steep downhill climb to the bottom of Edmund Gorge and the Kamenice River.
All downhill from here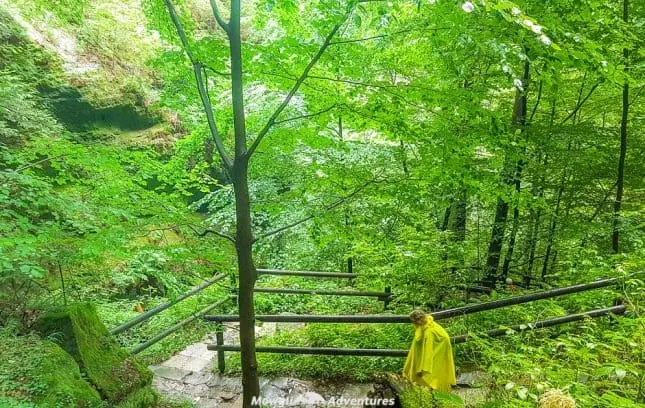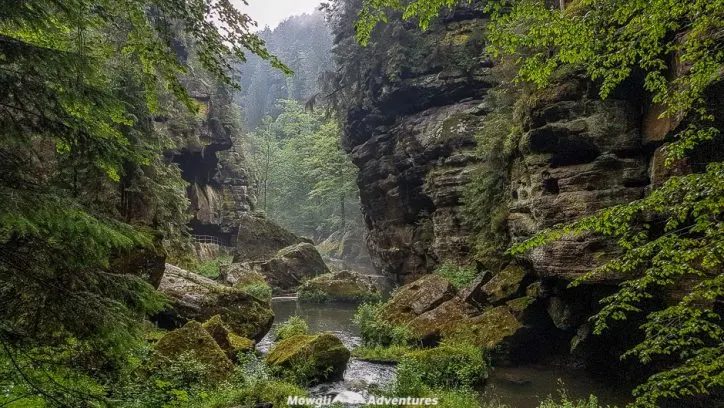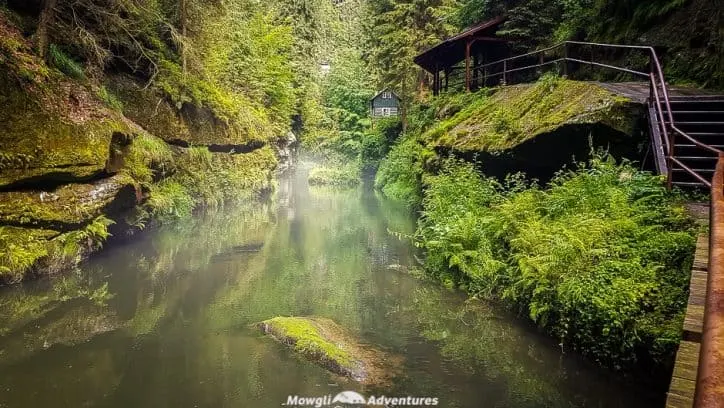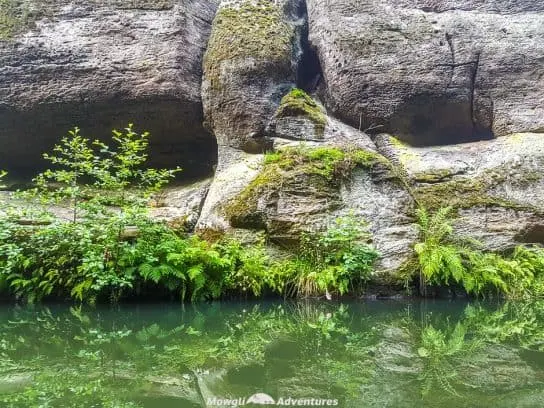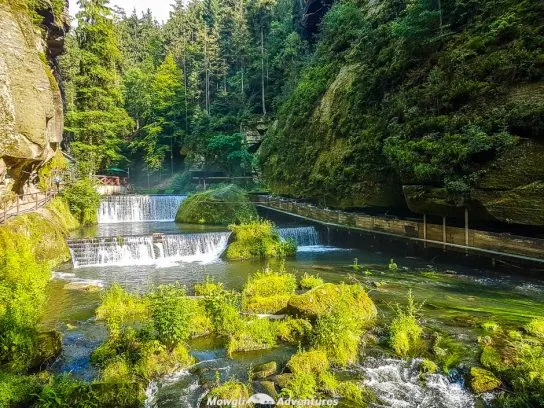 With a low hanging mist clinging to the surface of the river, the gorge had an eerie mystical feel. The paths are well maintained and so long as you follow the river, you can't go wrong. Watch out for the fairies too. If they live anywhere, it'll be here!

At the end of the path, it was time for a canoe ride through the Edmund Gorge along the Kamenice River. The ride is only short, about 1km but it's peaceful and simply stunning.

A Czech man powers the boat with a long stick, not dissimilar to the punts in Oxford, in the UK. This guy is so much fun! He pointed out the different character's faces in the rocks, told some of the myths of the gorge and threatened us passengers with the eskimo roll. Hold tight and keep smiling!

Once off board, there was just a short walk back to the car. But even this walk is beautiful, so don't rush it. The river widens and flows a little quicker here and there's a salmon run installed to help the annual migration of the fish.

Leaving behind the wonderful area, I drove back to Prague exhausted yet filled with that energy you only get from spending time in the great outdoors. I was kind of sad to finally reach the city.
While Prague is beautiful indeed, it was hiking in Bohemian Switzerland National Park that was the highlight of my short trip to Czech Republic.
When I return with Graham, we'll be visiting again. Of that there is no doubt!
How to go hiking in Bohemian Switzerland National Park on a budget
There are a few tour companies in Prague that will arrange this trip for you if you don't want to drive yourself. This will cost you a hefty sum of about £100 per person, with lunch included.
I did this somewhat cheaper and saved plenty of money for a few extra pilsners in Prague. If you're in a group of 2 to 4, you'll find it even more worthwhile to take this cost cutting approach. Here's how I did it and what it cost me:
Car hire
Car hire costs in Czech Republic are reasonable. Yet parking in Prague is almost impossible. I hired a car on the morning of my hike and collected it at 07:30. I dropped it back to the car hire firm at 8pm.
The car hire cost me £25 plus £10 – £20 in fuel, depending on fuel consumption and the fluctuating value of the Great British Pound :-).
We're not loyal to one car rental firm, and go with the one offering the best value – and that means using a comparison website. For us, Rentalcars is by far the best, and our first choice, every time. They even do camper van rentals!
Click here for a no obligation car rental quote
National Park admission fees
FREE (despite tour companies advertising their prices as including admission fee)
Parking
Parking cost just £3 for the full day about 1km from the walking trail up to Pravčická bran
Pravčická brána:
To access the area directly underneath the sandstone arch and the viewpoints there is an entrance fee of £2.70
Lunch
£6 for a fine feast including soft drinks
Boat trip along the Edmund Gorge
£2.70
All told, a day hiking in Bohemian Switzerland National Park costs about £50, less than half the cost of an organised tour. For each extra passenger, there's a saving of almost £90.
If you're traveling to Czech Republic on a budget, you can go hiking in Bohemian Switzerland National Park cheaper than you think. You just need a driving licence.
Like it? Pin it!