Get your RV ready for warmer weather and sunny skies with these few simple steps on how to dewinterize your RV. Then, head into the spring camping season with ease!
---
As the cold winter months come to an end and spring draws closer, it's time to start thinking about how to dewinterize your RV and get ready for the camping season.
From cleaning out sediment in the tanks to replacing old parts and connections, de-winterizing your RV can seem like a daunting task.
But it's a job that needs doing so you can hit the road for a smooth spring break.
This in-depth article will provide step-by-step instructions for safely and effectively preparing your RV for the upcoming camping season.
From changing out the antifreeze to installing a new water filter and tank treatment, we'll walk you through the entire process so that you can hit the road with peace of mind.
So get ready because it's time to dewinterize your RV!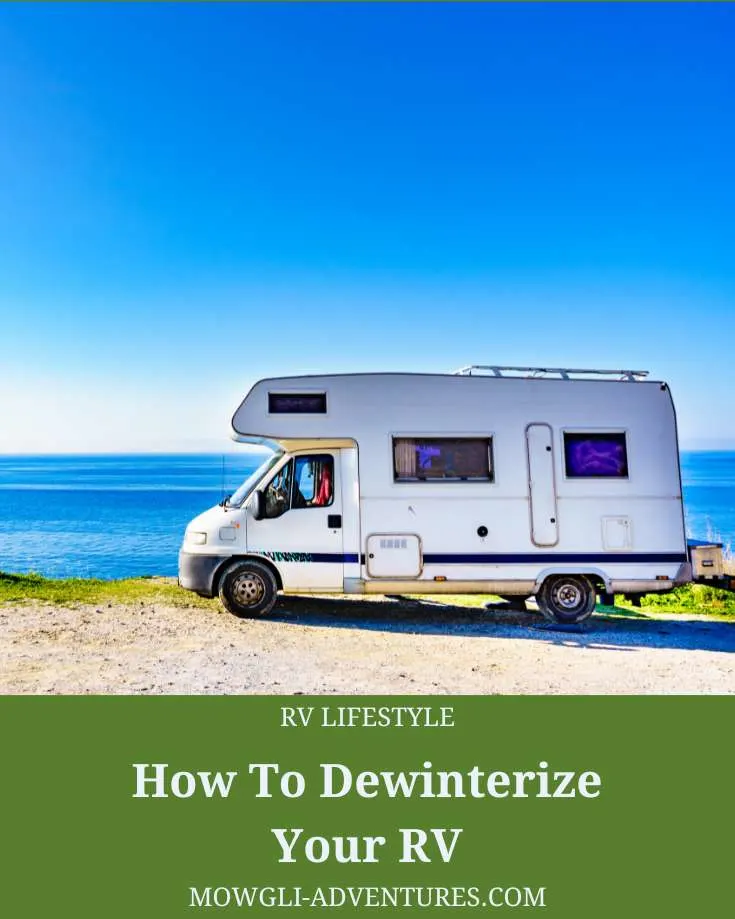 When you click on links to various merchants on this site and make a purchase, this can result in this site earning a commission. As Amazon Associates, we earn from qualifying purchases. For more info, please check our disclosure page.
How To Dewinterize Your RV In 10 Steps
Follow this easy step-by-step guide to ensure your RV is ready for summer:
1. Inspect The Camper's Exterior
Once you've removed your RV covers, skirting, and wheel covers, carry out a thorough inspection of the exterior.
Check the roof for any visible signs of damage, such as cracks or missing shingles. Also, pay close attention to any areas with caulking which may have cracked and need to be replaced. Sikaflex roof sealant is your friend!
Read more: A Complete Guide TO RV Roof Maintenance
Inspect the walls for any signs of delamination, rot, or water intrusion. Verify that all door, window, and slide-out seals are still in good condition and look for any evidence of past or present leaks.
Look for rust on the underbelly, especially around exposed metal pieces where galvanic corrosion can occur. Ensure the sealant between panels is in good condition and that no gaps exist where air or moisture could enter your RV.
Check for signs of animal nesting and remove them if you find any.
Check any hitch components for damage, rust, or corrosion. Ensure all bolts are secure and the locking pins work properly. Replace any worn parts as needed to ensure your RV is safely attached to its tow vehicle.
Carefully inspect all vents, vent covers, exhausts, and outlets. If you used wire wool to plug them, now's the time to remove it.
2. Check & Inflate RV Tires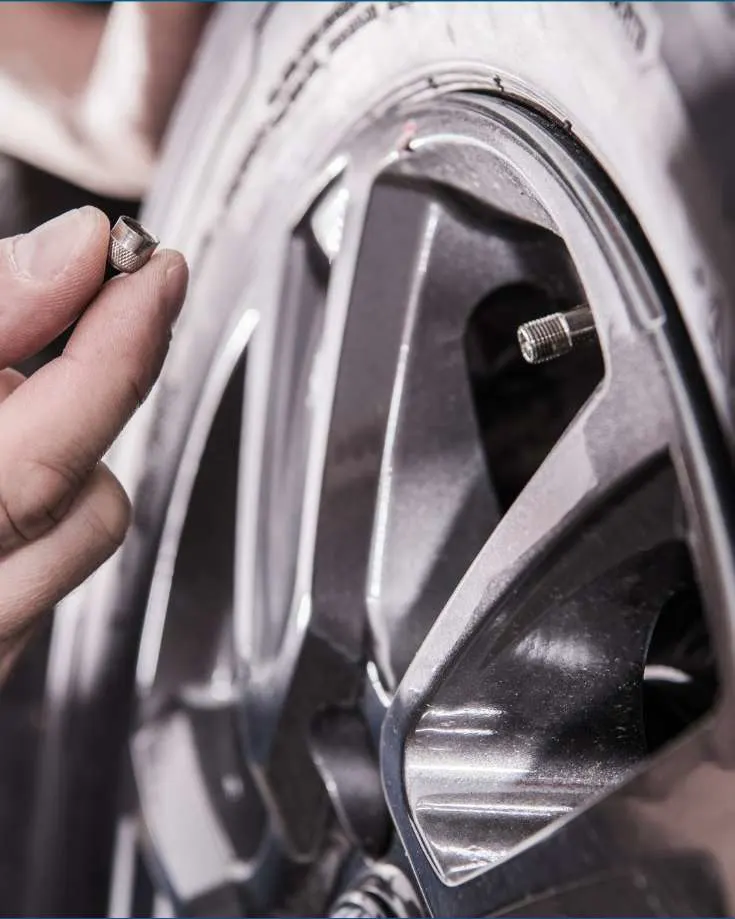 After a while in storage, RV tires will lose pressure and become deflated. They may even develop flat spots as a result of sitting too long.
It's important to check the air pressure and proper inflation of all tires before taking your RV out on the road. This includes spare tires, which may also lose air over time if not used.
An RV tire must be inflated according to the manufacturer's recommended pressure to perform properly and safely.
Over- or underinflating tires increases wear and reduces their ability to handle road hazards, which can lead to a blowout or other problems.
Properly inflated tires will help reduce the risk of this happening while also improving fuel efficiency and extending the life of your RV tires.
It's also worth visually inspecting the tire walls and tightening their lug nuts. If you detect any cracks or other signs of damage, replace the tires before taking your RV out on the road.
3. Basic RV Mechanical Checks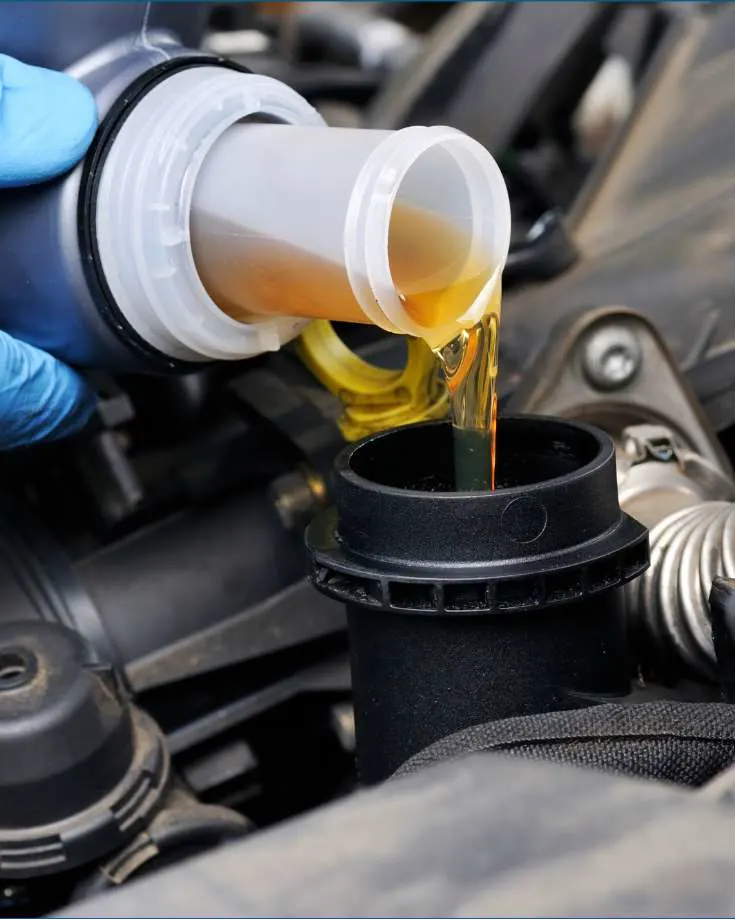 Before taking the RV on its first trip out of storage, it's highly recommended that you do basic mechanical checks to ensure everything is in working order.
Now is an excellent time to carry out your annual service. Whether you do it yourself or get a professional to do the work, check the:
Engine oil and oil filter,
Lights, tires, bodywork, and exhausts,
Brakes and steering,
Fluid and coolant levels including,

Oil,
DEF (for diesel vehicles),
Windshield washer fluid,
Coolant,
Transmission fluid.

Suspension,
RV starter battery.
Start the engine and check for engine warning lights. Test all the onboard systems are in good working order, including:
Windshield wiper blades
All lights, including blinkers, headlights, reversing & brake lights
Reversing camera
All mirrors are intact
Switches
Your aim is to find any problems and get them fixed, so you have no surprises on your first camping trip of the season.
4. Test All RV Safety Devices
After storage, it's important to check your RV's safety devices to make sure everything is functioning properly before heading out on your first trip of the season.
This includes the smoke detector, carbon monoxide detector, and fire extinguisher.
You could need them sooner than you think, so make this the first interior job on your dewinterizing checklist.
Smoke Detectors
Smoke detectors are essential in any RV. They alert you if hazardous levels of smoke enter the interior area during travel or while stationary in campgrounds.
You should test all smoke detectors by pressing the 'test' button after replacing old batteries with fresh ones.
Carbon Monoxide Detector
CO2 alarms are also an important safety device. These alarms detect dangerous levels of gas that could be present due to a malfunctioning stove or other appliance inside the RV.
To test CO2 alarms, replace old batteries and press the 'test' button to ensure they will activate if hazardous levels are detected.
Fire Extinguishers
It's crucial to have working fire extinguishers in your RV at all times, as they can save lives in case of a small fire.
Inspect the extinguisher for any signs of damage, corrosion, or leaks. Check the nozzle is clean and that nothing is clogging it.
Remind yourself of the operating instructions. They should be written on the extinguishers, and part of your checks should ensure they're legible.
Ensure the gauge needle points towards the correct position according to the operating instructions.
5. Dewinterize The RV Electrical System
Getting your Rv's electrical system back up and running after storage is important but relatively easy.
Check everything is dry.
Reinstall RV Batteries.
Charge RV Batteries.
Inspect & Replace Fuses.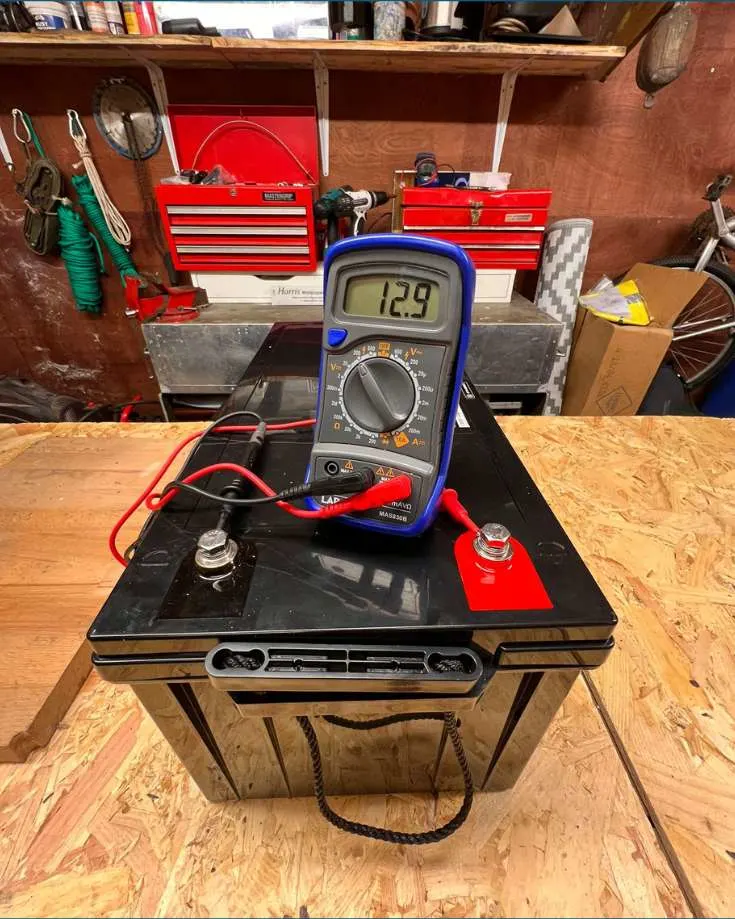 Check Everything Is Dry
When inspecting electrical connections on your RV after it comes out of storage, it's important to ensure everything is dry. Weather conditions, leaks, and condensation can cause water ingress.
Don't forget to check inside the shore power socket is dry.
Reinstall RV Batteries
If you removed your batteries for winter storage, reinstall them at this stage. Make sure they are securely fastened to their trays with all connections firmly in place.
You should also check that all associated cables and cords are secured properly. Finally, don't forget to turn off the cut-off switch.
Read more: How To Install RV Batteries
Charge RV Batteries
Once batteries have been installed, you must recharge them back to full capacity.
If you've been trickle-charging them over winter, you may not need to do this, or they may not take much to bring back to 100%.
Recharging the battery after winter storage is the same as recharging an RV battery at any time.
Using whatever charging methods are available, typically:
solar power,
shore power,
RV generator, and
battery charger.
Shore power hookup provides the most reliable recharge. Only use your RV generator if you've dewinterized it first.
Read more: How To Charge RV Batteries
Test Appliances & Replace Fuses
Finally, it's time to test that all your electrical appliances are operating correctly.
Test each of them in turn. If an appliance doesn't seem to be working, and you're sure you've switched it on, the first step in troubleshooting is to check the fuse is intact.
Be prepared with a box of spare fuses.
If you use AC appliances like microwaves, residential refrigerators, or air conditioner units, it's best to connect to a shower power supply to test them.
Campervan Electrics Handbook
If you're looking for a comprehensive guide to help with maintaining and troubleshooting your RV's electrical system, the Campervan Electrics Handbook is a great resource.
Everything you need to know about campervan electrics. Now available in ebook and paperback!
Learn how to design, size, install and troubleshoot your camper's electrical system.
It covers everything from basic electrical terms to more advanced wiring diagrams and fault-finding techniques, so you'll be fully prepared for your upcoming camping trips.
And what makes it even better is an entire chapter dedicated to troubleshooting electrical faults – perfect if you're recommissioning the electrical system after a long period in storage!
6. Inspect The Camper's Interior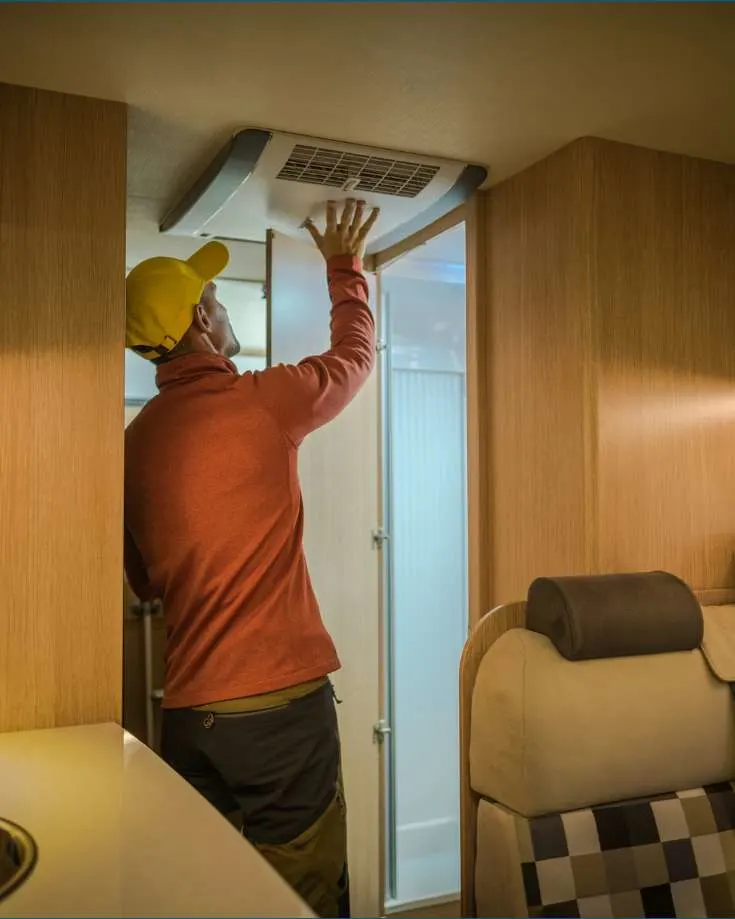 After a long winter, it's important to inspect your RV interior and make sure everything is in order.
Start by checking for signs of rodent or insect infestations; these can cause further damage if not dealt with immediately.
Read more: How To Keep Mice Out Of A Camper
Inspecting for mold and mildew is important, too. Look around walls, ceilings, and floors for any signs of water damage or leaks that can cause mold to grow.
Open all cupboards, vents, windows, and refrigerator doors to let some fresh air in. This is a great way to clear out any stale odors and will help prevent the growth of mold and mildew.
Look around the walls, ceilings, and floors for any signs of water damage or leaks. If you find any, then assess the situation and take action accordingly.
Don't forget to clean the windows too!
Check all filters for blockages or dirt build-up and replace them as necessary. This will help ensure your RV stays fresh and clean throughout your next camping trip.
Finally, clean everything.
If you deep cleaned the RV when you prepared it for winter storage, it won't take long. It will be more about freshening things up and ensuring everything is in order.
Read more: Essential RV Cleaning Tips to Keep Your Wheels in Ship Shape
7. How To Dewinterize RV Water System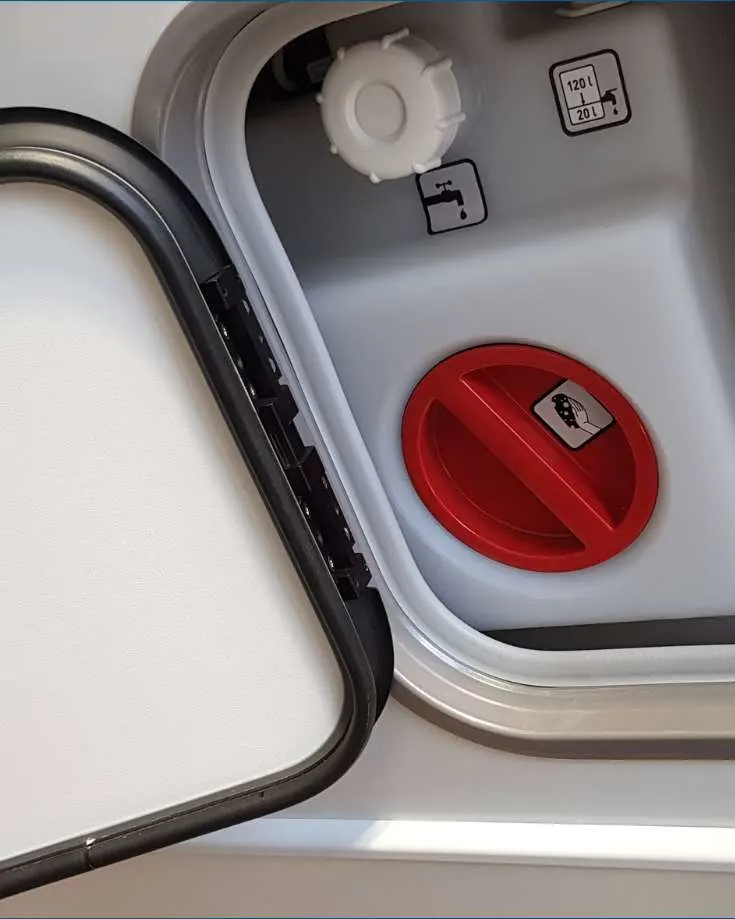 Preparing your RV's water system is an important part of this seasonal transition. I
In this section, we'll walk you through everything you need to do to dewinterize your water system and prepare your RV for another fun season.
There are three things to do to prepare the plumbing system for the new camping season:
Remove antifreeze
Sanitize
Refill
How To Remove Antifreeze From The Water System
If you used an air compressor to winterize the plumbing, you can skip this step and go straight to sanitizing the system.
Here are the steps to follow to remove RV antifreeze from your water system:
Make sure all your faucets are closed. Flushing the antifreeze from the system means controlling the order you open the faucets. So start with them all closed.
Switch the water heater bypass kit out of bypass mode.
Switch the fresh water tank's bypass valve off bypass or set the water pump converter kit to the correct setting.
Reinstall any inline water filters you removed.
Reconnect any other disconnected or bypassed lines.
Connect a garden hose to the city water connection and turn on the supply. At this point, take a moment to inspect for any potential leaks as you look and listen for dripping sounds.
Check all sink stoppers are removed.
Ensure you know the order of faucets, shower, outside shower, toilet, and low point drains on the RVs plumbing system.
Starting with the farthest faucet from the city water inlet:

Turn on the cold water until it runs clear, then
turn on the hot water until it runs clear.

Then repeat for every water outlet in turn. Most RV antifreeze is pink, so it'll be easy to see when it's clear.
For toilets, you'll need to flush a few times.
When everything runs clear, disconnect the hose from the city inlet.
Fill the fresh water tank and switch on your 12v water pump.
Repeat the process, flushing every faucet, shower, and toilet on the fresh water system again. They will run clear immediately but run them for a few minutes to eliminate all antifreeze traces.
How Do You Sanitize A Camper Water System After Dewinterizing?
Sanitizing a camper's water system is important for removing bacteria and other contaminants.
To do this, use a sanitizer formulated for your RV's fresh water holding tank, such as chlorine bleach.
The process is similar to pumping antifreeze into the system.
Fill your water tanks, adding a small amount of bleach as you fill.
You need about one ounce of chlorine bleach for every 8 gallons of water in the system.
Don't add the bleach at the end, or it won't be mixed thoroughly enough.
After your fresh water tank is filled, it's time to turn on every faucet in the rig.
This will help get the bleached water thoroughly distributed throughout the plumbing system – leave them running for a few seconds and then shut them off again when done!
Let the plumbing system sit overnight.
Empty the water system of all the bleached water by flushing the system through all the faucets, showers, and toilets.
Refill the water tanks with potable water and flush the system again to remove any bleach residue. Ensure you use both hot and cold faucets.
Read more: The Complete Guide On How to Sanitize RV Water Tank
Fill Your Water Tanks
Once the entire plumbing system is flushed through, it's good to go. Simply refill your water tanks as you would normally.
8. Inspect RV Propane Tanks & Appliances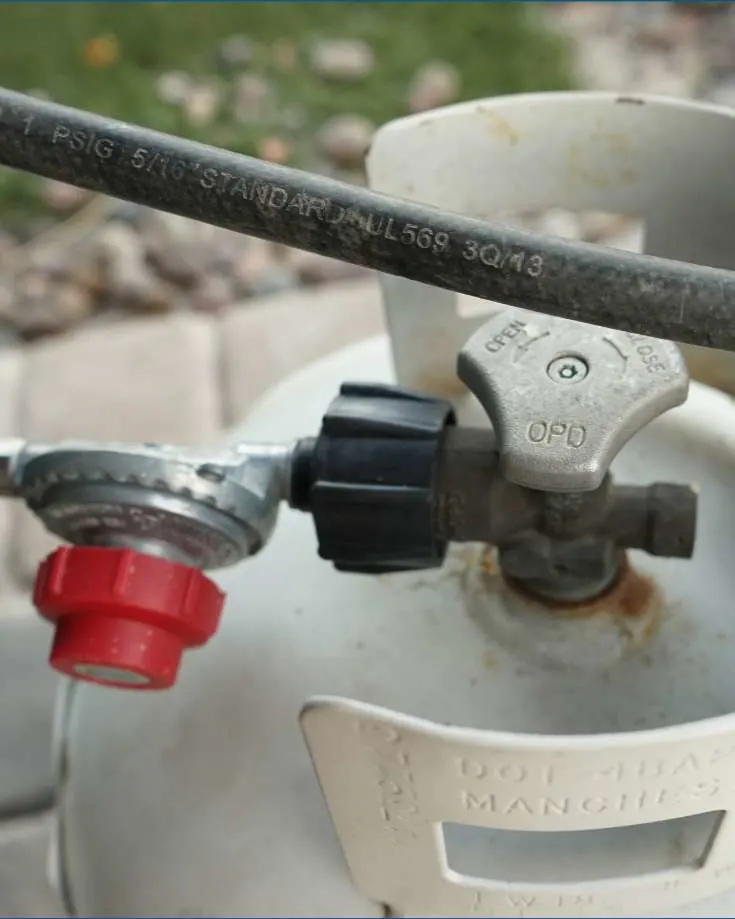 Here's an easy step-by-step guide to follow for inspecting your RV propane tanks:
Before you begin, inspect your tanks and hoses for any visible signs of corrosion, cracking, and rodent damage. They should be free from rust and other residues.
Next, check the valves to ensure they operate correctly; turn them clockwise to open and then back again to close. Make sure there is no leaking or difficulty when doing this.
To ensure your propane system is properly pressurized, look at the pressure regulator – if it's not working correctly, you may need to replace it with a new one.
Once everything looks good, do a leak test by spraying a soapy solution on all connections and valves. A leak is probably present if bubbles appear, which must be fixed before using the tank again.
Lastly, if everything looks fine and you're ready to use the tank again, switch off the isolator valve.
Finally, you can check the propane appliances are all in good working order. Check your refrigerator, water heater, and propane furnace.
If there are any faults, always use a professional as propane can be deadly.
9. Wash Your RV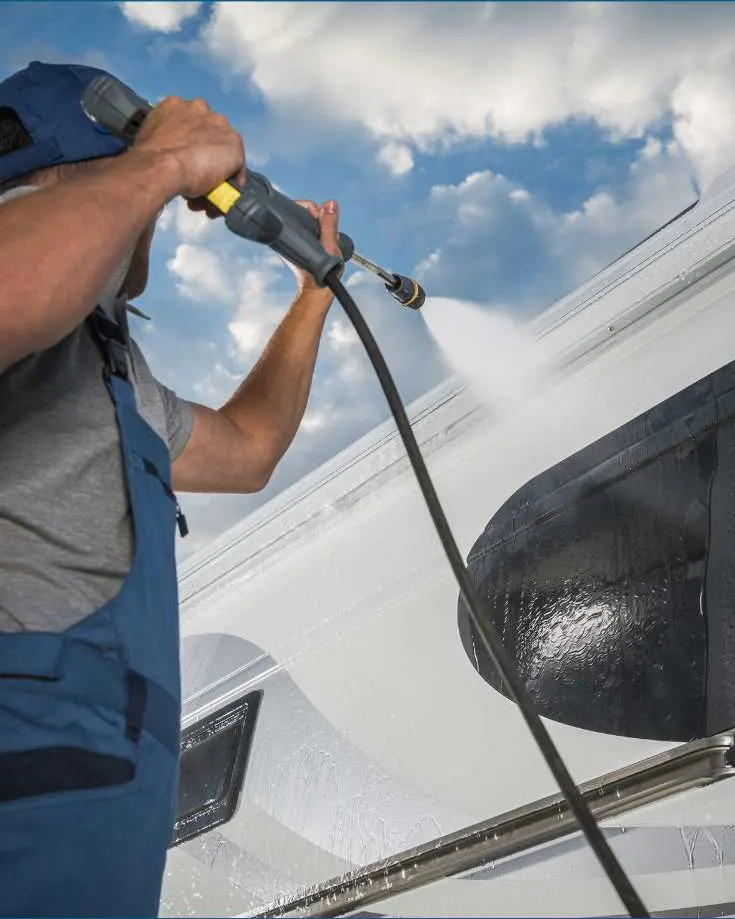 Everything looks good to go, so it's time to make it sparkle.
Here's what you need to do:
Clean off any debris before using a low-pressure hose to wash away dirt, mud, and other build-up left from the winter months.
Once everything is washed away, use an RV-specific cleaner and scrub brush to remove any stubborn stains – this will also help preserve the shine and luster of your RV!
When finished, rinse off all remaining soap residue and use a chamois cloth or microfiber towel to dry the exterior; be gentle so as not to scratch the paint job!
Lastly, consider waxing your RV – this will help protect against future wear and tear while giving you a beautiful finish that will last through summer and beyond!
Pay special attention to the roof, solar panels, and awning.
Read more: Best RV Cleaning Products & Supplies To Make Your Camper Shine Inside and Out
10. Pack For The Season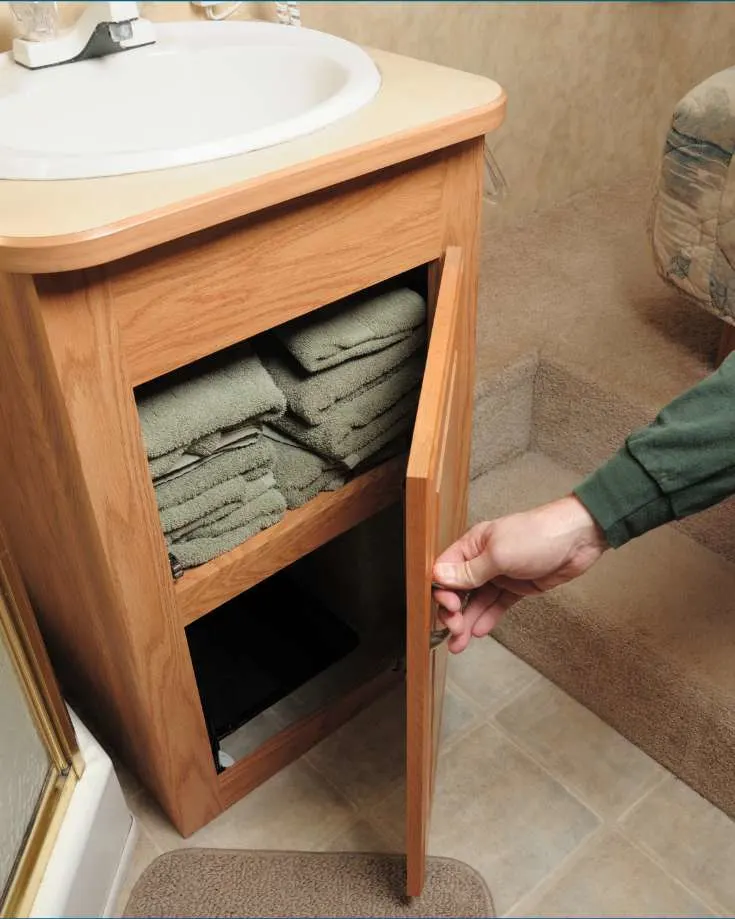 Now that your RV is ready to go, it's time to start packing up for the season.
Start by making a list of essential supplies and items you need. Remember the basics, like food and clothing, to more specific items, like bedding, electronics, and camping gear.
Pack items efficiently in order of importance and use.
Make sure to pack light, and keep an inventory of all items, so you remember everything!
Also, check your RV insurance policy before departing on a long journey.
Read more: How To Pack Like A Pro In Your RV Or Trailer
Do You Need To Dewinterize An RV?
If you store your camper over winter, winterizing your RV is essential for protecting it from cold and harsh weather conditions.
But once winter has passed, it's important to dewinterize it before you hit the road for spring camping.
Your cupboards are probably empty, the water system may contain antifreeze, and essential utilities may need to be connected.
A harsh winter may have caused parts to break or wear down.
It's important to check all these items out before you take off camping.
Dewinterizing your camper methodically will help you find any problems and prepare for the upcoming camping season.
When Should I Dewinterize My Camper?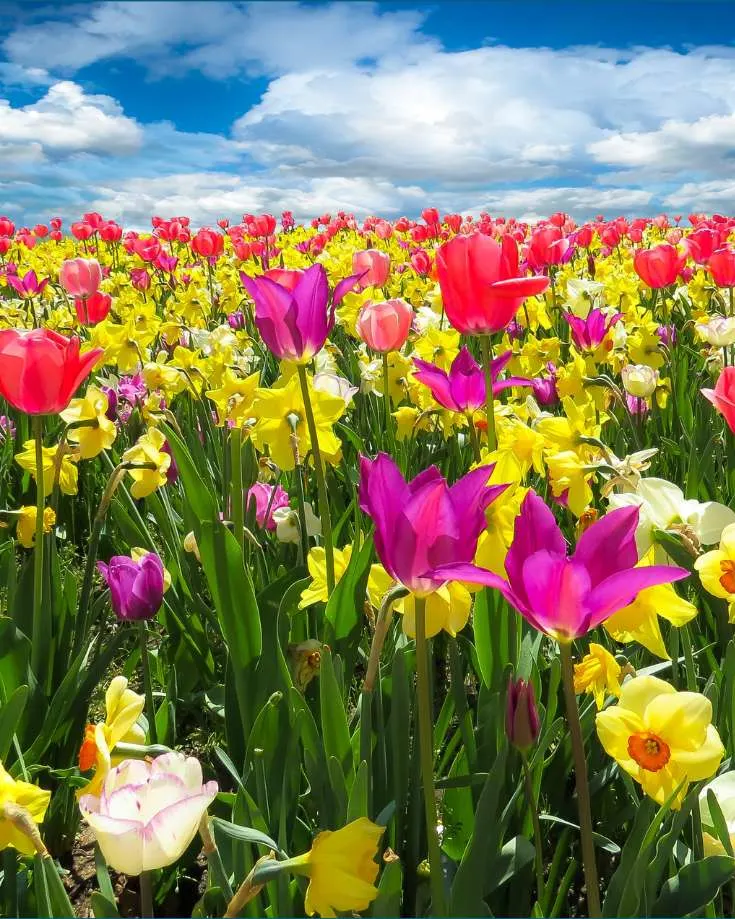 Rising temperatures and budding spring flowers indicate it's that time of year again. And with the longer daylight hours, the excitement of the start of the camping season begins to rise.
Unless you've lived in your RV all winter, that can only mean one thing: it's time to dewinterize your camper!
But when exactly should you start the process?
When it comes to de-winterizing, timing is everything. You don't want to be too early and find yourself dealing with frozen pipes or too late and unable to take advantage of the early spring sunshine.
Generally speaking, the ideal time to dewinterize is when the temperatures are reliably above freezing. Try to ensure there's no risk of more snow or heavy frosts.
It would also help if you took some time before beginning the process to assess any damage done by the winter weather.
Check your hoses, filters, gaskets, and other components for any signs of wear or leakage so you can replace them as needed.
Remember to check underneath your RV for debris, such as leaves, sticks, and mud causing build-up on the undercarriage that could damage your unit further if not cleared away.
How Long Does It Take To Dewinterize An RV?
De-winterizing an RV is not a one-size-fits-all procedure; the time it takes will depend on several factors.
Generally speaking, it can take anywhere from 4–5 hours for a small camper and up to 10–15 hours for large rigs.
If your rig hasn't been winterized properly or any parts are damaged, that could add more time to the process.
In Conclusion
Now that you have all the information on how to dewinterize your RV, you can take the time to properly inspect and clean your beloved recreational vehicle before taking it out for a summer season of fun and adventure.
Your RV will stay in tip-top shape throughout the year with proper care and maintenance.
So make sure not to skip out on any steps when it comes to dewinterizing – it will help your vehicle last longer and keep you safe while on the road.
Do you have any valuable tips for preparing your RV for the new camping season? Let us know in the comments below!