Discover the most effective way to protect your RV surge protector with this guide. Learn how to secure an ultra-sturdy metal chain and high-security padlock together and the benefits of adding a plug protector to help deter thieves and get extra stopping power.
---
Protecting your RV from sudden power surges is essential for keeping your electronics safe and running smoothly.
While installing a surge protector is the first step in safeguarding your rig, you need to go one step further by ensuring it's locked in place.
In this article, we'll discuss why locking an RV surge protector is important and outline the various methods to keep it secure.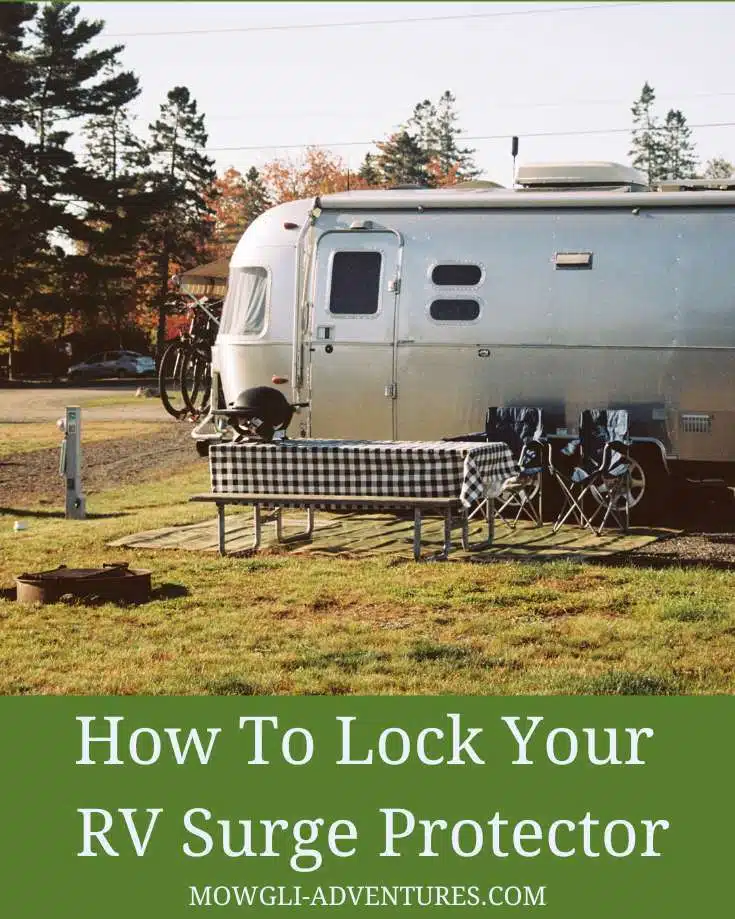 When you click on links to various merchants on this site and make a purchase, this can result in this site earning a commission. As Amazon Associates, we earn from qualifying purchases. For more info, please check our disclosure page.
At A Glance: 5 Top RV Surge Protector Lock Ideas
1. Hardwired Surge Protector

Permanent installation
Out of sight

CHECK PRICE ►
2. Heavy Duty Chain & Padlock

Best security for a portable surge guard
Bolt cutters can't cut through the hardened steel

CHECK PRICE ►
3. Cable Lock

Budget-friendly
Easy to use

CHECK PRICE ►
4. Camco Power Ball Plug Lock

Bright yellow, so a great visual deterrent
Includes a padlock

CHECK PRICE ►
5. Surge Guard Universal Lock Hasp
CHECK PRICE ►
Read more: Best RV Surge Protectors
Why You Need to Lock Your RV Surge Protector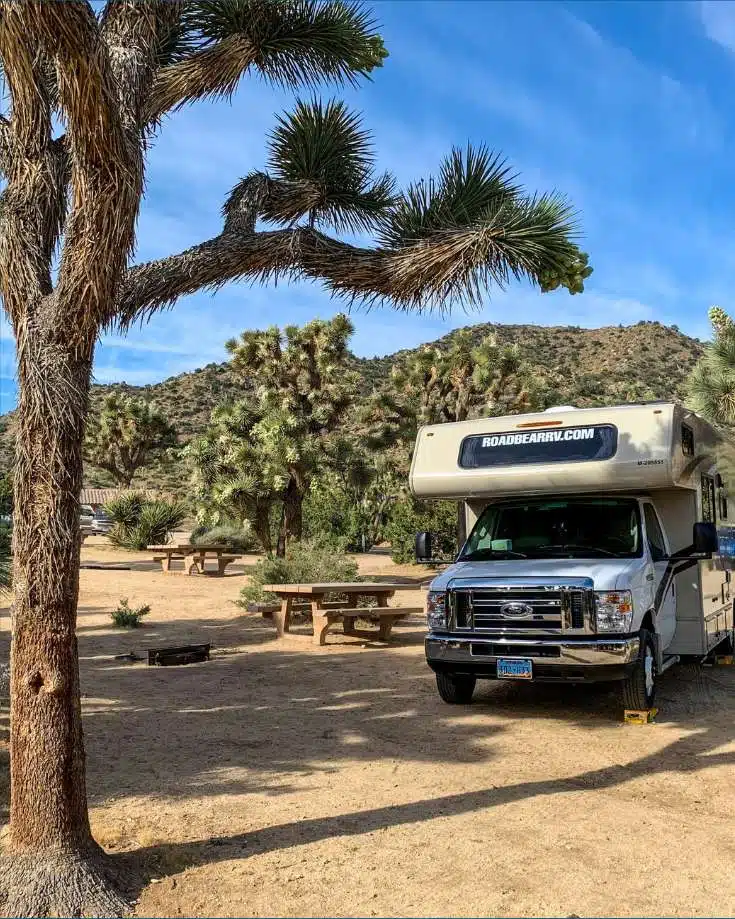 Having a surge protector installed in your RV is wise, as it offers protection against any power irregularities that can cause severe damage to your electrical equipment.
But if the surge protector isn't correctly secured, it may be vulnerable to tampering or theft.
If your RV surge protector isn't properly locked in place, it can be pretty easy for thieves to steal it.
This is especially true when the surge protector is connected directly to the pedestal.
Because they're so visible, it makes them even more vulnerable to theft or tampering.
Unfortunately, it only takes a few seconds for someone with malicious intent to unplug the device and walk away with it!
And because they're relatively small devices and not cheap, they could be seen as an easy target for a would-be thief.
That's why it's important to lock it into place. Doing so will ensure that no one can:
tamper with it, or
disconnect the unit unintentionally, and
protect it from theft and/or vandalism.
So always ensure your RV surge protector is securely locked when you set up camp.
The Best RV Surge Protector Lock Ideas For Your Camper
1.

Hardwired Surge Protector
A permanent, hardwired surge protector is the best way of protecting your surge protector from theft.
This type of installation makes it much more difficult for someone to tamper with because it's directly connected to the RV. Plus, it's hidden away on the RV's interior.
A thief would need to break into the electrical cabinet and specialized tools to remove it without damaging it.
Unlike portable models that can be quickly unplugged and removed, a hardwired surge protector is a permanent installation.
Even a determined thief would move on to an easier target than spend time trying to remove one.
Although hardwired models are more expensive than portable RV surge protectors, you don't need to worry about buying a separate good-quality locking mechanism.
Progressive Industries are our top choice for hardwired surge protectors.
What We Liked
Not visible from the RV's exterior
Most secure method
What We Didn't Like
2.

Heavy Duty Chain & Padlock
One of the best ways to secure your RV surge protector at an RV park, look no further than a heavy-duty chain and padlock!
I've tried this method on several trips and can vouch for its effectiveness.
Wrap the chain around the RV park's power pedestal. Bring each chain end together and slip the padlock bar through two links with the RV surge protector cable.
Make sure to create a tight loop so the chain can't slip over the end of the power pedestal.
A heavy-duty, hardened steel chain and a thick, strong padlock will ensure that any thief must be pretty determined and create a lot of noise to steal the surge guard.
This will give you peace of mind that your surge protector won't come loose or be tampered with while you're away.
However, the best, most secure chains and padlocks are costly, although they are the best way to protect your portable guards from theft.
What We Liked
Best security for a portable surge guard

Bolt cutters can't cut through the hardened steel
What We Didn't Like
Pretty expensive for a top-quality chain and lock
3.

Cable Lock Or Bicycle Chain B000BVXDZM
If you're looking for a budget-friendly way to secure your RV surge protector at an RV park, try using a cable lock or bicycle chain.
Unlike a chain and padlock, the cable lock or bike chain is more easily broken with bolt cutters.
So, although it is a little less secure, most thieves, especially opportunistic thieves, don't carry bolt cutters around.
You use cable locks in the same way as a padlock and chain. Tighten the bicycle chain around the power outlet and lock the surge protector cable through the padlock.
What We Liked
Budget-friendly

Easy to use
What We Didn't Like
Less secure than chain and padlock
4.

Camco Power Ball Plug Lock B00T36GLNW
If you're looking for an effective way to secure your valuable surge protection box, the Camco Power Ball Plug Lock is the perfect solution.
This innovative device features a spherical design that encases two connected plug-ends, so it's difficult for anyone to tamper with or steal them.
In addition, the holes in the design help drain water in case of rain or condensation – so your items remain dry and safe.
Plus, it comes with a lock and keys for easy security.
Made with durable UV-stabilized high-density polyethylene, this product will last many years.
Plastic lock boxes may not be the most secure option for protecting your valuables. This is because determined would-be thieves easily break into them.
Even so, few robbers would want to draw attention to themselves by noisily smashing through a plastic box!
The bright yellow color of the Camco Power Lock is not only visually striking, but it also serves as an effective deterrent for would-be thieves.
This distinct color stands out, making it much more visible and robbers less likely to attempt to tamper with or steal your surge protectors, cables, or adapters.
And Camco is a well-known and well-loved brand in the RV world, so you can rest assured that your valuables are kept safe!
What We Liked
Bright yellow, so a great visual deterrent

Includes a padlock
What We Didn't Like
Large and awkward shape for storage
Quite a heavy option
Plastic hinges are a potential weak spot
5.

Surge Guard Universal Lock Hasp
If you're looking for an added layer of security to protect your portable surge protector, then the Universal Lock Hasp is a great way to go.
This universal fit product works with 30 and 50 Amp portable surge guard units and quickly secures them.
That said, some customers have had to return it because the "universal" fit wasn't compatible with their surge guard.
Installation is easy because it's basically a lockbox. All you have to do is wrap the lock around the surge guard connectors.
Annoying, this lock box doesn't include a padlock, so you must purchase a good quality one separately.
Although this isn't thief-proof, it should provide enough protection to deter opportunistic thieves.
What We Liked
What We Didn't Like
No padlock included

Expensive for a plastic box
Hinges are a potential weak point
In Conclusion
When it comes to securing your RV surge protector, a variety of options are available.
For RV owners who want to provide the highest level of security possible for their expensive surge protectors, nothing beats the combination of an ultra-sturdy metal chain and a high-security padlock.
Keep your RV surge protector safe with an ultra-sturdy metal chain and high-security padlock.
Add plug protectors to slow down potential thieves and get peace of mind with double the stopping power!
While thinner bicycle cables with locks can help deter thieves and provide some protection, they can't match up to the old-school power that a chain provides.
Anything that acts as a visual deterrent against theft will help. Plus, slowing down potential thieves makes it more likely they'll be caught, or at least heard, in the act.
Ultimately, no matter which option you choose, ensure it is durable for outdoor conditions.
Share your ideas for locking your RV surge guard and help other RV owners to keep their RVs safe.