Sarajevo is wonderful, compelling, special and well worth a visit. There is nothing in Bosnia that can serve as a substitute for Sarajevo.
Here, you'll see glimpses of what was before the war, what has since followed and visit moving memorials to the war and the siege of Sarajevo that lasted almost 4 years.
Sarajevo is a remarkable testament to how diverse cultures have historically found ways to co-exist and you'll get a feel for the terrible price of war. It's a vibrant and inviting city and will leave you with an uplifting sense of hope.
Here are our top tips on how to spend a day in Sarajevo and get to see the very best of it. Hold tight, it's going to be a busy day that will leave you breathless!
How to spend a day in Sarajevo
Start the day at Baščaršija square, famous for its fountain called Sebilj.
There's lots of cafés to choose from in the square so grab a seat, order a Bosnian coffee served in small copper pot and a sweet Baklava and watch the Sarajevo morning commuters go by whilst you're enjoying your breakfast.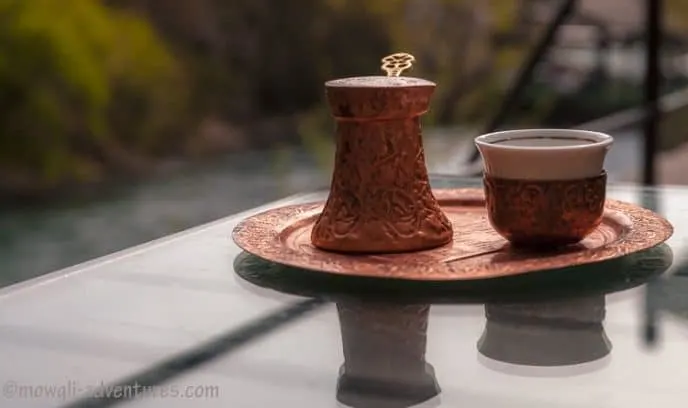 Spend the next couple of hours exploring the old town. With its east meets west ambience, it will feel like you're wandering the markets of Istanbul, thanks to the influences from the Ottoman empire which ruled from the late 1400's.
Sarajevo's old Bazaar is the heart and soul of Sarajevo and a meeting point for locals. It's remained largely the same since 15th century, and has an incredible old world feel.

Things to look out for: Sarajevo was hit by an average of over 300 mortars each day during the 4 year siege. Many of these mortars left their mark in buildings and in the asphalt and in the past 20 years, they've not all been repaired. Those that remain on the ground have been filled with a red resin showing an almost floral pattern. These are the Sarajevo Roses. You'll see many and they're a poignant reminder of the war.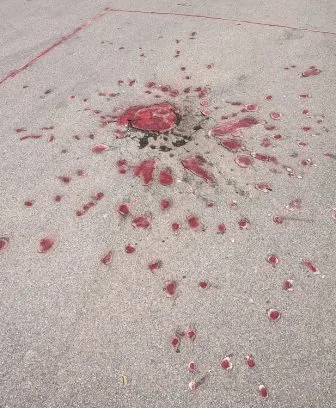 The most compelling thing about Sarajevo is that despite its bloody and recent history, there remains a sense of tolerance of diverse faiths.
As you wander around the old town, you see a the Sacred Heart Catholic cathedral, the Gazi Husref Beys Islamic mosque, the Ashkenazi Jewish Synagogue and the Serbian Orthodox Cathedral Church of the Nativity of the Theotokos. They're almost next door to each other.
These buildings have stood since before the war and they remain intact today. As does the community of Sarajevo. It left us with a genuine of sense of hope and we found it truly uplifting.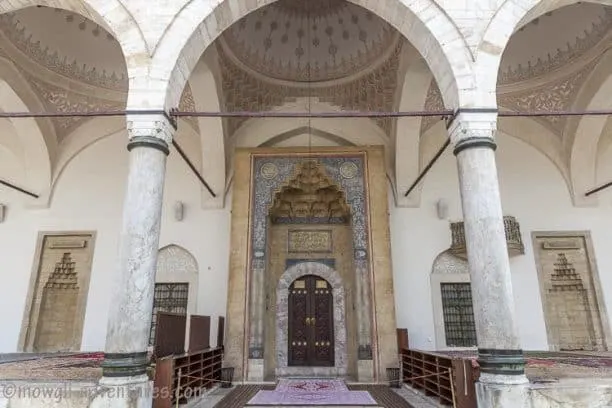 Take an early lunch in Željo Restaurant to eat the best ćevapi in town before taking a stroll towards the Miljacka River via Ulica Zmaja od Bosne, nicknamed Sniper Alley during the Siege of Sarajevo.
This main boulevard didn't earn its reputation lightly. With its tall buildings offering many vantage points for Serb snipers, just attempting to cross the street here was a life threatening activity during the siege and hundreds of civilians were gunned down trying.
Aside from bullet holes and shrapnel damage, there isn't much to see now but to wander along this boulevard, safe and in a now free and peaceful city is humbling indeed.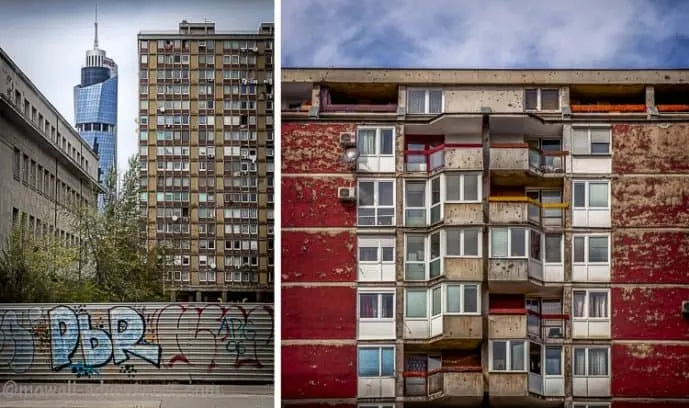 Once you reach the river, you're next stop is the Latin Bridge. There are several bridges along this stretch of the Miljacka River but the Latin Bridge is most notable for the place where European history took a turn for the worse.
It was here that Franz Ferdinand was assassinated back in 1914 which triggered a series of events that eventually saw the start of WWI.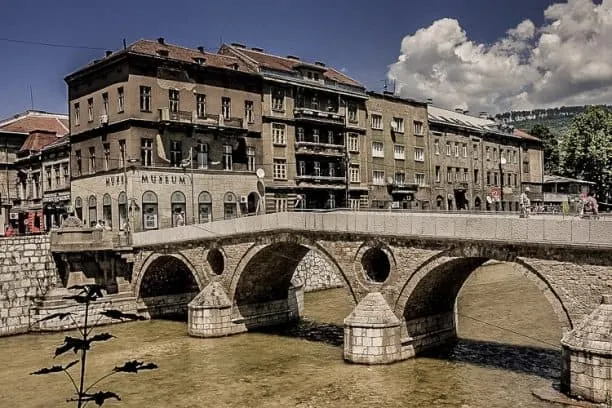 Next stop is a must see place for any visit to Sarajevo; the Tunnel of Hope. This was an 800 metre tunnel hand dug under the airport runway.
It was eventually equipped with rails to help transport food and arms and was just enough to keep Sarajevo supplied during nearly four years of siege.
Most of the tunnel has since collapsed but the museum keeps a short section accessible
How to get there: it's a bit of a pain but definitely worth it. Take tram 3 to Ilidža, then catch the Kotorac bound bus 32. Get off at the last stop, walk across the Tilava bridge, then turn immediately left down Tuneli for 500m. The journey from the city will take about an hour in total.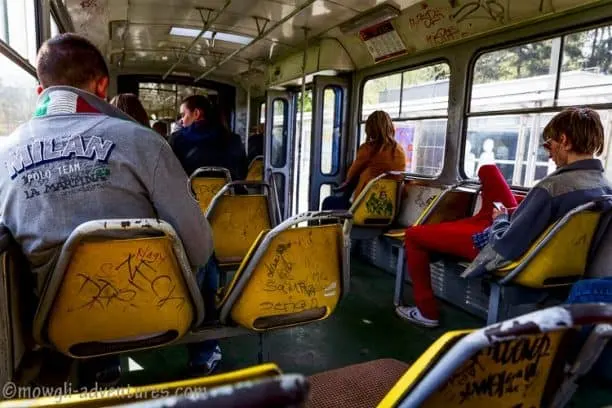 Now to see out the daylight hours of your day you have 2 choices. You can head up to Zuta Tabija (yellow fortress) to watch the sunset over the city.
It's quite popular at this time of day and the views are indeed glorious. Alternatively, head up to the remains of the Olympic bobsleigh and luge track.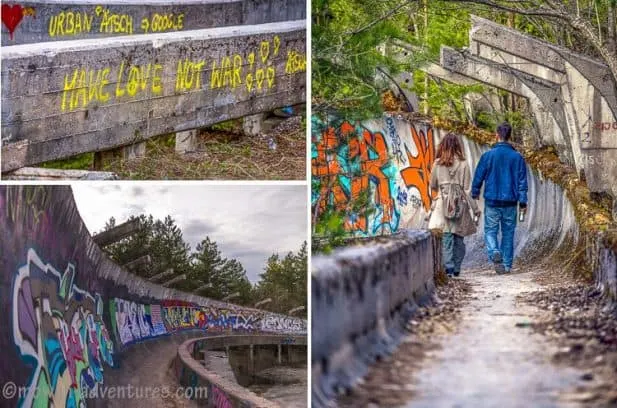 This is a totally unique experience and it's breath taking to see nature taking over this once famous Olympic run. Today, this monumental track is covered in graffiti and in a state of disrepair.
Walking down the track is saddening and reminds you of how the country was once so very prosperous country. That aside, the views over the city are fantastic and in my opinion, better than those from the yellow fortress.

Heading back down the mountain at dusk, it'll definitely be time for dinner and maybe even get your dancing shoes on at the Hacienda or Sloga nightclub, if you have any energy left!
Useful Information
Where we stayed: Autocamp Oaza in Ilidža. There's a tram (3) into Sarajevo. Make sure you get off with everyone else, or you'll end up back where you started – that's the voice of experience you hear!
Maybe take a guide: we didn't take a guided tour of the city but there are a couple of reputable firms that run them.
The reviews are very good and in some respects we wished we'd taken one.
They're quite reasonably priced and whilst you can discover all the sights for yourself with a guide, you'll probably get a lot of information about the history and culture giving greater context to your experience.
Like it? Pin it!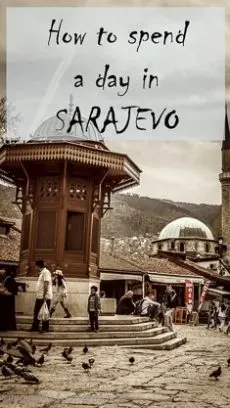 ---
Are you planning a trip to Bosnia? You may find some of these posts useful!