Keeping safe in Rio de Janeiro is probably on the mind of anyone travelling to the Marvellous City.
Brazil, and Rio especially, has a reputation for being unsafe.
We've read stories of violent crime, street robberies and pick pocketing.
Even as we travelled in other areas of the country, Brazilians would warn us to take care in Rio. "It's dangerous," they'd say.
One person even suggested we'd be attacked because our camper van, Baloo, looks a little military like.
We looked on overlander forums for information on where to stay, park or visit.
Almost all threads and opinions we read made some reference to the perceived safety level (or lack of) of the place in question.
By the time we arrived on the Atlantic coast, we'd been in Brazil for 2 months.
We'd driven over 5000 kilometres from the Pantanal, through Brasilia and Belo Horizonte and several colonial towns.
Not once did we feel unsafe.
So we figured all the talk of Brazil being unsafe is just that. Talk.
Yet we still felt anxious about going to Rio to the point we even considered driving around it and not visiting at all.
Thankfully, we decided to take our chances and spent 5 trouble free days there.
We didn't see anyone who looked like they might rob us. We didn't see gangs of drug lords roaming the neighbourhoods.
Is Rio de Janeiro safe for tourists?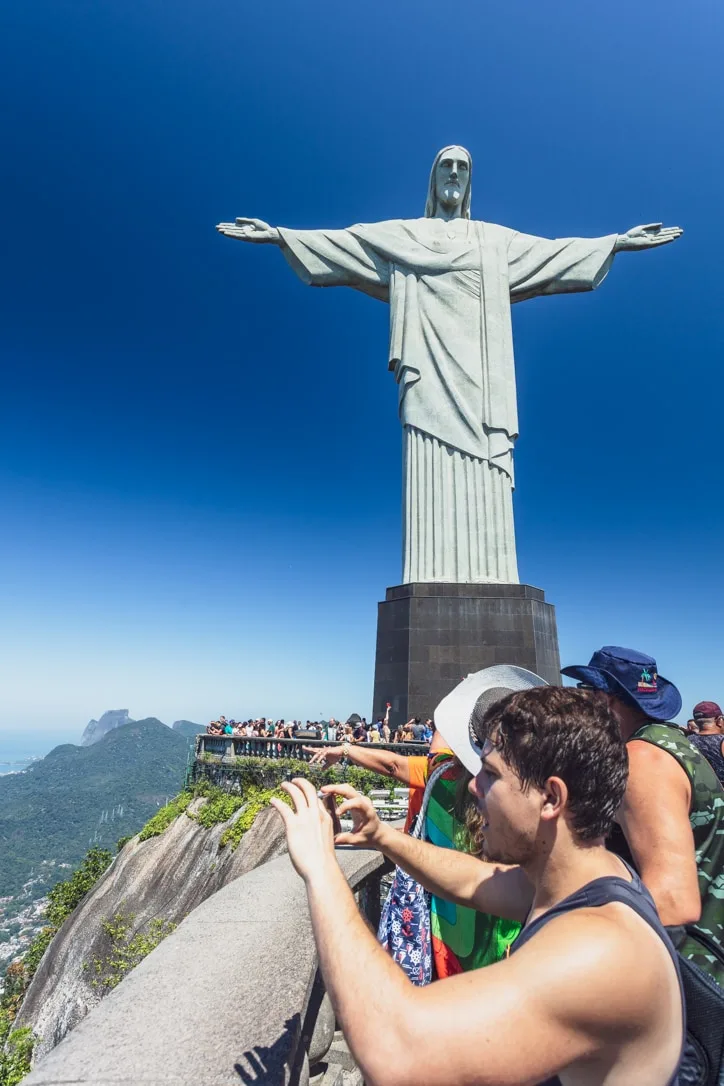 Much like any other major city around the world, staying safe is as much about being smart as it is about where you are.
During our time in Rio, we visited all the major tourist attractions, roamed the cobbled streets of Santa Teresa and even went clubbing 'til the sun came up. All trouble free.
There's no denying Rio has its problems. But it's not the war zone the media might have you believe.
Sure crime does happen but it's far from guaranteed to happen to you.
There's plenty you can do to help prevent becoming a target and minimising losses in the unfortunate event you are the victim of crime.
While it is safe to visit Rio de Janeiro, there are some significant safety concerns.
So we've put together this collection of tips for your safety in Rio de Janeiro.
If you can't afford to lose it, leave it at home
If you're travelling to Brazil for a relatively short holiday, consider what belongings you really can't manage without?
Is a laptop completely necessary for downloading your photos? Or will extra memory cards for your camera be a lighter and less expensive item to carry?
Learn to live without your diamond earrings and designer handbag for a short time.
Seriously. Anything that's especially important to you, leave it at home if possible.
If you're travelling long term like us, leaving belongings at home isn't an option.
So when you book your accommodation, make sure it offers safe storage for any belongings you can't afford to lose.
Don't lose your passport
Whatever you do, don't lose your passport. Never carry it with you around the city.
Instead keep the original in safe storage at your hotel and have 1 or 2 colour photocopies in different places in your luggage.
In the unlikely event you do lose the original, you'll still have access to all the important information to help you arrange an emergency replacement.
Holiday money, credit cards and cash
Credit card skimming is common in Rio de Janeiro and carrying a lot of cash around has obvious risks.
Aim to pay for as much as you can through reputable companies, online or in the city using your credit or debit card.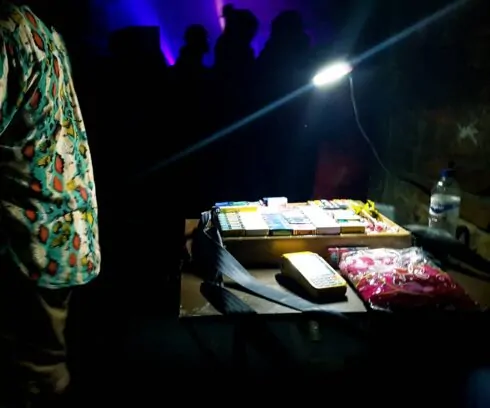 Most places in Rio accept card payment but use your common sense when handing your card over. Some are rather questionable – like the cigarette seller in the nightclub!
Where possible, use a pre-paid debit card, keeping the balance as small as possible. They're easy to top up as you need extra funds so this shouldn't cause any inconvenience.
Make sure you have access to your bank account online so you can keep a watchful eye on your account for early signs of any fraudulent activity.
A back up credit card will come in useful if your main card is in any way compromised.
Never walk around the city with more cash or cards than you need. We only ever carried one pre-paid debit card between us and just enough cash to get us through the day.
This way, had we been robbed or the card compromised, the financial loss would have been minimal.
If you need to use an ATM, only use those inside a bank, rather than a machine on the street.
Unless you can't help it, try not to use an ATM alone and ask a friend to keep a watchful eye on your back as you make your withdrawal.
Leave the flashy clothes and expensive jewellery at home
If you look like you're worth robbing, you might be! While costume jewellery and cheap watches may not have a huge monetary value, it could be enough to draw unwanted attention of an opportunistic thief.
Carrying an expensive looking camera over your shoulder is like taking out a billboard sized ad, asking for it to be taken from you.
And loitering on the street checking your phone isn't wise either.
Stay aware of your surrounding at all time and avoid being distracted. Thieves tend to look for easy targets so you're most vulnerable when your guard is down.
You may also be interested in: what to pack for Rio de Janeiro
Beach safety
With some world class beaches and surfing opportunities, Rio's beaches are a huge attraction for visitors to the city.
Now there's no need to be paranoid but keep your wits about you and stay alert. Rio's beaches are a hotspot for pickpockets and thieves.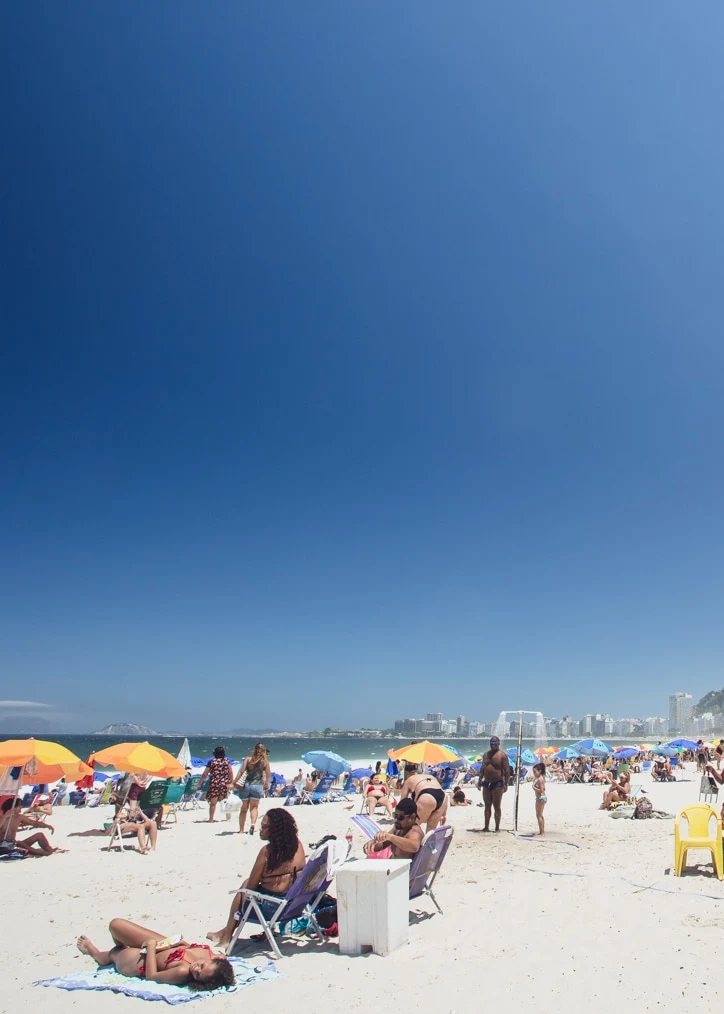 To avoid being a victim, only bring the belongings you absolutely need and keep one eye on them at all times.
Avoid all beaches after sunset in Rio at all costs. They're simply not safe.
As much as a nighttime stroll along Copacabana may sound idyllic, it's also a prime time for muggers and street robbers.
Public transport and taxis
Most of the time, we used registered taxis to get around the city. They're cheap and it allowed us to avoid some areas a little less savoury.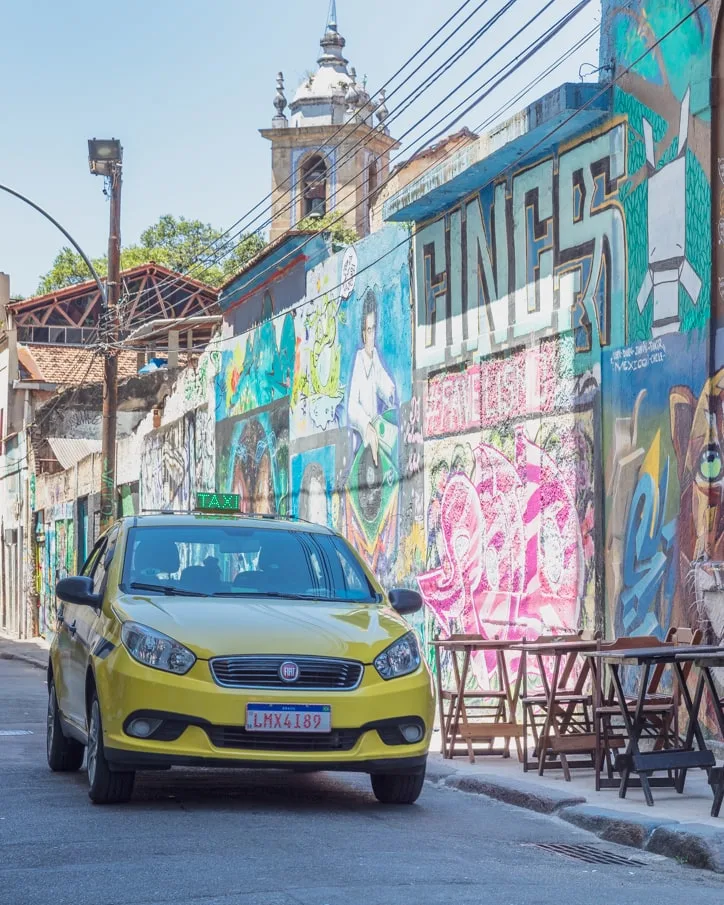 Make sure though you only use the official taxis. There's loads of them around the city and they run on meters. Just make sure you know exactly where you're going and have a way of explaining to the taxi driver too.
There are less scrupulous taxi drivers in Rio so avoid getting into taxis that you're not confident are official.
The metro and bus system is Rio is fantastic and considered safe so a great and cheaper alternative to taxis.
What areas are less safe?
Areas with a large footfall and plenty of people around, are generally safe during the day. Notwithstanding beach safety we've mentioned above, the areas around Ipanema, Copacabana and Leblon are generally fine.
After dark, the beaches are best avoided.
Santa Teresa is also an area to avoid after dark. It's great during the day so long as you stay around the main tourist area.
It's flanked by 3 favelas so closer to them become less safe.
Downtown Rio is fine during the working week. There's may shoppers and office workers around. But after 6pm and at weekends it becomes a ghost town – not a time to hang out here.
Lapa neighbourhood is popular for enjoying Rio's nightclubs but after dark, stick to the main drags and don't loiter. Get a taxi back to your accommodation after you leave the clubs and avoid excess alcohol.
During the day, Lapa and Santa Teresa are full of visitors checking out attractions like the Escadaria Selarón so they're relatively safe.
There have been a lot of reports of robberies along the hiking trail up to Christ the Redeemer. Do yourself a favour here and don't even risk it. Get a van, train, taxi or an organised tour up Corcovado to Christ the Redeemer for the fabulous views over the city.
Read our practical guide to visiting Christ the Redeemer
Trust your instincts
Wandering the streets of Rio de Janeiro is a wonderful way to explore the city but the sense of relative safety can change from one block to the next.
We walked into a few streets where within a few yards, we felt we probably shouldn't be there. Always trust your instincts – we turned on our heels and took another route.
Don't be a hero
If you are unfortunate enough to be approached by thieves asking for your valuables, it's not a good idea to attempt to gain hero status. Just calmly hand over your stuff and they'll most likely run a mile.
The most important thing is your safety not hanging on to the few reals in your pocket.
Have good travel insurance cover
If despite all your precautions, you still wind up a victim of crime in Rio, a good travel insurance policy with the appropriate cover will ensure you can at least recoup some of your financial loss.
Follow these safety tips when you visit Rio and most of all, enjoy the marvellous city.
Plan your trip to Rio de Janeiro
Guided tours, attractions & things to do
If you'd feel safer visiting Rio's highlights with a guide, there are plenty of organised tours catering for your needs.
GetYourGuide.com – Excellent guided tours and all of the top things to do in Rio de Janeiro, hand-picked by local, English & Portuguese speaking tour guides.
Here's a selection from a wide range of tours and activities for every type of traveller:
Car Hire
Whilst we drive our own vehicle, we appreciate that many people will want to fly in and hire a car. You should really book with a reputable firm because you need assurance the car is well maintained and your insurance is valid.
Whenever we hire cars, we're not loyal to one rental firm, and will simply go with the one that offers the best value – and that means using a comparison website.
Travel insurance
SafetyWing – travel medical insurance offer great value and allow you to take out a flexible policy. Rather than pay upfront each year, you can pay each month. It can work like a subscription, you can choose your start date and cancel any time.
World Nomads – These guys have been around for a long time and cover all the essentials long term and global travel. With World Nomads policies, you can even take out the policy after you've left home. They offer pretty good extreme sports cover in their most expensive package.
True Traveller – the best long term travel insurance provider for UK and EU citizens we could find. We use True Traveller and they offer good value on long term policies and allow us to extend for another year with a 10% discount.
Like it? Pin it!