Itaipu Ecological Reserves protect the last remnants of the Upper Parana Atlantic Forest in Paraguay. Little visited and under utilised, these fantastic spots provided us with a free bird watching safari.
This is how you can enjoy this wildlife bonanza too.
A free birdwatching safari in Itaipu Ecological Reserves, Paraguay
It started so peacefully. We camped below the pink blossom of the trumpet trees and relaxing in our camp chairs, took in the views over the river.
Somewhere in the distance, a woodpecker chipped industriously at a bark for her next meal. The rustling in the tree tops flanking our camp gave away a small troop of capuchin monkeys retreating into the darkness of the jungle.
Silence descended in time with the lowering sun.
A squawking parakeet flew in, finding a perch to nestle down for the night. Then 2 more parakeets arrived; boisterous young things we thought as they made their presence known. Then a small flock, scrapping this time. Then a larger flock. And more.
Before we knew it, the trees surrounding our camp were alive with a cacophony of screeches and squawks. The entire global population of parakeets camped in the trees above us and told us so!
For the next 90 minutes they jostled for the best perches, caught up on the days news and made 2 overlanders smile from ear to ear. A phenomenal event and one that happens every night.
We're in Itaipu Ecological Reserve, Limoy set on the bank of the River Parana. It exists only because of one of the world's largest hydro-electric dams, Itaipu Dam.
About Itaipu Dam
Itaipu Dam is operated jointly by Brazil and Paraguay and spans the River Parana. Through harnessing the power of water, the dam generates 70% of Paraguay's electricity consumption and 25% of Brazil's. That's a lot of electric!
While the dam may not use fossil fuel to generate electricity, its construction wasn't without controversy.
The River Parana basin was flooded to create the huge reservoir needed to generate almost 100 trillion watt hours of power each year.
In doing so, Sete Quedas was sunk, waterfalls to easily rival those at Iguazu Falls and an area of 146,000 hectares of pristine forest was drowned.
For the complete guide to visiting Iguazu Falls in both Argentina& Brazil, click here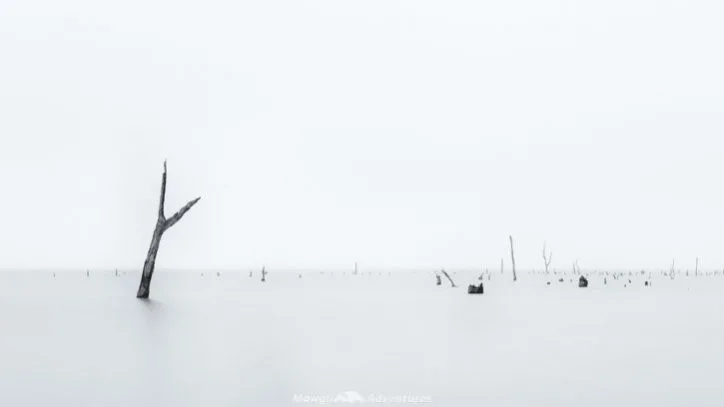 While displaced residents were either relocated or paid off, wealthy agricultural corporations bought up land bordering the flood plains. Today the area is awash with soy fields.
However, deforestation and subsequent industrial farming threatened the water quality of the reservoir. To prevent any impact on the operation of the dam, Itaipu set up 8 ecological reserves.
Or so the cynics say. Itaipu say the reserves are to reverse the impact the flooding had on wildlife habitats.
Whichever version you believe, the Itaipu Ecological Reserves are here and we visited 4 of them: Tati Yupi, Itabo, Limoy and Carapa, carefully selected specifically because they also offer visitors free accommodation.
Visiting Itaipu Ecological Reserves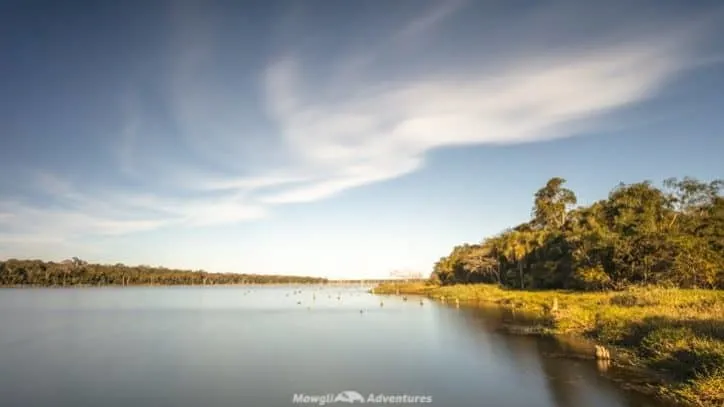 Visiting Itaipu's Ecological Reserves is a perfect way to spend time in nature away from the gringo trail and hoards of tourists.
We spent our days hiking self-guided jungle trails, climbing look out towers for panoramic views from the forest canopy and spotting never before seen (by us) birds.
The reserves are home to mammals too including armadillo, puma, tapir and jaguar although they all remained elusive to us.
We found hidden away waterfalls, had a guided drive through deep jungle and had the water levels been higher, the rangers at Carapa would have taken us out on a boat trip too.
We spotted dozens of toucans, a real life woody woodpecker, capuchin monkeys, enormous snail kites and geese perched in trees! Who knew geese perched in trees?
Alien-like grasshoppers took a liking to my walking boots, we found out vermilion flycatchers are camera shy and that even a drowned forest can be beautiful.
Tati Yupi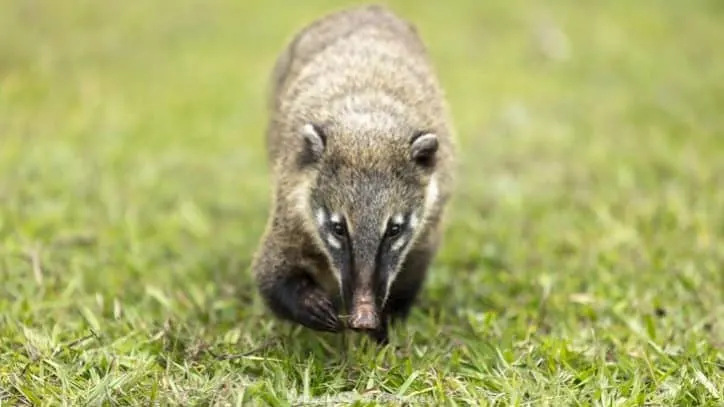 Coatis at Tati Yupi are the wildest we've seen; they still scavenge from bins as they do at busy tourist attractions but their rewards aren't so grand and they soon retreat to the forest.
The rangers drove us around forest trails in a horse drawn cart to explore more, pointing out insect nests and armadillo burrows along the way.
We climbed a look out tower on the river bank for views across to the Brazilian side over the flooded forest.
Sipping our morning coffee, we watched the capuchin monkeys watching us. We ate our lunch spotting plush-crested jays and our evening meal alongside yellow fronted woodpeckers grazing in the grass for their own dinner.
Itabo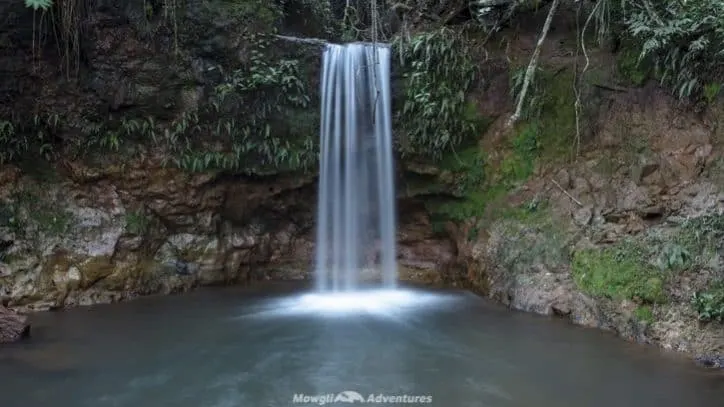 The forest walk in Itabo leads to a pretty little waterfall, Salto Syi. Along the 3 kilometre trail, we saw many toucans, with their distinctive orange beaks almost as big as their bodies.
Blooming trumpet trees tower above the forest canopy, with blossom bright pink and glorious.
There's little else to do in Itabo which in our opinion, makes it so special.
Limoy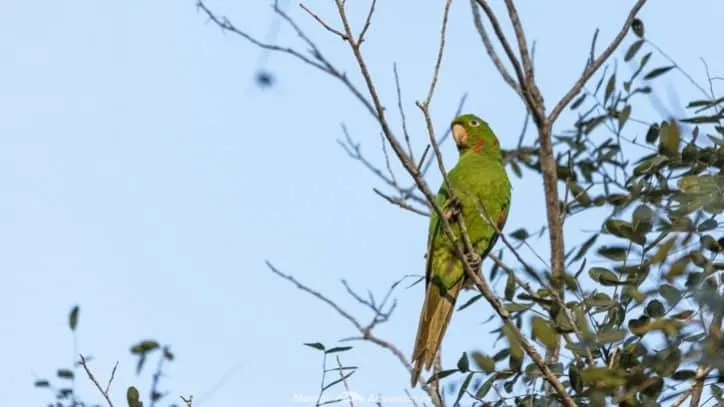 Limoy offers the phenomenal chance to camp below thousand of parakeets. They don't squawk all night so they won't keep you awake. It's an incredible experience, one that completely awed us.
Add to this the river side views at Limoy are terrific, this is one of the Itaipu Ecological Reserves not to miss.
Read more: in search of Paraguay's national bird in Mbaracayú Reserve
Carapa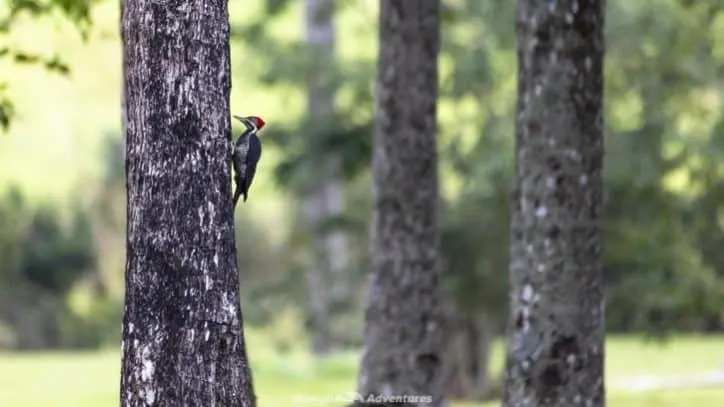 Carapa was our favourite of the 4 reserves. The rangers were super friendly and took us out on 4×4 drives into the forest.
They'll even arrange boat trips for visitors when the water levels are a little higher than when we visited. The birdwatching here, as in all the reserves was magnificent! We saw eagles and herons, parakeets and woodpeckers, geese and flycatchers.
All too often our world moves so fast we don't see the beauty right in front of us. Sitting back to observe nature do its thing has reminded us to take time, slow down and really see the world we live in. And not just drive past it.
As the sun rose on our first morning at the Limoy reserve, an all too familiar sound began. A solo squawk to start, followed by another and another.
The global population of parakeets were awaking from their slumber in the branches. We drank our morning coffee below them, wondering what conversations they were having.
And then in one massive collective squawk, they all lifted up from the trees and dispersed. We drank the rest of our coffee in silence, once again awed.
For some, these reserves may be too slow or lack the wow factor to write home about. For us, they're paradise!
Permits to camp at Itaipu Ecological Reserves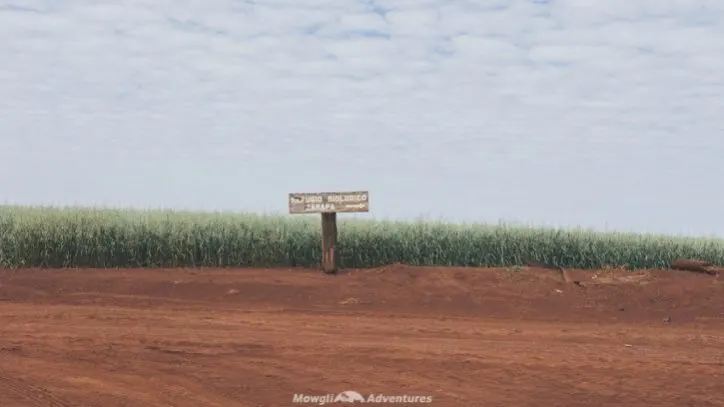 Unfortunately, you can't just turn up and ask to camp at Itaipu Ecological Reserves. If you want to visit you need to do a little bit of planning in advance but if you're reading this, you're already half way there.
The chances are you'll travel southwards from Brazil's Pantanal or the Chaco in Paraguay or northwards from Ciudad del Este.
Permits from the south
We arrived in Paraguay at the land border with Brazil at Cuidad del Este. Approximately 11 kilometres north on the Super Carretera Itaipu is a rather official looking entrance gate to the Museo Tierra Guarani.
The gate is manned by friendly armed guards and they directed us to a small reception office less than 100 metres down the road.
Here, we asked for a permit to Tati Yupi. The helpful receptionist asked to see our passports and vehicle papers and she was happy to accept photocopies. After filling in our details on a form, she handed us a permit.
We presented the permit at the main gate in Tati Yupi. More armed guards checked it over and directed us to the administration office.
The officials in the administration office were quite tolerant of our poor Spanish and non existent Guarani. We asked if we could camp in the reserve and Carlos asked us how long we'd like to stay.
We weren't sure so asked for 3 nights. No problem! While he completed the paperwork, we picked up a few leaflets hoping to learn more about the reserve.
There are a total of 8 Itaipu Ecological Reserves along the banks of the Parana River and its tributaries. 4 offer complimentary camping facilities.
If you want to stay at more than one of the reserves, this is the time to tell the officials. They wanted to know how long we wanted to stay at each for their paperwork.
With no prior knowledge of the reserves, we didn't know if we'd enioy them or not so we opted for 3 nights at Tati Yupi and 2 nights each at Itabo, Limoy and Carapa. We could easily have asked for more and I don't think it would have been a problem.
Permits from the north
We asked at Carapa how those travelling southwards could secure permits to visit the reserves from north to south.
The guards told us we could get permits at the immigration office at the border with Brazil at Salto del Guira so perfect if you're travelling into Paraguay at this land border.
If you're travelling from further north in Paraguay, its about a 35 kilometre diversion.
Update May 2019: We met a fellow overlander this week who tried to get a permit in the north but was declined. If you have a different experience, let us know.
If you've arranged permits here or anywhere else, please let us know how the process was.
How long to stay at each reserve
You can leave each reserve before your permit expires but you can't get in before it's valid for each specific site.
We recommend a minimum of 2 nights at Tati Yupi, 1 night at Itabo, 2 nights at Limoy and 2 nights at Carapa.
Whatever you do, don't leave Tati Yupi without your permits for the next reserve. They will not let you in! We know!
How much we spent for 9 nights birdwatching in Paraguay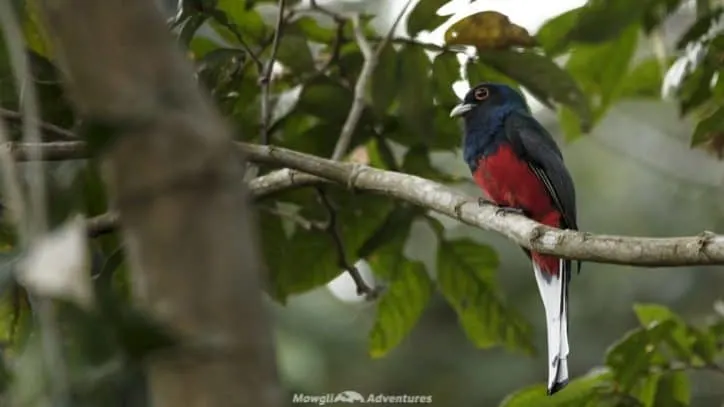 Have you checked the price of a birdwatching safaris? Neither had we before we visited the Itaipu Ecological Reserves but needless to say, they cost a fair few pound!
Sure they include hotel accommodation, meals, transport and even a few night drives to spot birds with a guide but even so! £4500 for an 18 day birdwatching safari is a hefty price tag. Each!
So how much did our 9 night birdwatching safari cost us? £81.33 for both of us. With our own camper van we self catered so 100% of that was on food and drink.
All accommodation was free, wifi was freely available and water and electric hook ups made our stay stress free. We already had full tanks of Brazilian fuel so bought no diesel during this leg of our trip. We travelled 203 miles all told so the value of the fuel we used was £30.72 based on us getting 20.1 mpg.
So a grand total of £112 for 9 nights of remote and private birdwatching, often with our own personal guide. Not too shoddy huh? Keep your £9k (plus your flights) and put it towards sorting your own camper van conversion. You know it makes sense!
How to get to Itaipu Ecological Reserves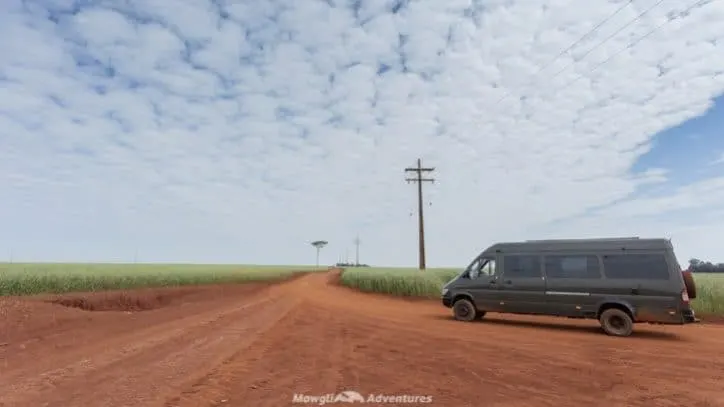 Here's a map of the route we took from Ciudad del Este to each of the 4 reserves.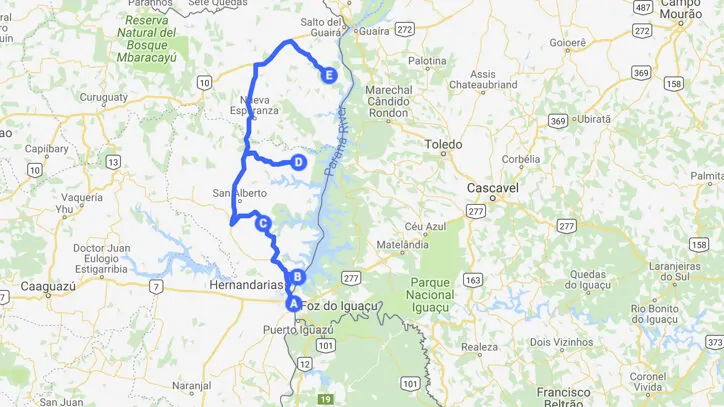 Point A is Ciudad del Este and where we crossed the border from Brazil. Point B is Tati Yupi, C is Italo Reserve, D is Limoy Reserve and Point E is Carapa Reserve.
In total we drove 203 miles/ 324 kilometres. 127 kilometres of this was on sandy or cobbled roads.
The cobbled roads are bumpy but easy to drive. The sandy tracks are extremely dusty when dry and you'll end up with a fine layer of red sand on your surfaces.
Tati Yupi is the most accessible. The main gate is on the main road and although there's a 7 kilometres sand track to the camping area from there, it's wide and flat. Even in a 2 wheel drive in the wet, it's probably ok.
Itabo is 34 kilometres from a tarmac road. A little more challenging than Tati Yupi, a 2 wheel drive will be fine when its wet, if you're careful.
Limoy and Carapa are a long way off tarmac roads. Limoy is 50 kilometres and Carapa is 48 kilometres. If the conditions are dry and no rain is forecast, again a 2 wheel drive is fine. We think a 4 wheel drive is necessary in wet conditions though. Adverse cambers and a few hills on these sandy tracks will turn into slippery mud baths in the rain. You have been warned.
What to pack
When you click on links to various merchants on this site and make a purchase, this can result in this site earning a commission. As Amazon Associates, we earn from qualifying purchases. For more info, please check our disclosure page.
The 4 reserves we visited are pretty remote with no on site convenience stores. Make sure you stop off at the nearest towns to resupply with all the food and drink you need for your stay.
Check your mapping software for the nearest supermarkets before you get too close to the reserve because some are about 60 kilometres away.
The wildlife in the reserves have a varying tolerance of humans. At Tati Yupi, the coatis and monkeys will get quite close but at the others, they'll stay hidden or run away if they hear or see you.
And birds are birds. We found simply sitting out quietly with our binoculars and cameras at the ready was the best way to enjoy the reserves wildlife. Bring a good pair of binoculars and a book to help you identify the birds.
There are plenty of opportunities for jungle hikes at all the reserves so make sure you bring a good pair of walking boots. And even without walking through the jungle, all the reserves are on the river so insects are rife. Bring a good DEET repellent to keep the little critters from dining on your flesh.
Also of note, September through to November is serpentine breeding season so snakes are prolific and quite aggressive. Ask the advice of the rangers before wandering into the forest. And never walk around barefooted!
Facilities at Itaipu Ecological Reserves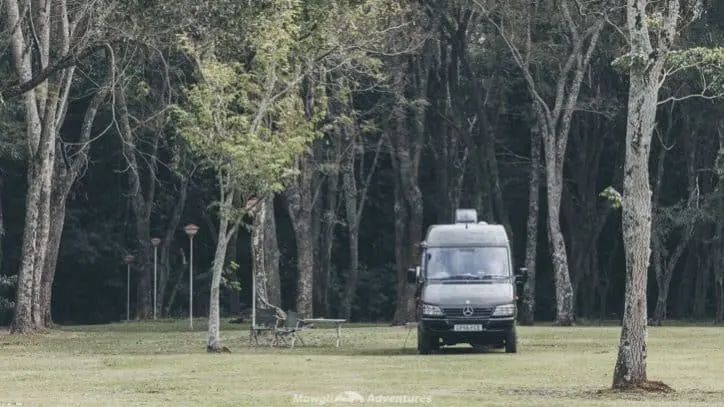 Visitors can camp at each of the 4 reserves we visited for free. Each site has electric hook ups, drinking water and wifi. The shower block at Tati Yupi was fantastic with hot solar showers and clean toilets. The other sites were more basic but clean and all but Limoy had hot showers.
All the sites had a hostel block for visitor who don't want to camp. Again, the accommodation is free but you need to provide your own bedding and food.
Like it? Pin it!