This Jackery 500 review delves deep into the popular Jackery Explorer 500 to discover if it's worth all the hype.
---
Portable solar generators have increased in popularity so much that they're no longer solely used for van life and an extra power backup in RVs. Campers, car campers, and outdoor enthusiasts have realized their benefits too.
When it comes to portable solar generators, there are a lot of different opinions out there. Some people think they're a great idea because they can give you power anywhere. Others, however, are not so sure. They worry that the generators might not work well or might not last very long.
The Jackery 500 portable solar generator is one of the most popular models for campers and weekend van dwellers.
We've reviewed the Jackery 500 Solar Generator in detail and gave it a thorough workout to find its limitations.
Here's how it went.
When you click on links to various merchants on this site and make a purchase, this can result in this site earning a commission. As Amazon Associates, we earn from qualifying purchases. For more info, please check our disclosure page.
At A Glance: Jackery 500 Review
The Jackery 500 Solar Generator is a solar-powered generator you can use to recharge your devices. It comes with a solar panel for charging it when you're camping, and it has several output ports so you can connect to different devices.
It's low on noise and eco-friendly, making it a good option for people who camp in vans, cars, or tents. It's easy to use, well built, and powerful enough to charge essential gadgets for short camping trips.
The Jackery 500 has a power output of 518 watts. This might not be enough for longer trips or permanent van life. It also can't run more powerful appliances.
However, this solar generator is versatile. It can be used for many purposes, including:
powering a camping trip,
beach party, or
emergency backup power for some low-powered devices at home or in your camper.
For weekend campers, this unit is a terrific option, in our opinion.
But it's insufficient as the only power source for permanent van lifers. Read on to know why we say so.
Disclaimer: Jackery was kind enough to send us an Explorer 500 and a 100W SolarSaga foldable panel for this review. However, the content of this post is not sponsored by Jackery.

Our thoughts are our own and that of the grandchildren on a weekend car camping extravaganza.
Jackery 500 Solar Generator Spec Summary
The Jackery 500 Solar Generator consists of 2 products:
the Jackery Explorer 500 portable power station, and
a SolarSaga 100W solar panel.
You can either buy them separately or choose to buy them as a bundle. The bundle is known as the solar generator.
Jackery Explorer 500 Portable Power Station
Specifications
Output Rating: 518W
Output Surge Rating: 1000W
Battery Type: Li-ion NMC
Battery Ah: 24Ah @ 21.6v
Battery Life: 500 cycles to 80%+ capacity
Recharge Time: 7 – 9.5 hours (depending on charging method)
Inverter: 500w Pure sine wave (1000w surge)
Charging Methods: Solar panel, main supply wall socket, vehicle's 12V output, electric generator
AC Output: 1 x 110 VAC, 60Hz, 500W (1000W Surge) (UK version has 1 x 230 VAC)
DC Outlets: 3 x USB Type-A (5V, 2.4A), 2 x DC Ports (12V, 10A), 1x Car output (12V, 10A)
Display: LCD screen
Weight: 13.32 lbs / 6Kg
Dimensions: 11.8 x 7.6 x 9.2 in (30.1 x 19.3 x 24.2 cm)
Warranty: 2 years
Jackery SolarSaga 100W Solar Panel
Specifications
Peak Power: 100W with 23.7% efficiency
Power Voltage/Current: 18V/5.55A
Open Circuit Voltage: 21.6V
Short Circuit Current: 6.1A
1 x USB-C Output 5V, 3A
1 x USB-A Output 5V, 2.4A
Operating Temperature Range: 14 to 159° Fahrenheit (-10 to 65° Celsius)
Dimensions (Unfolded): 48 x 21 x 0.2 inches (1220 x 535 x 5 mm)
Dimensions (Folded): 24 x 21 x 1.4 inches (610 x 535 x 35 mm)
Weight: 10.33 lb
Warranty: 2 years
What's In The Box?
This is what you will find inside the box:
1 x Jackery Explorer 500
1 x 100W SolarSaga Solar Panel
1 x Car Charger Cable
1 x AC Adapter
1 x User Manual – Jackery Explorer 500
1 x User Manual – SolarSaga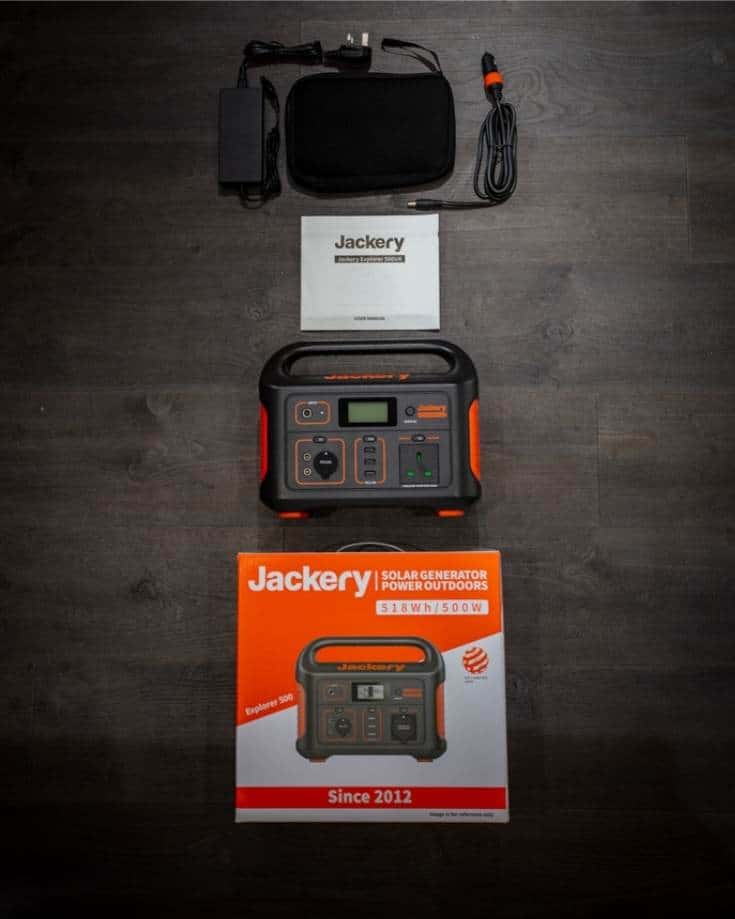 How We Tested The Jackery 500
We visited the UK for a few months after 4 years away, leaving our camper in secure storage in South America. We missed her something terrible, but more than living in the van, we missed the outdoor lifestyle.
So we packed up the car and headed out to Britain's Peak District National Park for a weekend of walks and photography.
The weather forecast was good, which in the UK means no rain, probably. So, we packed the Jackery 500 portable power station and solar panel into the car with our camping gear and essential electronics:
Camera batteries and charger – we intended to spend the weekend with cameras in hand, so having spare batteries and a means of recharging was a must.
One laptop and charging pack – not usually essential for a weekend getaway, but we wanted to test out the Jackery 500 in the field and give it a good workout.
2 phones – again, we wouldn't usually keep our phones fully charged but with the Jackery 500 in the back, why not?
A small coolbox – sundowners are an essential part of camping. Oh, and eating and cooking, of course!
One of the main aims of our camping weekend was to test the Jackery 500, so we gave a lot of thought to how we'd use it in the van.
However, we know the inverter isn't as big as the Jackery 1000, so the hairdryer needed to stay home!
But what about the coffee machine? We're both coffee lovers and don't really get going in the morning until we've had at least one cup – two on some mornings.
Our home kitchen coffee machine is a robust Gaggia, and we love it! But that's a 1000w machine, and the Jackery's 500w inverter isn't up to the job.
We made do with an Aeropress – a non-electric coffee maker. Perfect for our 2-night camping trip with limited electrical power.
And the best news? Angela's GHD hair straighteners and my shaver work perfectly, so at least we can look halfway decent!
So with a car full of camping gear, more electrical devices than we'd typically bring on a camping trip, and our Jackery 500 portable power station, we headed off to the not-rainy-for-a-change Peak District to give it a whirl.
So how did that go?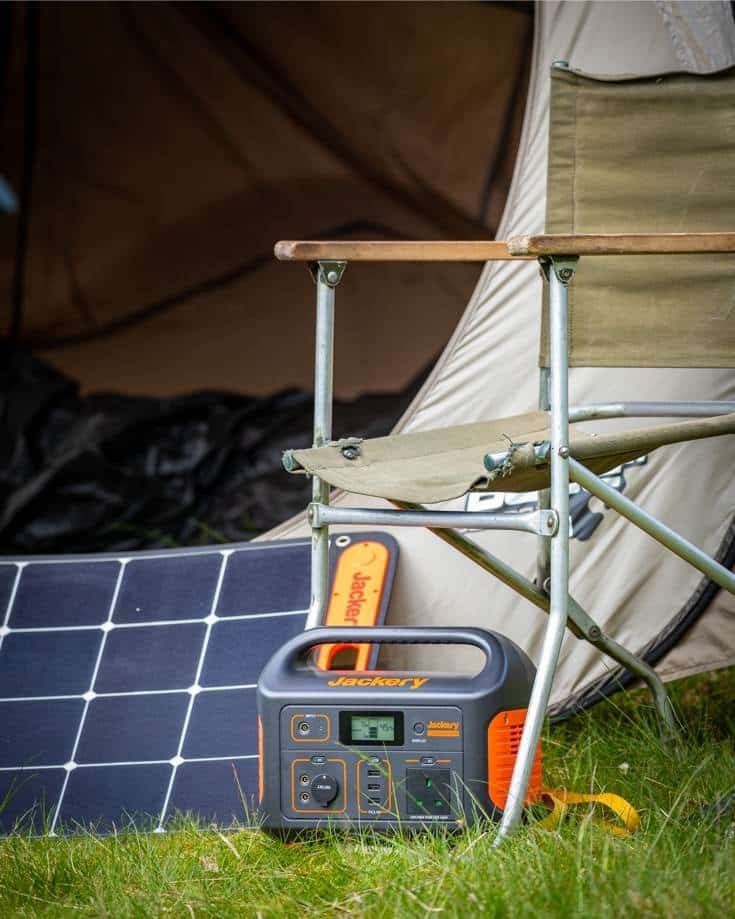 Our Experience of The Jackery 500
Usability
The Great British weather is well known for being notoriously fickle and unpredictable, but that's all part of camping!
Our weekend away was forecast to be ok. Ok, as in a British ok – unlikely to be torrential rain, but it could easily be incessant drizzle.
And we weren't disappointed. We enjoyed a dry weekend, and the light overcast conditions meant that we didn't get bombarded by the harsh rays of sunshine, perfect given our sensitive skin.
Not so perfect for the SolarSaga 100 – our primary source of recharging the Jackery.
Setting up the Jackery 500 takes a minute or two. The suitcase-style portable solar panel opens up in an instant.
The solar cables are stored in a convenient pocket on the back of the panel, and connecting them to the power station is simple.
Jackery power stations aren't waterproof, and neither are the solar panels.
So with a respectful dose of mistrust in the weather forecast, we kept the power station inside the tent.
The solar panel, of course, needed to be outside facing the sun to be effective, so we were mindful of any potential change in conditions.
Charging The Jackery 500
AC Charging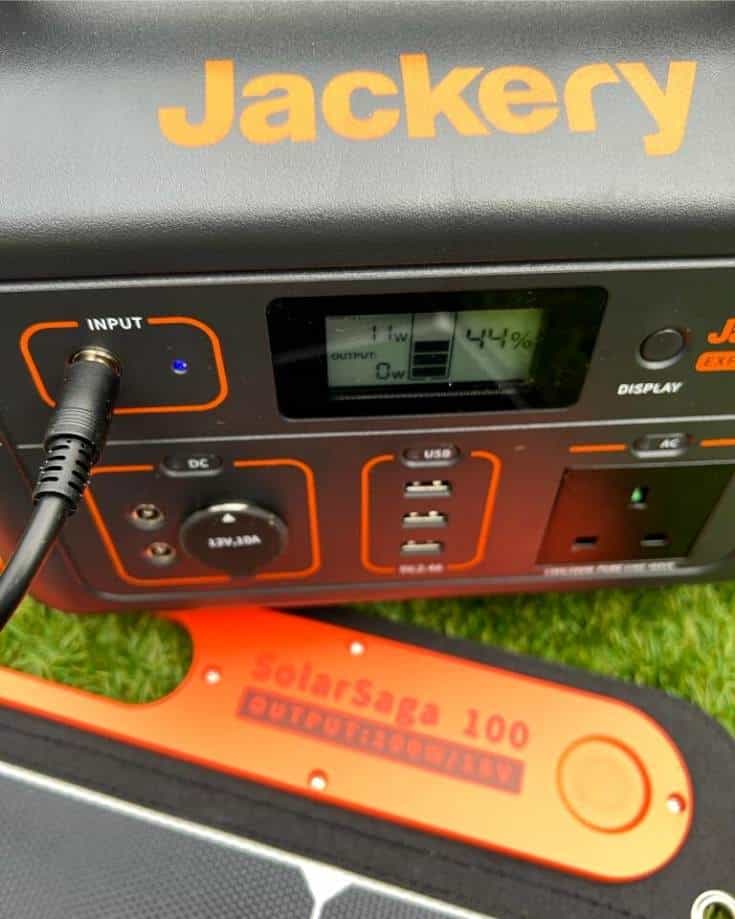 The Jackery 500 was 41% charged right out of the box, so before we set off on our weekend, we fully charged it from our household mains supply.
No point in beginning a camping trip on the back foot!
It took around 3 hours to get to a full, 100% charge. We didn't charge it again from an AC power outlet during the weekend we were away.
If we'd been camping for longer or desperately needed to recharge it in poor weather conditions, we could have hooked it up to the campground's AC supply. We could have expected it to fully charge in around 7 hours from flat.
Note: if using a Jackery 500 in the UK, you need an adapter to plug into the campsite pedestal. You can grab one here.
Most US pedestals use the same socket connectors as a household mains supply, so the US models will work without an adapter.
When it comes to charging the Jackery 500, its AC charging cable has some drawbacks. The main issue is the 2-meter length of the cable itself, which can be quite inconvenient when you're out camping.
Its short length means you might struggle to reach a charge point on your campground unless it's close to your pitch site.
An extension cable is a must-have accessory to get the most out of the device in these situations.
This allows you to easily plug in your charging cable regardless of its length, making the process much more convenient and hassle-free.
The AC charging cable may be great for household use without the extension lead. Still, its relatively short length can be a real nuisance for camping.
Solar Panels
We'd previously tested the Jackery 1000 with two solar panels in wet and blustery conditions. However, from our experience of needing to readjust the solar panels regularly, we decided to handle the panel with the 500 slightly differently.
Rather than prop the solar panel up with its integrated support, and adjust it to face the sun all day, we decided to lay it flat and secure it with tent pegs.
Interestingly, we received a few more watts in the overcast conditions' diffused light than when the panel was angled towards the sun. Whatever the reason, we let the panels lay flat the entire day.
One of the advantages of the SolarSaga 100 panels is that they are lightweight and portable, making them easy to set up and move around. However, this also means they are more likely to blow over in strong winds.
While we didn't experience especially windy conditions on our camping weekend, we have used the SolarSaga 100 panels before in quite blustery conditions. Using robust tent pegs to secure them is a good solution.
In optimum conditions, the Jackery Explorer 500 can absorb a maximum of 100W of energy. Of course, an overcast day isn't optimal, but we saw around 30W of input from the single SolarSaga 100 panel.
When the sun came out (and it did a few times), we saw it increase to 66W.
We're confident the solar panels could easily top out at their maximum output, given better conditions and later into the summer. However, it won't speed up the charging process.
Car Charging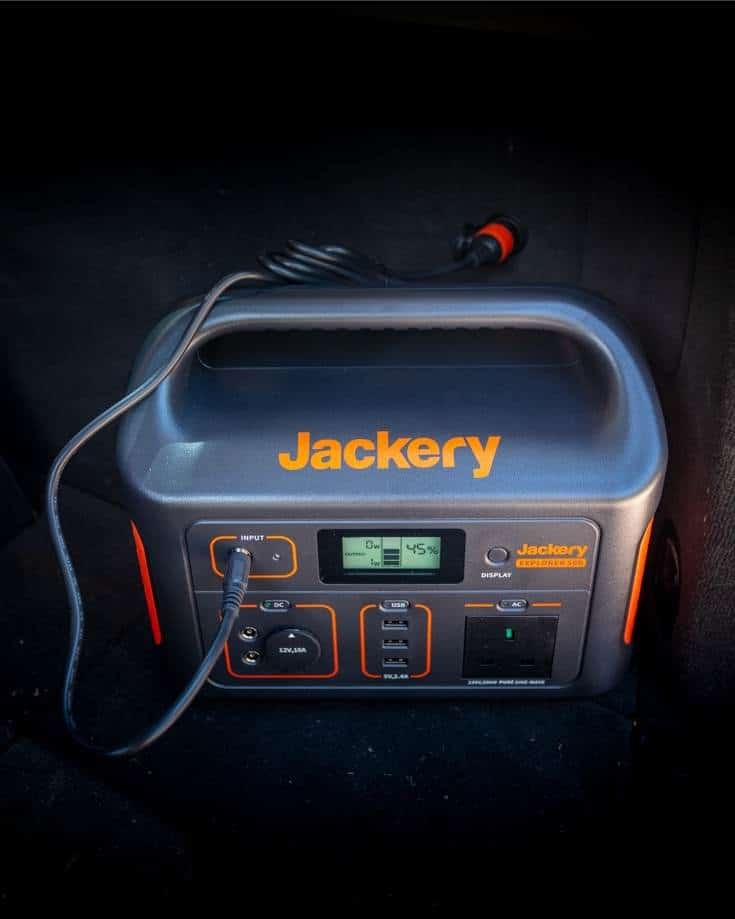 Oh, the joys of a flat starter battery!
The Jackery can be charged from a DC outlet, like the 12v socket in most cars.
Our car in the UK has one conveniently located in the boot (or the trunk to our US readers). So, while we drive, we plug in the Jackery and give it a trickle charge – a helpful boost on overcast days.
But pay heed to our mistakes – correction – my mistakes. The 12v sockets continue to draw a charge when you leave your ignition on without the engine running.
And that charge comes from the starter battery. The starter battery is not being recharged because the engine isn't running.
Unlike your RV leisure batteries, starter batteries aren't designed for slow discharges, so in pretty much no time, a charging Jackery 500 and a car radio will flatten the starter battery.
(Thank you, Bob and Jennine, for the jump start!)
Aside from my schoolboy error, charging the Jackery 500 from the car's engine is a great addition to the charging methods available.
However, don't expect it to fully recharge the Jackery 500 by this means alone in anything less than 8 hours.
Charging Our Appliances
When we first received the Jackery 500 portable power bank, we were immediately impressed by how sleek and lightweight it was. It felt durable and high-quality, and we hoped it could easily handle our everyday camping charging needs.
We weren't sure how well it would perform in real-world use. So, instead of changing how we used our phones, laptops, or other devices to ensure that the battery lasted as long as possible, we simply continued using them.
We wanted to see how much energy the Jackery 500 had left in its tank before we started worrying about how to make it last longer.
As the weekend progressed and our usage gradually drained the battery's power, we adjusted how and when we used our devices.
To start, we kept our phones topped up most of the time, using the Explorer 500 power station to recharge them whenever needed. Additionally, we fully recharged two camera batteries from about 75% full.
Coolers are inherently inefficient, and ours is no exception. We noticed that about 50% of the Jackery's battery bank was already zapped by the middle of the first day, which wasn't a promising sign given the overcast weather conditions.
So eventually, we had to relegate the cooler to the back of our tent and instead use frozen blocks to keep things cool enough for a couple more days.
Monitoring RV batteries is challenging (you can read our post about RV battery monitors for more info). Anyway, we figured we'd test the read-out display of the Jackery 500 to see how it holds up.
It turns out it was surprisingly accurate(ish). We charged a laptop from about 20% to 40%. It was late morning and relatively sunny. The Jackery was 50% charged and had 54W coming in from the solar panel.
The charging laptop was pulling 71W, so the Jackery gave out more than the solar panel provided.
During the short test period, the Jackery provided 35W of energy to the laptop, of which 15W ran the laptop and 20W went into the laptop battery.
The solar panel provided the Jackery 500 with 25W during that same period, a delta of 10W.
The Jackery 500 battery monitor indicated a battery level of 47%. If you do the math (we did), you'll know the read-out should be 48% on that basis. That 1% difference is a pretty good variant, in our opinion.
And the upshot after a 2-night camping trip in overcast conditions? We left the campground, having used the Jackery 500 for almost 3 days with 31%.
Not too shoddy at all!
Is The Jackery 500 Solar Generator Any Good For Van Life or Camping?
We've been testing the Jackery 500 Solar Generator for a while now, and we really like it. It is a great, high-quality product and great value compared to installing an electrical system in your camper.
That said, it might not be suitable for everyone. For example, if you plan to be off-grid for a long time or if you need to power high-draw devices, then the Jackery 500 might not be enough.
But this is a good option if you want a portable power solution for occasional use.
Who Is It Good For?
#1 Weekend Van Lifers
Suppose you're planning a short off-grid camping weekend and only need to power a few essentials like your lights, phone, and laptop. In that case, the Jackery 500 Solar Generator might be a perfect choice.
This compact yet durable generator is built with portability in mind, making it easy to bring along on any adventure.
It can store enough energy to keep your essential devices running smoothly throughout the day, so you won't have to worry about running out of power when you're off the grid.
And when combined with the SolarSaga 100W solar panel, you'll always be able to charge up from the sun or plugin from an outlet without any hassle.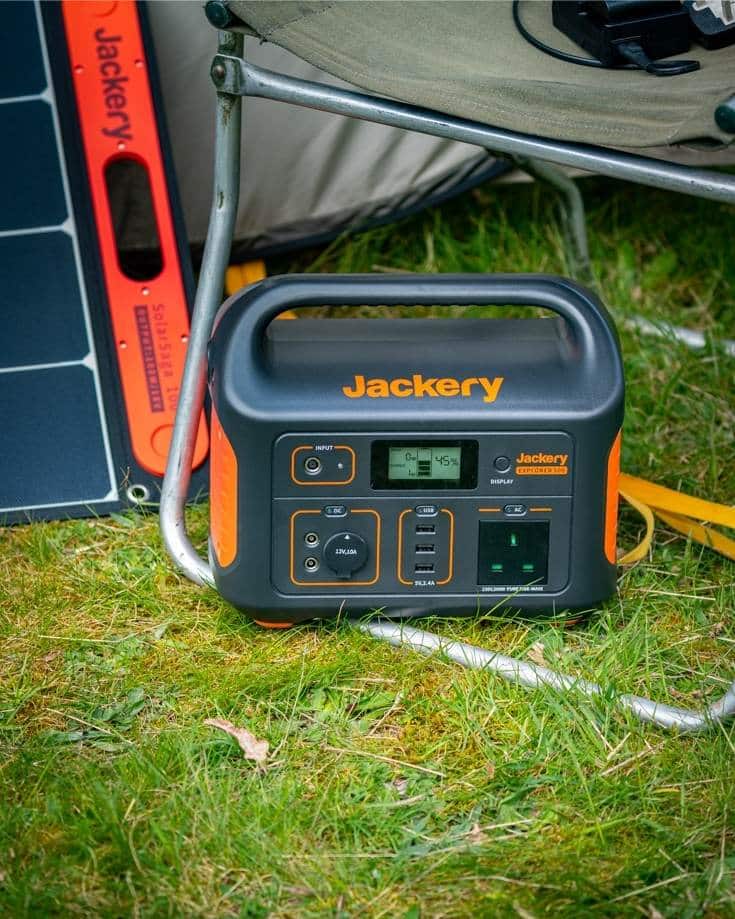 #2 Campers & Car Campers
Campers and car campers don't have the option of a permanent electrical system van lifers might install in their campervans. But that shouldn't mean you have to live without basic electrical essentials.
If you're planning a camping weekend, you might wonder how you'll keep your electrical essentials powered.
The Jackery 500 Solar Generator might be the perfect solution and means you don't have to spend time in the bunkhouse waiting for your devices to charge fully.
Plus, you don't need to burn gasoline. If you want to avoid the fumes, noise, and damage to the environment that diesel and gasoline generators create, this little device is your ticket.
#3 When you need to get up and go
The Jackery 500 is an all-in-one, plug-and-play electrical supply. So if you've decided on a last-minute weekend camping trip, simply grab the portable solar panel and power station, and off you go.
So long as you've sized it to meet your electrical demand, the Jackery 500 is an ideal and convenient solution.
#4. When you need your power source to multi-task
The Jackery 500 is surprisingly versatile, mainly because it offers many options for both input and output.
Power outage? No problem, just use the solar panels.
Want to camp out in your yard? Perfect for charging a small TV and phone and cooling your beer cans in a mini-fridge.
Weekend trip? It has enough juice to let you survive easily.
#5. When you need a portable power supply
Even if your van has an electrical setup, this handy portable power station allows you to run lights and music systems away from your van.
That makes it the perfect accessory for a day on the beach or an evening around a fire pit.
#6. When you need a backup power supply
An extra backup power supply can be a real lifesaver for campers and van lifers.
If you're worried about running out of power during a long trip or if bad weather is forecast, the Jackery 500 Solar Generator is a great option to have on hand.
It's compact and easy to store, so you can take it wherever you go.
Who it's not for?
#1 Permanent van lifers
Let's get one thing out of the way immediately: from a full-timer van lifer's perspective, the Jackery 500 is not a one-stop solution.
It's a great add-on, it can charge many of your small electrical devices, and it's great if you want to go for a 2-3 day trip and don't want to build your own solution.
But with only 24ah of battery, the Jackery 500 is not a van lifer's ideal choice for a long trip.
Even if you are super conservative with energy usage, the device just doesn't have what it takes for a permanent on-the-road/campsite lifestyle away from the grid.
#2 Users of powerful AC appliances
While the Jackery 500 is a versatile power source ideal for use in RVs and campers, its limitations become apparent when trying to run heavier electrical equipment.
The 500w inverter simply isn't enough to power an AC unit or electric kettle, meaning you'll need to upgrade to the Jackery 1000 at the very least.
Even then, there are limitations to what the Jackery 1000 can handle. So, you may need to consider installing a customized electrical system if you want to run heavier equipment while camping.
#3 Anyone who needs more than 35 ah per day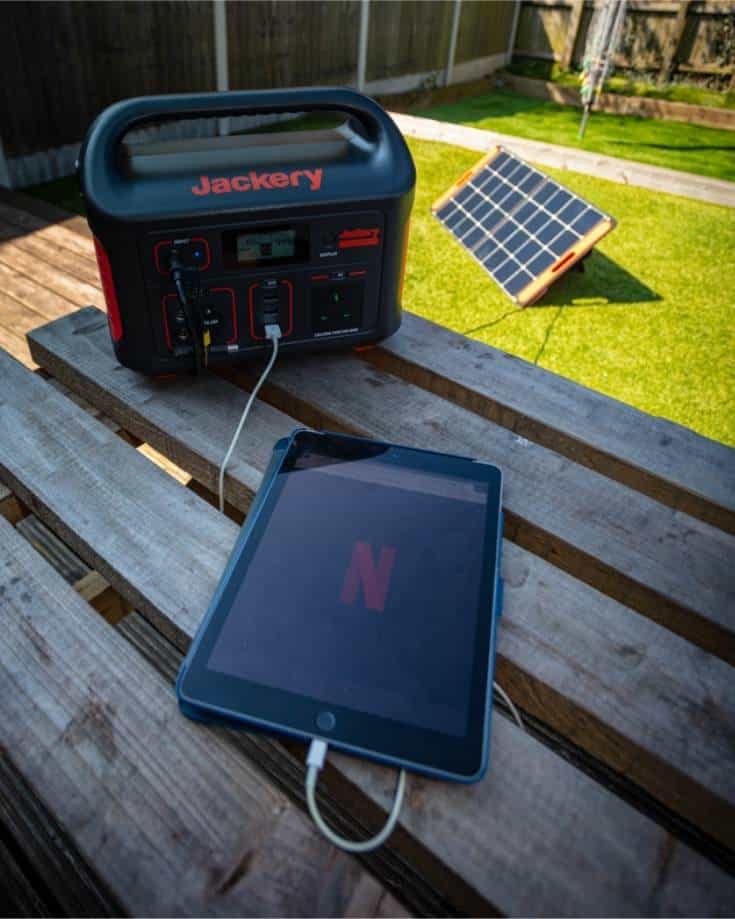 When choosing a portable solar power station, it's important to consider the battery size. The Jackery 500 has a 24ah lithium battery.
Let's say you need 18ah per day, and you're not charging the battery. The Jackery 500 will be flat after a day and a half. But if you're generating lots of energy from the solar panels, you'll make that last longer.
In reality, that solar panel will only generate around 12ah on a good day. So the critical thing to remember is to choose a battery size that can support your needs.
You can use our solar calculator to determine how much power you need and what size lithium battery will support that. If you need a larger or smaller battery, consider the other Jackery solar generator models.
Pros
Multiple charging options (solar, AC, and DC)
Multiple output ports (1 x AC, 3 x DC, 3 X USB)
Very Quiet
Zero fumes
Eco-friendly
Solid build and easy to carry
Large LCD panel for showing battery status
Flashlight for night usage
Safety features: Overheat protection, over-voltage/current protection, short circuit breaker
MPPT controller for fast solar charging
24-month warranty
Cons
Only 500 cycles of battery usage (It will not last beyond 2-3 years)
Neither Explorer nor SolarSaga Panels are waterproof
It does not accept more than 65W of solar power (you cannot hook up two panels to reduce charging time) – so you cannot scale it
No USB Type-C ports and only 1 AC port
Can't join more than one portable power station, so you can't expand the battery size
Is The Jackery 500 Worth The Price?
Now there's a question. The Jackery Solar Generator, including the portable power station and a 100w solar panel, is a cracking piece of kit. Still, its price tag is around about $800-900.
Most of us need to think twice about spending that kind of money.
The Jackery 500 is the lowest-priced product in its class. You can expect to pay a couple of hundred bucks more for a comparable size Goal Zero or Bluetti model. So in that respect, the Jackery 500 is of great value.
But what other alternatives are there? If you need the power the Jackery 500 can provide, how else can you achieve that?
You'll be hard pushed without installing a permanent and customized electrical system in your camper.
There are ways of cobbling together a DIY solar generator (here are a few guidelines on how to do it), but you need plenty of electrical know-how.
And if you don't have a campervan, you're hardly in a position to install an electrical system for a few weekend camping trips in your car.
And suppose you don't have a campervan. In that case, you're hardly in a position to install an electrical system for a few weekend camping trips in your car.
Considering all that, we think the Jackery 500 Solar Generator is excellent value for money.
But – and here should be your primary consideration – make sure it is the right size version for your needs.
Jackery 500 Features
Output Rating
The Jackery 500 Solar Power Generator has a rated output capacity of 518Wh, but it can surge to 1000W when needed for short bursts.
However, keep in mind that all your appliances should use less than 500W power because if you are drawing more power, the unit will shut down as a safety measure.
Battery Capacity
The battery capacity for the Jackery 500 is 518Wh at 21.6V. In terms of Ah, this capacity turns out to be 24Ah, nearly the same as a typical 12V deep cycle battery with 50Ah.
The one downside of the battery is you can only charge it for 500 cycles until its capacity drops to 80%. That is lower than what you would typically expect from a lithium battery.
Battery Power Output & Ports
The unit has seven output ports:
DC Output

2 x DC 6.5mm outputs
3 x USB-A
12V Car Charger

AC Output

1 x AC outlets
Sine Wave 500W
The Jackery 500 Solar Generator has only one AC outlet, which is disappointing. It somewhat compensates for this by providing additional DC outlets, but the absence of any Type-C USB charging is a dampener.
Hopefully, Jackery will address this in the next-generation version.
Also, those 6.5mm DC outputs? Why, Jackery?
Does anyone actually have any appliance that can connect directly to those ports? We think they're a waste of space that could easily be used for a couple of Type-C USB ports instead.
We tested the UK model, which has a few minor differences from the USA models:
The inverter is 240v rather than 110v, and
It has a 3-pin UK plug on the power pack and a 3-pin UK socket on the front of the Jackery power station.
Pure Sine Wave Inverter
One of the best things about the Jackery 500 with solar panels is its pure sine wave inverter unit, which means that the AC outlet you get is just like any other wall outlet.
So you can charge your delicate electronics like laptops using this port.
Charging Capabilities
Here is a summary of the charging methods and capabilities of the generator. Earlier versions of the Jackery 500 had PWM charge controllers, so ensure you get the latest one with the MPPT solar charge controller, allowing more watts to flow into the unit (and thus charge faster).
| Type of Power | Adapter/Hardware | Specs | Charging Time |
| --- | --- | --- | --- |
| 1 x SolarSaga Solar Cells (100W) | MPPT solar charge controller + Anderson Powerpole inputs | 30V / 163W maximum input | ~9.5 hours |
| AC (Wall Outlet) | 8mm AC adapter | 24V max input | ~7.5 hours |
| DC (Car Charger) | 8mm DC adapter | 12V~30V, 100W max input | ~7.5 hours |
The Jackery Solar Generator is the combined bundle of the Jackery Explorer 500 and a SolarSaga 100w Solar Panel. If you already have solar panels fitted on your roof, you can connect them to the Explorer 500. They must be 12-30V panels and no more than 6.1A open-circuit current.
You'll need an adaptor to connect third-party panels to the Explorer 500.
Note that because the in-built MPPT solar charge controller is relatively small, connecting more than 100W solar panels will not charge faster. The Explorer 500 has a maximum input wattage of about 65W.
Build Quality & Design
One of the nicest things about the Jackery 500 is its build quality. The Explorer 500 is entirely constructed from ABS plastic and is a solid unit.
It's about 13 pounds to lift, which is not much. The unit is compact, so it doesn't take up too much of your precious RV storage space.
Another nice thing is the rubber foot pads on the Jackery 500, which give it a solid grip. When you are moving on the road or camping at a place that has an incline, the rubber pads will let you keep the unit anywhere.
Jackery has thoughtfully added a flashlight/emergency light on the side of the unit, which will help you when you are setting up camp in the night or early morning. It's a bit gimmicky, though.
The solar panels that come with this unit are made using plastic, rubber, and nylon. They are monocrystalline (octagonal-shaped solar cells), which gives them a larger surface area to absorb the sunlight.
Monocrystalline solar panels have higher absorption power, better heat absorption, and more durability than thin-film solar panels or polycrystalline solar cells.
The Explorer 500 and the solar panels have handles to carry the units out. The solar cells also have fold-out panels to set up in the direction facing the sun.
The solar saga panel also has 1 x USB-C and 1 x USB-A port, which is excellent because the Explorer 500 unit does not have a USB Type-C charger.
Jackery 500 Solar Generator Benefits
Quiet Running
This is one of the nicest things about the Jackery explorer 500 portable power station. It runs quietly at peak power compared to other portable generators, especially gasoline and propane generators.
It has low-power fans to cool the unit, but even those run quietly.
Does Not Heat Up
The Jackery 500 uses a 21.6V battery rather than a regular 12V battery that most competitors use.
Using a higher voltage battery unit, the Jackery Solar Generator 500 will run fewer amps in the unit, reducing the heat produced.
The heat produced in any electrical conductor is directly proportional to the square of the ampere current and the resistance of the wire. Hence, the lower the amps, the lower the heat produced.
Built-in LED Flashlight
The flashlight is a nice feature because it gives you visibility during nighttime when you set up camp or just carry the Jackery 500 in your hand.
LCD Screen
The 2 inches LCD panel lets you know exactly what battery percentage is remaining with your unit. So, you won't be left in the dark (pun intended) if your generator runs out of juice.
Superb Battery
As mentioned earlier, Jackery has made a remarkable break from other portable generators by using a 21.6V battery, not a 12V one.
This makes it more efficient, gives the unit better energy output, and reduces the weight of the wiring in the unit (because the wires need to run less current through them).
Apart from this, the battery is made from Lithium-ion, lighter than other battery types.
No Fumes
If you are considering getting a gasoline or propane generator instead of a portable solar generator like the Jackery 500 with solar panels, this is one thing you should always consider.
A gasoline generator can generate as much as 6 pounds of CO2 every hour, whereas the Jackery 500 would produce zero emissions.
Multiple Charging Methods
You can charge the Jackery Explorer 500 unit almost anywhere. While we recommend you pre-charge your unit before leaving from a wall outlet, you can also charge it while driving – it takes a long time, though.
The best part is the solar charging option because if you are boondocking for a while, you can generate your own electricity.
Eco-Friendly
Fumes are not the only thing you need to worry about when you use gasoline generators – you are burning up fossil fuel, emitting toxic gasses, and creating noise pollution all at the same time.
With the Jackery 500 solar generator, you avoid all these three types of environmental pollution in one fell swoop and instead get your power from the most eco-friendly source on earth: the sun.
Customer Service
I have tried and tested customer support with Jackery and found them courteous and helpful. If you are ever stuck with any issues, you can drop in a mail at [email protected], and they will usually reply within a day.
If you need a bit of urgent help, you can also call them at 1-888-502-2236, though the phone lines will only work between Mon-Fri 9 AM – 5 PM PST.
With every Jackery unit, you get lifetime customer support and a 24-month warranty. One of the best things about their product is that they always stand behind it.
Service, Warranty & Manual
The 24-month warranty you get with your Jacker 500 covers both shipping and returns, which means you don't have to spend a dime if your unit fails. You will get a shiny new one within a week or so.
Sometimes, there's an extra 1-year warranty included. We had a card in the packing so we could register for it. We don't think this is standard, though.
There is a 30-day trial period also, especially if you are unsure of their product. They will give you your money back, no questions asked, if you are unsatisfied and want to return it within those 30 days.
You get the manuals for the solar panels and the Explorer 500; both are well designed and pretty easy to use.
FAQs
How To Use The Jackery 500 Solar Generator?
To start with, you need to charge up your Jackery 500 unit. There are three ways to do that: a wall outlet, a portable car charger, or solar panels.
We suggest charging up the device before heading out because solar charging takes time with this unit. Secondly, you may not get the best weather, so solar charging is not always a dependable option.
You can carry the unit and set it up on any level surface and just hook it up to the solar panels so that it can continue charging while you use the output ports.
Setting up the solar panels is relatively easy; just unfold them, bring out the foot stands, and set up in a place getting a lot of sunlight. In windy conditions, lay them flat and secure them with tent pegs.
Use the connector provided with the unit to hook up the solar panels with the Explorer 500.
Keep in mind that the connector is only 10 feet long, so you have to find a spot where the panels are in the sun, but the Explorer unit is in the shade (it will shut off automatically if the temperature goes beyond 104°F).
Optimizing The Solar Panels
You won't always get great weather, so optimizing whatever sunlight you get is essential. The best way to do that is to keep checking up on the solar panels and changing their direction every few hours, tracing the sun's path.
Just keep them aligned so that they get the maximum sunlight possible.
Remember, the solar panels and the Explorer 500 unit are not waterproof. They are water-resistant, but you can't leave them out in a downpour.
How Portable Is The Jackery Solar Generator 500?
The Jackery 500 is not as portable as some of its peers; however, it's still a compact unit with a solid handle at the top to carry it around.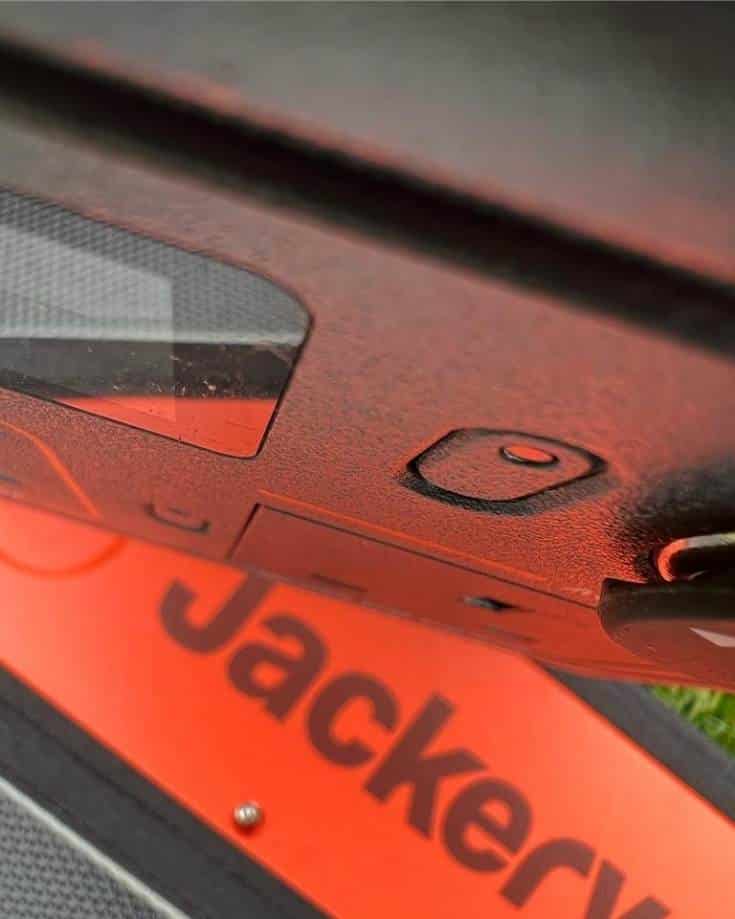 Weight
The Jackery Solar Generator 500 weighs nearly 13.3 pounds, with the accompanying SolarSaga solar panel coming in at about 10 pounds. This makes it a 23-pound pack, about as heavy as a 12-pack of canned beer.
Bluetti has a similar product with a 500W output which weighs about the same (13.6 for the generator + 9.5 for the solar panel). ALLWEI has a 500W solar generator at 13.4 pounds, so the Jackery's weight is par for the course.
Design
Jackery's products excel in build quality and design. 13 pounds is pretty hefty, but the sturdy handle makes the job very easy.
The handle is designed to be easy to grip and has a textured surface, making it difficult for dirt and grime to stick to it. The Jackery 500 is the most portable among its peers as far as design is concerned.
Dimensions
The Jackery Explorer 500 Portable Power Station is larger than its peers, at 11.8 x 7.6 x 9.2 inches. The Bluetti is just 11.7 x 7.5 x 7.7 inches, and the Allwei unit is smaller than both (11.6 x 6.3 x 7.2 inches).
The SolarSaga solar panels (24 x 21 x 1.4 inches, folded) are also bigger than those that Bluetti comes with (16 x 16.8 inches, folded).
The Bluetti's solar panels are also more powerful since they can generate 120W Peak Output at 10A, but they're overkill for the Jackery.
How To Recharge The Jackery Solar Generator 500
You can recharge the Jackery Solar Generator 500 in three ways:
SolarSaga Solar Panel
The Jackery 500 comes with one 100W SolarSaga panel. It also has a large LCD panel to see how well the solar input is coming in under different weather conditions.
Just plug in the charging cable from the solar panels into the DC input port on the unit's top left, and you can start charging.
Car Charger
You can also charge the Jackery 500 using a simple 12V car charger.
This is quite handy when you're on the road and need to charge your generator before you reach your destination. But, remember that the 12V charger is the slowest of charging methods that this unit works with.
We recommend you pre-charge the Jackery 500 using a wall outlet at home before heading to any place.
Wall Outlet
You can charge the Jackery 500 at any standard wall outlet, and it is the quickest way to charge it up.
How Long Does It Take to Recharge?
With Solar Panels
Under ideal conditions, it takes about 10 hours to charge from 0% to 100%.
You need to note a few points here:
Since the Jackery Solar Generator has a maximum input level of 30V, you cannot add multiple solar panels in series to increase the input wattage.
The SolarSaga panels have an 18V output, so adding two would exceed the 30V limit.
Car Charger
It takes about 12 hours to charge using your 12V car charger fully.
Wall Outlet
It takes about 7 hours to fully charge through a regular wall outlet.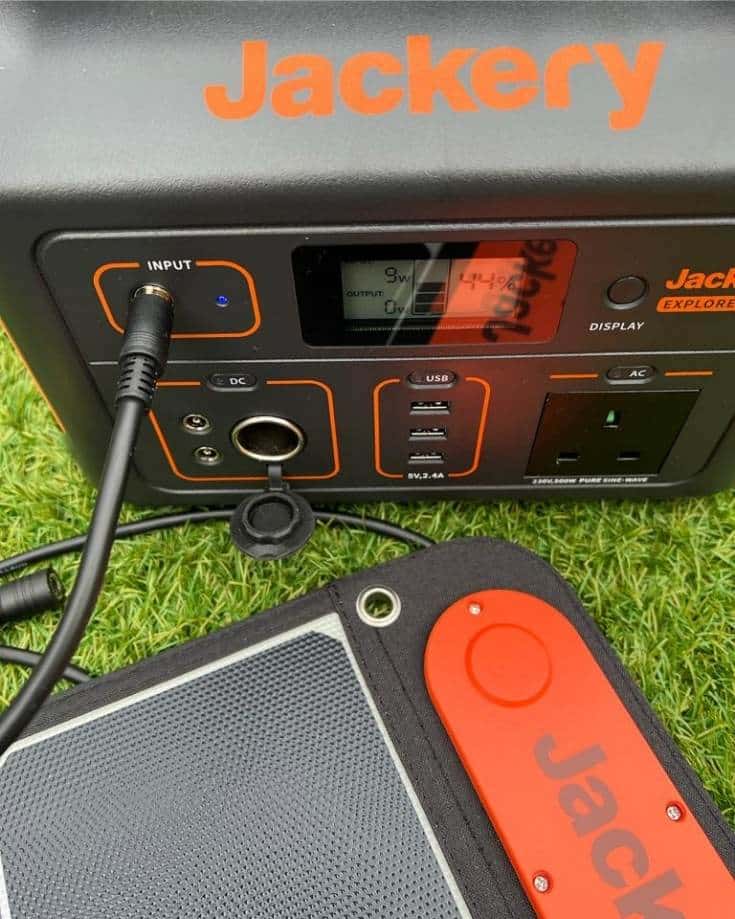 How Many Times Can You Recharge A Jackery 500?
The battery is rated for 500 cycles. After recharging it 500 times, the battery capacity will fall to 80%, and it would be time to think about getting a new unit.
In terms of time frame, it should take you somewhere close to two to three years to recharge that many times.
What Can You Run With A Jackery 500?
The Jackery 500 is a sine wave inverter which means you can get the rated 500W of power continuously, right up to the point the battery goes to 0%. That's a big plus for this portable solar generator.
You can keep the AC port and the DC ports on separately (there is a button at the top of each segment), so you can shut off whichever types of ports you don't need.
This helps the unit avoid unnecessarily slow power output, even when nothing is charging.
The Jackery 500 can run:
A mini-fridge for about 3-4 days (about 8 hours a day usage)
Charge your phone several times over( it can easily last 10-15 days)
Charge your RV fan and lights for 3-4 days
Run a small portable TV for about three days (2 hours a day)
Here are a few devices I would advise you not to use with the Jackery 500
Microwaves or induction cookers of any kind
Hairdryers
AC coffee makers and kettles (devices that need quick heating)
Any other device that may need more than 500W of power at any time.
The Jackery 500 has a surge rating of 1000W, but that does not mean you can run devices that need more than 500W of power with it.
For example, if you plug in a device that draws more than 500W power for a long time, the device will shut off after a few seconds.
Can It Charge Different Devices at Once?
Yes, it can charge up to seven devices simultaneously using the several output ports available on the unit, including:
3 USB ports,
1 Car charger,
2 DC ports, and
1 AC port.
Can You Use Jackery 500 While It's Charging?
Yes, the device supports what is known as "pass through" charging, which means you can recharge and use the device simultaneously. However, bear in mind that Jackery does not advise doing this constantly as it will reduce the battery life.
In Conclusion
The Jackery 500 Solar Generator is one of the most impressive solar generators. It's so much more than just a battery in a box (as we initially expected).
The Jackery 500 is a complete solar generator system that includes a high-capacity battery, a solar panel, an LED light, and a USB charging port.
It is perfect for camping, tailgating, or any other situation where you need portable power. The best part about the Jackery 500 is that it is entirely renewable and emissions-free. We were impressed with how well the system performed and how easy it was to use.
And finally, what about bang for your buck? Is the Jackery 500 worth the money? We think so; if the 500 is the right size for your needs and you just want occasional use without running powerful appliances.
We love it and will find the room to keep this Jackery 500 in the back of our car for our next camping weekend – weather permitting.
Graham Bogie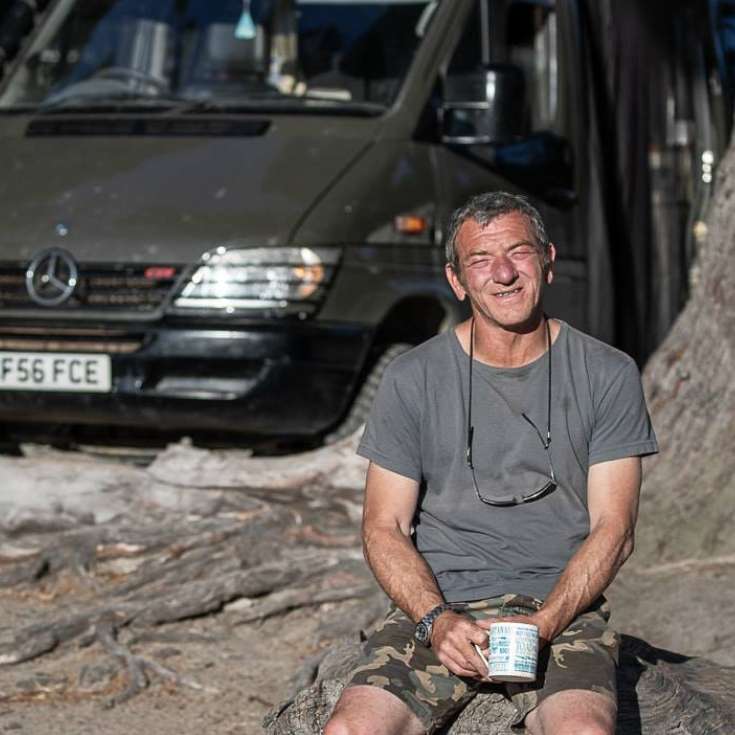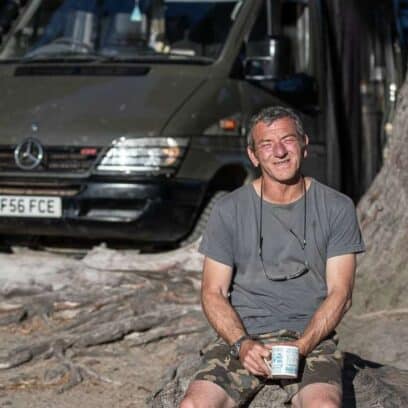 Graham is a seasoned marine electrical engineer with two decades of experience designing customized electrical systems for plant machinery and converting campers and overland vehicles. His expertise has led him to author the reputable Campervan Electrics Handbook and become the chief designer of the RV Wiring Design Tool. As a knowledgeable figure in the field, his YouTube channel, blog, Facebook group, and newsletter, offering electrical advice and product reviews, reach more than a million users each year.