If you're looking for a hike that can be extremely challenging — but one that rewards you for your efforts in the end — then look no further than Kinder Scout.
The highest point in the Peak District, Kinder Scout stands at 2088 feet (636 metres) tall. If that sounds daunting, you could always settle for ascending the less challenging Kinder Low, which is a full 3 meters shorter. There are a variety of paths and trails that you can take here, ranging from the mildly challenging to those suitable for experienced hikers only.
Kinder Scout hasn't been fully tamed, so don't expect well-manicured trails to follow. It's pure wildland for the most part, and the terrain ranges from rocky outcroppings to slick grass. You'll need suitable boots, lots of water, and a willingness to fall down a couple of times to navigate this peak successfully.
If you make it to the top, though, you'll be rewarded with breathtaking views of the entire valley. There's also a small stream that runs down the mountain, adding to the natural beauty you'll encounter with each step. You can drink the water, but bring purification tablets just to be safe.
When you're done with your hike, there are several small villages nearby that are worth exploring, including Hayfield and Edale. They cater to the hikers that come from all around to tackle Kinder Scout, so they know exactly what you'll need (namely, a warm meal and cold drink) when you're done.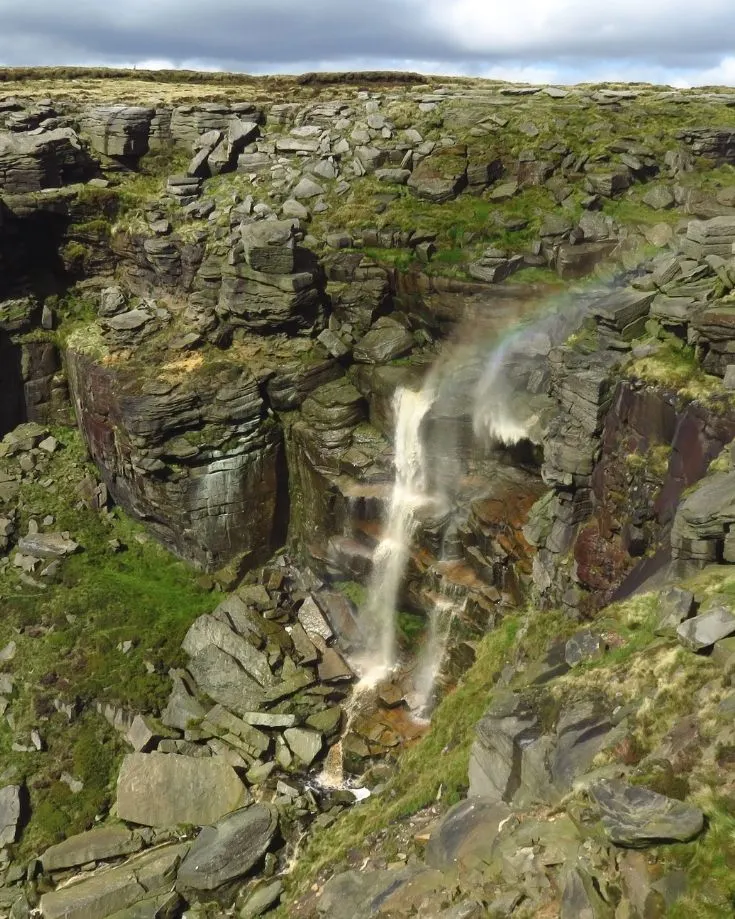 When you click on links to various merchants on this site and make a purchase, this can result in this site earning a commission. As Amazon Associates, we earn from qualifying purchases. For more info, please check our disclosure page.
Kinder Scout Walk Stats
Distance: 8-10 miles/12.8-16 km
Type of trail: Circular
Parking options: The Edale Village Hall car park is near the trail's entrance. This is a park-and-display option that costs £6.30 for the day (cash only). If you don't want to begin your hike at the start of the trail, you can find free parking at Barber Booth, but the site is small and fills up extremely quickly. There's also free parking at various laybys near the Snake Pass Inn, but that locks you into taking either the Blackden Brook or Fairbrook paths, which can be very challenging.
Walk points of interest: Jacob's Ladder, Kinder Scout, Kinder Downfall, Kinder Reservoir, Kinder Low.
How long does Kinder Scout Walk take? 4–6 hours
Accessibility: Not pram- or wheelchair-friendly. This is a fairly challenging walk with uneven terrain that can get quite boggy at times, and only those in good health and some experience hiking should attempt it.
Total ascent for Kinder Scout Walk: 2,088 ft./636 m
Are there public bathrooms? There are public bathrooms at the Edale Village Hall car park; those are likely to be your only option while on the walk, so take advantage of them while you can.
Best places to eat nearby: The Rambler Inn and Penny Pot Cafe are both in Edale, near the start of the trail. They specialise in cheap eats, but the food will taste amazing at the end of such a long walk.
Best places to stay nearby: The Merchant's Yard (best hotel for families), The Old Hall Inn (best hotel for couples)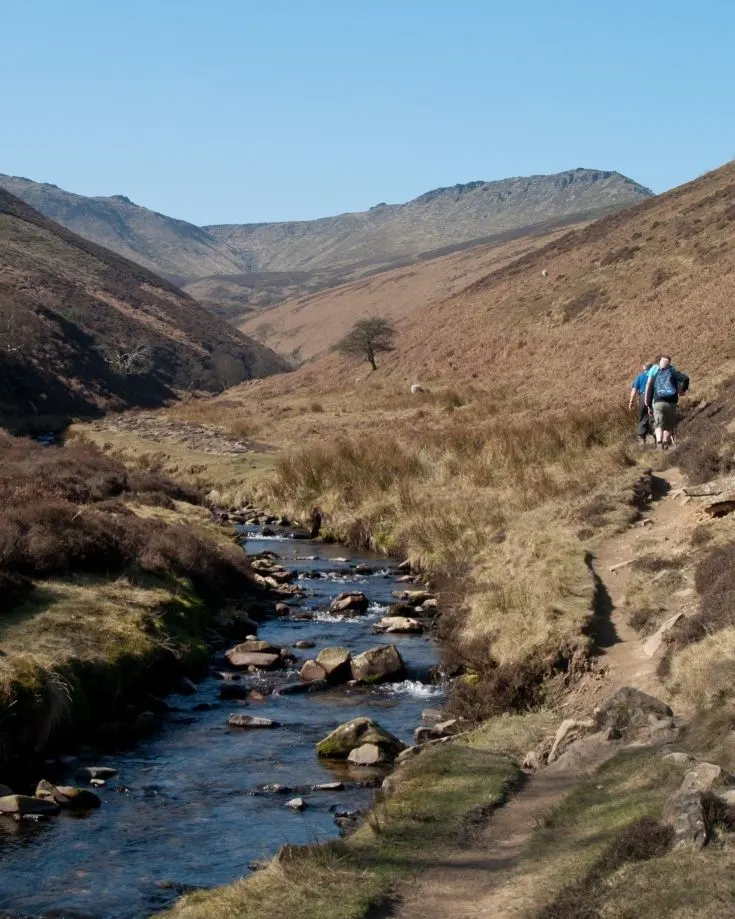 Kinder Scout Walk Routes
There are several different ways to do the Kinder Scout Walk. They're all difficult, but some of the circular routes can be truly treacherous.
Jacob's Ladder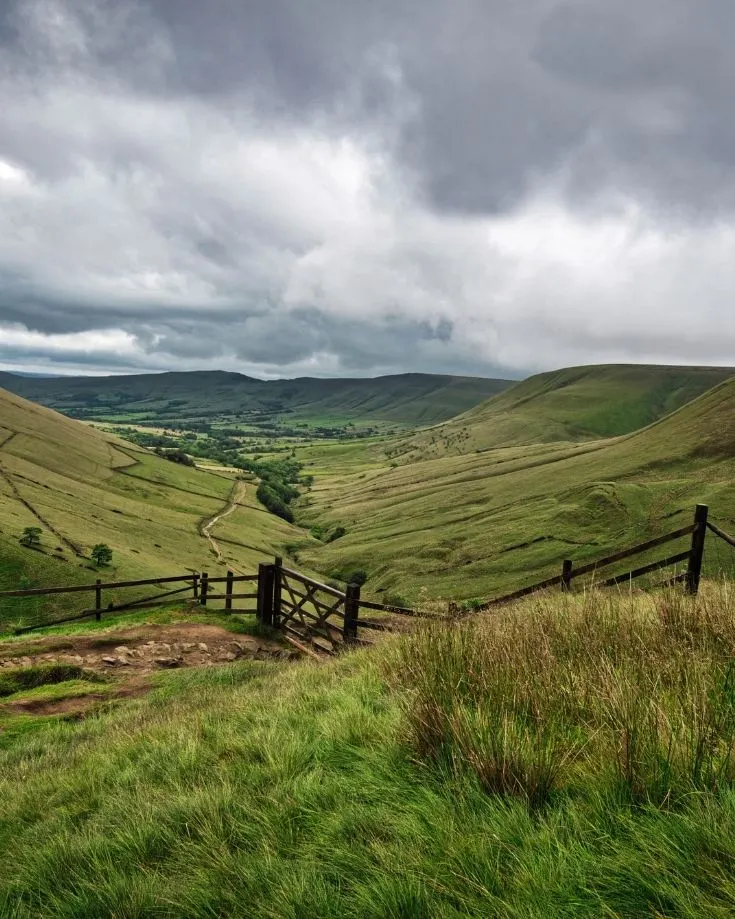 This is the easiest way to cover much of the trail, though you won't see everything. Follow Pennine Way from Edale along the base of the mountain. After about 1.25 miles (2 km), you'll begin your ascent up the mountain.
Soon you'll reach a snaky section called Jacob's Ladder (not to be confused with Jacob's Ladder at Cheddar Gorge); this will take you all the way to the top. From there, you can go in any number of directions, but most people simply take in the views and then return the way they came on Pennine Way.
This option is clearly marked and covered in gravel, making it relatively easy to traverse.
Grindsbrook Clough
This is another fairly easy option. From Edale, head north through the valley. You'll follow a small stream (the locals call it a waterfall, but they're not fooling us). This path requires little in the way of ascent, but you'll have plenty of opportunities to scramble up hillsides if that's your thing.
The Nab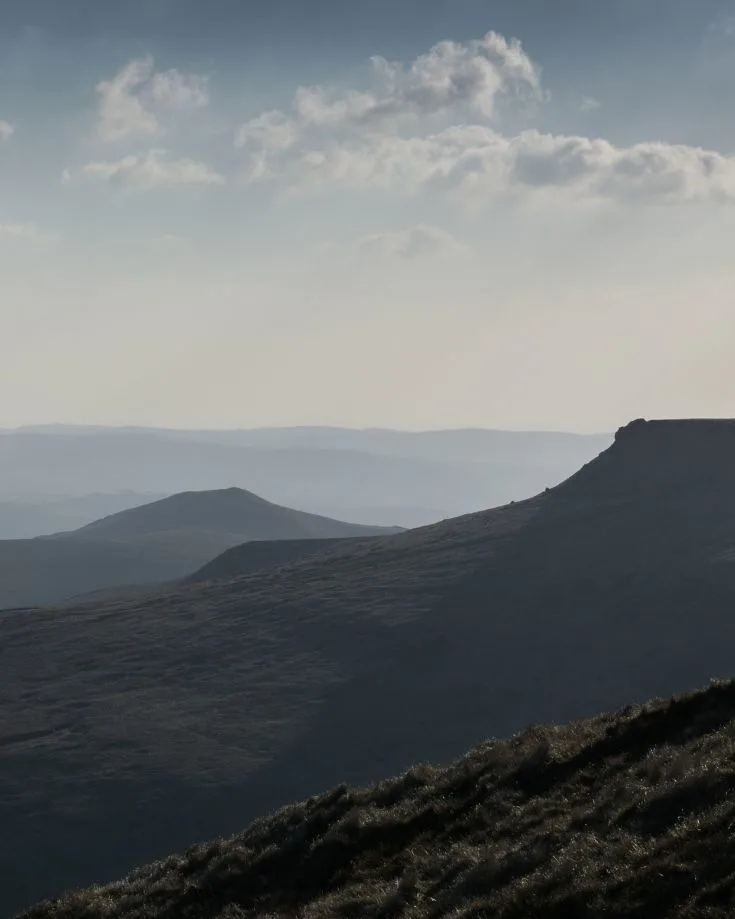 The Nab is a hill that sticks out of Kinder Scout, and it presents you with two route options. You can go around it to the left, or you can take Oilersbrook. Both are fairly manageable paths, although the former is better-maintained.
For the first option, walk towards Grindsbrook Clough but stick to the right as you climb. For the second option, head east out of Edale, then hang a left and go up.
Lady Booth Brook
There's a hostel in the valley east of Edale, and from there, a path leads to the east. Take it as it climbs upwards. This isn't the most beautiful path, as it's largely covered in mud, but the scramble at the end is quite fun.
Blackden Brook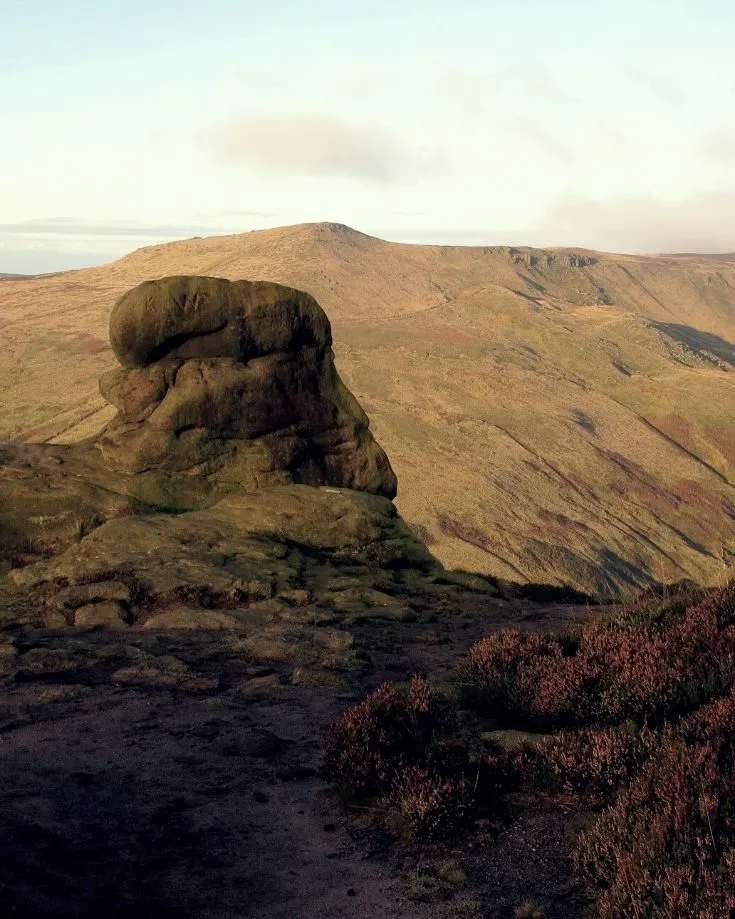 This is one of the more challenging options, as there are plenty of loose rocks to make things interesting. Then again, the views of the waterfalls are worth the difficulty. To get here, park at the Snake Pass Inn and follow the marked path. Be forewarned, however, that there are wet rocks at the top of this climb, so wear good boots and don't use this path to descend the mountain.
Crowden Clough
This route is filled with breathtaking views, but you'll have to earn them — the ascent is so steep that it can be nearly vertical at times. Take Pennine Way to Upper Booth, then take a right and head up. Oh, and good luck.
Fair Brook
Park in Snake Pass and take a left at the National Trust sign. Take the path around Fair Brook and continue alongside the north side of the plateau. This path is very challenging, with a variety of difficult terrain, and the path can be quite difficult to see and follow.
Facilities on Kinder Scout Walk
Most of the walk is through pure, natural terrain, so the only bathroom available is the same one the sheep use (note: please don't use this bathroom). There are free bathrooms at the car park in Edale Village Hall and council toilets across the bridge from the Bowden Bridge car park.
There are several restaurants in both Edale and Hayfield that offer restrooms, but whether or not you'll have to buy something from them first will vary depending on the establishment.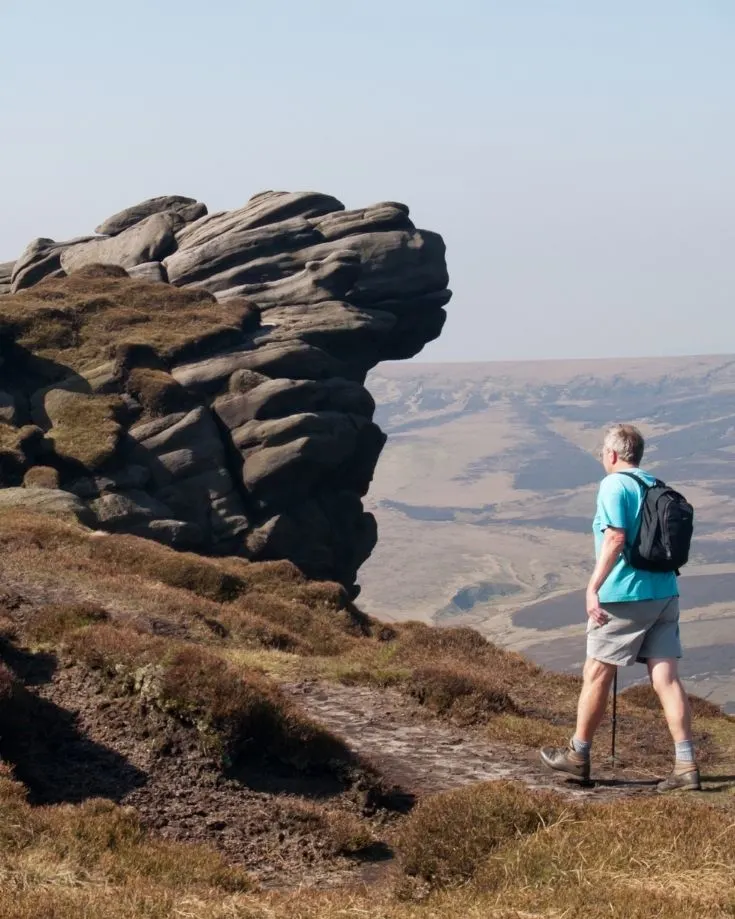 Best Places to Eat Near Kinder Scout Walk
You're likely to build up a healthy appetite on this walk, so once you're done, stop in at one of the following restaurants to satisfy your hunger:
Located in Edale, near the beginning of several of the most commonly-used trails, The Rambler Inn is a traditional British pub that's famous for (what else?) its gluten-free fish and chips. They have a whole section dedicated to vegan and vegetarian fare, and their burgers and baguettes are quite tasty as well.
The pub has an old-timey feel, so it may not be ideal for a romantic date night — but after a day fighting nature and the elements, nothing makes you feel as accomplished as collapsing into a leather chair in this classic environment.
There's not much to this tiny little cafe and tearoom in Edale, but everything they offer is delicious. They have coffee, ice cream, and a variety of delectable pastries, plus an assortment of homemade soups and sandwiches.
Many of their foods are designed to be calorie-dense so that serious hikers and mountain bikers can get all the energy they need before ascending the mountain, and they will happily welcome you even if you've taken a spill or two in some mud along the way.
The Pack Horse is a bit of a higher-end restaurant compared to the first two, so it may not be the place you want to stop until you've had a shower and change of clothes. For a celebratory pint or romantic dinner, though, it's hard to beat.
Located in nearby Hayfield, this modern gastropub has a seasonal menu that uses ethically sourced ingredients and offers local ales and wines. Despite the highbrow ambience, your dogs are welcome here, so every member of your hiking party can join you for dinner.
Another option in Hayfield, The Sportsman, offers a nice mix of the elegant and down-to-earth. They offer traditional pub fare alongside more dressed-up options like pan-fried duck or chicken curry, so everyone you're with is likely to find something that appeals to them.
They have tables both inside and out, giving you the choice of enjoying traditional British ambience or traditional British weather. This is a popular spot, so you should make a reservation if you plan on stopping by.
Best Places to Stay Near Kinder Scout Walk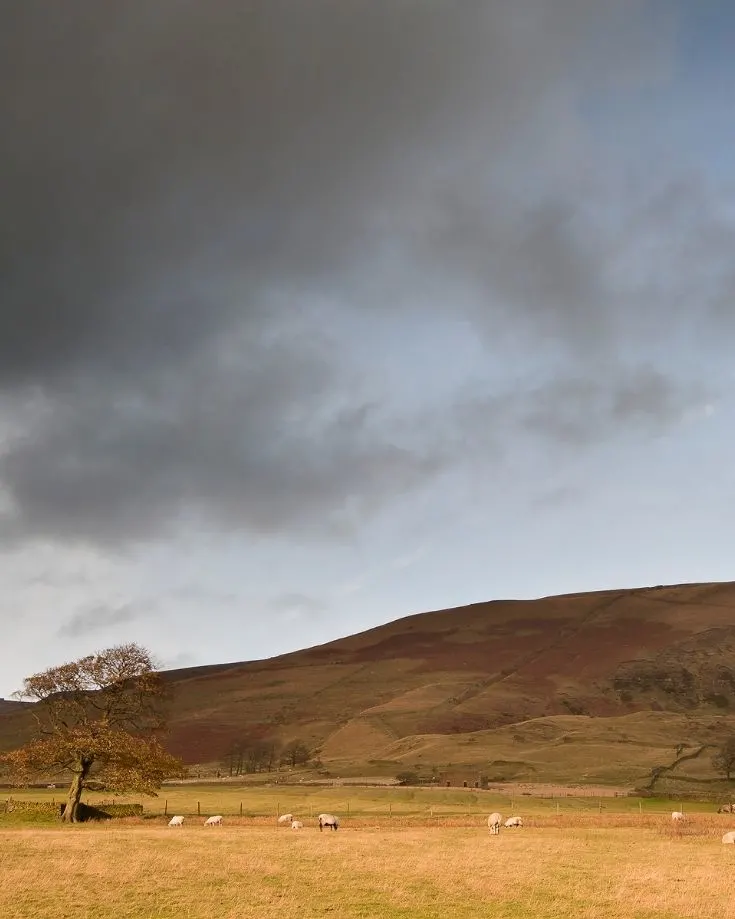 You're likely to be worn out at the end of your day, so having a room nearby where you can shower and collapse into bed is a smart idea. These are our favourite spots in the area:
Only 6.5 miles (10.5 km) away from Edale in Tideswell, The Merchant's Yard offers generously sized rooms with a seating area, wardrobe, and private bathroom. Guests can take advantage of the terrace as well, and there's free Wi-Fi throughout the hotel.
While here, you can choose between a full English/Irish breakfast or a vegetarian option, and the restaurant inside is fantastic, with a smartly curated wine list. Each room comes with a designated parking spot as well.
Situated about 20 minutes away from Kinder Scout by car, The Old Hall Inn is a cosy option that's perfect for couples looking to get away from it all. Each room has plush beds, hot drink-making facilities, and flatscreen TVs.
The food and drink here are excellent as well, as you'll have the option of eating full English breakfasts in their pub. It also offers seasonal fare with locally sourced ingredients, giving you a full taste of everything the region has to offer.
Successfully climbing a mountain is likely to put you in a celebratory mood, and you can party with plenty of newfound friends at The Roebuck Inn in nearby Chapel en le Frith, about 5 miles (8 km) away from Edale. The bar inside offers both karaoke and darts, and if you fail at the former, you might get pelted with the latter (kidding — we hope).
When you're ready to get away from the crowds and the noise, you'll find the rooms to be intimate and quaint. Each of their rooms comes with a private bathroom, wardrobe, and most importantly, a kettle.
Nestled among gardens and 27 acres of parkland, this Victorian mansion-turned-hostel makes for a refined base camp when you're done conquering mountains. Many of the rooms contain bunk beds.
There's also a game room available if you manage to have any energy left at the end of your day. The bar is quite nice as well, with an extensive selection of both beers and wines (and a thorough sampling of the bar's offerings will make the game room all the more enjoyable).
Kinder Scout Walk Route Maps
Detailed maps of Kinder Scout walking routes are available from Ordnance Survey. Unfortunately, we can't share the maps here because the copyright belongs to the Crown, but you can see it in detail on their website.
For anyone planning on exploring many of the beautiful Peak District walks on offer (and there are lots to discover), we recommend you arm yourself with a paper map. Two ordnance survey maps cover the entire Peak District:
OL1 – Dark Peak Area – basically the northern side of the National Park
OL24 – White Peak Area – the southern end
OL1 covers all the Kinder Scout walking routes.
Compare the price of buying the maps at Amazon or direct from Ordnance Survey. You can expect to pay less than £10 for a standard map, but Amazon is often a little cheaper than buying directly from OS. Weatherproof maps are more hardwearing and won't disintegrate in the inevitable rain showers. They generally cost a couple of pounds more.
Compare prices here:
Ordnance Survey also has a highly rated app if you prefer a mobile app for mapping purposes. Keen walkers will get a good deal from their annual subscription. Monthly options are also available and more cost-effective for occasional jaunts.
A budget-friendly option is also available on the app's website where you can select a walking route and print the map to a printer or pdf for free, so you can keep it on your phone for reference.
How To Get To Kinder Scout Trailhead
Kinder Scout is right beside the popular village of Edale in the Dark Peak area of the National Park. It's about 19 miles (30 km) south from Glossop and 17 miles (11 km) north from Bakewell.
By Car // The easiest way to get to the Kinder Scout walking route is by car. Use the Barber Booth car park coordinates – 53°20'44.4″N 1°48'56.4"W – to navigate, or take a look on Google Maps. You can use the postcode S33 7ZL but most Sat Navs don't do a great job of navigating all the way to the car park so the coordinates are a better option.
If you're visiting the area without your own wheels, consider getting a rental car to get the most out of your visit to the Peak District.
By Bus // There are a few bus routes running between Peak District villages serving Edale. You can get the details of the service best suited to your location here.
By train // Travelling to Edale by train from Manchester or Sheffield is cheap, fast and direct. Check the latest timetable and ticket prices here. You can join the trailhead near the Old Nag's Head, a couple of minutes walk away from the train station.
By cycle // The fabulous National Cycle Network, has well marked routes throughout the Peak District, making it an ideal environmentally friendly way of getting here. Check out the detailed National Cycle Network on OS maps.
Other Useful Info About Kinder Scout Walk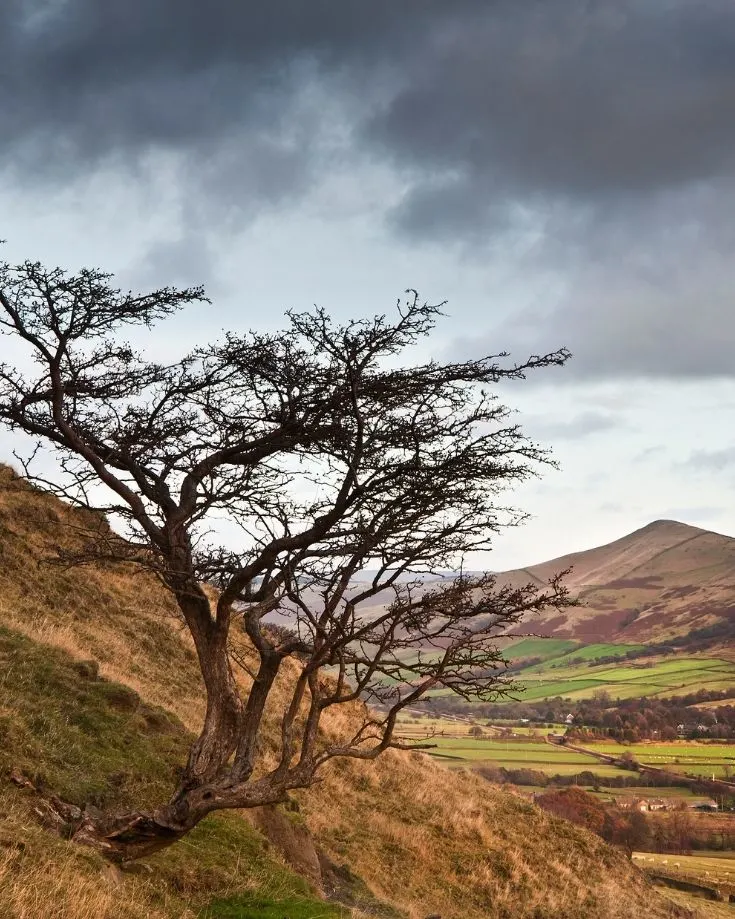 You'll be traipsing through history on this walk, as it's the site of the Kinder Scout mass trespass walk. In 1932, over 500 activists walked through this area to earn the right of the commoner to enjoy open country (which had previously been off-limits to all but the wealthiest of landowners).
Much of the trail can get quite boggy if the weather turns ugly, so plan accordingly.
It's a good idea to bring a compass with you, as it's easy to get turned around here. Many of the trails are faint and poorly marked as well. You should also pack some warm clothes just in case, as it can get chilly on the mountain, even in summer.
Dogs are allowed on the trail but must be kept on a lead, as there are several native species in the area that wouldn't take kindly to being harassed (or eaten, presumably).