Visiting a cemetery may not be on the top of many holiday bucket lists but this one is different.
As one of the most visited tourist attractions in the entire city, we're not the only ones to think a visit to La Recoleta Cemetery should be on every Buenos Aires itinerary.
It's considered one of the world's most beautiful cemeteries, 2nd only to Père Lechaise in Paris.
The final resting place of Eva Perón and other notable Argentinians long since passed, we visited the famous cemetery in Buenos Aires to see what all the fuss is about.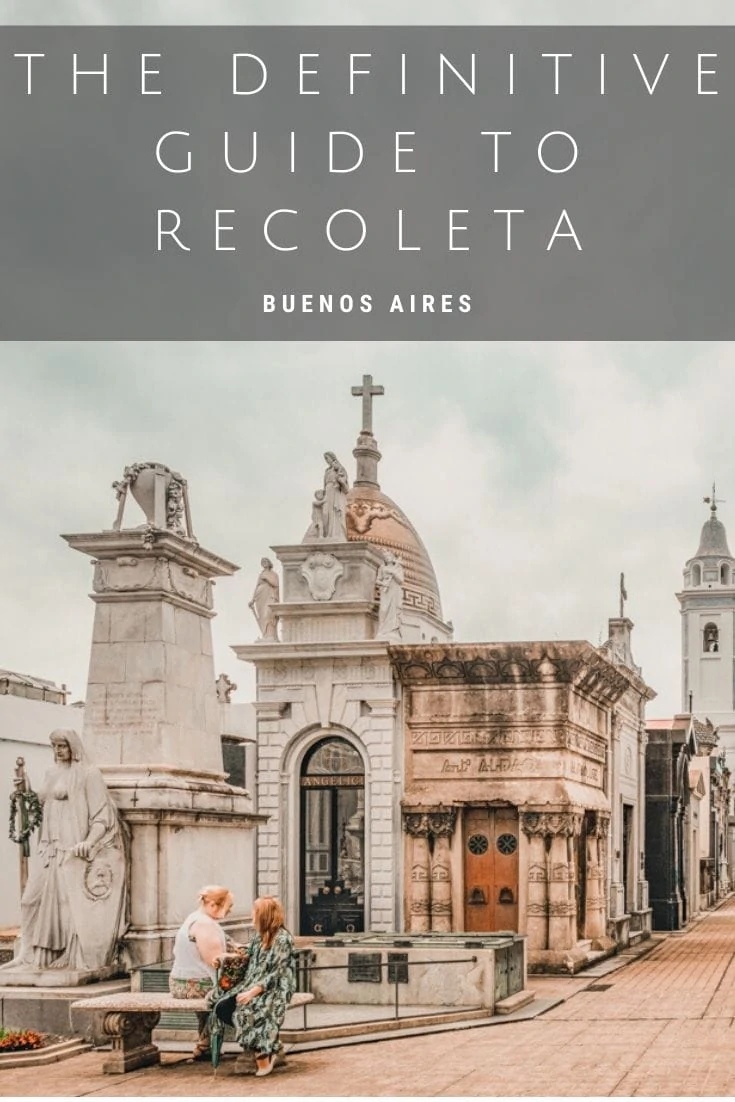 Known as "City of the Dead" the site is in many ways similar to a miniature Argentinian town.
Próspero Catelin, the cemetery's French engineer, laid out the site in blocks, the "streets" sprawling out around small plazas.
Mausoleums topped with ornate stonework angels, grand domes and marble statues pack every block.
European architectural styles are evident in the designs and many famous architects had a hand in designing individual crypts.
The list of residents reads more like a who's-who of Argentinean A-listers. From presidents, literary giants, Nobel prize winners and sports personalities, they all try to rest in peace in the quiet streets of Recoleta Cemetery.
Most of the mausoleums have doors and windows, allowing visitors a glimpse inside.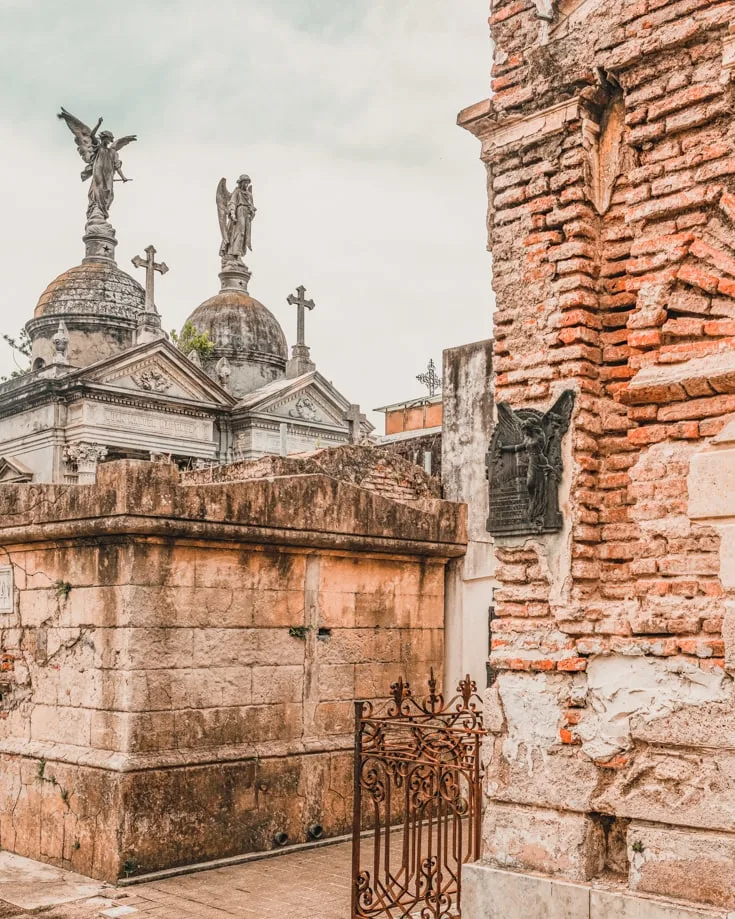 Wealthy families would build huge crypts to house themselves and their descendants for eterntity. Visitors can see many coffins stacked up inside, many descending upto 5 metres underground.
Someone still maintains some of the crypts, even having a cleaning bucket with polish and dusters seemingly used often by visiting loved ones.
Others are more dilapidated, their roofs beyond repair, having fallen in on top of the occupants.
4 tombs to visit in Recoleta Cemetery
The city's founders and notable citizens give their name to many streets throughout Buenos Aires. Many of those are laid to rest here in La Recoleta Cemetery including the Mitre's, Alvears and Domingo Faustino Sarmiento.
But there's a few other crypts to check out with interesting back stories. Here's a few to seek out while you're there.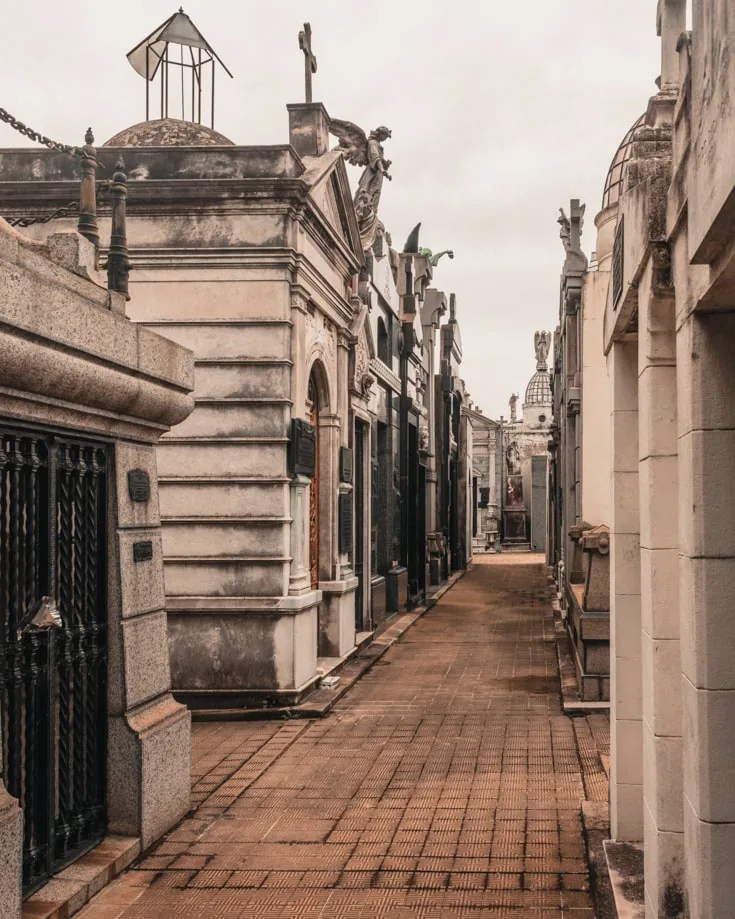 Eva "Evita" Perón
Pretty much everyone visits Argentina's iconic first lady's final resting place in Recoleta. It's not especially grand compared to other mausoleums on the site but it's the most visited, always adorned with floral mementoes.
Finding Evita's grave can be difficult among the 4500 vaults. She is buried in the Duarte crypt – Eva Duarte was her maiden name.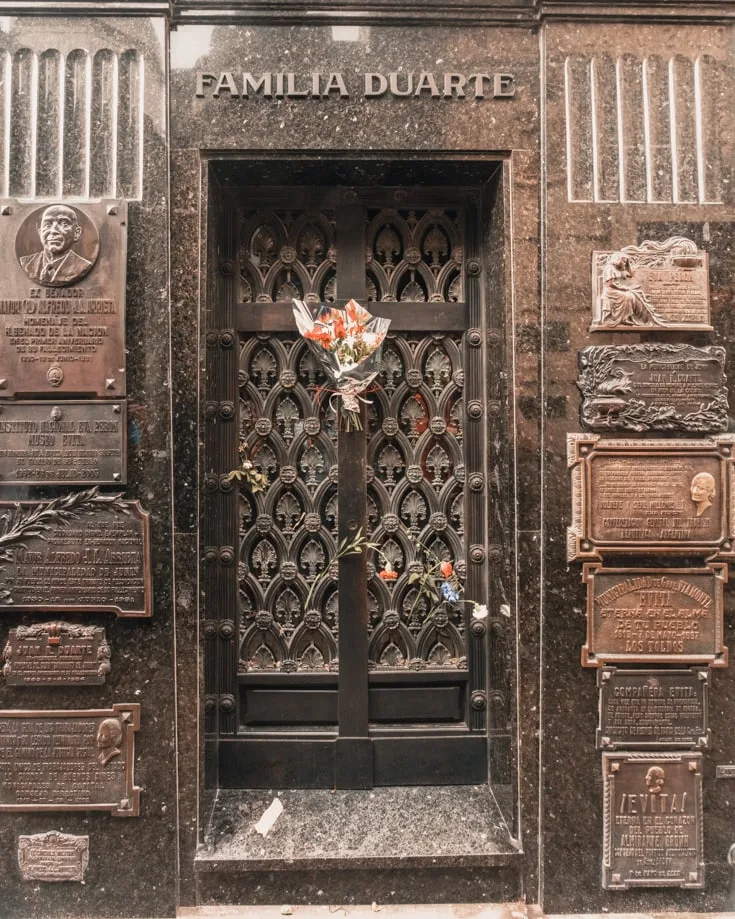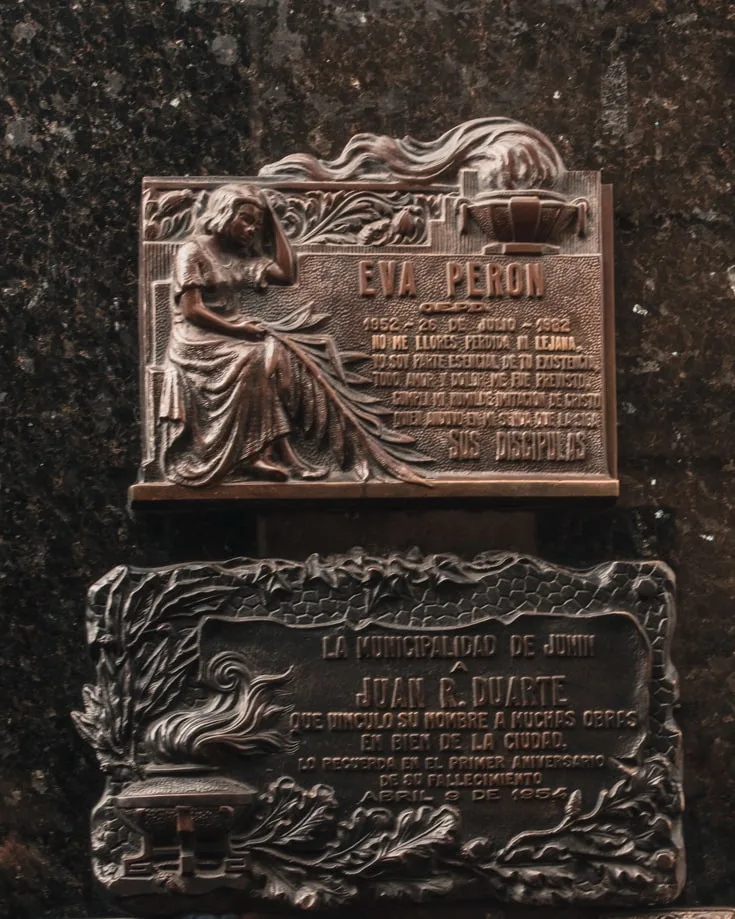 Her grave is marked on Maps.Me so if you've got it on your phone, follow the directions. Failing that, ask someone for directions. Everyone is here for the same thing!
Liliana Crociati
Liliana died on her honeymoon in Austria in the 1970s when the hotel she was in, was hit by an avalanche.
Her parents reconstructed her bedroom inside her mausoleum. You can spot her grave from the life size bronze statue of her with her hand on her dog's head.
Rufina Cambaceres
Rufina's art nouveau marble tomb is a moving crypt. At the age of 19, she fell into a coma and died.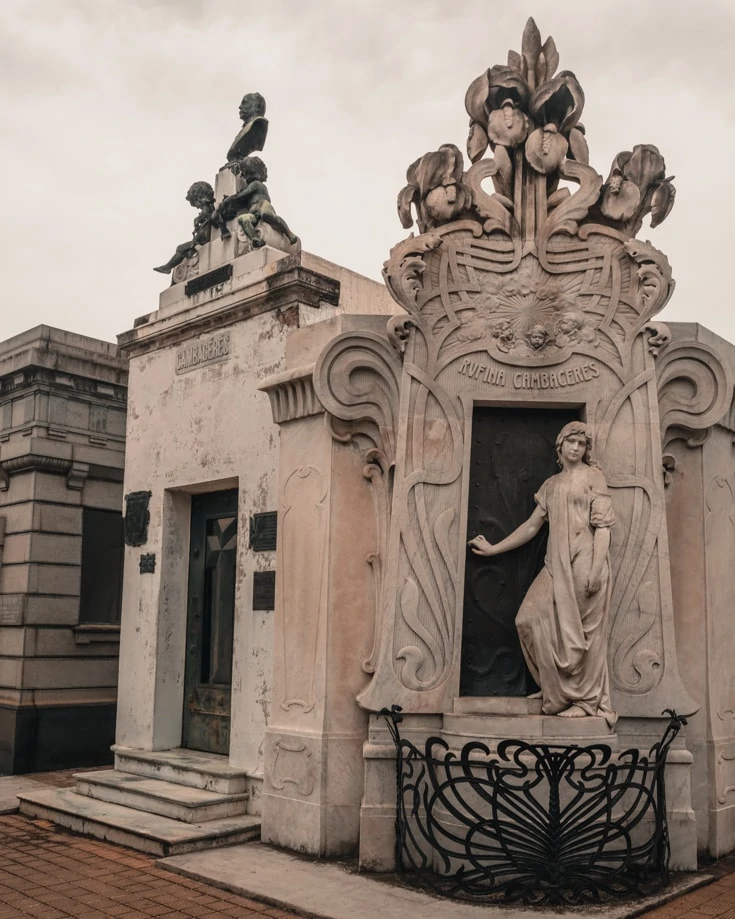 A few days after her funeral, a worker in the cemetery noticed the coffin had moved and was broken in places.
Afraid grave robbers had been up to no good, her coffin was opened upon which they found scratches on her face and desperate scratch marks inside the coffin lid. Rufina had been buried alive!
David Alleno
David was a gravedigger in Recoleta for 30 years and saved enough money for his own plot and statue. The story goes that he commissioned his statue and when it was finished, promptly committed suicide.
Apparently his ghostly remains roam the alleyways each morning at dawn, jingling his keys as he goes.
Know before you go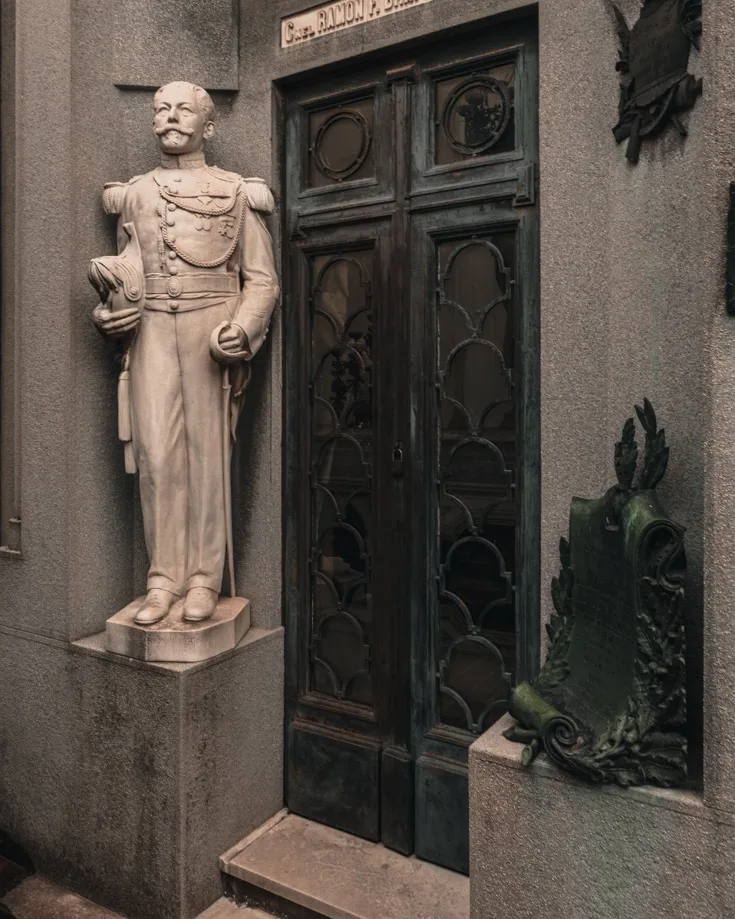 The cemetery is one of the many free things to do in Buenos Aires and open from 7:30am to 5:30pm daily.
There's a map inside the entrance foyer if you'd like to locate a specific grave or for a few pesos, you can buy a map from the hawkers at the front. There's no need though.
It's quite easy to do a self guided walking tour – we did. There are free tours in English on Tuesdays and Thursdays at 11am if you'd prefer. You'll get a little more of the history of some of the most interesting graves if don't want to explore on your own.
Other things to do in Recoleta
There's more to Recoleta than the graveyard. In fact, it's one of the best areas to stay in Buenos Aires. Here's a few things to do in Recoleta during your Buenos Aires city break.
Libreria El Ateneo Grand Splendid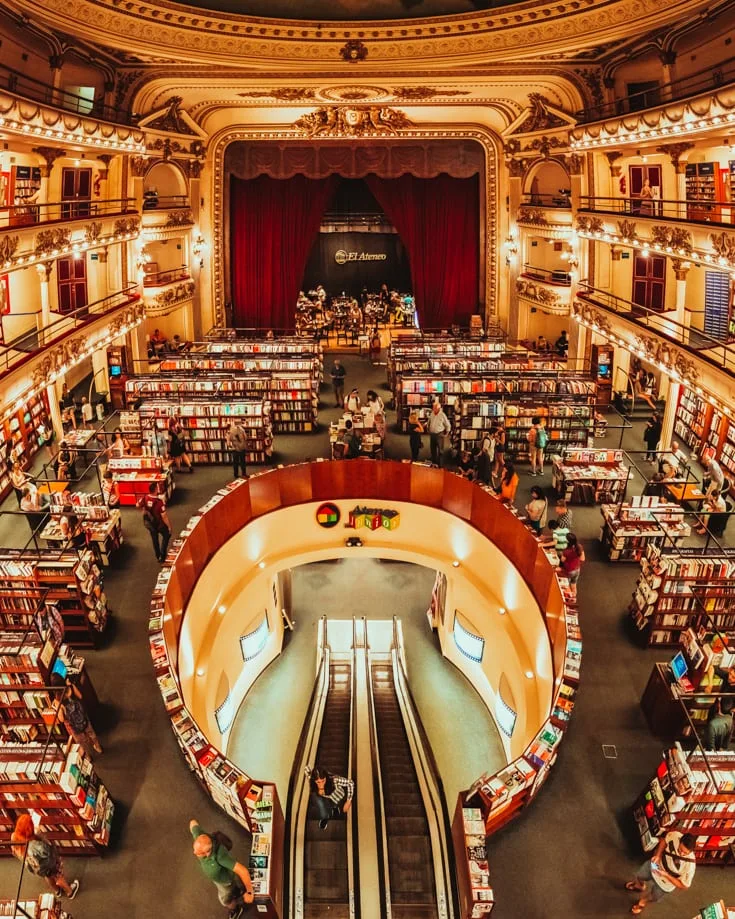 The most impressive and beautiful bookstore we've ever seen, Libreria El Ateneo Grand Splendid is set in an old theatre. And as it's name suggests, it's splendid.
Opening as a bookstore in 2000, the elegance and opulence is preserved along with the painted dome. Even the red curtains still hang.
Once you've finished photographing the incredible surroundings, buy a book and find a comfy sofa in a nook or grab a coffee on stage and relax for a while.
It really is a wonderful space to rest up for a while.
Floralis Genérica
18 tons of metal, moulded into an enormous flower standing 75 feet tall and 52 feet wide. Sounds impressive huh?
Then each morning as the sunrises, the flower blooms open to well over a 100 feet wide and slowly closes again as the sun sets each evening. Now that's impressive!
Palais de Glace
If you're into photographic art, the Palais de Glace put on some wonderful exhibitions in a terrific circular building. It was once a tango dance hall, and doubled as a skate board park too.
It's open from noon to 8pm every day except Mondays and free to enter.
Centro Cultural Recoleta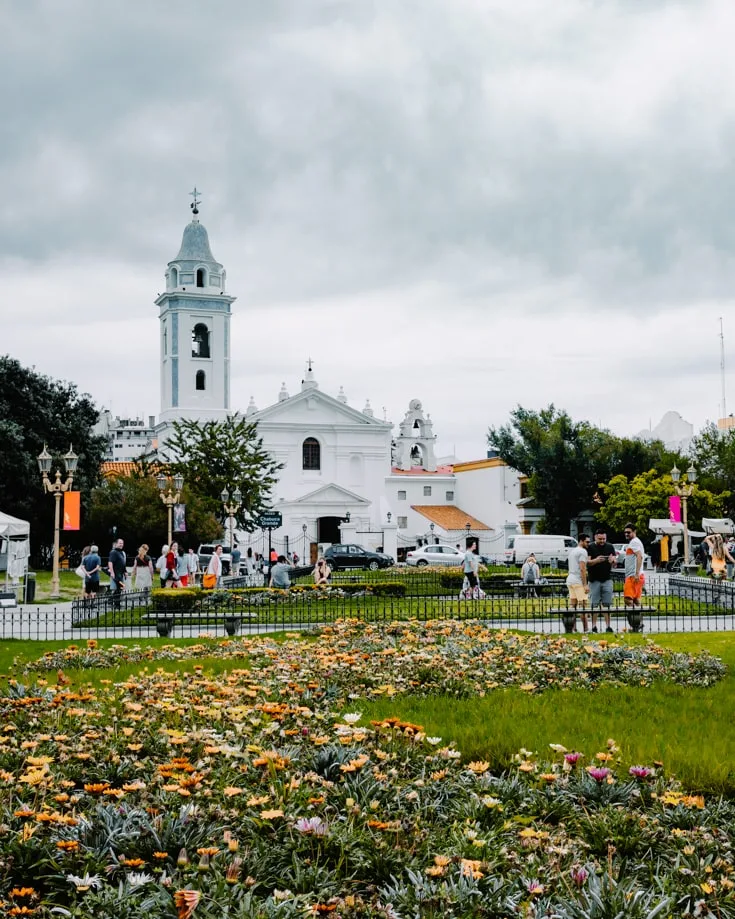 Located next door to Basilica of Our Lady of the Pillar and the cemetery, Recoleta's Cultural Centre is a must visit.
The red building dates back to the late 18th century and was formerly the convent of the Recoleta monks after whom the neighbourhood is named. Since then, it's been a hospital, army barracks, homeless shelter and home for OAPs.
Today, it's a museum come shopping mall and puts on exhibitions and educational displays. It's open from noon to 8pm every day except Mondays and also free to enter.
La Biela
Said to be the oldest café in Buenos Aires, La Biela is opposite Recoleta cemetery and lovely to sit outside with a cold drink on a sunny day.
Buenos Aires has over 70 historic cafés, declared bares notables. They represent cultural significance, interior design of a by-gone age wonderfully preserved and a taste of authentic porteño life.
We loved the San Telmo cafés especially but if you're in Recoleta, don't miss out on La Biela.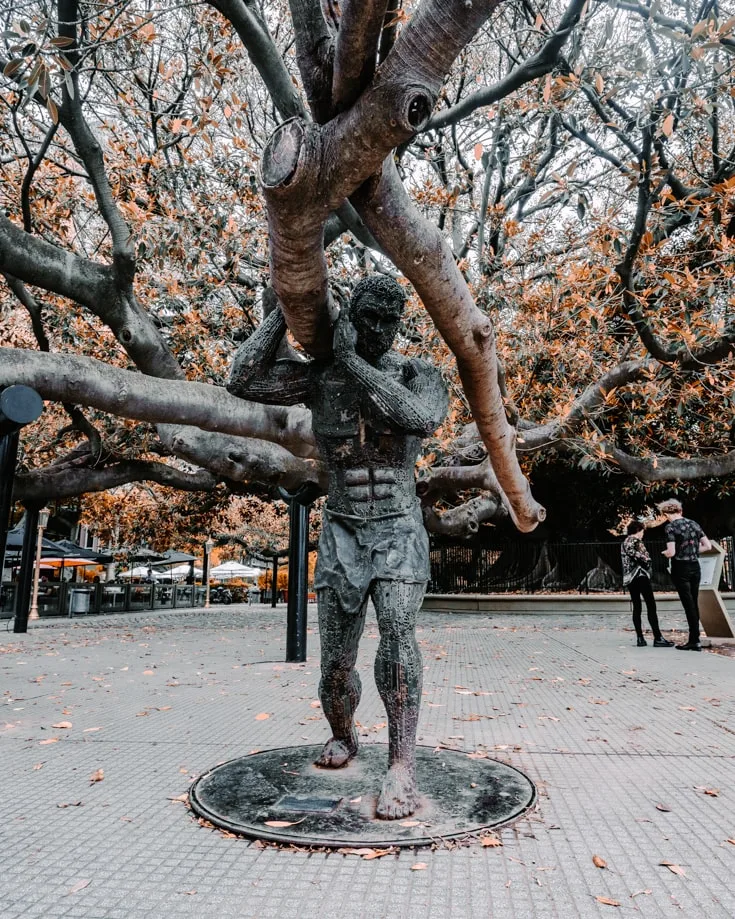 Feria Artesanal Plaza Francia
I know, another market in Buenos Aires. What can we say? If you have an eye for art, crafts or leather goods this is the market for you.
The artwork is some of the best we found in the city. The stallholders tend to be the artists and most are happy to negotiate on price, unlike in San Telmo.
Top tip | Don't miss the huge rubber tree in the plaza. It's over 200 years old. Its branches are so wide and heavy they need to be supported.
Things to do in Buenos Aires near Recoleta
Recoleta is a pretty good choice of neighbourhoods to stay in because it's so close to many of the city's fascinating sights.
San Telmo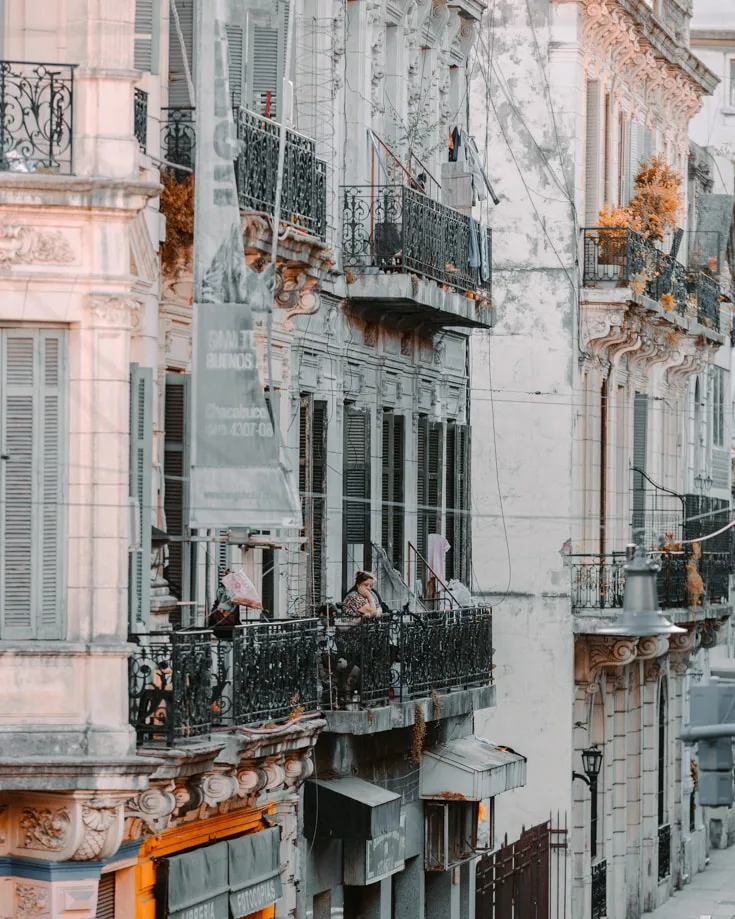 Undoubtedly our favourite neighbourhood in the city, San Telmo oozes everything we ever imagined Buenos Aires to be. It's edgy, historic, weathered, authentic and a little touristic all rolled into one.
Cobbled pavements, tango street performances and candombe drumming. Fabulous markets, wonderful cafés and fine Argentinian steaks of buzzing parrillas.
We've lived in this barrio for getting on 3 months now and simply love it. You can check out our guide to San Telmo here, including where to stay and things to see and do.
How to get to San Telmo from Recoleta
San Telmo is about 5 kilometres from Recoleta and takes about 30 minutes on one bus. For the detailed route and bus numbers, check this interactive map.
You can also take the Subte although you'll need to change lines en route and it takes a little longer too.
If you feel the need for a little exercise, you can use the free bikes – Ecobici – and follow the cycle path.
Puerto Madero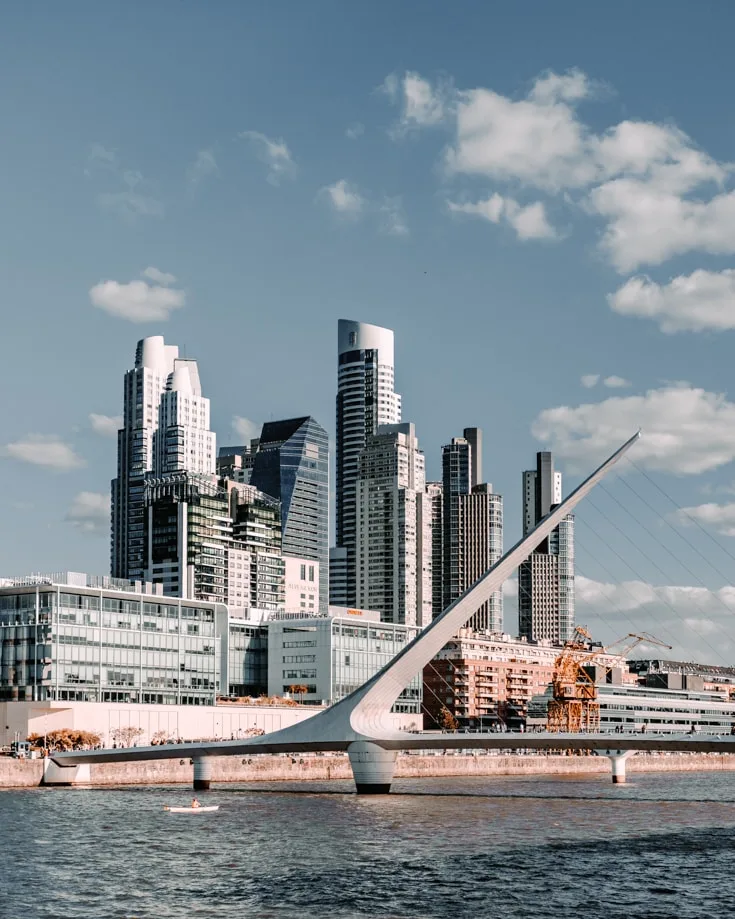 Unlike any other area in Buenos Aires, Puerto Madero is the Argentinian equivalent of London's Docklands.
It's an upmarket, redeveloped port with a wonderful mix of modern bridges and skyscrapers alongside red brick warehouses, rusting loading cranes and a couple of old sail ships, the Uruguay & Sarmiento.
Our favourite place in Puerto Madero is the 864 square kilometre ecological park, Costanera Sur. It's a perfect place to cycle around with a free bike from the gates and enjoy the wildlife.
Humming birds, huge lizards and even capybara right here in middle of Buenos Aires.
Bring a picnic and enjoy the views over towards Colonia del Sacramento on the shores of Uruguay across the Rio de la Plata.
La Boca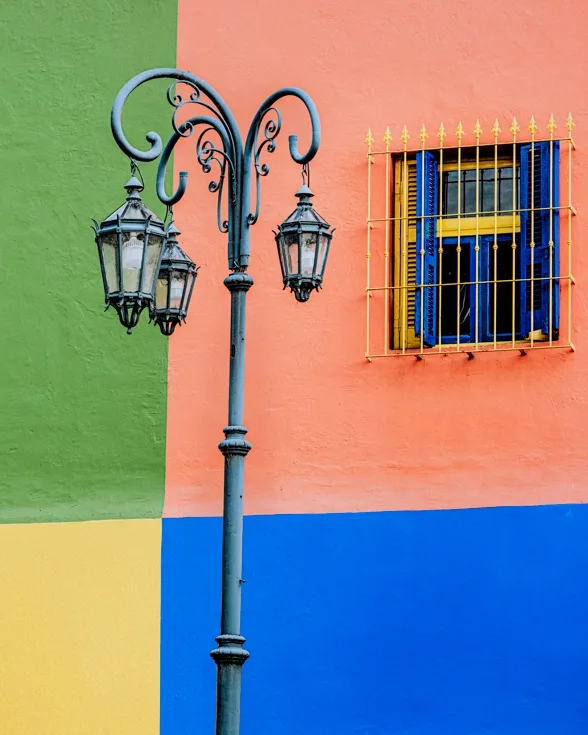 Undoubtedly a tourist trap, but a photogentic one nonetheless and a must-see on any Buenos Aires itinerary.
The entire country, and people from Buenos Aires especially, love football. And La Boca is home to the world famous Boca Juniors and their chocolate box stadium, La Bombonera.
To experience the Argentinian football passion in all its glory, try to get match day tickets. If you're not around at the right time or can't get your hands on an elusive ticket, you can still take a tour of the stadium.
While perhaps not the safest of Buenos Aires neighbourhoods, La Boca is certainly the most colourful.
Caminito is full of brightly painted corrugated iron, tin and wooden houses and artists' studios. Touts and hawkers flog over-priced souvenirs at the flea market and couples perform tango all day long for donations.
Giant papier-mâché statues of the pope, Eva Perón and Carlos Gardel watch over the café patios from wrought iron balconies.
Top tip | It doesn't take long to see everything La Boca has to offer. If you only have a weekend in Buenos Aires, visit La Boca on Sunday morning before checking out San Telmo.
How to get to Recoleta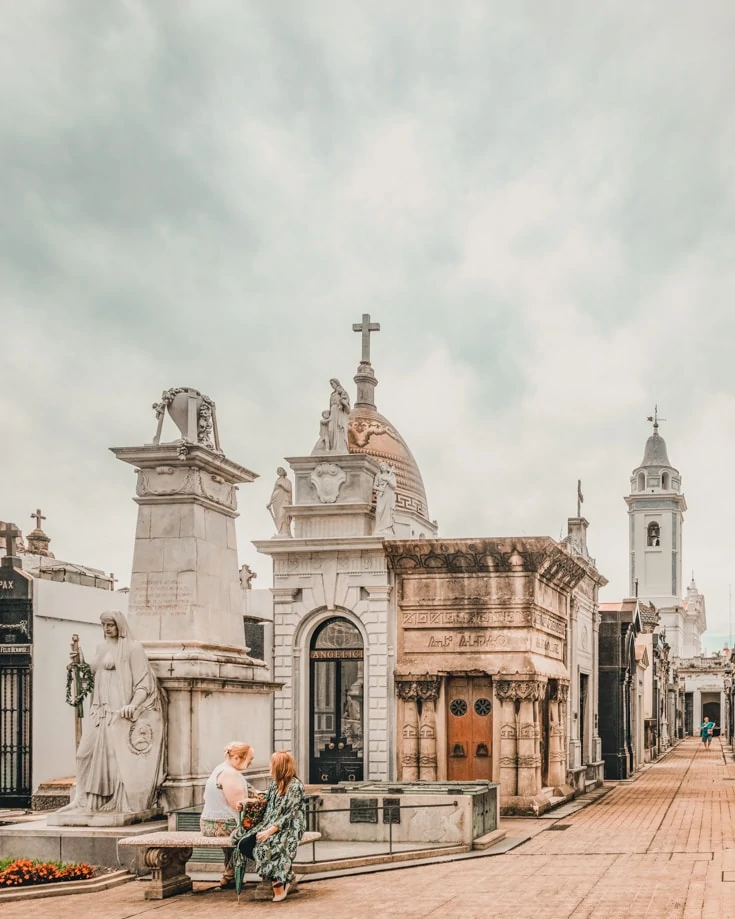 If you're staying in Recoleta and arriving by air, you will most likely land at Ezeiza International Airport.
A taxi will cost around US $30 – make sure the driver puts his meter on.
Shuttle buses are cheaper. They tend to run only on weekdays and depending on how much luggage you have, cost around US $8.
If staying in another neighbourhood of Buenos Aires, use the public transport network to easily get there.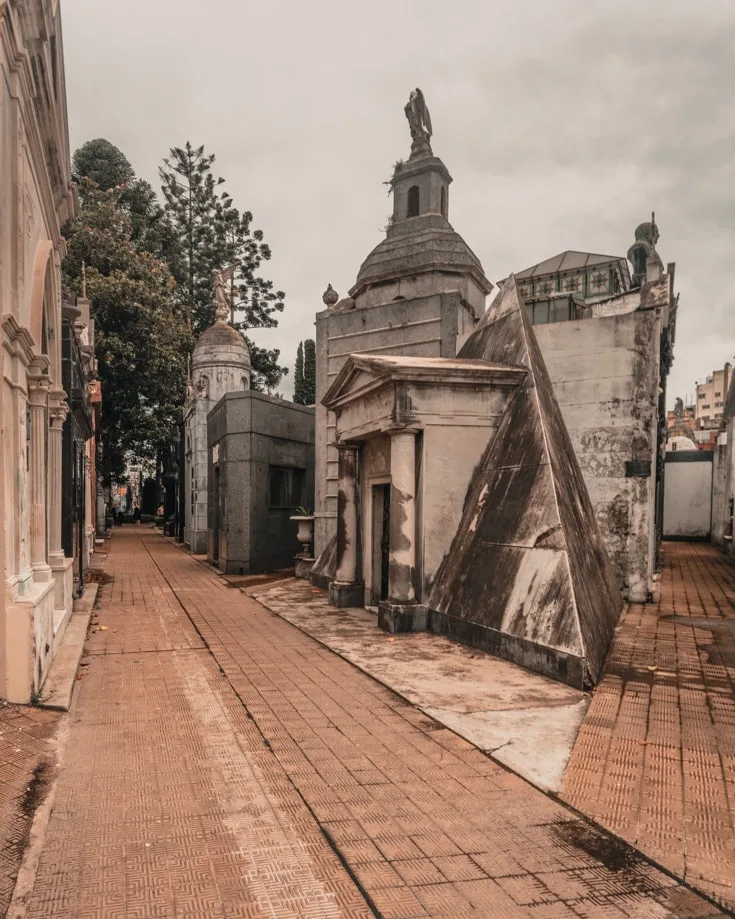 Ferries from Montevideo and Colonia del Sacramento in Uruguay arrive in Buenos Aires at Terminal de Buquebus in Puerto Madero.
It's a little over 5 kilometres by car. If you've visiting Recoleta on a day trip or have luggage, catching a taxi is the quickest option.
Otherwise, Las Heras is the closest Subte station to Recoleta cemetery on the H metro line.
A few buses go from the ferry port to Recoleta too. This interactive map will help you figure out what bus or train you need to catch.
Make sure you buy a SUBE card for the public transport first. Make sure to check out our definitive guide to getting around Buenos Aires before you go.
Best time to visit Recoleta
If you only have a weekend in Buenos Aires, visit Recoleta on Saturday.
Visit the cemetery early in the day to beat the crowds (not that the crowds are too bad).
The Feria Artesanal Plaza Francia has most stalls open on Saturdays, so it's a perfect time to browse the arts and crafts.
Save Sunday for visiting San Telmo when the oldest neighbourhood in Buenos Aires is most wonderful or Feria de Mataderos for an authentic gaucho market experience.
Safety in Recoleta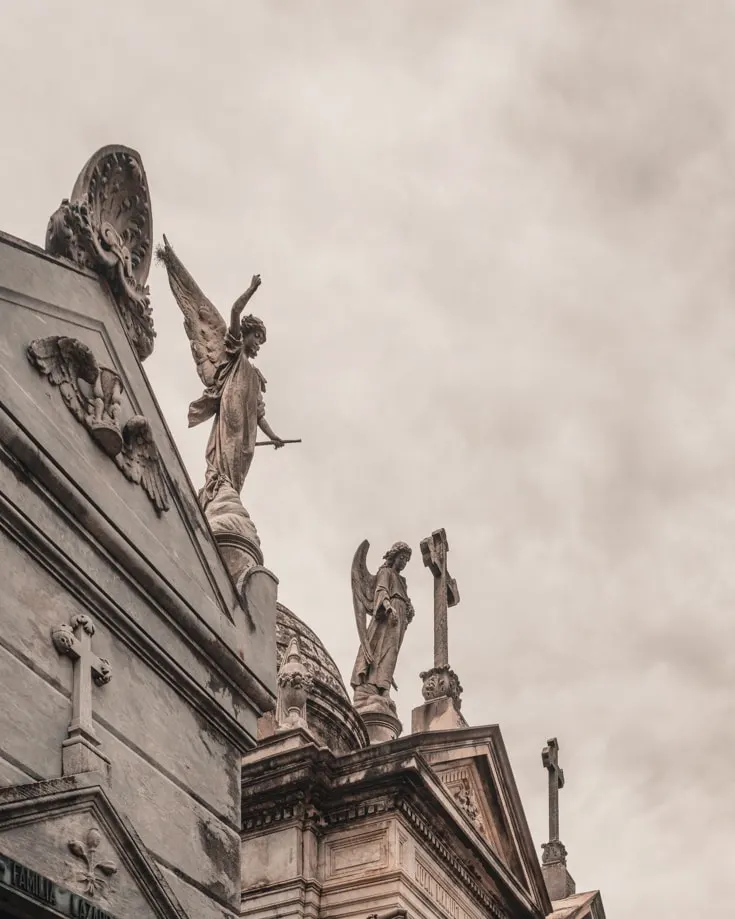 Recoleta is one of the safer neighbourhoods in Buenos Aires, in part because its residents tend to be the more affluent.
Unlike in San Telmo where the edginess is palpable, you'll probably feel quite relaxed walking around Recoleta after dark.
Even so, Buenos Aires is a huge city, with its share of crime and opportunistic thieves and pick pockets. So, as in every major city around the world, you need to use your common sense and be street savvy.
Follow these basic tips to help you stay safe in Recoleta:
Stay aware of your surroundings
You can avoid looking like a target by keeping your valuable out of sight
Try to avoid walking alone at night. Taxi's are quite cheap in Buenos Aires to hail one down
Take care at pedestrian crossings – traffic is allowed to turn at the same time it's deemed dafe for pedestrians to cross
If you're changing currency at the unofficial blue dollar rate, try to do it discreetly
Trust your instincts
Have a good travel insurance policy.
Where to stay in Recoleta neighbourhood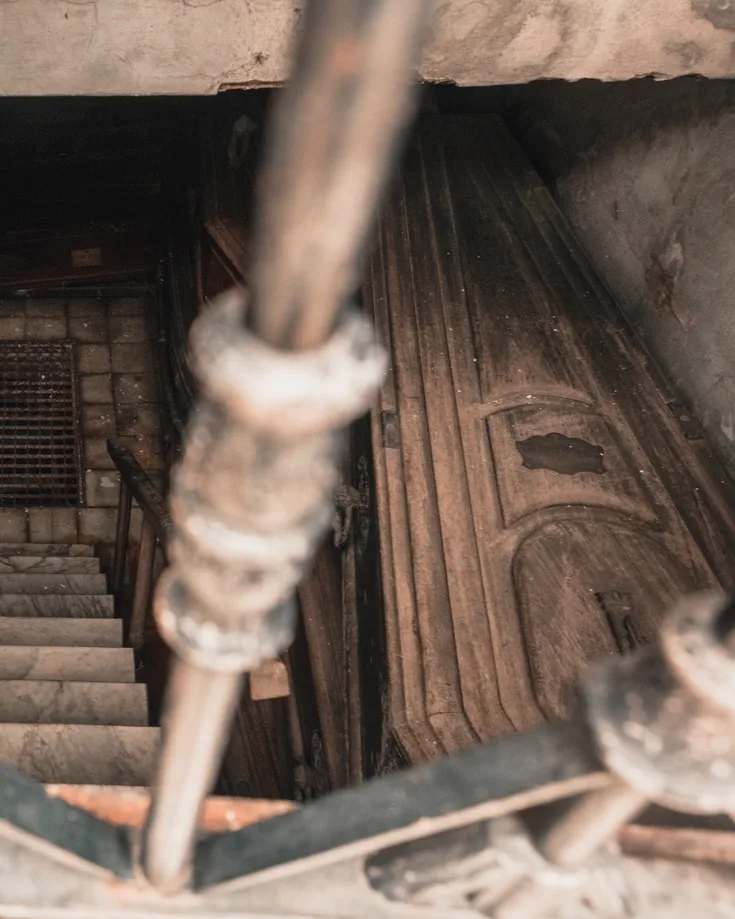 Buenos Aires is often referred to as the Paris of South America. And when you stroll around Recoleta it's easy to see why.
Grand, well maintained town houses built in a French style, line the avenues. A Parisian style café culture is very much alive on virtually every promenade corner.
And unlike many other parts of Buenos Aires, the streets are spotless! You won't need to watch what you're stepping in here.
Of course, with upscale areas come upscale price tags so staying in Recoleta's hotels will cost a pretty penny.
If you'd prefer more budget accommodation, make sure to check out Hostelworld for their latest rates and availability.
Hotels in Recoleta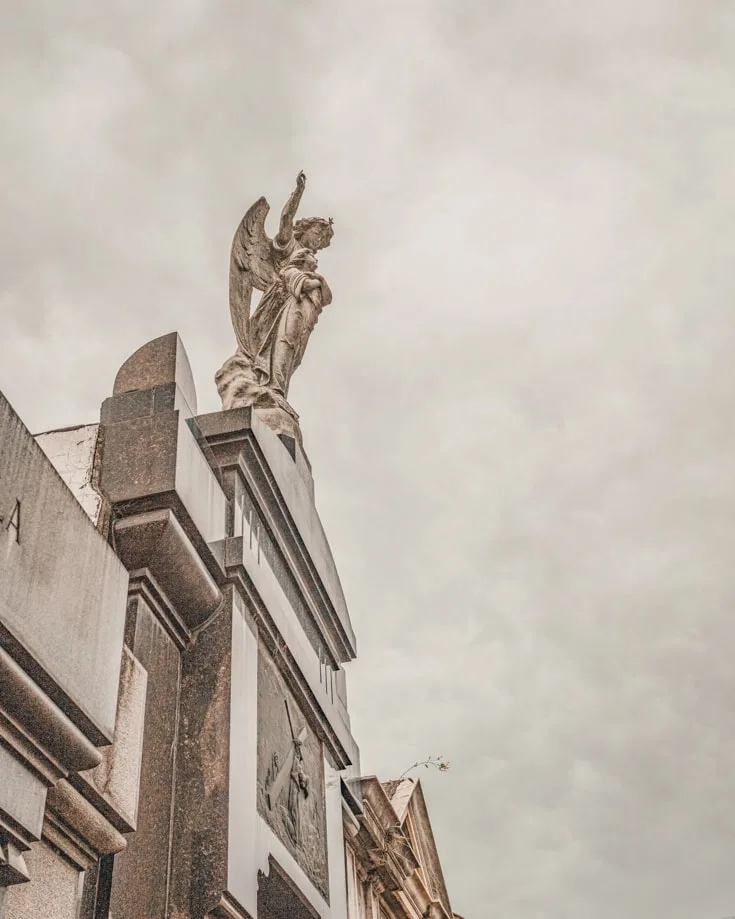 For luxury – Alvear Palace Hotel | The Alvear family was a rather distinguished Argentine clan. Much or Recoleta bears their name and you can visit the family crypt in Recoleta cemetery. But the hotel bearing their name is perhaps the poshest, most luxurious hotel in the neighbourhood, if not maybe in all of Buenos Aires.
A rooftop spa, afternoon tea at L'Orangerie and the finest views of the neighbourhood make for a pretty special stay. If you have deep pockets or someone to impress!
Check prices and availability here.
Great value – Cyan Recoleta Hotel | Perfectly located across the road from Recoleta Cemetery, you can even get a birds eye view of Evita's tomb from your window. It may not be the fanciest hotel in town but it's clean, bright and airy and has everything you need for a few days in Buenos Aires.
Check prices and availability here.
Budget friendly – Malala Hostel | A bit further away from the cemetery a but only a couple of blocks from El Ateneo Grand Splendid, the shared dorms can be grabbed for as little as ARG $600 per person per night. Including breakfast. It's hard to knock those prices!
Check prices and availability here.
Airbnbs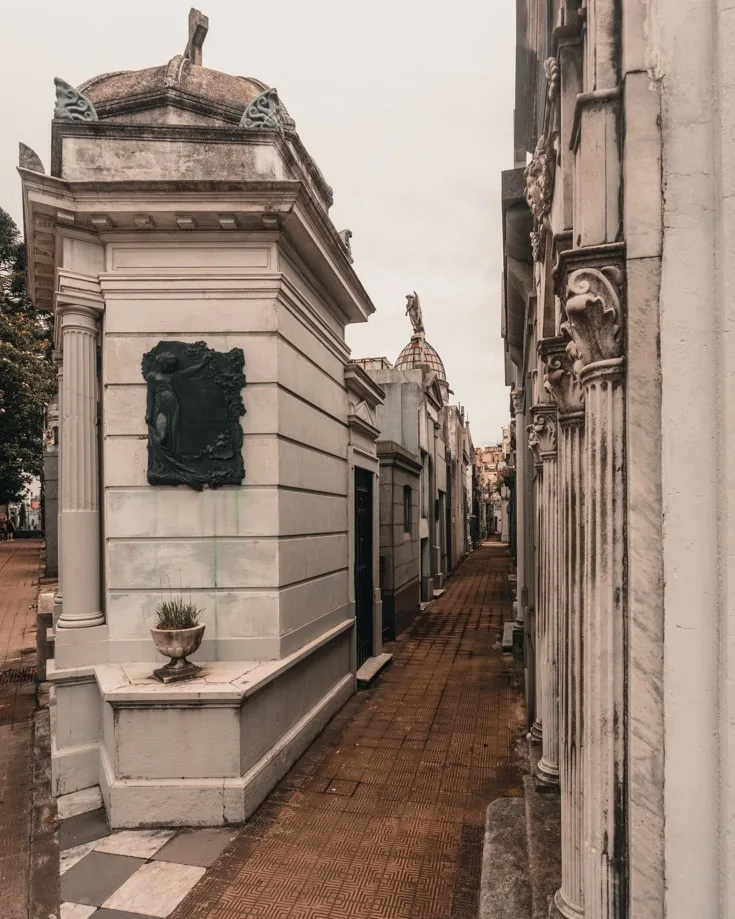 If you plan on spending anything more than a few days in Buenos Aires, we think an Airbnb is ideal.
Not only do they offer home comforts, but you can save money by self catering. Better still, you'll get a feel for authentic Porteño life.
There's lots of great value, stylish and characterful Airbnbs in Recoleta. And if you've not already registered, save a few dollars on your first rental with this link.
Check out our full guide to all travel money in Argentina before you go.
For overlanders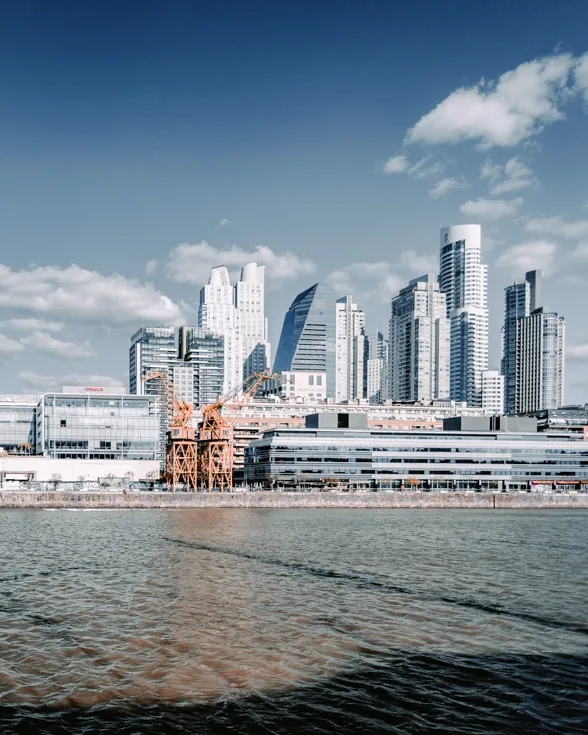 Seasoned overlanders won't be surprised to find no formal campsites in Argentina's capital city.
Despite this, for those travelling in self contained vehicles there's a surprising amount of opportunities for free overnight camping.
The most suitable places to park and stay in your vehicle overnight is around the upscale Puerto Madero area. The spaces are a short walk from Reserva Ecológica Costanera Sur for when you need to get back into nature to escape the city madness.
To get around the city and see all Buenos Aires has to offer, grab a Sube card and hop on the nearest subway.
You can use the iOverlander app offline to check on the latest updates in respect of overnight parking in Buenos Aires.
If you'd prefer to stay in a hotel or Airbnb while you're in Buenos Aires, there's loads of secure parking lots around the city. Just look out for the big blue 'E' signs and check for height restrictions before you drive in.
Like it? Pin it!