If you want a gentle walk that comes complete with breathtaking views of the water, it's hard to beat Ladybower Reservoir Walk. The route circles around an artificial reservoir created in 1945, flooding the villages of Derwent and Ashopton in the process.
At certain times of the year, you may even be able to spot some of the unfortunate structures underneath the water. Even if you can't, though, the views of the reservoir and Derwent Dam should be more than enough to make the trip worth your while.
The walk can be easily completed at any time of year, although you might want to bring a jacket and wear hiking shoes with excellent traction if it rains. The trail is gentle enough for people in wheelchairs or those pushing prams to handle it with ease, although you'll see cyclists here as well.
The path is well-laid-out, so you shouldn't have to worry about getting lost as long as you're paying attention. You can also extend the walk if you find you need more of a challenge.
There's not a whole lot in terms of food or facilities on the trail itself, but there is an excellent cafe at the start of the trail, as well as public bathrooms. You should take advantage of both of them before heading out if you think you'll need either one.
As always, pick up after yourself while on the walk; while the surroundings are breathtaking, it doesn't take much litter to detract from all that natural beauty.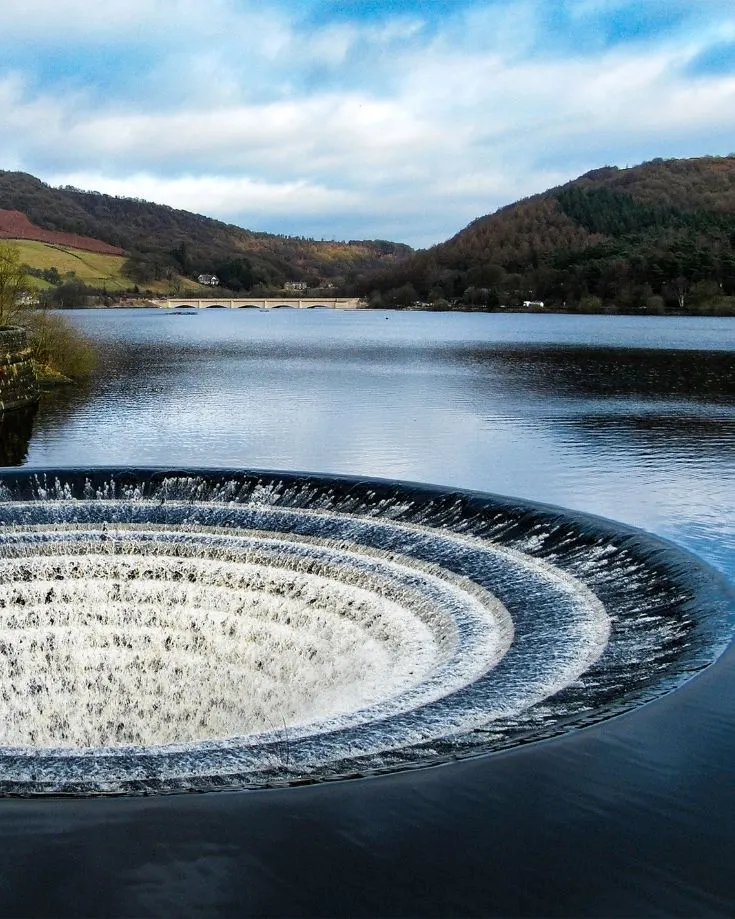 When you click on links to various merchants on this site and make a purchase, this can result in this site earning a commission. As Amazon Associates, we earn from qualifying purchases. For more info, please check our disclosure page.
Ladybower Reservoir Walk Stats
Distance: 5.5 miles/8.9 km
Type of trail: Circular
Parking options: The trail starts at the Fairholmes Visitor Information Centre, and there you'll find a car park that charges £3 for 2 hours or £5 for all-day use. If that's too rich for your blood, you'll find free parking options all along the reservoir, although they tend to fill up quickly.
Walk points of interest: Derwent Dam, Ashopton Viaduct, Ladybower Reservoir, Plug holes
How long does Ladybower Reservoir Walk take? 1–3 hours
Accessibility: The trail is paved and well-maintained with no difficult portions, making it accessible to prams, wheelchair users, cyclists, and more. There aren't any stiles or kissing gates on the walk, although you will have to cross through some gates. You can rent motorised wheelchairs at the Fairholmes Visitor Information Centre.
Total ascent for Ladybower Reservoir Walk: 693 ft./211 m
Are there public bathrooms? There are public bathrooms at the Fairholmes Visitor Information Center.
Best places to eat nearby: The Yorkshire Bridge Inn and Ladybower Cafe are both in Hope Valley, just a short stroll from the start of the trail. The Yorkshire Bridge Inn is more suitable for full meals, while the Ladybower Cafe is great for a quick bite before or after hiking the trail.
Best places to stay nearby: The Losehill House Hotel & Spa (best for couples), Twitchill Farm Cottages (best for families)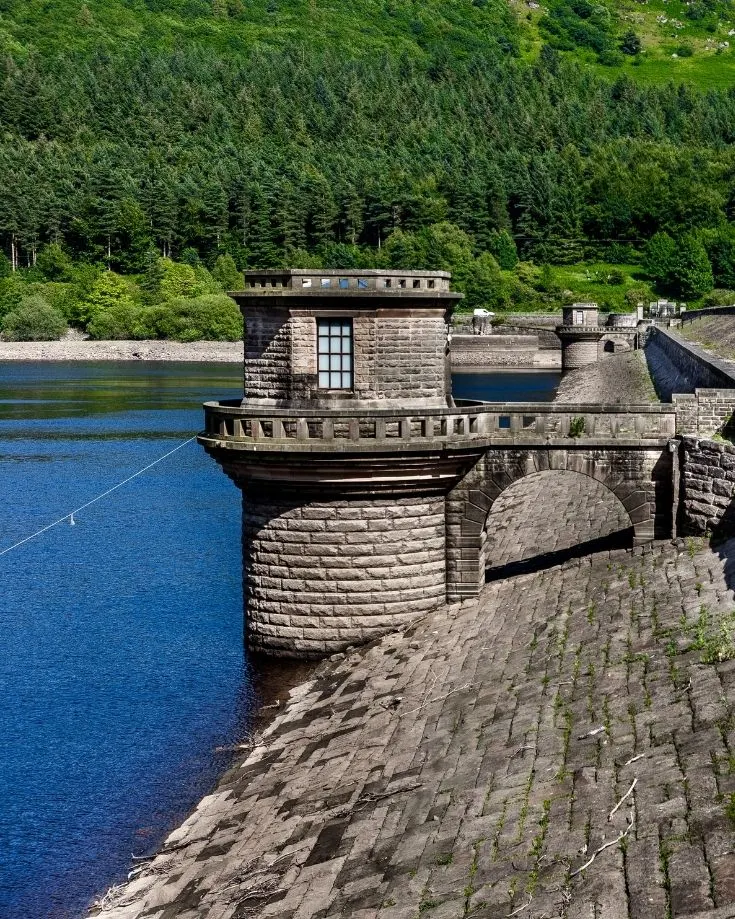 Ladybower Reservoir Walk Route
Once you've parked at or near the Fairholmes Visitor Centre, you can head to the start of the trail — it's clearly marked. However, if there was no parking at the centre or if you found free parking somewhere else, don't worry — you can join the walk at any point on the route. For the purposes of this guide, though, we'll assume you joined at the official start of the trail.
The route is a big circle, so it doesn't matter if you head right or left from the Fairholmes Visitor Centre. Heading to the left may present you with more spectacular views, especially of the Derwent Dam, so that's what we'd recommend.
You'll soon come across a sign that says, "Easy Footpath to Bridge End Car and A57 — Walkers Only Please." There's a path near this sign that heads into the wooded area; follow the path (you'll know you're on the right track if you see the pipes heading to Ladybower Reservoir on your left).
The path will continue until you reach an open area near the viaduct. Once you get to the viaduct, cross it and turn left. This will take you through a sealed road and a gate before spitting you out on the other side of the reservoir. This provides some of the best views on the walk, so be sure to enjoy it.
The path gets much easier to follow at this point. You'll see things like livestock, waterfalls, anglers in boats, and more. It's hard to get lost at this point, so long as you don't take any right turns or leave the path.
Eventually, you'll see some houses and a big red phone booth (it's hard to miss). You should take a minute to investigate them, as they're all that's left of the original Derwent Village (well, all that's left above the water, anyway).
After you leave the village, you'll hit a fork in the road. Hang a left and follow the path downhill, rather than to the Public Bridleway to Langsett. You're close to Derwent Dam now, and if you're interested in dam literature, there's plenty of information to be found in the area.
You'll see a set of stairs; if you follow them down, you'll reach a picnic area overlooking the dam. From there, it's a short walk back to the Fairholmes Visitor Centre. On the other hand, you can walk up the path and head to Derwent Reservoir, extending your walk.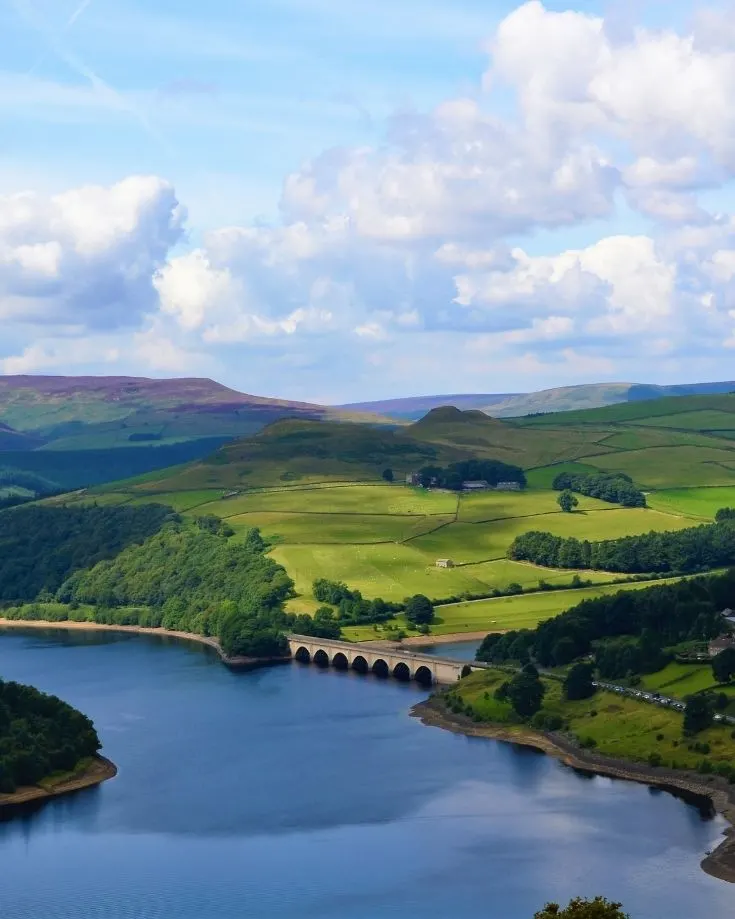 Facilities on Ladybower Reservoir Walk
There aren't any facilities on the walk itself, but you'll find bathrooms at the Fairholmes Visitor Centre. They're your best bet in the area, so take advantage of them before you start the walk.
Best Places to Eat Near Ladybower Reservoir Walk
The Ladybower Reservoir Walk isn't especially challenging, but you still may work up an appetite along the way. Here are our favourite places to grab a bite to eat in the area:
This family-owned establishment is actually the recipient of several awards, and once you taste some of their fare, it won't be hard to see why. The menu won't knock your socks off with its creativity, but it does the staples right — and that can be hard to find.
In addition to the traditional options on the menu, they have a variety of daily specials. Their beer list is top-notch, and their wine list was curated to match the foods on the menu.
Ladybower Cafe
This tiny cafe is set alongside the trail, making it the perfect spot to grab a quick bite or a cold drink. You won't find enough to get a full meal here, but it's enough to keep your hunger at bay for a few hours until you get to a more traditional eatery.
The selection is limited, but the paninis are quite good, as are the burgers. They do accept cards but prefer you to pay with cash, and it can get quite busy at peak hours, so be prepared to wait a bit.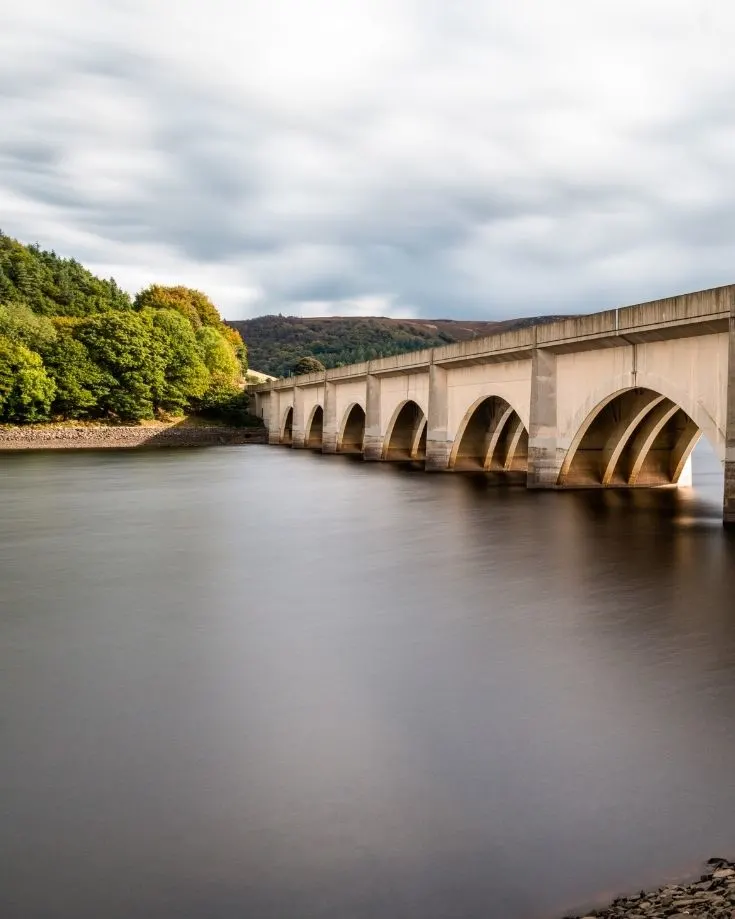 Best Places to Stay Near Ladybower Reservoir Walk
While this walk isn't so challenging that you'll want to collapse into bed afterwards, it's still nice to have a nice room to call your own nearby. These hotels are some of the best in the area:
You can treat yourself at Losehill House Hotel & Spa, as they have everything you need to live in the lap of luxury. The spa has a variety of treatment rooms, a sauna, and an outdoor hot tub with fantastic views of the surrounding area.
There's an indoor pool at the hotel, and each room comes with a TV, DVD player, and free Wi-Fi. You can find excellent (and healthy) meals at the restaurant as well, ensuring you can take care of your body both inside and out while you're here.
There aren't many rooms available at Twitchill Farm Cottages — only 8 in all — but each has plenty to keep your family occupied, including a flat-screen TV with satellite channels, a fully-equipped kitchen, in-room laundry, and two bathrooms.
If you can pry yourself out of the room, you can enjoy the indoor pool that's on-site or relax on the sun terrace. They also have a garden and barbecue facilities, making it the perfect place to unwind after your walk.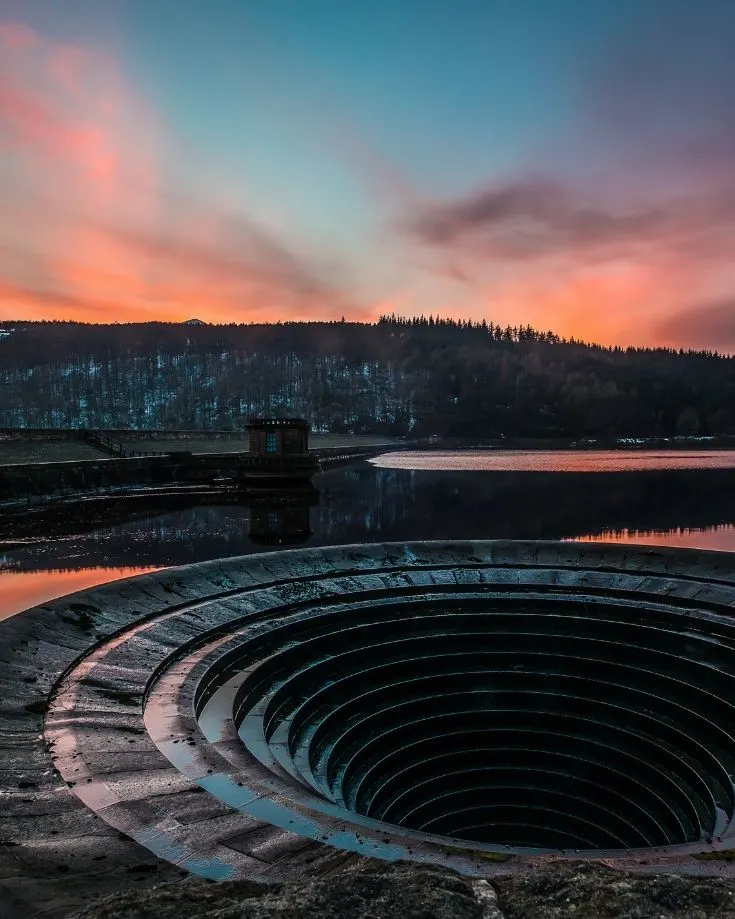 Best Place to Camp Near Ladybower Reservoir Walk
While hiking the Ladybower Reservoir Walk isn't exactly our idea of "roughing it," you can still do the walk and live off the land by staying at one of the many campsites nearby, our favourite of which is:
Surrounded by woodlands, farms, and moors, the North Lees Campsite rests on three rolling hills. The location is best-suited for individual tents, so don't expect to roll up in a motorhome or spread out some giant overland truck.
They have 7 camping pods available as well, so you can still stay here even if you forgot to pack a tent. You'll find flush toilets and showers here, and it's within walking distance of pubs, restaurants, and grocery shops.
Ladybower Reservoir Walking Route Maps
Detailed maps of Ladybower Reservoir walks are available from Ordnance Survey. Unfortunately, we can't share the map here because the copyright belongs to the Crown, but you can see it in detail on their website.
For anyone planning on exploring many of the beautiful Peak District walks on offer (and there are lots to discover), we recommend you arm yourself with a paper map. Two ordnance survey maps cover the entire Peak District:
OL1 – Dark Peak Area – basically the northern side of the National Park
OL24 – White Peak Area – the southern end
OL1 covers the Ladybower Reservoir walks.
Compare the price of buying the maps at Amazon or direct from Ordnance Survey. You can expect to pay less than £10 for a standard map, but Amazon is often a little cheaper than buying directly from OS. Weatherproof maps are more hardwearing and won't disintegrate in the inevitable rain showers. They generally cost a couple of pounds more.
Compare prices here:
Ordnance Survey also has a highly rated app if you prefer a mobile app for mapping purposes. Keen walkers will get a good deal from their annual subscription. Monthly options are also available and more cost-effective for occasional jaunts.
A budget-friendly option is also available on the app's website where you can select a walking route and print the map to a printer or pdf for free, so you can keep it on your phone for reference.
How To Get To Ladybower Reservoir
Ladybower Reservoir walk is set within the Derwent Valley, about 10 miles (16 km) east of Glossop and 10 miles (16 km) west of Sheffield.
By Car // The easiest way to get to Derwent Valley is by car. Use Fairholmes Visitors Centre's postcode – S33 0AQ – to navigate. If you're visiting the area without your own wheels, consider getting a rental car to get the most out of your visit to the Peak District.
By Bus // The X57 bus service runs between Sheffield Coach Station and Manchester, via Glossop, and stops outside Fairholmes Visitors Centre. The service runs 5 or 6 times each day. You can get the latest timetable and ticket prices here.
By train // The Hope Valley Line is a scenic rail journey between Sheffield and Manchester through the heart of the Peak District. The closest train station to Ladybower Reservoir is at Bamford village but bear in mind that's 5 kilometres from Ashopton Viaduct. If you start and end the walk at the train station, add a further 10 kilometres to the route. Check the latest timetable and ticket prices here.
By cycle // The fabulous National Cycle Network, has well marked routes throughout the Peak District, making it an ideal environmentally friendly way of getting here. Check out the detailed National Cycle Network on OS maps.
Other Useful Info About Ladybower Reservoir Walk
Dogs are allowed on the walk, but keep them on short leads (especially since there may be some with mobility issues on the trail). You also don't want them to mess with the local wildlife, including the ground-laying birds.
You'll find a water refill station at the Fairholmes Visitor Centre, right near the benches and the cafe, so be sure to bring a reusable bottle with you.
The area was used as a practice run for the famous Dambusters Raid in WWII. During this raid, an RAF squadron bombed three separate dams inside German territory, despite the near-impenetrable defences around each dam. The mission was a success, as the bombers destroyed 2 of the 3 dams — so while you're walking around the reservoir, take a moment to consider just how incredible bombing a dam must look.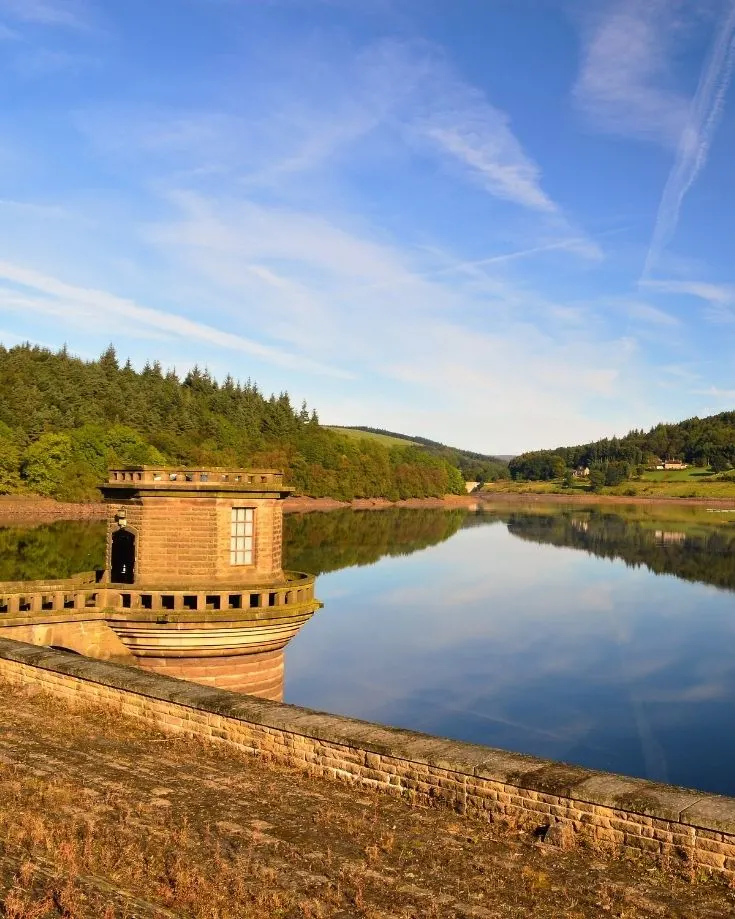 More Peak District Walks