The Lathkill Dale Walk between Monyash and Youlgreave is one of the most popular hikes in the Peak District, and it will take you all of about half a second to figure out why. Filled with gorgeous scenery — including a waterfall, limestone cliffs, and mysterious caves — you can have a grand old time on this hike at any point in the year.
The walk is moderately challenging, but if you're in reasonable shape and don't have any serious mobility issues, you should be able to handle it just fine. If not, don't worry — many people double back after reaching their favourite spot on the trail, so you won't have to gut it out to the bitter end if you don't want to.
Be sure to wear reliable footwear, as the walk can get quite steep in parts. You'll be traversing stone steps a few times as well, and they can be pretty slippery when wet, so be careful.
Dogs are welcome on this trail, and many of the pubs and other establishments in the area are very pooch-friendly as well, so there's no need to leave Fido at home. Be sure to keep them on a tight lead, though, as the walk sits in a protected park, and much of the wildlife would prefer to be left alone.
This is a very busy trail, so it would behove you to get here early or to come during a weekday if you want to avoid crowds. However, even if it's packed on the day you arrive, the trail is long enough that you can likely carve out some elbow room for yourself if you like.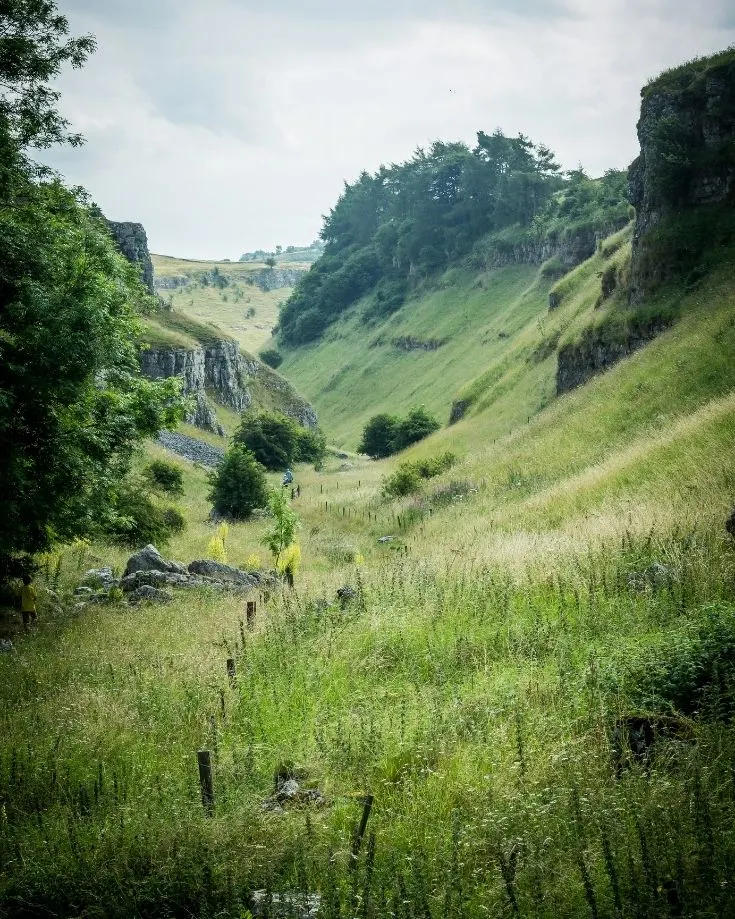 When you click on links to various merchants on this site and make a purchase, this can result in this site earning a commission. As Amazon Associates, we earn from qualifying purchases. For more info, please check our disclosure page.
Lathkill Dale Walk Stats
Distance: 5.3 miles/8.5 km
Type of trail: Circular
Parking options: You can find parking and toilets at Coldwell End, on the outskirts of Youlgreave village. For an alternative route from Monyash, there's free parking and toilets at the start of the path on Church St. There, you'll find a small village car park that accepts and encourages donations, as well as a free lay-by on the opposite side of the road.
Walk points of interest: There are caves along the walk that you can explore, as well as a waterfall. You'll also see Lathkill Dale Nature Reserve, Bateman's House, and the River Lathkill.
How long does Lathkill Dale Walk take? 2–4 hours
Accessibility: This is a moderately challenging walk and, while there's a decent ascent to it, it's usually gradual. That's not always the case, though, and it can be pretty steep at times. The path can also wind through thick forest that's sometimes overrun with nettles, and there are a few steps and stiles, so it's not ideal for wheelchairs and prams.
Total ascent for Lathkill Dale Walk: 922 ft./281 m
Are there public bathrooms? There are public bathrooms near the car park on Church St.; however, they're not always open. You won't find any other facilities on the walk itself, so you'll need to hit up some of the pubs in Monyash before the walk if you need to go (don't hit them up too hard, though, or you won't be able to walk the Walk).
Best places to eat nearby: The most popular spots to grab a bite are The Bulls Head and The Old Smithy Tearooms, both of which are in nearby Monyash.
Best places to stay nearby: Arbor Low (best for couples), Rutland Arms Hotel (most elegant option)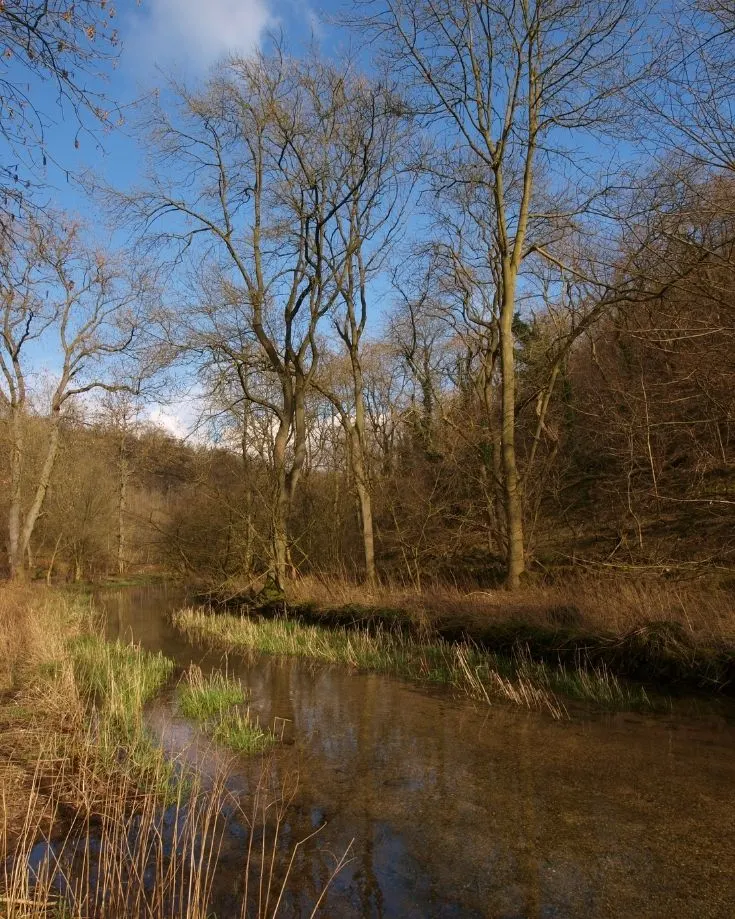 Lathkill Dale Walk Routes
There are different ways to walk Lathkill Dale, but the most popular (and the one we recommend) is a simple circle that starts and ends near Youlgreave.
Assuming you're parking on Moor Lane Car Park, cross the road until you see a trail cutting through some farmland to the west. Don't just look at the trail — take it.
The trail will take you through Low Moor Wood, with Low Moor Farm on your left. Keep walking until you meet some stone steps that lead down into the forest. Be careful — they're very steep and can be quite slippery when it rains.
At the bottom of the steps, head to the right into the forests of the Lathkill Dale Nature Reserve. Walk slowly through here, as you don't want to miss any of the beauty. Eventually, you'll reach the banks of the River Lathkill.
At the start of the River Lathkill, you'll see Lathkill Head Cave. If you're taking the walk in the winter, the cave will be full of water, but it's dry and open for exploration in the summer. Be careful, though — the caves are said to be haunted.
Find the footbridge spanning the river and cross it, then head to the east. You'll follow the river as it winds through limestone cliffs and other striking scenery, and you'll soon come to a gorgeous waterfall.
Upon reaching Lathkill Dale waterfall, continue walking through Palmerston Wood until you reach the ruins of Bateman's House (yeah, we got all excited at first because we thought it said "Batman's House" too).
Head east along the trail. You'll see several old mines along the way, then you'll ultimately end up at Lathkill Lodge. There's a path across the river here you can follow.
The path will take you uphill (it's a bit steep), leading to open farmland. Cut across until you reach the car park.
If you find the walk too challenging or just want to cut it short, many people stop at the cave at the mouth of the River Lathkill and then double back, effectively cutting the walk in half.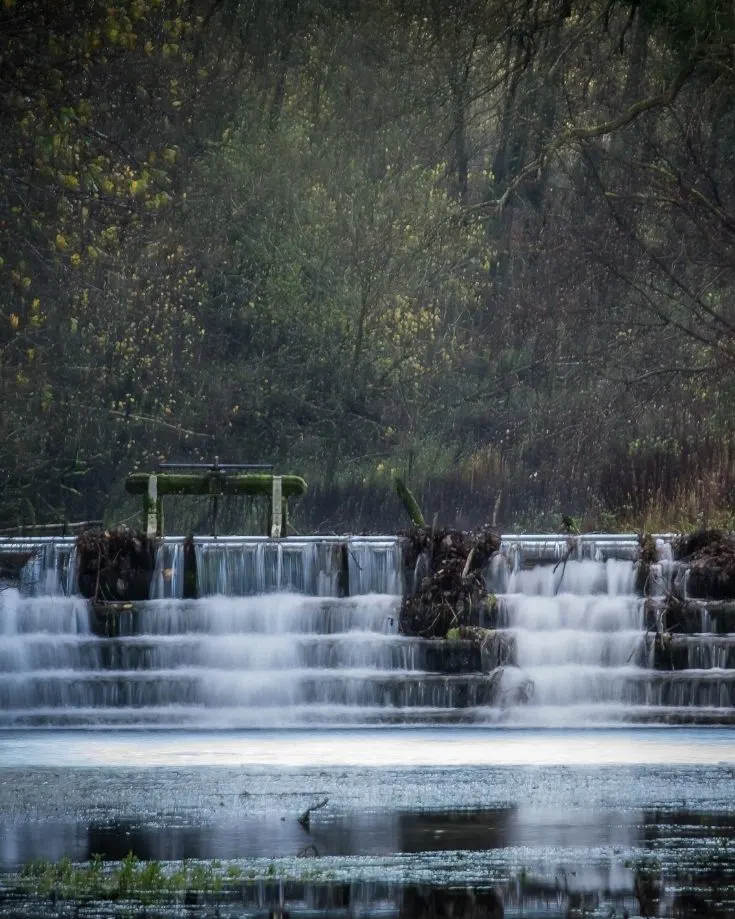 Facilities on Lathkill Dale Walk
There are no facilities on the walk itself. There are public toilets near the car park on Church St., but it's hit-or-miss as to whether they'll be open. Your best bet is likely to find a pub nearby (The Bulls Head is quite close).
Best Places to Eat Near Lathkill Dale Walk
The walk isn't the hardest in the world, but it can be a bit steep at times. So what we're saying is that you can feel free to gorge yourself at one of these pubs nearby, and you can blame it on all the calories you burned on the trail.
If you've brought your kids along on the walk, you'll both be overcome with joy at the sight of The Bulls Head — but for very different reasons. Children tend to go crazy for the playground on the premises, while adults have the same reaction over the beer garden.
The pub is extremely dog-friendly, so feel free to let your pooch tag along. No matter who's in your party, though, they'll enjoy the excellent traditional pub fare, as well as the extensive specials board, which is where the cooks tend to really let their hair down.
The Old Smithy is a small cafe set inside the remnants of an old blacksmith shop (hence the name). It's a great spot to grab a quick bite. Their food is locally sourced as much as possible, and they offer a wide selection of drinks, snacks, and ice cream.
The fare is surprisingly sophisticated for such a tiny little eatery, and you'll find things like twice-baked cheddar cheese souffle, cider and onion soup, and Moroccan-style lamb rump inside. All of this is just a speed bump until you get to the real star of the show, however: the dessert menu.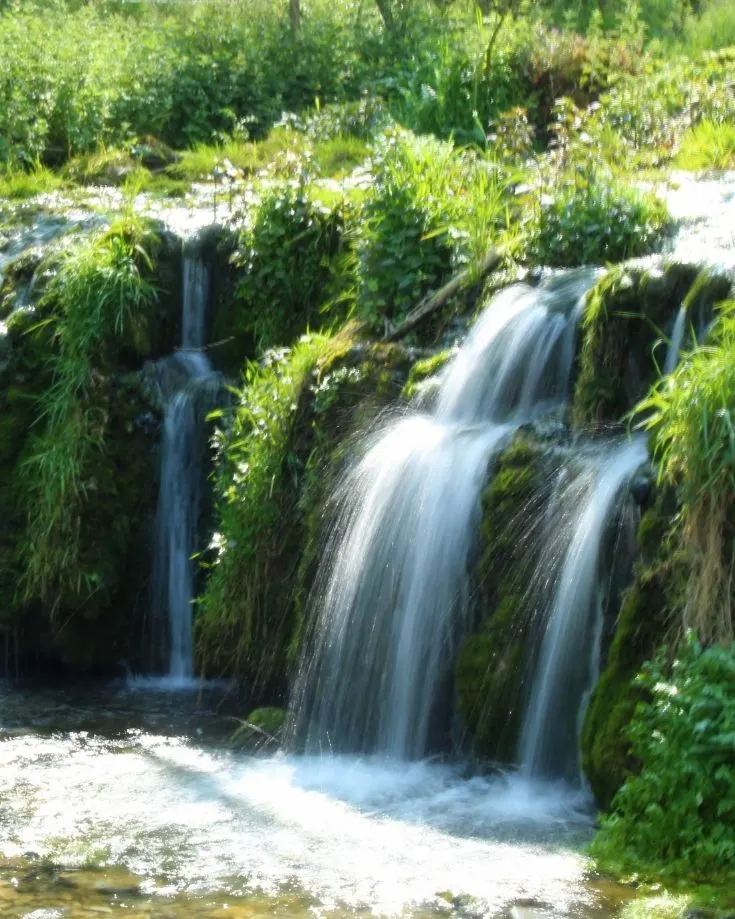 Best Places to Stay Near Lathkill Dale Walk
The area around Lathkill Dale is so breathtakingly beautiful, you'll be forgiven for not wanting to leave — and you won't have to if you book a room at one of these fine establishments.
A charming bed and breakfast in Monyash, Arbor Low is large enough that you can get some privacy, even as you share it with other guests. The bedrooms each have a private lounge and breakfast nook, and you'll have your own private entrance and staircase to your room as well.
There's plenty to see and do here — and if you get bored, they have a ton of books and board games to keep you occupied. The breakfast options are surprisingly varied, and they can accommodate both gluten-free and vegetarian diets.
Situated in nearby Bakewell, the Rutland Arms Hotel is a historic venue that was refurbished in 2020. As a result, it offers an enchanting mix of old-world sophistication and modern comforts, making it an elegant option you'll never want to leave.
You won't have to travel far for meals, either, as they have a restaurant on the premises that serves breakfast, lunch, and dinner. There's also a coffee house, and the hotel has an impressive collection of spirits if you need a little pick-me-up.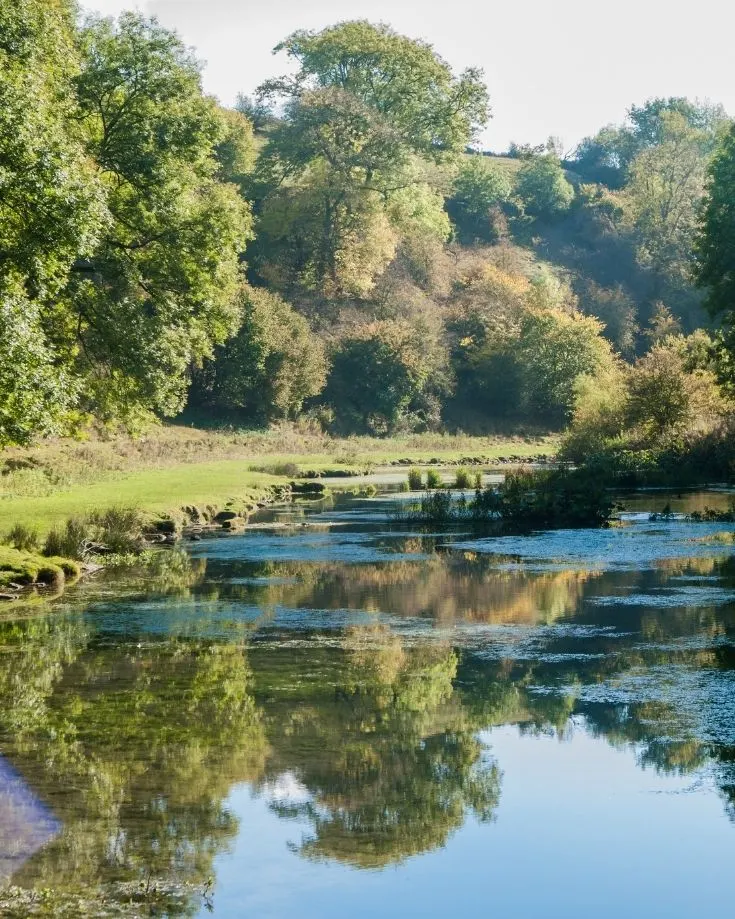 Camping Near Lathkill Dale Walk
If the hotels above are too hoity-toity for your tastes, you can always rough it a little bit at our favourite camping spot.
Barkerfields Farm is basically a large, flat field covered in lush vegetation. It's in Bakewell, so it's close to the walk (and near the Rutland Arms Hotel), but you can also wander down to Magpie Mine if the spirit takes you.
There are no cars allowed in this spot, so you'll need to bring a tent. You can build a campfire, though, and they have portable toilets, cold drinking water, and an area to wash up. This isn't the place for you if you need all the comforts of home, but if you're willing to get back to nature a bit, it's a beautiful spot to put down roots for a night or two.
Lathkill Dale Campground offers a convenient alternative for campervans and motorhomes. With spacious pitches, many of which feel secluded, it's a really peaceful site to unwind for a few days.
And because it's located within staggering distance from the Bull's Head, there's no need to drive once you're pitched up either!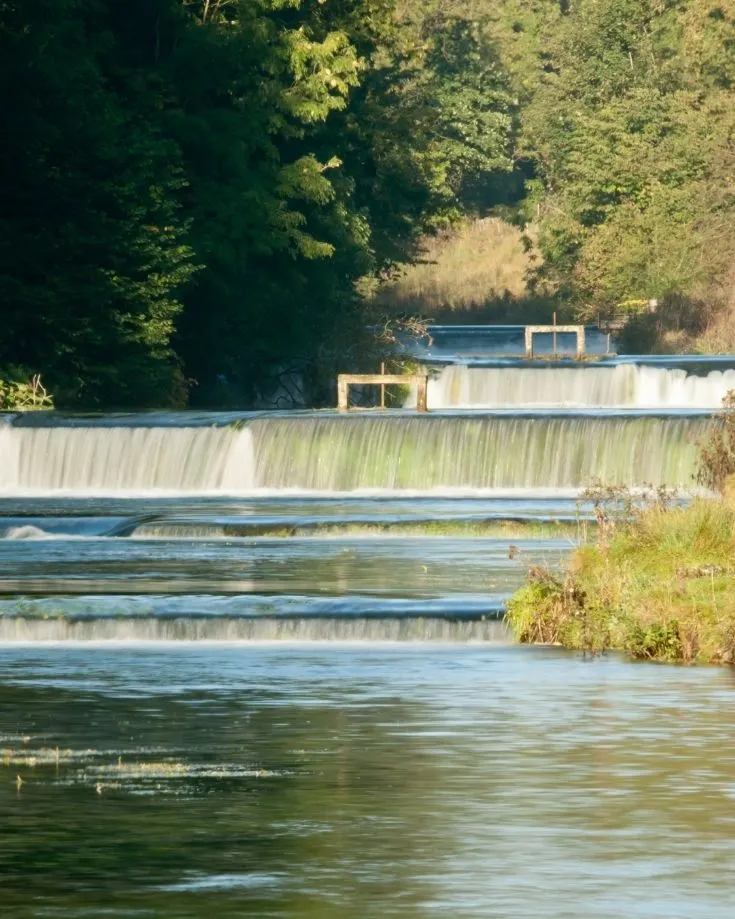 Lathkill Dale Walk Route Map
A detailed map of Lathkill Dale from Youlgreave is available from Ordnance Survey. Unfortunately, we can't share the map here because the copyright belongs to the Crown, but you can see it in detail on their website.
For anyone planning on exploring many of the beautiful Peak District walks on offer (and there are lots to discover), we recommend you arm yourself with a paper map. Two ordnance survey maps cover the entire Peak District:
OL1 – Dark Peak Area – basically the northern side of the National Park
OL24 – White Peak Area – the southern end
OL24 covers the Lathkill Dale.
Compare the price of buying the maps at Amazon or direct from Ordnance Survey. You can expect to pay less than £10 for a standard map, but Amazon is often a little cheaper than buying directly from OS. Weatherproof maps are more hardwearing and won't disintegrate in the inevitable rain showers. They generally cost a couple of pounds more.
Compare prices here:
Ordnance Survey also has a highly rated app if you prefer a mobile app for mapping purposes. Keen walkers will get a good deal from their annual subscription. Monthly options are also available and more cost-effective for occasional jaunts.
A budget-friendly option is also available on the app's website where you can select a walking route and print the map to a printer or pdf for free, so you can keep it on your phone for reference.
How To Get To Lathkill Dale Trailhead
The starting point of Lathkill Dale walk is about ½ mile east of Monyash, about 13 miles (21 km) northwest of Matlock and 8 miles (13 km) southeast of Buxton.
By Car // The easiest way to get to Monyash and Youlgreave is by car. For Monyash, the postcode DE45 1JH will get you close, but use the trailhead coordinates for more accuracy – 53°11'42.5"N 1°45'57.4"W.
For Youlgreave, the postcode DE45 1LU will get you close, but use the car park coordinates for more accuracy – 53°10'38.5"N 1°42'38.5"W.
If you're visiting the area without your own wheels, consider getting a rental car to get the most out of your visit to the Peak District.
By Public Transport // The X71 is a good bus service from Bakewell to Monyash and only takes about 10 minutes. However, this service is popular with visitors to nearby Alton Towers, so it is often busy. For Youlgreave, public transport is pretty limited so we'd recommend travelling here by car or choosing the alternative Monyash route.
By cycle // The fabulous National Cycle Network has well-marked routes throughout the Peak District, making it an ideal environmentally friendly way of getting around. Check out the detailed National Cycle Network on OS maps.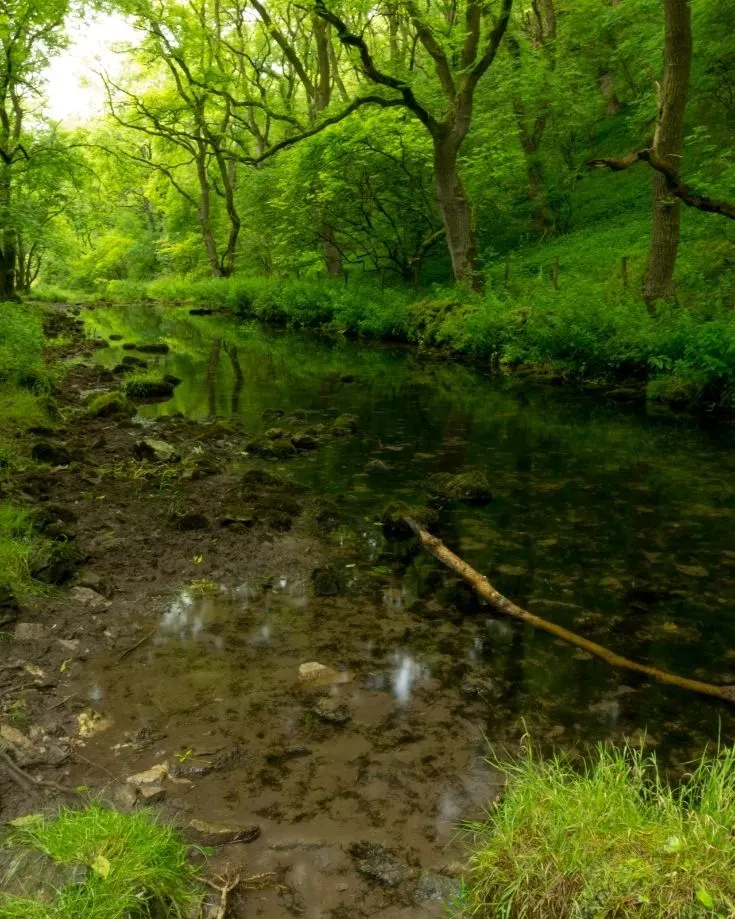 Other Useful Info About Lathkill Dale Walk
While the water along the trail is undoubtedly tempting, you (and your dog) need to stay out. The whole of Lathkill Dale is a Site of Special Scientific Interest, so it's an important habitat for the local wildlife, and they don't need any flea and tick medication (or your Lynx body spray) fouling up the water.
Along the walk, there's an enclosed area designed to protect the Jacob's Ladder plant, which is endangered globally yet grows prolifically here. The fact that the area is fertile land for this rare plant is all the more reason to keep your dog on a short lead.
Bateman's House was built in the 1830s by the Lathkill Dale Mining Company to cover a mine shaft. Later on, it also served as the primary residence for one of their agents, James Bateman (because nothing says "corporate perks" like being issued a home with an open mine shaft in it).
Many large, flat rocks along the walk will make ideal picnic tables if you're willing to lug some food along.