If you're travelling through South America and want to improve your language skills, learning Spanish in Sucre, Bolivia is a no-brainer.
Here's our guide to going back to school and improving your communication skills so you get more from your travels around this amazing continent.
When you click on links to various merchants on this site and make a purchase, this can result in this site earning a commission. As Amazon Associates, we earn from qualifying purchases. For more info, please check our disclosure page.
Why we needed to learn Spanish in Latin America
"Dónde eres?"
"Sorry," I responded, sheepishly smiling. "I'm sorry, I don't speak Spanish."
"D ó n d e e r e s?"
I smile again, and still have no idea what the Uruguayan cashier is saying. I'm in a truck accessories store, having already managed to order a 110 kph speed sticker and a red & white reflective strip with the help of a pencil and paper.
Yes – my Spanish was so bad I had to draw the things I wanted so the shop assistant had any chance of helping me.
"D ó n d e e r e s?"
The shop assistant tried once more, but with a look of dismay, even embarrassment. I stood in her shop, in her home country trying to buy something I needed to drive into Argentina from Uruguay and I couldn't speak a word of her language.
And she was the one who looked embarrassed for not being able to speak to me!
She turned to her colleague for help. A chap joined her at the front desk, although his expression was one of "this one's from la tribu tonto (the idiot tribe to you and me)".
I held my head in shame. I stood there 3 weeks into our South American adventure with not one word of the Spanish language to my name.
Walking back to Baloo and Angela, I knew we had a problem. If we can't speak enough Spanish to get by we'll miss out on so much on this Latin American adventure.
We agreed we needed to learn at least some basic Spanish but we had no idea where to start. Our simple book on basic Spanish phrases wasn't enough. We needed more help than the teach ourselves approach could offer.
Accepting we needed Spanish lessons
After much research and discussion we decided learning Spanish in Sucre, Bolivia was what we needed. We had another 3000 kilometres to drive to Sucre, through northeast Argentina and Paraguay.
Oh and a little bit of Brazil too which unhelpfully, is a Portuguese speaking country.
So armed with our BBC learn Spanish and phrase books, we decided to tough it out until Bolivia.
As we drove, we recited key phrases and practiced counting in Spanish. Then we'd have the opportunity to use our learnt phrases… and the non English speaking but very fluent Spanish speakers would say "Que?" and look strangely at us.
If it wasn't for Manuel from Fawlty Towers, we wouldn't have even known what that meant!
Why the self taught approach didn't work for us
The Spanish alphabet has 30 letters and most of them are pronounced differently to the English equivalent. Even the vowels have a different pronunciation.
An A is an "ah", E is "eh", I is an "ee", O is an "oh" and U is an "ooo". And each must be pronounced separately where they are side by side in a given word.
Never mind silent H's, J's sounding like a H, LL's are pronounced as Y's and of course R's are rolled.
So despite our studious approach to the phrase book, this helped our pronunciation none. We had little to no chance of being understood.
We Spanglish'ed our way to the Bolivian border. Even then, the Immigration Officer told us off for filling in our visa forms in English not Spanish.
And the customs chappie gave me a long lecture via Google translate with cap locks on about our vehicle's temporary import papers. Once we arrived in Sucre we set about finding a Spanish school.
Learning Spanish in Sucre
We fell head over heels in love with Sucre. It's a relaxed city with the laid back vibe disguising the fact it's the capital city of Bolivia.
After taking a few days to get acclimatised to the relative high altitude, it was time to get serious about finding a Spanish school.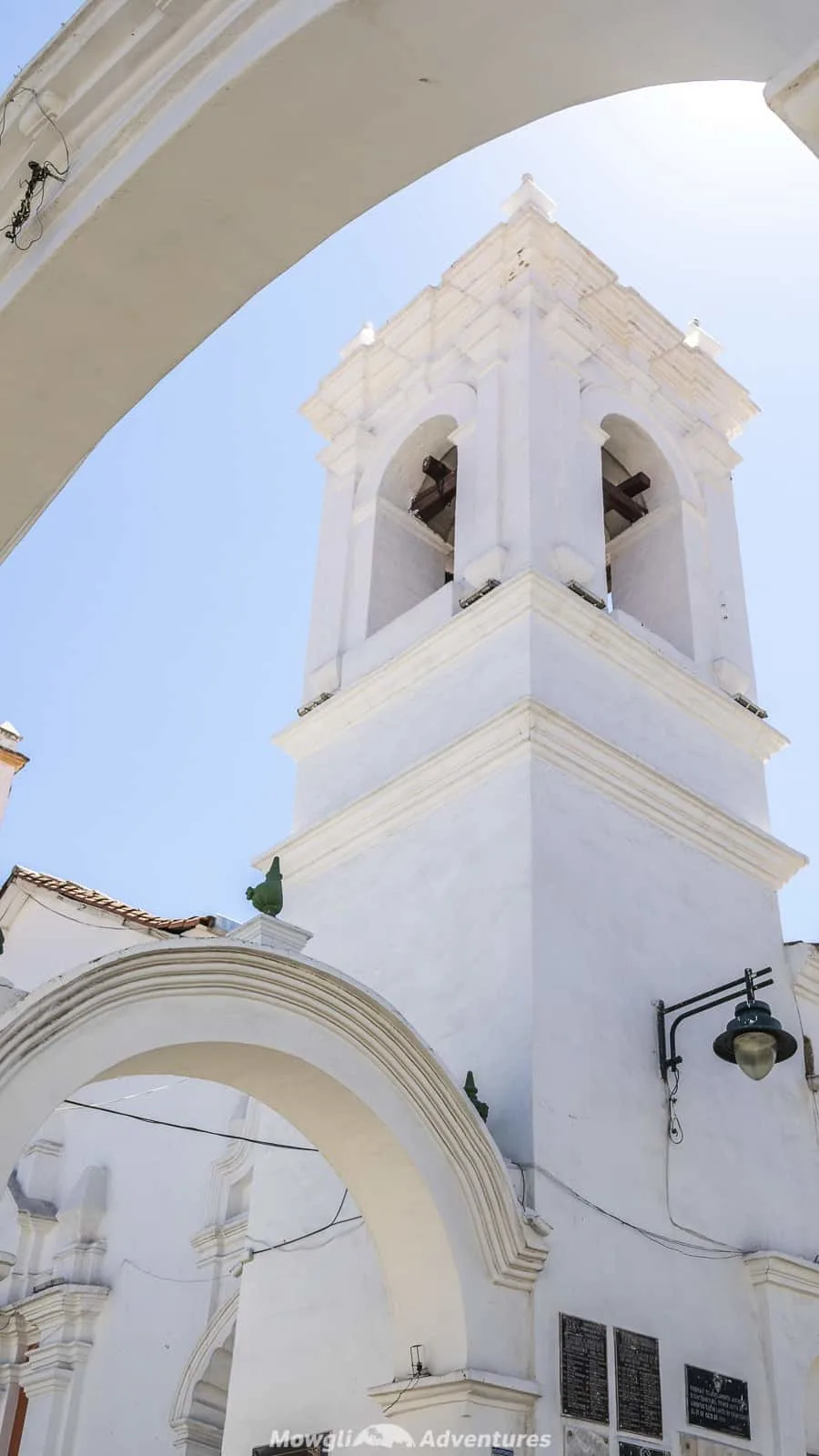 Read more: A brief guide to Sucre, Bolivia's white city
Choosing a Spanish school in Sucre
Sucre is brimming with Spanish schools so it's clear the city is a popular place to improve language skills. And with many people backpacking Bolivia here, there's no end of customers. Most schools in Sucre are located within a few minutes walk from the central plaza.
We read a lot of Sucre Spanish school reviews from previous students and shortlisted some we thought we'd take a look at. Initially, we planned to visit each, meet our potential teachers and choose the one we felt most comfortable with.
Then we spoke with friends who had recently left Sucre and had also take a few lessons. They recommended one school, in fact one teacher in particular.
We met with Veronica at Sucre Spanish School the next day. We booked ourselves a lesson for the next Monday afternoon. It went so well, we booked a total of 30 hours of lessons each, 2 hours per day for the next 3 weeks.
We recommend you meet with your potential teacher before booking your Spanish lessons. Also, if the school is flexible enough, try booking one or two lessons before committing to many hours.
Spanish schools in Sucre
Here's a list of a few of the Spanish schools in Sucre, with links to their websites. They all seem to have petty good reviews.
Sucre Spanish School https://www.sucrespanishschool.com
Me Gusta School https://megustaspanish.com
Continental Spanish School http://www.schoolcontinental.com
Open Spanish Lessons https://www.openspanish.net
Types of Lessons available & costs
You can arrange lessons to suit your skill level from complete novices like us to advanced linguists hoping to find a little more finesse.
When you meet your teacher, make sure to have a chat about what your aim is so lessons can be adapted.
Lessons are available on a 1:1 basis, small or larger groups classes. A 1:1 session will cost around 45 Bolivianos per hour and if you block book a large number of hours, you may be able to negotiate a discount.
Small and larger group classes tend to be a little cheaper by the hour but make sure you will be with a group of students of a similar skill set so you don't get left behind, or held back.
Depending on the school, tutors can be provided for full day sessions.
It's also worth noting, Sucre is at about 2600 metres above sea level. If you've arrived from a lower altitude, it will take a few days or so to acclimatise.
Add to your school bag of woes, Sucre is quite hilly, so either find accommodation nearby your school or quickly learn how to hail and direct a cheap taxi.
Thinking and even walking at altitude can take a little getting used to!
What to expect at a Spanish class
Depending on your skill level, needs and learning ability, your tutor will determine the lesson's agenda.
If, like us, you wanted to grasp the basics as a novice and have a more informal 1:1 approach you might need to shop around to find a tutor willing to take you on and have capacity in their work load.
You may need to compromise on lesson length and timings.
As novices needing at least basic Spanish vocabulary to allow us to deal with travel formalities, our tutor started with the basics of filling in official visa forms. We know what our marital status is now! Estamos casados.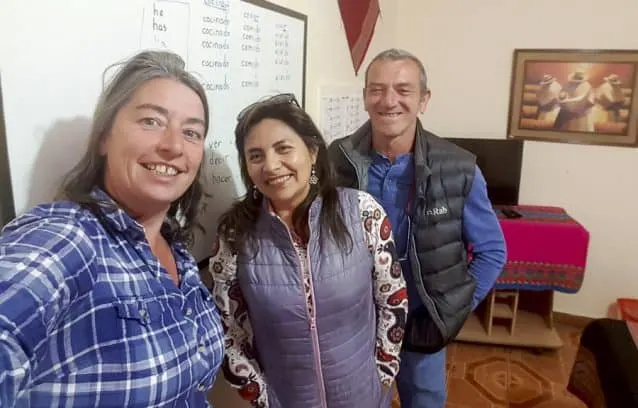 Pronunciation, verbs and grammar
We spent time learning how to pronounce the Spanish alphabet correctly. It kind of sounds tedious but these are the basics that helped us get over the issues of being understood.
At one stage I was reciting them with a pen between my teeth to try and help with my pronunciation. Angela still makes me do it occasionally too!
Very quickly we began to recite key verbs and the conjugations for I, you, he, she, us and them. Our first verbs were to need, to want and to be able to.
Our list grew by 5 regular verbs per day. Regular verbs are conjugated by the actor consistently so once we'd learnt the rules, and the infinitive version of the verb, it opened up a whole new set of things we could say.
Of course there were a few irregular verbs thrown in to make our homework a little harder.
We continued with some basic principles of feminine and masculine nouns, their plurals and how to structure sentences correctly. We can count (hoorah!) and can even talk about things in the past and future tenses, in a very simple way.
And we learnt loads of nouns and a few adjectives for good measure too.
Homework!
We received print outs of lesson sections, explaining concepts in more detail. These were often followed by exercises we'd need to complete for homework.
Add to this lists of verbs, adjectives and nouns we had to learn, we ended up with large school bags and spent an extra 2 – 4 hours each day studying.
Of course we'd use our new found skills in the bars, cafés and shops of Sucre too, with varying levels of success.
Read more: The authentic Bolivia at the Tarabuco textile market
And how is our Spanish now?
In the first week of our Spanish classes, Veronica went through the basics and explained things in English. By the end of our 3rd week, she was speaking to us in Spanish most of the time.
By some miracle (or more likely excellent teaching skills), we could even understand her and respond in Spanish too.
Admittedly we're talking like babies… give me, want this or I have that and perhaps our verbs conjugations aren't always right. Even so, slowly but surely we are communicating more and more in Spanish.
And what of "dónde eres" and "la tribu tonto"? The Uruguayan cashier was just asking where was I from, and her colleague was just calling me an idiot!
Resources to help you study Spanish
We struggled mostly with our pronunciation. We highly recommend taking a few classes to help you understand how the Spanish alphabet is pronounced correctly.
If we'd known how to pronounce the words we were learning from our phrase books we'd have had a fighting chance of people understanding us more than they did.
Phrase books are great for the basics. If you're on a short trip, taking along a phrase book will be a help in some circumstances.
For more complete study material, we're using the BBC talk Spanish series. It includes a grammar book to help with verbs and their conjugation and a let's start talking book to help with the basics.
There's a CD included too with loads of exercises to follow throughout the book. It also makes sure you know how to pronounce the new words and phrases you learn as you go.

There's no real substitute for actually speaking the language though. If you're in a Spanish speaking country, it's the perfect opportunity to practice.
Most people we meet are patient and even helpful with our spoken Spanish. We think they'd rather hear our poor Spanish than listen to us apologise for not speaking their language.
If you're not in a Spanish speaking country, the chances are there will be Spanish speakers in your neighbourhood. Look out for Spanish community groups you can join.
And finally, most people have a smart phone so download a the Google Translate app with the offline Spanish dictionary. Just don't be lazy and rely on it too heavily.
Like it? Pin it!