We learnt about Lumsdale Falls one evening in mid-winter as we lounged in front of the fire and knew we had to visit. It's only about an hour's drive from home so we set off the following morning.
Lumsdale Falls are pretty much hidden away on the outskirts of Matlock.
There are few obvious signposts and so most visitors to the area probably pass by without ever knowing they're there.
And what a shame to miss this wonderful place!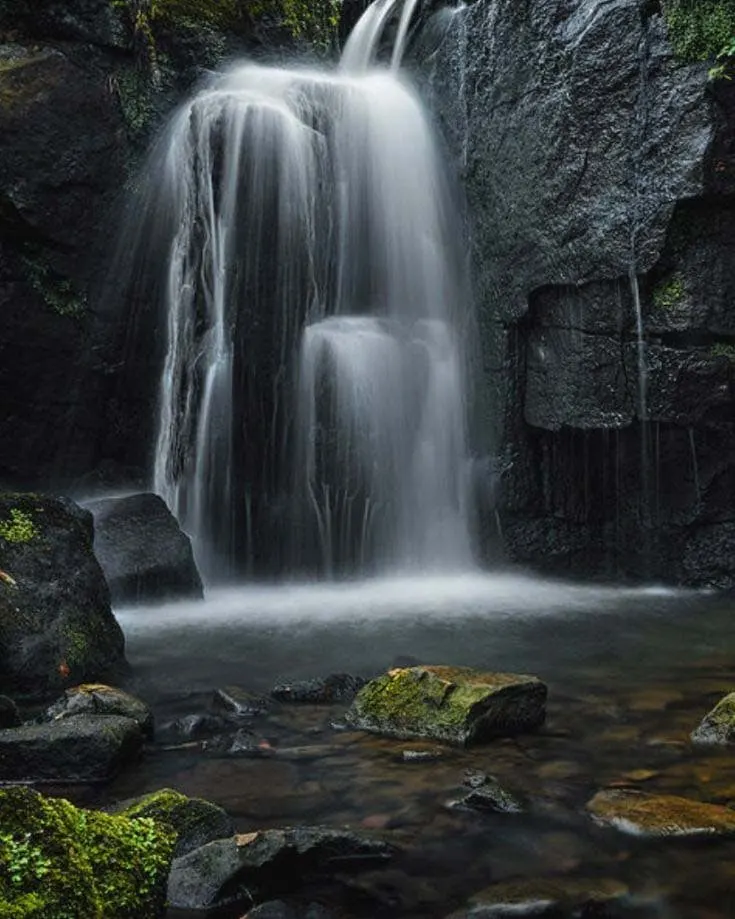 Lumsdale Valley History In Brief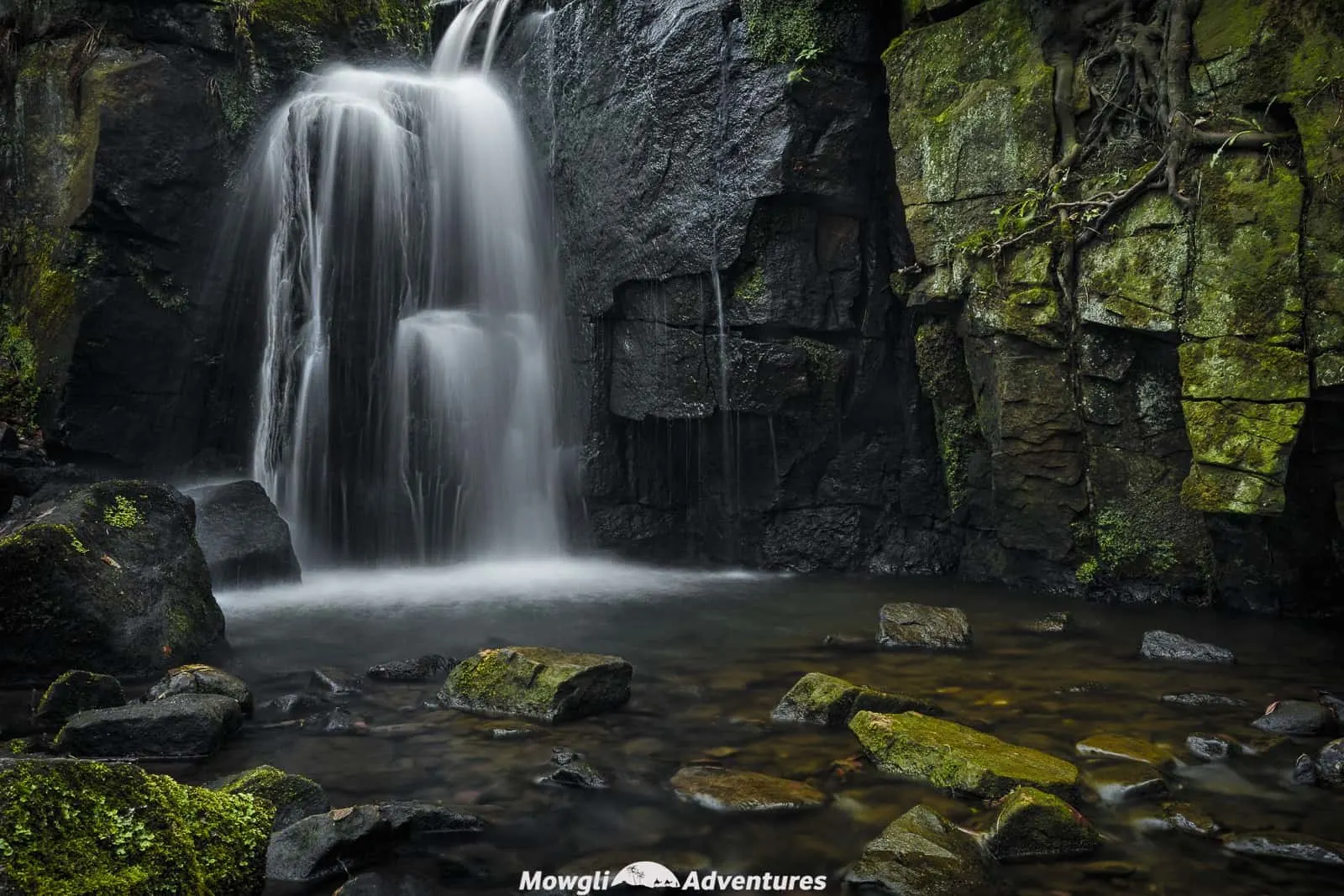 Lumsdale Valley was once a hive of industrial activity. Bustling mills, each powered by the ever-flowing and dammed waters of Bentley Brook, once lined the length of the valley.
But long gone are the days of bone and paint mills, huge water fed grinding wheels and bleaching cotton. Today, these mills are abandoned and in ruins with nature engulfing their stone remains.
The waterfalls, pools and ruins along the Lumsdale Valley make for a wonderful walk and it's so photogenic too.
The moss clad dry stone buildings sit dormant now alongside the ever-changing landscape.
The brook still flows, following its route down the valley, gathering in the mill pools before cascading past the remnants of the early years of the industrial revolution.
This area needs your respect. It's so beautiful and yet so fragile too. The wildlife here is special and the ruins continue to erode so leave no trace.
It's important to take your litter home with you, don't do anything to damage the trees or buildings and simply enjoy these wonderful surroundings.
How does the saying go? Take nothing but pictures, leave nothing but footprints, kill nothing but time. And keep an eye out for fairies too!
Lumsdale Valley Walking Route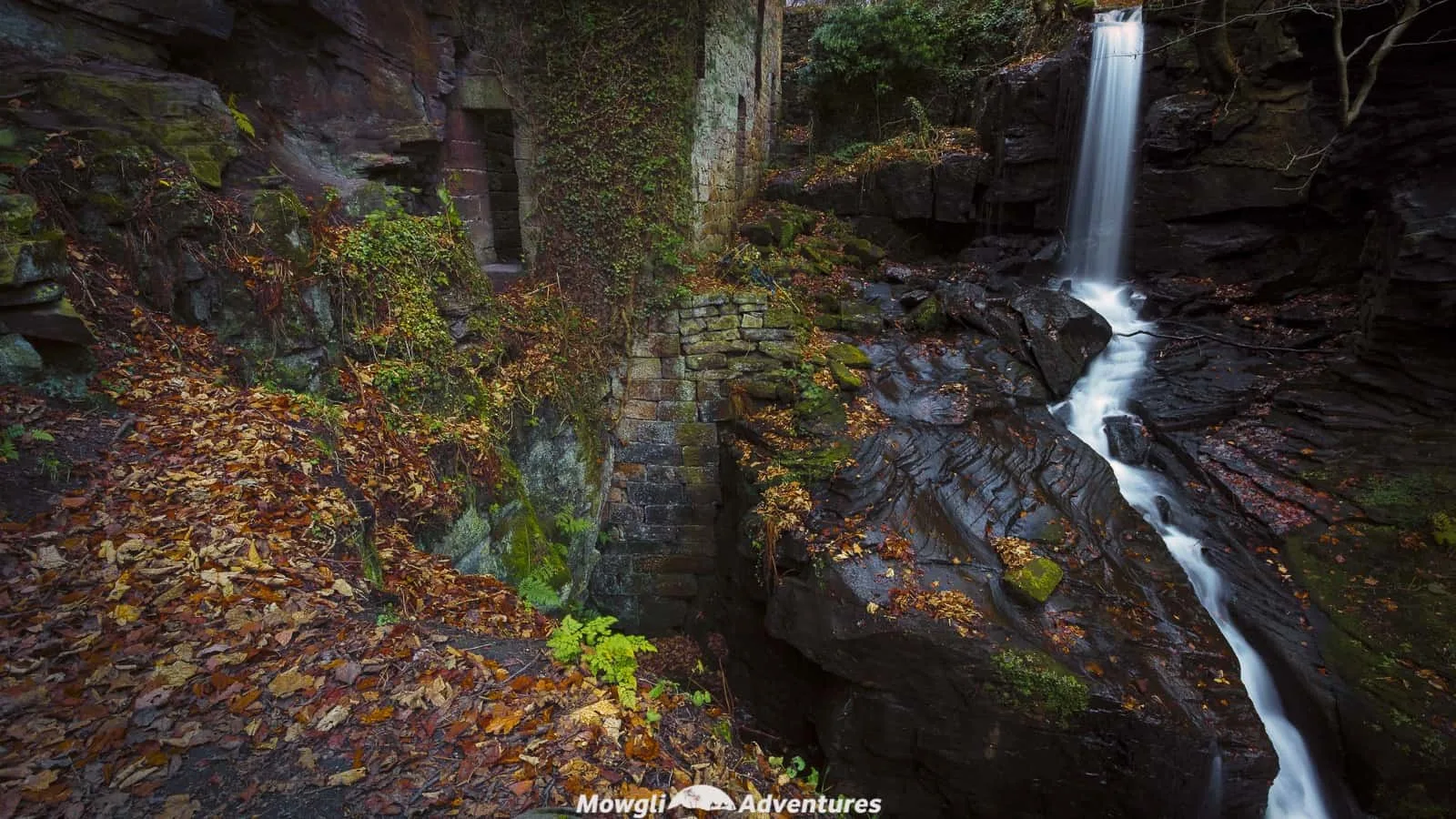 When you click on links to various merchants on this site and make a purchase, this can result in this site earning a commission. As an Amazon Associate we earn from qualifying purchases. For more info, please check our disclosure page.
The walking route follows the gorge from Matlock all the way up to Lumsdale village. It's about 2 miles in each direction.
It's a child-friendly and dog-friendly path, although please keep your dogs on a lead and pick up after them.
Lumsdale Falls Route Map
The full details of the route and a downloadable map are available on this GPS walking route website.
For anyone planning on exploring many of the beautiful Peak District walks on offer (and there are lots to discover), we recommend you arm yourself with a paper map. Two ordnance survey maps cover the entire Peak District:
OL1 – Dark Peak Area – basically the northern side of the National Park
OL24 – White Peak Area – the southern end
OL24 covers the Lumdale Falls route.
Compare the price of buying the maps at Amazon or direct from Ordnance Survey. You can expect to pay less than £10 for a standard map, but Amazon is often a little cheaper than buying directly from OS. Weatherproof maps are more hardwearing and won't disintegrate in the inevitable rain showers. They generally cost a couple of pounds more.
Compare prices here:
Ordnance Survey also has a highly rated app if you prefer a mobile app for mapping purposes. Keen walkers will get a good deal from their annual subscription. Monthly options are also available and more cost-effective for occasional jaunts.
A budget-friendly option is also available on the app's website where you can select a walking route and print the map to a printer or pdf for free, so you can keep it on your phone for reference.
How To Get To Lumsdale Falls
Lumsdale Falls are set along the Lumsdale Valley, a short walk from Matlock in Derbyshire, on the edge of the Peak District National Park.
By car | we visited Lumsdale Falls by car and if you want to explore the Peak District, we recommend this as the best way to explore the region. Car rental is widely available in and around the National Park.
By train | If you want to make your way to Lumsdale Falls by train, the best way is to your way to Nottingham or Derby. From there, you will find regular departures to Matlock.
The journey from Nottingham to Matlock takes 1 hour and costs about £10 return. The journey from Derby to Matlock takes half an hour and costs about £6 return.
Parking For Lumsdale Falls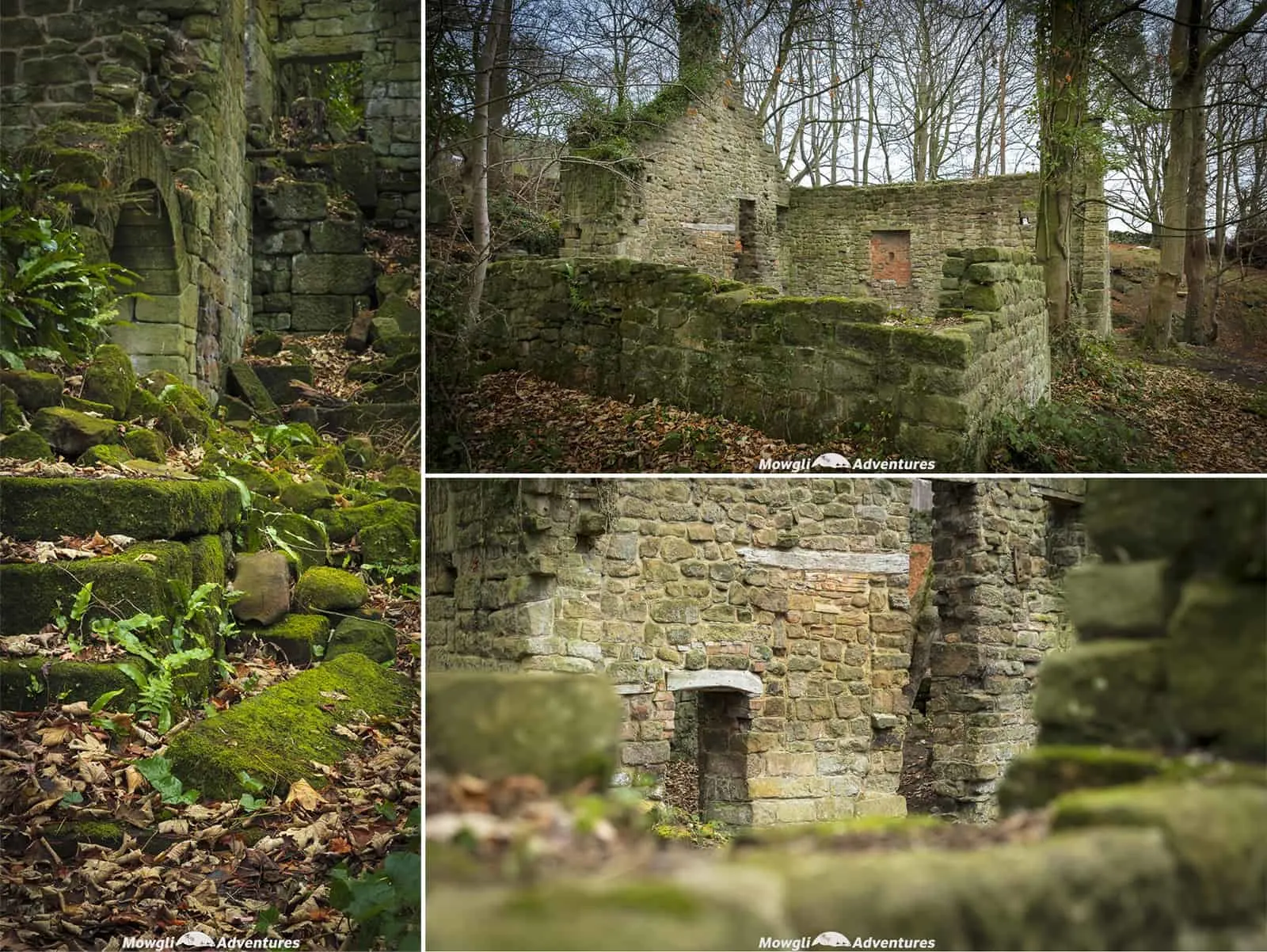 Lumsdale is a small village so doesn't have loads of parking facilities. There are free spaces opposite Highfields School in the village.
Use the school's postcode (DE4 5NA) in your sat nav to get there.
We parked here and as it was a school day in the middle of December we were lucky to get a space.
I can imagine at weekends or during the holiday period, these spaces will fill up fast.
The larger town of Matlock has plenty of parking so if you visit during a busier period, it's best to park there. It's only a mile walk to the falls from Matlock so no hassle at all.
There are some reports of visitors parking along the lane running parallel to the falls or at the bottom of the valley.
It's a single track lane with a few passing places and many blind bends.
The lane serves residents and when visitors park there, they cause significant congestion.
Be considerate and park in Matlock or up at the school and leave the lane clear.
Lumsdale Falls is on private land. While it is generally open to the public, under some circumstances, access is restricted.
Before travelling to Lumsdale Falls, check if the site is open to the public.
What To Wear
The route along the valley is steep in parts, muddy in others and if you venture off the path to get closer to the water's edge, somewhat rocky.
Regardless of the time of year, it could be slippy underfoot too. And this is England. The weather could do just about anything.
Hiking boots | A decent pair of walking boots will make your walk much more comfortable. The ground can be uneven and a good quality boot provides excellent ankle support and keeps your feet warm and dry.
Backpack | 35 litres is a good size bag for short day hikes. It's big enough to carry our camera gear, lunch, water bottles and other essentials. We even strap our tripods to it. Try to get one with a rain cover and if it doesn't have one, buy one separately.
Waterproof jacket | Honestly, even if the day starts out glorious, prepare for at least a light shower – if not worse. At least check the forecast before you set off.
Camera Gear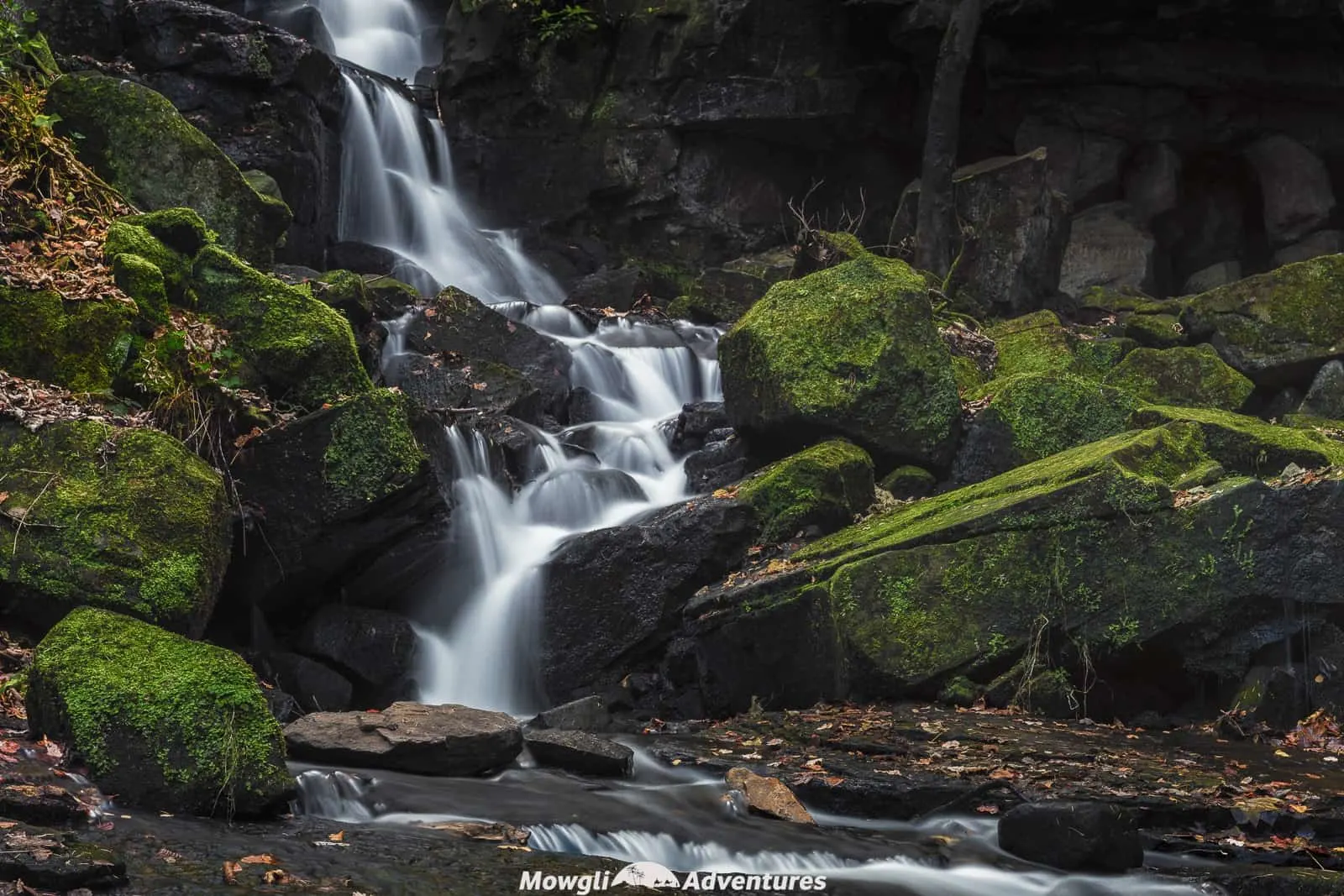 If you're a keen photographer, a few choice items of gear will help you get the best out of the photography opportunities Lumsdale Falls offers.
I used a Canon 5DS R with the 17-40mm f4 wide angle and 24-70mm f2.8 zoom lenses.
If you have any lens within this kind of range, you're good to go.
If you're more serious about your photos, think about attaching a polarizing filter to help reduce glare and manage reflections on water's surface.
And do you want to get that dreamy water look? You'll need a sturdy tripod capable of carrying the combined weight of your camera and lens too.
I use a carbon fibre tripod because it's relatively lightweight, so ideal for carrying while walking uphill! We visited in early December and it was quite an overcast day.
This meant no harsh or direct sunlight and I could get a slow enough shutter speed without the need for extra filters.
Regardless of what kit you have in your camera bag, get out there and just enjoy it!
If you'd like to know more about the history of Lumsdale Valley, head on over here. You can even arrange a guided tour on Sundays between March and October.
Buy Framed Photos of Lumsdale Falls
Some of the photographs featured in this post are available for sale. We have framed prints, canvas and even metallic prints available.
Click on any of the photographs below to see the full range of products available.
Other Peak District Walks
Set within so much wonderful countryside, the Peak District is a popular place for walking holidays in the UK.
Walking paths, trails and treks are in abundance. If you have a few hours, a whole day or a weekend, there's plenty of walks to choose from. Start here with Dovedale Walk, a splendid circular walking trail including the infamous Dovedale Stepping Stones.
The Peak District National Park even marks the start of the infamous Pennine Way. It's a 268-mile trail from Edale village to Kirk Yetholm, Scotland, passing through the Yorkshire Dales and Northumberland National Park en route.
The towns near Lumsdale Waterfalls of Buxton, Matlock and Bakewell all have fabulous walks right on their doorsteps so you never have to travel too far from your base to get stretching those legs.
Love waterfalls? We've listed our favourite 13 Peak District waterfalls and their walks all in one post. And you can check out our top 10 Peak District walks here.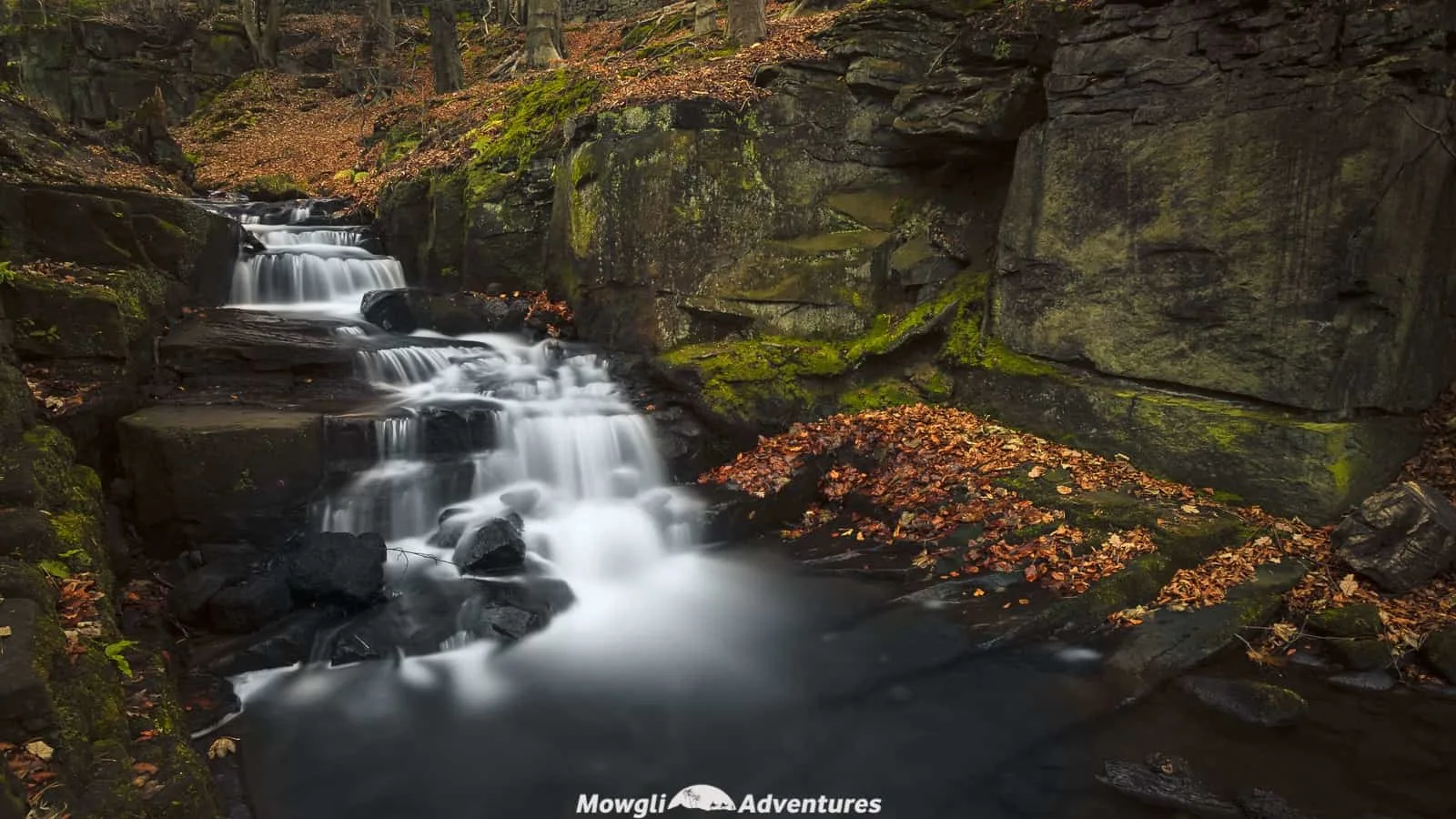 Where to Stay Near Lumsdale Waterfalls
Derbyshire's Peak District National Park has places to stay to suit all budgets and many, ooze character.
We've handpicked a few we think are just lovely near Derbyshire towns of Matlock, Buxton and Bakewell.
Guesthouses & Holiday Cottages
One Church Street | This gorgeous, spacious and cosy holiday cottage in Tansley, is a short distance from Lumsdale Falls.
A roaring open fire and all the mod cons make sure you'll have a comfortable stay here.
And best of all? The village pub is a few doors away! For more information and to check availability and prices, click here.
The Red Lion | Guests love the town location of this comfortable Derbyshire inn and the food gets rave reviews.
If you want to be close to local amenities, The Red Lion offers comfortable accommodation on the edge of Matlock.
For more information and to check availability and prices, click here.
Idyllic Airbnb
If you'd prefer something more private, there's lots of great value Airbnbs in the area too. Choose from barn conversions to riverside cottages – take a look here.
And if you've not already registered, save a few quid on your first rental with this link.
Peak District National Park Camping
With unparalleled views of steep limestone valleys and dramatic ridges hemming in stark moorland, the Peak District is a perfect place for camping.
Surrounded by a diverse network of walking trails right on the doorstep, your only challenge is choosing where to camp.
Take a look at the Hip Camp website for loads of campsites – most are pretty cool!
If you'd prefer more budget accommodation, make sure to check out Hostelworld for their latest rates and availability.
Like it? Pin it!