While living on the road is typically cheaper than maintaining a traditional household, it's not free. So how do you finance your trips if you're not retired or don't have a ton of savings? How do you make money living in a van? It's easy: You find van life jobs.
Making a living while RVing isn't as daunting as it might sound. If you have access to a computer and the internet, there are tons of ideas for how to make money living in a van. Don't want to be tied to a screen? There are lots of outside jobs too.
Check out our tips below for how to make money living on the road, and you may find that you can travel longer and farther now that you have ways to bring in some cash.
Online Gigs for Making Money on the Road
For many van campers, making money on the road is easiest with a computer and internet connection. Here are some ideas on how you can support yourself by becoming a digital nomad.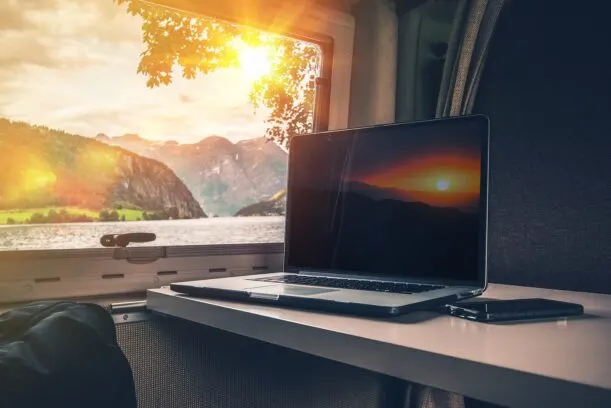 Start a Blog
One method for making money on the road, without having to maintain regular office hours, is to start your own blog. This type of job truly does offer lots of freedom: You can work when you want and you can write about what you want. Once you've got some content on your blog, you can start making money by joining an ad network or affiliate program.
Become a Copywriter
Like the idea of writing but don't want to manage your own website? Become a copywriter instead. Lots of companies outsource their content needs to talented writers, many of whom work from home or on the road. Depending on your interests, you could write product descriptions, blog posts, buying guides, and more, spanning all kinds of subjects and industries.
Write an Ebook or Novel
If you prefer long-form or creative writing, writing an ebook or novel is another idea for making a living while RVing. It's also a job you can do if you won't have an internet connection for a while — write when you can, and then upload what you've got whenever you reach a spot with cell service. Ebooks tend to focus on factual subjects, like how to make money living in a van or how to pack for an extended trip, while novels can be where you let your imagination run free.
Create a YouTube Channel
If you're not much for writing, you can create YouTube videos instead. For this van life job, you really only need a camera, a laptop, and a great backdrop. Your YouTube channel can be dedicated to whatever interests you, and once you've got a large following, you'll start marking money through ads shown before and during your videos.
Teach or Tutor Eager Students
Teaching what you know to eager students across the world is another interesting idea for how to make money living on the road. Best of all, you don't always have to be an expert. If you're an English speaker, you can get a job teaching foreign language students your native tongue. You can also sign up to be a tutor in a range of subjects, ranging from math to grammar.
Capitalize on Your Talent
If you're an artist, graphic designer, musician, or photographer — or possess some other special talent — there are lots of ways of making a living while RVing. You can sell your creations, products, or services on a one-off basis (just create, list, and sell) or you can contract with a company for ongoing services.
Offer Virtual Assistant Services
If you're the organized type (you'd be surprised how many aren't!), you can put that skill to work for you by becoming a virtual assistant. VAs can take on all kinds of duties, from scheduling appointments and handling email to data entry and customer service. Depending on your schedule, you could pick up one or two clients for a few hours of work each week or multiple customers to stay busy every day.
Make and Sell Your Own Products
Some crafty people know all about how to make money living on the road: They actually make and sell their products right from the comfort of their camper van! While this job might not work well if your craft of choice is something like building dog houses (where will you store them?!), it could be perfect if you like to make jewelry, candles, and other smaller goods.
Buy and Sell Thrift Store Finds
Not great at making things? It's okay. You can still get into the selling game by hitting up flea markets and thrift stores on your travels. The idea here is to find low-priced products that you can flip online for a profit. You can sell on sites like Craigslist or Poshmark (great for clothing), or you can find buyers on message boards and social media channels for more niche items.
Set Up a Dropship Business
One problem with selling out of your van is that you have to give up precious real estate to store merchandise. This is definitely not something everyone can afford. However, you can still make a living while RVing by selling — and you never have to touch a single product. You do this by setting up a dropship business. Basically, your merchandise sits in a warehouse (picture Amazon or a spot in Asia), and warehouse workers pack and ship your items on your behalf whenever they sell.
Earn Cash Back on Your Purchases
When you're living on the road, sometimes you don't necessarily need to earn money so much as make what you have go further. If this sounds like your situation, this tip is for you: Make sure you're earning cash back on all your purchases! If you're shopping online, you can use a website like Rakuten to each get back a small portion of what you spend. For both online and offline purchases, use a credit card that rewards you with cash back, travel miles, or other benefits that will help you save.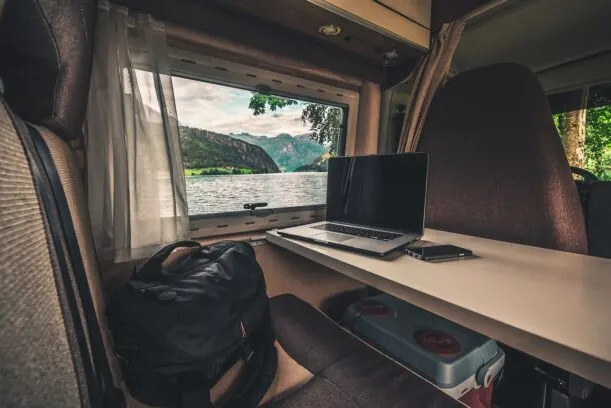 Offline Opportunities for Making a Living While RVing
Looking for ideas on how to make money living in a van that don't involve having to sit at the computer? We've got you covered. The following opportunities involve getting out of the camper to earn some dough.
Snag a House Sitting Gig
We get it: Van living is where it's at. But should you find yourself needing a little more space to stretch out, don't look for a hotel — look for a house sitting gig instead! When you watch someone's house for them (typically when they go away on vacation, business, or another extended trip), you'll get paid to stay in a place that's got running water, air conditioning or heat, and maybe even cable TV.
Take Some Dogs for a Walk
Love dogs? Love walking? Why not get paid to take some dogs on a walk? As a dog walker, busy pet parents will pay you to take their furry friends out for some fresh air. You might also be able to make some money by staying at the house with the pet or stopping by several times a day to fill up their water bowl, feed them, or just check on them.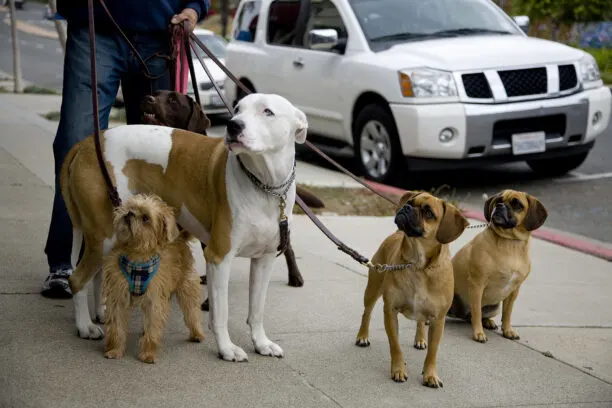 Get a Job at a Restaurant
Restaurant jobs are great for making money on the road because they don't have to be all-day affairs and you can snag some jobs even if you don't have any experience. Dishwasher and busser are two examples of entry-level jobs — just let them show you what needs to be done and then get to work. If you have more experience, you can work as a waitress, cook, or bartender.
Make Grocery and Food Deliveries
Assuming you've got a second vehicle with you, like a small car, motorcycle, or scooter, you can make some extra cash while on the road by delivering groceries and food. To work as a personal shopper, sign up with a service like Instacart or Shipt. For food delivery gigs, you can register with GrubHub and DoorDash, or you can work directly for a local pizza joint or other restaurant.
Look for Odd Jobs on Message Boards
Craigslist and similar message boards can be a great place to look for jobs you can do while RVing. Depending on what you want to do, you can snag handyman-type gigs where you clean gutters, mow lawns, or paint houses, or you can look for one-off jobs like helping someone pack up for a move or clean out a vacated home.
Post Your Own Ad
In addition to being a good place to look for jobs, message boards are also a great resource for posting ads of your own. If you're a housekeeper, massage therapist, or nail technician in your non-van life, you can do some of the same work while on the road. Create a listing offering your services, and pick up one-off clients while you travel.
Sign Up with a Temp Agency
Whether you're looking for a job for a few days or a few weeks, a temp agency can help you with making money on the road. With an agency, you might do anything from office and restaurant work to construction and day labor. Better yet, some temp agencies have offices throughout the country, so you can sign up once and find new jobs whenever you land somewhere different.
Sell Your Plasma
Want to earn money but don't really want to hold down a job? Selling plasma might just be the van life job of your dreams! Unlike giving blood, selling plasma involves sitting around for an hour or so while a machine pulls blood from your body, siphons off the plasma, and then returns the blood back to you. Most people can donate up to twice per week, so this is a convenient way to earn a little spending cash — assuming you're not too squeamish.
Rent Out Your Home Base
Surprisingly, not all RVers realize that one of the simplest ideas for how to make money living in a van is to just rent out your home base. If you're going to be on the road for months at a time (or even longer), why leave your house sitting empty when you can get a quality tenant in there? Depending on your mortgage and your area, you may be able to easily charge a monthly rent that covers your house payment plus gives you extra cash.
Living on the road can be freeing, but it doesn't come for free. If you don't have a nest egg to cover your travel expenses, you may need to find jobs you can do while traveling in an RV or camper van to support your lifestyle. Thankfully, there are plenty of opportunities out there that are suitable for people from all walks of life.
Read to hit the road? Make sure you've got everything you need by checking out our road trip essentials packing list.