It's a sad truth, but throughout most of the world, if you want to enjoy the stunning views at the top of a mountain, you must first endure the gruelling ascent.
That's not the case at Mam Tor, however, as this walk provides a gorgeous mountain and picturesque views — and reaching the summit is as easy as taking a brisk stroll up a well-maintained path.
The surrounding area is no slouch, either. The town of Castleton is within walking distance of the mountain, and there you'll find great food, comfortable lodging, and more history than you can shake a stick at.
Fair warning, though: while Mam Tor is definitely one of the jewels of the Peaks District, it's certainly not an unknown attraction. The area swells with hikers and tourists, especially on weekends and holidays, so you'll need to plan your trip in advance and get here plenty early to avoid the crowds.
The climb itself is moderately challenging; it's not the most demanding trek in the Peaks District by any means, but don't be surprised if you're huffing and puffing a bit by the end of it. There's no hurry to reach the top, though, as you'll be surrounded by gorgeous scenery (and sheep) virtually every step of the way.
You can bring your dogs and kids, but please keep them both on short leads (kidding about the children — mostly). There's a clear path to follow from the start of the trail to the top of Mam Tor, and the National Trust requests that you stay on it to disturb the surrounding environment as little as possible.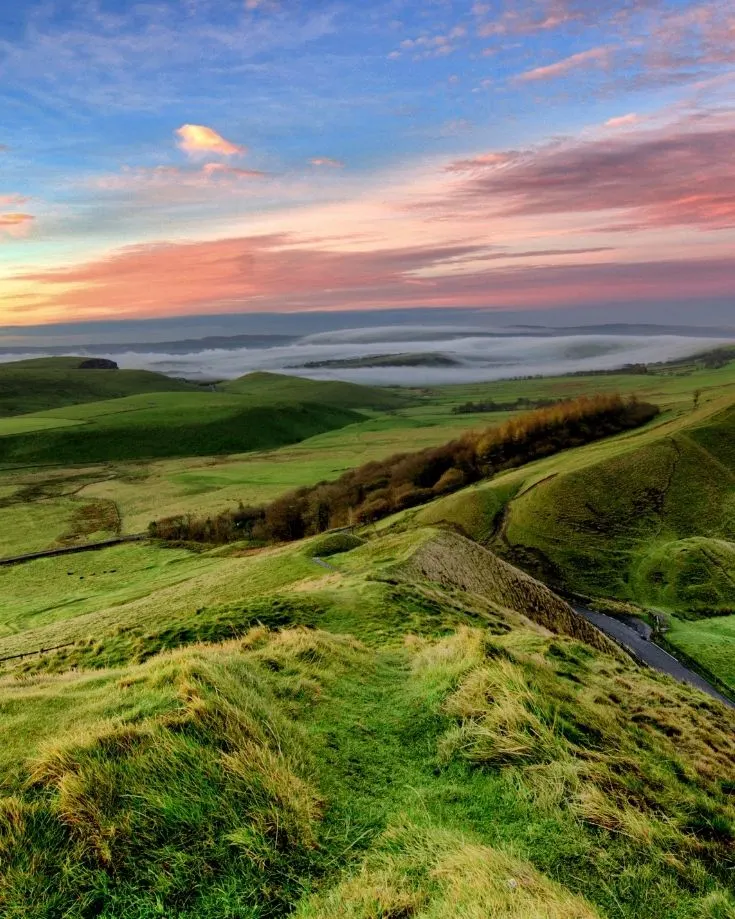 When you click on links to various merchants on this site and make a purchase, this can result in this site earning a commission. As Amazon Associates, we earn from qualifying purchases. For more info, please check our disclosure page.
Mam Tor Walk Stats
Distance: 2.8 miles/4.5 km
Type of trail: Circular
Parking options: The primary parking spot is the Mam Nick car park at the start of the trail; it's £3.50 for the first 7 hours and £5 for all-day parking. A few small spots offer free parking, including the Peak District National Park Authority (it's limited to 2 hours, however). There are free laybys around as well, but they fill up quickly.
Walk points of interest: Mam Tor, Vale of Edale, Peveril Castle
How long does Mam Tor Walk take? 1.5 – 2.5 hours
Accessibility: The paths are well-maintained but can be steep at times, so it's not really wheelchair- or pram-friendly. Also, you'll have to cross several gates and stiles along the way.
Total ascent for Mam Tor Walk: 656 ft./200 m
Are there public bathrooms? There are no toilets on the walk itself. However, there are public toilets in nearby Castleton near the Visitor Centre and at various pubs and shops in town.
Best places to eat nearby: Rose Cottage Cafe and 1530, both in Castleton.
Best places to stay nearby: Ye Olde Nags Head (best romantic spot), Dunscar Farm Bed & Breakfast (best for hikers)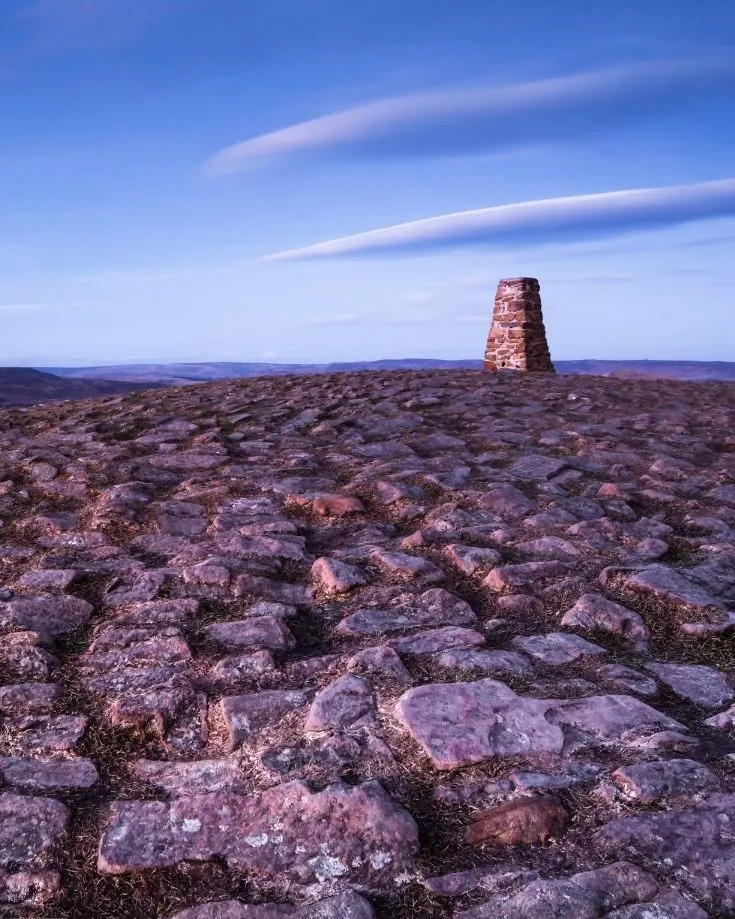 Mam Tor Walk Circular Route
There are a few different ways to handle the Mam Tor Walk, but the most common (and easiest) is to take the circular path.
Starting at the Mam Nick car park, take the path up into the woodlands. You'll soon come to a gate that you must enter; after that, follow the stone steps on your right. They'll take you to the summit of Mam Tor.
Once you're on top of the mountain, take the ridge to Hollins Cross, where you'll find another gate on your right. Enter it, and then start your descent.
This will take you back into the woodlands, and if you continue to take the path towards the right, you'll find another car park. From here, head to Blue Johns Cavern and follow signage for Windy Knoll. Eventually, you'll come to a road, and across the way, you'll arrive back at Mam Nick car park again.
This path is clearly laid out, so it's nearly impossible to lose your way. This allows you to focus on the beauty around you rather than trying to remember how to get back to your car. The path is also well-maintained, so it's easy to stick to, and it's requested that you do so that you disturb nature as little as possible.
There are two other commonly-used trails, both of which are longer and more challenging. We'll briefly recap them below: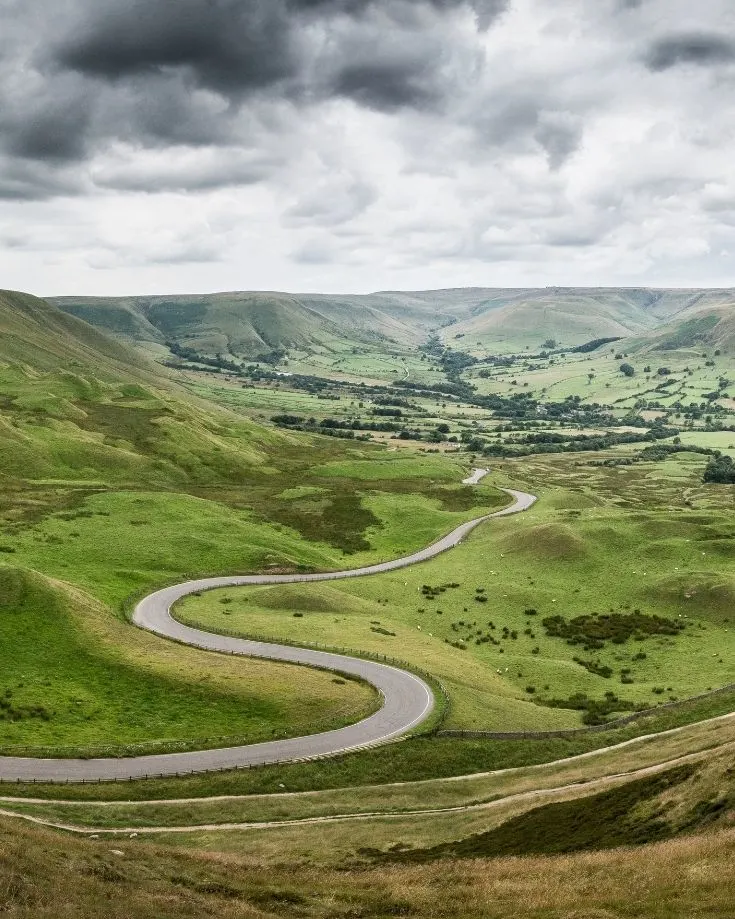 Castleton to Mam Tor
This path starts at the Castleton Bus Station and slowly winds its way towards Mam Tor. You'll pass Blue John Cavern and the Great Ridge, and you'll also have to traverse some rocky terrain.
The total length of this trail is about 6.5 miles (10.5 km).
Hope to Mam Tor
The most challenging option, this path starts in Hope village and takes you through Hope Pinfold, over an old railway bridge, and through Lose Hill Farm. It's not very clearly marked until you officially reach the Mam Tor path.
This walk takes roughly 9 miles (14.5 km) to complete.
Kinder Scout and Mam Tour Circular Route
Fancy taking things a step – or 12 km – further? Combining the Mam Tor route with the Kinder Scout walk isn't for the faint hearted.
Combining the two routes into one circular loop requires a good level of fitness and desire to take in some of the best views the Peak District has to offer – all on one epic 17 kilometre walking trail.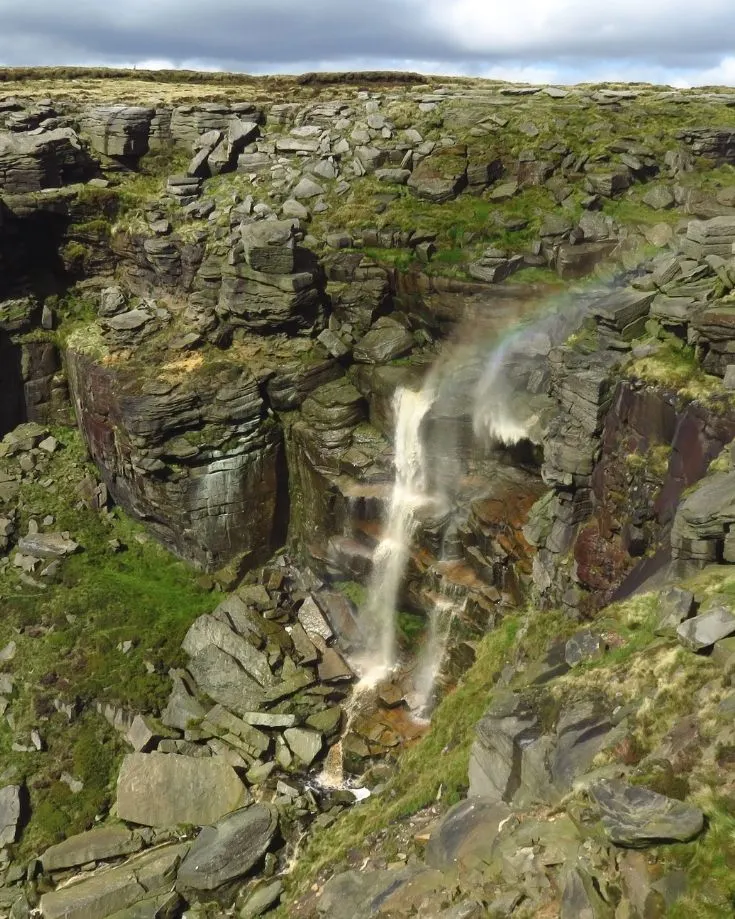 Facilities on Mam Tor Walk
You won't have many bathroom options once you're on the path (and remember, the sheep are judging you), so your best bet is to go somewhere in Castleton before you begin or after you're done.
There are free public toilets at the Castleton Visitor Centre, and there are plenty of shops, pubs, and restaurants in the village that can accommodate you. You may need to buy something before you're allowed to use the facilities, but don't worry — the food in town is excellent.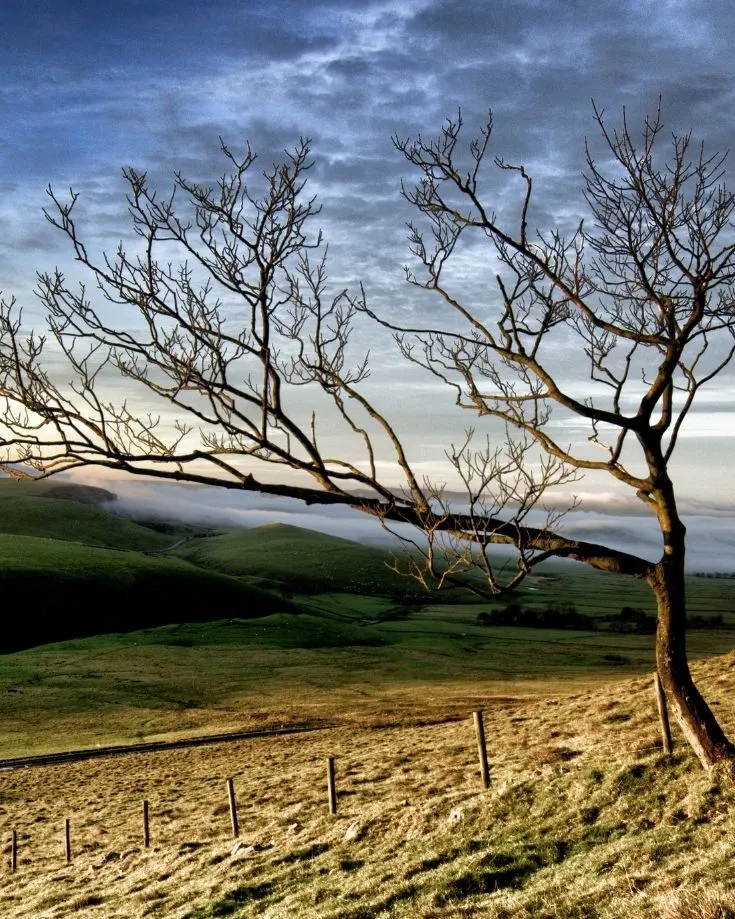 Best Places to Eat Near Mam Tor Walk
Climbing mountains is a great way to make yourself hungry, so after you get off the peak, head over to nearby Castleton to check out some of the local offerings. All of the food in town is good, but these places are our favourites:
This small cafe might not look like much, but inside you'll find some truly incredible desserts, especially if you stop by for tea and cake. They can accommodate vegans, vegetarians, and those with gluten allergies, and the quality of those recipes doesn't dip below the non-speciality cuisine.
This isn't just a pastry shop, though. They have excellent lunch food, with the grilled halloumi being a local favourite. This is a great place to pop in after you've reached the peak of Mam Tor, or you can get an energy boost here before beginning your ascent.
1530 is a cosy, elegant option that will scratch your itch for fine dining. While it definitely has a classy ambience, you don't need to dress up to eat here, so feel free to stop in after you're done with your hike.
The pasta dishes are excellent, and the pizza is delicious as well. You'd be forgiven for treating the meal as simply a prelude to dessert, though, as many people come here just for the cheesecake.
If you simply want a traditional pub, they don't come much better (or more traditional) than The George. This place boasts a beer garden and has plenty of outside seating, or you can get out of the cold and sit by the indoor fireplace.
The fare isn't especially creative, but if you're more interested in well-done comfort food, this is the place to be. The burgers, pizza, and sandwiches are all tasty and quite filling, so feel free to build up a powerful hunger on the mountain.
Another well-done British pub, Ye Olde Nags Head understands that you're likely to be as thirsty as you are hungry when you climb off that mountain. The drink list is quite extensive, with an incredible selection of gins, and your mouth shouldn't be dry when you walk out the door.
Like The George, this place offers traditional British fare, including pizzas, salads, and skewers. Their daily specials are wonderful as well, and if you can drag yourself out of bed by 11 am, you can enjoy the gigantic Derbyshire breakfast.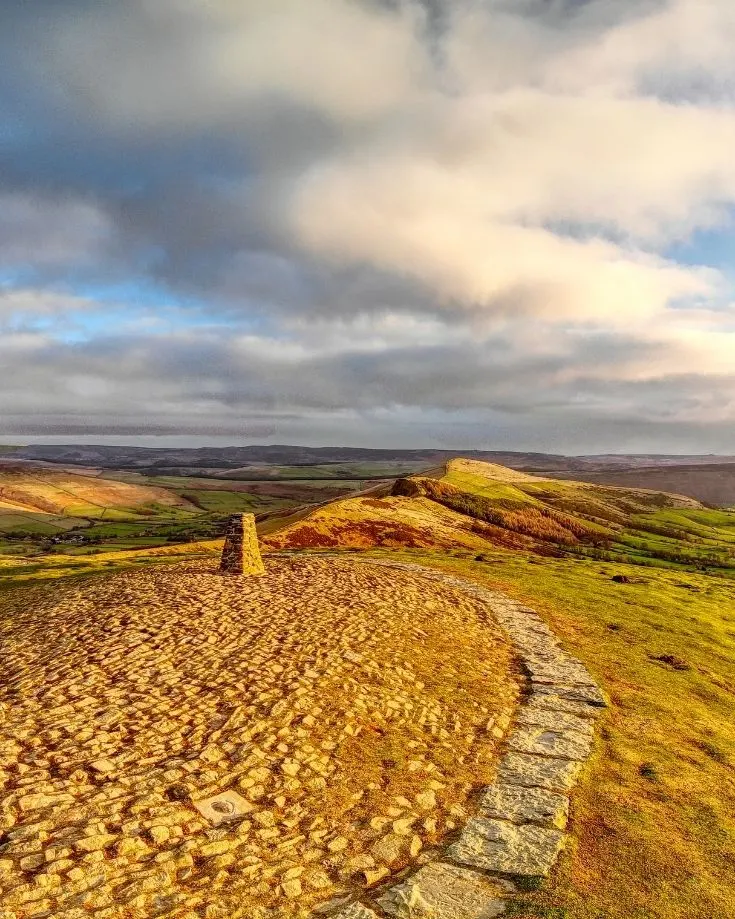 Best Places to Stay Near Mam Tor Walk
After a long day (or at least a few hours) spent scrambling up a mountainside, you'll need a place to relax. Here are our favourite lodging spots in the area:
The name may not be the most charming in the world, but Ye Olde Nags Head more than makes up for it with the comfort they offer. This is actually quite a romantic little spot, as the rooms are neat and cosy.
As mentioned above, the pub inside the hotel is quite the attraction in its own right, so you won't have to stumble far out of bed to get a great meal. The bar can be lively at night, but not so much that it would interrupt your sleep — and hey, who needs sleep when you're having that much fun, right?
This quaint little inn is perfect for anyone planning to do some hiking in the area, as it's located right near several trails. The hosts put on a fantastic English breakfast, ensuring you'll have plenty of get-up-and-go to start your day.
You don't actually need to leave this B&B to check out the beautiful scenery in the region, though, as it offers some incredible views in its own right. There's plenty of space between the rooms, and each room has its own private bathroom.
As you might expect from a place with such a traditional pub, The George Inn also offers very traditional rooms. Everything is simple and elegant, and each room has a private bathroom and flatscreen TV.
Perhaps the most interesting (and appealing) thing about this inn is that it offers adults-only accommodations. So if you want an excuse to leave the kids behind while you spend a weekend in Castleton, they give you a built-in one right there.
Located a short walk from the historic Peveril Castle, Innkeeper's Lodge provides spacious rooms with breathtaking views. In addition to the standard furnishings, you'll also find a desk and tea service waiting for you in your room.
If you can tear yourself away from the plush accommodations, you'll find the hotel is very close to 4 show caverns, each of which can provide hours of fun as you explore the pits, chambers, and underground canals.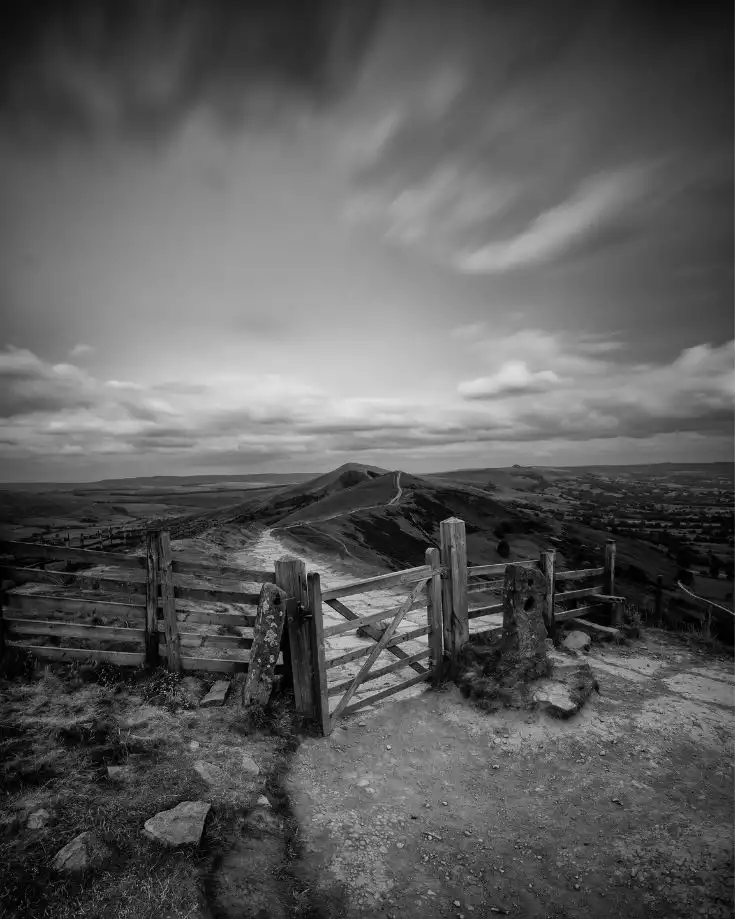 Best Place to Camp Near Mam Tor Walk
If the lodgings above are a bit too refined for your tastes, you can camp or park your campervan in one of several campgrounds in the area. However, this is our favourite:
While it's a bit of a drive from Mam Tor at 14 miles (22.5 km) away, Dale Farm Rural Campsite is worth the trek. Set up on a working farm, this campsite offers 30 pitches complete with washrooms. You can also rent a bell tent here if you forgot to bring your own furnishings.
One of the most enchanting things about this site is that the farm sells beef, hogget, and pork; raised campfires are also allowed, so you can eat quite well (and fresh) while you're here. Best of all, though, the place is far enough away from civilisation that you can really feel like you're alone in nature.
Mam Tour Walk Route Map
A detailed map of Mam Tor walk is available from Ordnance Survey. Unfortunately, we can't share the map here because the copyright belongs to the Crown, but you can see it in detail on their website.
For anyone planning on exploring many of the beautiful Peak District walks on offer (and there are lots to discover), we recommend you arm yourself with a paper map. Two ordnance survey maps cover the entire Peak District:
OL1 – Dark Peak Area – basically the northern side of the National Park
OL24 – White Peak Area – the southern end
OL1 covers the Mam Tor walk.
Compare the price of buying the maps at Amazon or direct from Ordnance Survey. You can expect to pay less than £10 for a standard map, but Amazon is often a little cheaper than buying directly from OS. Weatherproof maps are more hardwearing and won't disintegrate in the inevitable rain showers. They generally cost a couple of pounds more.
Compare prices here:
Ordnance Survey also has a highly rated app if you prefer a mobile app for mapping purposes. Keen walkers will get a good deal from their annual subscription. Monthly options are also available and more cost-effective for occasional jaunts.
A budget-friendly option is also available on the app's website where you can select a walking route and print the map to a printer or pdf for free, so you can keep it on your phone for reference.
How To Get To Mam Tor
Mam Tor is roughly equidistant (2.5 miles / 4 km) between Edale and Castleton villages. Surrounded by Edale and Hope Valleys in the Dark Peak area of the National Park, it's about 17 miles (27 km) south of Glossop and 15.5 miles (25 km) north of Bakewell.
By Car // The easiest way to get to the Mam Tor trailhead is by car. Use the Mam Nick car park coordinates – 53°20'44.4″N 1°48'56.4"W – to navigate, or take a look on Google Maps.
If you're visiting the area without your own wheels, consider getting a rental car to get the most out of your visit to the Peak District.
By Bus // A few bus routes run between Peak District villages serving Castleton and Edale. You can get the details of the service best suited to your location here.
By train // Travelling to Edale by train from Manchester or Sheffield is cheap, fast and direct. Check the latest timetable and ticket prices here.
By cycle // The fabulous National Cycle Network has well-marked routes throughout the Peak District, making it an ideal environmentally friendly way of getting here. Check out the detailed National Cycle Network on OS maps.
Other Useful Info About Mam Tor Walk
Upon reaching the top of the summit, you'll be able to see the Vale of Edale, Peveril Castle, Hope Valley, and possibly even the moors at Kinder Plateau. You may also see paragliders flying around, so watch your head.
While the path to Mam Tor is generally solid and well-maintained, it can get muddy after rain. This makes things incredibly slippery, especially on some of the descents. You'll also have to climb some stiles along the way. Wear shoes with good traction, is what we're saying.
Regardless of what time of year you visit, it can get very cold at the top of Mam Tor. Either bring a jacket or don't plan to stay at the peak for very long.
The name Mam Tor means "mother hill." It was given this moniker because it is prone to landslides, some of which have created smaller hills in the area. There used to be a road, the A625, that went around Mam Tor, but the shifting shale caused it to collapse one too many times, and the government finally conceded defeat.
Peveril Castle is an 11th-century Norman fortress built by William Peverel, a favoured follower of William the Conqueror. The castle was built to oversee lands granted to Peverel and protect the area's valuable lead resources. Local legend has it that Peverel chose this spot to build his castle because he was tired of being unable to find parking at the Mam Nick car park.
More Peak District Walks