The Marble Caves are one of the highlights of Chilean Patagonia.
In this guide, you'll find everything you need to plan your visit, including how to get to the Marble Caves and their less-visited neighbors, other things to do nearby, plus advice on where to stay, and essential travel tips.
---
You could pass by the village of Puerto Rio Tranquilo and be forgiven for thinking it has little to offer, at least not in the way of spectacular landmarks.
But all is not as it may first appear on the shores of the glorious turquoise Lago General Carrera.
Impossible to see from the shore, this coastline is the location of Patagonia's most dazzling highlight, the Marble Caves.
They are a mandatory stop on every Carretera Austral road trip, yet they aren't the only jaw-dropping attraction in the area.
This part of Patagonia is where the Andean mountain peaks cling to dripping glaciers, swathes of bright yellow, wild lupins contrast against the granite cliffs, and roadside waterfalls appear as if from nowhere.
In this guide for travelers, we've shared our tips on visiting the infamous Marble Caves, how to track down their lesser-visited neighbors, plus tips on other things to do, how to get there, where to stay and eat, and a few essentials to know before you visit.
This is our guide to visiting the Marble Caves in Chile, plus all you need to know to plan your visit.
What Are The Marble Caves & How Were They Formed?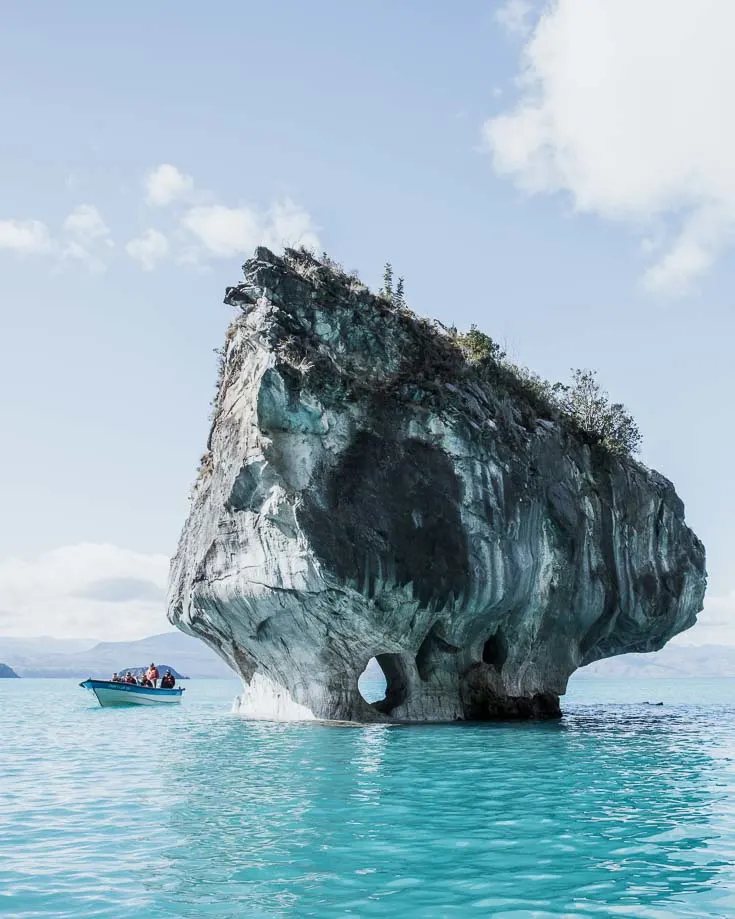 The rocks surrounding Lago General Carrera consist mainly of calcium carbonate, otherwise known as marble.
For over 6000 years, the Patagonian wind and waves have eroded, shaped, and smoothed the calcium carbonate rock. When the nutrient-rich water levels were higher than today, the calcium carbonate dissolved faster at the lake's surface, creating a mesmerizing cave system.
Today, intricate columns protrude from the lake's surface, supporting jagged, swirling roofs and contorted arches. The erosion caused by the lake is plain to see and, undoubtedly, will eventually consume so much of the marble buttresses that they'll no longer be able to underpin their heavy loads.
The Marble Caves are actually made up of 3 main features:
the cave (Cuevas de Mármol),
the chapel (La Capilla de Mármol), and
the cathedral (La Catedral de Mármol).
The color of the lake and the height of the sun affect the color of the Marble Caves. In the early morning, they appear turquoise, with brilliant blond and viridescent swirls. By late afternoon, they've lost their luster, seemingly a more natural grey with muted milky flourishes.
Where Are The Marble Caves of Patagonia?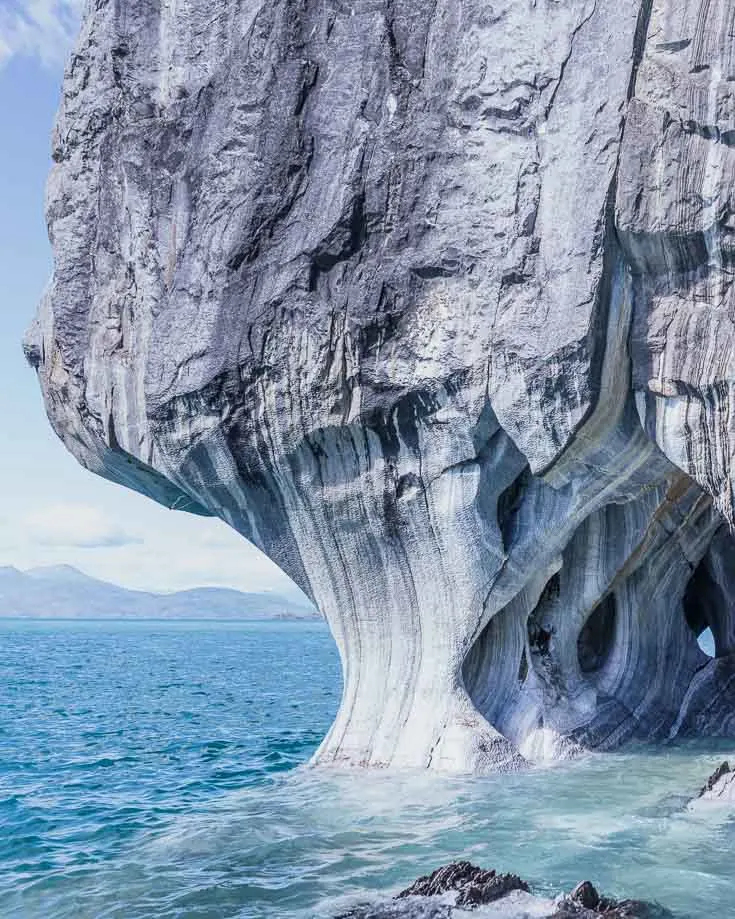 The Marble Caves are accessible from a small village, Puerto Rio Tranquilo (Google Maps), in Chile's Aysén region, right on the infamous Ruta 7.
On the western shore of Lago General Carrera, Puerto Rio Tranquilo village is tiny, covering about three by five blocks. There are just enough amenities to cater to the passing trade, busloads of day-trippers, and relatively few independent travelers who make it this far south.
There are cafes, campsites and accommodation, a fuel station, a mechanic's shop for basic repairs, and a small selection of grocery stores. There's an ATM too, and legend has it that it occasionally contains money. We suspect that's an urban myth, though.
As with so many villages and towns in Patagonia, Puerto Rio Tranquilo provides an ideal opportunity to replenish fuel, water, and food supplies. The rewards for getting here are found in its otherworldly surroundings, so we encourage you to explore more than the main attraction. More on that below.
If you're considering a trip specifically to visit the Marble Caves, you have your work cut out! All boat and kayak trips to the caves begin in Puerto Rio Tranquilo, a mission in itself to get to and no small undertaking. And once you arrive, the tour only lasts about 2 hours, so it's hardly worth it for a day trip.
We've shared details of how to get to Puerto Rio Tranquilo towards the end of this post.
Best Time To Visit The Marble Caves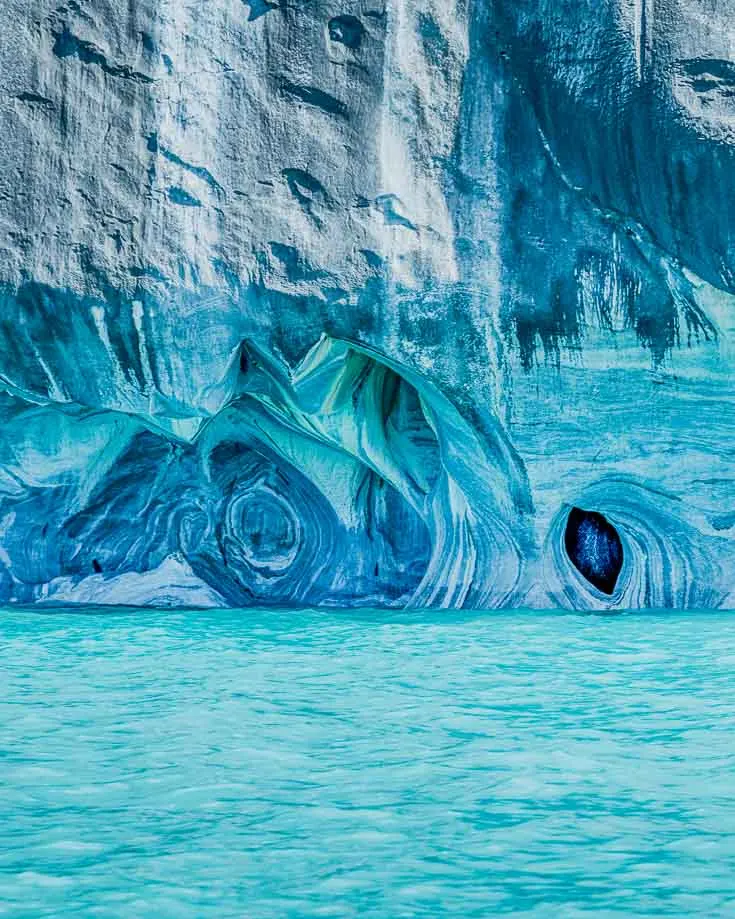 December to February is the most popular because it's summer in the southern hemisphere.
It means the Carretera Austral is most accessible, less likely to close due to snowfall or hazardous driving conditions. It also coincides with Chilean school summer vacations, so the demand for accommodation in Puerto Rio Tranquilo is at its peak.
You can visit the Marble Caves year-round, but boat operators won't take their boats out for fear of damage when the Patagonian winds whip up the waves.
Because glacial waters feed Lago General Carrera, its water level is highest in late summer. Lower water levels provide a better experience because more of the marble is exposed, and boats can travel further into the tunnels.
Try to get a boat tour as early in the morning as possible. The sun rises opposite the caves. A combination of the low sun and the refraction of light from the lake's surface saturates the colors. As a result, the caves become less spectacular later in the day.
More // For more detailed information, check out our post on the best time to visit Patagonia. It includes loads of information about what to see and do during every season.
When you click on links to various merchants on this site and make a purchase, this can result in this site earning a commission. As Amazon Associates, we earn from qualifying purchases. For more info, please check our disclosure page.
How to Visit the Marble Caves & What To Expect
Because the western coastline of Lago General Carrera is lined with cliffs, the only way to see the Marble Caves is from the water.
There are three options:
A boat tour, booking directly with the boat operator, lakeside
A kayak tour, booking directly with the boat operator, lakeside or in advance
Part of an organized excursion
Independent Boat Tours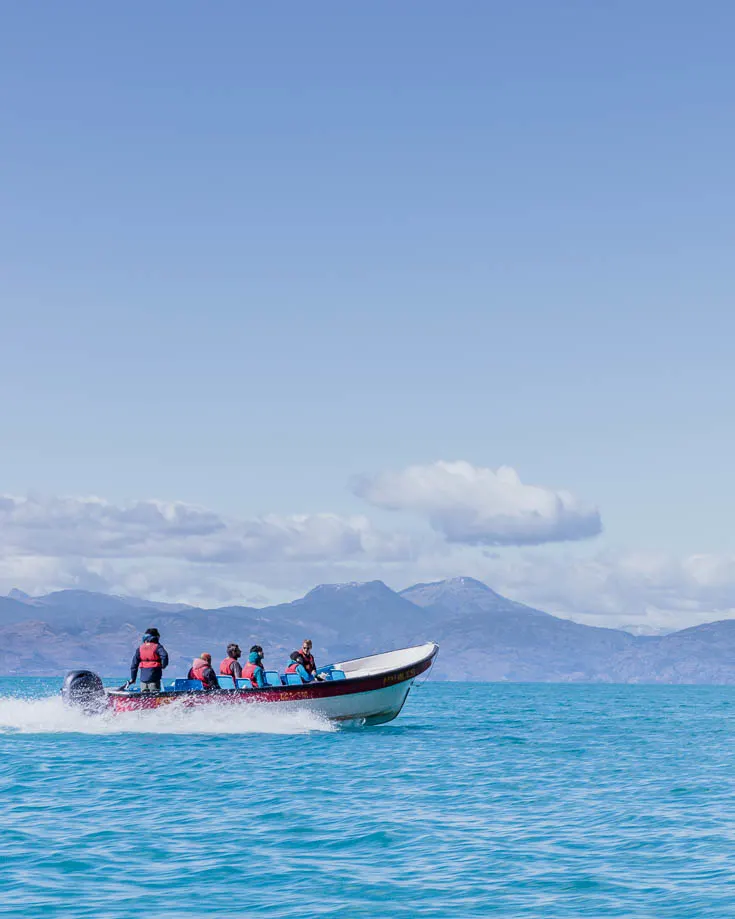 Boat tour operators line up together along the lakeside. They all appear to charge the same rate, and there's usually plenty of availability. That said, the caves are most colorful in the morning, so we recommend getting there early doors or, better still, booking your ticket the evening before.
We visited the Marble Caves on Christmas morning and secured our space on Christmas Eve.
Boats only carry up to 6 passengers, so it doesn't feel cramped or too commercial. We've read that some operators will only depart once their boats are full, but we didn't experience that.
The village and the lake are almost always windy, so the water is often choppy and always cold. The tour operators provide life jackets, although you'll wish for a cushion too when the lake is rough.
The boat trip takes about half an hour to reach the caves. The Marble Caves and surrounding cliffs provide a little shelter from the worst winds, so the water calms down a lot once you reach the main attraction.
The guides know their way around the caves and manage to get the boats inside magical tunnels, pointing out natural rock formations above your head and below the surface and maneuvering for the best photography spots.
Top Tip // Not all the guides speak English, but you can probably find one that does. If your Spanish isn't great, ask the tour operator if your guide speaks English.
Take a Marble Caves Kayak Tour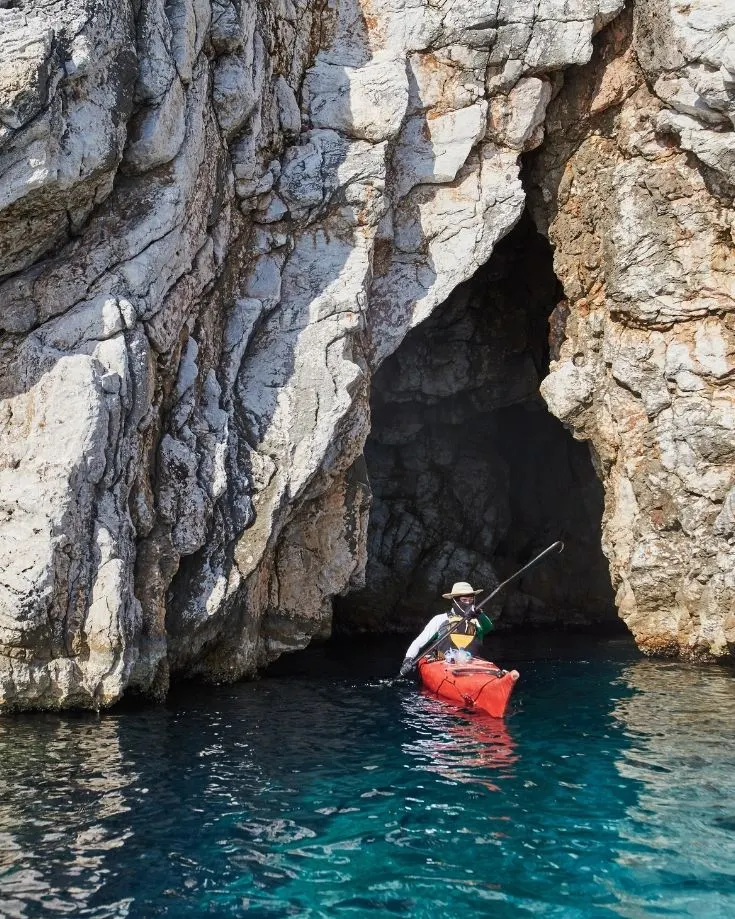 Touring the Marble Caves in a kayak provides the opportunity to spend more time there and get to parts of the tunnels the boat trips can't reach.
Tours last twice as long as boat trips, and the tour operators provide all the specialist equipment you need. The tour starts with a short drive to Bahía Manso, which is much closer to the caves, so you don't have so far to paddle.
You can book a kayaking tour with the same tour operators by the lake in the village. However, they don't run tours as frequently, so consider booking in advance, unless you have ample time.
You can book your Marble Caves Kayak Tour in advance here.
Organized Excursion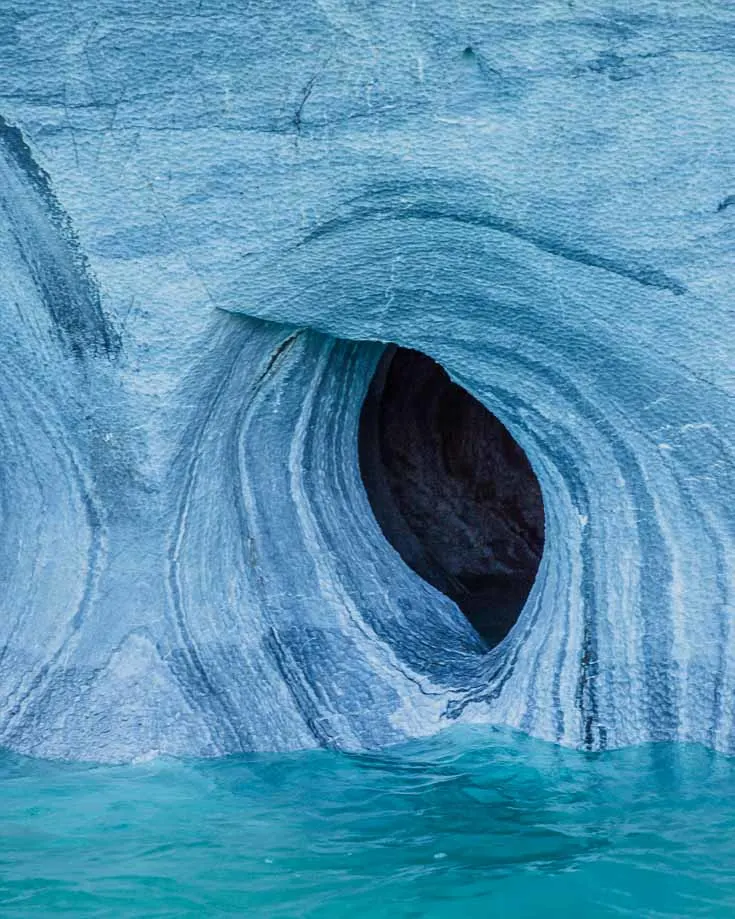 Not all visitors to Patagonia are backpackers and independent travelers. Moreover, it's a difficult region to get to, fraught with travel delays and challenging terrain.
To experience the region without the hassle of arranging everything yourself, an organized tour could be just what you're looking for.
If you don't want to travel further south than Coyhaique, there are two organized tours available to the Marble Caves:
A one-day trip // Last about 12 hours, suitable for anyone with limited time / Book it here.
A two-day, one-night trip // A more leisurely pace / Book it here.
As we mentioned above, visiting the Marble Caves is best included as part of a broader itinerary in Patagonia.
This five-day all-inclusive Patagonia discovery tour can easily be done from Santiago and includes visits to the Marble Caves, Lago General Carrera, Caleta Tortel, and Laguna San Rafael. Book it here.
Tips for Visiting Puerto Rio Tranquilo & The Marble Caves
Wrap up warm and expect to get wet, even in the summer. The water can get pretty rough on the lake making for an uncomfortable journey, and you could get a soaking. Read more in our post about Patagonia packing list essentials.
Uness your camera gear is waterproof, pack it in a dry bag for the boat ride across the lake.
The ATM in Puerto Rio Tranquilo is renowned for not working, and few places accept card payments. Therefore, bring enough cash for your stay.
Other Things To Do Near the Marble Caves
Many independent travelers pass through Puerto Rio Tranquilo, tick off the Marble Caves from their bucket lists and continue on their way. However, getting to the Marble Caves takes some determination, so it would be a shame to miss out on other sights nearby.
Find The Other (Arguably Better) Marble Caves at Puerto Sanchez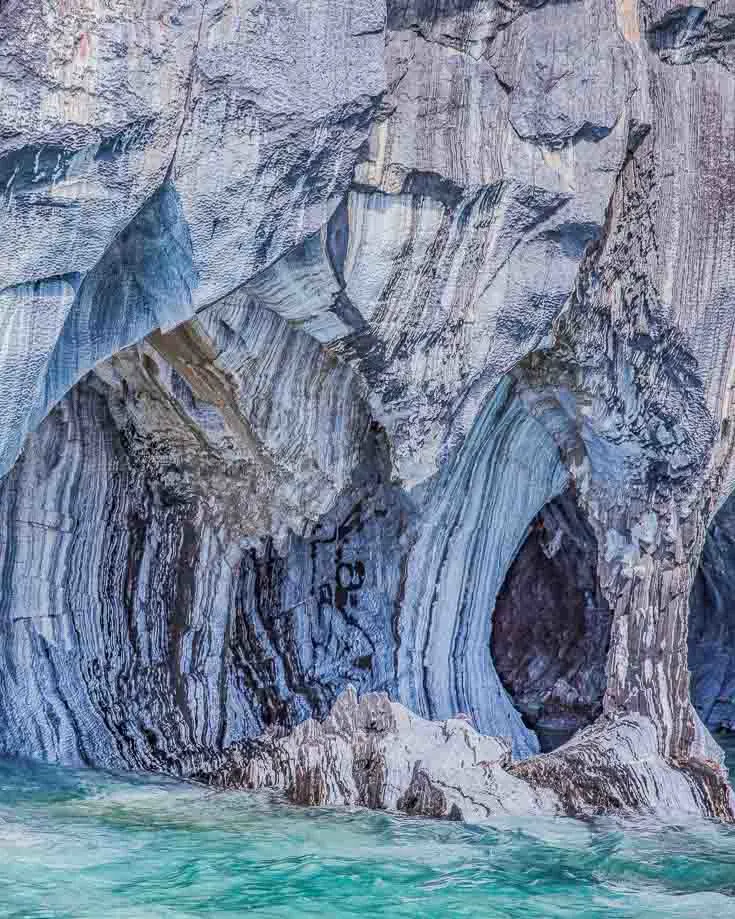 The Marble Caves at Puerto Rio Tranquilo are the most famous, but arguably, those found in Puerto Sanchez are even more spectacular.
The village of Puerto Sanchez is (even more) tiny, and you'll need to turn off the Carretera Austral and drive down a dirt road to get there (Google Maps). However, that commitment is rewarded with spectacular views, longer boat trips offering a more personal experience.
Kayakers, in particular, give rave reviews of their trips. Your guide will take you to Isla Panichi, by boat, where you transfer to the kayaks and spend at least a couple of hours exploring almost 1 kilometer of Marble Caves.
Tips // If you plan on kayaking, book the day before as it takes a little bit of time for the guide to make the necessary arrangements.
Where to Stay // There are a couple of local guest houses in Puerto Sanchez, and you can try your luck on arrival. For simple self-contained accommodation, Cabaña RYS Patagonia takes advanced bookings. There's a basic campsite too, just over the bridge near the children's playground.
Ice Trekking on Glacier Exploradores
Puerto Rio Tranquilo is right on the border of the Northern Patagonian Ice Fields within the San Rafael National Park. The park is home to Chilean Patagonia's highest mountain, Monte San Valentin, and a few retreating and thinning glaciers.
Of the latter, Glacier Exploradores is the most accessible by land and definitely has the best name!
On this full-day guided tour, you'll hike through dense forest to reach the edges of the glacier and don crampons to trek across pristine ice safely.
To feel and hear the movement of the ice below your feet leaves you in no doubt the glacier is alive. Explore the transient, blue ice caves and take a moment to gaze into the distant realms of the ice. Gaze at the sinewy path of the glacier for a few minutes and observe how ice moves in much the same way as water, only seemingly in one frozen moment.
If you're unlikely to visit Perito Moreno Glacier on the Argentinian side of Patagonia, this is your best chance for ice trekking.
Tips // The tour guides provide lunch, snacks, and all specialized equipment. Wear layers and a good quality daypack.
Booking // You can book your ice trek with the tour guides in town. Book when you arrive to be sure of getting a day to suit your travel plans. If you use the same local tour company for all your guided tours, you may be able to negotiate a discount.
Alternatives // If you'd like to see the glacier from afar, rather than ice trekking, there are a few hiking options:
Mirador Glaciar Exploradores (Google Maps) // Admission fee (about 5000 CLP) to the National Park, self-drive, and a 1-hour hike (round trip). Distant views of the ever retreating glacier, mountains, and Lake Bayo.
Cumbre de Cipreses / Cypress Summit Tour // Organized tour for views of the glacier, pretty much the same as the self-drive option above. We think it's a little expensive, so it might be worth trying to get a lift with other travelers heading that way.
Lago Leones (Google Maps) // Free, self-drive to the trailhead, and a 5-hour hike (round-trip). It's mostly flat but check the river conditions before you set out because it is sometimes impassable.
Laguna San Rafael and Glacier Cruise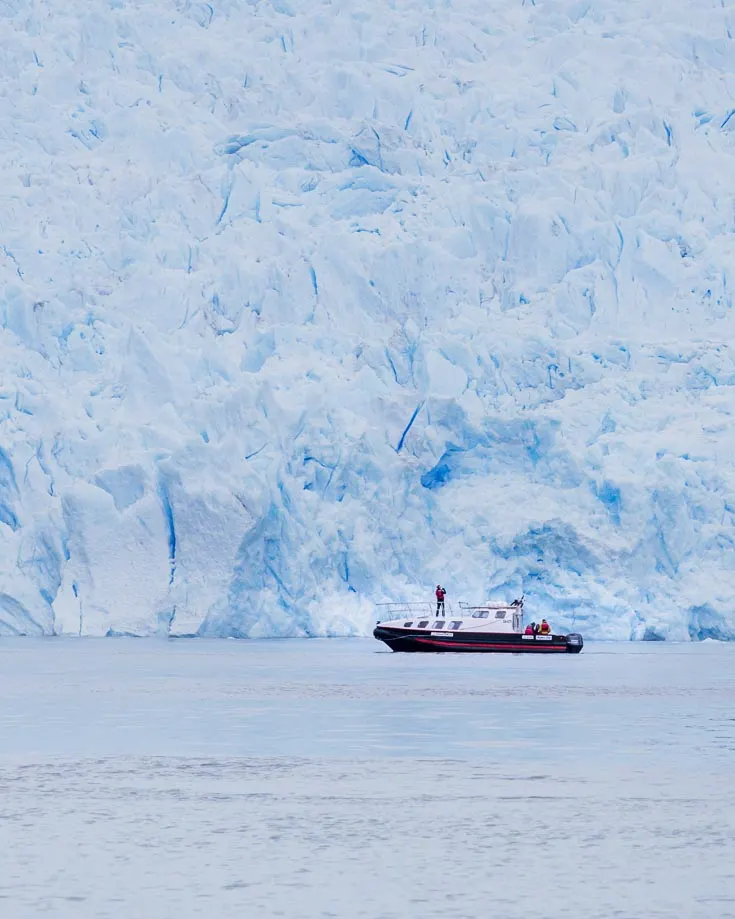 San Rafael Glacier is one of the largest glaciers of the Northern Patagonian Ice field, and you can only access it from the water.
This full-day excursion takes you along the most spectacular road in the region (in our opinion) towards the port at Bahia Exploradores. Here, you'll board a small boat and sail through a small stretch of Patagonian fjords, the San Rafael Lagoon.
Drift past large icebergs, get close to the face of the glacier, and listen as it creaks and groans.
When we visited the glacier, the road had recently suffered from a catastrophic landslide, making the overland route to Bahia Exploradores impassable. That is resolved now, so you can book the tour from Puerto Rio Tranquilo once again.
Booking // You can book in advance here or negotiate with the tour operators in Puerto Rio Tranquilo. Note, these are small group trips of up to 20 people. So unless the tours are pretty full, they are unlikely to sail.
Tips // If you plan to self-drive to the port, you must be driving a vehicle less than 5-tonnes and no higher than 2.5 meters because of weight and height restrictions.
Alternative // If you're driving the Carretera Austral, consider the alternative cruise from Puerto Chacabuco, near Coyhaique. We took this trip and loved every minute of it, especially the extended cruise to and from the lagoon. It's a different experience from the trip from Puerto Rio Tranquilo, and you can read more about the details in our post: Laguna San Rafael Glacier | Fjords, Icebergs & Seals.
Drive the Incredible General Carrera Lake Coast to Chile Chico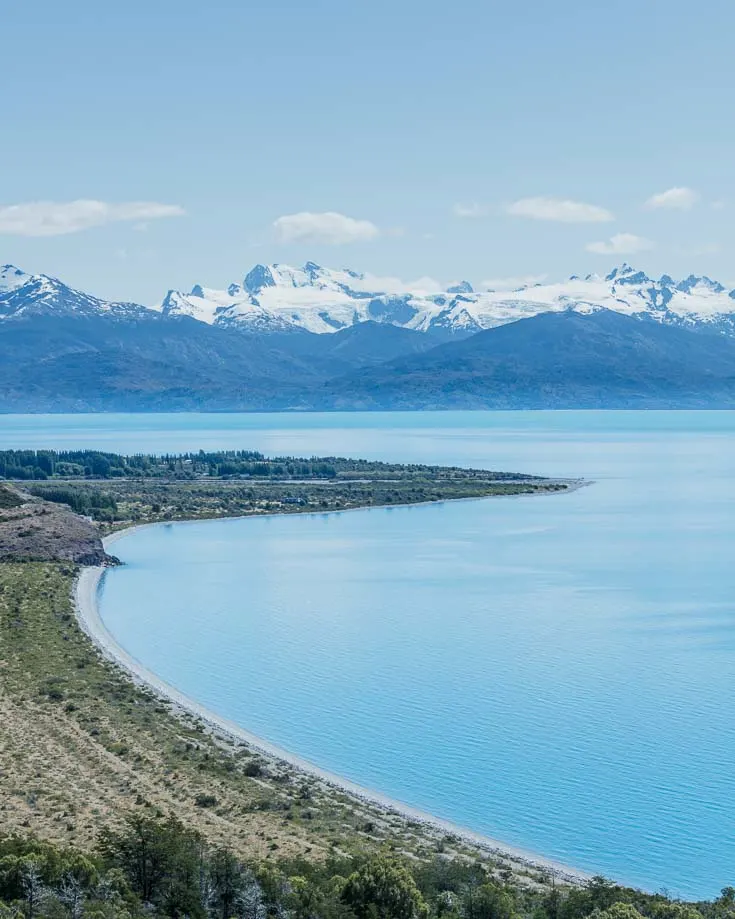 Lago General Carrera is vast, spanning Chile and Argentina, and one of the most memorable places in Patagonia.
The nutrient-rich glacial waters take on an ethereal hue, and it morphs from turquoise to blue, to grey to turquoise again, depending on the light.
The meandering road connecting Puerto Rio Tranquilo to Chile Chico on the Chilean Argentine border hugs its southern coast, delighting road trippers with dreamy views of snow-capped mountains, glistening water, and picturesque atolls.
If you have access to a vehicle, this mini road trip is a must.
Tips // Chile Chico is only 165km from Puerto Rio Tranquilo, but the gravel road becomes a dusty, dirt track in parts. It makes for slow going, and a one-way trip can easily take 4 hours. (Google Maps)
If you'd prefer to take your time, consider overnighting in Chile Chico (Costanera Apart has fabulous self-contained apartments, wifi, and lake views) or halfway between the two at Patagonia Acres Lodge for a luxurious, all-inclusive stay of a 9-hole golf course.
How Long Do You Need In Puerto Rio Tranquilo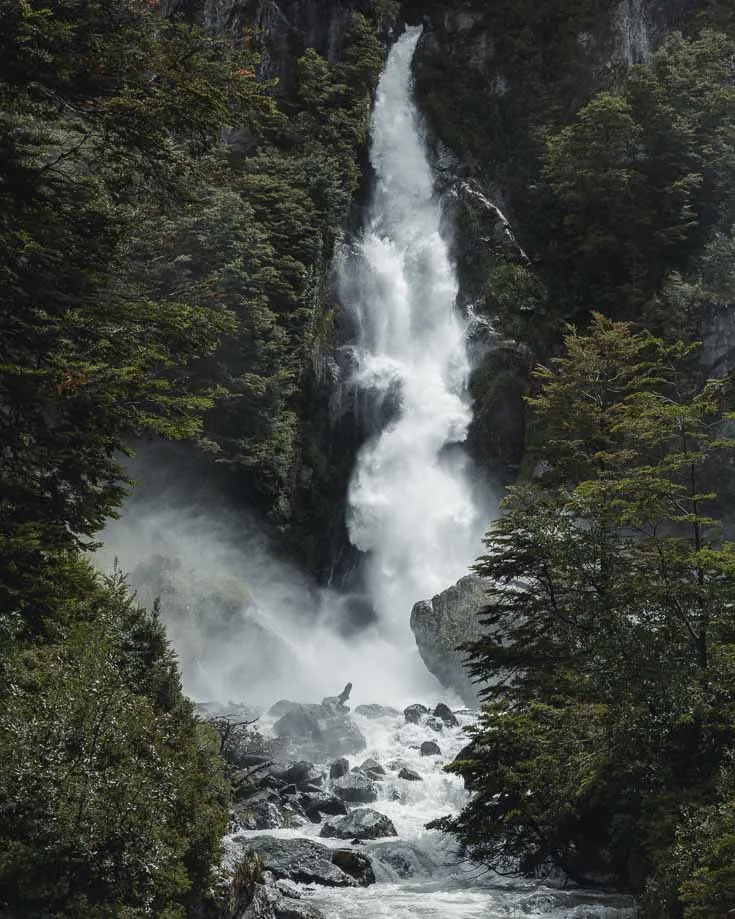 Many travelers pass through Puerto Rio Tranquilo quickly, perhaps spending only one or two nights. How long you need depends on what you plan to do.
You can easily visit the Marble Caves and a short hike to a viewpoint of Glacier Exploradores in one day.
But if you want to use the village as a base for the longer excursions, like the ice trekking or lagoon cruise, you'll need a few extra nights.
How To Get To Puerto Rio Tranquilo
Getting to the Marble Caves is easy once you've reached Puerto Rio Tranquilo. But getting to Rio Tranquilo is another story.
The village is located on the Carretera Austral, 215 kilometers south of Coyhaique, 70 kilometers north of Cochrane, and 165 kilometers west of Chile Chico on the border with Argentina. But to cover those distances by road, you need time and patience.
By Public Transport
From the north // The closest large town north of the Marble Caves is Coyhaique, over 200 kilometers away. Fortunately, you can get a direct bus to Puerto Rio Tranquilo, but they don't run every day.
In summer, they usually run three times per week, and it takes about 4 hours. You can stop at Cerro Castillo (don't miss that hike) and pick up the next bus a day or so later to continue to the Marble Caves. Check on the latest schedule and ticket prices here.
From the South // If you're traveling north from Caleta Tortel or Villa O'Higgins, you'll arrive in Cochrane. There's a direct bus from Cochrane to Puerto Rio Tranquilo. It's the same service as the one from the north, but of course, the return leg. The journey between Cochrane and Puerto Rio Tranquilo takes about 2.5 hours.
Self-Drive
We recommend exploring the Carretera Austral at your own pace as a self-drive road trip.
Rental cars are available from Puerto Montt & Coyhaique in the north and Punta Arenas in the south. Bear in mind, you'll pay extra if you drop it off at a different destination.
Better still, rent a campervan. Wicked Campers and Soul Vans are popular rental providers and can provide the necessary permit to allow you to drive it across the border into Argentina.
More // You can read more about driving in Patagonia here.
Where To Stay to Visit the Marble Caves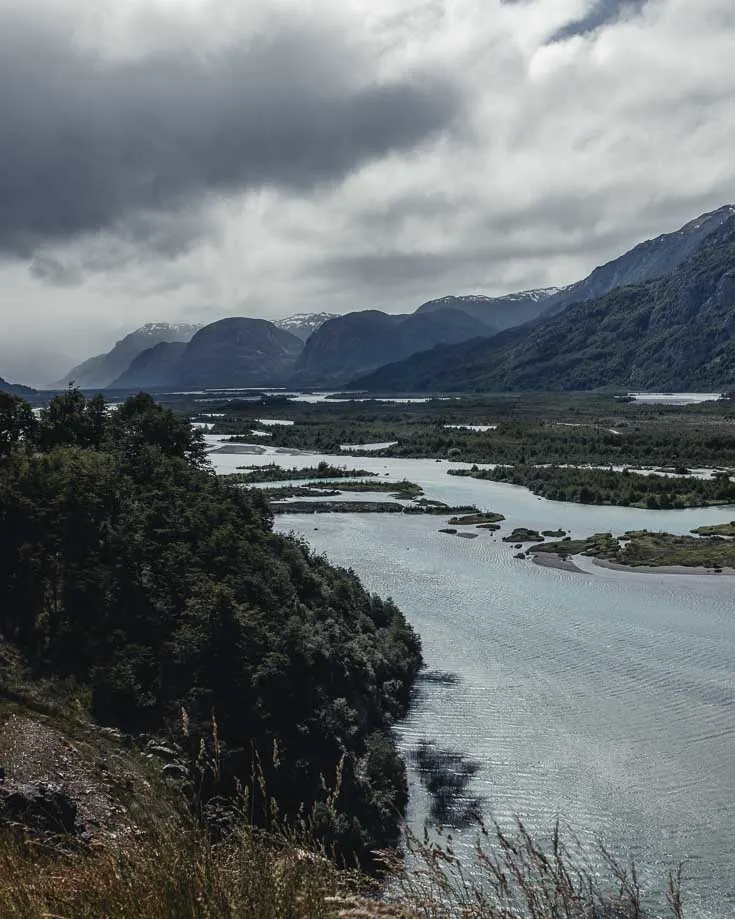 If you're focused on enjoying the Marble Caves and one or two of the other local excursions, it makes sense to stay in and around Puerto Rio Tranquilo.
Depending on your travel style and budget, this could end up as a self-catering cabaña, a boutique hotel out of town, a basic campground to pitch your tent or an unforgettable boondocking find.
There are a few options in and around the village, but consider heading a few kilometers out to a luxury lodge for something really special.
Accommodation fills up quickly in January and February, so either book in advance or arrive prepared to camp or share a hostel dorm.
We've selected the accommodation options and tried to ensure you can find something great, regardless of your travel style and budget.
Unique Stays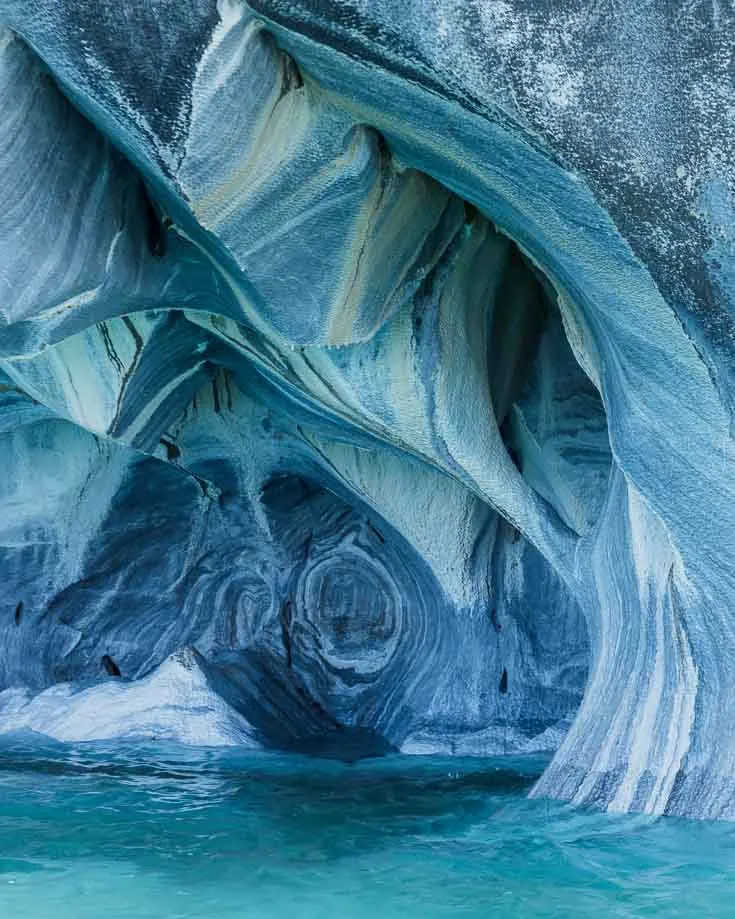 Chelenko Lodge // If you want a night or two of lakeside bliss, you can't get much better than this. Each cabin has a small garden deck, meters from Lago General Carrera's lapping shore, and a private wood-fired hot tub. Unfortunately, it's situated 17 kilometers north of the Marble Caves, so you need transport to get here.
Hotels
Loberias Del Sur // A modern, fancy pants hotel with a commanding position above Puerto Chacabuco. If you've booked one of the multi-day tours in the regions, you'll probably stay here. In addition, the staff and the hotel can arrange excursions to the Marble Caves, Laguna San Rafael, and many more to make it an excellent base for anyone looking for a bit of luxury and all the hassle of organizing trips done for you.
Canañas & Hostels
Rimaya Hostel // A new purpose-built hostel, with dorms and a couple of private double rooms. Prices are a little higher than other places in town, but with good wifi, a cozy setting, and excellent showers, worth the extra pesos.
Terra Patagónica // Basic, self-contained cabaña with a reasonable wifi connection, Terra Patagónica can accommodate up to 4 adults, making it a great choice for small groups and families.
Campgrounds in Puerto Rio Tranquilo
Campgrounds in Puerto Rio Tranquilo are rudimentary at best. More often than not, they provide little more than a place to park a camper or pitch a tent. Amenities are basic, so it's important to set your expectations accordingly. Here are a couple of examples of campsites, but the locals often open up their gardens, so keep an eye out for signs as you travel around the village.
Boondocking near the Marble Caves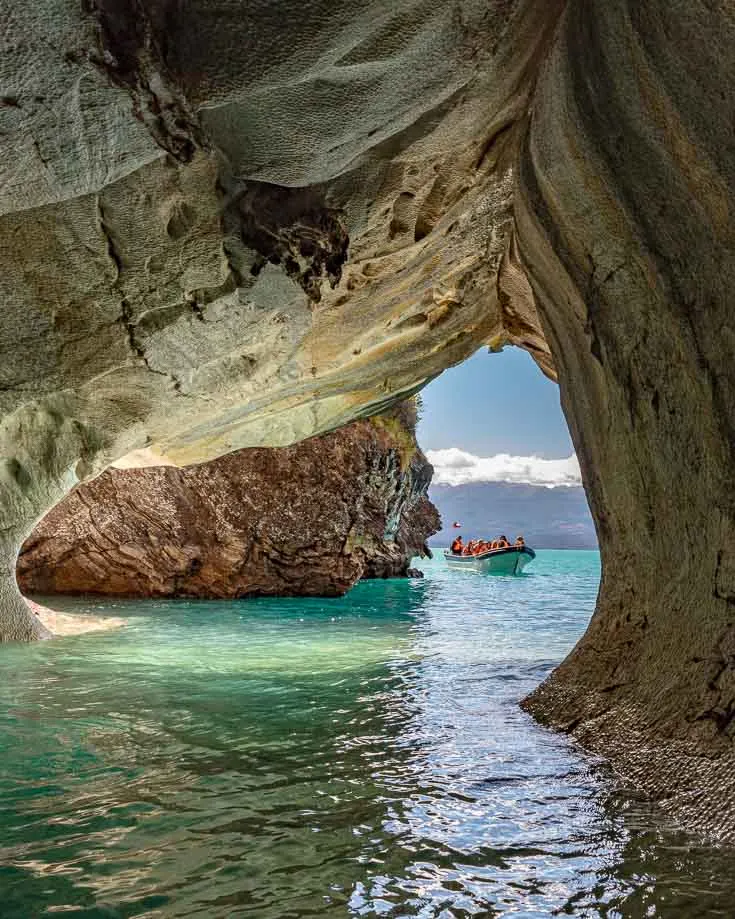 Boondocking is freely available in most of Patagonia. It's a fabulous way to enjoy the natural environment, with unique views in tranquil seclusion.
Avoid parking too close to rivers and below cliffs. Weather conditions change quickly, and if there's a big melt or sudden rainfall, water levels can rise rapidly, and landslides happen.
Please, if you intend to wild camp or boondock, do so responsibly. Be respectful of the environment, residents, and landowners too.
More // We've shared all our advice and tips for wild camping responsibly in our post: Wild Camping for Motorhomes: A Dry Camping & Boondocking Guide.
Where to Eat in Puerto Rio Tranquilo
A few cafés and restaurants open during the tourist season though the quality of the food is a little hit and miss – especially the coffee. These are our favorites for dinner:
Cervecería & Restaurant Rio Tranquilo // By far the best food and atmosphere in the village, serving artisanal beers and homely, filling meals. Leave room for dessert!
Casa Bruja // Excellent, reasonably priced home-cooked meals. The steak comes highly recommended.
Border Crossing Into/Out Of Argentina
Because Puerto Rio Tranquilo is located so close to the Argentinian border, there's a good chance your itinerary will involve at least one border crossing.
The rules state that no fresh fruit, vegetables, dairy, or meat can pass between Chile and Argentina.
The process is the same in both directions. You deal with the vehicle's paperwork first with the Aduana – customs officials – stamping it out of the country – or, if it's a non-Chilean vehicle, handing in your Temporary Import Permit (TITV).
Next, visit the immigration officials and get your passport's exit stamp. When leaving Chile, you must hand in the PDI ticket you were given on arrival.
On the other side of the border, visit the immigration officials for your passport stamp, then the Aduana. It's all relatively painless unless the customs officials decide to search for a rogue cherry.
More // If you're on a self-drive tour, in your own vehicle, hire car, or camper, read our post about driving in Patagonia.
Where To Next?
Trekking Cerro Castillo (coming soon)
Cueva de las Manos (coming soon)