The Mbaracayú Forest Nature Reserve protects almost 160000 acres of the Upper Parana Atlantic Forest in Paraguay. It's home to 408 bird species and the elusive national bird of Paraguayan, the bare-throated bellbird.
With a growing interest in birdlife and Paraguay treating us to remarkable nature experiences, we set out to explore the area a little.
Mbaracayú Nature Reserve | In search of the bare throated bell-bird
"Will we get up that hill?" Angela asked. Baloo was stationary a few feet from the end of a kilometre of freshly laid tarmac. Ahead, a hill climb the construction workers hadn't yet got round to laying.
The relentless, torrential rain rendered the once soft sandy track, a slippery, wet mud bath.
The local traffic carried on regardless. An 18 wheeler articulated truck packed with cows on their way to slaughter slid precariously down hill.
A tractor owner made some money from over confident drivers, stuck half way down the messy track. The downpour continued as we waited our turn.
We were on our way to Mbaracayú Forest Nature Reserve. And because we now have the twitching bug, we travelled in the hope of spotting the bare-throated bellbird, the national bird of Paraguay.
Why we visited Mbaracayú Forest Nature Reserve
A few days earlier in Limoy, I was chatting to Gustavo a ranger with the Itaipu Bi-Nacional Tourismo team. Gustavo is passionate about birdlife in Paraguay and from an app on his phone, played me a recording of the bare-throated bellbird song.
This distinctive call screamed out of the phone with a sound like a hammer hitting metal. Our bird identification book refers to the sound as a "weyink", and, although Angela cannot stop laughing as I write it, so will I!
Gustavo explained how the bare-throated bellbird is a vulnerable species and quite rare. If we wanted to see this fine sounding chap, we must visit Mbaracayú Forest Nature Reserve, where we'd have a good chance of spotting one.
Mbaracayú Forest Nature Reserve was already on our list of potential places to visit in Paraguay.
I'd read about it on one of the Sunday newspapers travel sections and also noticed it's on many itineraries of rather pricey birdwatching safaris. Gustavo's advice sealed the deal.
Read more about our nature safari at Itaipu's Ecological Reserves here
As we left Carapa, the last of the Itaipu's Ecological Reserves we visited, we headed northwest towards Mbaracayú Forest Nature Reserve, in search of the bare-throated bellbird.
The road towards the reserve was still under construction. In some parts the tarmac was laid, level and complete with painted lines and signposts.
A few parts were waiting for the painters to arrive, but on the whole, the road remained unpaved.
How did our Sprinter 4×4 perform in the mud?
The steep stretches of unpaved roads became hilly mud baths with vehicles bogged up to their axles. It was time to find out if my very specific choice of a Sprinter 4×4 18 months previously was insightful or just my plain foolish vanity.
With low box engaged and all diff locks on I began the muddy hill climb. I'd given up waiting for the traffic to clear because pushing on regardless of the mayhem around seems the local way.
We followed an open pick up carrying a Guarani family on the back.
As we drove up and over the ruts, the family hung on to the sides of their pick up, one cradling a young baby in her arms, another clutching his gourd of mate. At one point, a shoeless man jumped out to give their truck a helping push up the hill.
The traffic at the top didn't wait for the traffic already climbing to reach the summit. So surrounded by tractors, articulated lorries, pick up trucks carrying women and children and stuck or sliding vehicles all around, we climbed.
With our mud tyres, diff locks and gritted teeth we bimbled up without any issues, avoiding the uncontrolled sliding vehicles around us. Happy days! Onwards to the reserve.
Arriving at Mbaracayú Forest Nature Reserve
A couple of hours later in fading light, we arrived at the Mbaracayú Lodge. A small reception block and several well maintained buildings surrounded a large manicured lawn and helipad.
A young woman checked us in after we'd signed a disclaimer – something about it not being the reserves responsibility if we were eaten by jaguars, bitten by snakes or killed by spiders.
A couple of school girls in uniform jackets guided us to our camping spot in a small wooded area, complete with our own bathrooms and parrilla. They returned a short time later armed with buckets, mops and brooms to clean the already spotless facilities.
After the long journey, we decided on having dinner at the lodge rather than cook for ourselves. Over dinner, and a welcome bottle of Malbec, we chatted to our waitresses, also wearing their school jackets.
With a mix of Spanish, English and Guarani and the help of Google Translate, we learned they attend the all-girls school here at the lodge and hope one day to be environmental engineers.
About Mbaracayú Forest Nature Reserve
In the early 1990s, Mbaracayú Forest Nature Reserve was set up and declared a Paraguay heritage area.
The Paraguayan government, United Nations and the Moisés Bertoni Foundation jointly agreed to support, protect and develop the forest to keep its biological diversity and maintain its cultural resources.
This 159,000 acres of Upper Parana Atlantic Forest nestled in the humid Jejuí River basin is considered one of the 100 most important biodiversity sites in the world by the WWF.
The school on site is run by the Moisés Bertoni Foundation and it's stated aim is:-
Through the education provided at this institution our intention is to empower rural girls to overcome poverty, become entrepreneurs of environmental sustainability and active members of their community to improve their livelihood.
Hence this part of the reserve is run by school girls and a few teaching supervisors: the next generation entrusted to preserve the remaining forest, Guarani culture and regional tourism.
Annalisa and Isobella, our attentive waitresses for the evening, were very happy on how things were working out for them. They have high hopes to go to a university to continue their environmental and tourism studies.
In search of the bare-throated bellbird
Daybreak the following morning was grey and overcast but at least it wasn't raining. Sitting under the parrilla having my morning coffee, I listened to the birds in the dense forest around me.
Lapwings, as usual making the most noise and the tapping of a busy woodpecker somewhere nearby. A squadron of plush-crested jays with the multiple dictionary of "k'yaawa" called out from the tree above.
And in amongst it all, a distinctive, single "weyink" (stop laughing Angela) from deep within the forest.
Another "weyink" a little further off responded. Then again. As I made another coffee I nonchalantly said to Angela, " If I didn't know better, I reckon there's a bare-throated bellbird in them there woods."
Clearly I am now an expert twitcher after listening once to a phone recording of a single bird call. Angela has taken it upon herself to now call me Bill Oddie!
We gathered up our camera gear and set off down the 1.5 kilometre trail leading along a small river and into dense forest. Using the tripod as a wand to clear the cobwebs from our path, we crept down the trail, trying, and failing, to make no noise.
Our first sighting
As silently as a herd of buffalo, we walked down the trail. The "weyink" continued consistently, as did a corresponding "weyink" in reply a little further off.
Each step took us a little closer. This continual "weyinking" (stop laughing Angela), between the two birds acted as an echo sound locator for us.
As Angela rounded a bend, she was beside herself pointing excitedly up to a bushy tree less than 2 metres away.
"Look! Look!", she cried in hushed tones. And there rustling in the branches I caught a fleeting glimpse of the elusive, majestic and national pride of Paraguay, a male white and green faced bare-throated bellbird.
As I lifted my super long lens, visions of the front cover of the National Geographical magazine flashed in my mind. I tried to focus. He was moving around too fast, in the shade and behind a bunch of leaves.
Just as I had him in my sights, Paula, one of the school teachers and two school girls noisily came around the trail looking for a piece of old wood for a school project. A flutter of wings and a rustle of leaves and Mr Bellbird disappeared along with my NatGeo front cover.
We walked the rest of the trail in silence, no "weyinks" or even any other bird calls. Accompanied by only buzzing mosquitos who found my face and hands an ideal lunch time snack, we went back to camp.
Not to be beaten, after lunch I tried again to find the elusive bird, but he was not around.
As we cooked our evening meal, a rare helmeted woodpecker appeared, chipping away at the tree next to us. You can tell where Walter Lantz animation studios got their inspiration for Woody Woodpecker.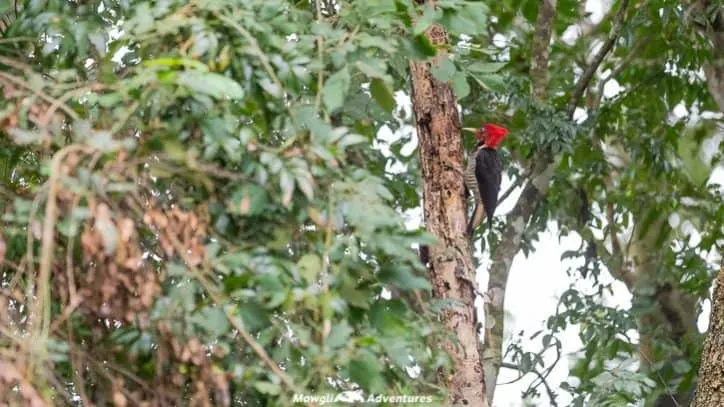 Determination pays off – or does it?
I tried again several times the following day to spot Mr Bellbird, and although I could hear the regular "weyink" in the distance, I never saw him as close again.
In fact, I only managed a fleeting glimpse as he flew high up between the tree tops. I do hope that manky old wooden tree trunk school project is bloody educational!
But let's not dwell on it! I tried several more times that day on the trail to see the bare-throated bellbird, but had no success.
On the final day of our stay at Mbaracayú Forest Nature Reserve, the weather improved a little. By now I'd worn trenches in parts of the trail but off I set again.
This time dressed in green and wearing my camouflage shemagh head scarf. Only a missing machete gripped between my teeth prevented me looking like I was in the Vietnam war.
I even considered boot polish striped face paint to reduce skin glare but Angela laughed so much I figured I might be taking things a little too far.
I spent our final day trying to photograph the bloody noisy bird. I'd get the picture come what may, or at least until the sustained mosquito attack extracted my surrender.
My patience eventually paid off. Despite multiple wounds and insect bites I eventually managed to capture an image of him. Not exactly Nat Geo worthy but good enough to prove I'd seen the elusive, threatened and beautiful bare-chested bellbird.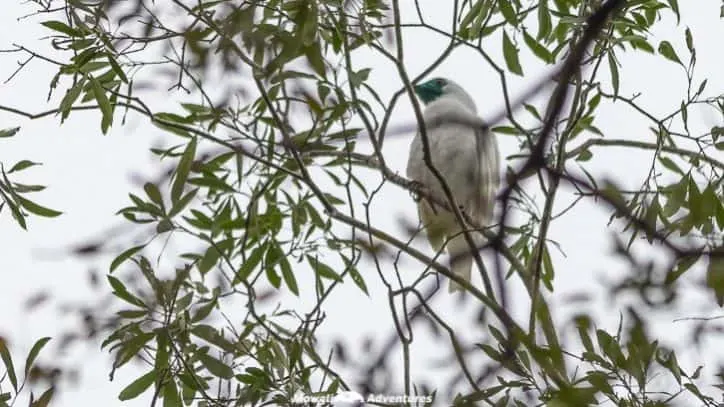 With the picture in the bag, and having ignored the other 406 species of birds in the reserve, we packed up and drove out on the dried out track in search of our next adventure and South American wildlife spot. Wild birds or better still, some wild beer's work for me!
How to get to Mbaracayú Forest Nature Reserve
Follow the unnamed road off Ruta 10 at Curuguaty towards Colonia Fortuna and onwards to Villa Ygatimi for about 45 kilometres. Mbaracayú Forest Nature Reserve is signposted from Villa Ygatimi and the 12 kilometre unsealed sand track leads to the entrance to Mbaracayú Lodge.
If it's wet, you will need a 4×4 for much of the route from Curuguaty to Villa Ygatimi, at least until the road construction is completed. The track to Mbaracayú Lodge is actually in better condition but only because it doesn't receive such heavy traffic.
We spent 3 nights at Mbaracayú Lodge. The first night it rained non-stop and the next 2 days were damp and foggy, but without rain. When we left, these roads were in great condition and you could easily drive them in a 2 wheel drive vehicle.
Booking a stay at Mbaracayú Lodge
We didn't book in advance but you may want to check before you travel, especially if you want to book a room rather than camping.
We paid 35000 Guarani per person per night for camping, which at today's conversion rates, is about £5 per head. Activities are available at an additional rate. You can book a room too and all your meals too. Wifi is available although it's ropey at best.
Like it? Pin it!