Wondering what beaches in Montevideo to hang out at on your city break in Uruguay? Prepare for your trip to this under-the-radar South American hot spot with our guide to no less than 9 of them!
The summer months attract visitors from around the world, many seeking out some of Uruguay's best beaches along the Atlantic coast. Uruguay is renowned for its fabulous beaches.
But did you know fine swathes of white sand adorn the coast of the capital city too? Montevideo beaches add a fabulous twist to a city break in Uruguay's capital.
While they may not compare with the better known beaches along Uruguay's east coast, they offer perfect chill out space for those living and visiting the city.
Year round, visitors and residents alike take advantage of the beautiful coastline. Even rainy, autumnal Sunday afternoons can't deter dog walkers, joggers and kite surfers.
If your visit to Montevideo is short and you'd love to fit in a few hours on the beach, you don't have far to travel.
So grab your yerba maté and flask and head out to one of Montevideo's incredible choice of beaches. Bring a deck chair and join the locals as they applaud the setting sun while you're there!
We spent 10 days or so in Montevideo and have compiled this guide to help you know what to expect from the beaches in Montevideo.
Playa Ramirez | Ramirez beach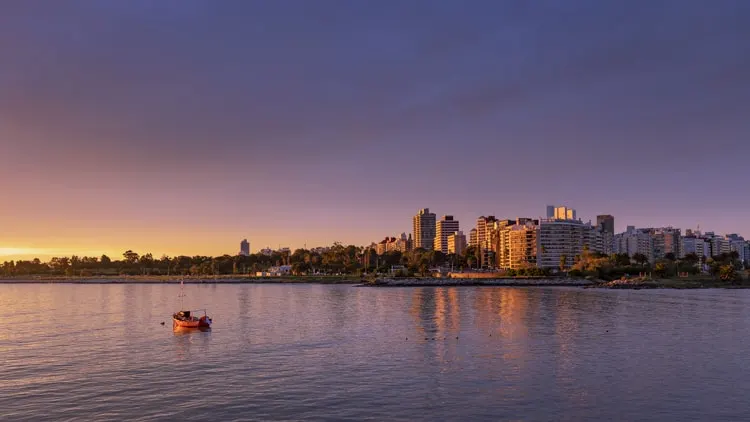 Playa Ramirez, is likely to be the liveliest beach you'll experience in Montevideo. Locals and visitors alike love flocking here because it's so close to the centre of Montevideo.
Areas of the beach double as sport centres for volleyball, football and yoga so don't expect a tranquil afternoon.
Montevideo's only amusement park resides in Parque Rodó across the road from the beach and popular with families during the weekend.
So when you've caught enough sun, a stroll around the park offers perfect shade.
Playa Ramirez is one of the best places to see Montevideo sunset too.
Playa Pocitos | Pocitos Beach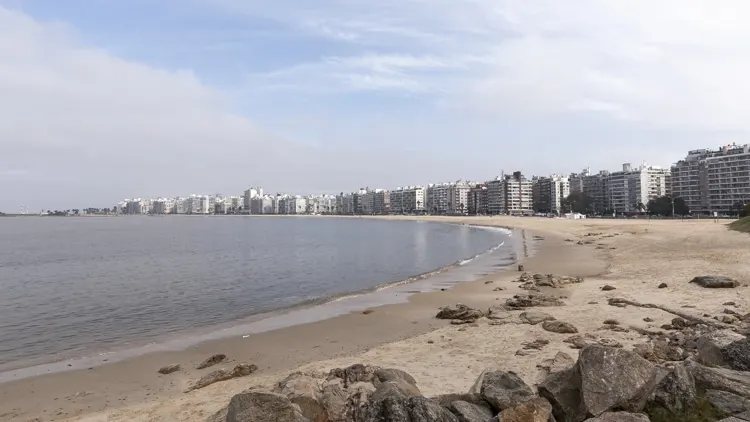 Within 10 minutes of Montevideo city centre, the white sands of Playa Pocitos stretch for over a mile. Set in a fashionable area of Montevideo, Playa Pocitos draws in the crowds but absorbs them well.
The infamous Montevideo sign serves as a perfect Instagram prop at one end of the beach.
While Playa Pocitos borders a large residential area, restaurants aren't in short supply. And if you can afford a room, the luxurious Hyatt Centric Hotel is right opposite.
Playa del Buceo | Diving beach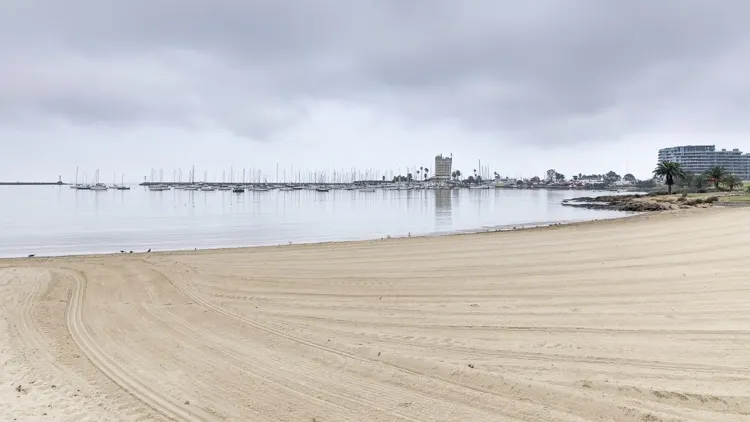 Sailing boats and fishermen monopolise the waters at Playa del Buceo so swimming is a no-go.
But the compact beach is perfect for watching their performance and when you're ready to head back for dinner, try picking up a fresh fish from one of the boats. It doesn't get much fresher than that!
If you're not up for self catering or dealing with filleting the fish, plenty of seafood restaurants in the area will satisfy your hunger.
Playa Malvín
A little further east from the city centre, Play Malvín is by far our favourite of all Montevideo beaches.
Because it's a little further out, it attracts less crowds. The Atlantic Ocean meets the river here so the water is more salty and more green. Perfect for a paddle but be careful of the strong tides here.
You can get to Playa Malvín on foot along the promenade or if this is a little too far for you, there's great public transport or taxi services.
We recommend you don your sensible shoes, some maté and walk out to the small dunes of Playa Malvín for sunset. A perfect little spot!
Playa Honda | Honda Beach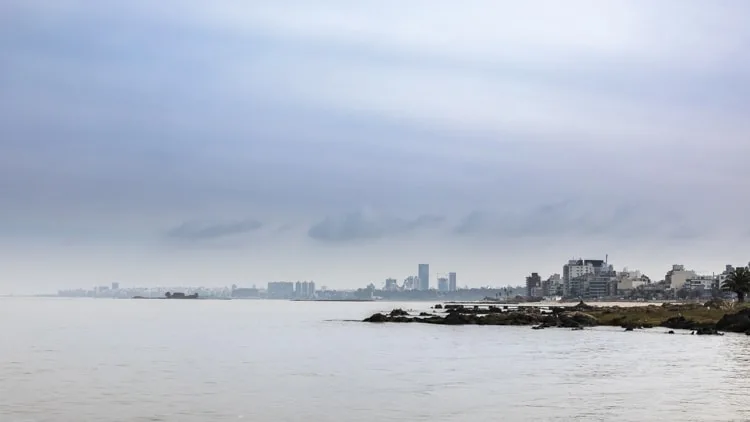 Playa Honda is the place for surfers. On windy days, the city surfers pitch up and take full advantage.
Otherwise, the beach is pretty quiet for Montevideo beaches. Sitting in amongst the rocky outcrops on Playa Honda is as peaceful a place to relax as anywhere.
Playa de los Ingleses | Beach of the English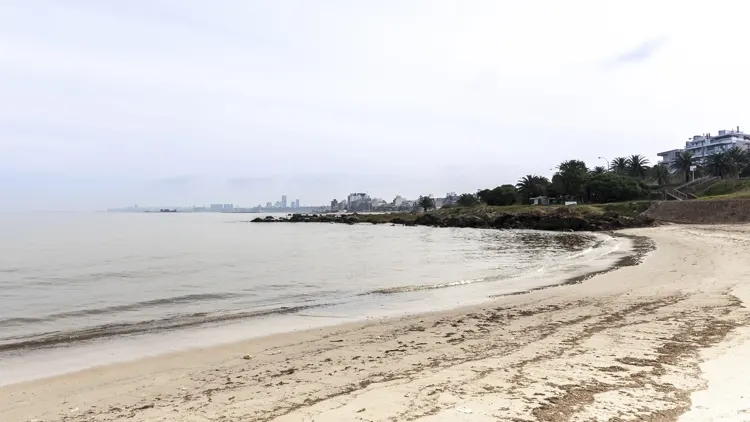 The perfect hideaway beach. Playa de los Ingleses is the smallest of all Montevideo beaches so it doesn't pull in huge crowds.
In the height of summer though, you can feel a little crowded because it doesn't absorb the small number of visitors well.
Keep this one for the shoulder seasons or better still, winter.
Bring a picnic and a good book. You'll find it difficult to believe you're in a capital city! And despite its name, you're unlikely to meet another Brit here.
Playa Verde | Green Beach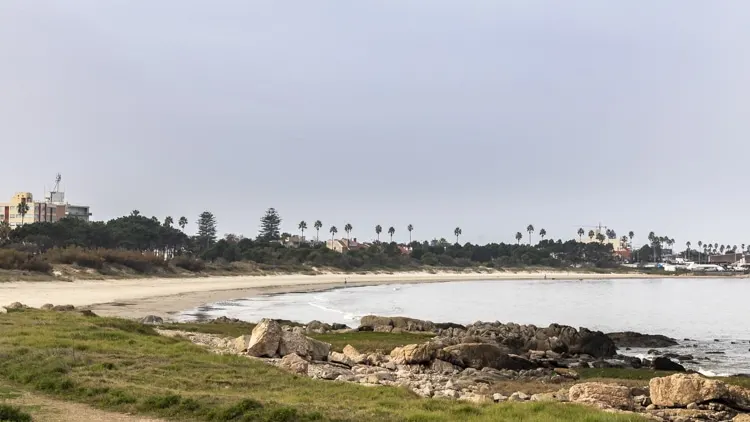 White sand, salty Atlantic Ocean waters all fringed by green grass and swaying palm trees.
The water here is more energetic as the Atlantic Ocean takes priority over the river.
The promenade here is still delightful. The full stretch has a dedicated cycle lane so instead of catching the bus from Montevideo, consider hiring a bicycle.
Playa Carrasco | Carrasco Beach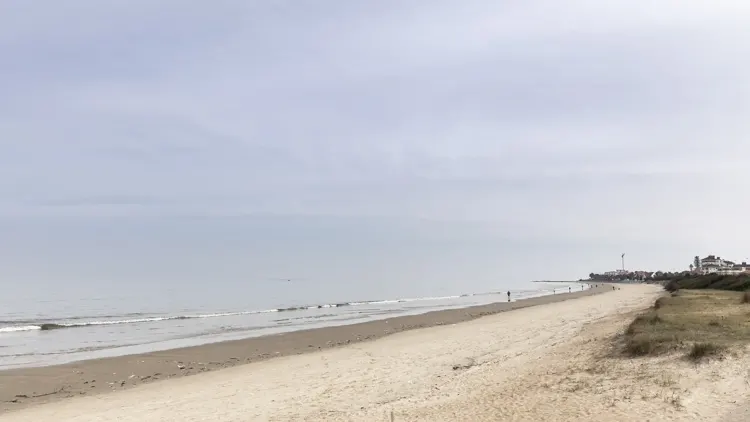 Set in one of the most affluent areas of Montevideo, this huge stretch of lush sand boasts clear water. Flanked by huge mansions and fancy houses, the beach is often deserted.
Why? Because the local residents have access to their own private pools and Carrasco is quite a distance from Montevideo city centre.
This makes it a perfect reason to make the effort to get out here. Especially if you want to spend an entire day on one of Montevideo's beaches.
How to get to the Montevideo beaches from the city centre
You can access all Montevideo beaches from the 22 kilometre promenade, La Rambla.
If you have your own transport, you can park on the road side for most of the promenade at weekends.
During the week, parking is restricted in certain parts so make sure to read the signs.
Motorised scooters and bicycles are available for hire along the promenade too. Orange Bike seem quite popular and you can download an app to hire a Grin scooter on demand.
The city bus in Montevideo is a good option if you don't have your own transport too. Maps and timetables aren't posted at bus stops but you can plan ahead with the city's online resource Como Ir.
Planning the best travel itinerary for Uruguay?
Here's our recommended list of articles for you to get started.
Where to find the Montevideo beaches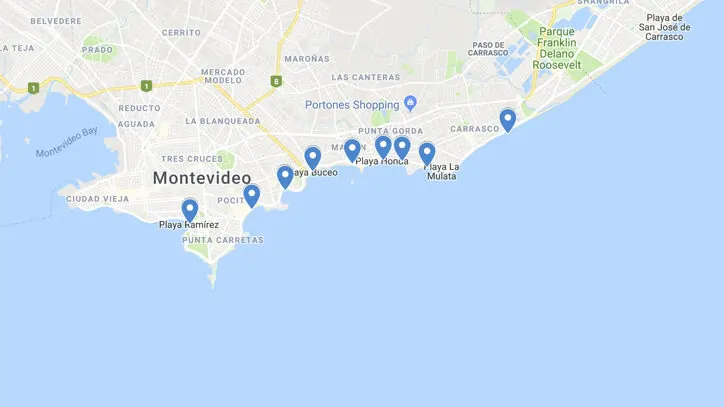 Like it? Pin it!