We've visited Morocco many times over the past 10 years. One road trip alone lasted 6 months so we're in a great position to prepare this Morocco travel guide for you.
We discovered this diverse country at a slow pace. And it more than lives up to the hype! Morocco's imperial cities are a heady blend of souks, incredible architecture and diverse history.
The driving challenges for the adventurous off-road fanatics are unforgettable. The hospitality of the Moroccan people is second to none.
And the Sahara Desert is, well, let's just say we love it! Use our Morocco travel guide to help plan your next epic overland adventure.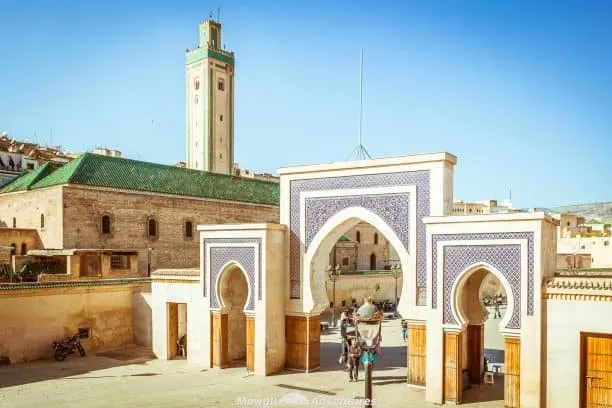 Morocco travel guide
We've created this Morocco travel guide to help fellow travellers prepare for their own unforgettable trip.
We've included key information here with links to articles to help you plan your route through Morocco, especially useful if you're planning a road trip.
They'll help you discover some unmissable spots, provide important practical information to know before you set off and plenty of photos to inspire your next epic road trip in Morocco.
Where is Morocco?
Morocco is located in Northwest Africa, right on the edge of the African continent. It shares 3 land borders with Spain to the north, Algeria to the east and Mauritania to the south.
Morocco has coasts on both the Mediterranean Sea and the Atlantic Ocean.
Morocco is a vast country with diverse landscapes so the type of trip you have depends on what parts of the country you visit.
You can surf in the Atlantic, camel trek in the Sahara Desert, hike in the Atlas Mountains and much more.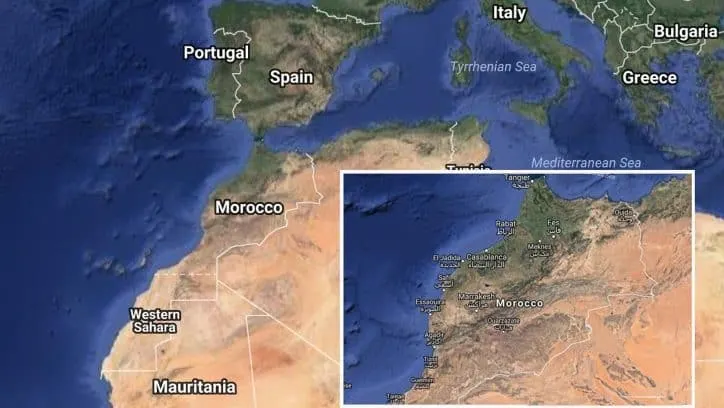 Top things to do & see in Morocco
The leather making process in Morocco is effectively unchanged for hundreds of years. Visit the leather tanneries in Fes to witness the age old traditions and make sure to bring a scarf or something to cover your nose. It stinks!
There is nothing quite like an evening in Jemaa El Fna. As sunsets, the air fills with the rising smoke from bbqs and wonderful spicy smells to make your mouth water.
Waiters all try to charm you into their food stall and you'll see raw ingredients you wouldn't dream of putting in your mouth!
The menu may not suit everyone's taste but it sure is one hell of an experience!
It's no secret the Sahara Desert is our favourite lace in all of Morocco. Don't miss a chance to spend a night in a tented camp here and you'll understand why we love it so much too.
Hiking in Toubkal National Park
Set in the Atlas Mountains, Jebel Toubkal is the highest mountain in North Africa.
Mountain trails criss cross their way to the summit but if you're not into hiking, why not drive up (most of it) as we did!
For many, the ancient, bustling city of Marrakech is the first stop on a journey through Morocco and a must see destination. We think you'll either love it or hate it but either way, it's an experience not to be missed.
Another unique town, Tetouan is a few miles from the Mediterranean coast and has a medina perhaps more authentic than any other in Morocco.
Chefchaouen is a unique town in Morocco. Set high up in the Rif Mountains, the residents of Chefchaouen have painted everything blue and white.
The buildings, the pavements, the steps and the doors are all painted in a multitude of shades.
It gives the entire medina a cool feel, unlike anywhere else in Morocco.
The local Berber people of the Atlas Mountains are known for their kindness and hospitality.
Whether you're hiking, driving or on a guided tour through the region, their friendliness won't go unnoticed.
The cedar forest around Azrou in the Middle Atlas Mountains is home to a few troops of Barbary Apes and they attract tourists and locals alike.
They're fascinating to watch and the forest is in complete contrast to the Sahara Desert and the hectic city of Fes to the north.
Walk (or drive) the Dades Valley & Todra Gorge
Perfect for walking or hiking, this area is so picturesque you'll be snapping away every few yards.
There's a terrific off road track in the area too but make sure you check conditions with locals before you set off. It has been known to be washed away in adverse weather conditions.
More relaxing than perhaps anywhere else in Morocco, Essaouira is a delightful town. Situated on the Atlantic coast, it's perfect for watersports and for a laid back break away from the hectic cities of Fes and Marrakech.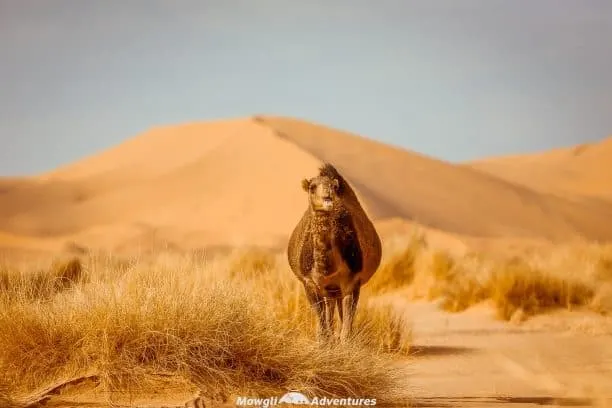 How long do I need for a trip to Morocco?
The marvellous thing about Morocco is no matter how little or much time you have, there is always plenty of things to do and see.
With only a few days on a fly-drive holiday, you could see the sights of Marrakech and drive over the High Atlas Mountains.
With a fortnight, you could circumnavigate most of the country at a push. To experience Morocco at its best, our advice is to take time to immerse yourself in the places you choose to visit. You know by now we're big advocates of slow travel.
Take time to enjoy your surroundings. Morocco isn't going anywhere so if you can't fit everything in on one trip, you can always return again.
Take a look at our suggested road trip itineraries in Morocco
Morocco travel advice
What to wear in Morocco
Morocco is a Muslim country and although most people are religious, they are tolerant and easy going.
In the coastal tourist areas, the dress code appears quite relaxed but head into the cities and more rural areas, and you'll not only be frowned upon but will offend local people if you dress disrespectfully.
The dress code is quite simple if you're to avoid offending anyone or attracting unwanted attention.
Cover your shoulders, upper arms and anything above the knee and steer clear of revealing necklines. That pretty much goes for both men and women.
There's no need for women to wear veils or headscarves although they are great for keeping cool in the midday heat.
For practical reasons, dress in layers. Temperatures can get hot during the day but also quite cold at night.
Pack loose fitting long trousers, t-shirts, blouses and a pashmina or fleece and you'll be set for anywhere in Morocco.
Accommodation in Morocco
Accommodation in Morocco is mainly a mix of hotels, riads and auberges but there are loads of campsites and wild camping locations too. When it comes to booking accommodation, we just wing it.
Campsites tend to have availability most of the time. Apart from the over crowded camp in Agadir, a place best avoided anyway!
Wild camping is legal too and due to the immense landscape, there's a wealth of opportunities outside of the cities.
But then it's a little easier when you're travelling in your own vehicle and able to camp just about anywhere.
If your road trip in Morocco is a fly-drive, we advise you book your accommodation for your arrival date and the day before departure, at least. It'll take the stress out of the start and end of your holiday.
You can book accommodation pretty easily en route after this. In fact, we suggest you don't book in advance to avoid having a fixed itinerary.
Half the fun of road trips is having the flexibility to do as you like, when you like.
You lose some freedom with a pre-booked reservation. It's essential to take time to plan your route before your road trip. You'll get more out of your time in Morocco and make sure you don't miss some key sights.
When to visit
By far the best time to visit Morocco is from late autumn throughout winter and into the spring.
The landscapes are green and lush and if you're lucky, you may even get a chance to go skiing in the mid winter snows near Ifrane. Hiking in the High Atlas is best saved for spring and autumn because the mountain weather is unpredictable, especially in winter.
The Sahara Desert is scorching from May through to September. So too are the cities and it's a really uncomfortable time to visit.
A visit to the cast is more tolerable during these summer months but you may experience lots of sea mist the further south you travel, so it may not be the sunny haven you hoped for.
Transport
How to get to Morocco
Most travellers will fly into Casablanca, Marrakech or Agadir. It is possible to hire a car in Morocco too. Whilst we drive our own vehicle, we appreciate that many people will want to fly in and hire a car.
We've never hired a car in Morocco. But we know enough to say you should really book with a reputable firm because you need assurance the car is well maintained and your insurance is valid.
We're not loyal to one rental firm, and will simply go with the one that offers the best value – and that means using a comparison website.
For us, Auto Europe is by far the best, and our first choice, every time. They even do camper van rentals!
Click here for a no obligation car rental quote
If you've had any first hand experience of car hire in Morocco, please let us know. This will help fellow travellers who may not want to drive their own vehicle from their home country.
Most road trippers tend to drive their own vehicles into the north of Morocco from Europe. There are regular ferries from Spain and Italy and border control is straightforward.
Border Crossings: How to take your car into Morocco
Driving in Morocco
Contrary to what many people think, you do not need a specialised vehicle. Most of the roads are in good condition and there's even a toll road to efficiently take you to Marrakech from the north.
It's true some minor roads aren't quite upto European standards, but they're not bad. Take care at the edge of the roads, particularly further south from Agadir and you'll be fine.
Whilst we drive a 4×4 vehicle, this is not essential for a road trip in Morocco. Thousands of European motorhomes and cars visit Morocco every year.
Sure these vehicles can't go off road but in Morocco you don't need to. You can even get to the Sahara Desert on a black top road.
Read before you go: All you need to know about driving in Morocco
Budgeting
What things cost in Morocco
Compared to European standards, costs are low in Morocco for accommodation, food and fuel. Pretty much the only exception is the price of alcohol.
For a basic hotel or auberge, you can easily find double rooms for £10 per night, sometimes less. If you want something a little less basic, budget for upto £20. A £50 per night room will give you something quite luxurious in Morocco.
Easting out is really cheap. A good quality, authentic Moroccan meal for 2 will set you back around £10. If you go to some of the fancier restaurants in Casablanca and Marrakech, you can expect to pay almost European prices.
If you're self catering, Marjanes supermarkets are good value and are much like the European supermarkets. Away from the larger towns and cities, the local greengrocers and butchers offer terrific value and are a great experience too!
Inevitably the main tourist destination will hike the prices so expect to add around 25% onto your budget for those places.
Fuel in Morocco is far cheaper than in Europe (except Gibraltar). A litre of fuel is around £0.90 but head further south into Western Sahara and you can expect to pick up your fuel for around £0.55.
Currency in Morocco
The Moroccan Dirham is a closed currency so you can't bring it in or out of the country. Because of this, you can only get Moroccan currency on arrival.
For more information on closed currencies take a look at this article. Suffice to say, make sure you have a couple of ways off accessing cash when you arrive. Euros and dollars are easily changed but if you have a fee free ATM card, all the better.
Like it? Pin it!