The Netherlands is far more than Amsterdam, canals, and museums.
Venture around the country by road and you'll discover picture-postcard villages, modern bridges spanning 5 kilometers, and exciting cities like Haarlem, Rotterdam, and The Hague.
Our Netherlands road trip itinerary lasted a little over a week and we loved every minute of it.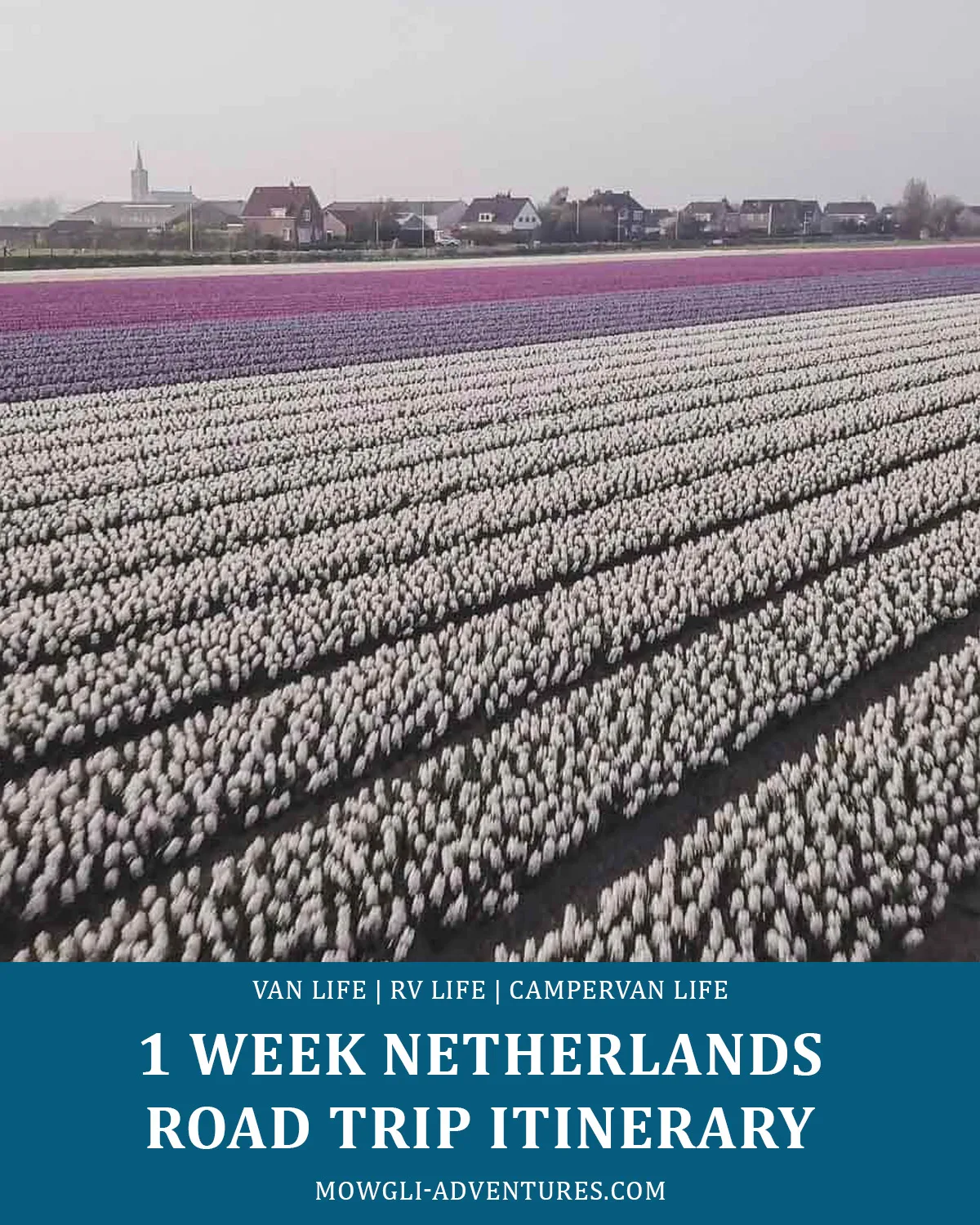 1 Week Netherlands Road Trip Itinerary
The Netherlands is a relatively small size so it's easy to see a lot of the country in a short space of time and without too many hours of driving.
Perfect if you can only spare a week or two. In springtime especially, don't miss the iconic views of tulip fields and windmills.
The Netherlands is synonymous with windmills, and this trip has them by the bucket full.
Planning Tips For Your Netherlands Road Trip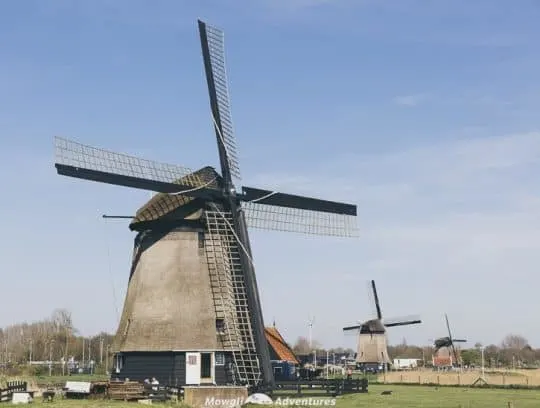 How To Get To The Netherlands
The Netherlands is located in northern Europe surrounded by Belgium, Germany, and the North Sea.
If you're already in mainland Europe, the extensive road network makes for easy driving to the Netherlands.
If traveling from the UK, you first need to reach mainland Europe.
The Eurotunnel is fast and if booked well in advance, a cheap alternative to sailing from Dover to Calais or Dunkirk.
If you're traveling from northern England though, the overnight ferry from Newcastle to Amsterdam is well worth considering.
Although the ferry companies say they arrive in Amsterdam, in reality, the port is in IJmuiden, some 28 kilometers from Amsterdam.
Also read: Best places to visit in the Netherlands outside of Amsterdam
Hiring A Car Or Camper Van In The Netherlands
While we drive our own vehicles, we appreciate that many people will fly to Europe and hire a car. We've done a few of our road trips by hire car in Europe too.
Always use a reputable firm because you need assurance the car is well maintained and your insurance is valid.
We're not loyal to one rental firm, and will simply go with the one that offers the best value – and that means using a comparison website.
For us, Rentalcars is by far the best, and our first choice, every time. They even do camper van rentals!
Tips For Driving In The Netherlands
The Netherlands is perhaps the easiest country in Europe to drive. It's orderly and road users drive under the speed limit.
It's perfect for a stress-free trip and for anyone new to driving on the right-hand side of the road.
You only need to keep an eye out for cyclists who seem to have priority everywhere.
Driving in the Netherlands is easy, so it's the perfect place for a trip.
Best time to visit the Netherlands
Amsterdam is always busy but in the rest of the country, the peak tourist season in the summer months from June to August.
In the northern part, springtime is also a busy period because the tulips are in full bloom. Try to avoid the Easter school holidays if possible.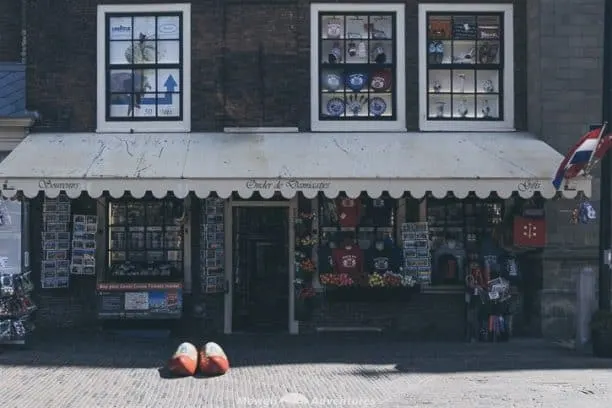 Accommodation in the Netherland
As with most of Europe, Netherlands has loads of choices when it comes to accommodation.
You can book an Airbnb, hotels, guesthouses, and campsites.
If traveling in a camper van, it's possible to find places to sleep for free too.
We found some perfect overnight camping spots.
Take a look at this post for practical tips on how you can camp for free in Holland and see the spots we stayed at too.
And if you do want to stick around and visit one of the most popular tourist attractions in Netherlands, take at the best areas to stay in Amsterdam.
E111 & Travel Insurance
European citizens should carry their E111 card to cover in the event of needing emergency treatment.
Don't make the mistake of thinking this is instead of a good travel insurance policy though.
We strongly advise you to take out a good travel insurance policy.
Packing for a Dutch road trip
Before you leave home, make sure you download the free navigation app, maps.me, and the maps for Netherlands.
We use maps.me together with iOverlander. Learn how to use iOverlander offline to save money on mobile data.
Also, carry a European road atlas too and a good guidebook.
The weather in the Netherlands can be unpredictable, especially in the north so it could rain anytime, even during the summer months.
Pack a few layers, and a light raincoat in the summer so you don't get caught out.
Budget advice: see what things cost & what we spent in the Netherlands
One Week Road Trip Itinerary
Distance covered on this Netherlands road trip: 173 miles / 277 km
Driving time: 4.5 hours
Time required: 1 week
Netherlands Road Trip Itinerary – The Route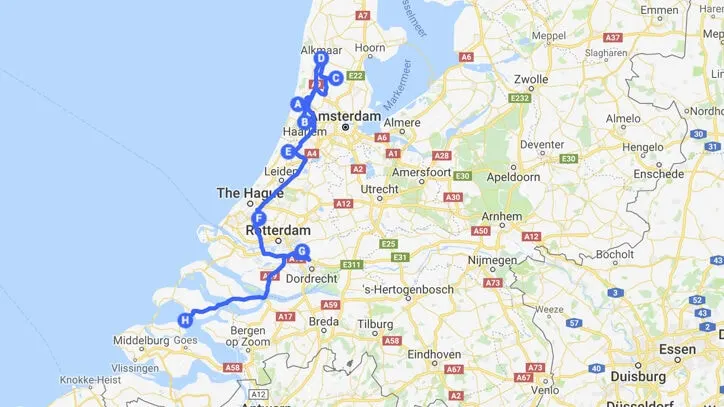 This is our 1 week Netherland road trip route.
We weren't on a tight timescale so traveled at a pace to suit us. For more detailed information on things to do in the Netherlands on this road trip, take a look at this post.
Bear in mind our Dutch road travel was a one-way journey so we didn't loop back to our starting position.
As we say towards the end of this post, had we planned a return trip, we'd have changed the end of this itinerary and traveled from Kinderdijk to Amsterdam via Utrecht.
We probably would have added an extra couple of days to the total too.
Distance Driven: 173 miles / 277 km
Driving time: 4.5 hours
Start in Haarlem, Little Amsterdam
Haarlem is the little brother of Amsterdam and a perfect start to road travel in Netherlands.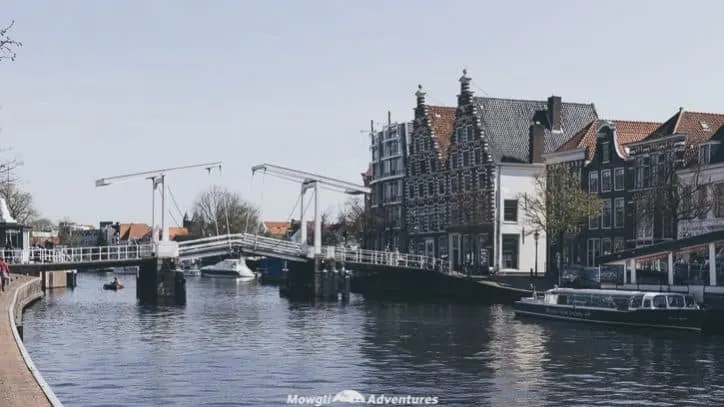 With cobbled streets, history-steeped squares, landmark windmills, canals, and museums galore it's easy to spend a day or even 2 wandering around this lovely city.
And with plenty of gardens and parks to laze away a warm afternoon, you can take time to relax too.
Distance from IJmuiden ferry terminal: 7 miles / 11 km
Driving time: 20 minutes
Time needed: 1-2 days
Head North To Alkmaar For A Dutch Cheese Fest
The next stop is the most popular Dutch cheese market in Netherlands. We had a fantastic day driving from Haarlem to Alkmaar though.
We stopped by for lunch in the pretty pedestrian town of De Rijp and wandered around the canal flanked cobbled lanes for an hour or 2.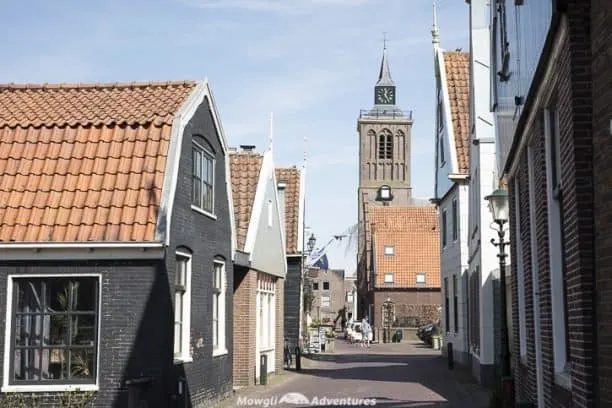 Our overnight parking spot for the night was beside a picturesque canal-side walking path, lined with not one but 4 windmills.
Strolling along here with no other tourists was a perfect end to the day.
Alkmaar cheese market is a popular tourist spot held every Friday during the spring and summer. For more on our experience in Alkmaar check out this article.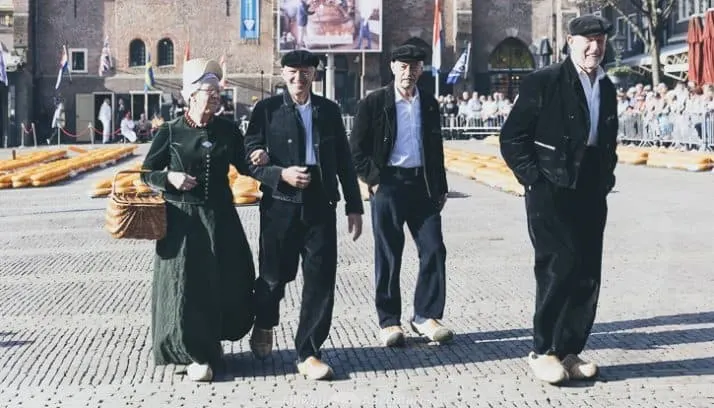 Distance from Haarlem: 26 miles / 42 km
Driving time: 45 minutes
Time needed: 1-2 days
Time To Head For The Dutch Tulip Fields Around Keukenhof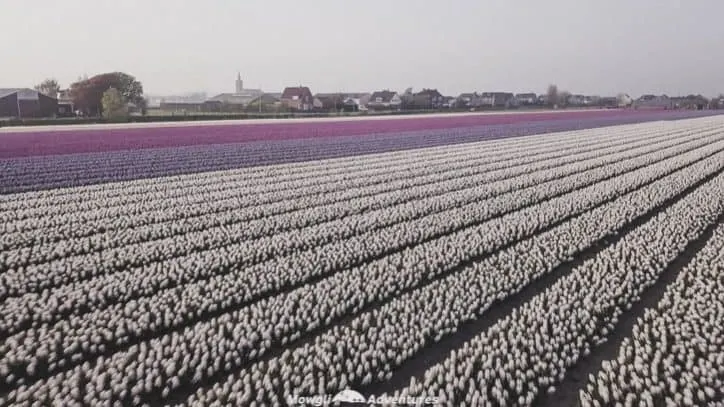 Springtime is a perfect time to see Holland's tulip fields in full bloom. Keukenhof is the most famous and popular place to see well-manicured and colorful gardens.
With over 800,000 visitors during the 2 months, it's open each year, Keukenhof is one of the main tourist attractions in Netherlands.
However, as we drove nearby, the traffic became increasingly heavy and the crowds entering were huge.
Those crowds were too much for us so rather than paying the entry fee to join thousands of others, we opted for our own free tour of the area around Lisse.
Take a look at where we camped for the night in this post. It was right among the tulip fields and completely beautiful.
Also read: Where we slept in the Netherlands (and how we did for free)
Distance from Alkmaar: 34 miles / 55 km
Driving time: 45 minutes
Time needed: 1-2 days (or as long as you want if you can't tear yourself away)
Next Stop Delft, The Home Of Blue & White Pottery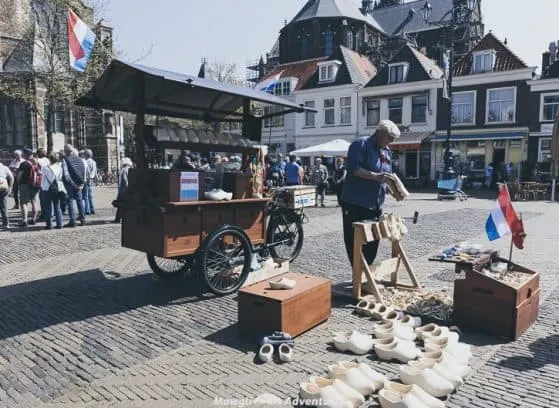 Delft is a town famous for its tableware pottery with traditional blue & white painted dutch landscapes, windmills, and canals.
It's a wonderful little town and fabulous for strolling around the Saturday antique market.
Make sure to spend time in the main square where you can indulge in some al fresco dining and watch the local clog maker practice his age-old skills.
If the weather is good, don't miss a visit to Delft Hous Grote Plas, a huge park surrounding a lake where the locals flock with their families and BBQs to soak up the summer sun. Idyllic!
Distance from Lisse: 30 miles / 48 km
Driving time: 50 minutes
Time needed: 1 day
Kinderdijk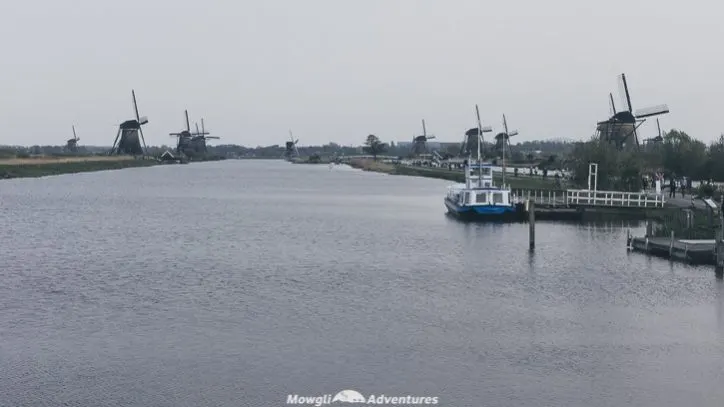 Did we say Netherlands had a few windmills? Well, one of the most impressive sites of windmills is a few kilometers from Rotterdam at Kinderdijk.
The entire windmill system is now part of a UNESCO World Heritage Site.
There are 19 windmills to feast your eyes on along a 5 km towpath with a cracking viewpoint near the ticket office.
For 7 euros you can walk along the two paths to see them up close, visit the museum and learn more about the windmill's purpose and history.
Distance from Delft: 27 miles / 43 km
Driving time: 1 hour
Time needed: 1 day
Drive Across The Netherland's Longest Bridge, Zeelandbrug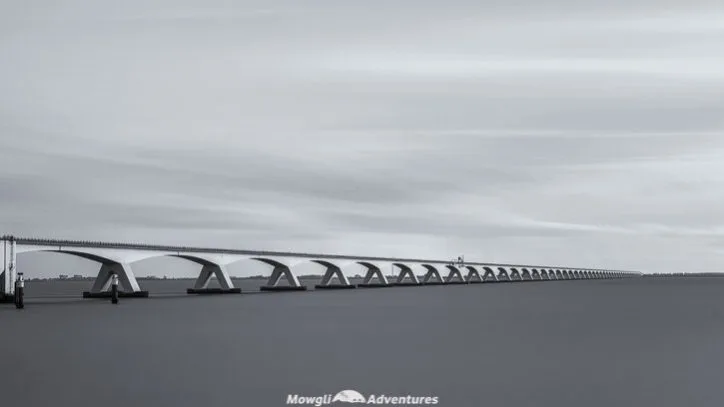 Perhaps not a typical item on most travel itineraries for Holland but for us, a must-do.
We were keen to photograph the Netherlands' longest bridge so, en route to Belgium, we stopped by Zeelandbrug. Once we'd photographed it, of course, we drove across it too!
Distance from Kinderdijk: 49 miles / 78 km
Driving time: 1 hour
Time needed: 1/2 day
Our 1-week trip to Netherlands ended here as we continued our journey into Belgium to take up our place on a cargo ship to South America.
However, if we were to do a loop back to our starting position, we'd have probably skipped our last stop at Zeelandbrug and gone back towards Amsterdam via Utrecht. That journey will need to wait for another time for us though.
If you found this Netherlands road trip itinerary helpful, consider checking out our other articles below –
Like it? Pin it!