Planning a trip to Misiones and Corientes in Argentina? Then start here with our northeast Argentina road trip itinerary, with suggestions on where to stay, things to see and amazing waterfalls you can't miss along the way.
We entered Argentina from northern Uruguay near the town of Concordia at the end of June, winter in the southern hemisphere.
Because the weather was a little unpredictable and not as warm as we like, we wanted to head north at a pace but not so fast to miss out on some key stopovers.
The route can be done in reverse too, perfect if you're coming into Argentina from Paraguay or Brazil. So rather than make a mad dash up or down the long Ruta 12 and 14, this itinerary will help make your trip a memorable one.
Our northeast Argentina road trip route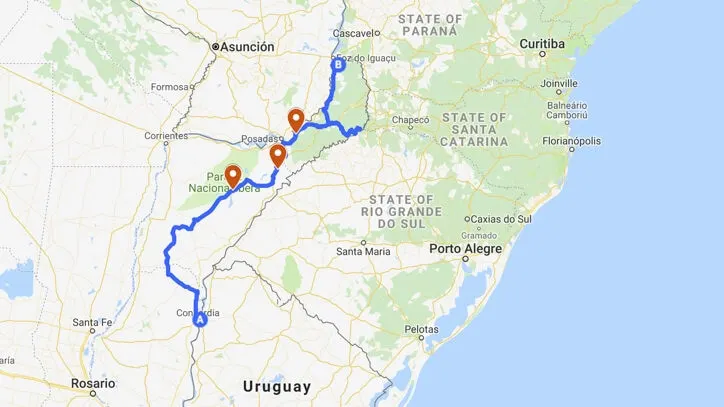 Map guidance
Before we launch into providing a rundown of our northeast Argentina road trip itinerary, here's some guidance on the map above.
This post is a general overview to help you plan your own road trip route; we've written several guides to help you plan your trip in more detail and they are linked within this article, and on each of the red markers on the map too.
You can open this map in Google Maps for a full scale interactive view and more detail on directions and driving distances.
Red marks indicate the key places we visited and recommend on our route. You don't have to go to all of them. You can choose from dozens of waterfalls in the east of the region, some more accessible than others. Half the fun is finding your own unique spots, so we hope this will at least inspire you to head off the beaten track and explore the region.
The blue line indicates our driving route and gives a good overview of where we travelled.
We spent 25 days driving this route because we travel slowly. For those with a fixed amount of time, we'd recommend taking no less than 12 days. You could drive the route faster than this, but we'd advise you stick to tarmac roads to avoid delays and being caught in places you just don't want to leave.
Make sure to check out our guide to driving in Argentina for lots of tips and advice.
Northeast Argentina road trip itinerary
As is evident from this itinerary, the northeast of Argentina is dominated by water. With rivers, waterfalls, wetlands and of course, one of the 7 new natural wonders of the world, even a little rain can't ruin a trip to this amazing part of Argentina.
Despite visiting during the winter months, most of the days were sunny, warm and dry. When it rained, it was pretty cold but it made for a few fun driving tracks along the way!
Ibera Wetlands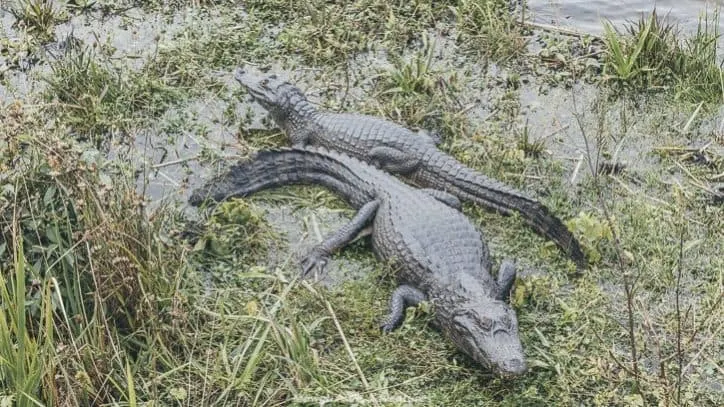 The world's 2nd largest wetlands seeps across 13000 square kilometres of northeastern Argentina. Not so much on the tourist trail and not too easy to get to, Esteros del Ibera wetlands is a wildlife mecca.
We couldn't resist a visit on our northbound journey and was our first major stopover in Argentina.
It's a watery wilderness, teeming with capybara, peccaries, alligators, snakes and birds. Many species in Esteros del Ibera wetlands were once hunted to the brink of extinction.
Over the past 10 years or so, many projects kicked off to restore Ibera wetlands to its former glory. They've had some success reintroducing giant anteaters and pig-like peccaries and there's even a project to reintroduce jaguars to Ibera wetlands.
We spent our days wildlife spotting on boat trips, lounging lagoon side and walking the kilometres of forest trails to experience nature up close. It's a place not to be missed and with so few other tourists, you'll feel you have the place almost to yourself.
And there's several projects running for rewilding Iberá National Park. We loved the northern part of the park with the recently freed green-winged Macaws.
Getting there: the roads in and out of Ibera are sandy tracks. If the weather is dry, and has been, they're easily accessible in a 2 wheel drive car. Driving this road in the wet needs a 4 wheel drive vehicle. Follow Ruta 40 and enjoy the ride!
Read our detailed guide to Ibera Wetlands
Las Marias mate factory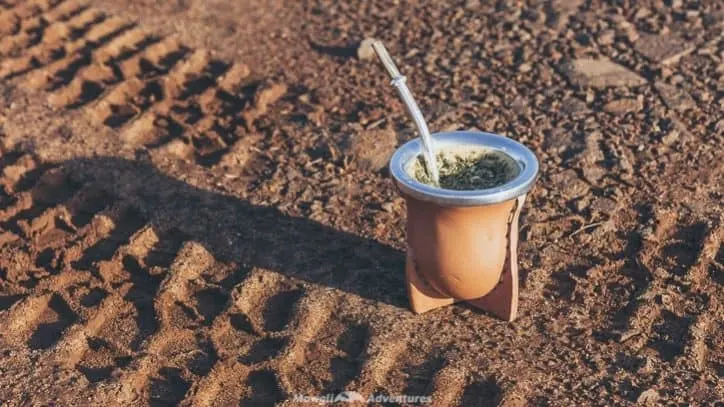 Everywhere in Argentina, Uruguay, southern Brazil and Paraguay, the locals drink mate (pronounced mah-tay). Vast swathes of the population clutch thermos flasks, sip from a silver straw dunked into an unfamiliar shaped cup, seemingly stuffed with semi dry leaves.
It takes first time visitors to this region of South America a little getting used to seeing.
Heading north from Ibera wetlands, the landscape is dominated by yerba plantations belonging to the world's largest producer of this South American beverage.
So of course we paid a visit although endured torrential rain and a huge storm but it didn't dampen the enjoyment. If the weather was better, a tour of the grounds would have been stunning. And best of all – it was completely free.
Getting there: Las Marias is a little south of the town Gobernador Virasoro on RN14. It's about 30km north of the junction with the RP40 from Ibera, well signposted from the road.
Read next: A south American obsession with yerba mate
Jesuit Missions at San Ignacio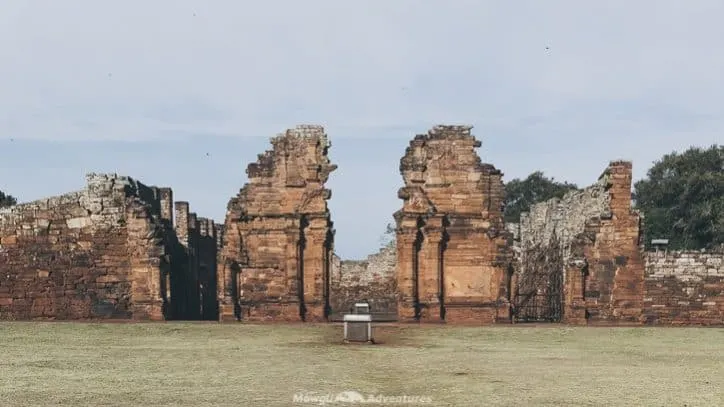 The Guaraní Jesuit missions of Argentina are located in the Argentinian province they gave name to, Misiones. UNESCO declared what remains aWorld Heritage Cultural Site.
We spent 4 days in and around San Ignacio, enjoying not just the tour of the 3 major sites but the Atlantic Forest too and the sandy banks of the Rio Parana.
If like us you're driving this route south to north, it's here where things start feeling like the tropics are getting close. The humidity increases, little by little, insects begin to dine on your ankles unless coated in a fine DEET spray and the birds become even more colourful and more squawkier (if that's even a word) .
Read next: Guaraní Jesuit missions of Argentina
Exploring the waterfalls in Yaboti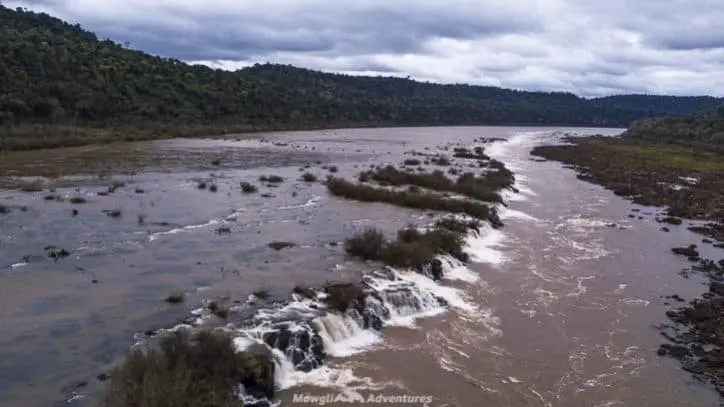 And we entered into the wonderful world of waterfalls. Waterfalls litter the east on the Misiones province. Throw a stick and you'd hit one.
Some of the falls are a tourist attraction and so easily accessible, others are way of the beaten track and you'd need a 4×4 to reach them, as well as some nerve if it's raining.
We spent a few days enjoying the journey to a some waterfalls in the area, exploring tracks and spending nights camped up beside them in complete solitude.
The fun of this area is in finding your own route. Go explore! But don't miss one of the most unique waterfalls you're ever likely to see: the Mocona Falls – it falls sideways along the river!
Getting to Mocona Falls: the road leading from RN 14 to the Mocona Falls is sealed all the way from the border town of El Soberbio.
That said, you can take plenty of detours along gravel tracks to explore other waterfalls in the region. Just take care during or after rain as they'll be slippery.
Wanda Amethyst Mines
Rumour has it the amethyst in the pope's ring came from the Wanda amethyst mines in Puerto Iguazu.
The mines have a series of caves still mined today by a handful of locals using traditional methods. It's interesting to see the quartz bubbles in situ and the crystals glinting in the light.
There's a very big gem shop to end the tour, selling all sorts of trinkets made from polished amethyst and quartz.
To be honest, we felt it was a bit of a tourist trap but we met a British geologist in Puerto Iguazu who said she really enjoyed her visit.
It's clearing growing as a tourist destination, evident from the roads under construction leading to it but this is perhaps more because tour companies are adding it to their itineraries than it warranting a visit in its own right.
Local children line the roads leading to and from the mines, trying to sell handicrafts made from dyed amethyst and quartz.
In the time since we arrived in South America, this is the first encounter we've had with quite forceful attempts at plying visitors with tat.
The kids aren't in any rush to move out of the way of moving vehicles, confident most drivers will stop rather than hit them.
The cost of entry to the Wanda Amethyst Mines is ARG$100 per person. A bit rich in our opinion. A guide is mandatory and visitors can tip him at the end of the tour if they wish.
Getting to Wanda amethyst mine: the town of Wanda is about 50km short of Iguazu Falls along the RN12.
Iguazu Falls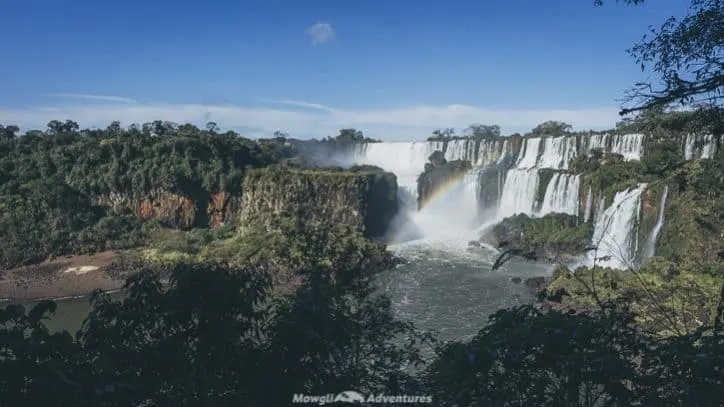 275 waterfalls, spanning 1.7 miles and straddling Brazil and Argentina, on first sight, "Wow" is the only reaction! The falls can be visited from both the Brazilian side and the Argentinian side.
We visited the Argentinian side a few days ago and will visit the Brazilian side over the next few days. The park on the Argentinian side caters well for visitors and it's a fantastic day out.
The walking trails provide superb views of Iguazu Falls, giving a sense of just how huge this natural wonder is. The trails culminate in a boardwalk over river to the edge of the incredible Garganta del Diablo or Devil's Throat.
This is understandably on many bucket lists around the world, and for good reason! We couldn't think of a better way to end our northeast Argentina road trip itinerary – truly a memorable experience.
How much we spent
We aim to travel for no more than an average of £30 per day including all accommodation, fuel, groceries and sightseeing. Argentina is reportedly one of the more expensive countries to travel in South America but it doesn't have to bust your budget.
During 24 days in northeast Argentina, we spent a grand total of £775, an average of £32 per day. We travelled 921 miles, visited 1 of the 7 natural wonders of the world, free camped 11 out of 25 nights, ate meat every day and enjoyed an occasional bottle or 2 of wine.
We even splashed out on a restaurant dinner with wine one evening in Puerto Iguezo. Inadvertently, we overfilled our fuel tanks at the last fuel station so paid for about 100 litres of fuel we're yet to use. That could have reduced our budget by a further £80.
Considering everything we've done and experienced during our time here, we'd say it's pretty good value all told.
Where we stayed
This map shows each of our overnight camping spots. The blue markers show the paid campsites, the green were the freebies. Where possible, we've included a link to the campsite's website if they have one.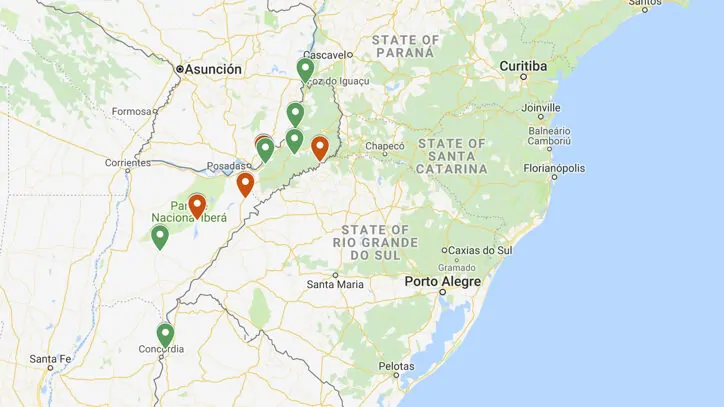 Like it? Pin it!