Over the centuries the city of Hamburg has suffered Viking raids, catastrophic fires, Danish occupation, heavy bombardment during WWII and more recently, a visit from Mowgli Adventures.
Despite it all, Hamburg keeps building itself back up and remains known as the gateway to the world.
Today, Hamburg is touted as Germany's hip 2nd city, so when the Captain of the Grande Amburgo gave us shore leave, we couldn't wait to spend a few hours exploring. Here's how we spent one day in Hamburg with a few hints and tips for you too.
How we spent one day in Hamburg
Soaking up the sun at Alster Lake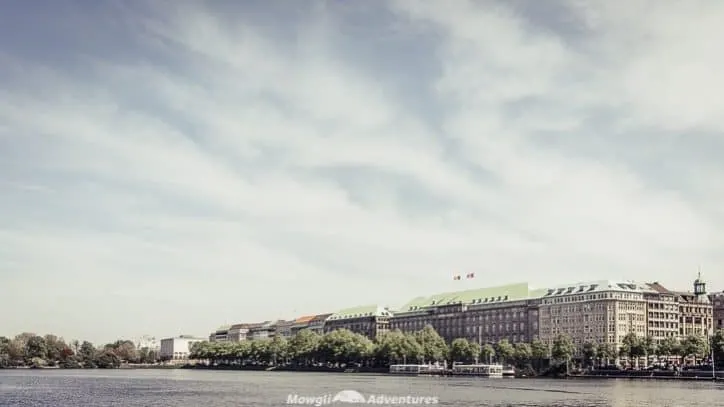 After a few days on the ship but only 1 day at sea, we already craved some green space. No sooner had we arrived in central Hamburg, than we headed straight to the park or rather, a large lake.
Hamburg is dominated by water. With the massive Elbe River running along its backbone, two inner city lakes and a network of canals, you may as well make the most of the aquatic life here.
Canoes, sailing boats, rowing boats our lake tours are all available on the Outer Alster Lake. If we weren't about to spend the next 4 weeks at sea, we may have opted for a leisurely cruise to while away an hour.
Instead, we joined the throngs of lunching office workers, bag laden shoppers and weary tourists resting on the steps over looking the lake for spot of people watching.
Checking out the local architecture at Rathhaus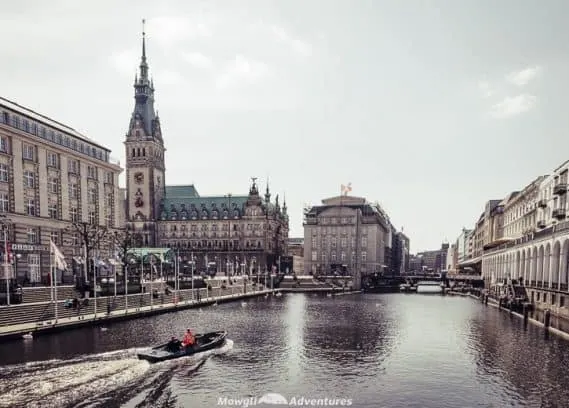 Rathausmarkt is one of Hamburg's main squares and the towering clock of the town hall looms tall over it.
The Rathaus is Hamburg's elaborate, neo-Renaissance town hall and although we didn't opt for it, you can take a tour inside.
We heard it's well worth the €4 price so it's worth considering if you have a little longer than just one day in Hamburg, and architecture floats your boat.
Visit St. Nikolai Memorial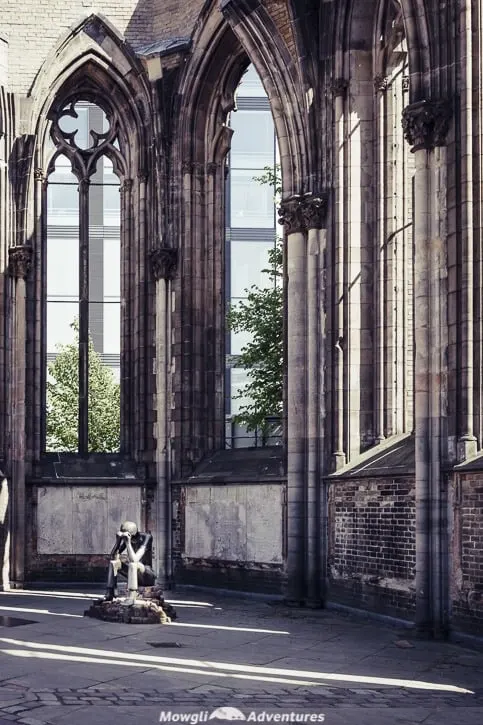 This is one of the oldest building still standing in Hamburg. Much of the city is more modern with slick lines, glass façades and impressive designs. In many respects, the bombed out ruins of St Nikolai church look similar to those of Coventry Cathedral in the UK.
With just enough of the building intact, it's been made safe and today is a lasting reminder of the destruction of World War II.
With free entry it seemed popular with locals and tourists alike and there's an excellent museum. For €5, you can take a lift to the top of the bell tower for views over the city.
Chilling out in the park around Michel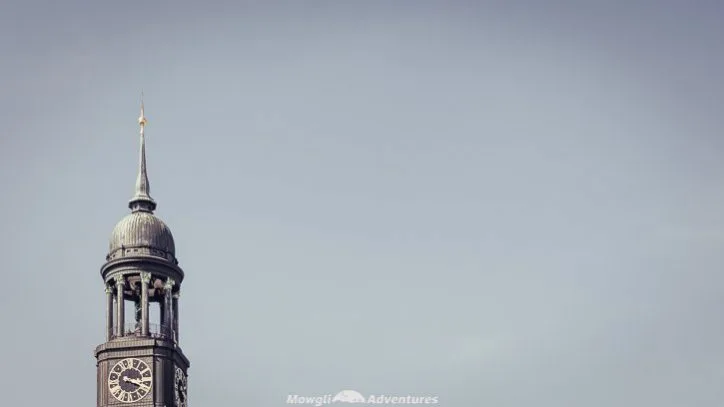 Considered one of the finest Hanseatic churches in this Baroque style, St Michel's church is surrounded by an open park.
The locals refer to this Hamburg landmark simply as Michel. We missed the daily organ recital but enjoyed the fresh air and green space for a while. And we weren't the only ones.
A few locals arrived to set up a huge barrel BBQ. I have no idea who they planned to feed but the BBQ was way too big for a few lunchtime wurtzels.
A stroll along Reeperbahn
As we entered the Reeperbhan district, the atmosphere changes. A sign warning guns, knives, baseball bats, broken bottles and mace are strictly prohibited between 22:00 and 06:00.
Perhaps we should come back later when it's a little more safe then?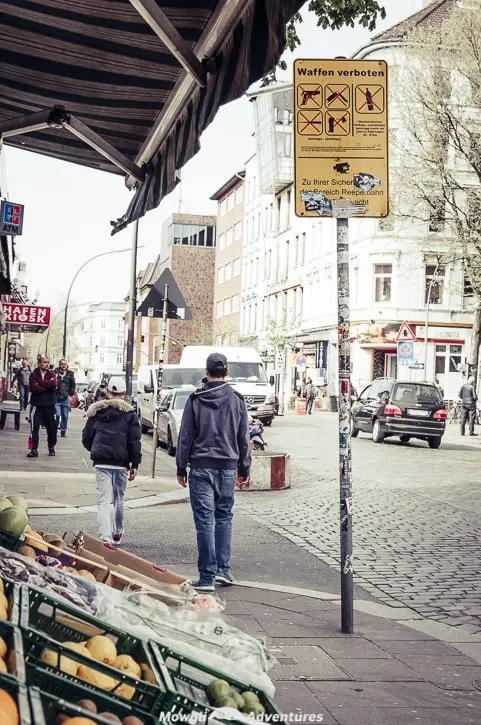 Street life abound, there's no end of interesting sights along Reeperbahn and its back streets. Reeperbahn is Hamburg's famous red light district and Germany's answer to sunset strip.
Gone are the suited 9to5ers from just around the corner, replaced by other people. Beefy bouncers, seedy pimps and brothel security guards.
Slimy sex-tour selling hustlers, the occasional lost tourist completely embarrassed and red in the face. And the ex showstar with fading beauty and sagging implants, donning bright lipstick and harsh eyeliner.
A shadow of her former glory. Ok so this is completely unfair on anyone we passed that didn't fall into the one of the above. Sorry about that.
Straying on the back alleys of this area didn't feel like a place we should visit looking like tourists. In daylight, the Reeperbahn is a pretty ugly and distasteful area.
Even McDonalds, a global chain proud of its clean family image is sandwiched between and under brothels and sleazy clubs, where for the price of a few big macs you can buy yourself some entertainment.
If you're so inclined, there's a range of genres to suit every taste.
Despite being 60 miles or so from the sea, Hamburg is a large port town and like many, it has a rough side. A little edgy, sleazy in parts and feeling more grungy inner city than jovial Bavarian.
This side of the city is an acquired taste, not one we found with just one day in Hamburg. Had we more to time to explore, maybe we'd have grown to enjoy it more.
Dinner in Hamburg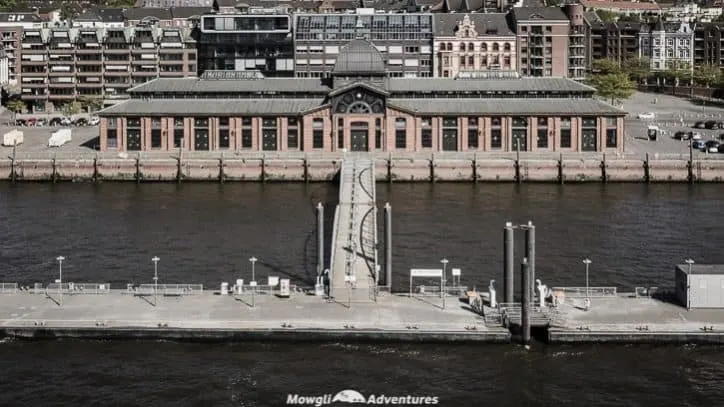 Naturally, Hamburg prides itself on excellent fish. Whether you're in the mood for elegant classics, sumptuous sushi or fish sandwiches fischbrötchen at the Fischmarkt, enjoying some seafood is a must in Hamburg.
Spending no money while we're on the ship, we decided to indulge in a meal out at the end of our day in Hamburg. Bear in mind I can't stomach fish so we needed to find somewhere both Angela and I could enjoy the menu.
As we headed from Reeperbhan down to the Elbe River we happened upon Hamburg's Portuguese Quarter. Brimming with cafés, wine bars and restaurants a fine fish supper (and a steak) and a bottle of Rioja was too good to pass by.
A perfect end to one day in Hamburg.
Travel tips for Hamburg
The best views of Hamburg
We had the good fortune to arrive in Hamburg from the sea. Sailing up the Elbe River on the 13th deck of a freight ship offers a terrific vantage point of the city skyline.
We wouldn't suggest booking passage on a cargo ship specifically for this view. Harbour tours are available from St. Pauli Landungsbrücken though.
You may not get the benefit of 13 decks up but for the best views, aim for a boat with at least 2 or 3 decks.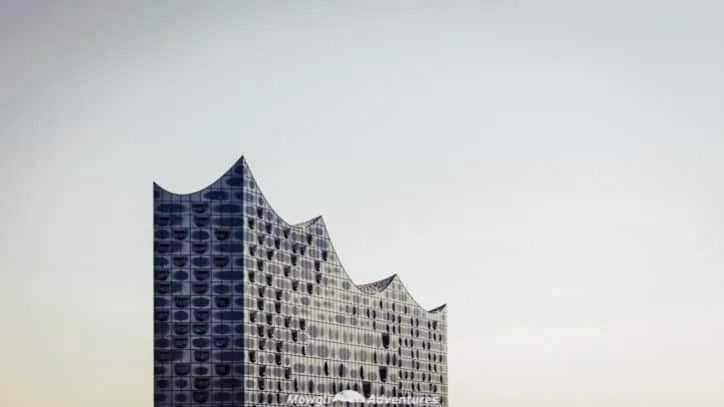 The added benefit of a harbour tour is the chance to get a little closer to the commercial port. Perhaps we're a little biased having spent so much time now on a cargo ship but the huge machinery involved in the logistical operation of loading and unloading freight is phenomenal.
Whatever you do, don't pass on a chance to spend a little time watching stevedore's driving around a port. It's like a scene straight out of a Mad Max movie.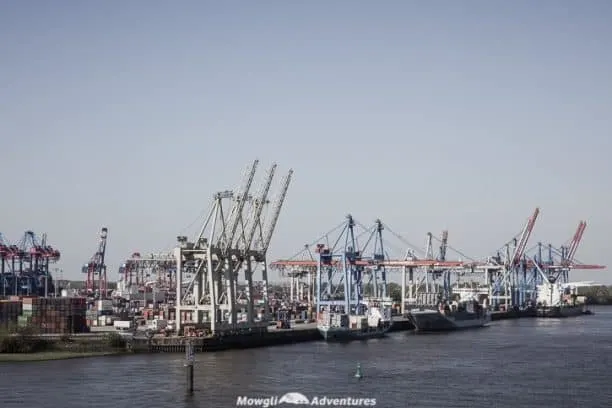 How to get from the commercial port to central Hamburg
Most travellers arriving by ship into Hamburg will arrive at the historic Speicherstadt or St. Pauli Landungsbrücken. If this is you, you're already in the centre with most attractions an easy, short walk.
If like us, you arrive in Hamburg on a commercial freight ship or RoRo, your ship will dock on the opposite side of the River Elbe. Inconveniently there's no quick ferry, tunnel or bridge to get to the city from there though.
We were given a lift by port security from the ship's berth to the main gate. From here, we walked for about 10 minutes to the nearest train station, Veddel.
A single train ticket into the city costs €3.30 each. We travelled to Jungernsteig but you could get off earlier at the central station, Hauptbahnhof, or a little later at St Pauli, depending on where you want to start your day in Hamburg.
Photo gallery from one day in Hamburg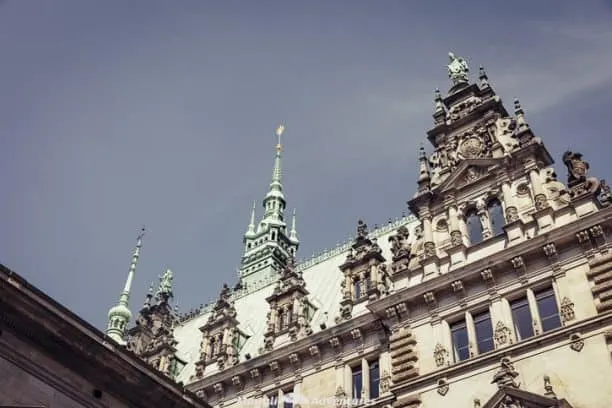 The Rathaus is Hamburg's elaborate, neo-Renaissance town hall.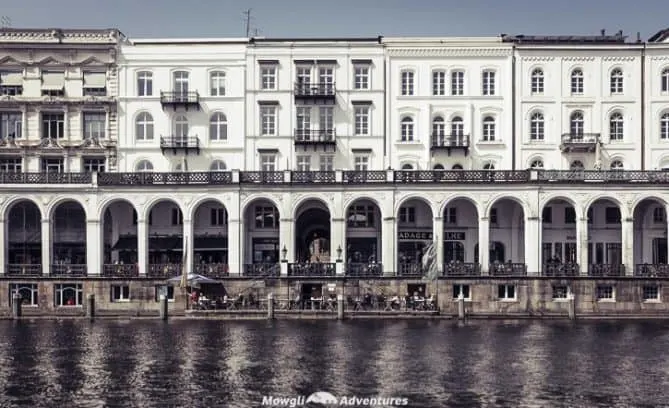 Some of the fancy cafés surrounding Rathausmarkt.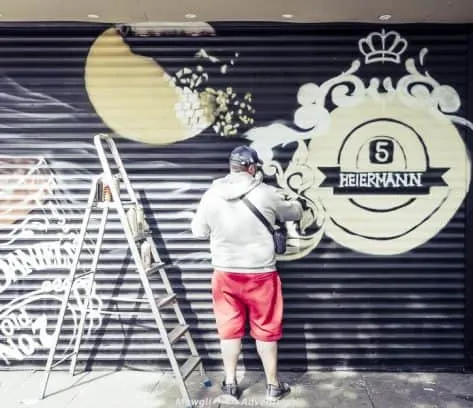 Street art is a big thing in district surrounding Reeperbhan. The colourful murals are a welcome addition to an otherwise grey shutter.
Yet few buildings along the backstreets of Reeperbhan escape without graffiti daubed street art.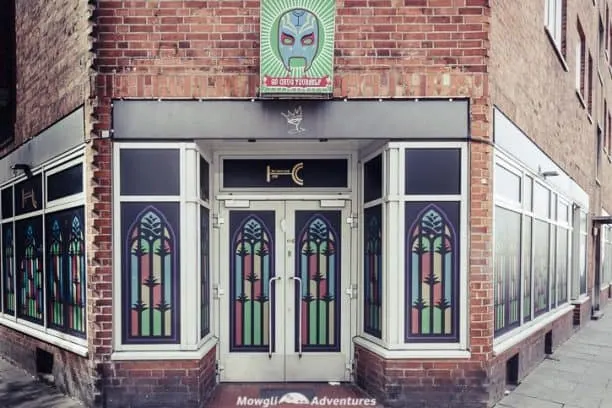 One of the many cocktail bars, clubs and bars in Hamburg. Most were closed during the day but this is party central after dark. Head to Reeperbahn for the clubs where the Beatles made their name.
Some of the 17th-19th century houses on the Deichstraße, re-purposed into restaurants and cafés to meet the demands of today's visitors.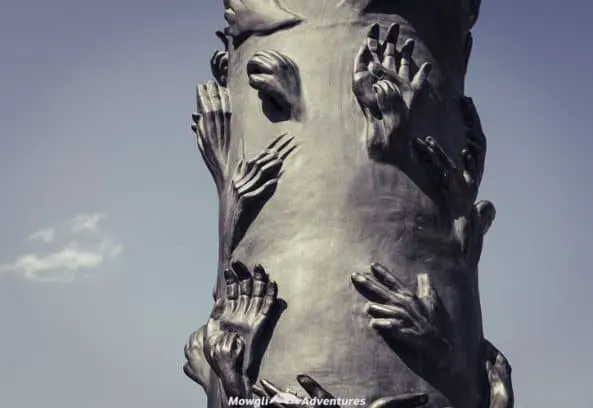 One of the bronze sculptures within the ruins of St Nikolai church, a lasting memorial to the destruction of WWII.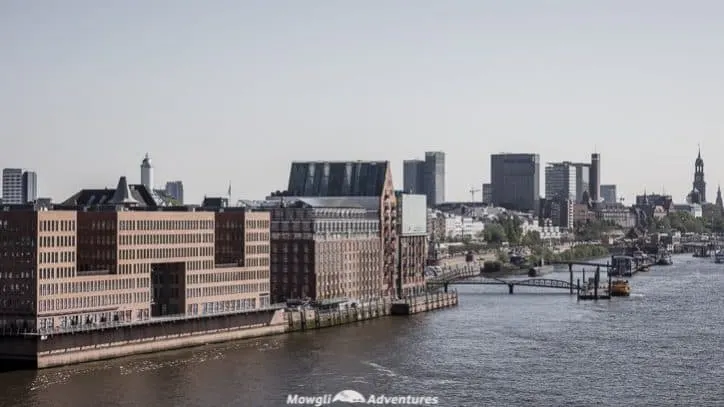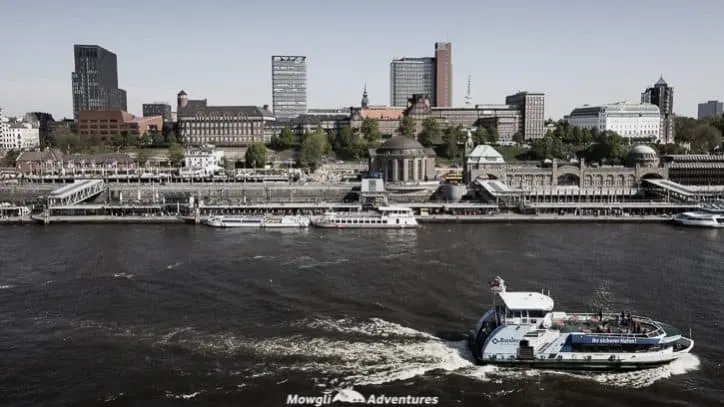 Booking a harbour cruise is easy from St Pauli Landungsbrücken and the views are the best to be had.
Like it? Pin it!