After a long drive through the cedar forests of the Middle Atlas Mountains of Morocco, we pulled into a campsite near Azrou.
It was late spring and we camped amongst a fruit laden cherry orchard. As Angela began making cherry muffins in the back of Mowgli, along came a long white haired older man.
He stopped in front of Mowgli, put his hands on his hips and slowly looked Mowgli up and down.
Of course being a proud Unimog owner, I obviously assumed he was admiring our fine 4 wheeled home.
But oh no! In an assertive tone, he declared in French, "you don't need all this for Africa! Come. Let me show you".
I was about to be given a lesson in overlanding by 80 year old Jacques-Victor Mornai and his 40 year old Citroen.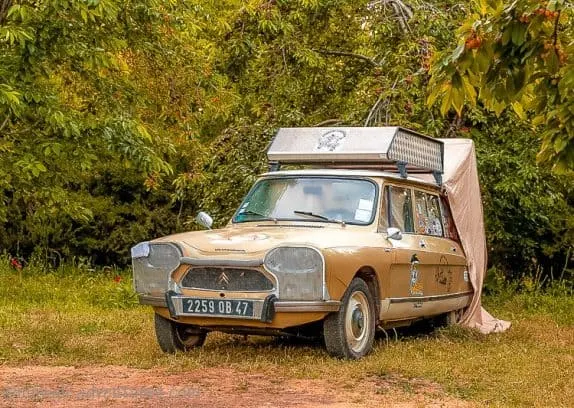 He walked me across the campsite and proudly displayed his concourse condition 1976 Citroen Ami 8, named Phacodundee, complete with slim line top box and an awning fitted to the rear.
This 3 horse power chariot had taken him and his sprightly travelling companion Catherine Liabot Verne, who is 20 years his junior on a 350,000 km solo adventure.
Whilst showing me around his beloved Ami 8, Jacques explained that they have travelled all of Africa.
They had been on the road since 1996 and visited many places that we will now only be able to dream of visiting in this world of instability.
Jacques and Catherine didn't just limit themselves to Africa. They've circumnavigated South America and Australia too.
They carry no GPS, no mobile phones or modern technology; they just travel where their car takes them.
He carries a few spares, a film camera and their home comforts stretch to a plate and a knife and fork each.
As well as being an adventurer, Jacques is also a fanatic on Citroen Ami 8's; he is widely regarded as the leading expert on these cars that ceased production in 1978.
Jacques joined the Army in 1953; he narrowly avoids being sent to Vietnam and is instead stationed in Senegal.
He stayed in Africa and became a film distributor. At 80 years young, and with four heart by-passes behind him, he is quite the character.
Read more: Find Best GPS For Overlanding & Off-Road Adventures
Overlanding Light
After listening to his stories for a few hours, I asked what he kept in the slim line top box, as he clearly doesn't carry very much of anything in the back.
He showed me.
Opening the lid, the contents consisted of several French car magazines that he and Phacodundee were featured in. And that was it.
Catherine hadn't seemed so personable; we had assumed it was perhaps because our French was so poor.
But upon seeing the contents of their overland vehicle and home, we reckoned we'd be pretty grouchy too in her shoes.
I completely accept that you can travel very light.
With a very low powered, simple vehicle it's still possible to travel long term and reach places far off the beaten track.
Whilst in itself, this story is inspirational, it is perhaps just a little too simple and certainly more hard core than I'd like, even more so at the grand old age of 80.
So please join us in congratulating Jacques and Catherine on their inspiring, overland adventures and for having a wonderfully strong relationship.
You can practise your French and read more about Jacques, Catherine and Phacodundee on their blog www.phacodundee.com.