The Peak District is full of beautiful scenery and enchanting walks, but most of them are fairly buttoned-down, suitable only for serious hikers. That's not the case with the Padley Gorge Walk, though — it's a walk that's as fun as it is stimulating.
Your kids will have just as much fun as you do on this hike, as there's water to splash in, trees to climb, and even a rope swing to enjoy. They can scurry around to their heart's content, and when they're done, you'll have happy (and, more importantly, exhausted) children on your hands.
It helps that the setting is otherworldly and magical as well. The area feels like something Tolkien might have dreamed up, and your little ones can entertain themselves, imagining that they're battling hobbits, trolls, and other fantastical creatures. This walk will challenge their minds as well as their bodies and don't be surprised if they ask to come back again soon.
Of course, therein lies the rub — a hike this wonderful is bound to be popular, and Padley Gorge does not disappoint in that respect. So while you won't be elbow-to-elbow with other hikers, don't expect to have the trail to yourself, either (and don't expect to find free parking if you roll up in the middle of the afternoon).
There are several food options along the way, including a cafe midway through and some ice cream vans at the trailhead, so your party shouldn't starve to death out here. If you still feel a bit peckish after you're done walking, the nearby town of Grindleford has several excellent choices.
While this isn't the most challenging walk in the world, the terrain is often rough and undeveloped, so it's not ideal for walkers with mobility issues. The lack of refinement only adds to the charm, though, as it feels like you're leaving the real world behind to enter a realm of fantasy and wonder, if only for an hour or two.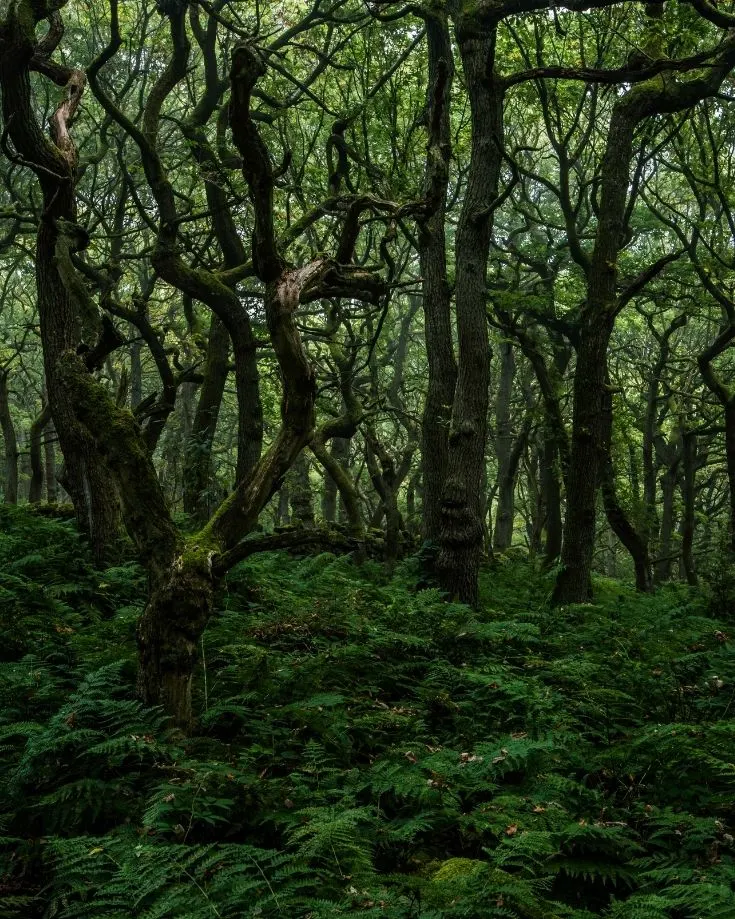 Padley Gorge Walk Stats
Distance: 3.7 miles/5.9 km
Type of trail: Circular
Parking options: You can find clearly designated free parking at the start of the trail — you'll notice the map is entitled "Padley Gorge Ice Cream Van," which is a bit of a spoiler for later. The free parking fills up quickly (and police are just as quick to ticket illegal parkers), so if you can't find a spot, try the car park at the Longshaw Estate (£3.50 for 3 hours).
Walk points of interest: Longshaw Estate, Yarncliffe Wood, Grindleford Station, Totley Tunnel, Granby Barn
How long does Padley Gorge Walk take? 1–3 hours (although it can take quite a bit longer if you stop to splash around a bit)
Accessibility: Much of this walk is over rough terrain through woods, so wheelchairs and prams will struggle if they can make it through at all.
Total ascent for Padley Gorge Walk: 643 ft./196 m
Are there public bathrooms? There are public toilets at the start of the walk at Longshaw Estate. You'll find a few more later on at the Grindleford Station Cafe, but they're a bit cramped, don't always flush, and aren't disabled-friendly.
Best places to eat nearby: The Grindleford Station Cafe is actually on the walk, and it's a massively popular eatery that serves traditional British cuisine. If you want more of a sit-down restaurant, The Maynard in Grindleford is an excellent, elegant pub.
Best places to stay nearby: The Maynard (best for couples), Cavendish Hotel (most elegant option)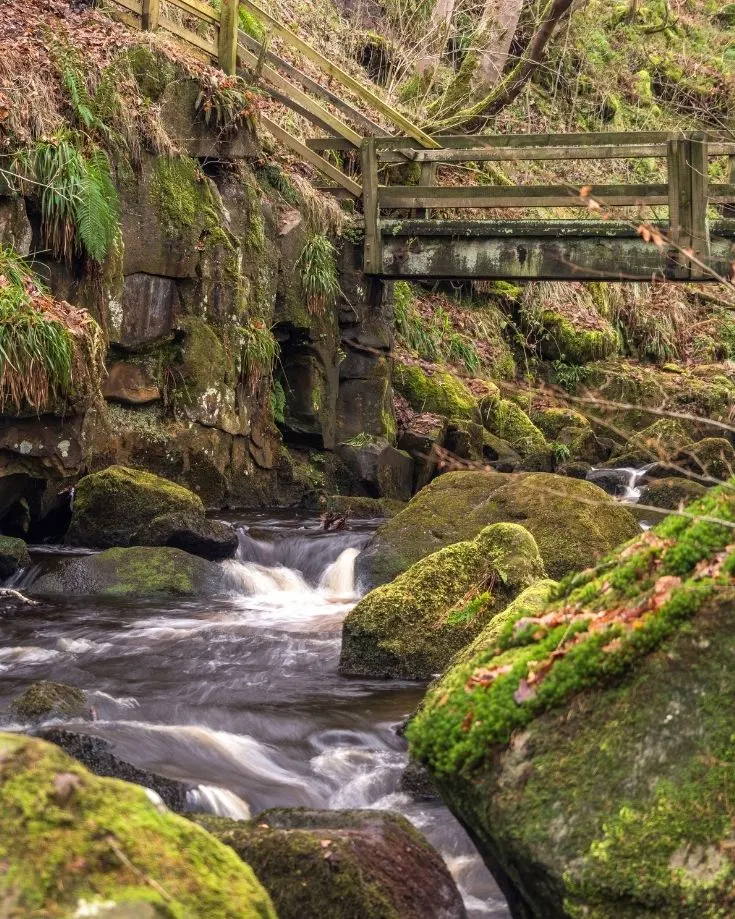 Padley Gorge Walk Route
Given that Padley Gorge is a big circuit, there's really only one path you can take. Of course, you can always double back if you like, but it's an easy enough walk that there's no reason not to see it through to the end.
Park in any of the free roadside parking spots or the paid car park at Longshaw Estate. Before you start the walk, however, it's important to get your priorities straight, and that means hitting up one of the ice cream vans that are usually in the area. Bring cash, though, as they don't accept cards.
If, for some reason, you feel like leaving the ice cream vans behind and proceeding with the hike, head through the gate in the stone wall down towards Burbage Brook.
Burbage Brook is a nice, shaded area, and if you have kids in tow (and even if you don't), it's the perfect spot to splash around a bit. There are also grassy banks that are perfect for lounging, or they make fantastic picnic spots if you bring food.
Once you're done playing in the water, take the path to the left and cross over the stream via the wooden footbridge.
After crossing the bridge, take a left through the gate and into the gorge. There's a clear path through the trees that you can follow. These trees are fun to swing and climb on (and again, we won't judge you for pushing some kids out of the way so that you can have some fun).
There's a money tree on your left, so if you have a coin in your pocket, stick it on and make a wish. Hopefully, you wished for a rope swing because…
About a half-mile farther down the path, you'll come across a rope swing hanging from a tree. You can use it to swing into the stream, but be careful, as the water isn't very deep.
Once you're done swinging around, cross the wooden bridge and hang a right. The path will take you through some beautiful woods, ending in a stone wall with a squeeze stile.
After passing through the stile, you can take a left and grab something to eat at the Grindleford Station Cafe, or take a right and cross the bridge towards Padley Mill.
The path will move uphill to the left, and you'll see a signpost for Longshaw Estate via Padley Gorge. If you follow the path, you'll go back into Padley Gorge via a gate. You'll see the money tree again, this time on your right (if you wish for a rope swing again, though, you'll be sadly disappointed).
Go back through the woods through the gate and then cross the first wooden footbridge again. After you clear the bridge, you'll see the ice cream vans again (your wish came true!), as well as your car.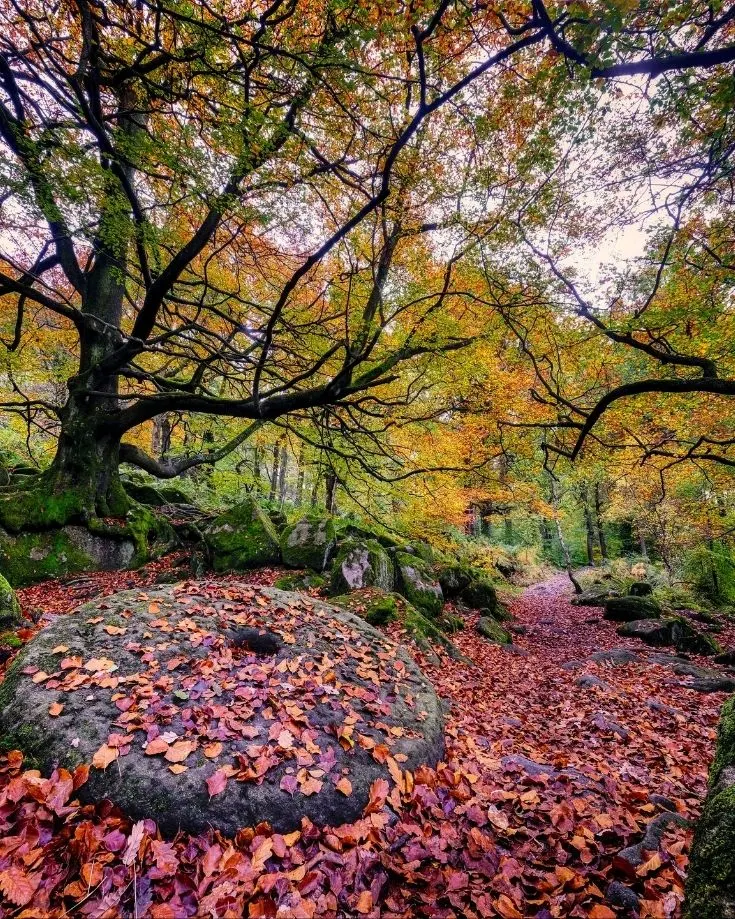 Facilities on Padley Gorge Walk
You can find public toilets at Longshaw Estate before you begin your walk. We'd suggest taking advantage of them, as the only other options on the walk are at the Grindleford Station Cafe, but they're tiny and unreliable.
Of course, once you're finished with the walk, you can just head into Grindleford and hit up one of the pubs there.
Best Places to Eat Near Padley Gorge Walk
If you're in the mood for a bite to eat before or after your walk, there are several options within walking distance. Below are our two favourites, including one that's on the walk itself, but you can't really go wrong with any of the establishments in the area.
The Grindleford Station Cafe isn't really a sit-down restaurant (although there are tables available), and it's not necessarily the type of place you'd travel across the world to visit. Still, after a morning scampering around the Padley Gorge Walk, it really hits the spot.
The breakfast is sensational. It's primarily traditional British fare, with bacon and sausage being added to seemingly every meal. The coffee is quite good, too, so feel free to grab a cup to go if you need a little help finishing off your hike.
While The Maynard is casual enough to accommodate hikers fresh off the trail, it's also a bit fancier than your traditional pub, making it an excellent choice for an after-hours date as well. The decor is elegant and understated, creating a soft, romantic atmosphere.
The food more than lives up to the ambience. The chef centres the menu around fresh, locally sourced ingredients, and they specialise in healthy fare that is nonetheless delicious. It's incredibly celiac-friendly as well.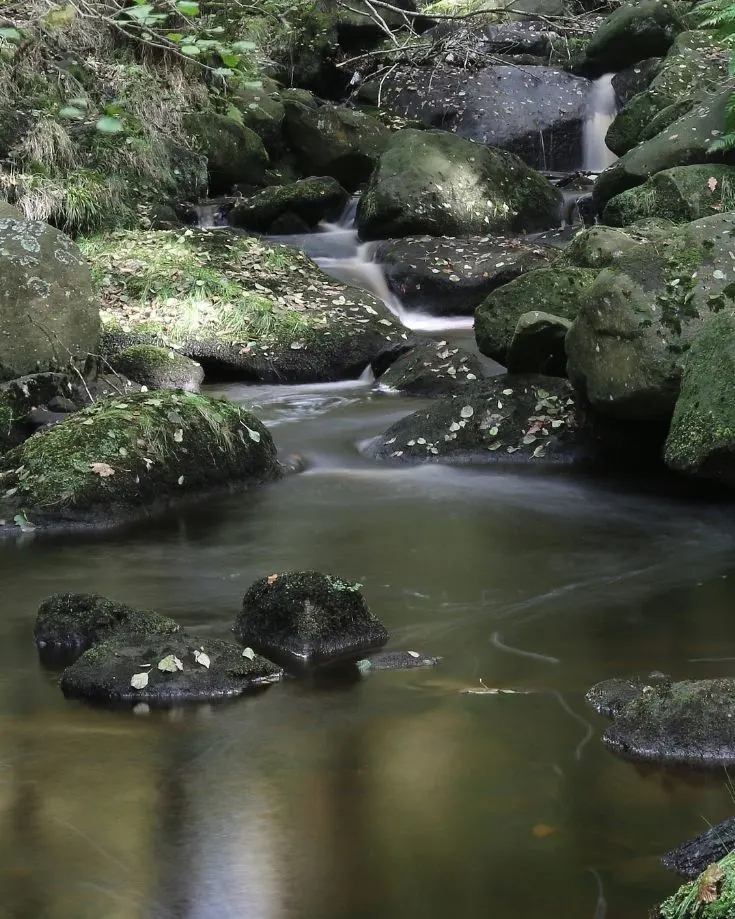 Best Places to Stay Near Padley Gorge Walk
After you're finished walking the trail, don't be shocked if your kids demand to do it all over again tomorrow. Luckily, there are several fine lodging options nearby, so you can catch a few z's before you head back into the magical woods.
After finishing your meal at the restaurant, you can head up to your tastefully understated room, complete with luxurious linens, en suite shower, and breathtaking views. These accommodations are the perfect cap to a magical evening.
Breakfast is included with your reservation (and it's excellent), and while all the rooms are spacious and elegant, their suites are especially enchanting. Despite the hotel's upscale demeanour, dogs are welcome in select rooms, so feel free to bring your hiking buddy along.
Situated in nearby Baslow, the Cavendish Hotel is a charming historic hotel that's recently been renovated. The hotel has a rustic feel, with open fires and oak beams throughout. There are also antiques galore, and you can practically feel the history dripping off the place (not literally, of course — it's quite clean).
It's not entirely antiquated, though. There's free Wi-Fi, and the concierge service is top-notch, offering laundry and dry cleaning services, among others. There's no shortage of fun to be had, either, as it's minutes away from horse riding facilities, a golf course, and a variety of other attractions.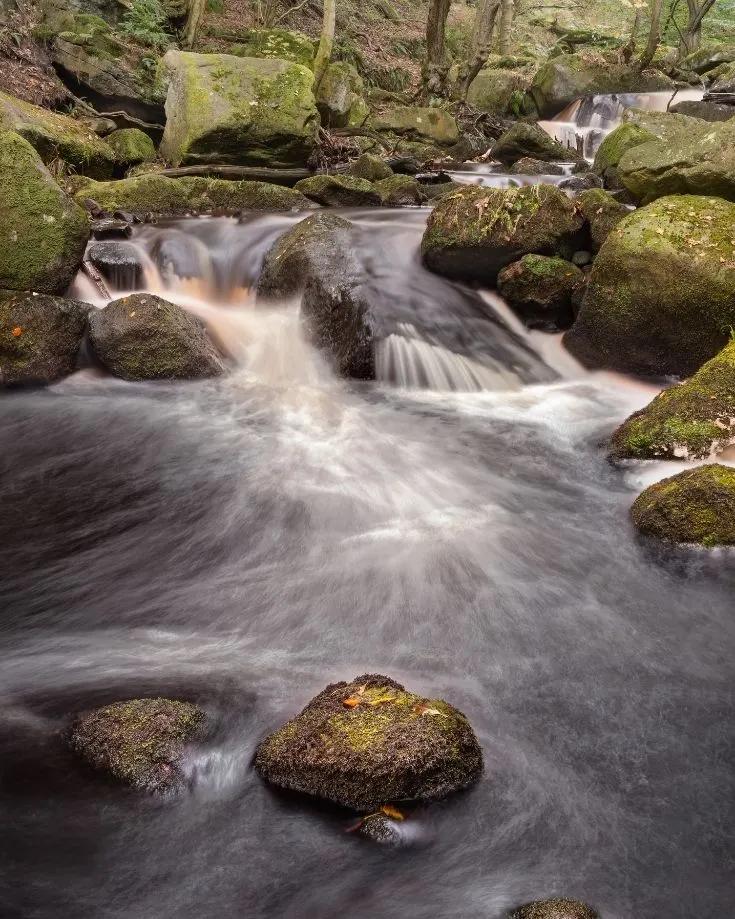 Camping Near Padley Gorge Walk
Not everyone is comfortable lounging in the lap of luxury, of course. For those who prefer a maintain the close encounter with the great outdoors, you can find a variety of fantastic campgrounds to set up shop — and this is our favourite one of all:
Dale Farm isn't just a campsite — it's also a working sheep farm (which is probably where it got the name). There's a recently completed facilities block that's fully heated and offers hot showers, dishwashing facilities, and toilets.
The campground itself is quite beautiful and offers incredible views of the surrounding area. It's especially magical at night, as you're far away enough from any light pollution to really see the stars put on a show. They also have a shop on premises that sells fresh beef, hogget, and pork, so you can enjoy a delicious meal while you stare up at the sky.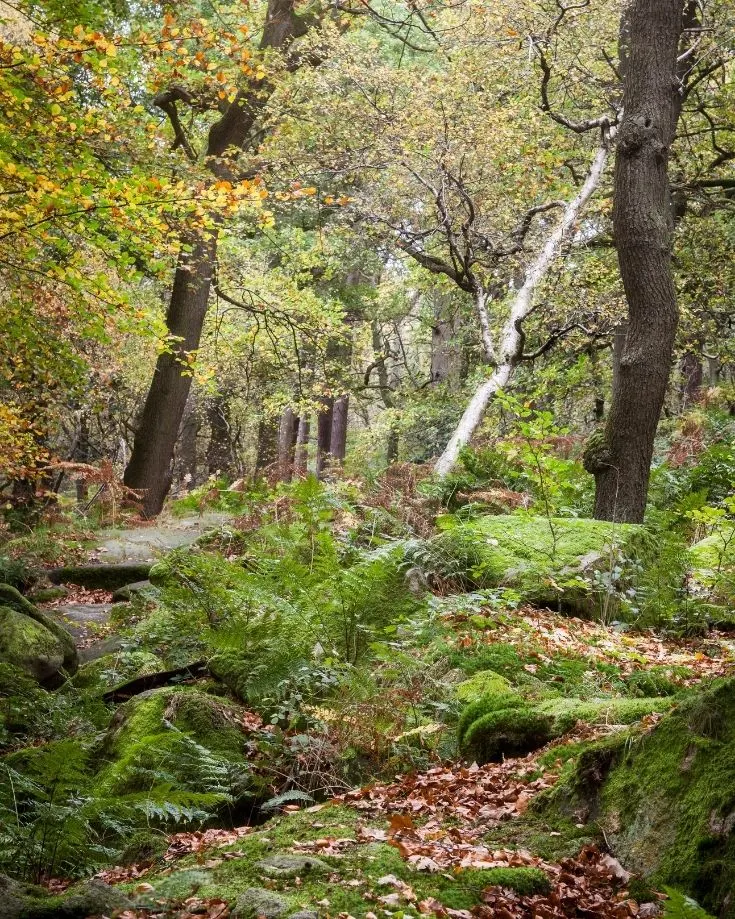 Padley Gorge Walk Route Map
A detailed map of Padley Gorge walk is available from Ordnance Survey. Unfortunately, we can't share the map here because the copyright belongs to the Crown, but you can see it in detail on their website.
For anyone planning on exploring many of the beautiful Peak District walks on offer (and there are lots to discover), we recommend you arm yourself with a paper map. Two ordnance survey maps cover the entire Peak District:
OL1 – Dark Peak Area – basically the northern side of the National Park
OL24 – White Peak Area – the southern end
OL24 covers the Padley Gorge walking route.
Compare the price of buying the maps at Amazon or direct from Ordnance Survey. You can expect to pay less than £10 for a standard map, but Amazon is often a little cheaper than buying directly from OS. Weatherproof maps are more hardwearing and won't disintegrate in the inevitable rain showers. They generally cost a couple of pounds more.
Compare prices here:
Ordnance Survey also has a highly rated app if you prefer a mobile app for mapping purposes. Keen walkers will get a good deal from their annual subscription. Monthly options are also available and more cost-effective for occasional jaunts.
A budget-friendly option is also available on the app's website where you can select a walking route and print the map to a printer or pdf for free, so you can keep it on your phone for reference.
How to Get To Padley Gorge
Padley Gorge is a couple of miles northeast of Grindleford and ½ mile west of the Longshaw Estate.
By Car // The easiest way to get to Padley Gorge is by car. The postcode S32 2HY will get you close, but use the trailhead coordinates for more accuracy – 53°18'58.7"N 1°36'50.5"W.
If you're visiting the area without your own wheels, consider getting a rental car to get the most out of your visit to the Peak District.
By Public Transport // Given its proximity to Sheffield, Padley Gorge is pretty well served by public transport. There's a train station in Grindleford, virtually at the head of the trail, so you can adjust your start point accordingly.
There are good bus services from Buxton and Castleton too.
By cycle // The fabulous National Cycle Network has well-marked routes throughout the Peak District, making it an ideal environmentally friendly way of getting around. Check out the detailed National Cycle Network on OS maps.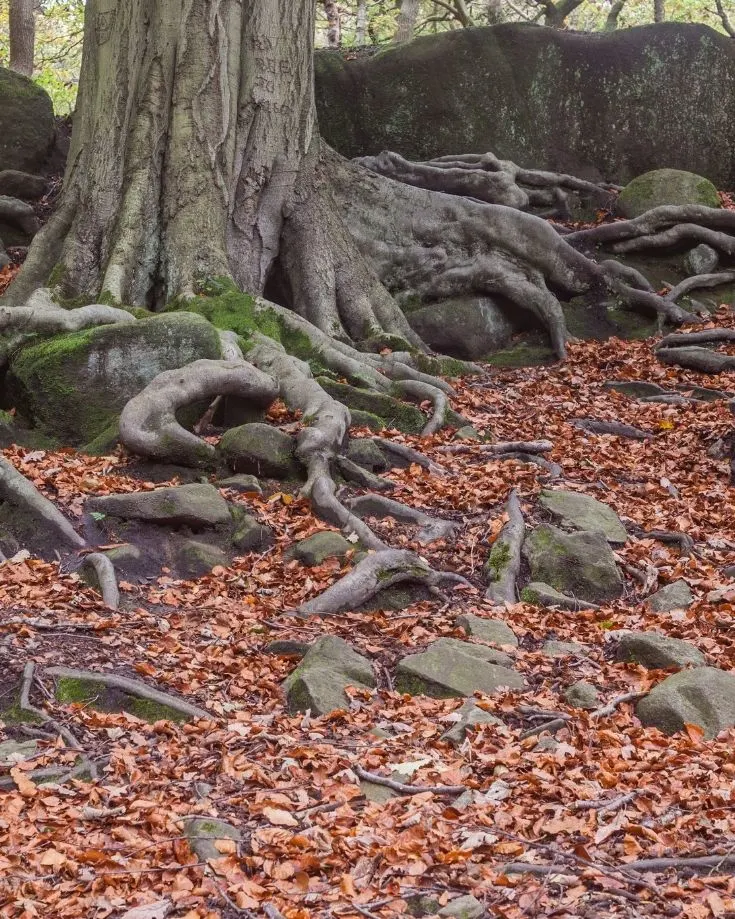 Other Useful Info About Padley Gorge Walk
While the walk isn't especially treacherous or inherently dangerous, there's always the risk of injury, especially if you're not watching your footing on the slippery rocks or trees. So wear reliable footwear and be careful.
You'll see multiple references to "Boggarts" along the trail — there's Boggart View, Boggart Burrow, Boggart Rise, and more. Boggarts are mischievous creatures that inhabit marshes or holes in the ground and are said to cause things to disappear or milk to go sour. They're also blamed for the disappearance of children, so use them to keep your kids in line if you like.
You can take a stroll deep into humanity's past at Longshaw Estate, as it houses the remains of ancient Bronze Age and medieval human settlements. If you time your visit appropriately, you may even get to witness the Longshaw Sheepdog Trials as well.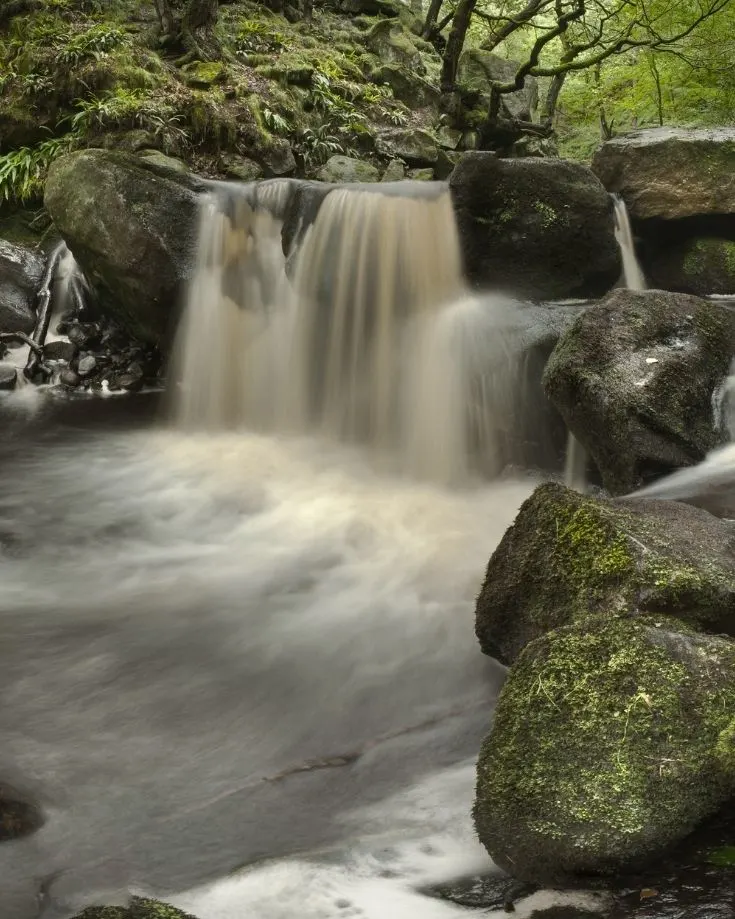 More Peak District Walks
Love waterfalls? We've listed our favourite 13 Peak District waterfalls and their walks all in one post. Or check out these other nearby walking routes.