This is the only Chilean Patagonia travel guide you need from a couple who've just spent 5 months exploring the region.
Travel in Patagonia, Chile is a unique experience and more than lives up to expectations. We loved every minute of our journey. Every (sometimes painful) hike, every jaw-dropping view, and every mile we travelled.
If you want to experience Chilean Patagonia at its best, then the Carretera Austral simply has to be on your list.
We've created this Chilean Patagonia guide to help fellow travellers prepare for their own unforgettable road trip in the Andes of Patagonia.
You'll find key information here as well as links to our articles to help you plan your route.
You'll discover the unmissable spots, guides to important practical information to know before you set off and plenty of photos to make you realise just how Chilean Patagonia really is as amazing as everyone says.
Where is Patagonia?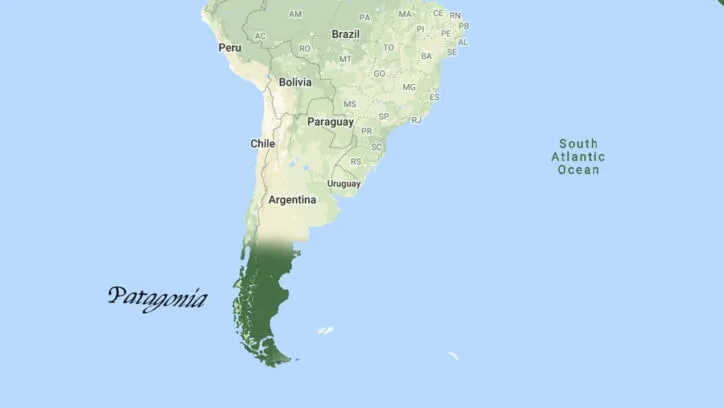 Not a silly question. For years we'd had dreams about exploring Patagonia. I mean, just saying it out loud sounds adventurous doesn't it? But when asked where it is, we hesitated.
We knew it was in South America. But it's not a country. Is it? Is it a region within a country? Even studying a map didn't help.
So where is Patagonia? Well we were right. It is in South America.
Patagonia spans 2 countries: Chile and Argentina. Broadly speaking, Patagonia refers to the entire cone of the South American continent.
From about Puerto Montt in Chile and Bariloche in Argentina all the way to the continent's southern tip, Cape Horn.
Patagonia covers over 1 million square kilometres. While about half of Chile and Argentina are within Patagonia, only 3% of their combined populations live here.
This is a land dominated by nature, unpolluted air and immense beauty.
What's the difference between Chile's Patagonia and Argentina's?

Chilean Patagonia is way smaller than Argentina's. Just looking at the map of the region you can see Chile has a slither of the length of Patagonia compared to Argentina who takes the lion's share.
The Andes mountain range forms a natural divide between the 2 sides of Patagonia. Most of Chilean Patagonia is located on the west of the Andes so it gets more rain from the Pacific Ocean than the Argentinian side.
Only here in Chile's Patagonia can you experience the mountains and ocean side by side.
Jagged peaks butt up to the coast line. Azure hanging glaciers melt into bottomless fjords.
Thanks to passenger ferries, visitors can now travel the full length of Chilean Patagonia without ever crossing into Argentina.
In contrast, if you want to travel the full length of the Argentinian side, you must cross into Chile in southern Patagonia.
How to get to Chilean Patagonia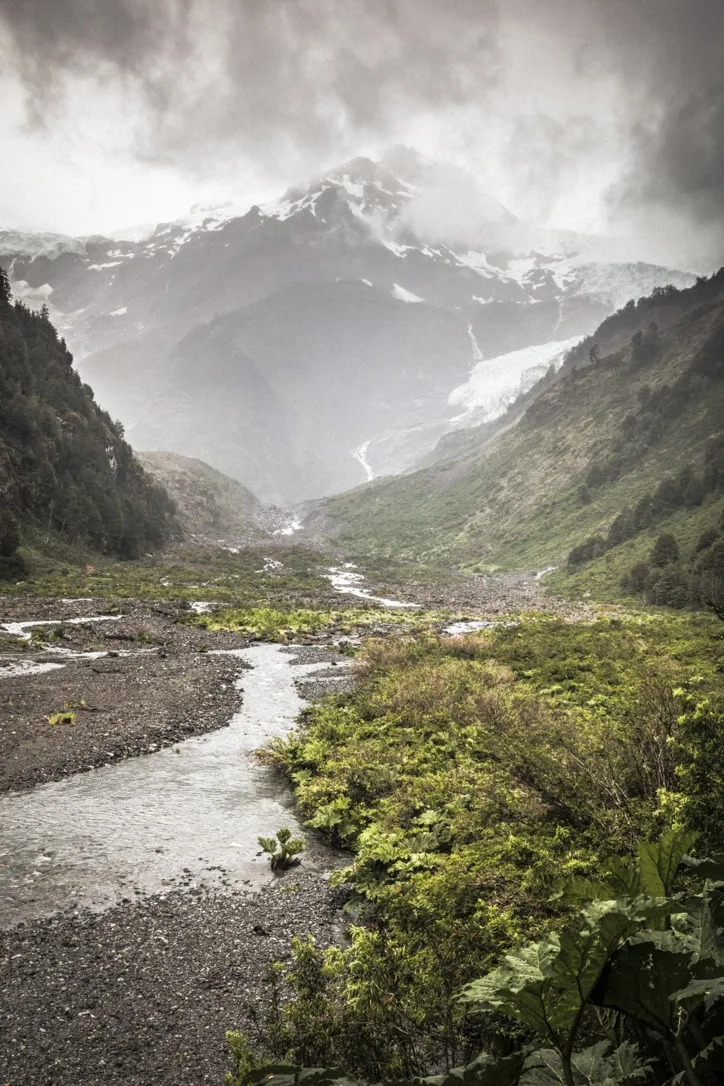 So this really depends on how you're travelling.
If you're driving your own vehicle in Patagonia as we do, make your way to Puerto Montt. This is roughly the northern edge of Chilean Patagonia.
Start your Carretera Austral adventure in Pumalin Park, Chile
Puerto Montt is about 1000 kilometres south of Santiago along the excellent Ruta 5. There's lots of tolls booths so make sure you have some cash if you're taking this route.
If you plan to fly into Chile and hire a vehicle, we recommend you pick it up in Puerto Montt. Flights from Santiago to Puerto Montt are quick and relatively cheap.
Look for the cheapest flights on Skyscanner here.
Make sure you agree the drop off point too. You probably won't want to drive the full length of Patagonia twice just to drop off your hire car.
If you're backpacking, hitching or even cycling (yep, that's a big thing in Patagonia) and want to get to Patagonia in Chile, Puerto Montt is the place to start. There's plenty of bus companies and you can check out their online timetables and ticket prices. Try Cruz del Sur or Pullman Sur.
If you want to begin exploring Patagonia, Chile from the south or if you only want to visit Torres del Paine, start your adventure in Punta Arenas or Puerto Natales.
What's the best way to explore Patagonia in Chile?
We travel full-time in our camper van so of course we're going to say this is the best way. But seriously, it is.
The freedom this gives you can't be beaten. You can go where you want, when you want, stop and sleep wherever you find an idyllic spot. And driving the Carretera Austral is one of the world's most epic road trips, so why wouldn't you?
You don't have to do what we did and ship your camper across the Atlantic ocean but you can hire a camper van in Chile. We saw hundreds of Wicked Campers and Soul Vans during our 5 months in Patagonia.
How long does it take to drive through Chile's Patagonia?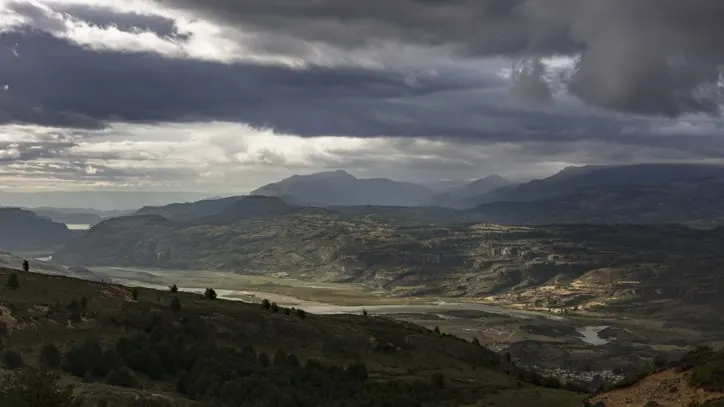 We spent a little over a month driving the Carretera Austral (plus a week in Chiloe) and could easily have spent another couple of weeks.
You don't need even this long though. A 3 week itinerary will give you enough time to sample some of the main sights and take in a few day hikes along the route. Anything less we think will leave you feeling you're missing out.
The small matter of the Southern Patagonian Ice Fields prevents a direct road joining the north and the south.
So from the Carretera Austral, you'll need to either take a ferry from Puerto Natales from Caleta Tortel or drive through Argentinian Patagonia to reach Chile's southern Patagonia.
For Torres del Paine and Puerto Natales, we recommend at least 4 action packed days. More if you want to hike the 'W' or 'O' treks.
From Puerto Natales, Punta Arenas and Tierra del Fuego are the final stops of the Chilean Patagonia. We'd recommend 5 days to cover the sights and highlights here.
So all told, to cover the entire stretch of Chilean Patagonia, you'll need around 5 weeks or so. And you'll wish you had a lot more when your done. Believe us!
Do I need to plan or book anything?
When you click on links to various merchants on this site and make a purchase, this can result in this site earning a commission. As Amazon Associates, we earn from qualifying purchases. For more info, please check our disclosure page.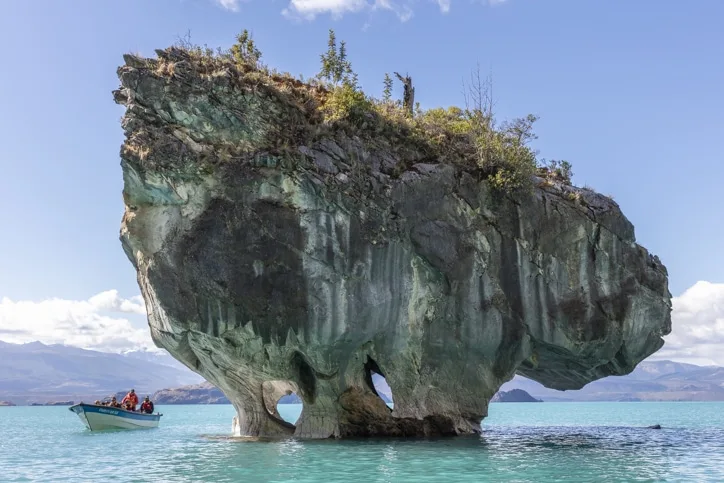 Well yes. And no.
We prefer to travel without set plans. We do break those rules from time to time (such as booking a trip to Easter Island 6 month in advance).
During the Austral summer, accommodation gets booked up well in advance in Patagonia. If you need hostels or hotels, you may be better off booking early. For hiking in Torres del Paine on the 'W' and 'O' treks, you definitely need to book your campsite months in advance.
We wild camped for the vast majority of the route so didn't need to book any accommodation.
Some of the free campsites with the national parks have a limit of numbers but without a booking system. Try to get to these by mid afternoon to avoid disappointment.
Read our short guide to Pumalin Park in northern Patagonia
We had hoped to get a car ferry from Caleta Tortel to Puerto Natales. It only sails once a week and we didn't book in advance because we weren't completely sure of when we'd arrive.
Sadly, there was only space on the next ferry for foot passengers and we couldn't get a ticket for Baloo.
So if this is important to you, book in advance or at least check on availability before you leave Cochrane for the 125 kilometre journey.
We also managed to book the last seats on the San Rafael glacier tour, despite being quite early in the season. This is something we suspect books up well in advance of mid summer.
If there are things you really don't want to miss, at least try to book them in advance if you're travelling between December and February.
Outside of these times, we'd leave things to chance. There's nothing worse than finding somewhere you completely love only to have pre-made plans prevent you from sticking around to enjoy them.
Have you got everything you need to pack for Patagonia?
What is there to do in Patagonia, Chile?
From hiking in some of the most stunning mountains in the world, staring into the crater of a smouldering volcano, sailing up to the face of 80 metre high glaciers, marine wildlife spotting and white water rafting there's a remarkable array of things to do in Chile's Patagonia.
And this is all on top of the breathtaking scenery greeting you around every corner.
Check out our definitive guide to the regional seasons to find the best time to visit Patagonia.
If you're on a tight schedule, you won't be able to see or stop at everything along the way so make time to at least see the things you love. For example, if climbing a still smouldering volcano is on your bucket list, don't miss hiking in Chaiten. If marvelling at the Patagonian fjords and glaciers is your thing, book the San Rafael glacier excursion.
Our main advice is to spend a decent amount of time researching activities and sights along the route. Add the things you love to your itinerary but keep it flexible. You'll thank us for avoiding a fixed itinerary after!
Read more: a brief guide to Lago General Carrera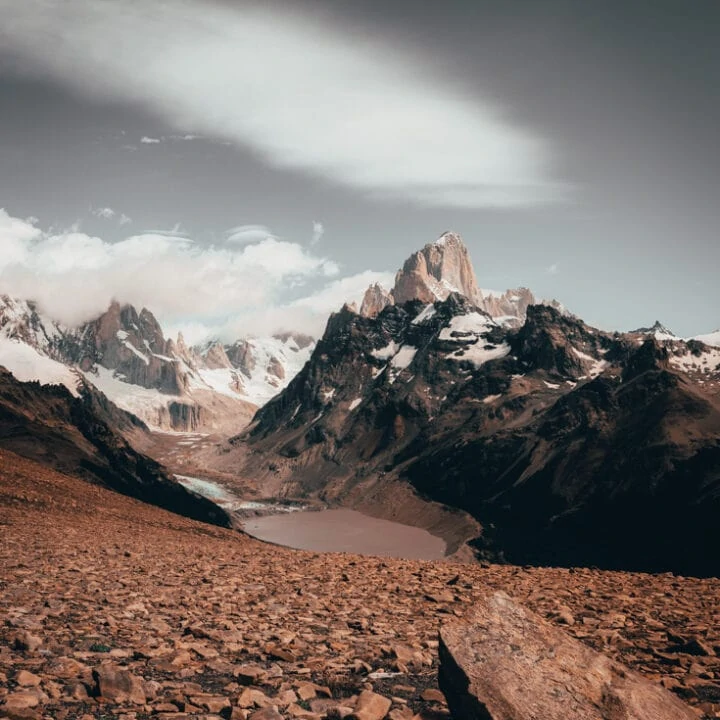 Patagonia Travel Tips
Important tips and resources for planning an incredible trip to Patagonia, based on our extensive experience travelling through the entire region.
Tools
Instructions
Find the best time to go to Patagonia for the things you enjoy.
Book a cheap flight to Patagonia with Skyscanner. Better still, if you're planning a long-term trip, ship your camper van to South America as we did!
Plan a rough itinerary with an idea of how long you'll stay in each place. But be flexible - Patagonia will get under your skin and you'll wish you had more time. Get a copy of the Moon Patagonia travel guide to help you plan your itinerary.
If you want to explore Patagonia in a rental car, make sure to book in advance. Especially if you travel between December and February. Get free comparison quotes with rentalcars.com.
Check out our extensive and still growing guides to Patagonia for more information on both Chilean and Argentinian Patagonia with places to go, things to do and see & loads more.
Book your accommodation in advance, at least for the first destination. For hotels, use booking.com. For apartments use Airbnb and get a discount on your first booking. For free camping, use the iOverlander app offline.
Try to learn Spanish or at the very least have some basic phrases. English is widely spoken in the major tourist towns in the south, like El Calafate, El Chalten and Puerto Natales. Everywhere else, you'll need some basic language skills to get the most out of your trip.
Reserve your tours and activities in advance with Viator and Get Your Guide.
Get your rucksack ready with our definitive Patagonia packing list.
Go have the adventure of a lifetime!
Notes
We hope this helps you plan your travels in Patagonia. It's an enormous region and one we completely adore. Yet we found it difficult to plan our first trip, so we've written extensively about it to help you out!
If you have any questions about Patagonia, travelling in a vehicle or even building a campervan, contact us by email at [email protected].
Like it? Pin it!