Deciding what to pack for Patagonia isn't easy, especially for first-time travelers.
The region's weather is unpredictable year-round, so experience you can expect heat and humidity, annoying biting bugs, dusty tracks and trails, and chilly winds while sailing through the Patagonian fjords. You'll probably plan multi-day treks, mini-cruises, river activities, and many one-day hikes and overnights in a mix of hotels, hostels, and campgrounds.
Most Patagonian itineraries involve road trips or tours, frequently moving between destinations. Hauling heavy, cumbersome suitcases around is the last thing you want. Therefore, packing light and smart, and packing for the conditions and activities you're going to face, is absolutely vital for any visit to Patagonia.
We put together this Patagonia packing list to help you avoid packing mistakes and bring everything you need for a safe, dry and comfortable adventure.
Who Is This Patagonia Packing List For?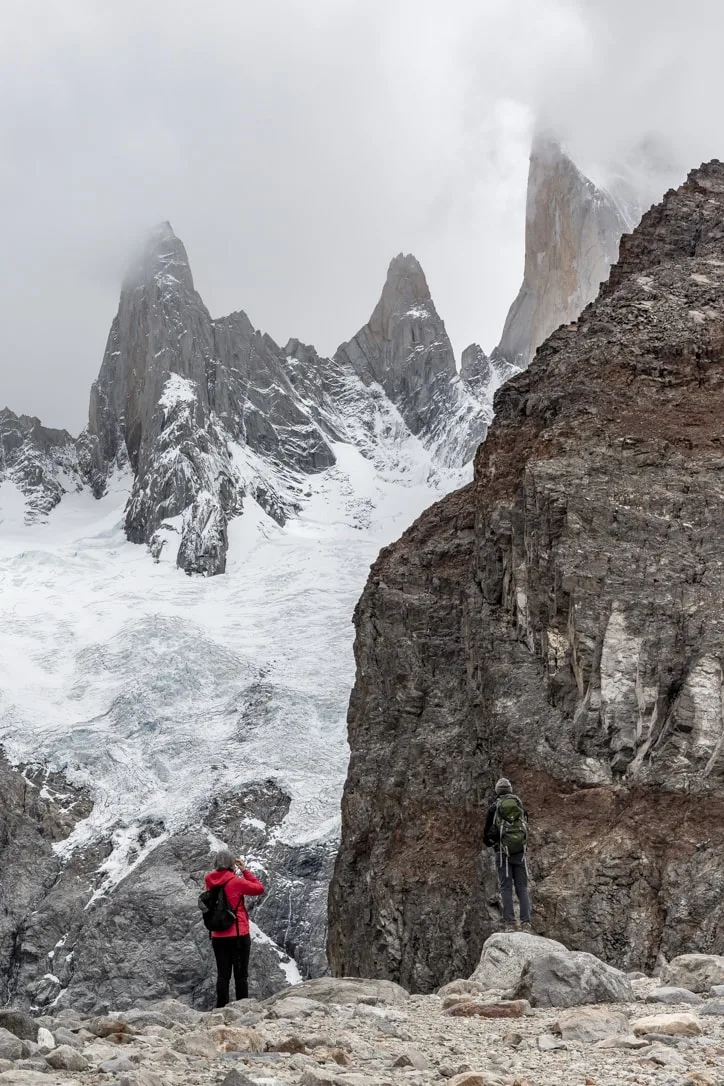 We've designed our Patagonia packing list for anyone planning to spend time in the region.
Whether it be for a week, a fortnight, a month, or more, your packing needs are the same. Aside from the ski season, packing for Spring, Summer, and Fall is basically the same because the weather is so changeable.
We haven't covered packing for more adventurous and extreme activities like ice trekking or climbing. If you plan to do any of these activities, seek the organizers' advice on anything you need to pack specifically.
Chances are, the tour organizers will provide any specialized kit you need.
Also read: Road Trip Essentials – The Ultimate Road Trip Packing List
Pack For The Patagonian Weather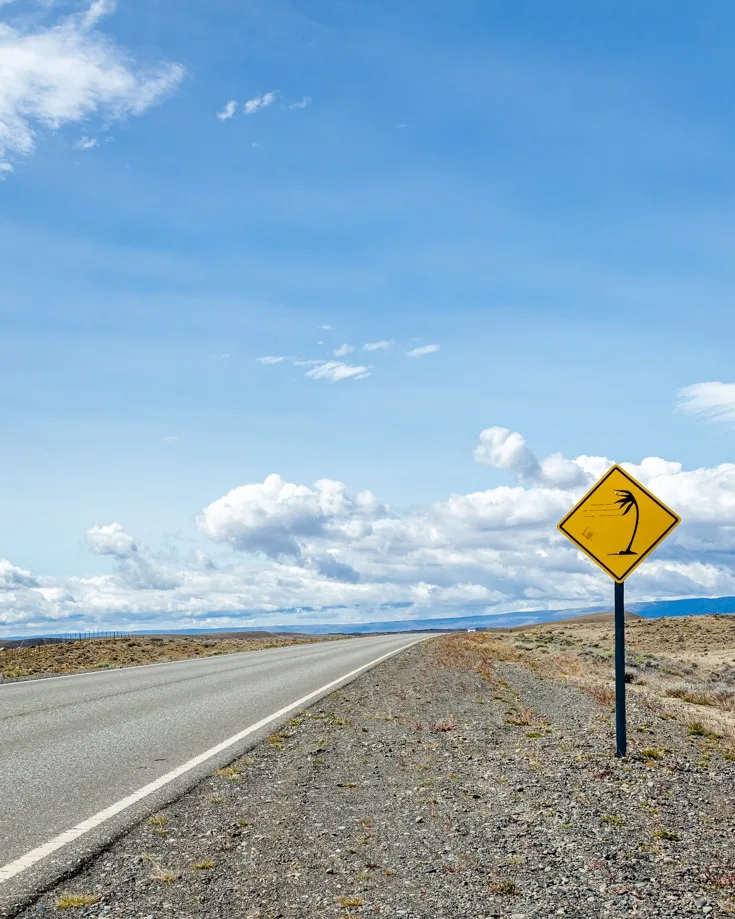 When packing for your Patagonian adventure, keep the weather in mind.
It's no cliche to expect all four seasons in one day in Patagonia. Unfortunately, the proximity of the Andes mountains, the Southern Patagonian Ice Field, and Antarctica combine to whip up a meteorologist's worst nightmare for predicting the weather.
Strong winds, rain, snow, and clear blue skies are possible, all within a few hours of each other. When we hiked to Base Las Torres, a steep 20km trail, we set off beneath clear skies, got rained on halfway up, and scrambled over snow-covered boulders at the top. By the time we reached the bottom, we were slathering on sunscreen.
The unpredictable conditions form part of the adventure of traveling to the end of the world. But, unfortunately, it also makes knowing how to pack for Patagonia less than straightforward.
More // Check out our definitive guide to the regional seasons to find the best time to visit Patagonia.
Patagonia Packing List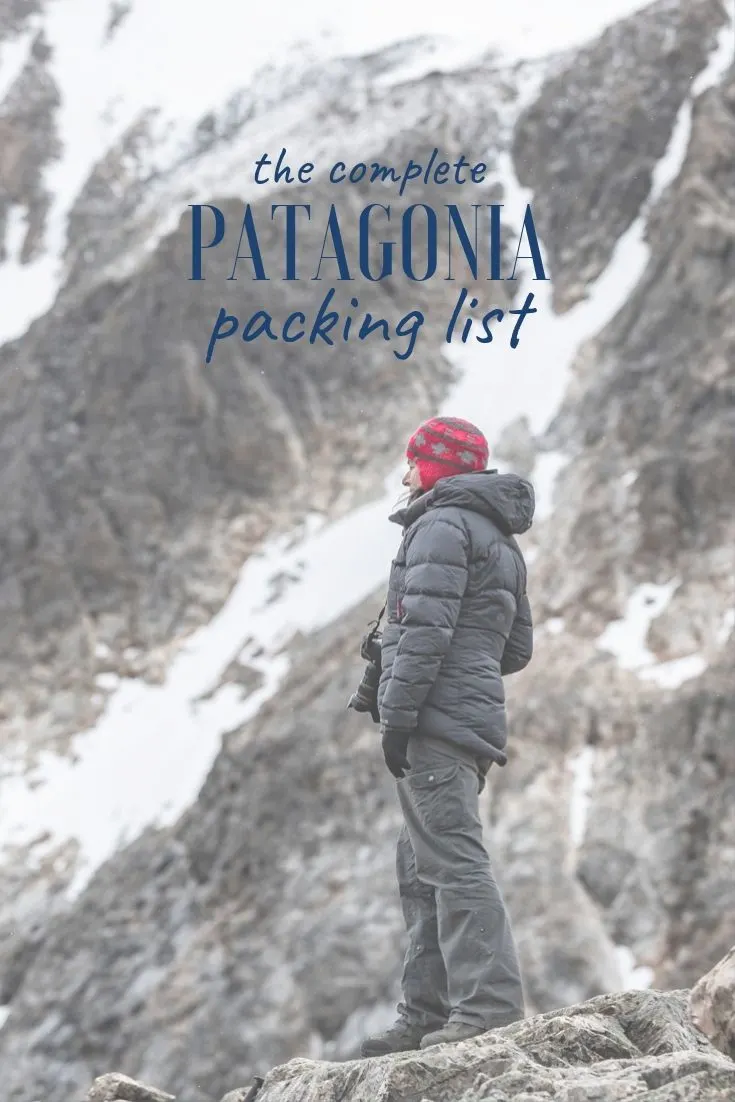 When you click on links to various merchants on this site and make a purchase, this can result in this site earning a commission. As Amazon Associates, we earn from qualifying purchases. For more info, please check our disclosure page.
Backpacks, Day Packs & Dry Bags
Your choice of luggage is one of the most important decisions for your trip.
Suitcases just don't cut it when it comes to traveling around the region. You need luggage you can count on not to split, disintegrate in a strong wind, and is inherently light and comfortable.
Backpacks for Traveling in Patagonia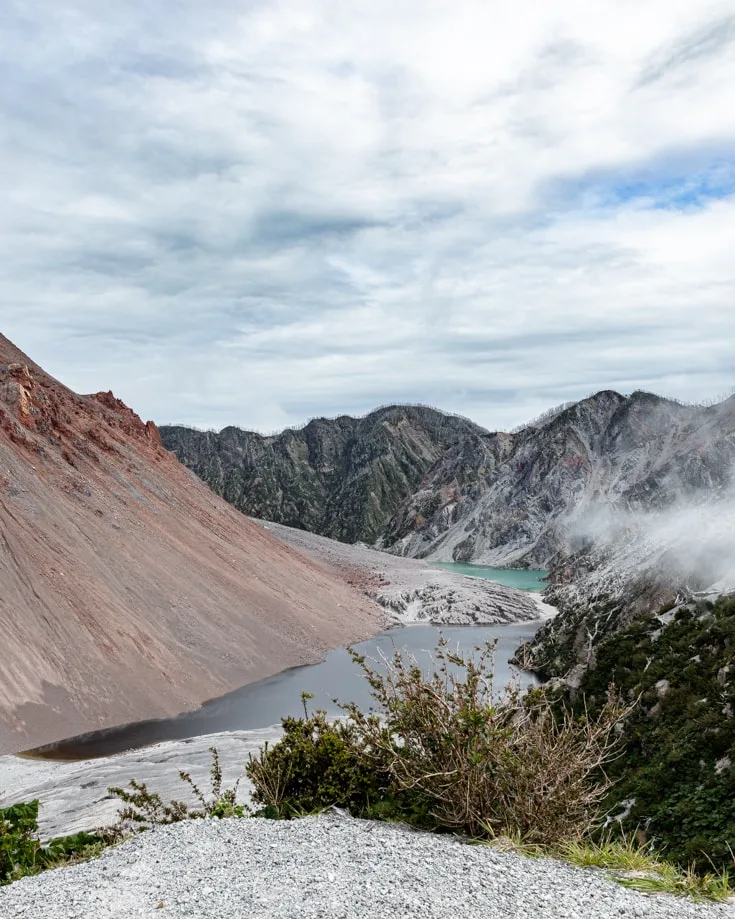 Unless you're traveling in Patagonia in your own campervan like us, you need a good quality backpack. They're not exclusively for backpackers and multi-day hikers. Choose a backpack with adjustable straps all-around so you can tailor it to fit your back properly.
Generally, the lightest backpacks cost the most money. Choose a backpack as light as you can afford so the bag doesn't add unnecessary weight to your back.
When choosing your perfect backpack, consider its pockets and compartments. You want everything you need to be easily accessible, so you don't have to unpack all the contents each time you need something.
Aim to travel as light as possible with a sensible-sized backpack – around 55-65 liters is ideal. Your back will thank you for it.
Every backpack needs a waterproof rain cover, not splashproof or showerproof. You won't be a happy hiker if all your worldly belongings become soaked. If your backpack isn't fitted with an integral rain cover, you can buy them separately.
Here's a selection of backpacks we recommend:
We live and travel in a camper van – a pretty cool backpack, we think. Unless we decide to take on a multi-day hike, we have little need for backpacks. But we have taken multi-day excursions like a 3-week trip to Antarctica and a week on Easter Island.
We found a duffel bag, like the North Face 72L travel bag, the perfect luggage because it folds up into a compact package and doesn't take up much storage. For 95% of our travels, it's stored under our bed.
Day Packs for Hiking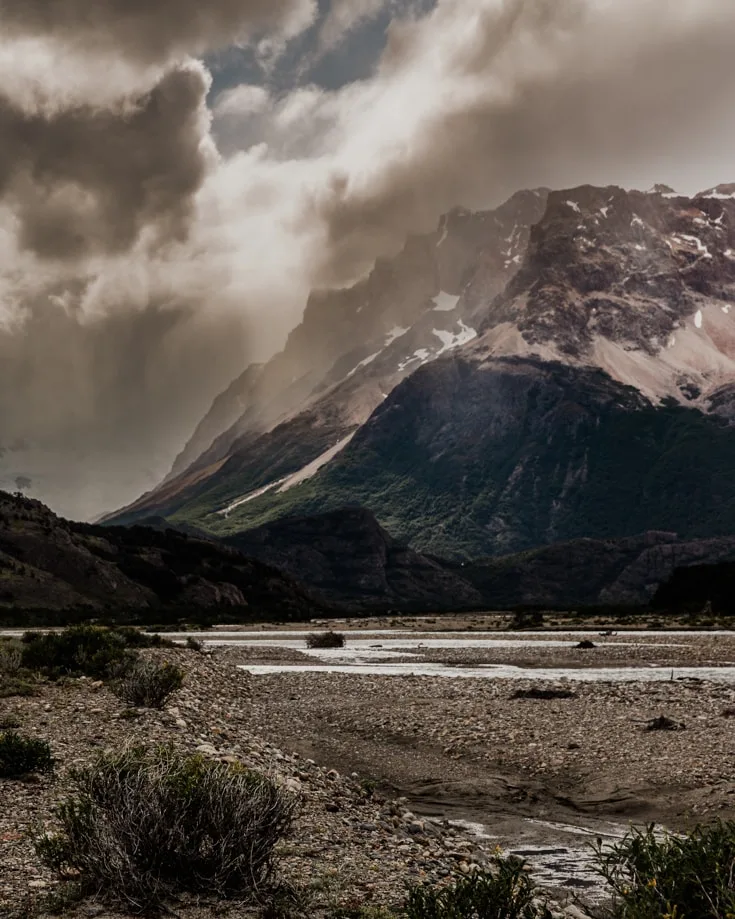 Most visitors to Patagonia will take at least one, if not many more, day hikes. So unless you're on a multi-day hike, you don't need or want to carry a massive backpack around.
A relatively small day pack means you can carry a packed lunch and your hiking essentials while keeping your hands free.
Stick with a bag capacity under 35 liters, preferably much smaller, because it will help avoid packing too much and weigh you down on long hikes.
The ideal size day pack will be just big enough for your camera, binoculars, water bottle, lunch, and some waterproof clothing. In addition, some day packs have straps intended to secure tripods and trekking poles.
External pockets or compartments at the sides and bottom help keep things organized, and adjustable straps with the fit. Again, look for a pack with a waterproof cover or buy one separately.
Here's a selection of day packs we recommend:
Dry Bags
I lost a camera to a torrential downpour a few years ago, caught out with no waterproof cover. The small price of a dry bag would have saved me a LOT of money and the loss of my photos.
You don't need a dry bag big enough for all your luggage. A waterproof cover for your rucksack will prevent everything from getting soaked. We recommend dry bags for sensitive and expensive electronics.
Dry bags are made from durable, lightweight fabrics and fold up flat so they don't take up much storage space.
Now, we always pack one in our day packs. We never know when an unexpected downpour is going to catch us out again.
For overnight camping trips and multi-day hikes, we recommend double bagging your electronics. You could use a bin-liner inside the dry bag as a cheaper alternative to multiple dry bags.
Condensation forming on the inside of a dry bag reduces its effectiveness. Pop in a couple of reusable silica gel sachets to help remove any unwanted moisture.
What To Wear In Patagonia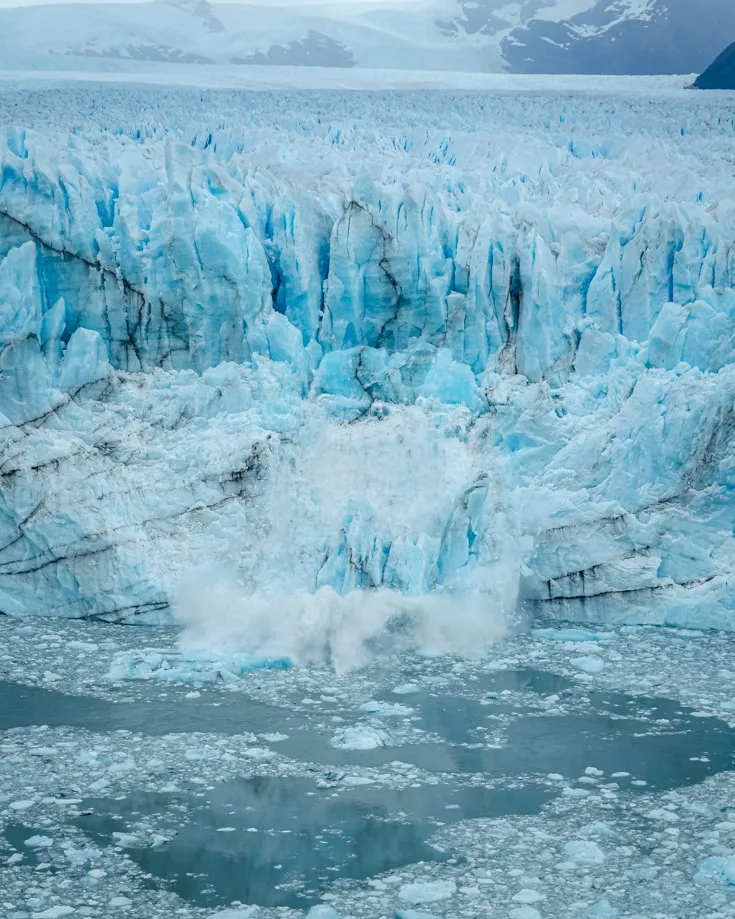 Because the region's weather is unpredictable, deciding what clothes to pack for a Patagonian vacation isn't much different, regardless of the time of year.
A hiking packing list for a summer trip may include more t-shirts than fleeces and vice versa in Spring and Fall. But it'll only differ in how many of each item you need.
There are essential items to pack for Patagonia, irrespective of the time of year.
The best approach to packing hiking clothes for Patagonia is to look after your feet first and foremost, consider layering up and bring high-wicking fabric rather than cotton or canvas.
Based on our experience of over two years in Patagonia, we've put together this list of what clothes to bring to take the guesswork out of your packing.
Choosing The Right Walking Boots & Shoes
Hiking is part and parcel of most Patagonian adventures, so packing a pair of walking boots may seem obvious. You will probably spend many active hours in them, so for maximum comfort, choose well-fitting footwear appropriate to the terrain and climate.
Walking shoes are a lightweight alternative to boots and less tiring on long hikes. They're more flexible and cooler in the hot summer months but don't offer much ankle protection.
Because they double as casual footwear, we wear our walking shoes most of the time, even when not hiking. They're best suited to easy hikes with dry and relatively flat terrain.
Those routes aren't typical of the Patagonian landscape, and most popular hikes are steep, cut through miles of uneven surfaces with multiple streams and occasional boggy patches.
If such hikes are on your itinerary, we recommend packing a good-quality pair of walking boots.
They are a little heavier than the shoes, but the ankle support far outweighs the disadvantages on rough terrain. Good quality, waterproof and lightweight walking footwear will last for years.
Hiking Boots for him & for her // Angela loves her Scarpa hiking boots; they're lightweight, waterproof, and still going strong several years on.
Walking Shoes for him & for her // We've had various brands over the years and recommend Keen as a good quality walking shoe and a comfortable casual shoe.
Good quality hiking footwear isn't cheap. If you're not a frequent hiker and feel the investment is too high, consider renting a pair. Towns like Puerto Natales (near Torres del Paine) and El Chalten (near Mount Fitz Roy) have equipment hire shops where you can rent hiking equipment. It's a bit of a gamble during the high season if they have all sizes available, though, but if the worst comes to the worst, you can buy a pair at one of the outdoor stores.
Hiking Socks
Wearing quality socks with good boots or shoes helps keep your feet comfy and dry for the whole trail.
In our experience, you should avoid those little socks that look as though you're not wearing any. They tend to slip down and leave the ankle exposed and vulnerable to blisters. Instead, opt for socks that sit above the top of your boots.
Bear in mind that while thicker socks add extra cushion for comfort, they're also warmer, so they may cause your feet to sweat more. Pack a selection of thick and thin hiking socks to cover all bases.
It's important to bring more pairs than you need and make sure they fit well. Avoid cotton socks because they trap moisture, but merino wool, with a blend of synthetics, is soft, comfy, and fantastic at managing moisture.
How To Avoid Getting Blisters
Wear good-fitting socks, so they don't slip down into your boots or shoes.
Make sure your boots fit well, neither too loose nor too tight.
Break them in before a big hike.
Never walk in wet socks, so pack a spare pair in your day pack.
Put plasters on problem areas before you start. Prevention is better than cure.
Outer Layers & Weatherproof Jackets
Outer layers play a major part in our comfort in Patagonia, and we demand a lot from them. They need to keep us warm at high altitudes and on cold evenings, keep us dry during sudden downpours, be lightweight and compact enough not to hinder our activities, and take up a tiny amount of space in our luggage. It's a tall ask from one layer.
A waterproof, hard-shell jacket is essential in Patagonia. Gore-tex is some of the best laminated waterproof material for hiking jackets, and most do a great job as windbreakers. However, to keep the overall weight of the jacket down, you'll need to part with a fair few dollars.
We recommend these waterproof jackets:
With appropriate layering, a waterproof jacket is probably the only essential jacket you need. But for travelers visiting Patagonia in Spring, Fall, or Winter, a warm, down jacket is an excellent addition to your kit list.
It needs to be warm but still breathable, so it doesn't trap in moisture. Otherwise, you'll end up sweating and getting cold, despite the fluffy padding. Choose a warm jacket that squishes down into a compact pocket for an extra space-saving hack.
We recommend these warm, down jackets:
We travel full-time in our campervan, and space isn't as limited for us as it is for backpackers. Also, it means we can carry a second jacket, one that folds away into a compact pack by squishing their air out.
To avoid the need for a down jacket, consider buying a waterproof jacket a size too big so you can add extra layers underneath it.
Waterproof pants aren't absolutely essential either. That said, a budget pair of pants are lightweight enough to tuck into a day pack and will be useful if you're caught in a sudden downpour.
Bring a pair that is easy to get on and off over your other layers, like these Mountain Warehouse pants. Their elasticated waist and long zipped leg openings mean you can get them on over your hiking boots and several other layers of leggings and pants if necessary.
A rain poncho is another nice-to-have outer layer. If you're going to bring one, make sure it's big enough to fit over you AND your backpack and compact enough to take up little storage space, like this one.
Hiking Clothes
The key to surviving Patagonia's weather is layering up. You can keep cozy in chilly conditions and peel off a layer at a time as you warm up. We found that a wardrobe of short and long-sleeved tops, lightweight fleeces, hiking pants, shorts, and leggings cover most conditions.
High-wicking fabrics, like merino wool or even bamboo, draw moisture away from the body, and because they have a wide surface area, they encourage faster evaporation. As a bonus, these fabrics are lighter, easier to pack in a rucksack, and dry super-fast, too, perfect for speedy laundry on the go.
Long sleeve shirts are a versatile addition to your Patagonia packing list. Worn over a t-shirt, they help protect your arms from the sun and biting insects and great for wearing to a restaurant in the evenings. This is about as dressy as it gets in Patagonia. Everyone everywhere dresses for the outdoors, and casual attire is the norm.
You can save packing space by bringing the kind of hiking pants with zippers to remove the legs, converting them into shorts. We completely get it, though – they're not the height of fashion – but seriously, hikers in Patagonia are more interested in the views than your fashion sense.
How many of each item you should bring depends on whether you intend to take multi-day hikes like the W trek in Torres del Paine or the 4-day Cerro Castillo hike, and if you'll spend enough time in one location to get your laundry washed and dried. Most campgrounds have laundry facilities so you can hand wash, and most villages have a full-service laundrette.
Swimming Kit
There are many rivers, lakes, and waterfalls in Patagonia, and while many are glacier-fed, they're idyllic in summer, for soaking weary feet, mid-hike, and not forgetting rafting adventures.
Pack a pair of swim shorts, a bikini, or a swimsuit so you can enjoy a refreshing dip and some of the many watersport activities on offer.
Flip Flops
After a long hike, your feet will thank you for releasing them from your boots, and a pair of flip flops are ideal to lounge around your hostel or campsite in.
We recommend waterproof flips flops, like these Crocs, so you can wear them in the shower too – trust us, you don't want to be in some camp showers barefoot!
For a bit more cash, hiking sandals provide a more versatile option. Because they're more like a shoe than a flip flop, they won't fall off your feet. Buy a pair with an enclosed toe, like the Keen Newport Hydro, so you can wear them during river activities and avoid stubbing your toes on underwater rocks.
Camp and Casual Clothes
No matter where you go in Patagonia, people dress for the outdoors. Even in the best restaurants, you can expect a casual dress code. So long as you have a set of clean hiking clothes, you won't look out of place.
If you want to feel a little more dressed up than you do at the start of a trailhead, consider bringing a set of casual clothes like a pair of jeans or comfortable slacks and a nice shirt or blouse.
Leave the heels, dresses, and dinner jackets at home for another trip.
Packing Accessories for Patagonia
Other items to include on your Patagonia packing list:
Bras // Sports bras are most practical for an outdoor hiking trip like the one you're planning.
A warm wooly hat // Essential at the top of steep climbs, even in summer.
Buffs // You can use this versatile must-have as a scarf, headband, or face mask, so it's perfect for hiking in windy conditions. And Patagonia is windy!
Hiking gloves // Invest in a good pair of hiking gloves for warmth and insulation in the mountains.
Sun hat // A wooly hat AND a sun hat? Southern Patagonia is pretty close to the hole in our ozone layer, making the sun particularly dangerous in the region. If at all possible, get a sun hat with an attached mosquito net. When the horse flies come out to play, they will drive even the most hardened hiker from the mountain!
UV blocking, polarizing sunglasses for him & for her // Protect yourself from eye sunburn and make driving safer.
Waterproof wallet // An indispensable accessory for all water-related activities so you can keep your car keys dry, valuables safe, and still use your phone's camera.
Toiletries for your hiking trip to Patagonia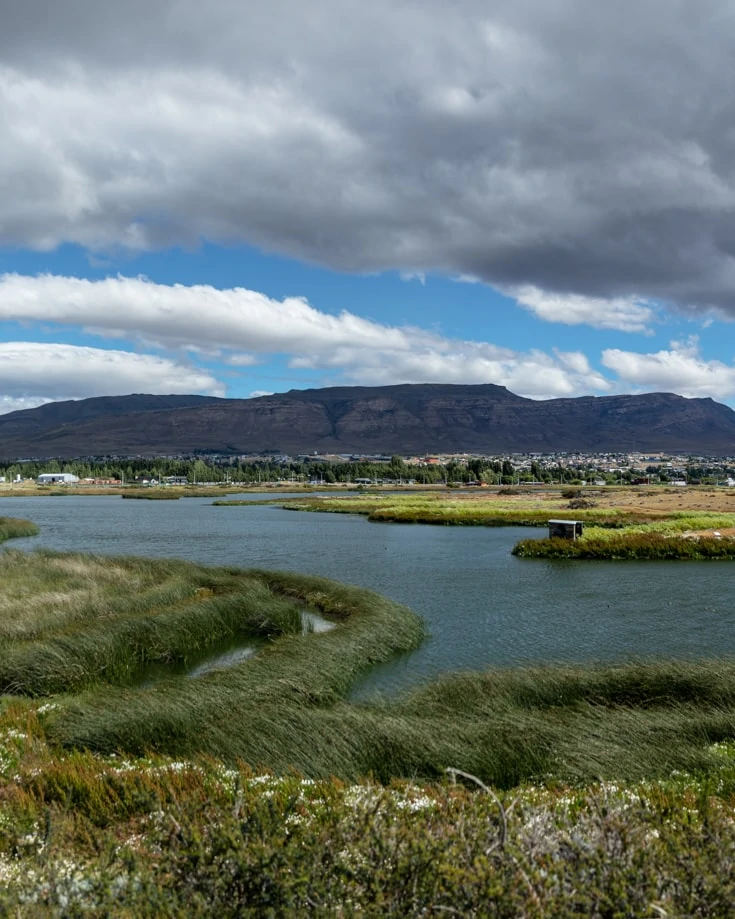 Toiletries are widely available in all the towns. You can replace products if you run out on the road, so long as you're not precious about brands.
Toiletry bag // By using 2 or 3 smaller toiletry bags, you can split the contents and keep them in different compartments in your backpack.
First aid kit // Make sure one person in your hiking group is carrying one and that it includes a blister pack.
Microfiber towel // Compact, lightweight, highly absorbent, and quick-drying microfibre towels are perfect for your Patagonia trip. Pack 2.
High factor sunscreen // As we said, you'll be close to the hole in our ozone layer down there, and the wind and sun can be brutal, even on cold days.
Insect repellent // It may not deter the horse flies, but it's effective on everything else. And in the dense forest of the foothills of the Patagonian mountains, mozzies can be rampant. You can usually buy this stuff pretty cheap in the local towns.
Soap with soap dish // Far less weight to carry around, cheaper than shower gels, and more friendly to our environment.
Deodorant // Consider an eco-friendly and plastic-free deodorant bar.
Toothbrush & toothpaste // Speaks for itself to maintain those pearly whites.
Lip balm // The combined effect of the sun and wind always leaves us with dry lips when in Patagonia. Avoid this with a good quality UV protecting lip balm.
Hand sanitizer // A small bottle of this stuff goes a long way, and you'll use it a lot.
Toilet paper // As an international traveler, you really don't need to bring toilet paper with you from your home country. You can buy it there. But toilets in Argentina and Chile rarely have toilet paper. Pack some in your day pack or rucksack in case you get caught short.
Bin liners // Within most of the national parks with Patagonia, you won't find a rubbish bin. Instead, you need to bring your rubbish out of the park with you, so make sure you have a means of carrying your waste out. Either bin liners or re-used plastic bags will do the job and are lightweight to carry.
Packing cubes // These reusable cubes will help you organize your packing, plus allow you to keep your dirty clothes away from your clean ones.
Read more: How to keep mosquitos away while camping
Basic Hiking Equipment
Where you are hiking, how far, the weather and any inherent risks determine what equipment, if any, you need.
Some Patagonian hikes are short and on the flat, like Chorillo del Salto in El Chalten. Others are challenging, steep and remote, like Chaiten Volcano on the Carretera Austral.
You'll likely take hikes covering a range of difficulties, so some basic hiking kit is going to get a whole lot of use down there! It's not only those hiking the "O" trek or the four-day Cerro Castillo route who need hiking gear.
Here are the essential items we suggest for every hike. They're all budget-friendly, compact enough to fit in your backpack, and make for a comfortable hiking experience.
Reusable Water Bottle
In a region where so much water comes directly from glaciers, it's a place to drink your fill. It's essential to keep hydrated when hiking, and there's no excuse to buy water these days, certainly not in plastic bottles.
There are loads of reusable water bottles on the market. We find a wide-mouthed bottle, like the Nalgene Tritan, far easier to refill from streams.
Tips for Drinking Water from its Source
Only drink water upstream from towns.
If there are any signs of domesticated animals nearby, give it a miss and wait until you're at a higher altitude. Cows and sheep are common in Patagonia, and they don't mind where they do their business!
If in doubt, use a Lifestraw to filter the water and protect you from potentially harmful bacteria.
Enjoy – this is likely to be the purest, most delicious water you've ever tasted!
Trekking Poles
Don't think these are only for those not used to hiking. Virtually everyone uses trekking poles in Patagonia.
They make for a far easier hike by giving a little extra stability and balance; they really help coming downhill or on uneven ground.
The best poles have an anti-shock mechanism and are especially good for those with dodgy knees. But whichever you choose, make sure they have a comfortable grip. You hold them loosely and set the height so that your elbow is at 90° when holding the pole perpendicular to the floor.
If you plan to spend anything more than a week or two hiking in Patagonia or will get more use out of them elsewhere, it's worth investing in your own pair. Otherwise, you can rent a pair for a few dollars a day in the many outdoor equipment shops in El Chalten or Puerto Natales. A pair of decent hiking poles will cost between US $75-$100, so do the math to decide if buying or renting is right for you.
More // Check out El Chalten tours and organized activities, as they may work out cheaper than renting or buying your gear.
Portable Battery Bank
Using your mobile phone's camera, video, or mapping software drains the battery throughout the day. To avoid getting caught out with a dead battery and no ability to navigate or capture the incredible sunset, bring a portable battery bank like this one by Anker.
Head Torch
Daylight hours are long during the Patagonian Summers, and you can expect as much as 18 hours or so a day! But even if you don't intend to be out after dark, you never know what might happen that could delay you out on the trail.
Plus, if you're camping and need to get up at night, a head torch is a good way to avoid trampling on other people's gear.
Whistle
Something as simple as a whistle can become a lifesaver in an emergency. And no matter how beautiful the landscape, hiking in Patagonia has its dangers.
If you become lost or separated from your group, calling out can soon become tiring. Blowing on a whistle creates a much louder noise than the human voice, so with far less effort, you can be heard much further away.
This whistle includes a lanyard, so you can attach it to your daypack or wear it around your neck, so it's easy to find should you need it.
Basic Camping Gear
If you plan on doing multi-day hikes or using campsites in Patagonia, you're going to need some camping gear.
Before you rush out and buy a tent, mess tins, and an enamel mug, take a moment to consider your options.
If you only plan to do one multi-day hike – and let's the "W" trek in Torres del Paine – you can arrange fully inclusive camping options. They include camping gear, so you don't need to carry your camping gear around.
Although this option isn't cheap, it's a budget-friendly option if you never plan to use your gear again (or at least not often).
If your Patagonian trip centers around Torres del Paine or Fitz Roy, you also have the option to rent equipment. This will save you the hassle of lugging your gear on international flights, and you'll get some good quality kit too. Just make sure you thoroughly check everything before you set off.
If you plan to camp in towns, most campsites have a quincho, or equipped kitchen and dining rooms, so you may not need any cooking supplies. Check before you travel.
If you're driving in Patagonia on a self-guided road trip, you will find many wild camping opportunities. Even if you never considered camping, you will undoubtedly come across views where you wish you could spend all night. A few car camping essentials mean you can make the most of these opportunities.
Here's a list of the basic camping equipment you'll need for multi-day hikes or car camping in Patagonia.
Camera Gear
If you're like us and into photography, you'll need to consider what gear to take. Even if you're not a serious photographer, a smartphone with a great camera function can get some great snaps. I took the photo below in El Chalten on an old Samsung S7.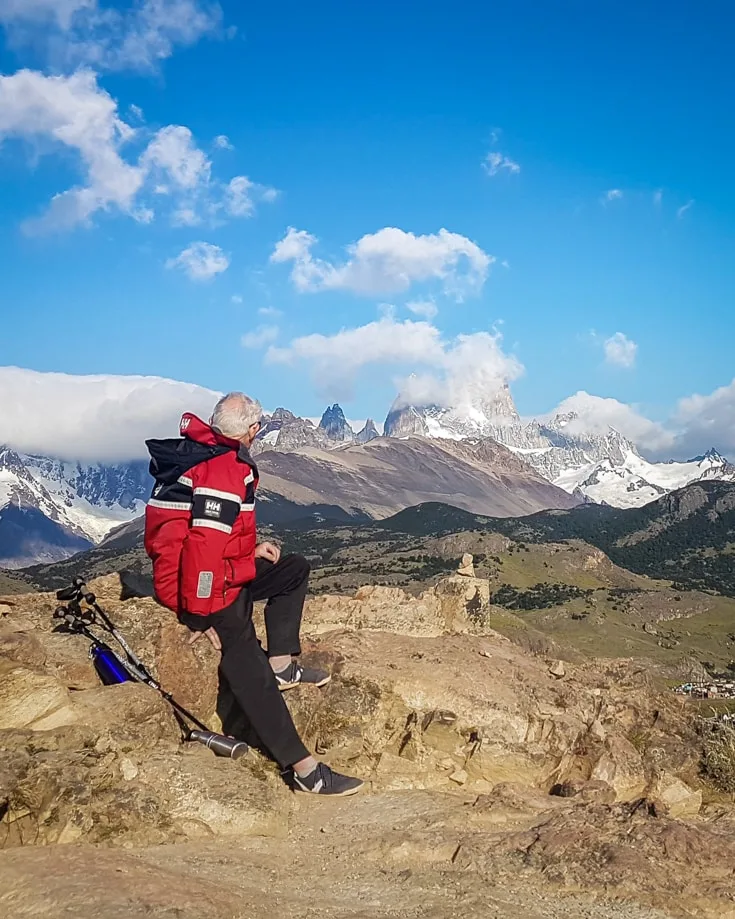 It might not win any prizes for the quality of the file, but it's plenty good enough for sharing on social media and showing to friends and family.
The GoPro Hero9 is an excellent quality, lightweight, and waterproof camera. In addition, the quality of the images and video footage is so good, it can easily be the only camera you need.
We carry a couple of big DSLRs, and they're heavy. Even on day hikes, we wish we had something far lighter, and our backs do too.
Consider an entry-level mirrorless camera and kit lens like the Canon EOS M50 / Mark II if you're serious about your photography.
If you want some room to grow your photography, start with the more expensive but feature-packed Canon EOS R6. It's pricey but has fantastic autofocus and leaves you plenty of room to grow into the hobby.
Pack plenty of memory cards, a few spare batteries, and a type 1 travel adaptor.
Navigation
Maps.Me is entirely free, and in our opinion, better for navigating Patagonia than Google Maps. We use it for all our mapping and GPS needs.
It's great for driving around South America, but it also has loads of hiking trails marked, making it an invaluable accessory on less crowded Patagonian hikes.
iOverlander is one of the most widely used apps for people traveling in Patagonia. Not only is it a useful and up-to-date source of travel-related information in the area, but you can use it offline too! It really is worth its weight in gold. Find out how to download the app and update your device so you can use iOverlander offline.
More // Read our guide to driving in Patagonia for lots of tips and advice for your self-guided road trip.
Travel Insurance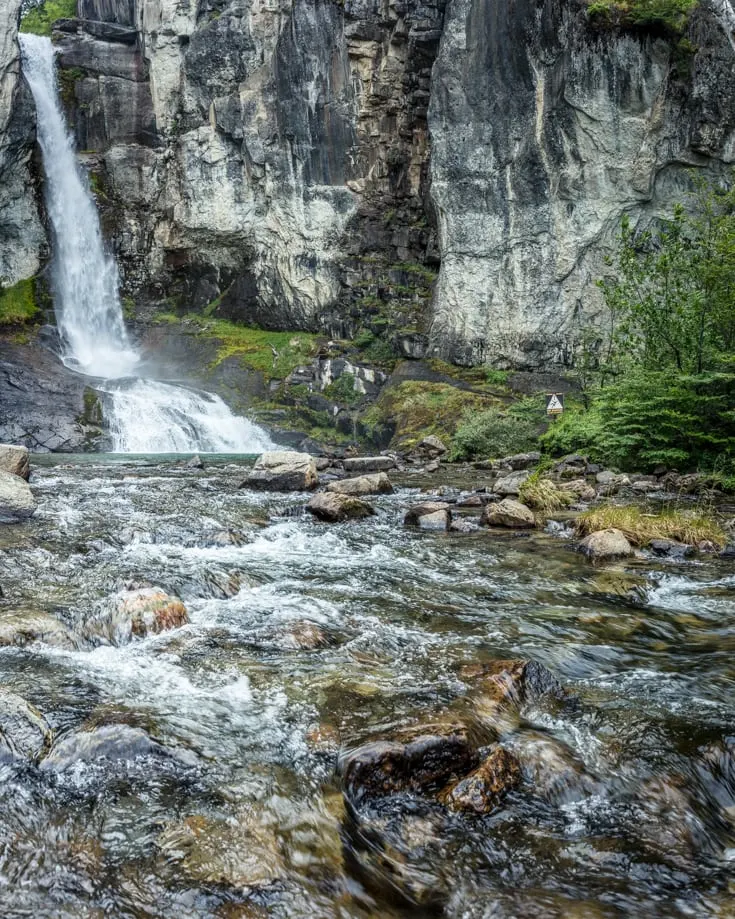 Don't allow the beauty of the Patagonian landscape to fool you. This is a harsh environment with extreme conditions to test any unprepared travelers – and a few of those fully prepared too.
Not convinced?
Chilean Patagonia has dozen of volcanoes, some active. A few have erupted violently and with little to no warning in the past few years. For example, Chaiten Volcano in Pumalin Park blew in 2008 after 9000 years.
The mountains of Patagonia offer some of the most technically challenging climbing in the world and iconic hiking.
Injuries aren't unheard of, and remember, state-of-the-art medical facilities are a long way away from these remote corners of our planet.
The Patagonian desert (or the Patagonian Steppe) is a dry and remote region with a combined population of not many. If you have an accident or get lost in this part of Patagonia, you'll be in trouble.
And you best hope the success of the regional wildlife conservation efforts don't come and bite you, in the guise of a wild puma – though you'd be incredibly unlucky if that happened.
Patagonia is an extreme environment, so come prepared. Before leaving home, make sure you have an excellent travel insurance policy.
If you haven't heard us mention it before, we'll say it again: if you can't afford a travel insurance policy, you can't afford to travel.
In a region where an unexpected injury may need medical evacuation, costs can spiral. Can you afford to pay tens, if not hundreds of thousands of dollars for that level of care?
Please, for heaven's sake, buy a travel insurance policy. We recommend True Traveller for European travelers and World Nomads for everyone else.
If you've never bought travel insurance before, read this post to help buy the right policy for you.
Travel Vaccines
Ask your doctor for the latest medical advice for travel vaccinations. At the time of writing, we don't need vaccines unless we traveled from (or through) a country where yellow fever or cholera is a problem – like Brazil.
It's best to have the Hep A vaccine and be up-to-date with your Tetanus too. At some point, the governments will probably update the rules to include Covid vaccines, though it's unclear how that will play out.
We don't offer medical advice, so make sure you ask your doctor and check the latest entry requirements before traveling.
Patagonia Travel Tips
Is your Passport in Order?
Most Patagonia itineraries involve crossing the border between Chile and Argentina multiple times.
At best, the customs officials will use empty spaces in your passport so you can squeeze in 4 stamps per page.
Make sure you have enough free pages in your passport for all the stamps you need. Check with your foreign office for the current entry requirements.
Confirm Bookings Before You Leave
As travel in Patagonia grows in popularity, so demand for accommodation and tours increases.
Even out of season, booking accommodation can be a challenge because few hotels, hostels, or campsites remain open during the winter.
For anything you need to book, like car hire, flights, accommodation, or organized tours, wherever possible, confirm your reservations in advance. Or prepare to miss out or wait for the next available slots.
Car Hire in Patagonia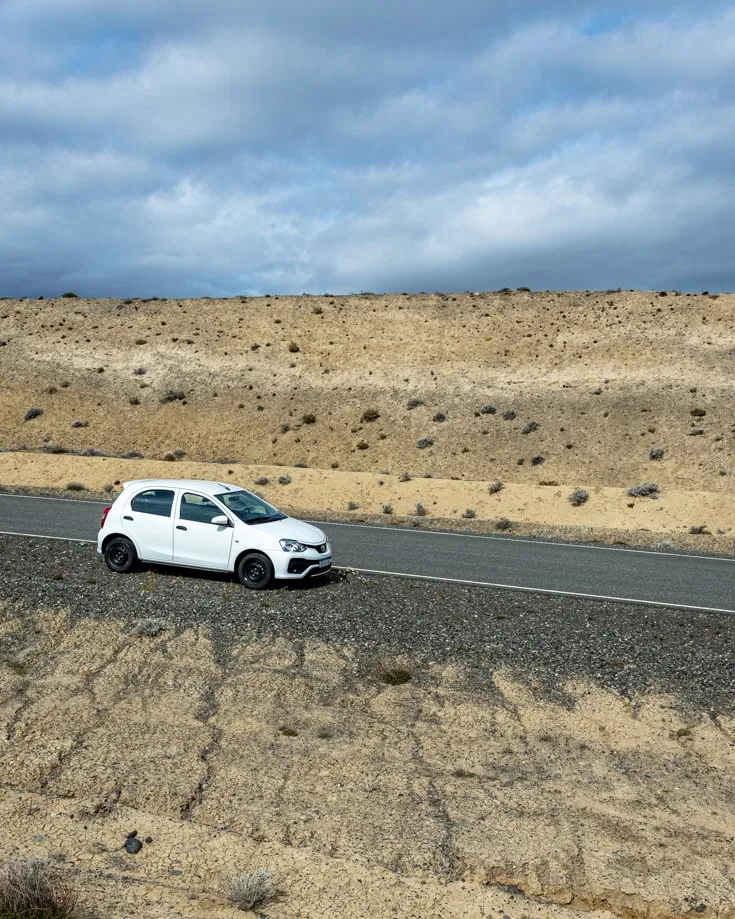 If you've hired a car or camper van intending to travel through both Chilean and Argentinean Patagonia, make sure you've informed your car rental company.
You'll need the necessary paperwork and insurance documents to allow you to take the vehicle across the borders.
Don't accept the vehicle without it – the border officials will not allow you to leave. It's a sure-fire way to ruin your itinerary. You can get a free comparative quote for car rental in Patagonia here.
More // Prepare for your road trip with our detailed insight into driving in Patagonia.
Travel Resources
Here are the links to the services you might find helpful when planning your trip.
When looking for flight tickets, you can search Skyscanner to find the best prices.
For recommendations on nearby points of interest and camping, we use iOverlander.
When we need alternative accommodation, we typically search via Booking.com or Hostelworld.
We travel in our campervan, so prefer to travel independently but some places better to visit with a guided tour and sometimes offer better value for money. We usually search GetYourGuide and Viator for the best tours.
Road trips are one of the best ways to explore a country. Whenever we need to hire a car, we find Rentalcars.com offers a fantastic range of vehicles from a wide selection of companies so you can find the best price.
Like it? Pin it!