Have you seen Charles de Gaulle in the bath? No really! And in England too! The Brisons are just off Cape Cornwall in England and they mark the point where the Atlantic current divides.
Some flows north into the Bristol Channel and the Irish Sea and the rest becomes the English Channel.
So I figure Charles de Gaulle is more likely to be in a jacuzzi than a bath but who am I to split hairs?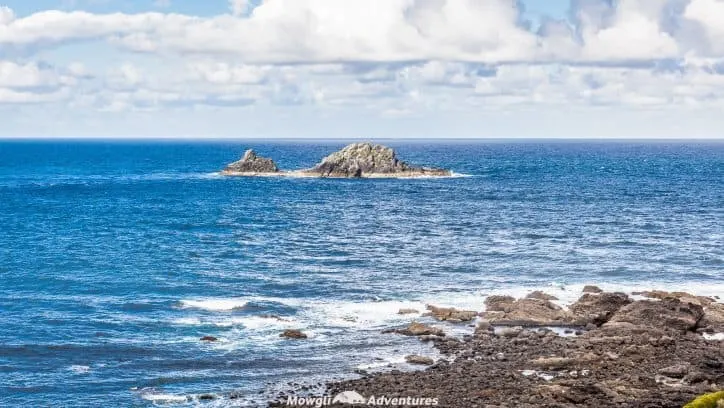 Now I can see the resemblance with a cartoon-like human figure reclining but whether or not it looks like Charles de Gaulle I couldn't possibly say.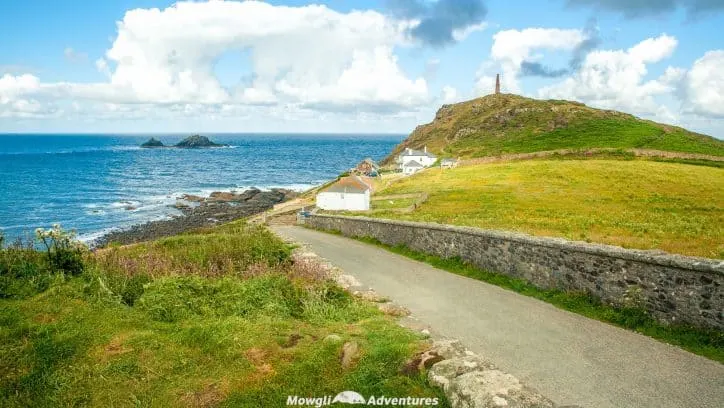 Many ships have been wrecked thanks to the Brison Rocks. They're about a mile offshore and the National Coastwatch Institution maintains a lookout here.
The two rocks known as The Brisons are an important breeding ground for seabirds.

There's a wonderful scenic drive from St Just down to Cape Cornwall. Of all of Cornwall's most scenic road trip routes, this was probably our favourite because of the incredible, sweeping views across the cliffs.
The road hugs the coastline along the entire route. The dramatic cliff top landscapes, Cornish tin mines, lighthouses and rugged outcrops make this scenic drive one you won't want to rush!
Explore more: Cornwall's Most Scenic Road Trip Routes
The tower on the cape is the chimney stack of the former Cape Cornwall Mine and it was kept as a navigation aid for sailors after the mine closed in the late 19th century.
In 1987, the site's owner, H J Heinz donated it to the British nation. Today it's part of the Cornwall and West Devon Mining Landscape, a UNESCO World Heritage Site.
Traveller top tips: there is a fantastic 5 mile walk along this route. It's a circular route starting at St Just and takes in incredible coastal views, beaches and old mines and mills.
Top tip for you road trippers: there is a pay & display car park at Cape Cornwall.
It's in direct line of sight of Charles de Gaulle in the bath. Because the site is managed by the National Trust, you can expect to pay for the privilege.
If you're not planning on walking the full 5 mile trail, and only want glimpse of Charles de Gaulle in the bath, arrive early and you'll receive free parking if there's no attendant around.
Like it? Pin it!